This post may contain affiliate links. Please read my disclosure policy.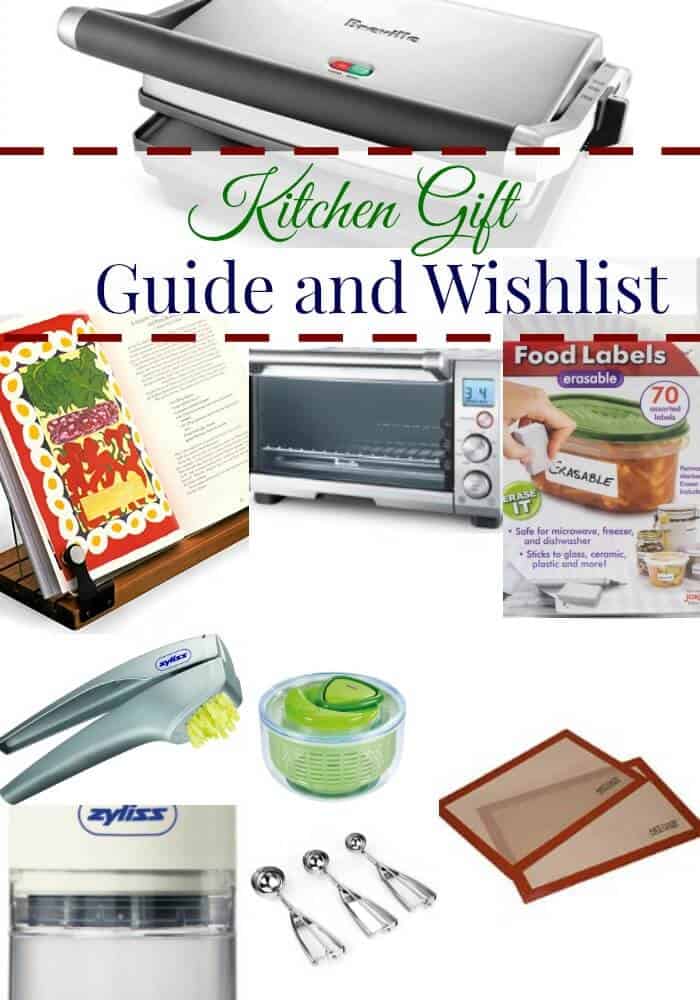 I've had this list of some of my favorite kitchen tools and small appliances in my head for awhile now and wanted to share them with you in this Kitchen Gift Guide and Wishlist. Whether you're looking to add to your own wishlist or buying for friends and family, these are items that get used regularly in my own kitchen–some of them daily, most of them at least weekly. I'm sharing now so that you can maybe pick up a few of these for your favorite chefs or maybe add them to your holiday wish list! With the holiday shopping season just beginning, maybe you'll be able to get in on some good deals too!
You can find other gift ideas in a few of my other blog posts like these:
Ultimate Kitchen Assistants to Save You Time and Money (my favorite small appliances)
Games to Make Dinnertime More Fun!/
Favorite Fiction Books for Foodies
Favorite Freezer Cooking Cookbooks
Books for the Conscious Kitchen
Now onto some more of my favorites! I've listed them in order of price range (give or take a bit) to help you with your gift giving budget.
LabelOnce Erasable Food Labels with Markers ($10 for set of 70 labels and markers)
Y'all, these are the BEST invention ever. I'm pretty sure I invented them in my head years ago because I was tired of masking tape always getting dry and falling off my containers in the freezer. These STAY ON and the best part is you can erase and reuse them over and over and over. I've had some of my labels for years! I also like to use them in the refrigerator sometimes too like when I'm labeling zones to keep it more organized. You can find these (and refills) at The Container Store or order them online.
Cookie Dough/Ice Cream/Food scoops ($10 for set of three)
I use my food scoops All. The. Time. Well, at least weekly. Whether it's for making cookie dough balls, meatballs or scooping muffin or cake batter into a muffin tin, they are so handy for even cooking and baking. I have a few different sizes but I use the 1-inch and ¼ cup scoops most often.
Garlic press ($13-$18 depending on brand)
I used to buy the garlic in a jar (which I do still do sometimes when I'm doing bulk cooking) but when I got a Pampered Chef garlic press, I discovered how easy it is to have fresh minced garlic with NO peeling before hand. The Zyliss garlic press is similar to the one I have but you can find all kinds of garlic presses available. Check this link online to read the reviews and find one that is good for you!
Food chopper ($13)
I know you can use a good chef's knife to chop up stuff but I really like my food chopper. Not only is it great for getting out aggression with all the pounding (kidding—or not!), it helps me get things chopped up really finely which is handy when I don't feel like pulling out my food processor and I may or may not need to chop some celery superfine so my son won't detect it. Ha! Great for nuts too. I have the Pampered Chef one, but the Zyliss brand one is very similar. I actually found one at ALDI last year too!
Glass measuring cup set ($15 for set of three)
Y'all, I cannot tell you how many kitchens I cooked in that do not have a set of glass measuring cups. They are SO handy and you really need them if you're measuring liquid ingredients because that way you can see exactly how much of an item you have for your recipe. Measuring in dry measuring cups is just not the same and can often be inaccurate if you're measuring thick items like peanut butter. I also use mine all the time for heating up things in the microwave. I like them because they are tempered glass and do not get hot to the touch on the handle. I have the one-cup, two-cup and four-cup sizes and use them all. PLEASE, get these if your kitchen does not have them! I promise, you will thank yourself. You can find these at stores like Target and Walmart but I've also found them at places like HomeGoods or Marshall's.
Silicone Baking Mats ($15-$25)
I purchased a set of these mats at Costco a few years ago and I'm not sure why I didn't get them sooner! Silicone mats are perfect for using with baked goods and just about anything you bake on a baking pan. I like to use it for things like chicken and fish too. They are great because you just place them in your baking pan and there is no need to spray the pan with baking spray or line with foil. Best of all, you can wash and reuse the mats over and over!
Cookbook Stand ($35)
If you've followed me for awhile, you know I have a crazy amount of cookbooks. And I do use them! I got this cookbook stand at the beginning of this year and I love it because it folds flat for easy storage but can be adjusted to even the thickest cookbook. You can also use it to prop up a tablet if you're following a recipe you've found online (like one here at Meal Planning Magic!)
Salad Spinner ($40)
For years I bought the bagged salad but then once I discovered that the whole head lettuce (we buy romaine or green leave most often), tastes so much better, I decided one thing that would help with salad prep was to make it as easy as possible and the salad spinner does just that. I just chop or tear up my lettuce, throw it into the salad spinner, wash and dry in a voila! The lettuce is ready for all kinds of yummy toppings. I like to prep my lettuce for the week all at once. You can store it in a zip top bag with a paper towel in it (to soak up any extra moisture) or I like to use canning jars and my Foodsaver to keep it even longer. You can read more about that here. I have the Zyliss brand salad spinner. They make good stuff that lasts!
Panini Maker ($25-$125)
Do you need a panini maker? Probably not. Is a panini maker fun and can you use it for more than sandwiches? You bet! I got the Breville Panini Maker a few years ago after discovering one of my now favorite blogs, PaniniHappy. Since then, I've gotten to know the author of that blog and even tested recipes for and reviewed her book, The Ultimate Panini Cookbook. I'm a fan for sure! I decided to splurge on the more expensive Breville because it has an adjustable height which makes it great for sandwiches of all sizes. You can even use it to "roast" things and make fun stuff like homemade waffle ice cream cones! But what's extra great to me is that my family LOVES paninis. My kids love to put together all kinds of ingredients if they can grill it on the panini maker. And they can make it themselves, too! Sometimes my daughter will take hers to school in her lunch (she can reheat using the microwave at school). I've even been known to bring my panini maker to family gatherings to set up a sandwich bar—a huge success!
Toaster Oven ($30-$150)
Christmas before last I decided to splurge on a fancy new toaster oven with some money I had received from a freelance job. I had had my old Black & Decker one since college (so at least 20 years!!) and it had seen better days. And since I use my toaster oven to not only toast things like bread or English muffins, I also use it often to reheat leftovers or bake a few cookies from the freezer when I don't want to heat up the whole kitchen. You guys, if you can swing it, a fancy toaster is THE way to go. I have the Breville Mini Smart Oven and boy, is it smart. It has so many different settings—toast, bake, broil—and adjustable shelves that whatever I put in there comes out perfectly done nearly every time. If a fancy toaster oven is not in the cards for you right now, even a basic one is great for those times when you don't want to heat up your whole kitchen. I also love that it's more than just a unitasker like a regular toaster (which only toasts!)
You can find more Goodies I Love in a wide variety of price ranges in my online Amazon shop here. What are you putting on your kitchen gift wishlist this year? Let us know in the comments below!
Disclaimer: I have received no compensation from the companies who make the products in this post. They are simply products I use and recommend myself. I am, however, an Amazon Affiliate. That means if you make any purchases from following the links in this post, I'll receive a small commission (at no additional cost to you) as a thank you for the referral. And thank YOU for supporting Meal Planning Magic blog thorough your purchases.
All photos in the post are from Amazon.com.