This post may contain affiliate links. Please read my disclosure policy.
Save time and money in the kitchen with these handy kitchen tools! My Top 15 Best Kitchen Tools Under $15 are must haves in your kitchen or for a friend or family member, too. These are all kitchen tools and gadgets that I use in my own kitchen on a regular basis!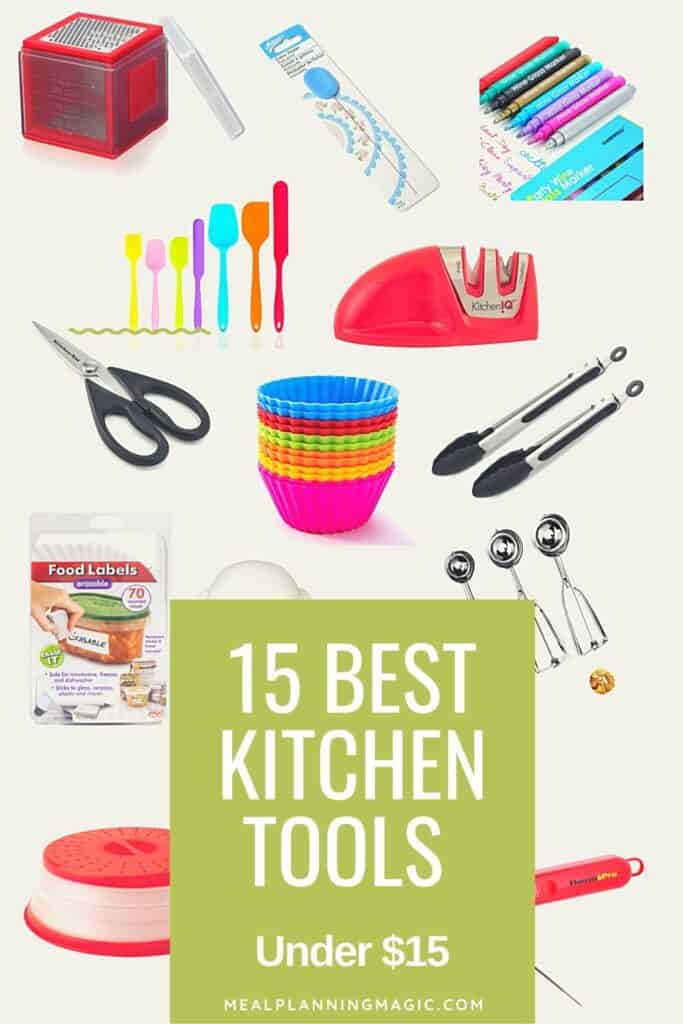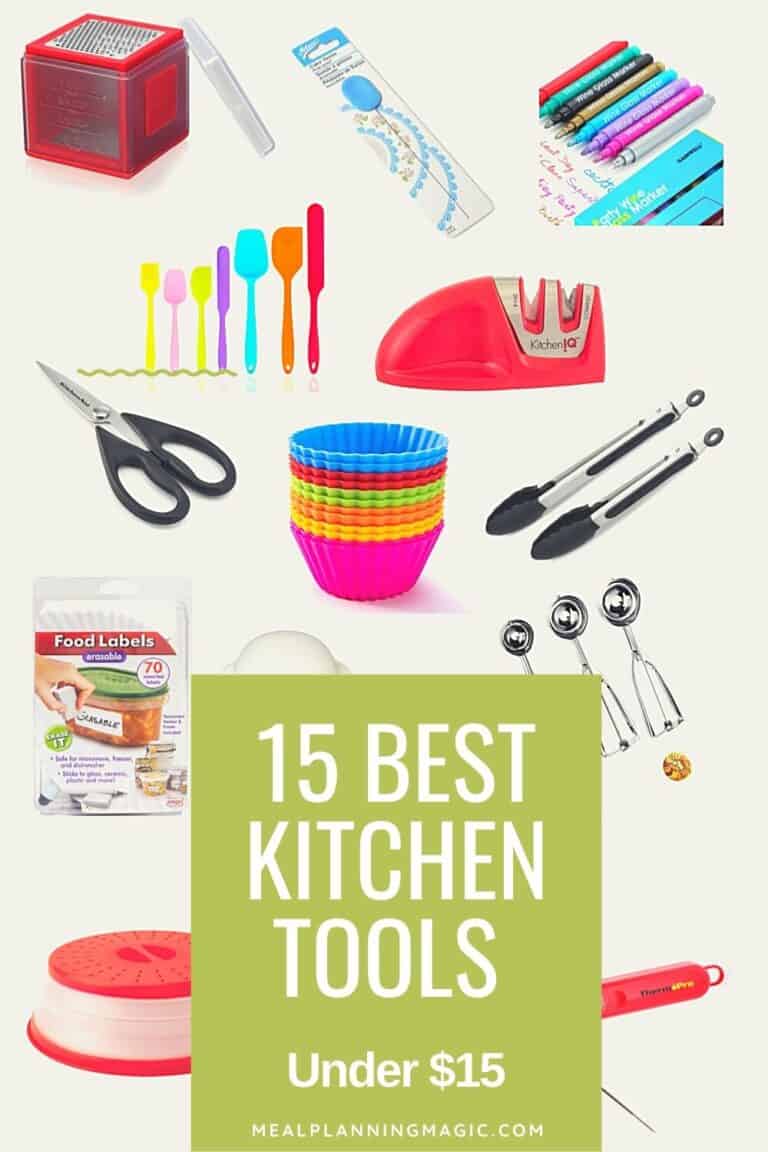 All of the links here lead to online shopping but many of these types of items can be found in local stores too. (Read my disclosure policy here for details on affiliate links). We have a couple of favorite locally owned kitchen supply stores but I often find great things–and deals–in stores like Marshall's or HomeGoods too!
Whether you're looking for something to treat yourself or a small gift for the other cooks in your life, I hope these ideas help you get started on finding the perfect item for your or a friend or family member's kitchen!
Silicone Baking Cups – I use these when I want to freeze small portions of leftover ingredients like tomato paste, pumpkin puree. I've also used them when I make a batch of Vanilla Cinnamon Creamer so I always have some on hand!
Reusable Food Container Labels – These are a MUST HAVE in my kitchen! I've been using them for years and use them all the time. They stay on containers in the freezer without falling off and also on a run through the dishwasher. I like that they are reusable too so there's less waste.
Shaker Sifter/Duster – This was one of those things I didn't really know I needed until I got it. I actually got one from a Pampered Chef party years ago to use with powdered sugar but now I also use it to flour my surface when I am making cut-out sugar cookies like these Cherry Chocolate Chip Cookies or Simple Whole Wheat Homemade Biscuits , when kneading bread, etc.
Wine Glass Markers – Several years ago I went to a girls night in and my friend had markers like these to write on so we could identify our drinks. I thought they were such a great idea! Easier than wine glass charms, they can be used on all types of glasses and easy wash off with soap and water.
Cookie Scoop Set – I use these scoops ALL. THE. TIME. They are perfect for making evenly shaped cookies like these Soft and Chewy Ginger Molasses Cookies but I also like to use them to make meatballs like in these Ground Turkey Meatballs with Ginger Peach Sauce. I use the larger scoop when portioning out batter for muffins like these Pear Walnut Muffins. They are so handy!
Heat Resistant Silicone Spatula Set – I have a variety of flexible spatulas like these they are also something I use all the time. They are perfect for scooping out peanut butter from the jar but also scooping cookie dough batter in a bowl. I also like to use the longer ones to help get the smoothie, like this PB & J Smoothie, from the bottom of the blender jar. Super versatile!
Cake Tester – So yes, you can use a toothpick to test your muffins and cakes but I got one of these several years ago from someone that was selling them on our neighborhood for sale and free page and it's another one of those "I didn't know I needed it until I had it" kind of things. I like it because I'm not wasting toothpicks but it's also nice because it is long enough to go into deeper things like this Healthy Chocolate Chip Banana Bread. Just wash in soapy water and you're good to go again for the next time.
Baggy Racks for Food Prep – I will admit, these are a bit of a unitasker but if you do any sort of freezer meal prep, you'll want these to help make life easier when filling your bags. They are just like an extra set of hands! They suction to the counter and are adjustable for different height bags.
Micro Grater/Zester – Zesting lemons, oranges and limes are so much easier with this handheld grater/zester. It helps you to avoid the bitter pith (white part) on the peel. You can also use it to finely grate hard cheeses like Parmesan.
Digital Kitchen Thermometer – A digital thermometer is indispensable if you are cooking meat of any kind so that you know when it's reached a safe temperature, like this Bruschetta Chicken Skillet recipe. I also use it when I am heating water for tea (so that it's not too hot and maintains optimum flavor) and it's also great to have if you need to measure the temperature for candy making, too.
Tongs with Heat Resistant Tips – I purchased these at an outlet store several years ago and they are the best! I love them because I use non-stick skillets for a lot of my daily cooking and these are nice because I don't have to worry about them scratching the pan. They are
Collapsible Microwave Food Cover – I came across this handy kitchen item years ago when I was at Marshall's. You know how it's so hit or miss at that kind of store, I was lucky to find it! I used to use food safe paper sheets to cover food we heated in the microwave but this food cover has less waste. I especially like that it's collapsible because when I'm not using it, I keep it in my drawer with container lids.
Small Knife Sharpener – This is a must have for any kitchen chef! It's nice and compact so fits easily in a drawer but gets the job done when you need to sharpen your dull knives. Keeping your knives sharp is important for overall safety and efficiency in the kitchen.
Kitchen Shears – I like having a separate pair of scissors just for the kitchen. They're handy for opening difficult packages but I also use them to cut herbs or ingredients like green onions. I use these almost daily they are a must have for me!
Small Specialty Box Grater – I received this as a gift several years ago and thought to myself "why do I need this? I already have a grater and food processor." Let me tell you, I love this little grater! Each side has different size holes which makes it so versatile. I use it most often when grating hard cheeses like Parmesan but I have also used it to finely grate a small amount of carrots, squashes and other vegetables. I love it!
I hope you've discovered some new items in this list that may help make your life easier in the kitchen! I'd love to hear what some of your favorites are too so leave a comment below to share.
Be sure to check out my Amazon Shop to discover the many items I use in my own kitchen. Meal Planning Magic is a participant in the Amazon Services LLC Associates Program, an affiliate advertising program designed to provide a means for sites to earn advertising fees by advertising and linking to Amazon.com. Ordering products mentioned here are at no extra cost to you. Thank you for your support.