This post may contain affiliate links. Please read my disclosure policy.
Cherry and Chocolate Chip Cookie Cutter Cookies are a delicious twist on traditional sugar cookies. My no-chill dough makes it simple to bake some up anytime!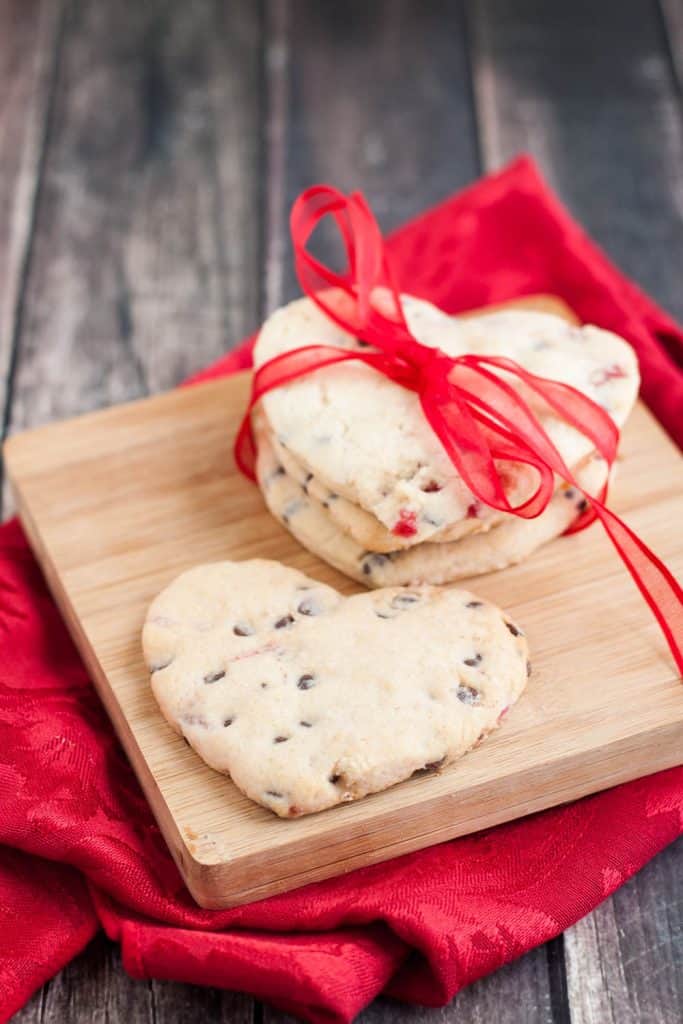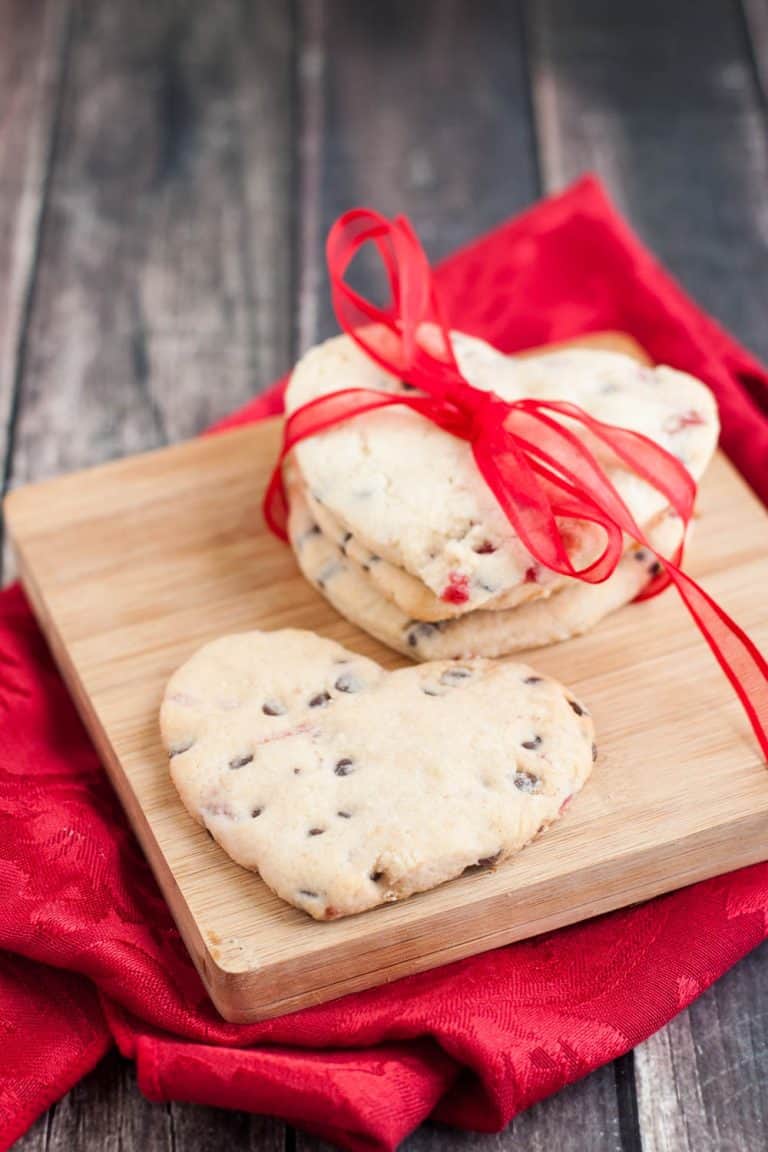 There's something about the combination of chocolate and cherry that I just love. And I also love baking cut out sugar cookies so when I tasted a similar purchased cookie, I decided to try and make my own Cherry and Chocolate Chip Cookie Cutter Cookies and the result was delicious.
I adapted a cookie recipe I received from a friend that makes amazing cookies—they are seriously like works of art! The best thing about this recipe is that there is no chilling required for the dough.
That means you can whip up a batch of cookies any time which make them a perfect selection for a bake sale like for Cookies for Kids Cancer.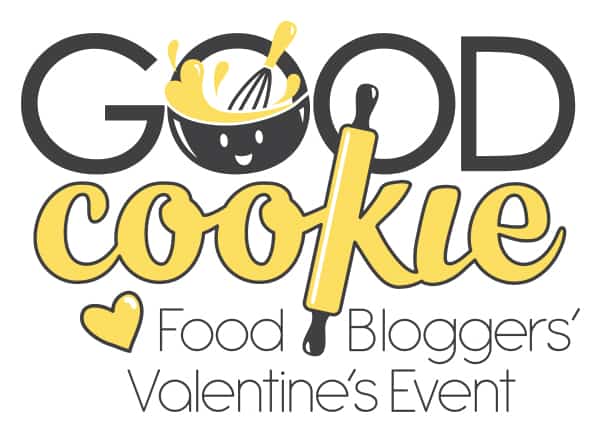 Baking for Cookies for Kids Cancer
I'm so excited to participate in this year's Valentine's event (again). This is the fourth year for the event and we want to continue to make a difference in the fight against pediatric cancer. Last time I participated, I shared a Strawberry Chocolate Truffle Recipe that is so super easy too!
Cancer is the #1 cause of death of children by disease in the U.S. There are 40,000 U.S. children actively battling cancer right now. The National Cancer Institute's budget for childhood cancer is less than 4%. It's such a small number and that's why I got involved.
Help us make a difference by donating to Cookies for Kids' Cancer!
Our goal is to raise at least $3000. Because these three companies: OXO, Mediavine and Dixie Crystals have each pledged to match our donations raised through this campaign up to $3000! That means when we raise $1, it turns into $4!
Thank you to so many of you who have already donated, please help us reach our goal so we can get the full matching donations and help us make an even huge difference!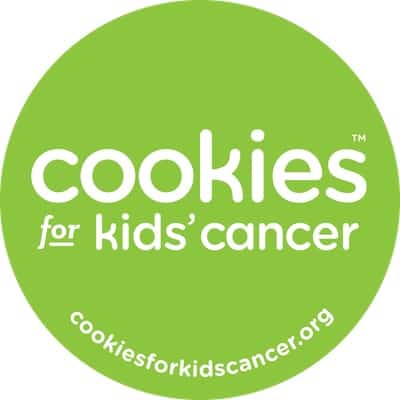 What You Need To Make These Cherry Chocolate Chip Cookies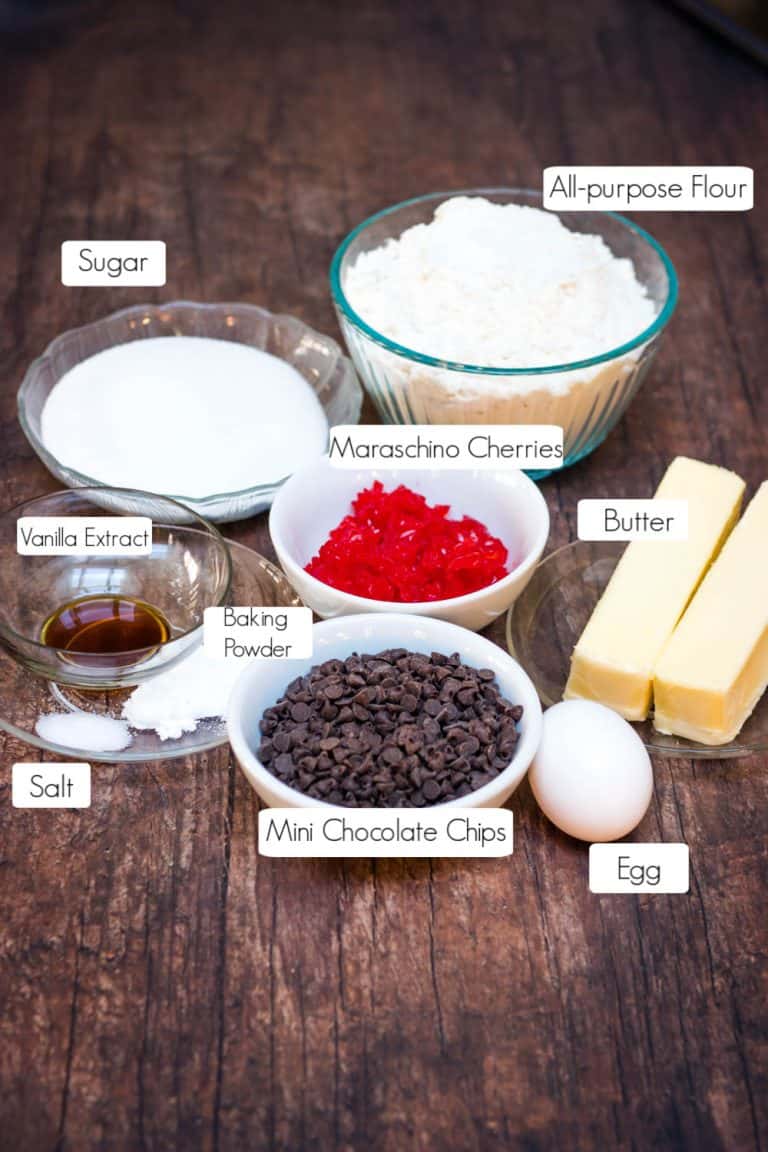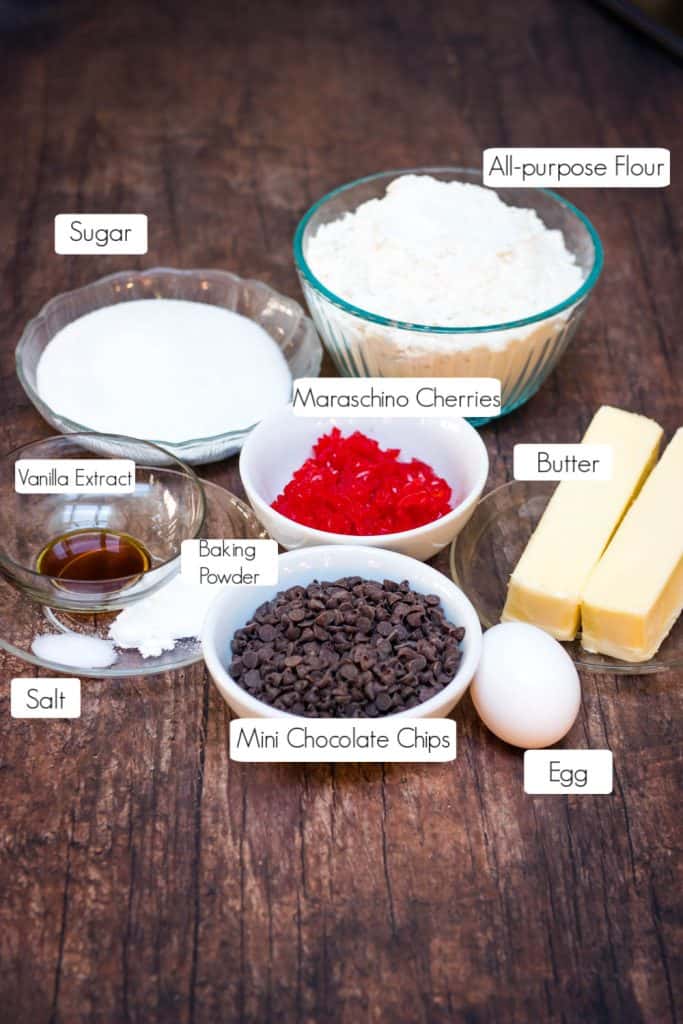 Unsalted Butter – Look for it when it goes on sale to save some money! I also usually choose store brand or Aldi brand as I find it works just as well as the name brand.
Sugar – I often buy the Aldi brand to save some money but choose what you like!
Egg
Vanilla Extract – Vanilla can be expensive! I find that Aldi has a great price or I'll even buy it in bulk sometimes at Costco
Baking Powder – Here's where I don't skimp. I like a name brand best.
All-Purpose Flour – This one depends on the store as to whether I'll choose store brand or not to save some money.
Miniature Chocolate Chips – You can find these in the baking aisle near all the other baking chips.
Maraschino Cherries – If you can, choose the ones without stems (just to save a step). Sometimes I have a hard time finding these in my grocery store but usually they are with the baking ingredients. I like to buy the Aldi brand when I can because their brand is artificial dye-free.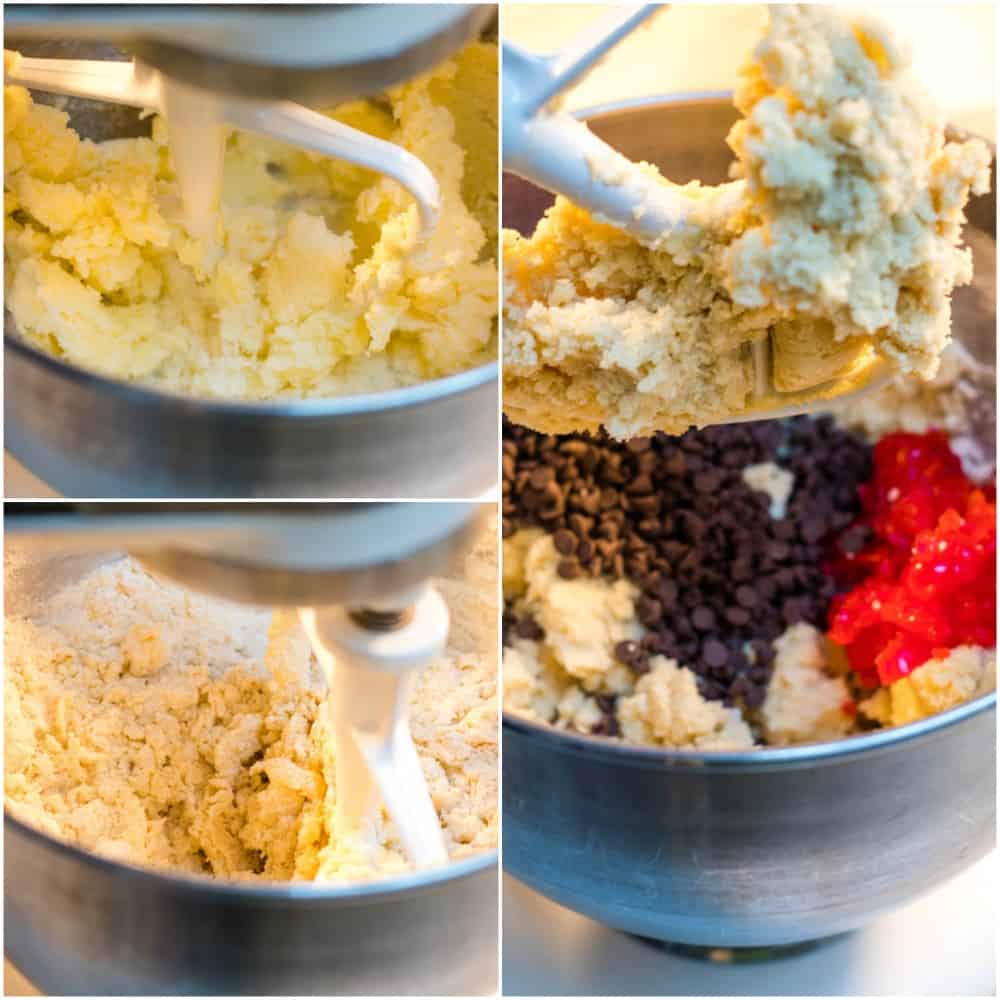 How to Make Chocolate Chip Cherry Cut Out Cookies
One trick I've learned to making successful cookies is to make sure you let the butter get to room temperature. So this is definitely something to plan ahead for. For me, that usually takes about a half hour.
The other thing I like to do is cream the butter first before adding the sugar. Many recipes will call for you to blend them together but I find that by using my mixer to cream the butter alone, it allows the butter to get a little bit more whipped and it's easier for the other ingredients to blend in more easily.
As you'll see in some of my photos, once I have the butter, sugar, egg and vanilla mixed together, I will add the flour and baking powder. I'll blend it until it just starts to get crumbly but not fully blended.
Then I add the chopped maraschino cherries and miniature chocolate chips. That allows me to blend those items in quickly without and they still keep their shape in the cookie.
Helpful Tools To Easily Make Chocolate Chip and Cherry Cookies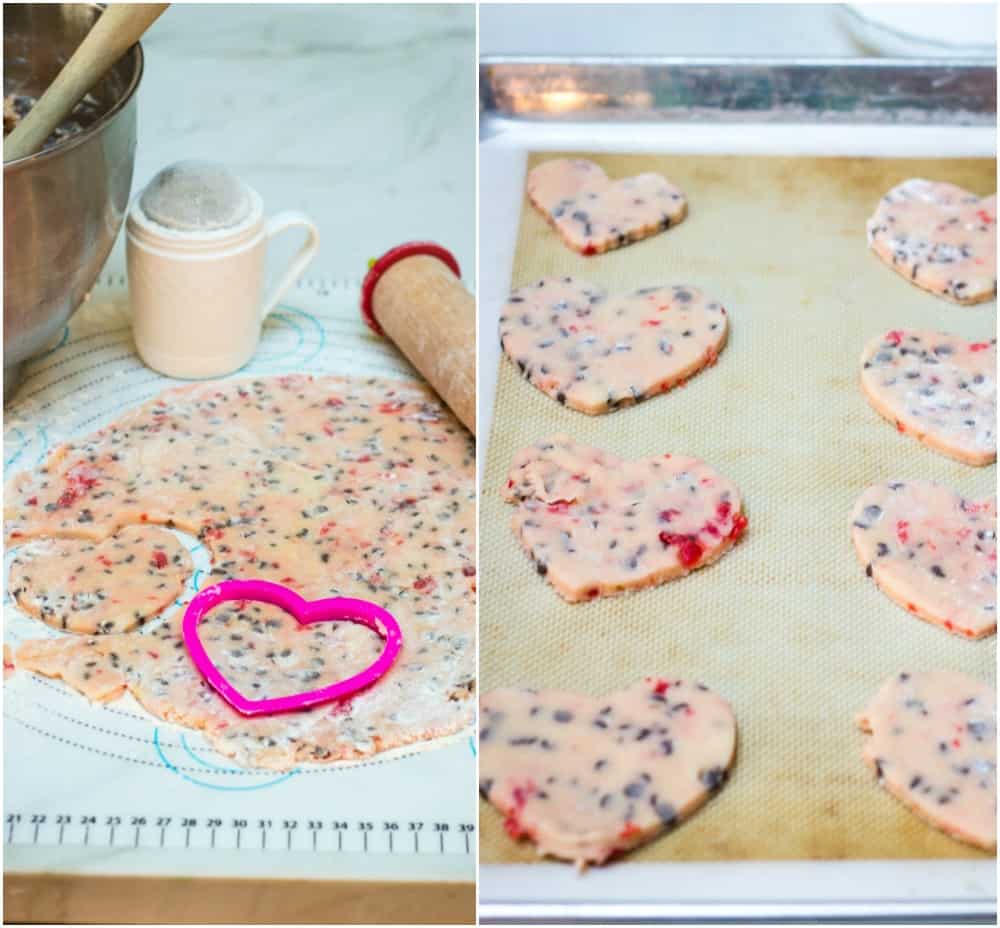 You can chop the cherries using a large chef's knife but I like to use my mini-food chopper like this one. I find that it makes for less mess and is so much easier too!
Last year, I also got a baker's mat. Of course, it's not NEEDED but it sure does make things easier, especially when it comes to clean up. I like this one the best because it sticks to the counter and doesn't slide around.
A trick I learned when taking a cookie decorating class was to use a multi-purpose shaker like this one. I fill it with flour and it is so much easier to flour the mat before rolling out the dough. Using flour on the mat keeps the dough from sticking and helps your cookie stay in the shape of the cutter.
As a gift, I also received this adjustable rolling pin and it is so awesome! It's great for rolling out cookie dough that you'll be cutting shapes out of because you can switch out the different discs to adjust the thickness of the cookie dough which helps it bake more evenly.
I usually roll mine out to ¼-inch thickness but sometimes will do a thicker cookie that is ⅜-inch thick.
You can use any kind of cookie cutter whether they are plastic or metal. I just like them to be about a half-inch thick so they pop out more easily.
Lastly, I bake my cookies on a half-sheet cookie tray like this one and I just love my silicone baking mats. It makes baking and clean up so much easier and I like that they are reusable so I don't have to purchase parchment paper and just throw it away when I'm done baking.
Make Ahead Tips for Cherry and Chocolate Chip Cut Out Cookies
Since the dough for these cookies does not require chilling there's not a lot you can do ahead. You can chop the cherries ahead of time if you like.
These cookies freeze really well though! You can bake them then put in a freezer safe container for up to three months.
Other Cherry and Chocolate Baked Treats and Snacks
Like I said before, cherry and chocolate is one of my favorite flavor combinations. If you love it too, be sure to check out these other recipes on my blog like No Bake Chocolate Cherry Energy Bites or Chocolate Covered Cherry Delights.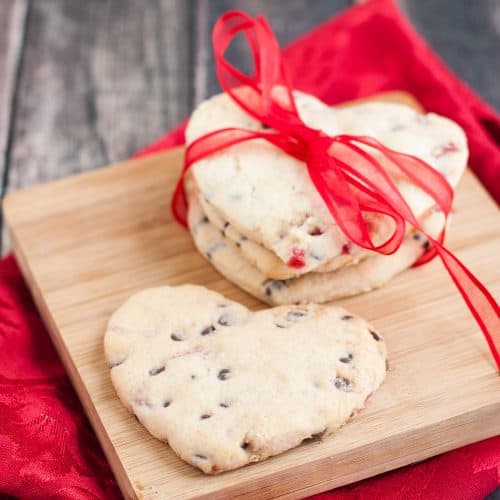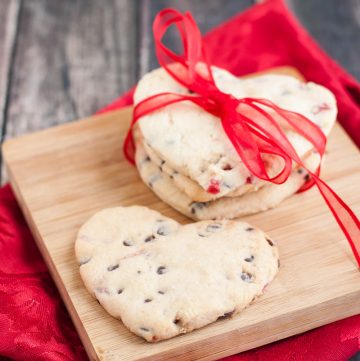 Cherry and Chocolate Chip Cookie Cutter Cookies
Cherry and Chocolate Chip Cookie Cutter Cookies are a delicious twist on traditional sugar cookies. My no-chill dough makes it simple to bake some up anytime!
Rate this Recipe
Print Recipe
Pin Recipe
Ingredients
1

cup

butter

softened

1

cup

sugar

1

large

egg

1

teaspoon

vanilla

½

teaspoon

maraschino cherry juice

2

teaspoon

baking powder

3

cups

flour

¾

cup

miniature chocolate chips

½

cup

maraschino cherries

finely chopped
Instructions
Preheat oven to 400°F. In a large bowl, cream butter and sugar with electric mixer.

Beat in egg, vanilla and cherry juice. In a separate bowl, combine baking powder and flour.

Add to butter mixture, one cup at a time, mixing until just combined after each addition.

The dough will be crumbly at first but then come together and be stiff.

Add chocolate chips and chopped cherries and blend just until mixed through.

Do NOT chill dough. Divide dough into two balls and flatten slightly.

On a floured surface (I use a big cutting board), roll each ball to about ⅛" – ¼" thick.

Using cookie cutters, cut out desired shapes. Repeat with remaining dough.

On ungreased cookie sheet, bake on middle rack of oven 6-8 minutes or until cookies are lightly browned on edges. Remove from oven and keep on baking sheet for 2 minutes.

Using a spatula, remove cookies to cooling rack and cool completely.

Store in airtight container for up to a week or in freezer for up to three months.
Nutrition
Serving:
1
cookie
|
Calories:
126
kcal
|
Carbohydrates:
16
g
|
Protein:
2
g
|
Fat:
6
g
|
Saturated Fat:
4
g
|
Cholesterol:
20
mg
|
Sodium:
6
mg
|
Potassium:
37
mg
|
Fiber:
1
g
|
Sugar:
8
g
|
Vitamin A:
174
IU
|
Calcium:
18
mg
|
Iron:
1
mg
Be sure to visit the other bloggers participating in the Valentine's Day event and check out their recipes!
Brownie Cups
from Julie of The Little Kitchen
Valentine's Day Delight Recipe
from Jennifer of The Rebel Chick
Strawberry Cake Rolls
from Coleen of The Redhead Baker
Perfect M&M Cookies
from Carlee of Cooking With Carlee
Paleo Almond Butter Cookies
from Taryn of Hot Pan Kitchen
Black Tahini Truffles
from Camilla of Culinary Adventures with Camilla
Pink Glitter Drink fo Valentine's Day
from Jenn of Ever After in the Woods
Vegan Matcha Rose Shortbread
from Carolann of Apron Warrior
Star Wars Kylo Ren Emoji Cookies
from Jenn of justJENN recipes
Double Chocolate Chip Cookies
from Faith of An Edible Mosaic
Andes Mint Cookies
from Rebekah of Kitchen Gidget
Chocolate Pots from Kristin of On the Home Front
Red Velvet Cake Mix Cookie Bars
from Melissa of Persnickety Plates
Dark Chocolate and Smokey Blue Cheese Gougères
from Lisa of Taste Cook Sip
Nutella Cookies
from Raquel of Organized Island
Strawberry Sandwich Cookies
from Heather of Delicious Not Gorgeous
Mini Chocolate Lava Kiss Cakes
from Sue of It's Okay to Eat the Cupcake
Strawberry Cheesecake Cookies with White Chocolate
from Lisa of Blogghetti
Chewy Dark Chocolate Coconut Cookies
from Jessica of A Kitchen Addiction
Butterscotch Cookies
from Marlynn of Urban Bliss Life
Gluten Free Hot Cocoa Cookies
from Elaine of Small Farm Big Life
Cherry and Chocolate Chip Cookie Cutter Cookies
from Brenda of Meal Planning Magic
Cherry Cheesecake Bars
from Laura of Untwisted Vintage
Grapefruit Gin Spritz
from Sarah of Chef Sarah Elizabeth
Gluten Free Peanut Butter Cookies
from Brianna of Flippin' Delicious
chocolate heart cookies
from Meaghan of the decorated cookie
Red Velvet Cheesecake Brownies
from Gwynn of Swirls of Flavor
Salted Caramel Bars
from Marybeth of Baby Savers
Cotton Candy Buttercream Cupcakes
from Nina of Crazy for Cookies and More
Valentine's Day Cookie Cake from Bree of Baked Bree
Red Velvet White Chocolate Chips Cookies
from Maria of The Cookware Geek
Valentine's Blondie Bars
from Becca of The Salted Cookie
Confetti Cookies from Amy of The Nifty Foodie
Heart of Gold Chocolate Sprinkle Blossoms
from Erin of The Spiffy Cookie
Ancho Chili Brownies
from Dee of Meatloaf and Melodrama
Heart Shaped Spritz Cookies
from Holly of A Baker's House
Strawberry Macarons
from April of April Erhard
Sweetheart Chocolate Pretzel Bites
from Nicole of For the Love of Food
Gluten-free Peanut Butter M&M Cookies
from Michelle of My Gluten-free Kitchen
Raspberry Cinnamon Rolls
from Rose of Rose Bakes
Cherry Chocolate Chip Cookies
from Courtney of Know Your Produce
Nutella Chocolate Cupcakes for Two
from Sara of Confectionary Tales
Butter Almond Mushroom Cookies
from Jamie of Southern Revivals
Be sure to check out my Amazon Shop to discover the many items I use in my own kitchen. Meal Planning Magic is a participant in the Amazon Services LLC Associates Program, an affiliate advertising program designed to provide a means for sites to earn advertising fees by advertising and linking to Amazon.com. Ordering products mentioned here are at no extra cost to you. Thank you for your support.