This post may contain affiliate links. Please read my disclosure policy.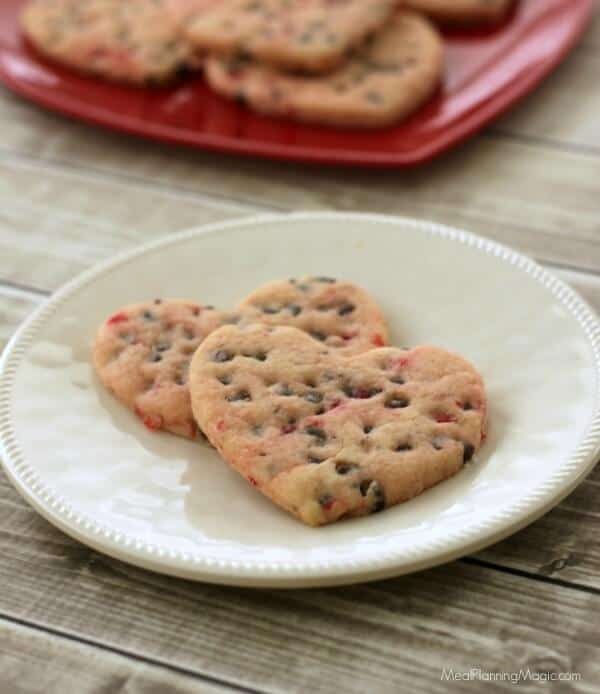 There's something about the combination of chocolate and cherry that I just love. My kids have told me they are not such fans of that combo but after making these Chocolate Cherry Cutout Sugar Cookies, I think they have converted. I got the base sugar cookie recipe from a friend that makes AMAZING decorated sugar cookies (seriously, she is as much an artist as she is a baker!) and have adapted it a bit for this cookie recipe. What is great about this sugar cookie recipe is that there is
no chilling of the dough required
which means you can make these whenever you feel like it and don't have to plan ahead for lots of different stages in the cookie baking process.
Chocolate Cherry Cutout Sugar Cookies
Author:
A subtly sweet sugar cookie that combines the flavors of chocolate cherry into a simple cookie.
Ingredients
1 cup butter, softened
1 cup sugar
1 large egg
1 tsp vanilla
1/2 tsp almond extract (optional)
2 tsp baking powder
3 cups flour
3/4 cup miniature chocolate chips
1/2 cup maraschino cherries, finely chopped
Instructions
Preheat oven to 400°F. In a large bowl, cream butter and sugar with electric mixer. Beat in egg, vanilla and almond extract. In a separate bowl, combine baking powder and flour. Add to butter mixture, one cup at a time, mixing until just combined after each addition. The dough will be crumbly at first but then come together and be stiff.
Add chocolate chips and chopped cherries and blend just until mixed through.
Do NOT chill dough. Divide dough into two balls and flatten slightly. On a floured surface (I use a big cutting board), roll each ball to about 1/8" – ¼" thick. Using cookie cutters, cut out desired shapes. Repeat with remaining dough.
On ungreased cookie sheet, bake on middle rack of oven 6-8 minutes or until cookies are lightly browned. Remove from oven and keep on baking sheet for 2 minutes. Using a spatula, remove cookies to cooling rack and cool completely.
Store in airtight container for up to a week or in freezer for up to three months.
Using heart-shaped cookie cutters, these are perfect for Valentine's Day but of course the flavor combination is good all year round. I think I might try them next with a round cookie cutter that has a fun bubble type edge. I love how these have hint of pink from the cherries and the mini-chocolate chips add just enough chocolate to satisfy your chocolate sweet tooth. Overall, the cookies are not super sweet which I like also. Because these are so easy to make and require just a few ingredients, you can whip up a batch or two in no time to serve at a Valentine's Day party or just make for your family and friends. I hope you give them a try. Enjoy!