This post may contain affiliate links. Please read my disclosure policy.
My Simple Slow Cooker Homemade Chai Tea Concentrate is subtly sweet with a delicious kick of spice from cinnamon, ginger and cloves. Save money and time by making chai lattes at home!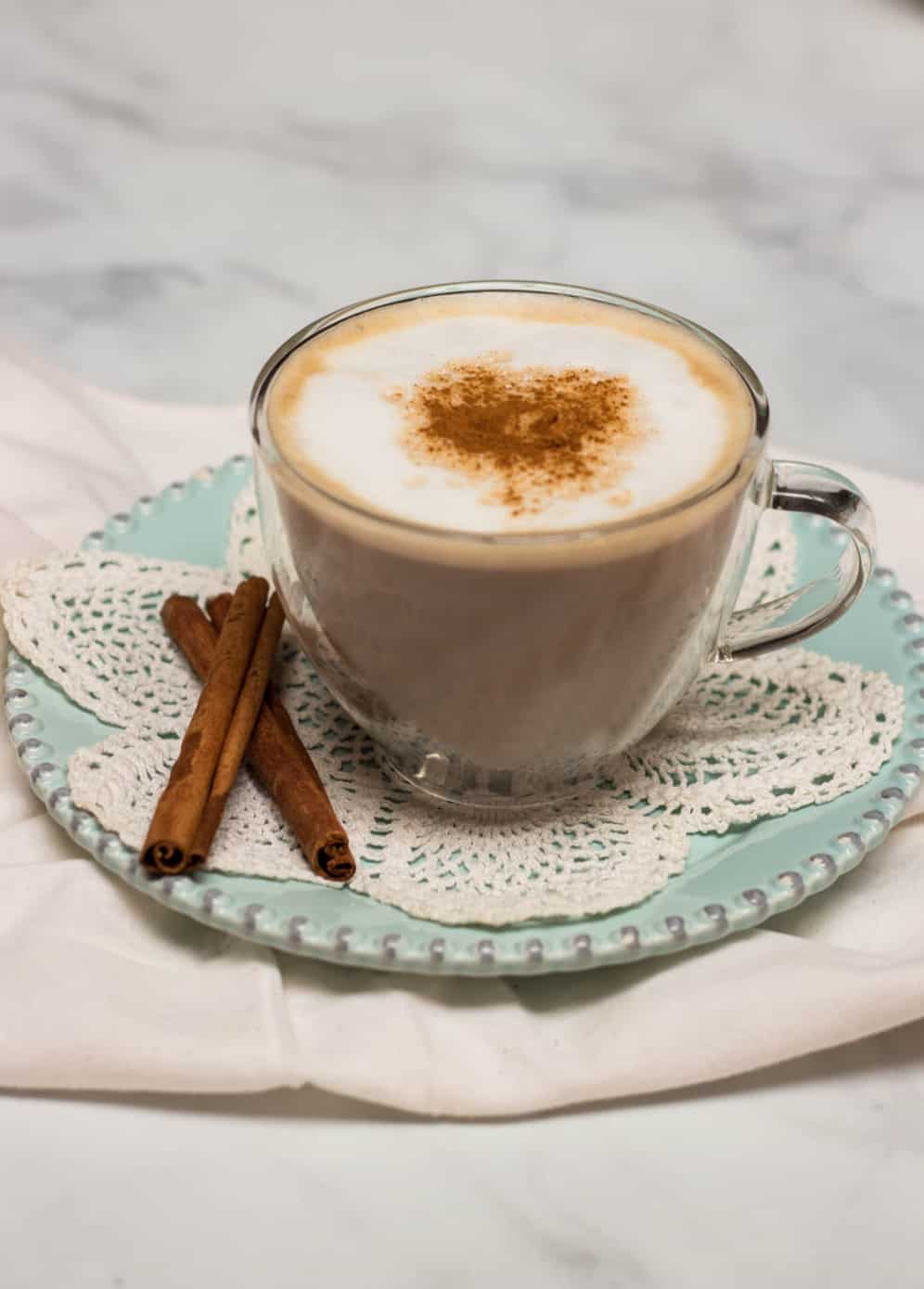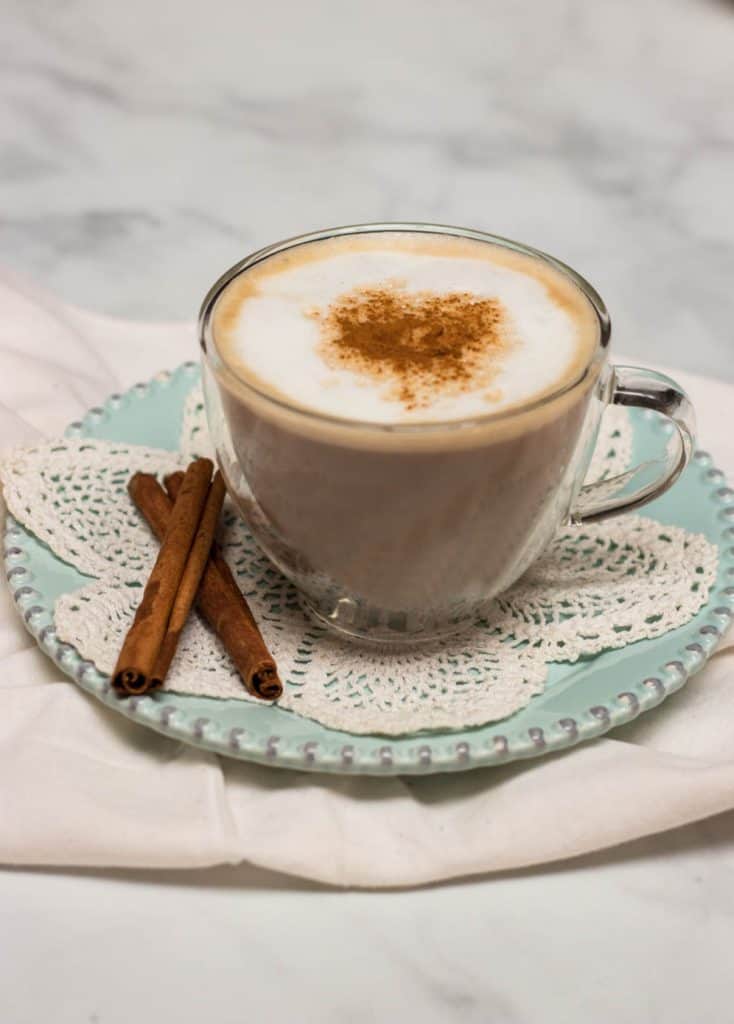 I'm not really sure when I had my first chai latte but I was hooked from that first sip! So when I cam across a recipe in an old cookbook, I knew I had to try making it at home.
What I especially love about it is that it's a less indulgent sweet drink than flavored coffee. It's so easy that I looked forward to my daily cup all week (and yep, I had more than one cup some of those days!)
Chai is the shortened version of masala chai, a blend of black tea with a mixture of Indian spices such as cinnamon, ginger, cloves and cardamom. You can find it as an option at many coffee houses these days and it's a delicious alternative to coffee or cocoa.
Chai is the Hindu word for tea so when you say "chai tea", you're really saying "tea tea" but so many people seem to say chai tea that I feel like they're interchangeable. Purists will say it's simply chai. But of course it's up to you!
One extra bonus for making Homemade Chai Concentrate at home is that you can prepare it hot or cold! On chilly days, a warm mug of Chai Latte with Foamy Milk is great. On warmer days, we enjoy an Iced Chai Latte.
I share how to prepare each in the recipe card below. I promise, they're both super easy!
How Do You Make Chai Latte at Home?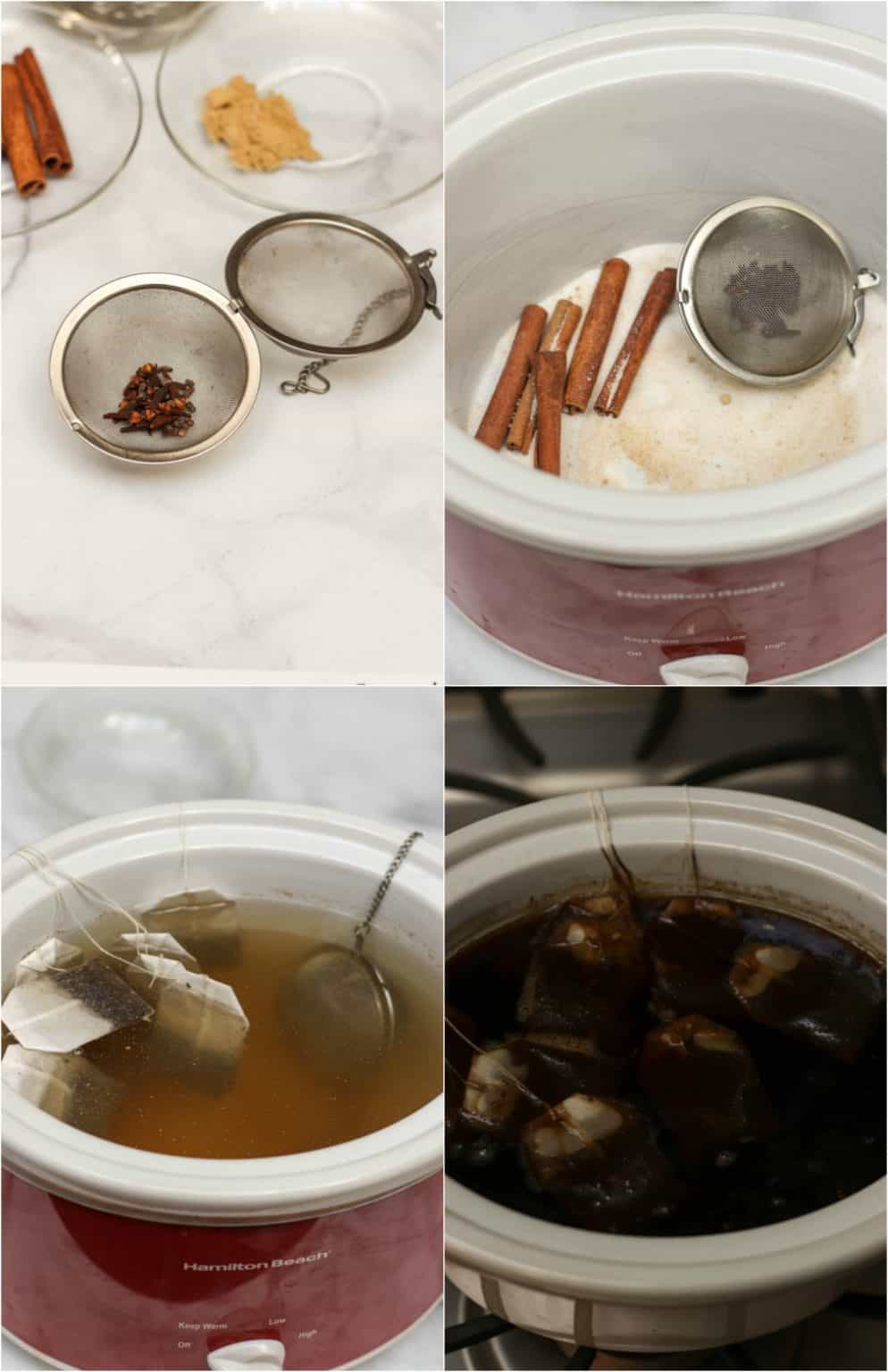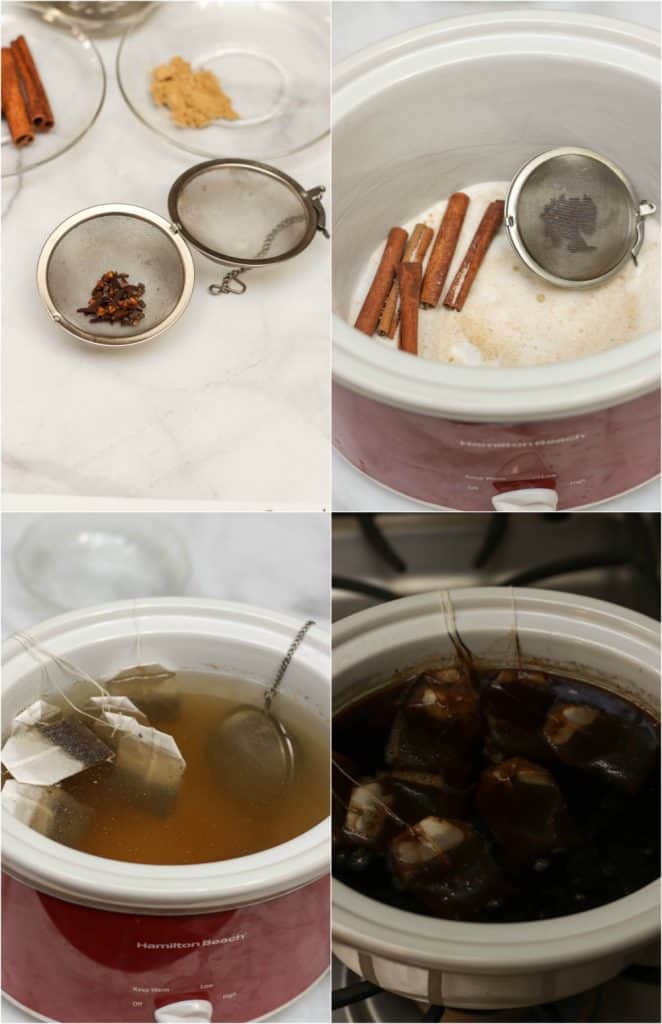 I've modified this slow cooker chai latte recipe a bit from the original and reduced the original amount of sugar it called for and slightly changed the quantity of other ingredients too.
My homemade chai tea concentrate is made in a slow cooker! I have two favorite slow cookers–this programmable 6-quart size and this 4-quart size. (Read my 10 Tips for Slow Cooker Success to learn more about why I love my slow cooker).
What's great about making chai latte concentrate in a slow cooker is it "brews" virtually hands-free for just a few hours allowing all the flavors to blend together really well.
Then you just strain everything and you're good to go. Best of all, you can store the concentrate in the refrigerator for up to a week or even freeze it into cubes so you can heat and enjoy later.
TIP: I use a large mesh tea ball like this one to contain the whole cloves and cardamom seeds. It makes it easier when you're straining everything out at the end.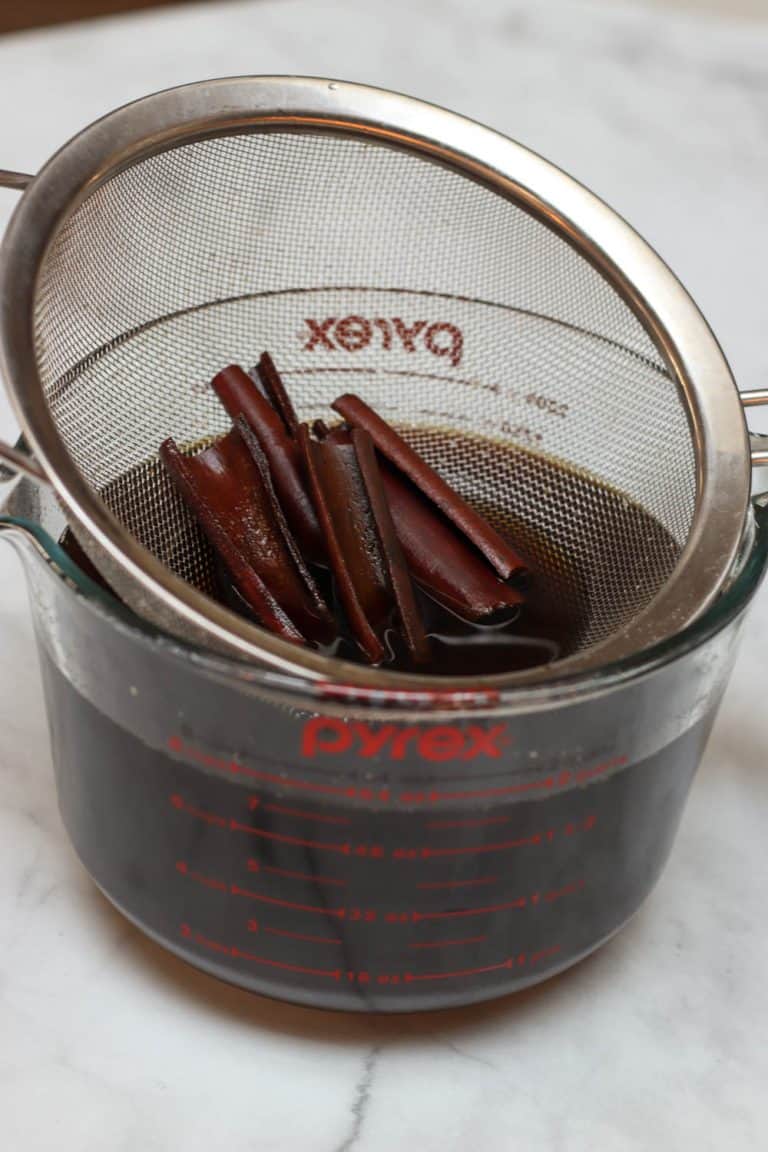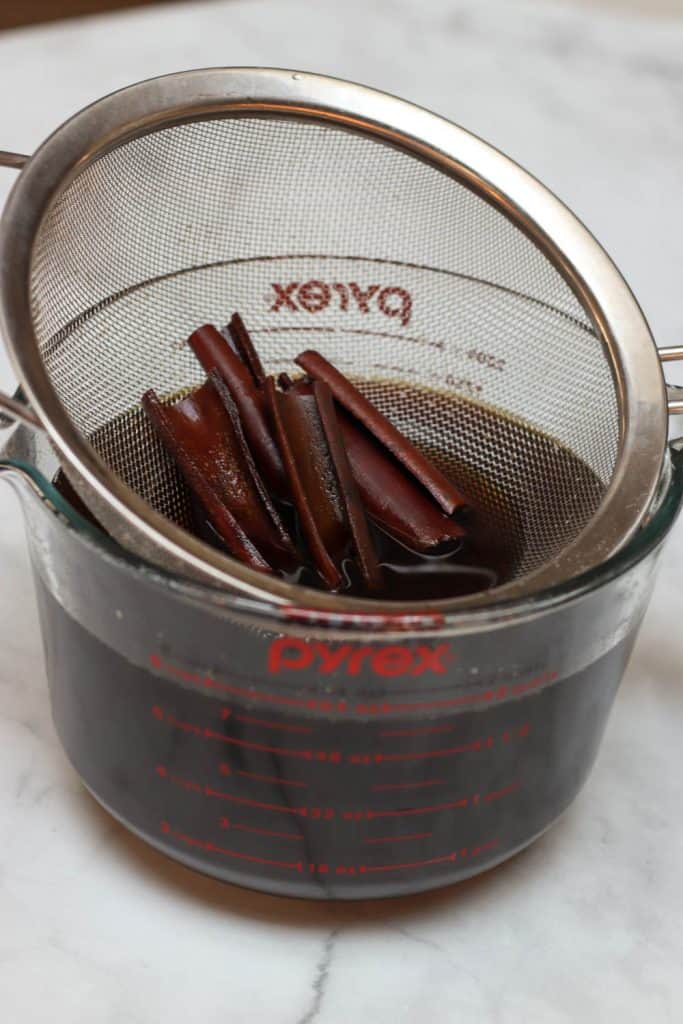 Because it's a concentrate, you just add milk to make your own homemade chai latte. When you make chai latte at home, you'll be saving so much money! It literally is just a couple of dollars to make a big batch!
For an extra special coffee and tea house treat, you can foam some milk to make it seem extra fancy but at a fraction of the cost!
What Ingredients Are Needed to Make Chai Latte Concentrate?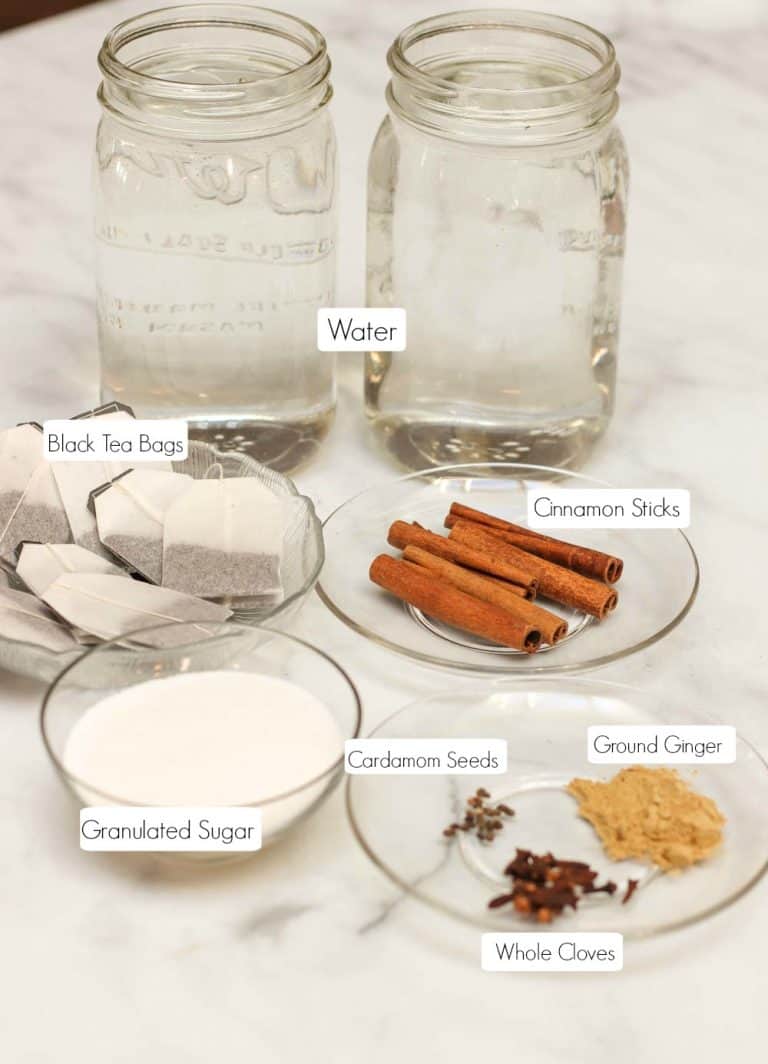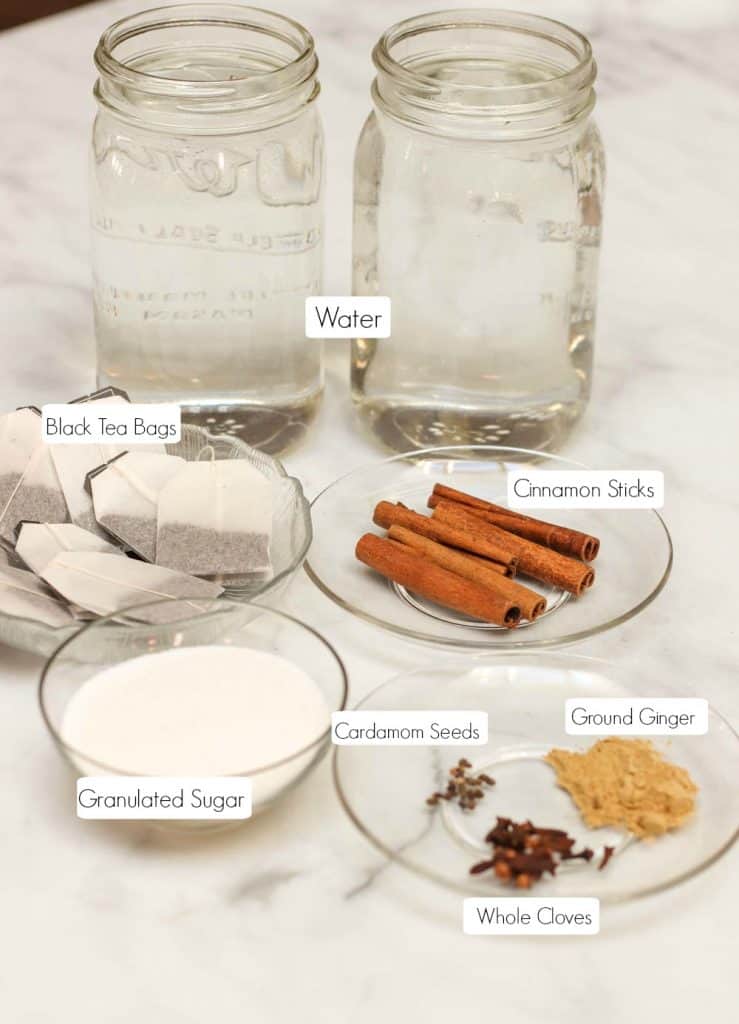 Black Tea – You don't need a fancy brand—just a basic black tea is fine. I have used both tea bags and loose tea in this recipe so it's up to you (I share instructions for both in the recipe card)
Granulated Sugar – This is just your basic white sugar. I often choose store brand because it can save me a little money.
Whole Cloves – Easily found in the spice section of your grocery store.
Whole Cardamom Seeds – This can be a bit trickier to find but I most often buy them in the bulk spice section of the grocery store. You can also use powdered cardamom.
Be sure you are choosing the seeds and not the pods (or you could break those up to get the seeds out).
Cinnamon Sticks – Again, these are found in the spice section of the store. I find that I can save some money buy buying just the quantity I need from the bulk spice aisle at my grocery store.
Ground Ginger – You got it, find this in the spice aisle of the grocery store!
Water
Milk – I have found that 2% milk work's best for foaming. If you just want the creaminess of it, you can experiment with almond, oat or soy milk, etc. Although I've never tried this so don't know how it changes the taste. If you do, let me know!
Extra Ground Cinnamon (optional) – This extra cinnamon is for sprinkling on top of your latte if you want!
How to Froth Milk Without a Frother for Warm Homemade Chai Latte
A few years ago, I experimented making my own milk foam at home. The easiest method is to use an immersion blender or electric handheld milk frother. But since I don't have either of those, I tried a few other ideas.
One method was to use my blender. It's a Vitamix and has an adjustable speed. I made a video that you can check out here. It's not the best as I was (and still am) kind of a newbie on making videos but the basics are there! It was made at the end of the day so next time I'll hopefully look a little more refreshed—ha!
The last, and easiest in my opinion, is to use a glass jar and some good old muscle power. I learned this by watching another video. Basically, you take warm milk, add it to a jar with a tight lid (I used a small mason jar) and shake that milk for 30 seconds.
And voila! You've got foamed milk ready to pour into your chai and an arm workout as a bonus! I found that 2% or whole milk or half and half worked the best because of the creaminess.
More details are in the recipe card below!
How Do I Use Chai Latte Concentrate and Is It Freezer Friendly?
I love this recipe so much because it is so versatile.
First, when you the slow cooker chai tea means it is naturally make ahead. You know I love make ahead recipes! Once the concentrate is done, you can store it in the refrigerator for up to a week.

I will sometimes make a batch of the chai concentrate and freeze it into serving size cubes. My favorite way to do this is to use these Souper Cubes because they are so easy to use! But I have also used silicone muffin cups or ice cube trays too.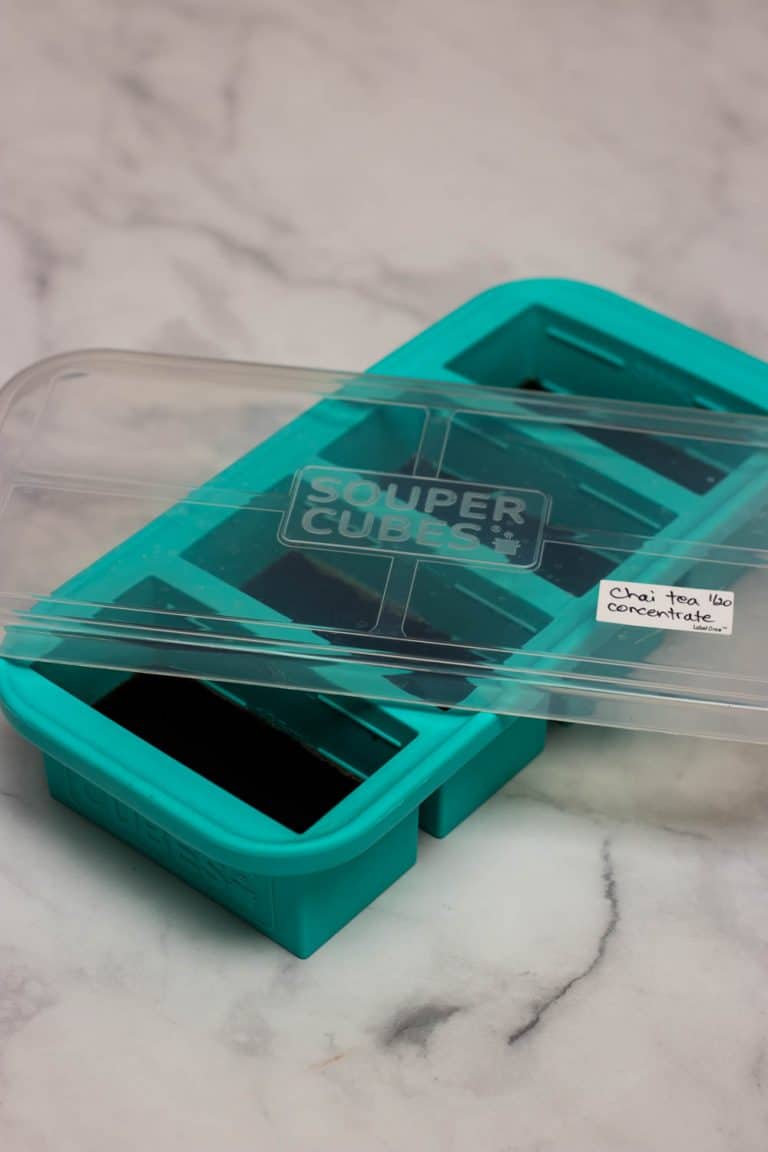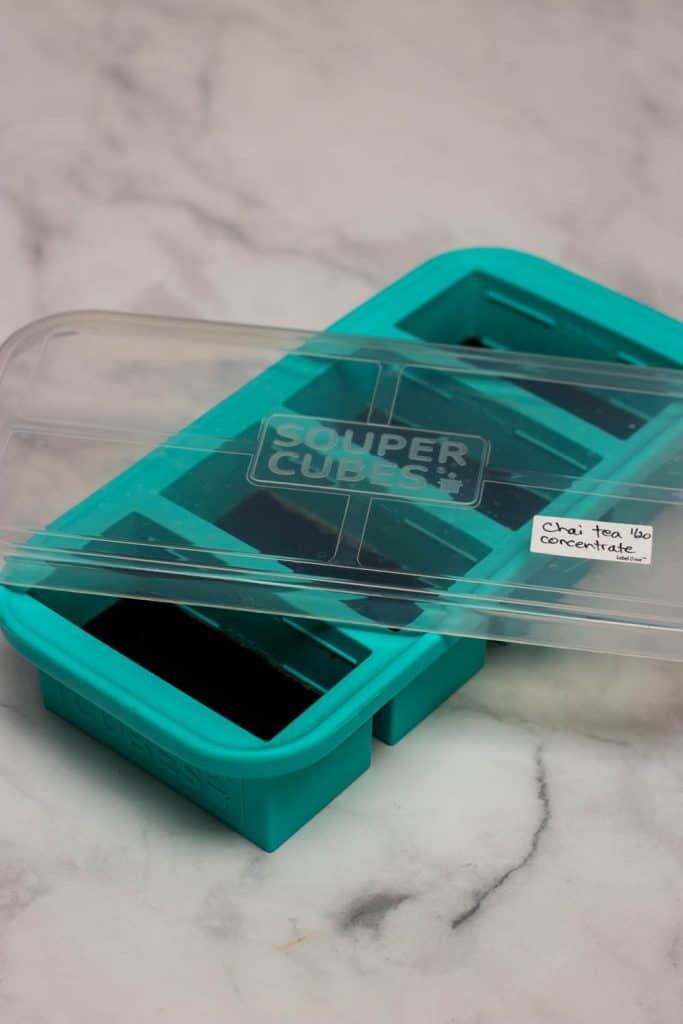 The frozen concentrate can be used for making both hot or cold chai lattes. If using for hot, just warm it up in a sauce pan or the microwave until it is heated through. Then add the foamed milk.
If using the concentrate to make an Iced Chai Latte, you can use the chai cubes directly in your blender. Add the milk and then blend it up until slushy and pour into a glass to enjoy right away!
If you want to make an Iced Chai Latte but you haven't frozen the concentrate, that's easy too. You will just add crushed ice in the blender. See my recipe below for more instructions.
Love Chai Spice or Cozy Warm Drinks?
If you like chai latte, be sure to check out my other warm drinks like my Warm Oatmeal Cookie Hot Cocoa or All Natural Pumpkin Spice Hot Cocoa.
If you like coffee, you can also enjoy a delicious flavored coffee by making up
I like the chai spices so much, I've also got a Vanilla Chai Shortbread Cookies recipe to share with you, too!
And a few of my favorite bloggers have also been inspired to create recipes using the flavors of chai spice. Like these Mini Chai Muffins with Vanilla Bean Glaze from Recipe Runner or Baked Vegan Doughnuts from Delightful Adventures. Or for something a little fancier, maybe you'll want to give this Chai Layer Cake with Pistachio Buttercream from Dish N the Kitchen a try!
I hope you give this recipe for Homemade Chai Concentrate a try!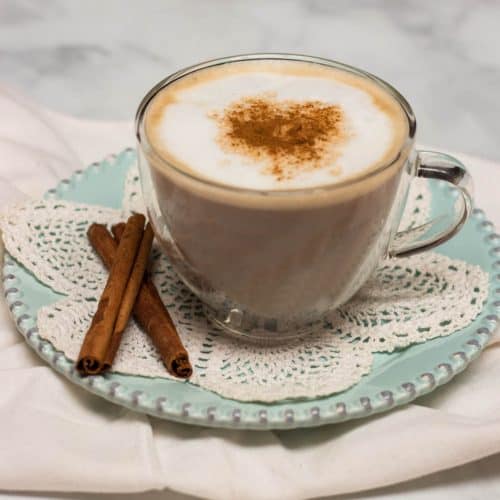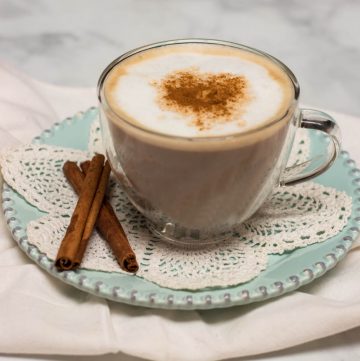 Slow Cooker Homemade Chai Tea Concentrate
My simple slow cooker homemade chai tea concentrate is subtly sweet with a delicious kick of spice from cinnamon, ginger and cloves. Save money and time by making chai lattes at home!
Rate this Recipe
Print Recipe
Pin Recipe
Ingredients
8

cups

water

8

bags

black tea

½

cup

granulated sugar

16

whole cloves

16

whole cardamom

you can buy these in the bulk spice section of most grocery stores–get the seeds not the pods

5

cinnamon sticks

1

teaspoon

ground ginger

1

cup

2% milk

or use foamed milk for hot tea
Instructions
Combine all ingredients except milk in slow cooker. Cover and cook on HIGH 2 ½ hours.

When done, strain mixture and discard solids. At this point tea may be stored and refrigerated up a week.

Just before serving, stir in milk. I like the ratio of two parts chai tea mixture to one part milk but you can adjust to your preference.

Serve warm or chilled and enjoy!
Nutrition
Serving:
12
ounces
|
Calories:
66
kcal
|
Carbohydrates:
15
g
|
Protein:
1
g
|
Cholesterol:
1
mg
|
Sodium:
22
mg
|
Potassium:
76
mg
|
Fiber:
1
g
|
Sugar:
11
g
|
Vitamin A:
30
IU
|
Vitamin C:
0.7
mg
|
Calcium:
66
mg
|
Iron:
0.7
mg
Sign up to receive an email in your inbox for each new recipe and get a FREE menu plan printable: FREE EMAIL SUBSCRIPTION
Don't forget to follow me on Facebook, Twitter, Pinterest , or Instagram or sign up for my email list here so you never miss a new post! Each offers a little something different and are a great way to stay in the loop on new menu plans, recipe ideas, organizing tips and more!
Be sure to check out my Amazon Shop to discover the many items I use in my own kitchen. Meal Planning Magic is a participant in the Amazon Services LLC Associates Program, an affiliate advertising program designed to provide a means for sites to earn advertising fees by advertising and linking to Amazon.com. Ordering products mentioned here are at no extra cost to you. Thank you for your support.