This post may contain affiliate links. Please read my disclosure policy.
Chocolate Mint Snow Top Cookies are a twist on crinkle cookies, a classic holiday cookie recipe.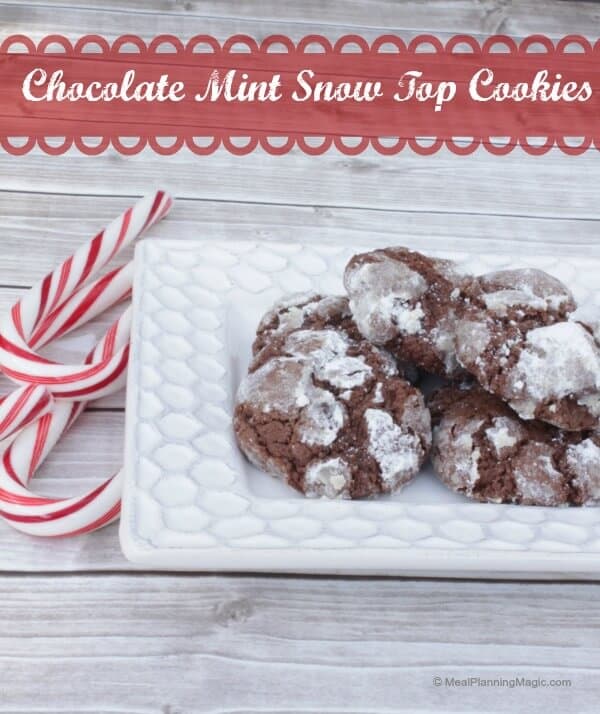 Remember a couple of weeks ago I mentioned having gone through my mom's recipe file looking for some recipe inspiration? Well, I found several recipes I was anxious to try and the recipe for these Chocolate Mint Snow Top Cookies was one of them! One thing I'm discovering about older recipes is that some of the ingredients called for are either not referred to as such any more. Like oleo – does anyone remember what that is? It's margarine. But I prefer to use all butter in my baking. Or the ingredients are no longer made. This recipe originally called for chocolate mint chips which I could not find. Maybe they do still exist somewhere, but
Nestle
doesn't make them anymore and I couldn't find a store brand equivalent at my local grocery store. So, I modified this recipe a bit to get that minty flavor with regular chocolate chips.
These are a delicious soft and chewy chocolaty bite of goodness and a pretty cookie with their snowy white and chocolate crackled look. They would be perfect for any holiday table! And other than the time it takes to chill the dough, they are pretty quick and easy to make as well. I did learn that they can be pretty squishy right out of the oven so be sure to leave them on the pan for the two minutes suggested. Otherwise, your cookies will squish back up when you try to remove them with your spatula.
I hope you give this recipe for chocolate mint snow top cookies a try!
Chocolate Mint Snow Top Cookies
Author:
Ingredients
Chocolate Mint Snow Top Cookies
1 ½ cup flour
1 ½ t baking powder
¼ t salt
6 T butter, softened
1 cup sugar
1 t vanilla
2 eggs
1 – 1 ½ teaspoon peppermint extract (your preference for how much mint flavor you like)
1 ½ cup chocolate chips, divided
¾ cup powdered sugar
Instructions
Combine flour, baking powder and salt. Set aside.
Melt 1 cup chocolate chips. Cream butter and sugar. Add melted chips, vanilla and peppermint extract.
Beat in eggs. Add flour mixture. Add remaining ½ cup chips. Wrap dough in plastic wrap and freeze until firm, about 20 minutes.
Preheat oven to 350. Shape dough into 1" balls. Coat with powdered sugar. Place on ungreased cookie sheet. Bake 11-13 minutes. Cool on pan for 2 minutes. Remove from pan and cool completely on wire rack.
Just a few simple ingredients is all it takes to make these minty chocolate cookies! Rolling them in powdered sugar before baking gives them the snowy, crackled look!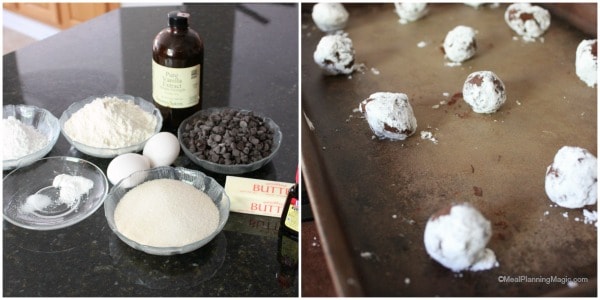 Can you believe we're at the 6th week of the 12 Weeks of Christmas Treats series and challenge? Have you started any holiday baking yet and freezing your treats? Or have you started any planning? Baking a little bit ahead of time allows you to have your freezer stocked with holiday treats for cookie exchanges or other parties without all the extra stress!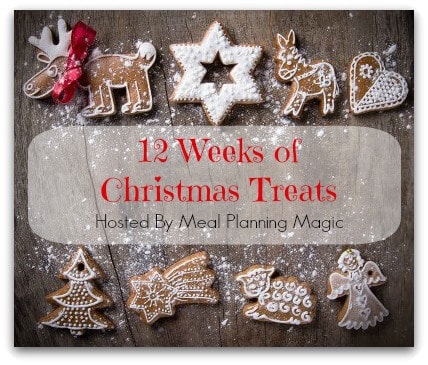 You can find out all about the 12 Weeks of Christmas Treats by clicking here for more information and details about joining in. If you're a blogger, be sure to check the guidelines, join the challenge and then link up your own post each week!