This post may contain affiliate links. Please read my disclosure policy.
Cranberry Citrus Tea is a non-alcoholic holiday drink that will be a festive addition to any holiday occasion! It can also be made ahead which makes it a great choice for hostesses!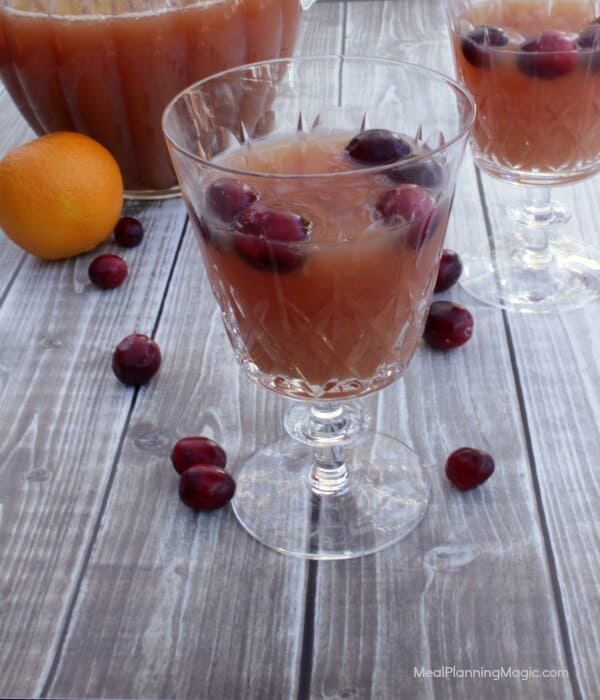 I've got another treasure recipe for you today as part of the 12 Weeks of Christmas Treats (can you believe we're in week 10 already?)! I discovered this recipe for Cranberry Citrus Tea in my mom's recipe file a couple of months ago, just like the Minty Surprise Cookies and the Chocolate Mint Snow Topped Cookies. I had to change it up a bit because as I've been finding with older recipes, some ingredients are no longer available.
This recipe originally called for a small can of lemonade concentrate and I couldn't find any small cans–only large cans! It also called for red hot cinnamon candies which I didn't want to use, so I substituted real cinnamon and it worked out just fine! I also cut down the amount of sugar. Personally, I thought it didn't need any sugar when I tasted just the concentrate, but if you are diluting it like the recipe suggests, to make it more a like a punch for a crowd, it got a little too diluted so adding the sugar will help with it's flavor appeal. Feel free to play around with it though to suit your own preference.
This Cranberry Citrus Tea recipe is also great because you can make up the concentrate and then add water to it as you serve it–perfect as a punch for your holiday parties!
I like to buy the giant bags of cranberries at stores like Sam's Club and Costco, as they are such a good deal this time of year. And did you know you can freeze them as they are to use in recipes throughout the year? Yep, you sure can! I bought a 3 lb. bag of cranberries at Sam's Club recently for just under $5. This recipe only calls for them as a garnish but I'll have a round up of a bunch more cranberry recipes for you coming soon.
Now, let's get to the Cranberry Citrus Tea recipe:
Cranberry Citrus Tea
Author:
Ingredients
4 cups 100% cranberry juice
2 cups boiling water
3 tea bags
1 can frozen orange juice concentrate, thawed
1/2 cup fresh lemon juice
20 whole cloves
1 tsp. cinnamon
1/2 cup sugar
1 cup fresh or frozen cranberries for garnish, optional
Instructions
Using cheesecloth or spice ball, add cloves and cinnamon. Close up securley.
Add tea bags and spice ball to boiling water. Steep for 5 minutes.
Add sugar and mix well until sugar is dissolved. Set aside.
In 2 quart pitcher, add cranberry juice, orange juice concentrate, lemon juice and tea mixture.
Stir well to combine. At this point, mixture may be refrigerated for later use.
When ready to serve, add 10 cups cold water (or blend with one-to-one ratio)
Add cranberries for garnish if desired.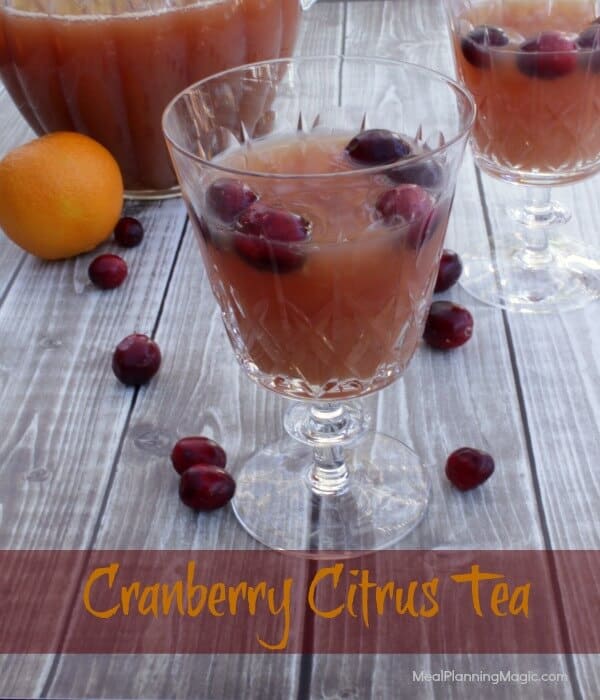 What are some of your favorite holiday beverages to serve to family and friends?
You can find out all about the 12 Weeks of Christmas Treats by clicking here for more information and details about joining in.
If you're a blogger, be sure to check the guidelines, join the challenge and then link up your own post each week.