This post may contain affiliate links. Please read my disclosure policy.
My homemade Orange Cranberry Tea Recipe can be enjoyed warm or cold—perfect for fall or winter days. Ready in minutes, it is steeped with cinnamon and cloves and can also be made ahead to enjoy anytime!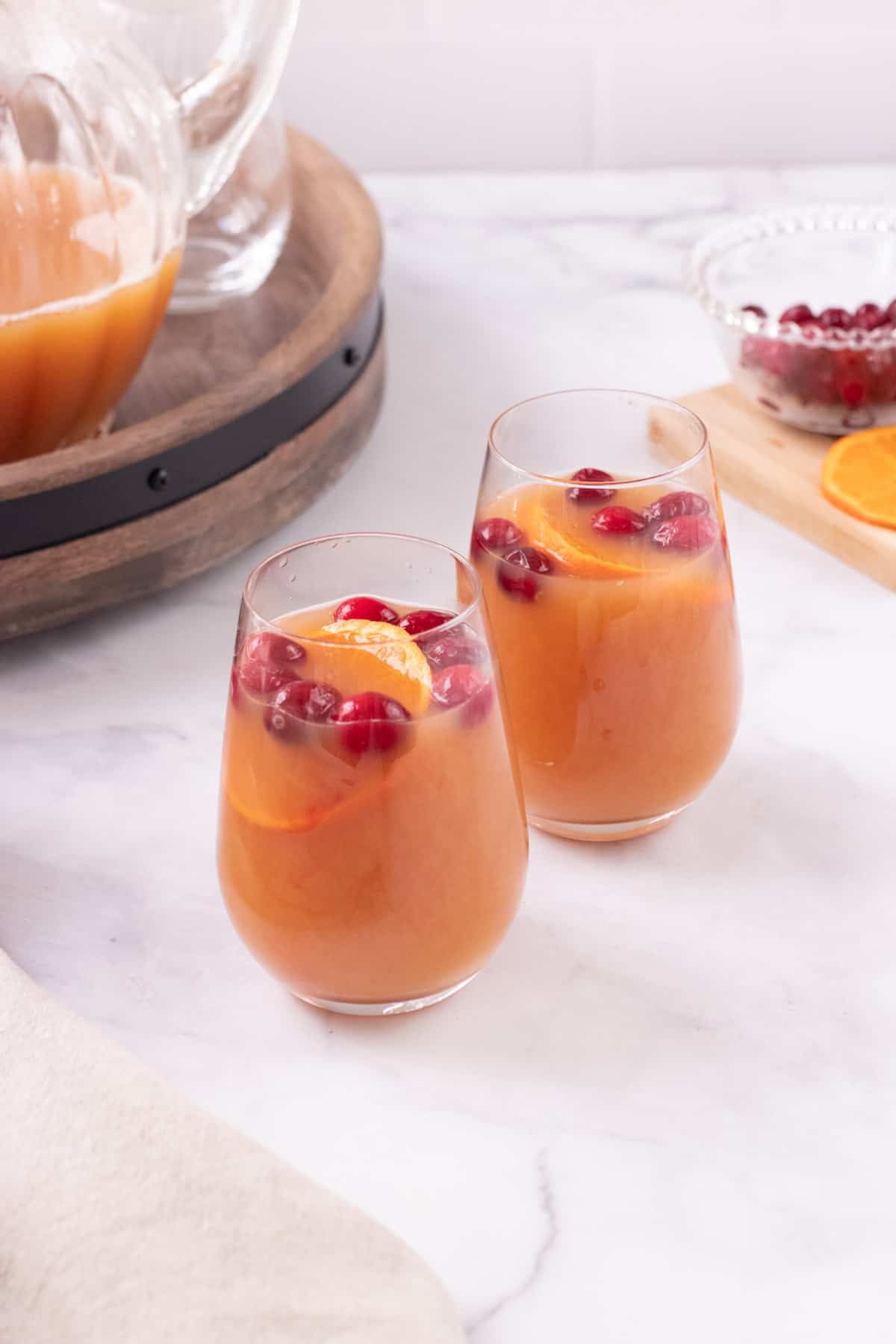 Jump to:
Why We Love This Recipe
Several years ago I was going through my mom's recipe box looking for familiar but also new to me recipes and I discovered this Cranberry Tea Recipe. I'm sure glad I tried it because it is SO easy and I love that it can be made ahead.
I modified the original recipe to reduce the amount of sugar called for and also substitute ground cinnamon for the red hot cinnamon candies. With the mixture of juices and sugar, it's still a great tasting citrus tea.
This would be perfect for any holiday gathering to serve as a punch but since it makes a concentrate, it's easy to freeze into individual portions so you can always have some on hand.
You can also keep the concentrate in the refrigerator for up to a week and portion out whenever you are in the mood for a tasty beverage. This delicious Cranberry Tea Recipe can also be enjoyed warm. My son especially likes it this way, too.
Ingredient Tips For This Recipe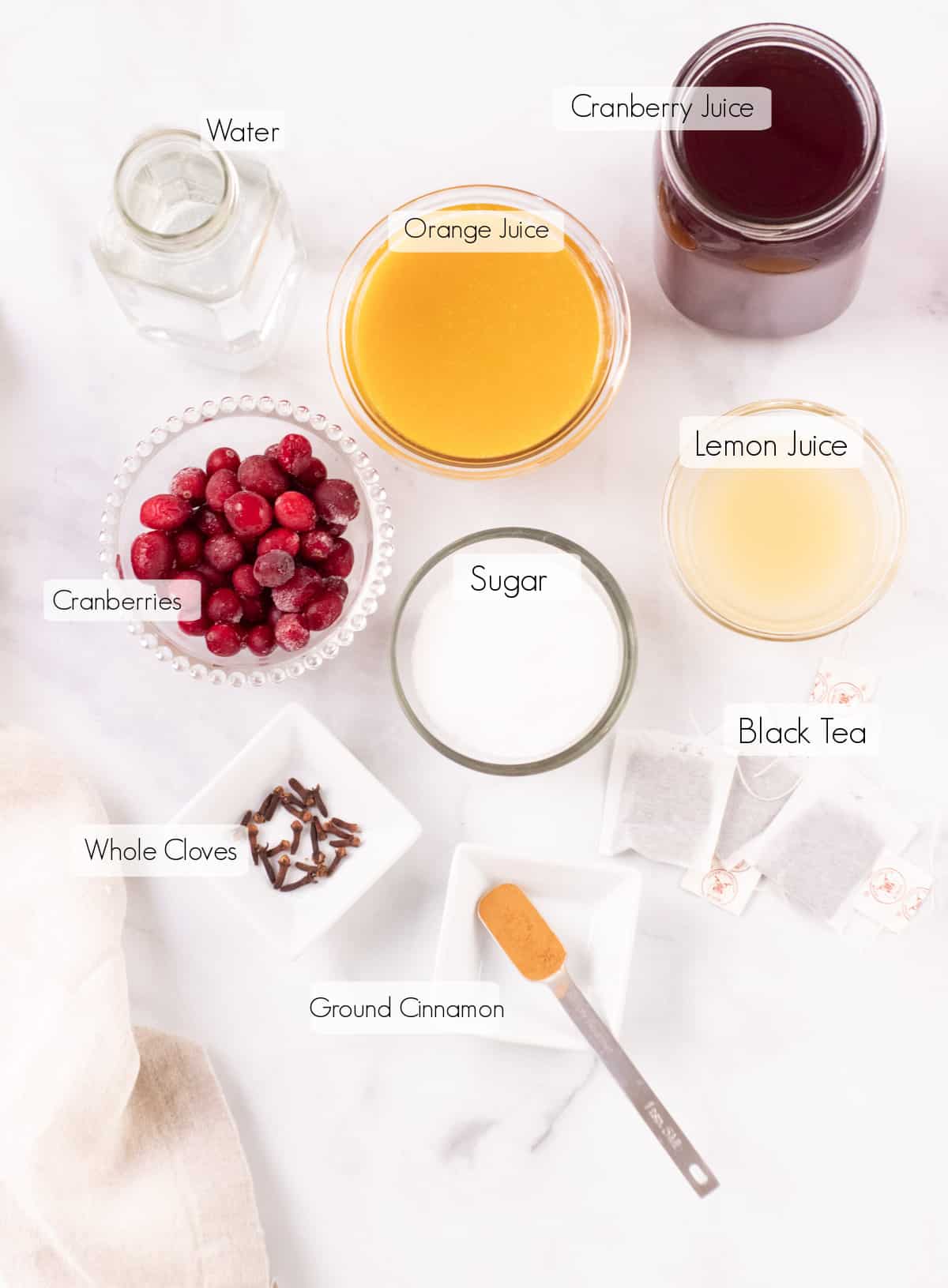 All of the ingredients for this cranberry tea recipe are easily found at the grocery store. I like to buy store brand when I can to save money. We find that they don't taste that different and the cost savings can be a lot!
Whole cloves can be found in the spice section of the store.
Fresh cranberries are in the produce section of the grocery store. At my store, they sell a small and big bag. Did you know that you can freeze cranberries? Yep! I like to buy the big bag and freeze any leftovers. They seem to last "forever" but can easily be frozen for up to a year.
While this cranberry tea calls for cranberries as a garnish, we love cranberries and enjoy them in other recipes like Cranberry Amaretto Chutney with Cream Cheese, Simple Cranberry Crumble Bars or Simple Cranberry Apple Crisp.
How to Make This Recipe
Have I mentioned how easy this recipe is? Just five minutes of steeping the tea and then the rest is is literally measuring and assembling ingredients.
I like to use a large mesh tea ball (affiliate link) to hold the whole cloves. It also comes in handy when I am making my Homemade Chai Concentrate or Homemade Chicken Noodle Soup. Steep the water, tea and spices for five minutes in a small saucepan (1).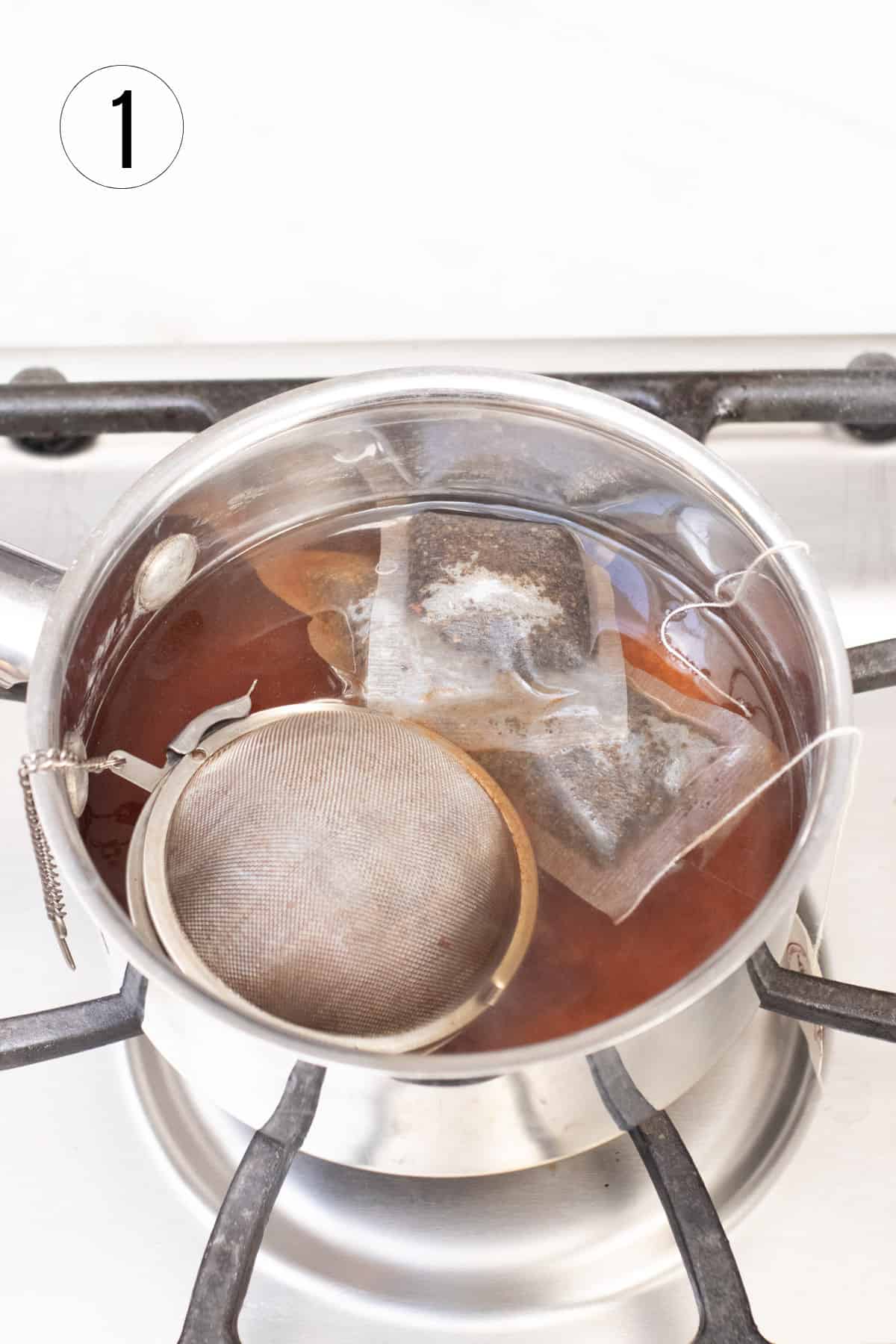 Remove tea bags and spice ball from the sauce pan and whisk (affiliate link) in the sugar, stirring until dissolved. Next, combine the brewed tea and sugar mixture with the cranberry juice orange juice concentrate and stir well (2). Slice oranges if using for garnish.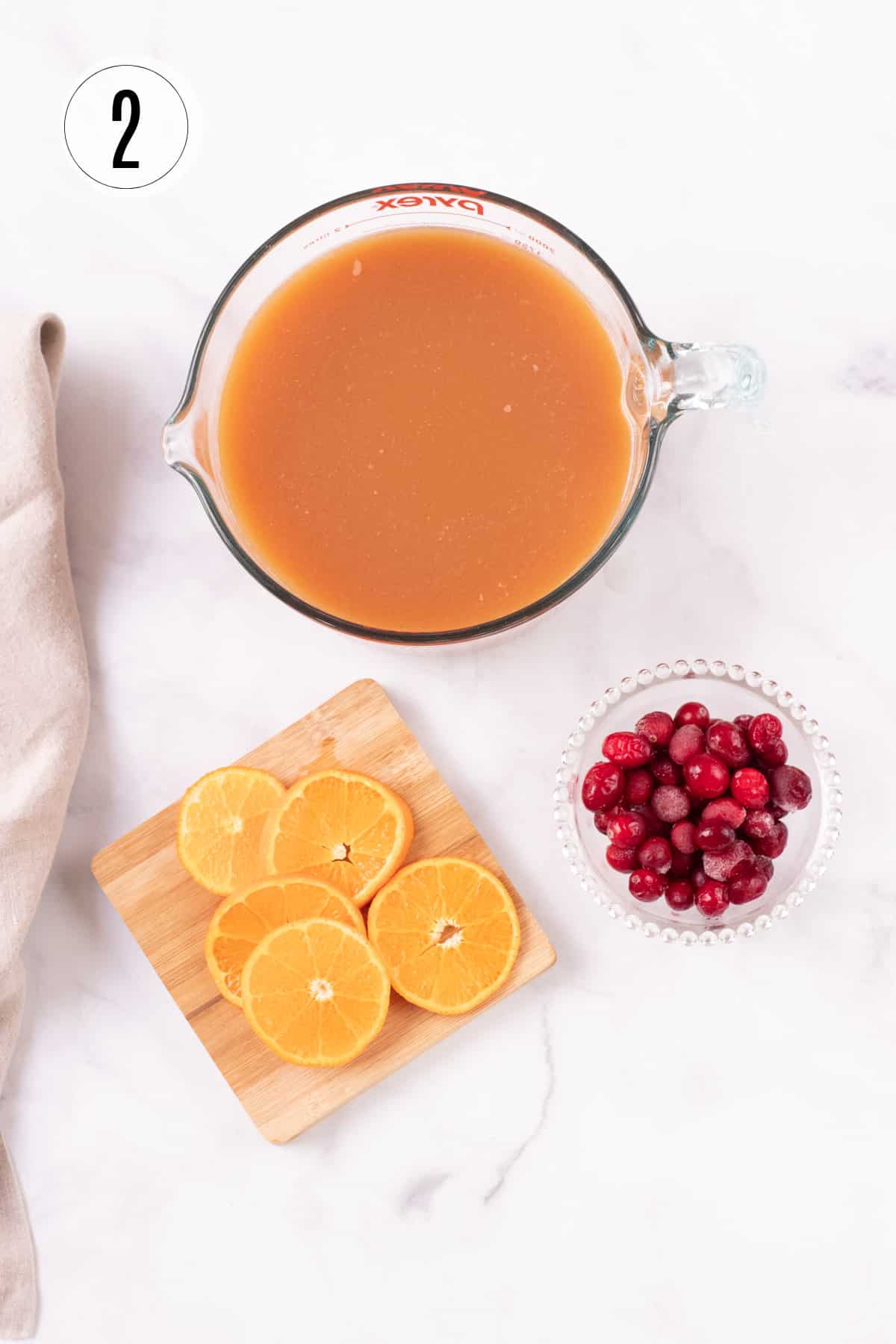 Make Ahead Preparation Tips
Since this recipe is naturally make ahead it's easy to make and have on hand for any occasion. I like that it makes a concentrate that I can dilute with water anytime we want to enjoy a cup or two. Just use a ratio of tea concentrate to one cup of water.
If you want to enjoy it warm, combine the concentrate and water before heating up. I like to heat it in a microwave safe measuring cup (affiliate link) on high for 1-2 minutes per 8 ounces. Of course microwaves and warmth preferences can differ so use your own judgement to warm it but keep it from getting too hot to drink.
Is this tea recipe freezer friendly?
Since this makes a nice size batch of cranberry tea concentrate, sometimes I will measure it out into individual servings and freeze. You can use silicone muffin cups (affiliate link) in a muffin tray or I also like to use Souper Cubes (affiliate link) that have half-cup and one-cup portions (3).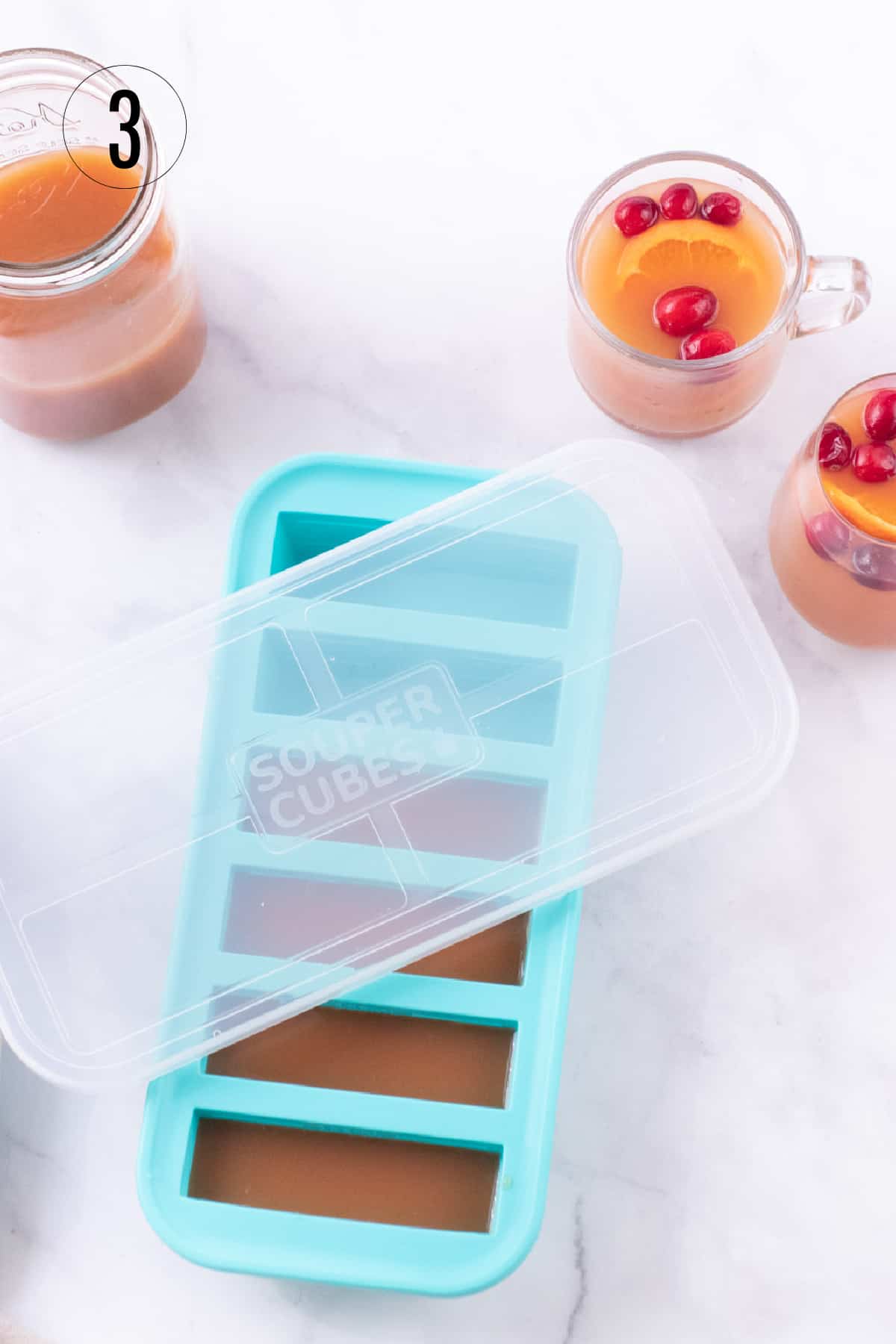 Either way makes it easy to pop the frozen "cubes" out and store in a labeled (affiliate link) freezer safe bag. So easy!
More Tasty Beverage Recipes
I love a good drink! Here are a few other favorites that we like to enjoy throughout the year:
Originally published in September 2014 but updated in September 2020 with new photos, video, and content.
Be sure to check out my Amazon Shop to discover the many items I use in my own kitchen. Meal Planning Magic is a participant in the Amazon Services LLC Associates Program, an affiliate advertising program designed to provide a means for sites to earn advertising fees by advertising and linking to Amazon.com. Ordering products mentioned here are at no extra cost to you. Thank you for your support.