This post may contain affiliate links. Please read my disclosure policy.
This Slow Cooker Homemade Honey Cinnamon Granola Recipe is so easy to make. It's also super delicious AND nutritious and makes a big batch to enjoy to enjoy and share, too!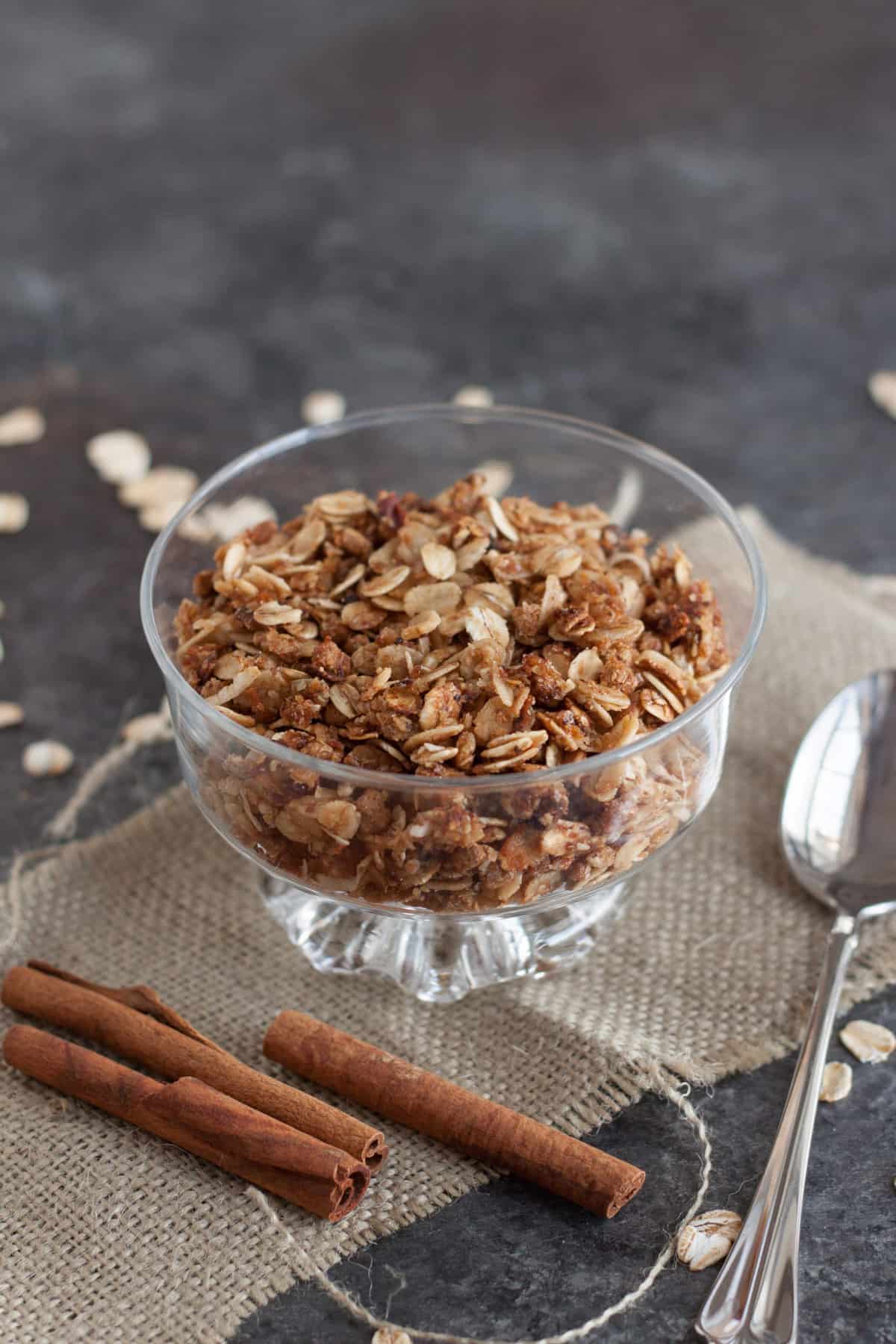 Why We Love This Recipe
Who knew you could make homemade granola in the slow cooker? After years of trying different recipes, my Slow Cooker Homemade Honey Cinnamon Granola Recipe is still my family's favorite. It has just the right amount of sweetness and cinnamon.
This homemade granola recipe makes a large batch. I store it in an airtight container, and we enjoy it as a snack, in a bowl with milk and dried fruit, or layered in a parfait glass with yogurt and cut up fresh fruit. We especially like it with fresh strawberries or blueberries.
When the holidays come around or you need a gift just because, it makes a great homemade food gift too! (Be sure to check out my round up of Food Gifts here).
I first got the recipe for this granola recipe with honey and cinnamon from one of my son's friends' mom after she served it for them as a snack years ago when my son was over at their house. It's delicious and oh so easy!
Over the years I have tweaked the recipe to reduce the amount of sugar significantly. I have also modified the recipe so that it can be made in the slow cooker. What makes preparing this granola in the slow cooker great is that you don't have to heat up your whole kitchen from the oven and it is pretty hands off other than the occasional stirring during cooking time.
I use a large, 6-quart slow cooker with a digital timer (affiliate link) and love it! The built-in digital timer is great because when cooking time is up, it automatically switches over to a "keep warm" setting so that foods are less likely to overcook. That's not as big a deal here for this recipe but can be for other slow cooker recipes.
Ingredient Tips For This Recipe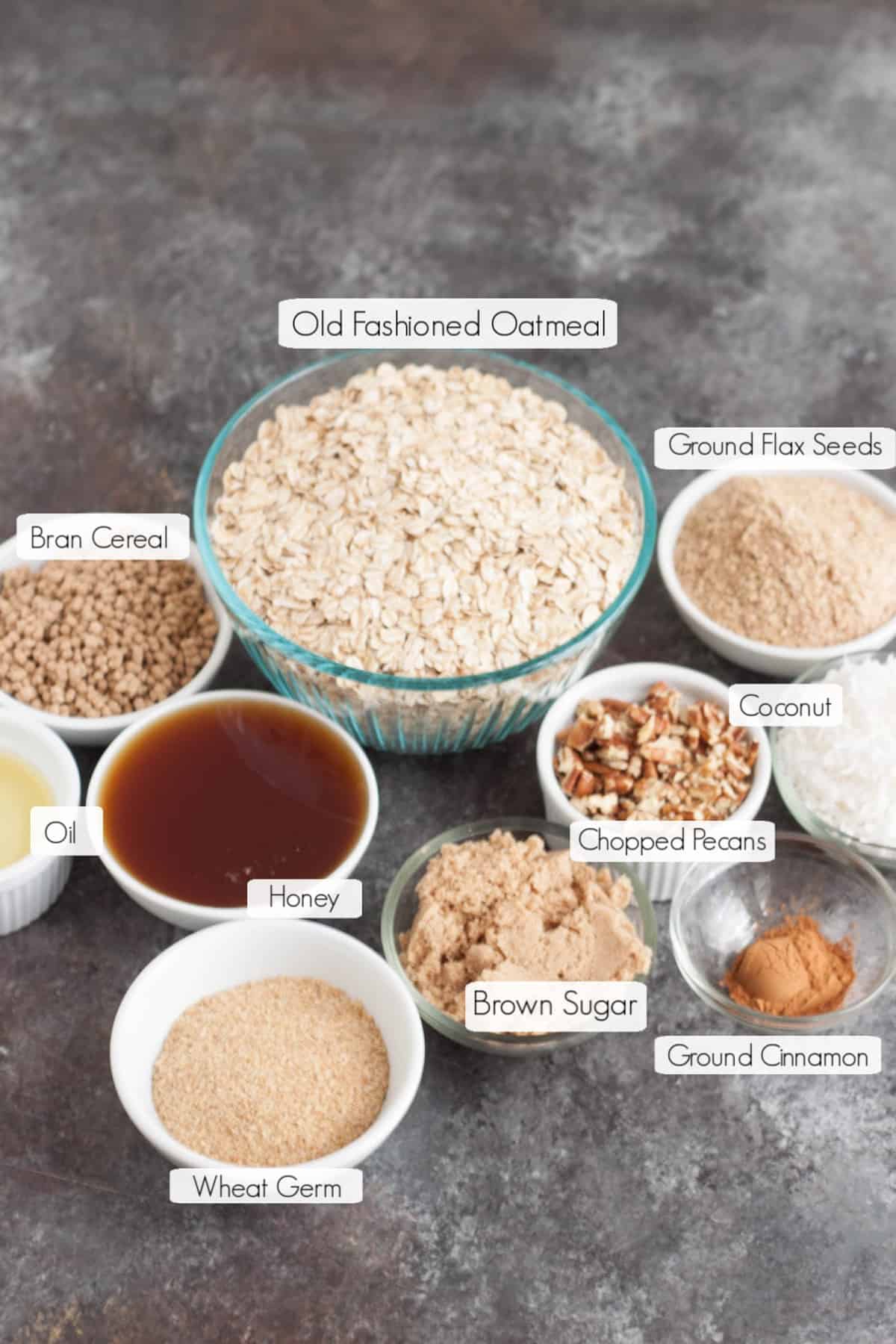 All of the ingredients for this honey cinnamon granola recipe are easily found at the grocery store. I like to buy store brand ingredients when I can to save money. Here are few other tips about some of the ingredients:
Be sure you buy the old-fashioned rolled oats and not quick-cooking oats for this recipe. The quick cooking type is basically chopped up oats and will not turn out as well for this granola as the old-fashioned style.
I like to buy pecans and other nuts at a warehouse club and keep them in the freezer for recipes year-round, like when I make Kahlua Gourmet Sugared Pecans, Spiced Caramel Almonds or Dark Chocolate Cherry Homemade Trail Mix.
Since this recipe already has honey and brown sugar in it, I like to use unsweetened coconut when I can find it (Kroger is where I've found it most consistently) If not, sweetened shredded coconut will work just fine.
This granola recipe also calls for bran cereal. I like to buy the bran buds rather than the flakes but it is up to you and your preference. Usually, this type of cereal is found on the top shelf of the cereal aisle because it is probably a less commonly sold variety.
The top shelf of the cereal aisle is also where you'll find the wheat germ. It usually comes in a glass jar and I keep it in the refrigerator after opening so it lasts longer. It's good to sprinkle on top of other cereals, oatmeal or yogurt too.
I buy a big bag of ground flax seeds at Costco and it lasts forever! I like to use it in other recipes like Green Monster Banana Avocado Smoothie and Homemade Granola Bars.
How to Make This Recipe
There are just a few simple steps to make this granola recipe. Using a large bowl, add all the ingredients and stir well to combine (1).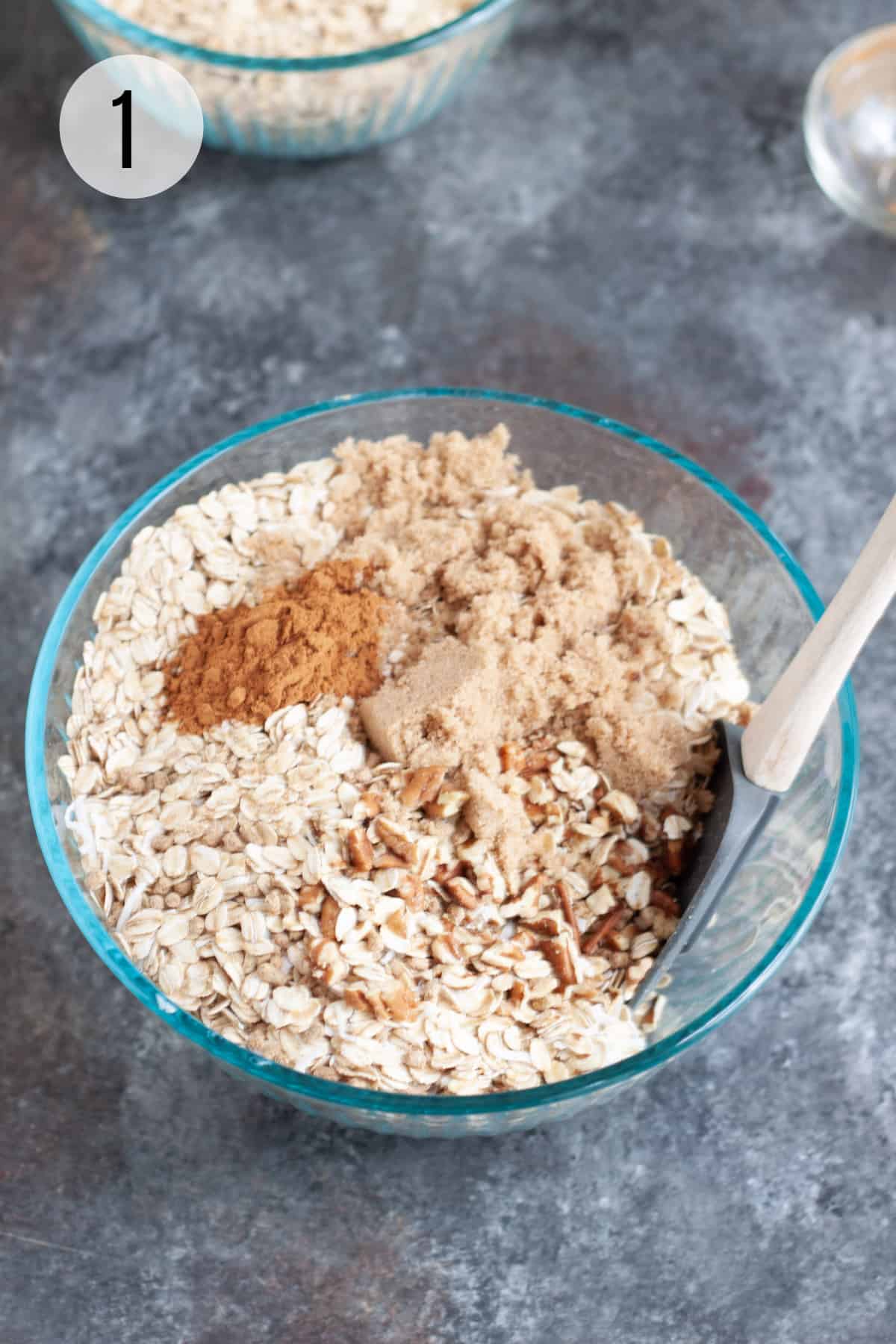 Then transfer everything to a large slow cooker (2). I use a 6-quart slow cooker (affiliate link). Follow the recipe instructions below for cooking time and temperature and periodic stirring.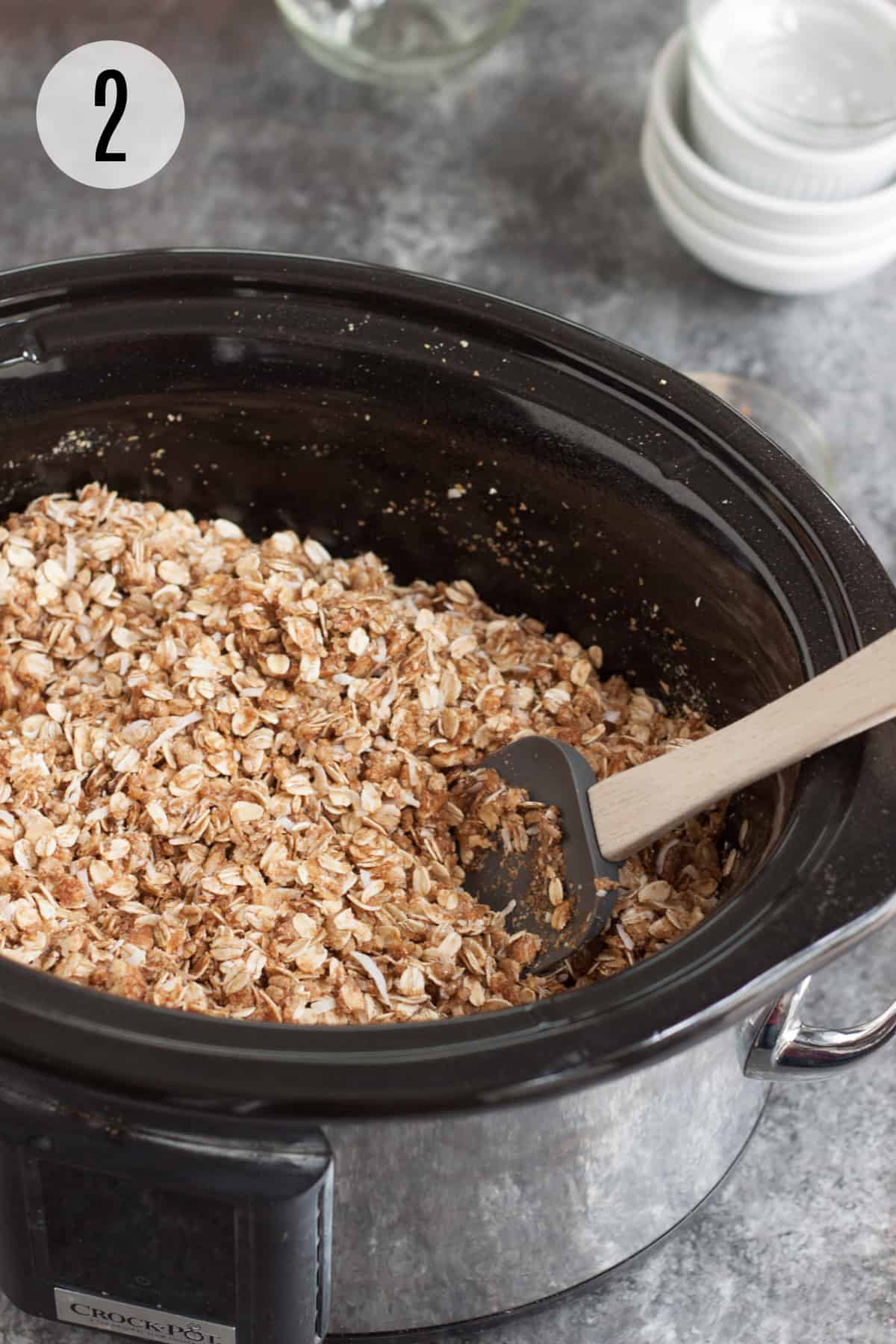 Once the cooking time is up, spread the granola mixture on a large baking sheet (affiliate link) lined with a silicone baking mat (affiliate link) to cool before transferring to an airtight container.
Make Ahead Preparation Tips
I've already mentioned that this homemade honey cinnamon granola recipe is make ahead but I have a few extra tips to help. Make sure that you let the granola cool to room temperature. If you put it in your storage container while it's still warm, it can form one giant block of granola. Sometimes you can break it off but sometimes it's is difficult!
It stores well at room temperature for up to a week.
Is this granola recipe freezer friendly?
Yes! Just make sure that your granola is cooled to warm temperature, as described above before transferring to a freezer safe container. Don't forget to date and label (affiliate link) it! It will last in the freezer for up to six months.
More Easy Make Ahead Breakfast Recipes
Making breakfast ahead of time saves time! Be sure to check out some of my other make-ahead recipes here:
Originally published in February 2018 and updated in November 2020 with new photos, video, and content.
Be sure to check out my Amazon Shop to discover the many items I use in my own kitchen. Meal Planning Magic is a participant in the Amazon Services LLC Associates Program, an affiliate advertising program designed to provide a means for sites to earn advertising fees by advertising and linking to Amazon.com. Ordering products mentioned here are at no extra cost to you. Thank you for your support.