This post may contain affiliate links. Please read my disclosure policy.
You'll love my twist on spinach dip! This Spinach Queso Dip is made with all-natural ingredients, full of veggies with just a bit of a spicy kick. Perfect for any occasion!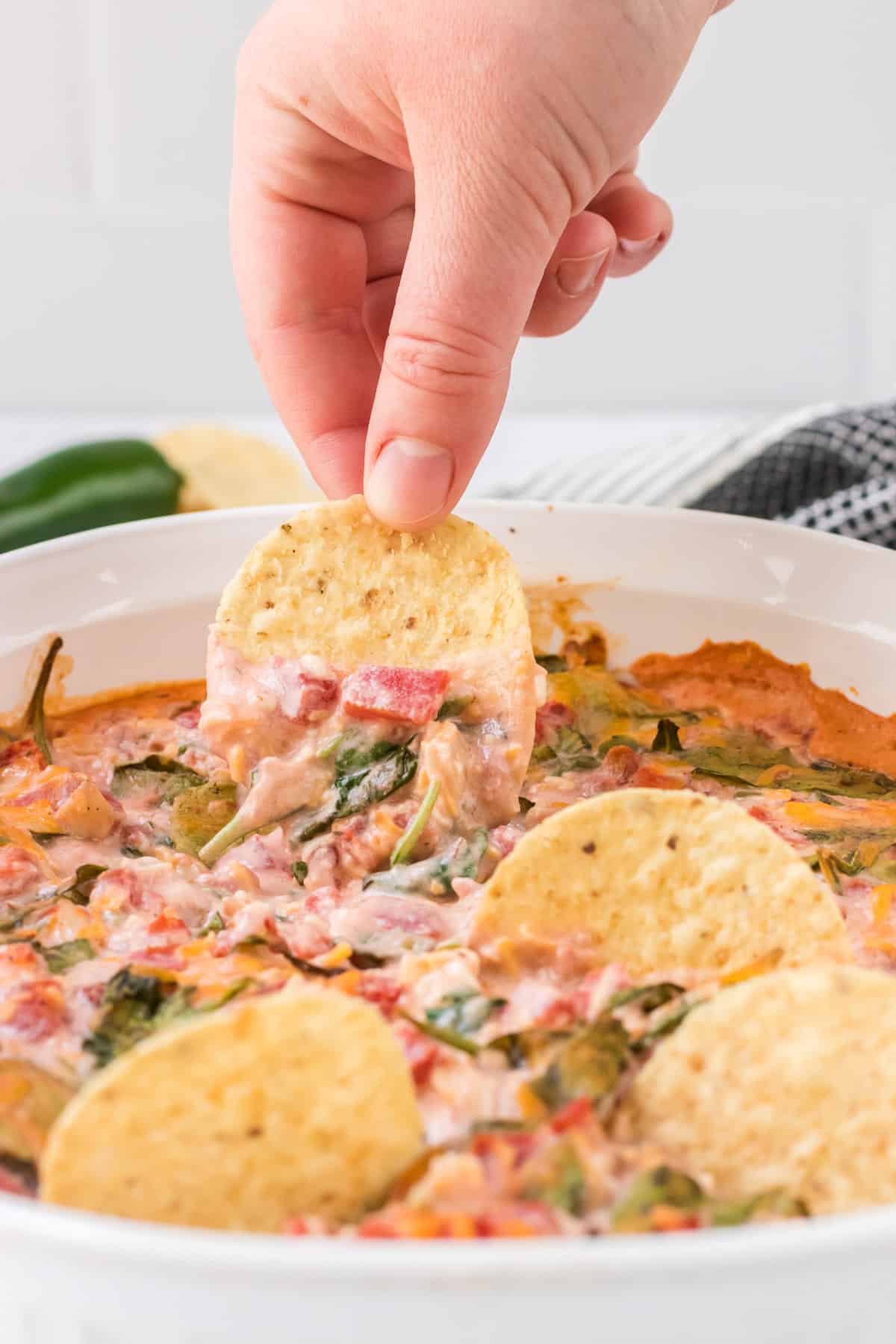 Why We Love This Recipe
To say I love spinach or spinach and artichoke dip is an understatement! So when I came across this recipe years ago in an old church cookbook for Spinach Queso Dip, I knew I had to give it a try. A hit from the beginning, it is one of the most popular recipes here on my blog, too.
I modified the original recipe to make it a little bit healthier while still delivering tons of flavor. I especially like that this queso is made from all-natural ingredients. Filled with fresh spinach, canned diced tomatoes, shredded cheese, spices and more, it's easy to prepare and ready in just 30 minutes.
Bake the dip in the oven or slow cooker until it's warm and bubbling. It makes the perfect addition to any tailgating or party spread. Or make it just because and enjoy with your own family! We like to serve it with tortilla chips but it would also be good with sliced bell peppers.
Ingredient Tips For Queso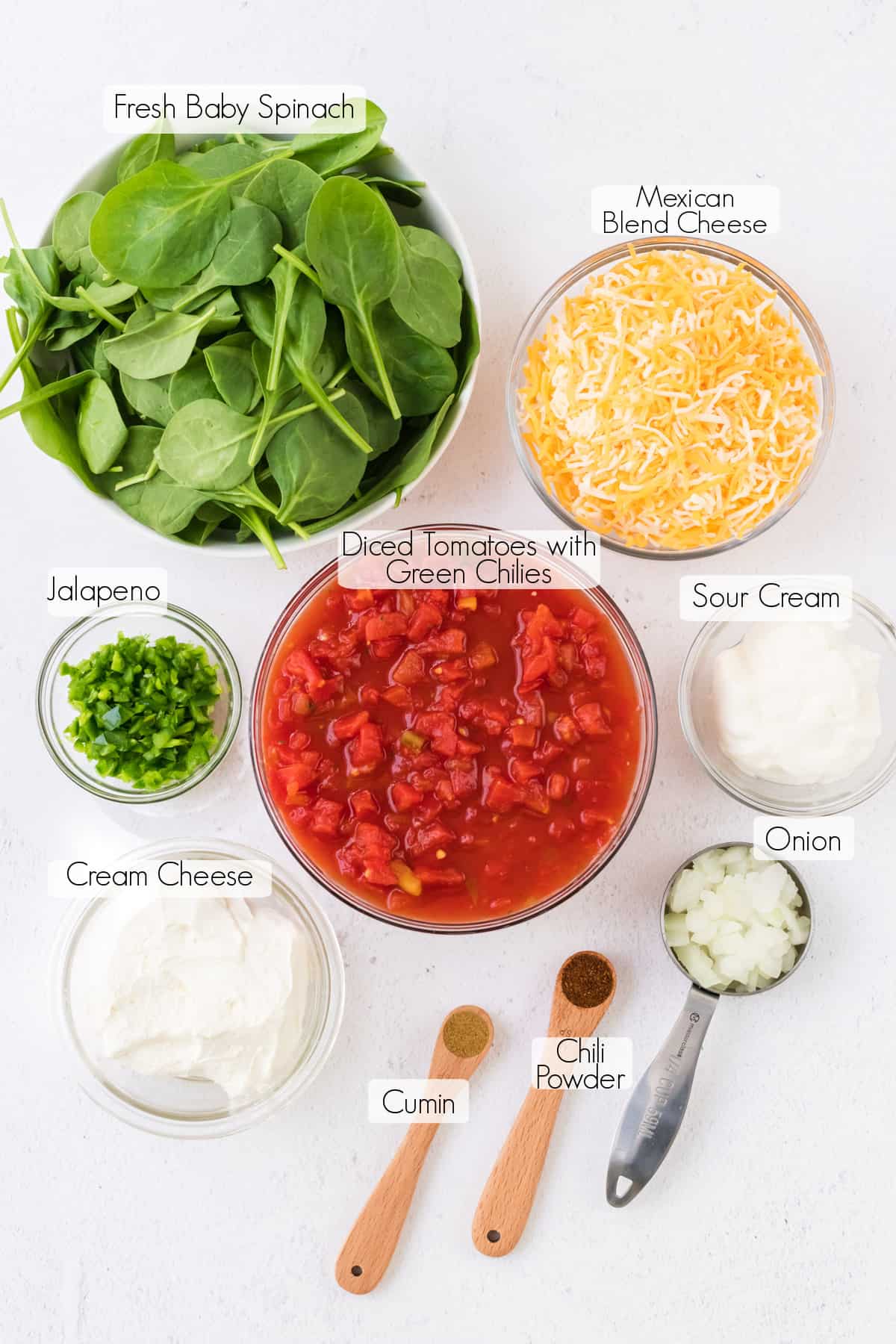 Find the ingredients for this easy spinach queso dip easily at the grocery store. I have a few tips to help you make this recipe.
Cream Cheese and Sour Cream – We prefer the light version of both of these ingredients. I have found that even with the light version, this dip is still very creamy.
Jalapeno and Yellow Onion – I LOVE my handheld food chopper (affiliate link) to chop vegetables. It's especially handy when I have jalapenos to dice because it make it easier to chop with less handling. That means I'm less likely to get the capsaicin (the component that makes chili peppers spicy) on my hands.
Diced Canned Tomatoes with Green Chilies – I prefer the store brand version to save a little bit of money but if you prefer the Rotel name brand, go for it!
Mexican blend shredded cheese – This can be found in the cheese section of the grocery store. If your store doesn't have the Mexican blend, you can substitute a cheddar-jack blend or just a mild cheddar cheese.
Fresh Baby Spinach – A lot of spinach dip recipes I've made call for frozen spinach that is thawed and squeezed. This recipe uses baby spinach instead. I prefer the baby spinach because I can purchase it already washed and ready to go and a bit more tender than a head of regular spinach.
But if you like, you can use a bunch of regular spinach. You'll want to remove the firm stems though and use just the leaves.
We're big fans of spinach and I have several recipes that call for it so be sure to check out 10 Minute Spinach Parmesan Couscous , Green Monster Banana Spinach Avocado Smoothie Recipe or Skillet Stovetop Lasagna.
Tortilla Chips – I like to buy the tortilla rounds as they are perfect for dipping in my opinion! I can get just the right ratio of chip to dip and creamy to crunchy but of course, you choose what you prefer.
We have found that the store brand chips are just as good as the name brand and can save us a little bit of money when buying them instead.
How to Make This Queso
You can have this Mexican Spinach Dip recipe ready to bake in just minutes then it goes to hands off cooking for the final prep. As I've mentioned, I like to use a handheld food chopper (affiliate link) to chop the vegetables, especially the jalapeno (1).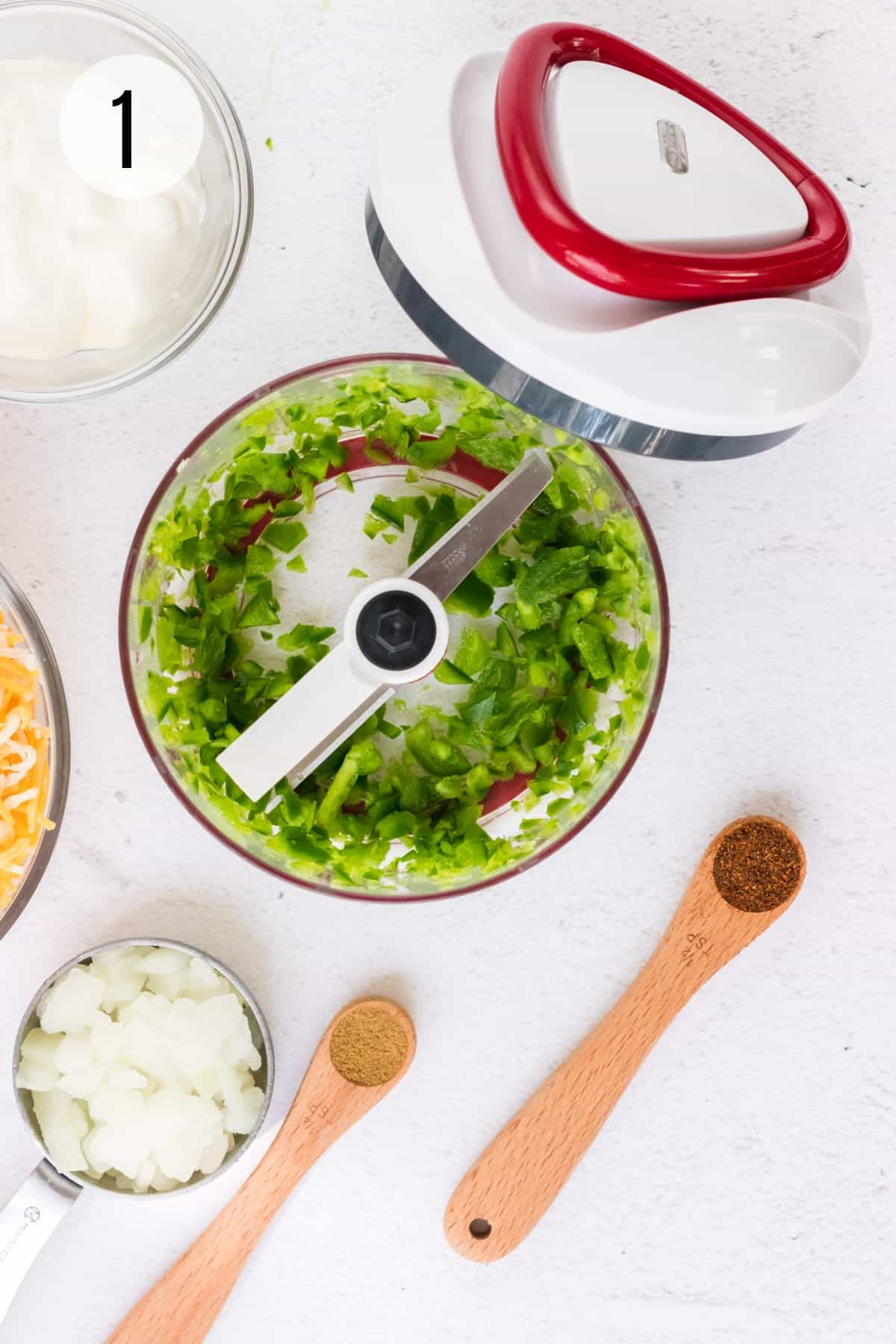 Next, in a large bowl (affiliate link), combine the cream cheese, sour cream, onion and spices and blend well (2). I like to use a rubber spatula (affiliate link) for stirring dips like this.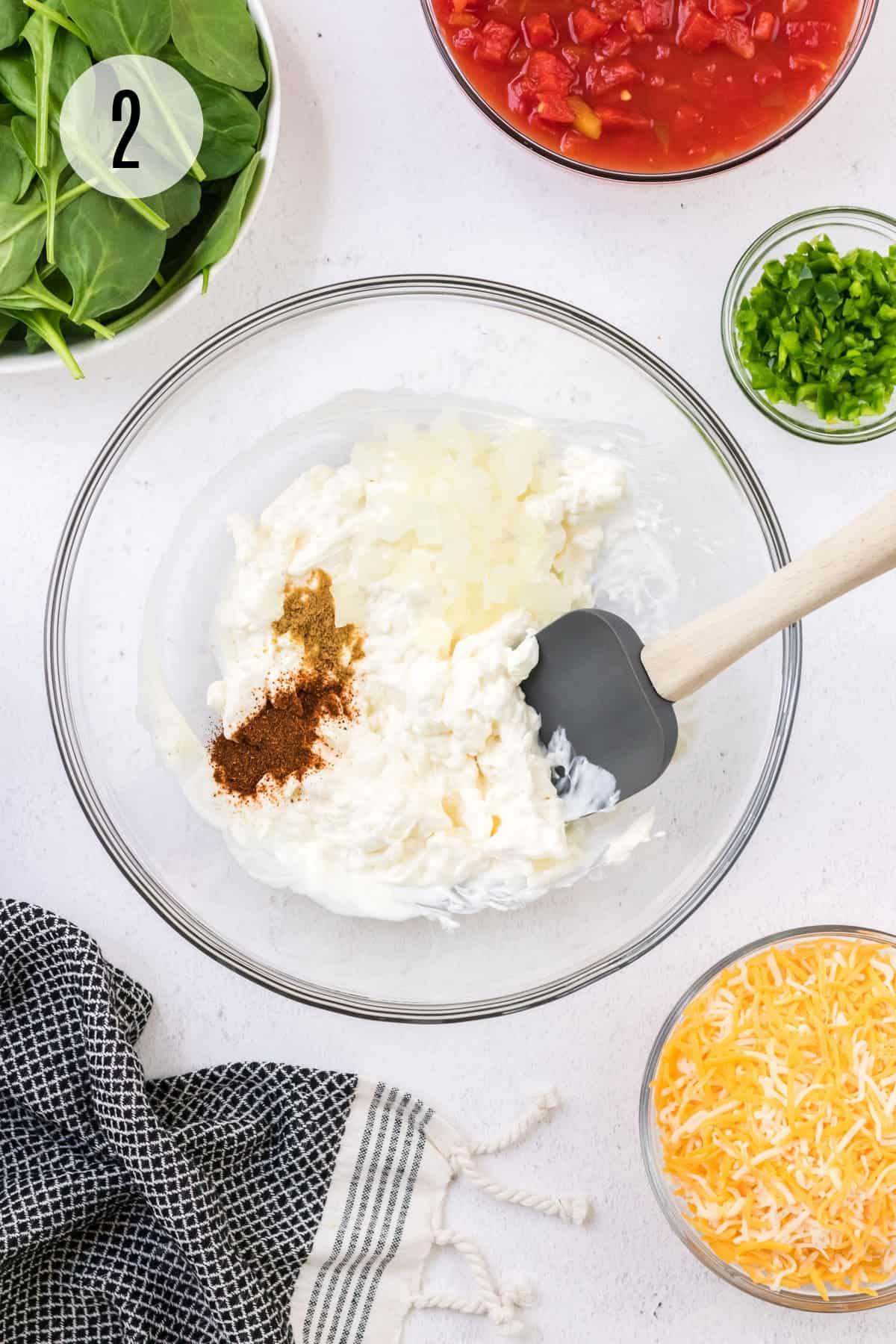 Then add the canned tomatoes and chopped jalapenos (3). Adding the ingredients a little bit a time like this helps ensure that they're all blended for maximum flavor distribution!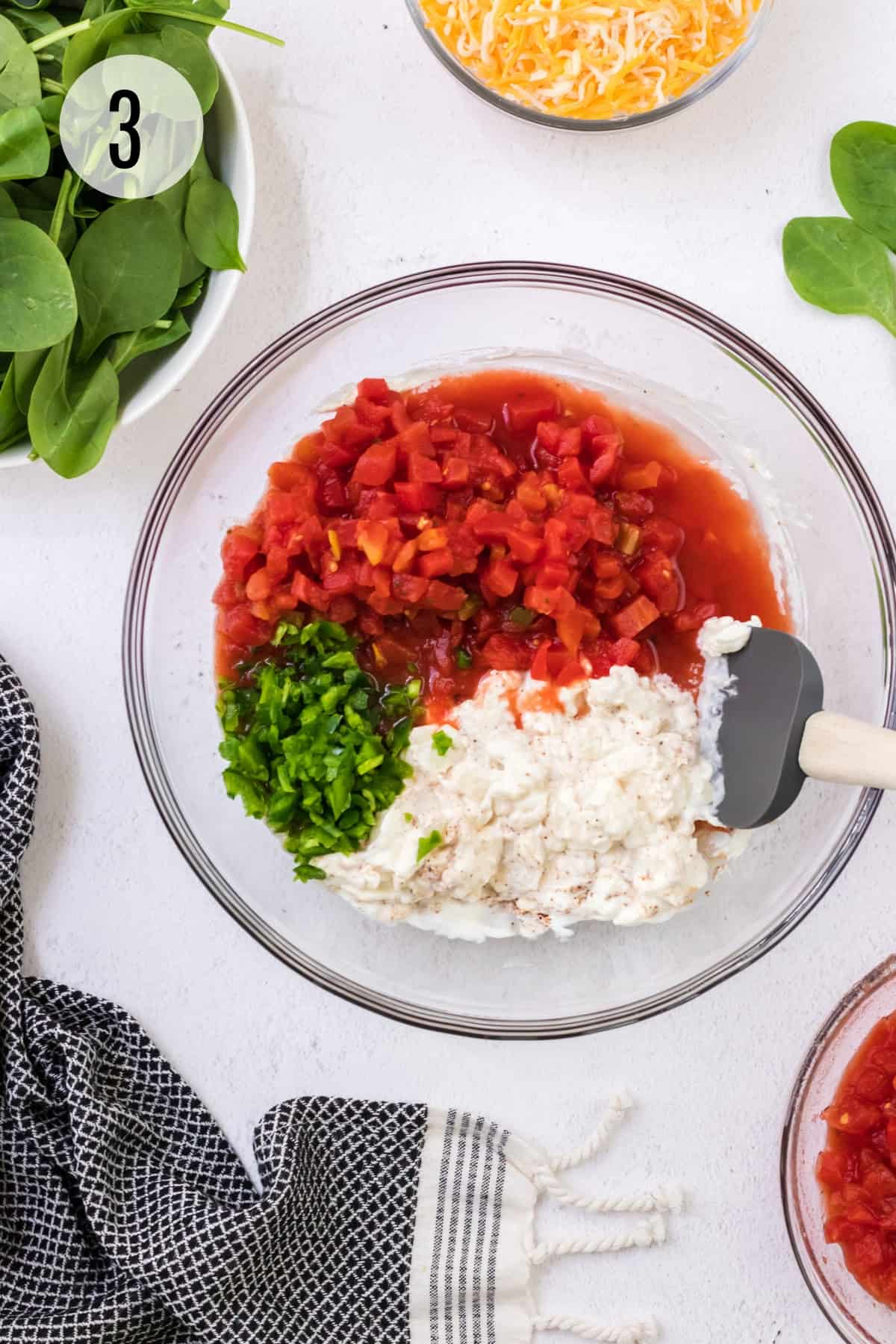 Next you'll be adding the spinach and shredded cheese (4). It will seem like the spinach will not want to blend in but just keep stirring and it will work it's way into the creamy mixture.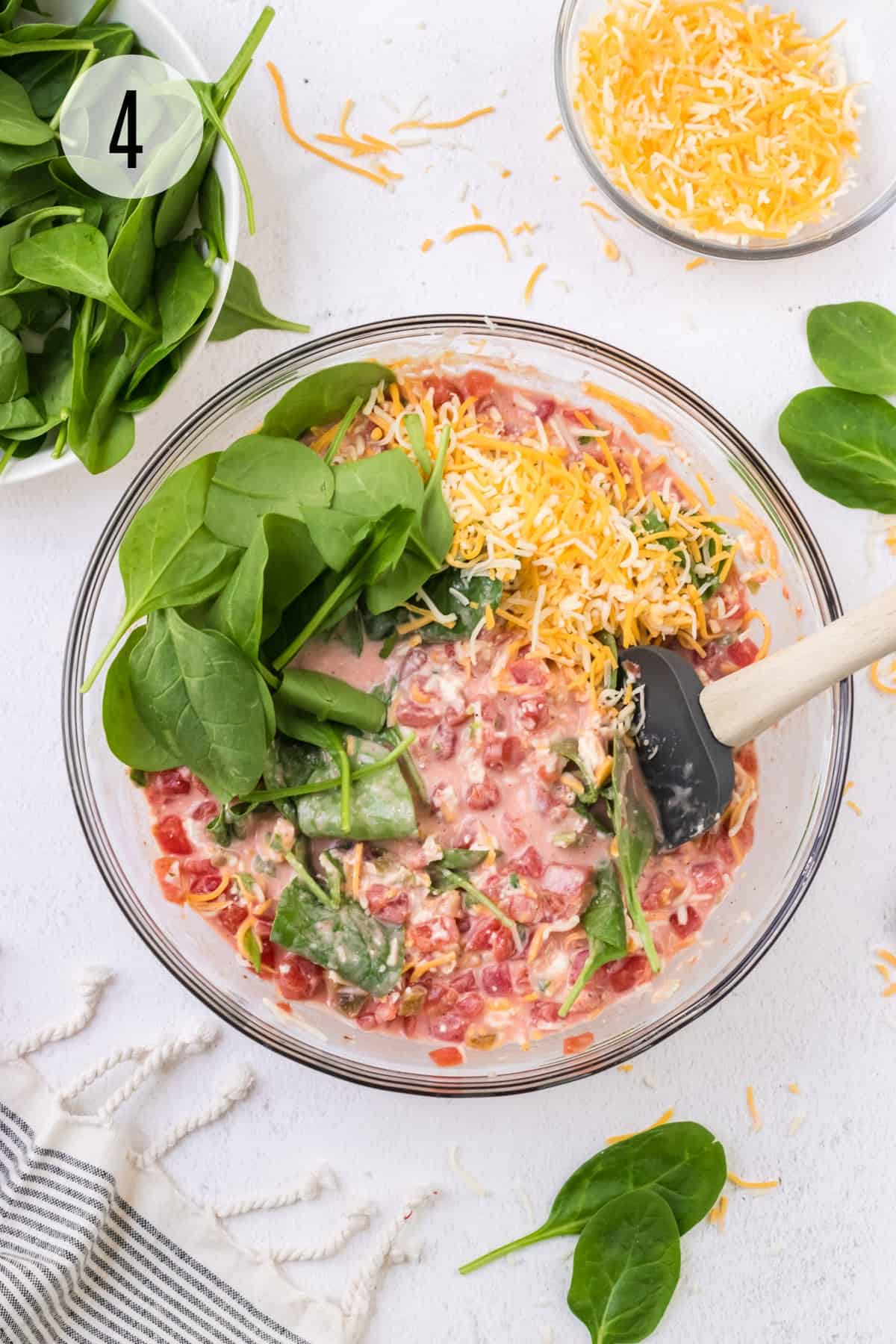 Lastly, add the spinach queso mixture to a prepared 2-quart casserole dish (5). You can also make this dip in a slow cooker (affiliate link) on low for about 6 hours or on high for about 2 hours. More details are in the recipe card below.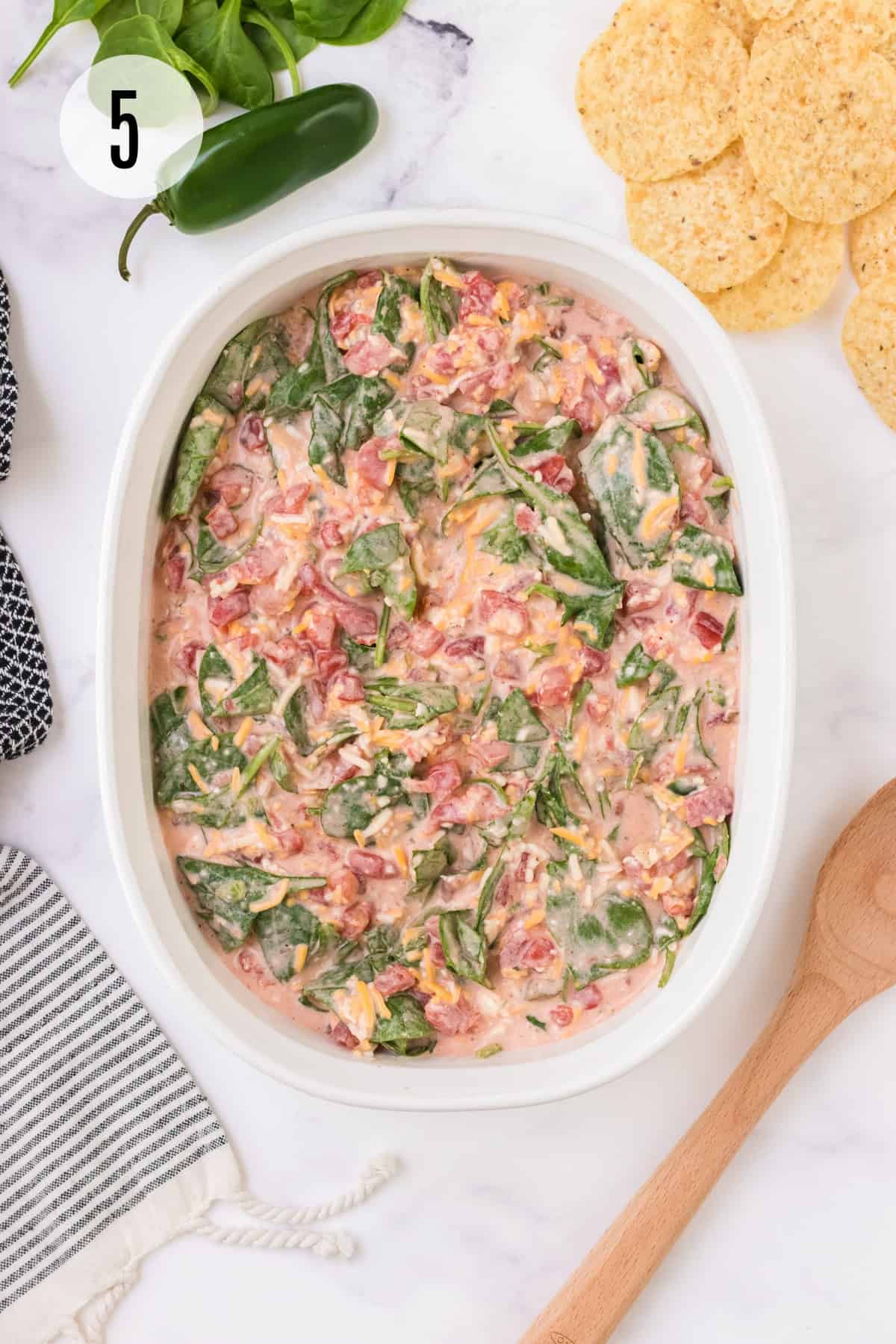 Make Ahead Tips
There are a few make ahead tips for this spinach queso dip recipe. Chop the onions and jalapenos ahead of time and store in an airtight container in the refrigerator for up to a day.
You can also prepare the entire dip recipe and put into a baking dish but instead of baking right away, cover it and store in the refrigerator up to a day in advance. When ready to prepare, place in the oven and heat according to the recipe instructions.
Make sure the dish you are using is safe to go from refrigerator to oven. You may need to add some additional time to the overall baking time so that the dip is heated through.
Is this freezer friendly?
Yes! You can freeze this dip! I like to use SouperCubes (affiliate link) to portion it out and freeze but you can use any airtight, freezer safe container. Freeze for up to three months and don't forget to date and label (affiliate link) what it is!
To serve, let the dip thaw in the refrigerator overnight. Then add to a oven or microwave safe container and heat through. Time will depend on how much you have thawed. Stir the mixture well as sometimes it can seem a little watery but will blend together fine after it is heated.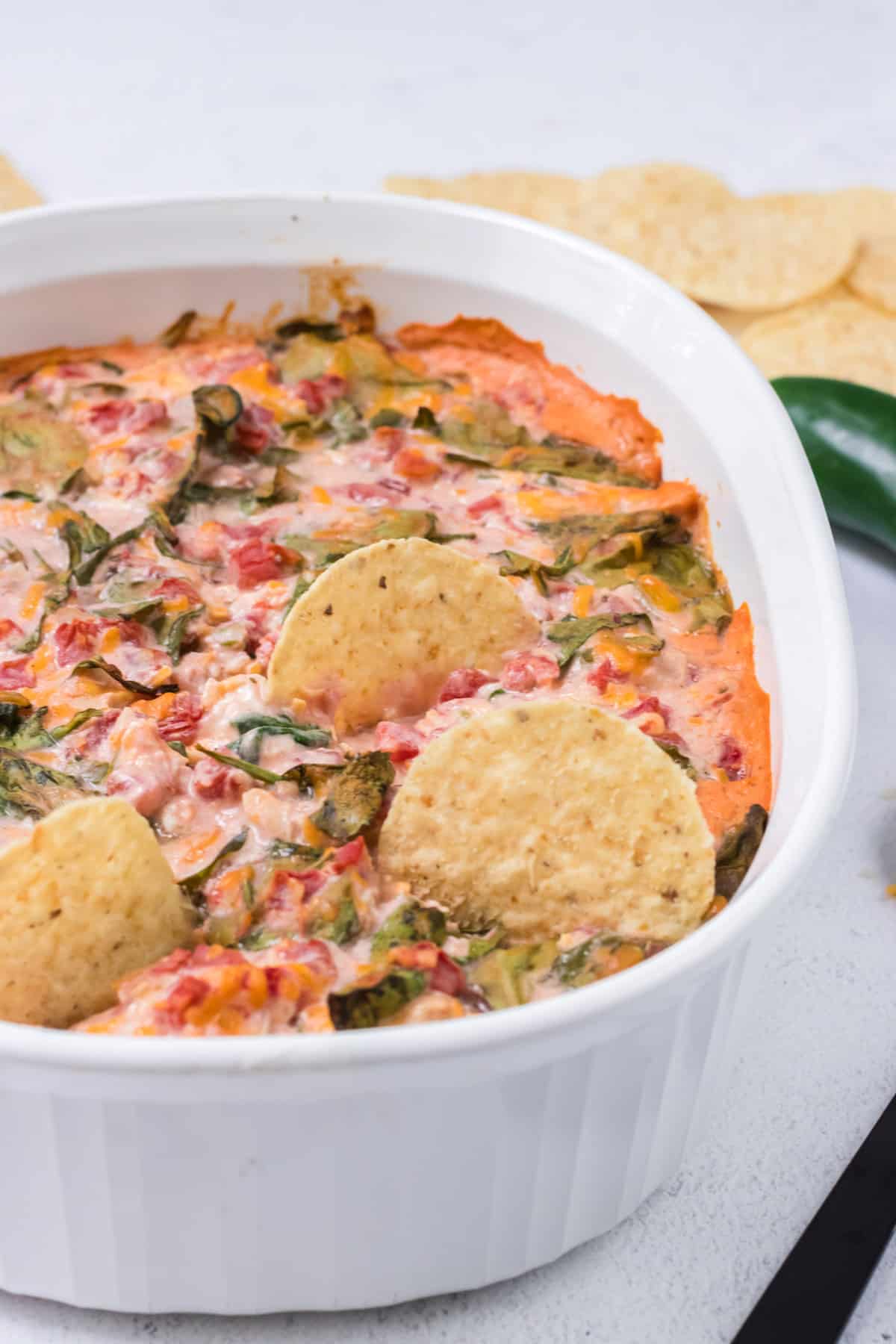 More Great Dip Recipes
I'm a big fan of dips as they are so versatile and really easy to prepare. Be sure to check out some of my other favorites like these:
Originally shared in September 2016 but updated in June 2021 with new photos, video and content.
Be sure to check out my Amazon Shop to discover the many items I use in my own kitchen. Meal Planning Magic is a participant in the Amazon Services LLC Associates Program, an affiliate advertising program designed to provide a means for sites to earn advertising fees by advertising and linking to Amazon.com. Ordering products mentioned here are at no extra cost to you. Thank you for your support.