This post may contain affiliate links. Please read my disclosure policy.
These Simple Greek Quesadillas are bursting with flavor from feta cheese, tomatoes, shredded chicken and Greek seasoning and more. A great go-to option for an easy lunch or dinner!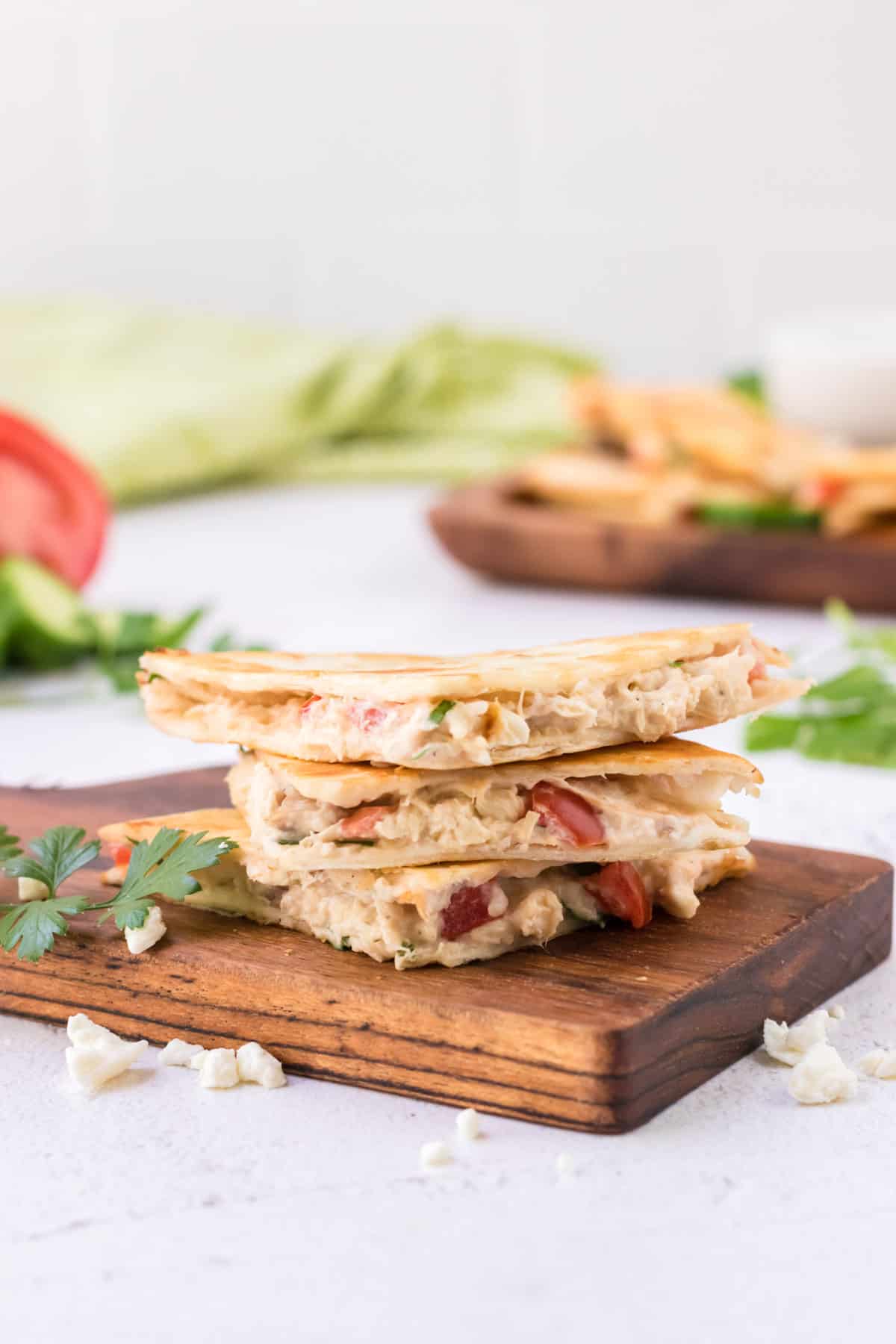 Why We Love This Recipe
These Greek Quesadillas are a tasty twist on plain quesadilla and perfect for a quick and easy meal any time. I especially like them when for easy lunches or simple dinners when paired with a salad or a soup. Call them Greek or Mediterranean…they are bursting with flavor no matter what you call them!
We often just prepare an easy chicken quesadilla of cheese with leftover rotisserie chicken or grilled chicken. Then we top with fresh avocados, tomatoes and sour cream.
I have also experimented with some other flavor combinations like the Easy Grilled Mango Poblano Quesadillas or Quick and Easy Pizza Quesadillas. They're both big hits in our house!
I first came across this healthy chicken quesadilla recipe in an old church cookbook I received as a gift years ago. Discovering new recipes in those cookbooks is something I like to do because you know they are family favorites!
I swapped out fresh garlic and fresh tomatoes instead of the garlic salt and canned tomatoes called for in the original recipe. The substitution was easy and my family loved them right away.
The addition of feta cheese and Greek seasoning boosts the flavor on these quesadillas! They are so simple to prepare and can be made in under 15 minutes. Now that my kids are older, they can prepare them on their own.
Something else that makes these Mediterranean Quesadillas a winner is that you can make the filling mixture ahead of time. Then, you only need to assemble and cook when you're ready to serve them. I love time-saving hacks like that!
Ingredient Tips and Tricks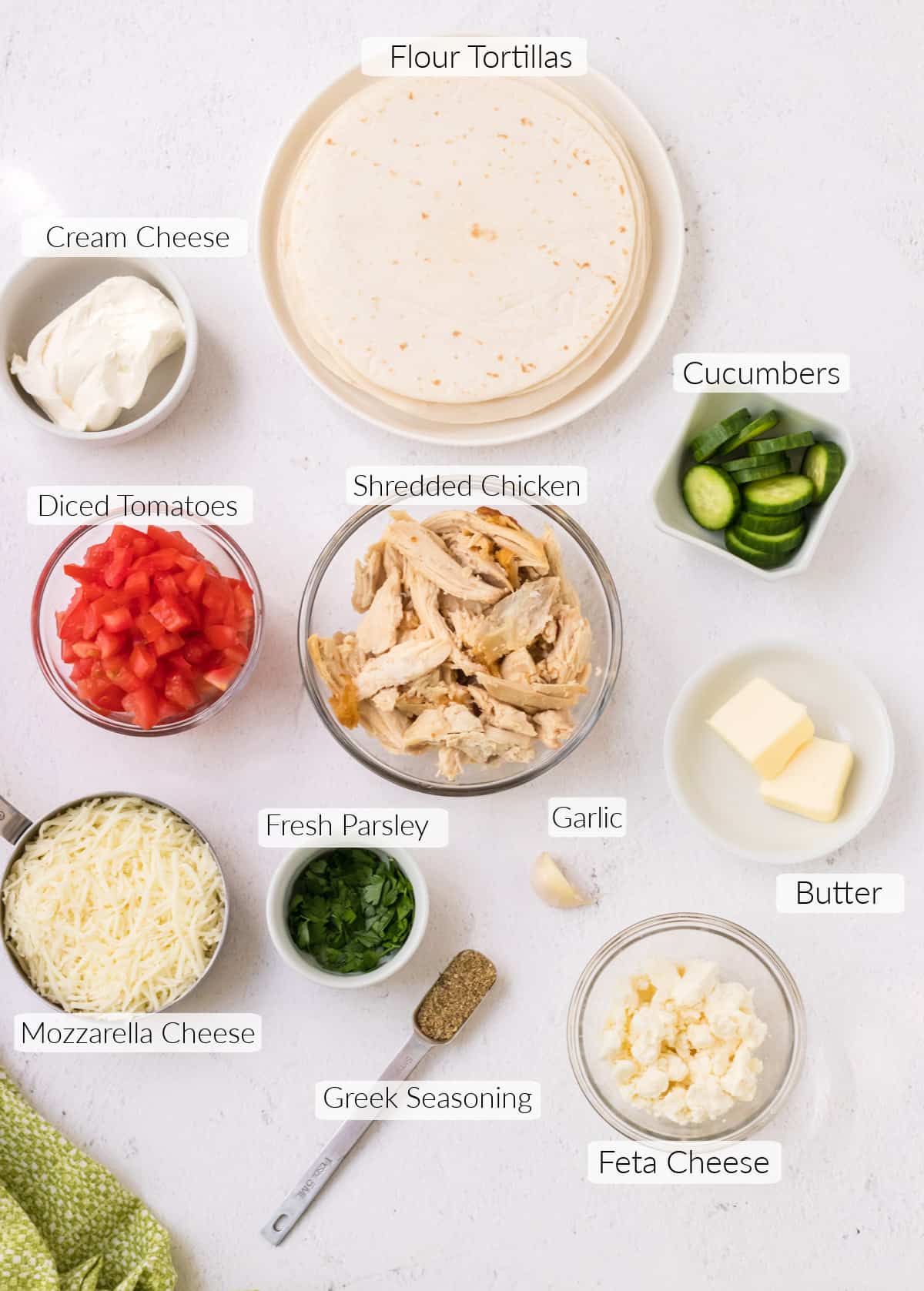 My family loved these quesadillas and I loved how easy they were. The simple, easy to find ingredients makes it a great one to try for a delicious twist on traditional quesadillas.
I've got a few ingredient tips to help you make these quesadillas even more easily.
Cream Cheese – This recipe calls for the light (Neufchatel) cream cheese. I find that it is just as cream and tasty as the original version. I like to buy the store brand version to save money.
Cooked Chicken – Using up leftover chicken from a rotisserie chicken or other dish is perfect for these quesadillas. I like to keep cooked chicken on hand in the freezer to use in all kinds of recipes. A couple of favorites are Chicken Caesar Pasta Salad or Chicken Rice and Black Bean Soup.
I will grill a big batch of chicken and cube, shred or keep whole for versatility. Check out this post for simple grilling chicken recipe and tips.
Greek Herb Seasoning (affiliate link) – Find this in the spice aisle of your grocery store. I like to purchase mine from Penzey's Spices. My Greek Orzo and Lentil Salad or Easy Fresh Mediterranean Salsa are some extra ways to use this delicious seasoning.
Roma Tomatoes – Roma tomatoes are a bit firmer and don't have too many seeds. That means the filling is not too "wet" like a juicier tomato might provide. You can use any type of ripe tomato and I've even used chopped cherry tomatoes. Just use what works for you!
Flour Tortillas – Make sure you are choosing the smaller type that are typically used for soft tacos or fajitas. The larger variety that are sometimes used for wraps are too big!
Fresh Parsley – I have parsley growing in a pot on my patio so it's available year-round. But you can easily find it at the grocery store too. Choose flat leaf or curly parsley. Either way, the addition of this ingredient really adds some delicious flavor!
Feta Cheese – The addition of feta cheese in these quesadillas makes the flavor really pop!
Find feta in the deli section of the grocery store near the specialty cheeses. Buy the crumbled variety or whole piece and crumble it yourself, which will save you a little more money.
I always buy the store brand variety as it is usually a lot less expensive than the name brands. When I can, I usually buy feta at Aldi or in bulk at a local Mediterranean foods market.
Did you know you can freeze feta cheese?
Yep! I do this often so I usually have some on hand. It can be stored in an airtight container for up to three months. Don't forget to date and label (affiliate link) your container!
How to Make These Easy Quesadillas
In a large bowl (affiliate link), add cream cheese, feta cheese, mozzarella cheese, Greek herb seasoning, chopped tomatoes and cooked chicken (1).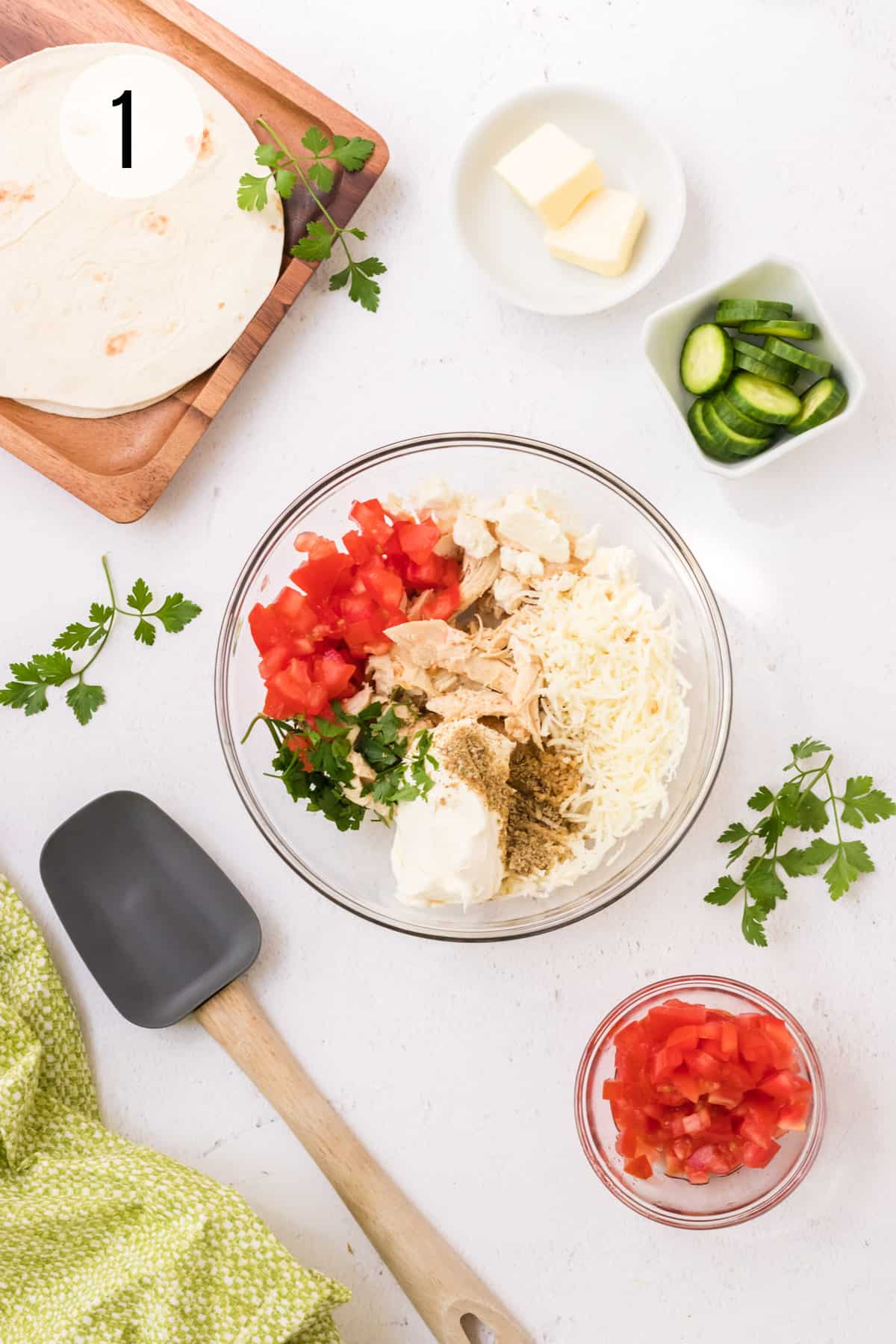 Stir well until filling ingredients are fully combined (2). I use a rubber spatula (affiliate link) to stir the ingredients all together. It makes it so much easier!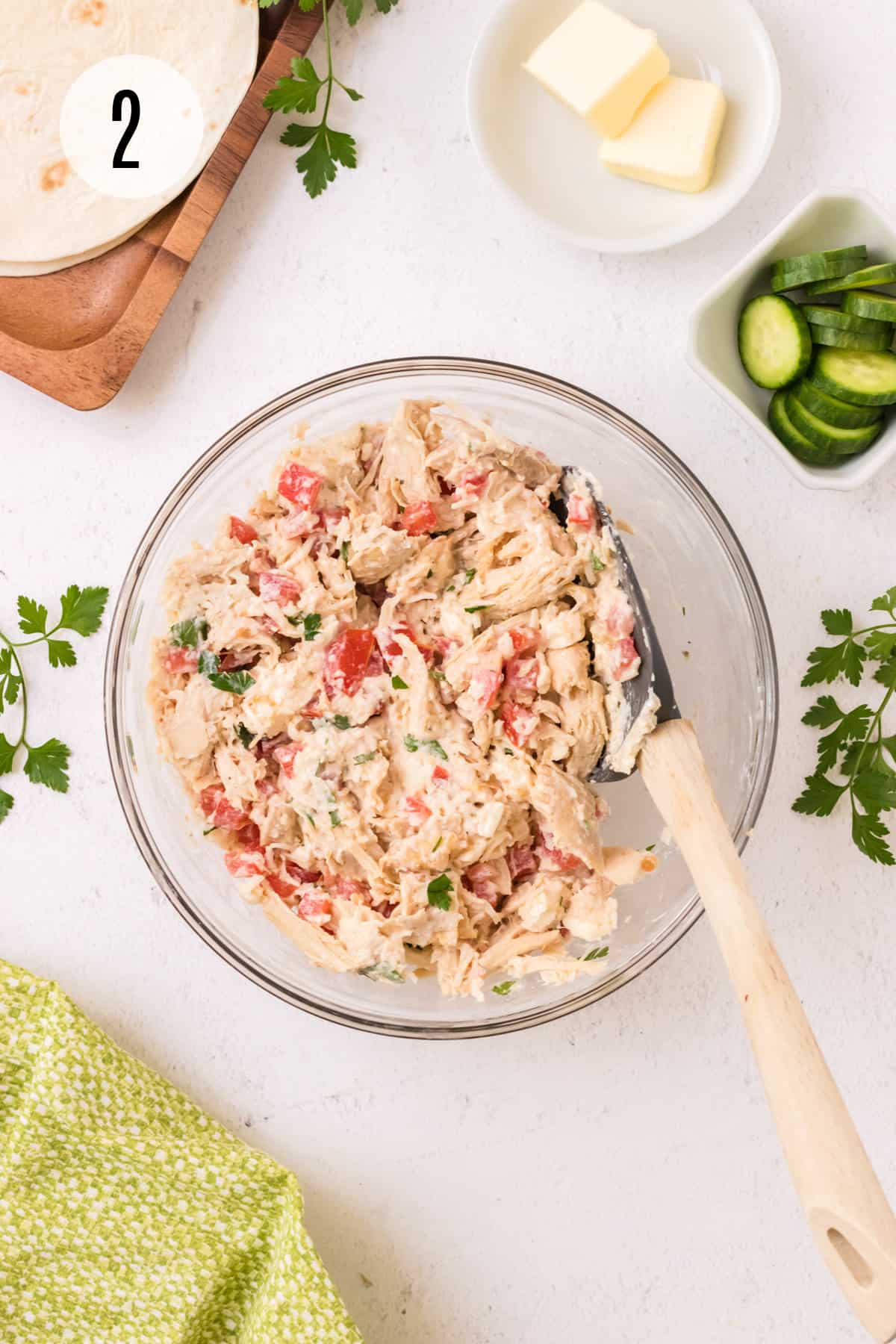 Next, lay two tortillas on a cutting board or plate and spread about a half-cup of the mixture on each tortilla (3). Use a knife or the back of the rubber spatula to spread it as close to the edges as possible.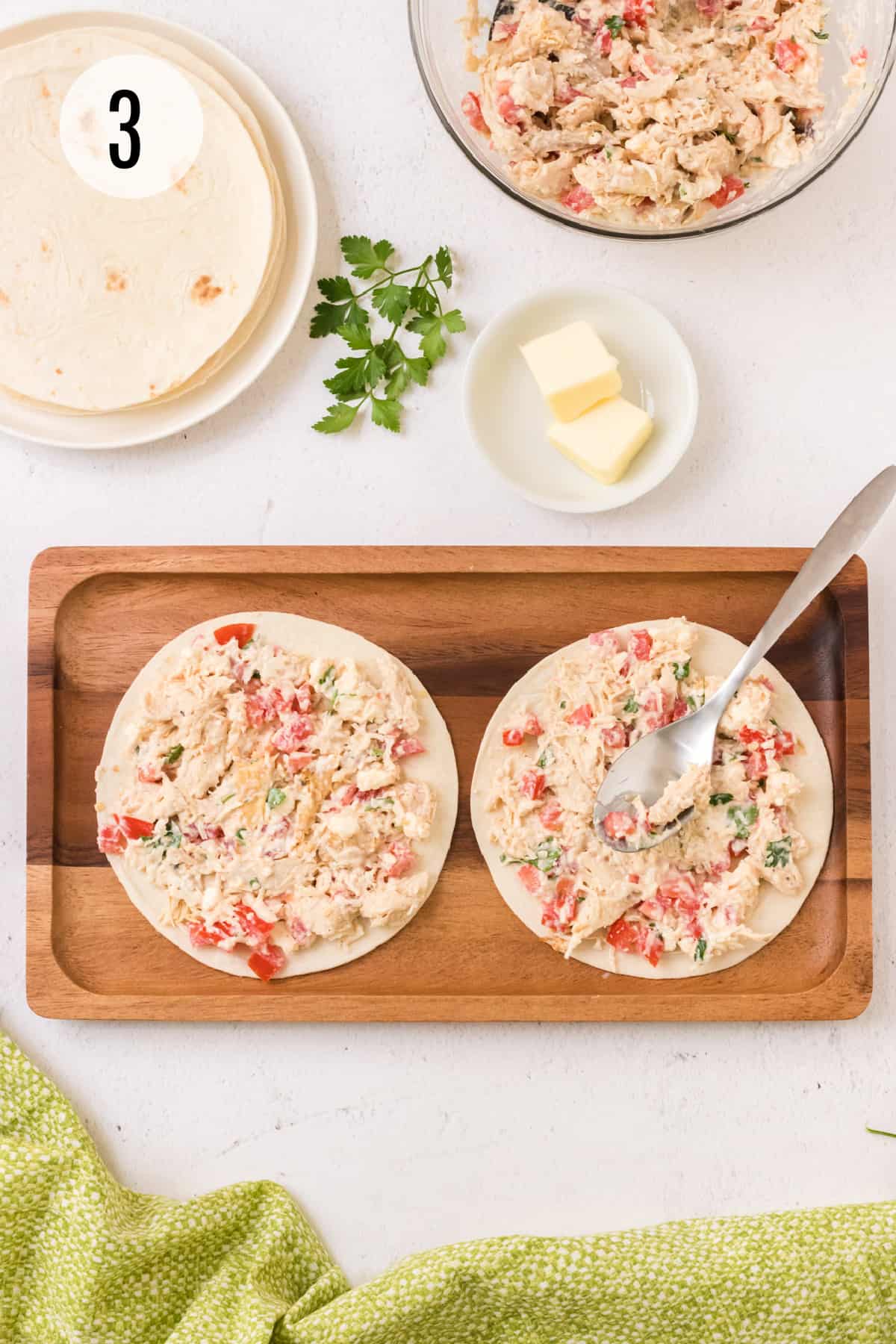 Next, melt the butter in a medium skillet over medium-low heat (4). Be sure to watch it carefully so that the butter is just melted and doesn't burn.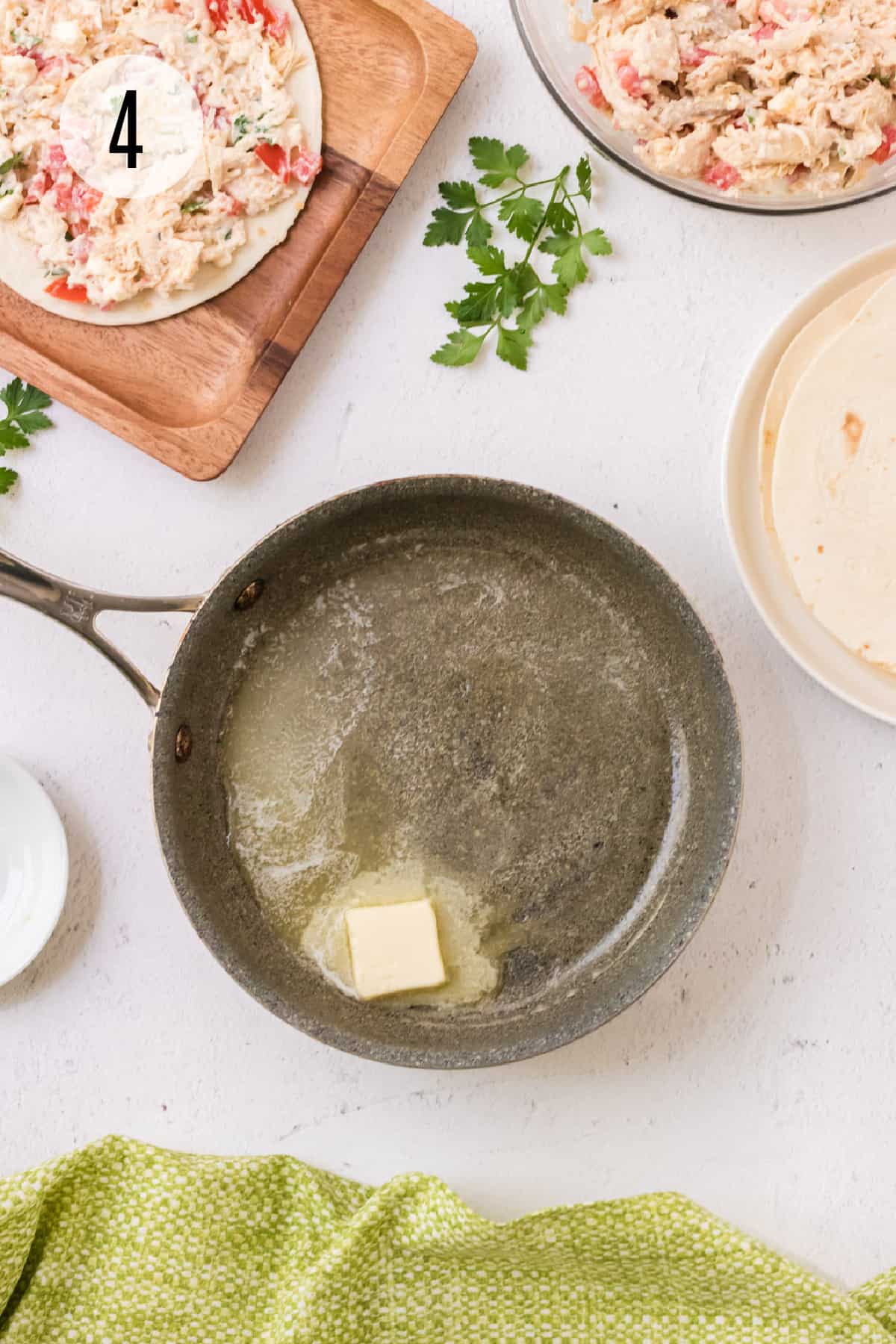 One at a time, place the tortilla with the filling mixture in pan with melted butter then immediately top with a plain tortilla (5). Increase heat to medium-high and cook until cheeses are melted and bottom tortilla is turning golden brown.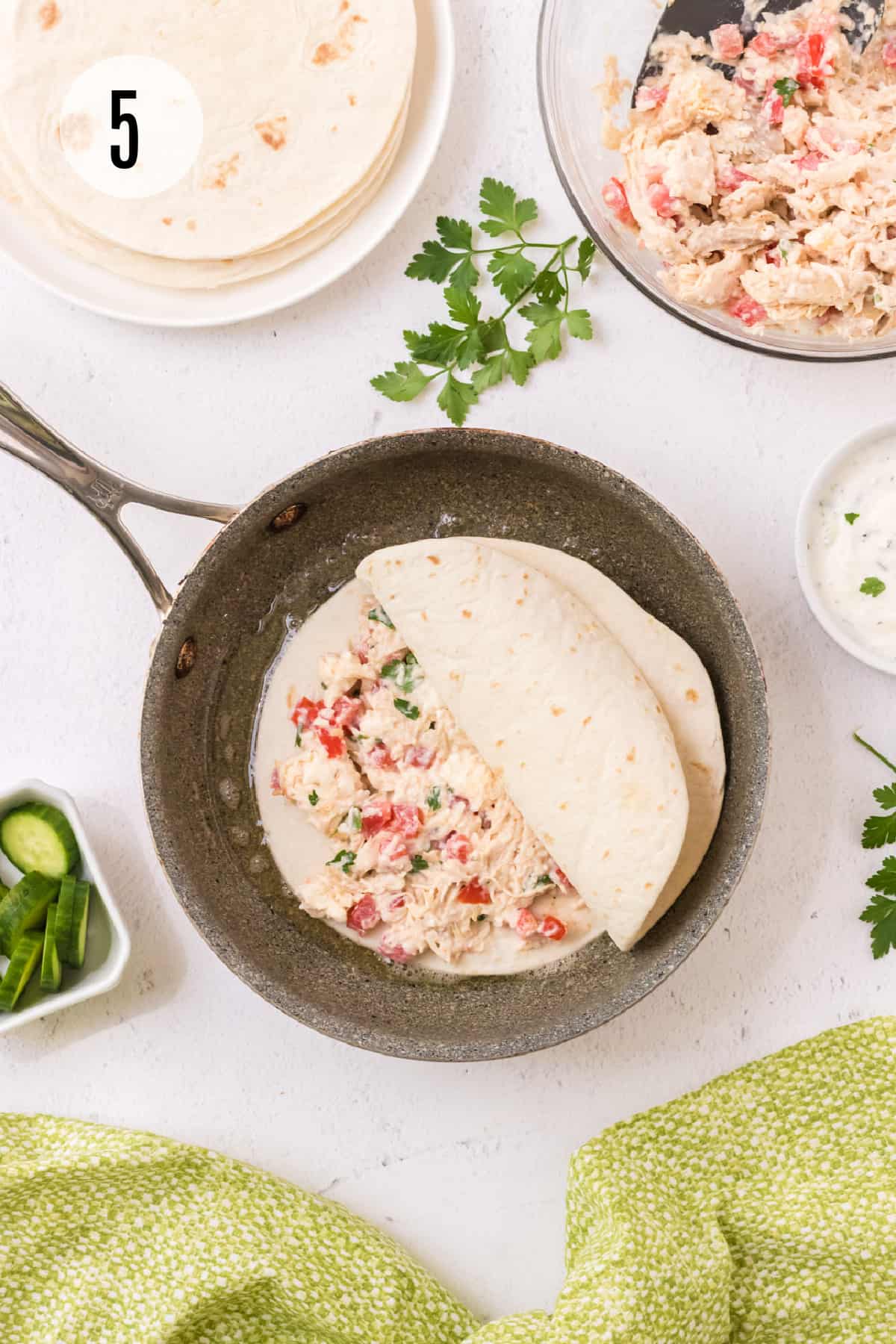 I like to use the back of a spatula to press the tortillas together to more evenly distribute the filling (6). Then flip the quesadilla to brown the tortilla on the other side.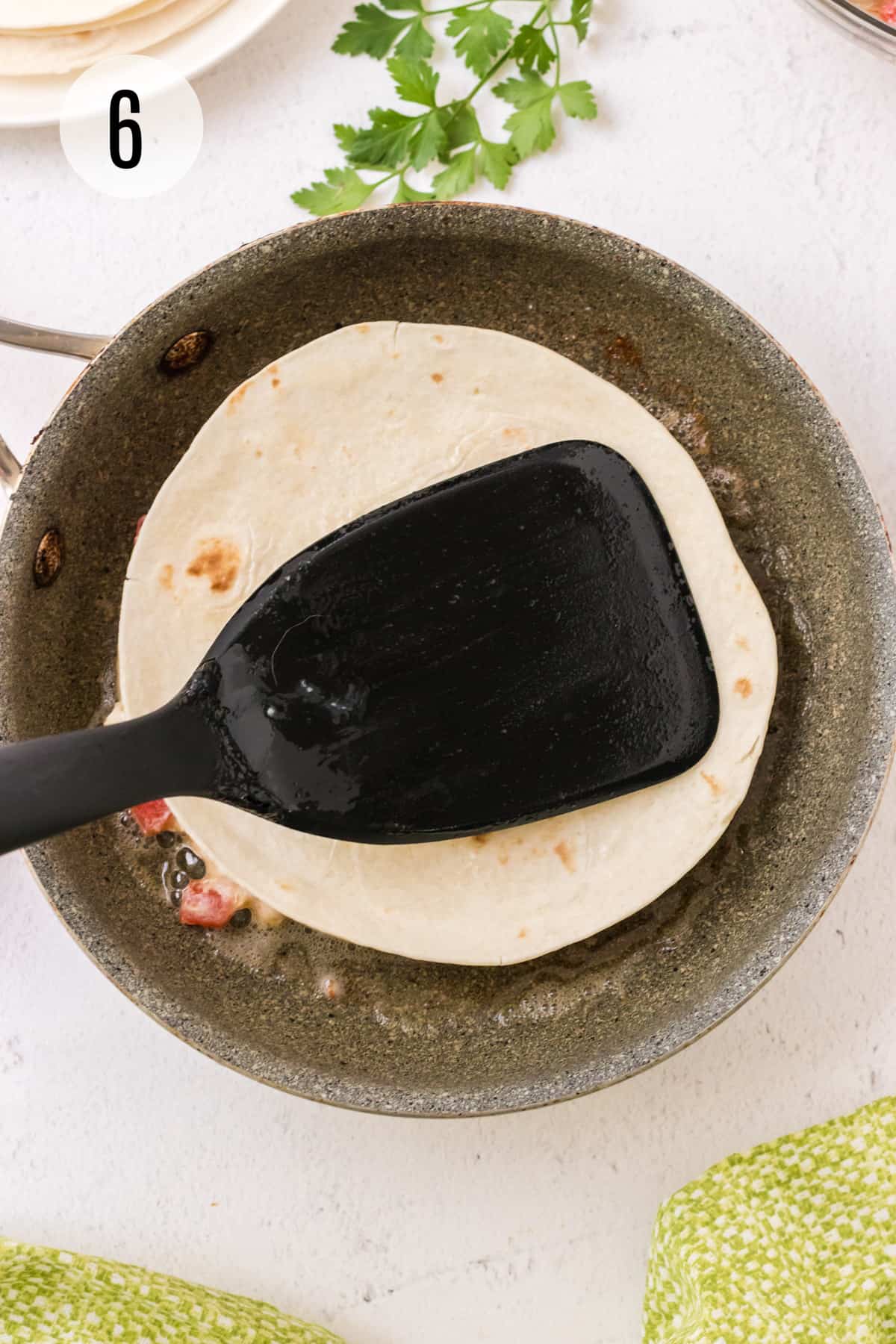 Once that is done, remove the quesadilla from the pan and place on a plate or cutting board. Repeat with remaining tortillas and filling mixture. Let the quesadillas cool slightly before slicing into quarters.
Enjoy these quesadillas as prepared or serve with prepared tzatziki sauce and sliced cucumbers. Find tzatziki sauce in the deli section of your grocery store or make your own. We like to use the mini or seedless cucumbers with these quesadillas.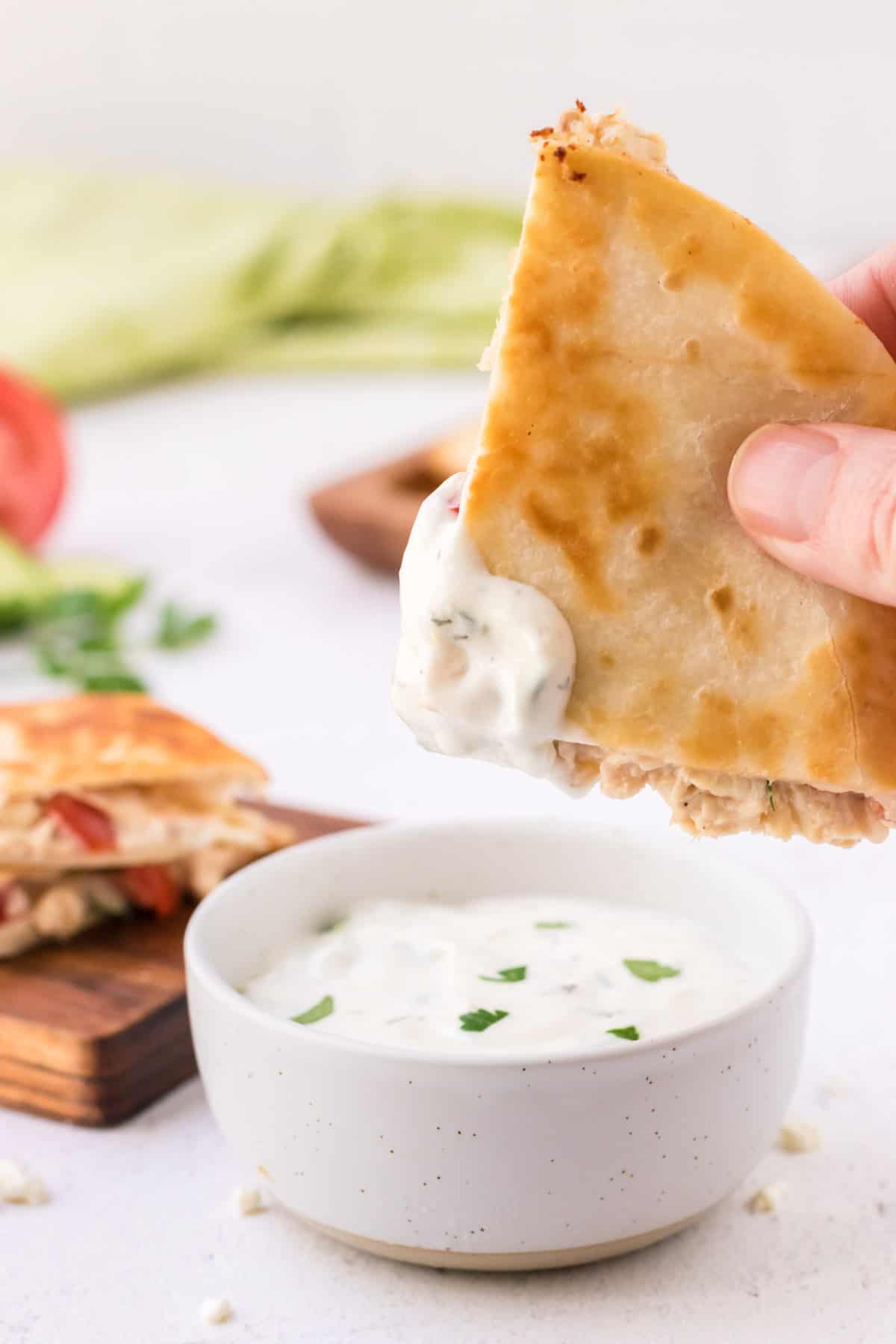 Make Ahead Tips
Bonus: the Greek quesadillas filling can be made ahead of time. Sometimes I like to mix it up and store it in the refrigerator in an airtight container (affiliate link) for up to three days.
Then, I can make the quesadillas fresh right before serving. This is especially handy when it's lunchtime and we are hungry and ready to eat!
Are These Quesadillas Freezer Friendly?
You can also freeze the filling for these easy Greek quesadillas! Just leave out the tomatoes prior to freezing. Then, add the tomatoes in after you've thawed the mixture and are ready to assemble and cook the quesadillas. I like to use my SouperCubes (affiliate link) to portion out the filling but you can use any freezer friendly container. Don't forget to date and label (affiliate link) your container before you put it in the freezer.
To prepare, thaw the mixture in the refrigerator then follow the instructions to assemble and enjoy your quesadillas.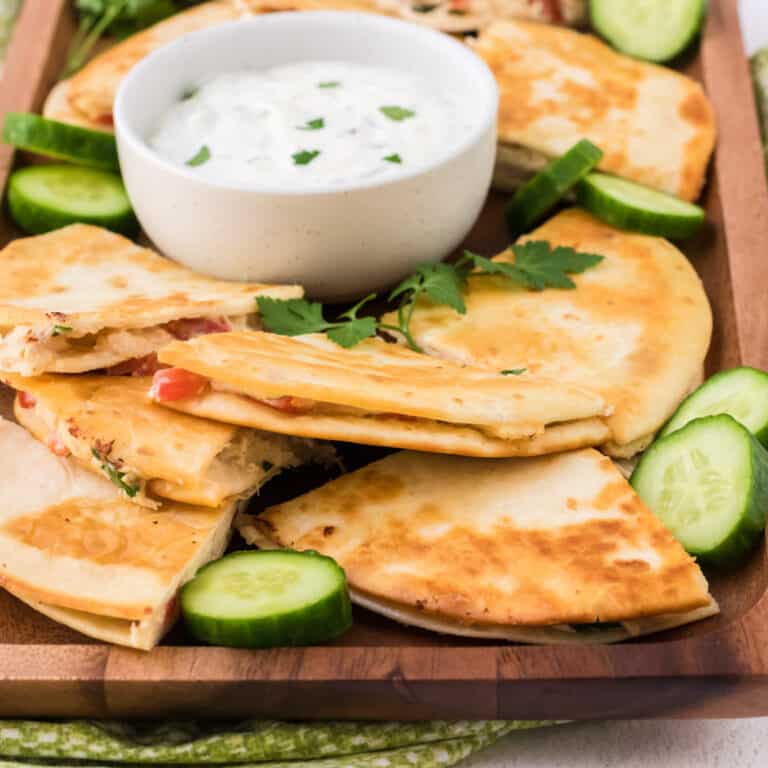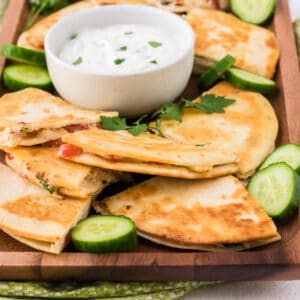 Simple Greek Quesadillas
These Simple Greek Quesadillas are bursting with flavor from feta cheese, tomatoes, shredded chicken and Greek seasoning and more. A great go-to option for an easy lunch or dinner!
Rate this Recipe
Print Recipe
Pin Recipe
Ingredients
For Filling
4

ounces

light cream cheese

softened

1

cup

mozzarella cheese

shredded

½

cup

feta cheese

crumbled

1

clove

garlic

minced

1

teaspoon

Greek herb blend

2

tablespoons

fresh parsley

chopped

1 ½

cups

Roma tomatoes

coarsely chopped

1

cup

chicken

cooked and shredded
For Quesadillas Prep
8

flour tortillas

2

tablespoons

butter

softened
Optional Toppings
2

medium

cucumbers

sliced

1

cup

tzatziki sauce
Instructions
In a large sauté pan, heat over medium heat.

In a large bowl, combine cream cheese, mozzarella cheese, feta cheese, minced garlic, Greek herb seasoning, chopped parsley, cooked chicken and diced tomatoes. Set aside.

On a cutting board or other flat surface, lay out tortillas.

Top each tortilla with about ½ cup chicken mixture and spread evenly over tortilla all the way to edges.

Melt ½ tablespoon butter in skillet.

Place quesadilla with filling in pan with melted butter then top with another tortilla.

Sauté the quesadilla in the pan and flip over once the first side is golden and crispy.

Using a spatula, I like to push the tortilla down so that the heated mixture more evenly distributes itself around the tortilla.

When both sides are golden and quesadilla is heated through, remove from pan and set aside on a plate.

Repeat with remaining tortillas and chicken mixture.

Cut quesadillas into wedges and serve with cucumber slices and prepared tzatziki sauce, if desired.
Notes
The chicken, cheese, tomato filling may be made up to one day ahead and stored in the refrigerator.
Nutrition
Serving:
1
quesadilla
|
Calories:
569
kcal
|
Carbohydrates:
45
g
|
Protein:
22
g
|
Fat:
35
g
|
Saturated Fat:
16
g
|
Trans Fat:
1
g
|
Cholesterol:
89
mg
|
Sodium:
1243
mg
|
Potassium:
585
mg
|
Fiber:
3
g
|
Sugar:
11
g
|
Vitamin A:
1805
IU
|
Vitamin C:
19
mg
|
Calcium:
453
mg
|
Iron:
3
mg
I originally shared this post in October 2017 but updated it in June 2021 with new photos, video and content.
Be sure to check out my Amazon Shop to discover the many items I use in my own kitchen. Meal Planning Magic is a participant in the Amazon Services LLC Associates Program, an affiliate advertising program designed to provide a means for sites to earn advertising fees by advertising and linking to Amazon.com. Ordering products mentioned here are at no extra cost to you. Thank you for your support.