This post may contain affiliate links. Please read my disclosure policy.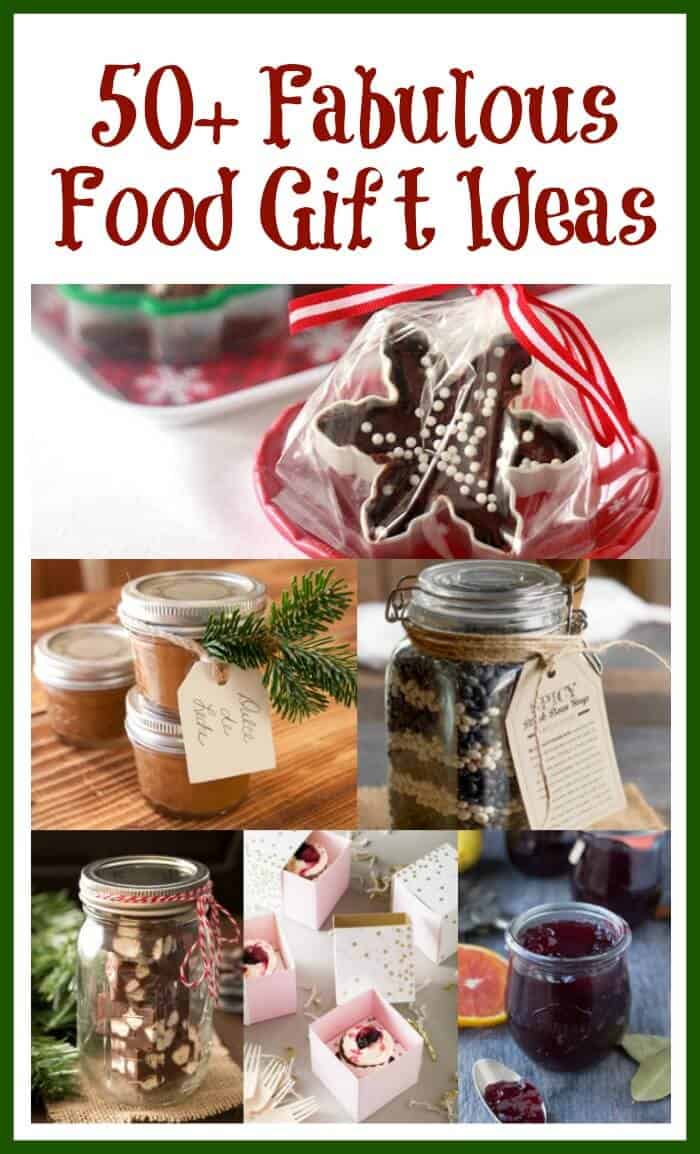 The holidays are upon us! I've always liked giving homemade food gifts for the holidays and they are great for hostess gifts to when visiting friends and family. There's just something special about that personal touch when you've made something yummy to share with others. We like to give them as neighbor or teacher gifts during the holidays too.
Today, I've rounded up over fifty Fabulous Food Gift Ideas from some of my blogger friends but also including a couple of my favorites like Cranberry Amaretto Chutney, Gourmet Pecans and Chocolate Chip Biscotti.
Don't be intimidated by the idea of adding one more thing to your holiday to-do list! Many of these recipes are made in less than 30 minutes or perhaps in the slowcooker where most of the active cooking time is hands off. I can't wait to try a few of these myself. Let me know which one you'll try first!
BREADS
Blood Orange Poppy Seed Bread ~ Joyful Healthy Eats
Double Chocolate Zucchini Bread ~ Yummy Healthy Easy
Whole Wheat Peanut Butter Banana Bread ~ Fannetastic Food
SWEET TREATS
Chocolate Chip Biscotti ~ Meal Planning Magic
Salted Dark Chocolate Fudge ~ Flavor the Moments
Hot Chocolate Fudge ~ Chocolate Moosey
Chocolate Peanut Butter Crack Bark ~ Cake Whiz
Homemade Caramels ~ Dessert for Two
Bourbon Stout Cherries ~ The Beeroness
Swirly Chocolate Crispy Squares ~ Scrummy Lane
Biscochos Mexican Wedding Cookies ~ Muy Bueno Cookbook
Chocolate Cider Rum Caramels ~ Hola Jalapeno
Hot Chocolate On a Stick ~ Hezzi D's Books and Cooks
Salted Chocolate Almond Haystacks ~ Cook Eat Paleo
4 Ingredient No Butter Chocolate Fudge with Coconut ~ Two Healthy Kitchens
Chocolate Pistachio Covered Mangoes ~ The Creative Bite
Chocolate Fudge Recipe ~ Food Faith Fitness
Salted Peanut Clusters ~ Organized Island
Pecan Praline Cracker Toffee ~ Celebrating Sweets
Cookie Cutter Fudge ~ Chocolate Moosey
Apple Cider Caramels ~ Dessert for Two
3 Ingredient Skinny Peanut Butter Brownie Fudge ~ Yummy Healthy Easy
Cranberry White Chocolate Cookies in a Pint Jar ~ The Creative Bite
Sangria Cupcakes ~ Cupcake Project
SWEET & SAVORY MIXES
Spicy Black Bean Soup In a Jar ~ Wholefully
DIY Chai Spice Mix ~ Frugal Foodie Mama
Hot Chocolate Mix ~ Like Mother Like Daughter
Homemade Spice Seasoning Blends ~ Luci's Morsels
DIY Gingerbread Spice ~ The Tomato Tart
Toasted Pecan Pie Crust Gift Mix ~ Frugal Foodie Mama
Whole Wheat Cranbery Orange Muffin Mix ~ Wholefully
NUTS
Almond Dragees ~ Flavor the Moments
Candied Pecans ~ Belly Full
SWEET & SAVORY SAUCES
Blueberry Lemon Dessert Sauce ~ It's Yummi
Strawberry Jam ~ Baked By Rachel
Homemade Pistachio Butter Cooking On the Weekends http://cookingontheweekends.com/2015/12/how-to-make-homemade-pistachio-butter/
Apple Hot Pepper Jelly and Cheddar Pie Crust Crackers ~ Hola Jalapeno
Homemade Salad Dressings ~ Luci's Morsels
Vanilla Mint Vodka ~ Healthy Slow Cooking
Homemade Sweet Hot Mustard ~ Noshing With the Nolands
Cranberry Amaretto Chutney ~ Meal Planning Magic
Homemade Mulled Red Wine Jelly ~ The Tomato Tart
Slowcooker Cinnamon Apple Butter ~ Baked By Rachel
DIY Slow Cooker Dulce de Leche ~ Muy Bueno Cookbook
Red & Green Pepper Jelly ~ Noshing With the Nolands
SWEET & SAVORY SNACKS
Cinnamon Sugar Pretzels ~ A Cedar Spoon
Peppermint Bark Granola ~ Peas and Crayons
Terra Stix White Chocolate Bark ~ Busy In Brooklyn
Spiced Baked Apple Chips ~ Fannetastic Food
Sweet & Spicy Pretzels ~ A Cedar Spoon