This post may contain affiliate links. Please read my disclosure policy.
From sweet to savory, this roundup of 25 Homemade Food Gift Ideas & Recipes will help give your gift giving a delicious, personal touch!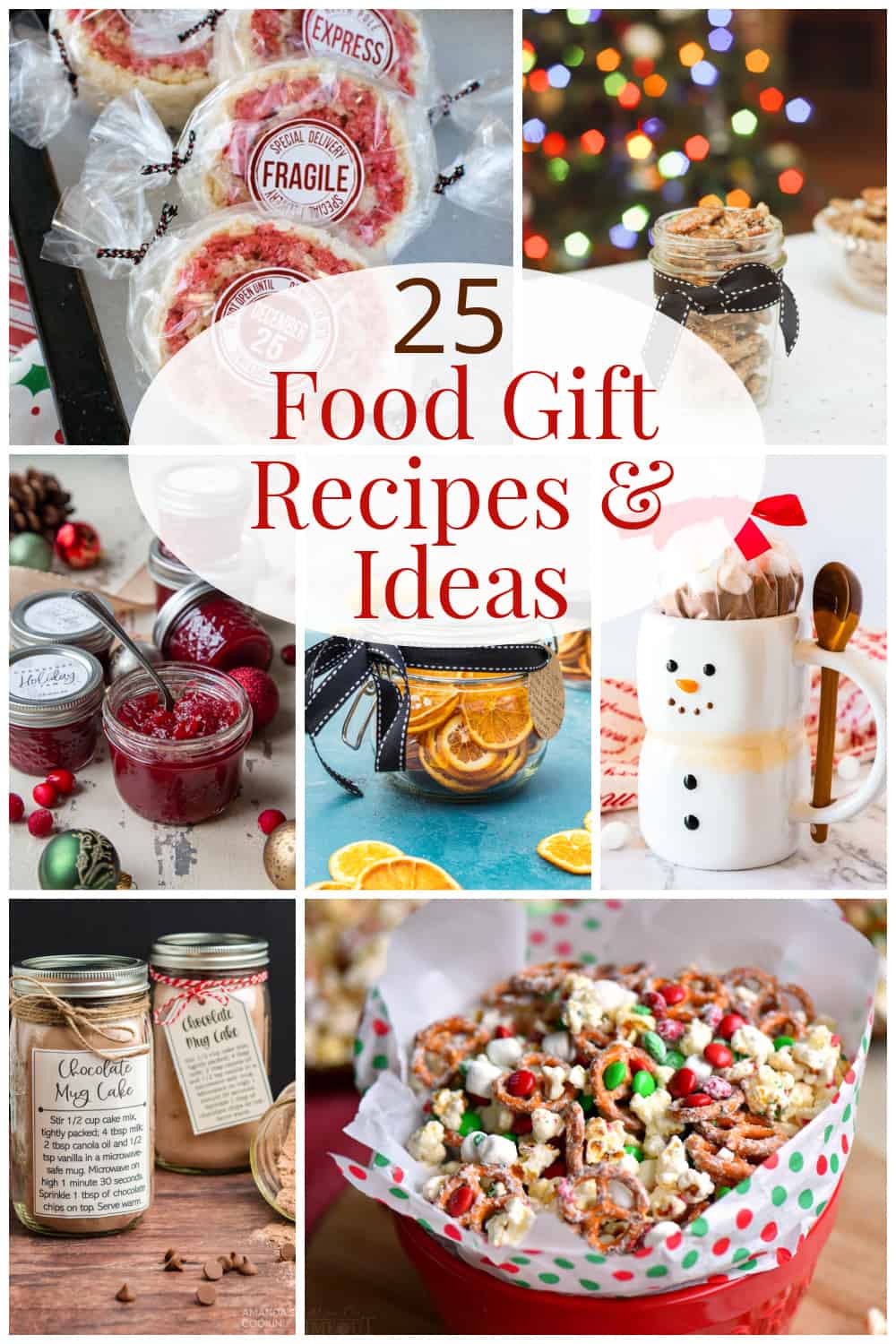 I've always liked giving homemade food gifts for the holidays–or anytime of the year! They are great for hostess gifts to when visiting friends and family. There's just something special about that personal touch when you've made something yummy to share with others. We like to give them as neighbor or teacher gifts throughout the year, too.
Today, I've rounded up 25 Delicious Homemade Food Gifts Ideas and Recipes from some of my blogger friends. I've also included some of my own recipes!
Don't be intimidated by the idea of adding one more thing to your holiday to-do list! Many of these recipes are made in less than 30 minutes or are make ahead recipes which helps reduce stress by planning.
I can't wait to try a few of these myself. My Holiday Baking Planner printable would help with planning for some of these recipes also. Even though it says "baking", it can really work for most any recipe. Let me know which one of these Homemade Food Gift Recipes below you'll try first!
Homemade Beverages
Homemade Cookies and Desserts
Jams And Spreads
SWEET & SAVORY MIXES
Spicy Black Bean Soup In a Jar ~ Wholefully
DIY Chai Spice Mix ~ Frugal Foodie Mama
Hot Chocolate Mix ~ Like Mother Like Daughter
Homemade Spice Seasoning Blends ~ Luci's Morsels
DIY Gingerbread Spice ~ The Tomato Tart
Toasted Pecan Pie Crust Gift Mix ~ Frugal Foodie Mama
Whole Wheat Cranbery Orange Muffin Mix ~ Wholefully
Sweet and Savory Nuts
Homemade Seasoning Mixes
Homemade Sweet and Savory Snack Mix Recipes
Be sure to check out my Peppermint Treats Roundup, Simple Crockpot Side Dishes Roundup and Healthy Road Trip Snacks Roundup for even more recipe ideas!
This post was originally published in November 2016 and updated in November 2021 with new photos, content and video.
Be sure to check out my Amazon Shop to discover the many items I use in my own kitchen. Meal Planning Magic is a participant in the Amazon Services LLC Associates Program, an affiliate advertising program designed to provide a means for sites to earn advertising fees by advertising and linking to Amazon.com. Ordering products mentioned here are at no extra cost to you. Thank you for your support.