This post may contain affiliate links. Please read my disclosure policy.
It's so easy to make your own Homemade Spaghetti Meat Sauce at home! This recipe is filled ground beef and lots of veggies, plus it can be made ahead of time and frozen for a quick & easy weeknight dinner.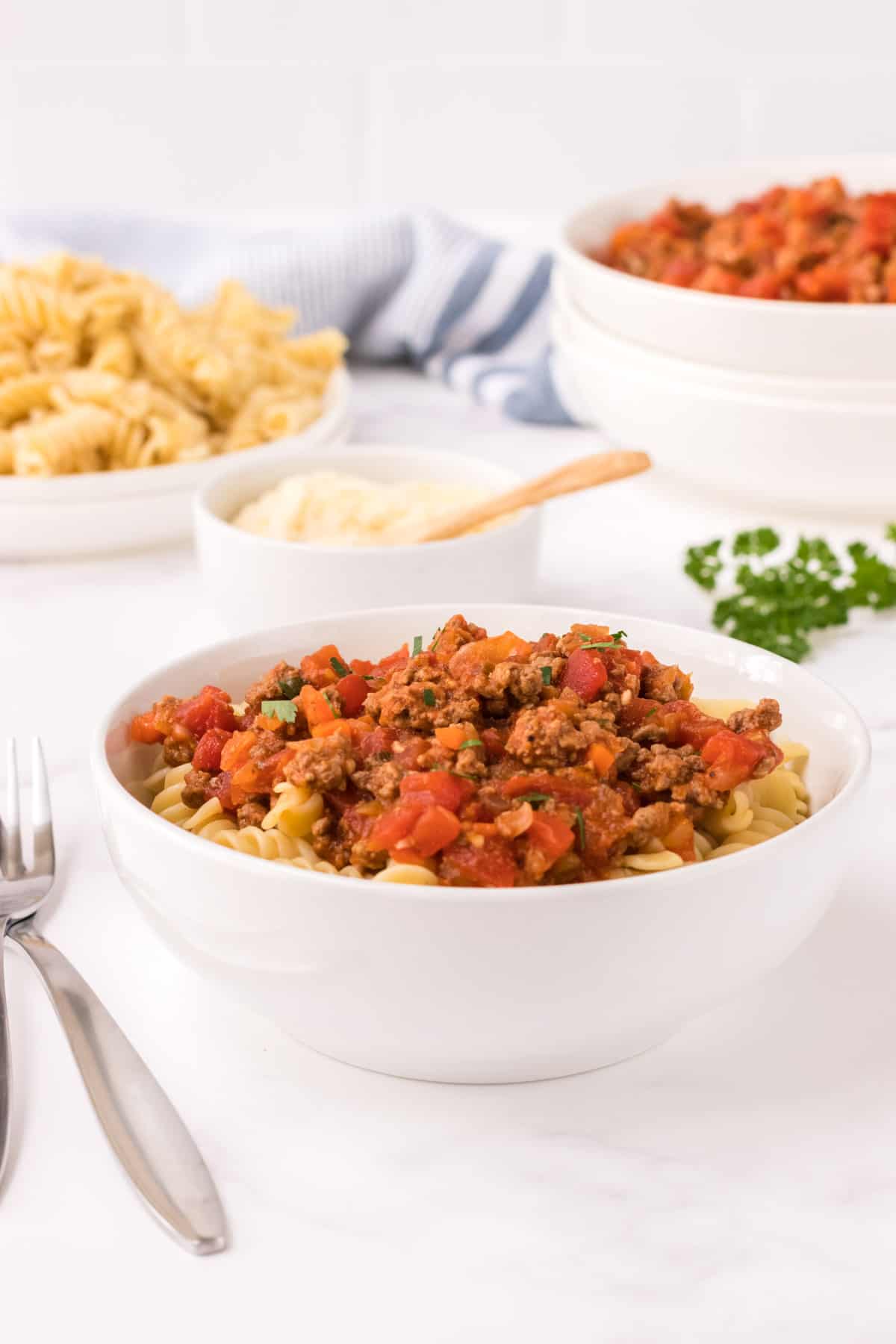 It's so easy to make your own Homemade Spaghetti Meat Sauce at home! This recipe is filled ground beef and lots of veggies, plus it can be made ahead of time and frozen for a quick & easy weeknight dinner.
Friends, I'm a spaghetti sauce fiend. I love, LOVE spaghetti pasta with red sauce. Sometimes I'll mix things up and serve it over spaghetti squash. I've even been known to eat the sauce on it's own just by the spoonful. What I especially love about this spaghetti meat sauce recipe is that it is also filled with lots of healthy vegetables, too!
I'm not kidding when I say I could eat spaghetti and meat sauce every day. Like every day for a month and still not tire of it! For real. My family is not as big fan as I am but they do like it and know of my love for it. Maybe it's my Italian roots that influence my love—it's in my blood!
I serve this meat sauce over our favorite shaped pasta then add a garden salad and homemade garlic bread on the side for a delicious dinner. My family loves this sauce as an alternative to the Homemade Crockpot Spaghetti Sauce (that we love too—it's so versatile!)
Ingredient Tips To Make Homemade Spaghetti Sauce
All of the ingredients for this recipe are easily found at the grocery store. I like to buy store brand when I can to save money. Here are a few extra tips for some of the ingredients: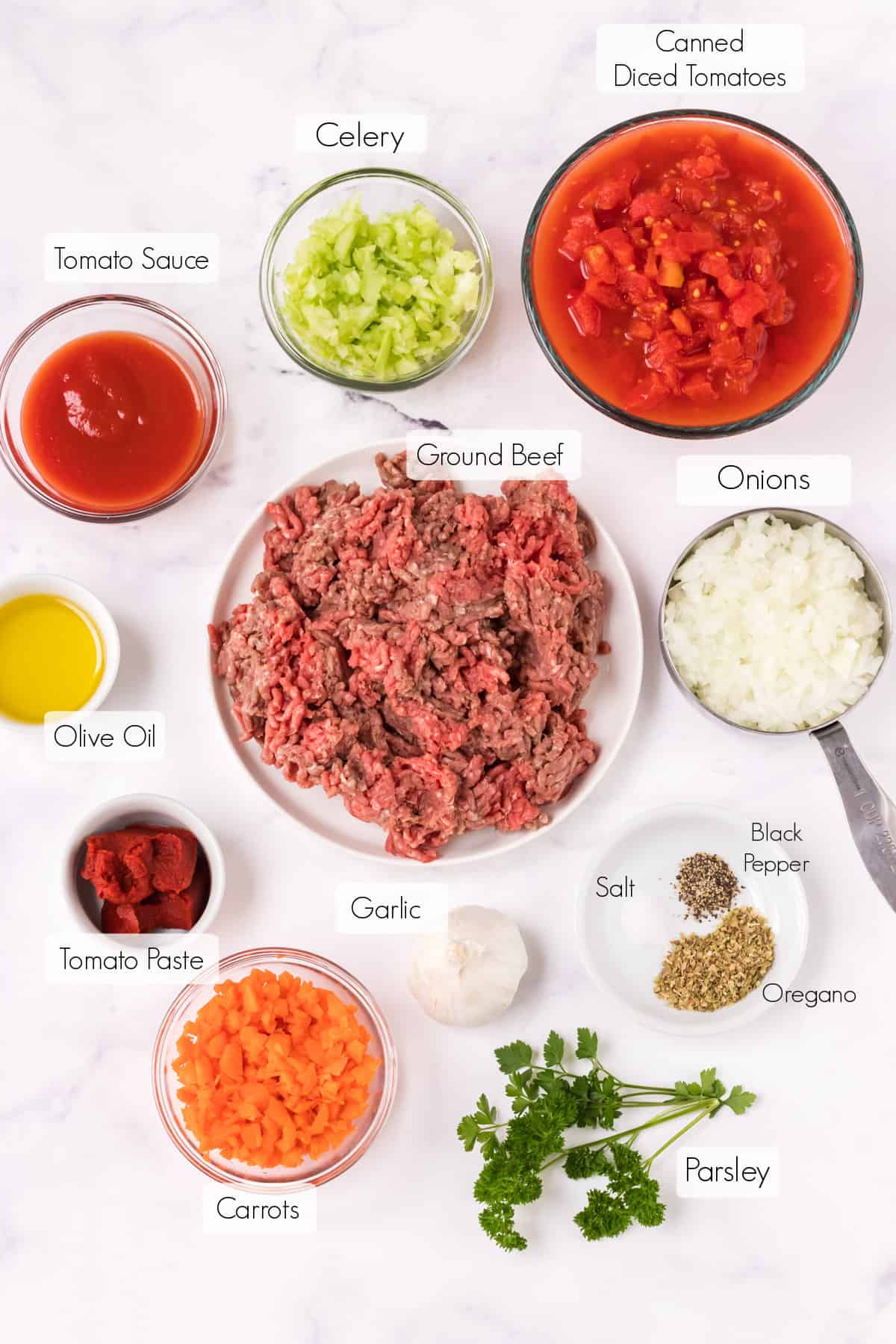 Carrots, Celery and Onions – I usually have fresh carrots and onions on hand but not always celery. But frozen vegetables can easily be substituted for fresh in this meat sauce recipe to save you even more time and can also save you money depending on your region.
I have found both frozen carrots and frozen onions at several of my local grocery stores. Frozen celery is sometimes a bit trickier to find. I have seen it in a vegetable blend with onions though so check your store if you're interested in using frozen vegetables.
Parsley – There are a couple of types of parsley I typically find at my store—curly leaf and Italian or flat leaf parsley. They have a mild flavor and taste a lot alike but have a slightly different flavor. I just use whatever I'm in the mood for that day.
I actually have a container of both types of parsley that I grow so I always have fresh parsley on hand but it is cheap and easy to find at the store, too.
How to Make This Recipe
Start by browning the ground beef in a large saucepan. Drain off the liquid. Sometimes I will brown it in a separate sauté pan instead. That just means I'll have one extra dish to wash but I find that it's easier to brown it more quickly in a large flat sauté pan (affiliate link).
Next, chop the carrots, celery and onions (1). I like to use my handheld food chopper (affiliate link) to make the job quicker and easier.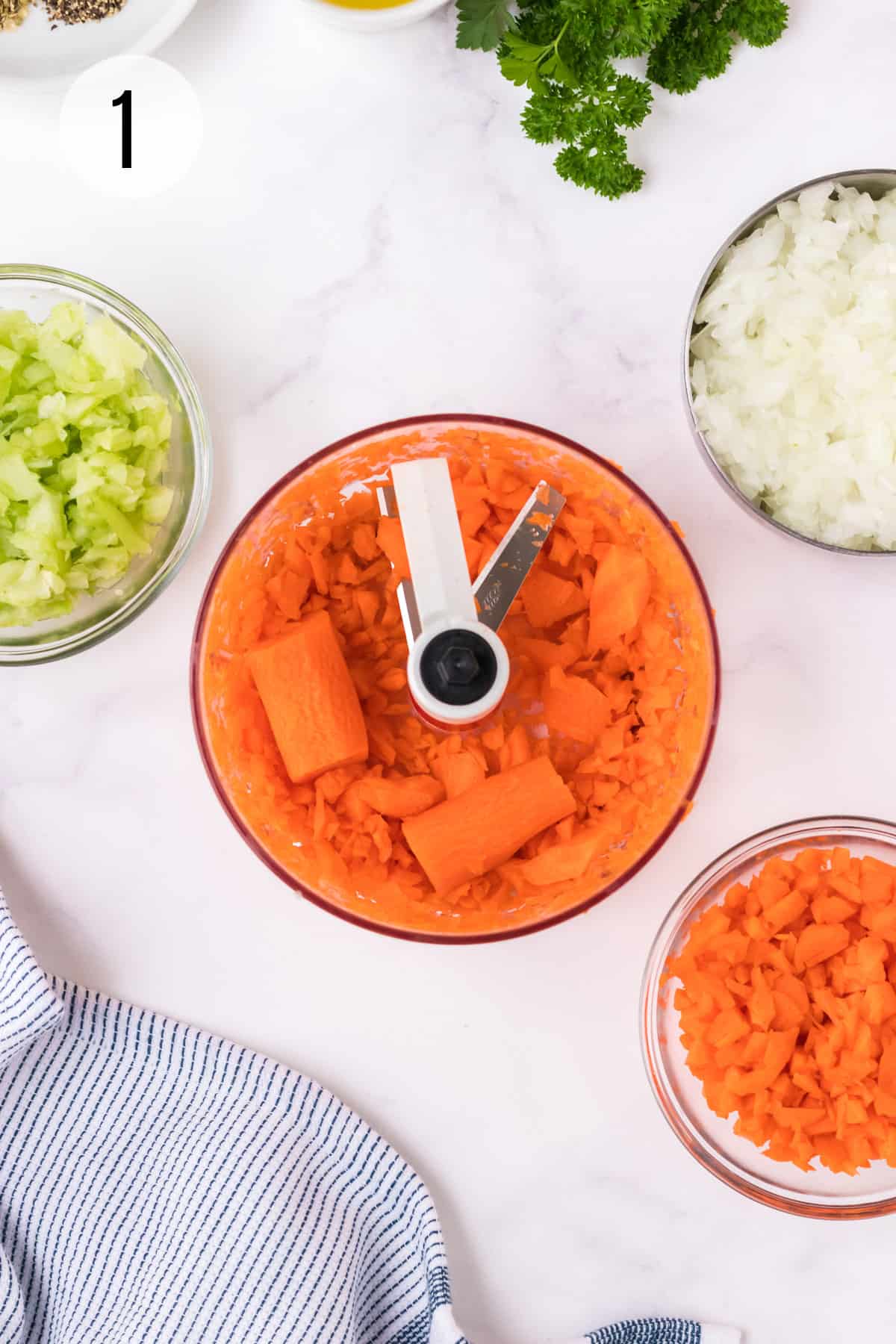 Next, sauté the vegetables and minced garlic with a bit of olive oil in a large saucepan until tender (2).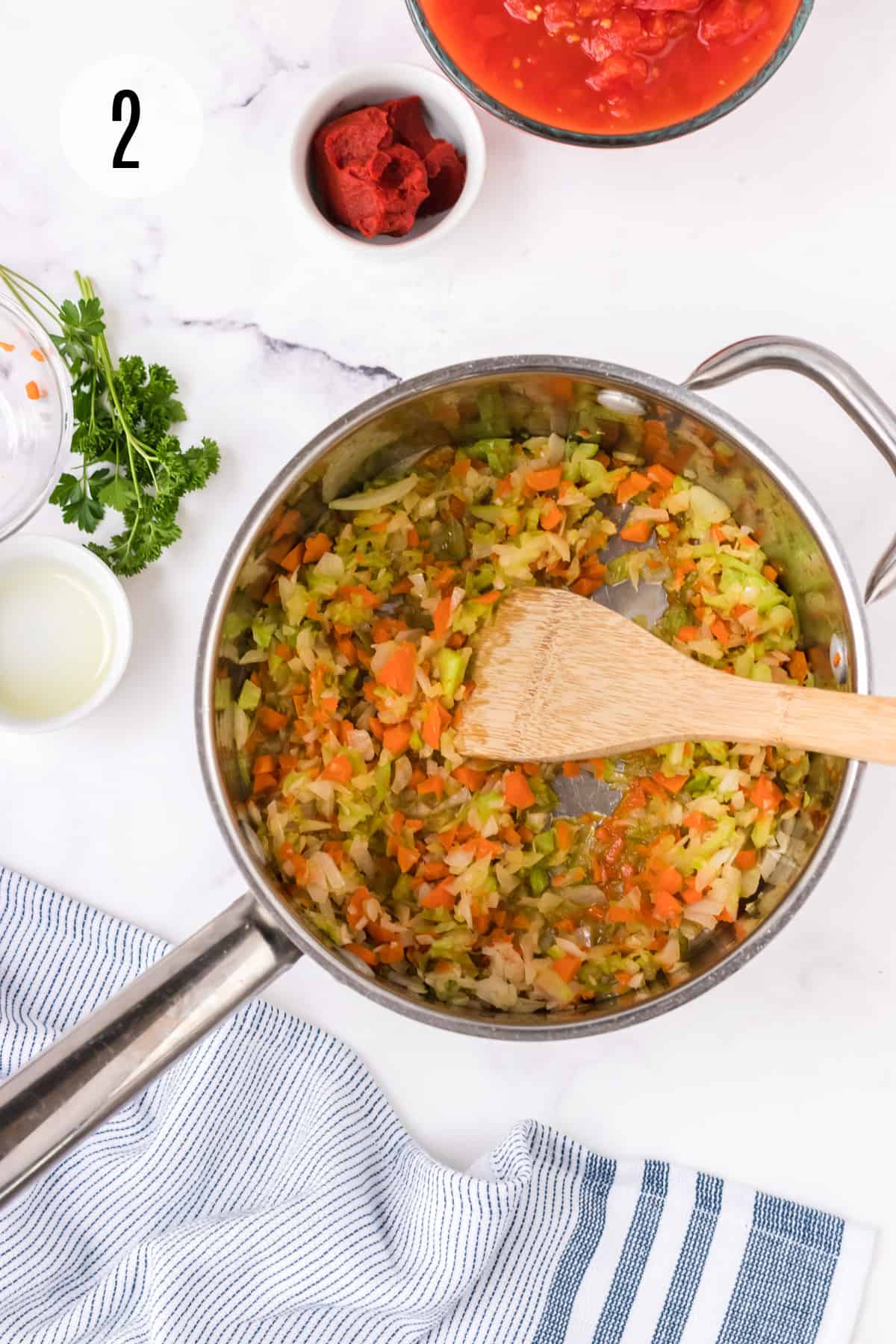 Then you just add all the remaining prepped ingredients to the saucepan (3), stir and simmer for 30-45 minutes. This is a relatively hands-off recipe to make—the kind I like!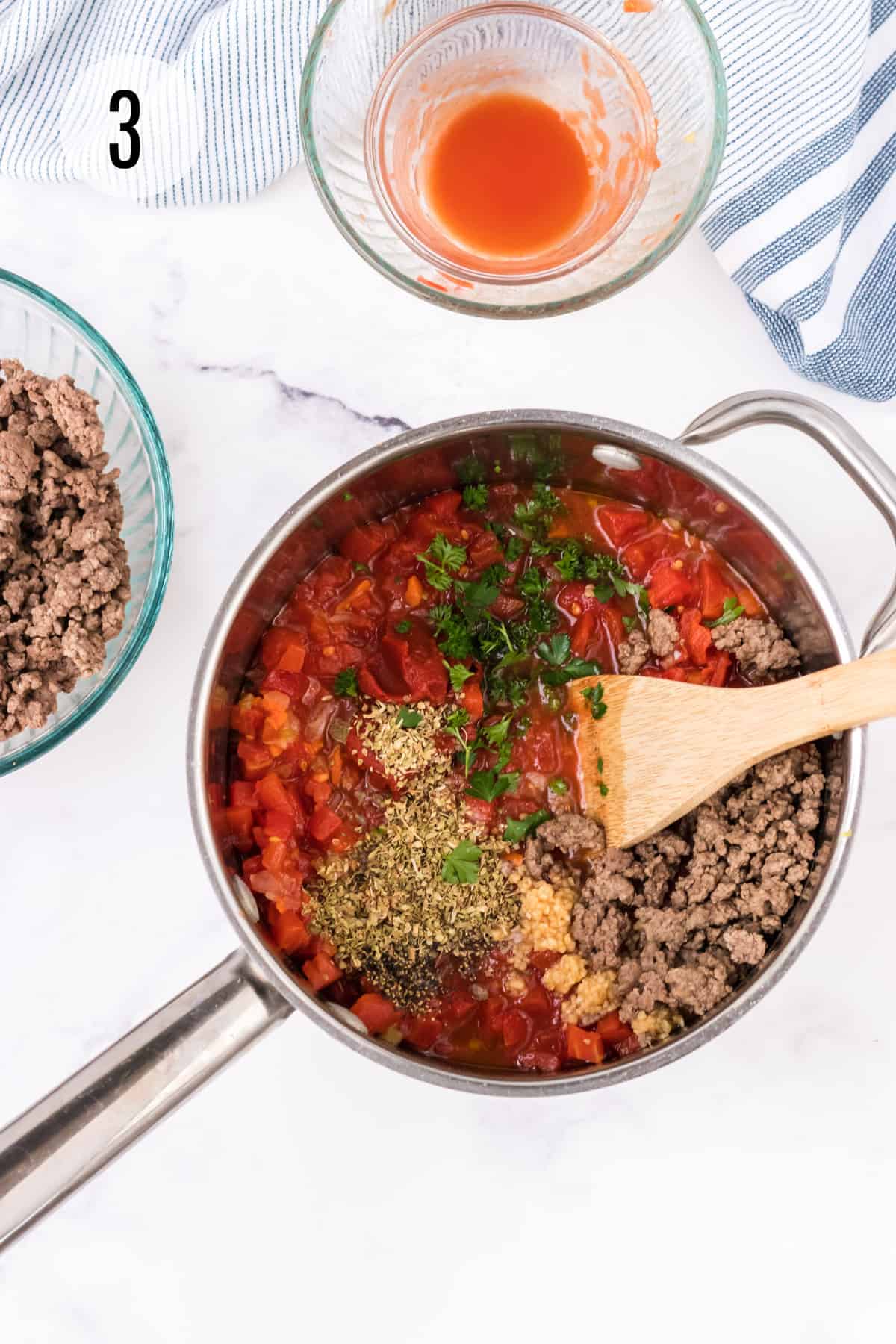 This meat sauce recipe is a bit chunkier than some others. If you prefer a smoother sauce or you've got family members that may turn up their noses if they spy the extra veggies, I will sometimes modify it by taking about half of it the cooked sauce, pulsing it a few times in the food processor (affiliate link) or blender (affiliate link) to make it a little "smoother".
Then I will add that back to the rest of the chunky sauce and it is perfect! I actually like it both ways, but my kids prefer the smoother version.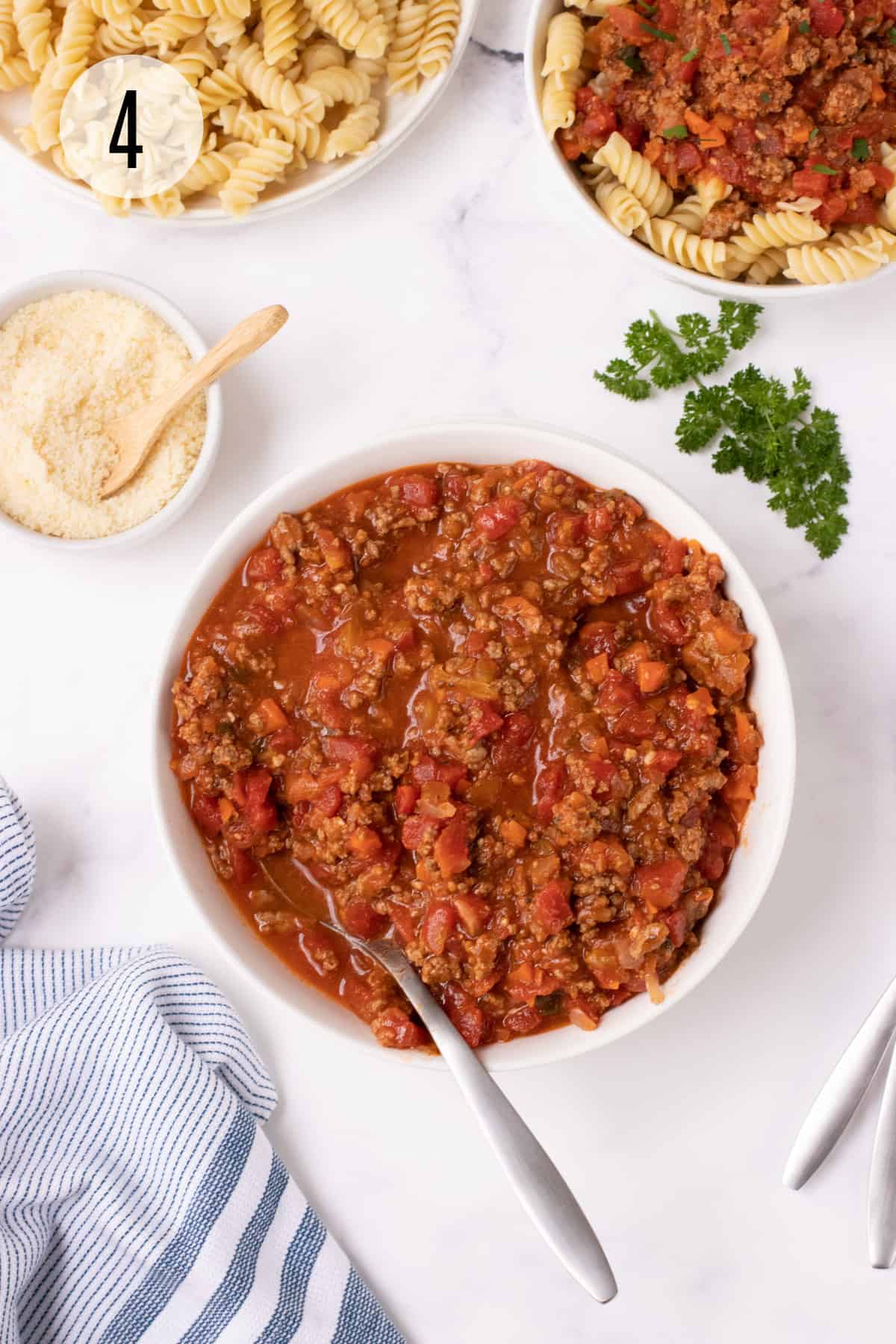 To serve, cook up your favorite pasta. We like fusilli for this meat sauce but the classic spaghetti shape is good too!
Make Ahead Preparation Tips
Save even more time come dinner time when you prep the ingredients for homemade spaghetti meat sauce ahead of time. You can brown the ground beef and chop the vegetables so that assembly is quick and easy when you're ready to assemble and cook the sauce.
Is This Sauce Freezer Friendly?
This sauce freezes really well! I also LOVE that I can make a big batch of it to portion out and freeze it so I can thaw it out later for a quick and easy meal that saves my sanity after a busy day. I'm all for make ahead whenever I can! Plus, this sauce tastes even better the second day once the flavors have time to blend.
I like to use my SouperCubes (affiliate link) to freeze it in either individual portions or larger portions so that I can pull out what we want. Don't forget to date and label (affiliate link) your container otherwise you might think it's something else (like chili—it's happened to me!)
Love Pasta? Check Out These Similar Recipes
Slowcooker Homemade Spaghetti Sauce
Delicious Crockpot Lasagna Soup
Super Simple Skillet Lasagna Florentine
Pepperoni Pizza Pasta Salad
One Pot BLT Pasta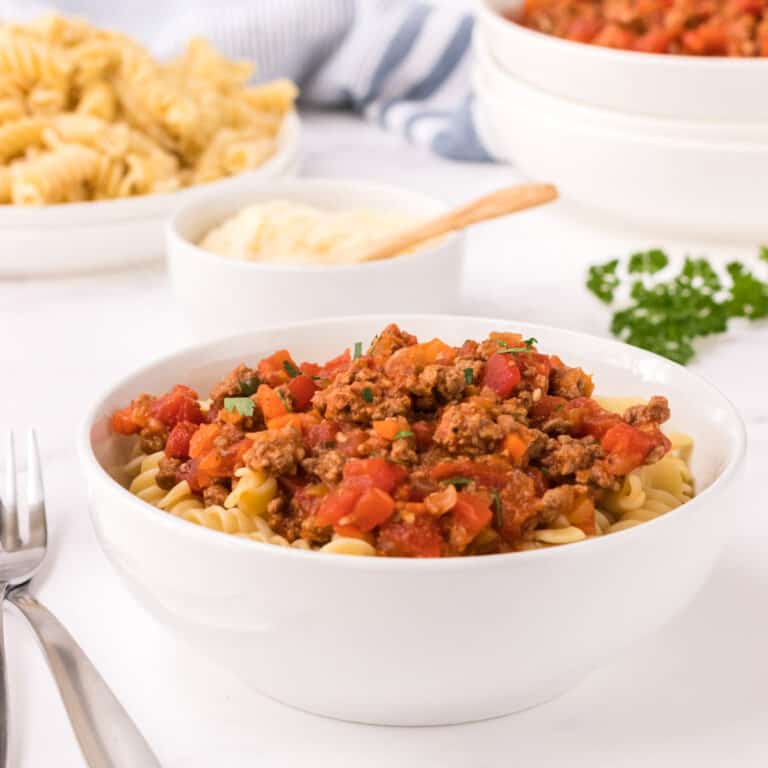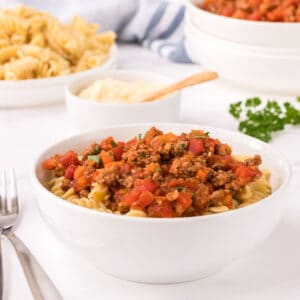 Homemade Spaghetti Meat Sauce
It's so easy to make your own Homemade Spaghetti Meat Sauce athome! This recipe is filled ground beef and lots of veggies, plus it can be madeahead of time and frozen for a quick & easy weeknight dinner.
Rate this Recipe
Print Recipe
Pin Recipe
Ingredients
1

pound

ground beef

¼

cup

extra virgin olive oil

1

cup

onion

chopped

¾

cup

carrots

grated or finely diced

½

cup

celery

chopped

4

cloves

garlic

minced

3

tablespoons

fresh parsley

chopped

1

tablespoon

oregano

½

cup

tomato puree

28

ounces

petite diced tomatoes

2

tablespoons

tomato paste

¼

teaspoon

salt

¼

teaspoon

ground black pepper
Instructions
In large saucepan, sauté ground beef until browned.

Remove browned ground beef from pan to a medium bowl and set aside. Drain off or wipe up any liquid from pan.

In same large saucepan, add olive oil and sauté onion, garlic, carrots and celery until tender.

Reduce heat then add chopped fresh parsley, dried oregano, tomato sauce, petite diced tomatoes, tomato paste, salt, pepper and browned ground beef from first step.

Increase heat to medium high and bring mixture to a boil. Then reduce heat, cover and simmer for 30-45 minutes.

Serve with your favorite pasta or use as a marinara in your favorite recipes!
Notes
This recipe can be made ahead and also frozen!
Make ahead and store in refrigerator for up to three days until you are ready to use.
Or store in freezer safe containers, label and freeze for up to 3 months.
Nutrition
Serving:
1
cup
|
Calories:
263
kcal
|
Carbohydrates:
14
g
|
Protein:
12
g
|
Fat:
19
g
|
Saturated Fat:
5
g
|
Trans Fat:
1
g
|
Cholesterol:
40
mg
|
Sodium:
293
mg
|
Potassium:
663
mg
|
Fiber:
4
g
|
Sugar:
7
g
|
Vitamin A:
2529
IU
|
Vitamin C:
17
mg
|
Calcium:
75
mg
|
Iron:
3
mg
Be sure to check out my Amazon Shop to discover the many items I use in my own kitchen. Meal Planning Magic is a participant in the Amazon Services LLC Associates Program, an affiliate advertising program designed to provide a means for sites to earn advertising fees by advertising and linking to Amazon.com. Ordering products mentioned here are at no extra cost to you. Thank you for your support.
This recipe post was originally shared in 2012 but updated in March 2021 with new photos, content and video.