This post may contain affiliate links. Please read my disclosure policy.
You'll love this Healthier Decadent Double Chocolate Banana Bread. It's so moist and delicious and has been made healthier from it's original recipe.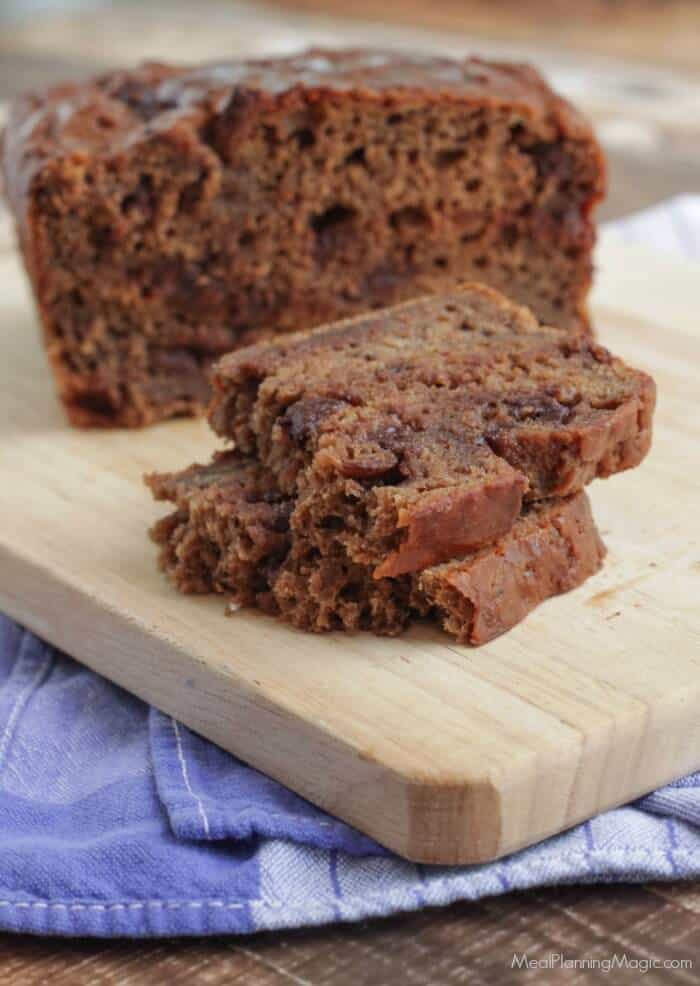 So, I mentioned before when I made the Spanish Rice and Beef Skillet Dinner that I've been going through lots of my older "church or club" cookbooks trying out recipes I've had marked for ages. The thing is, so many of these recipes are not always the healthiest. True, the recipes are in those cookbooks because they are generally family favorites but sometimes they are full of extra ingredients that maybe aren't so great for you. Mainly meaning, they might call for a whole lot of one ingredient (say butter or margarine). So as I've been going through and trying out the recipes, I've also been tweaking them a bit to make them healthier.
In this recipe for Double Chocolate Banana Bread, I decreased the amount of refined sugars, decreased the amount of chocolate chips and substituted plain Greek yogurt for the butter. I first made it as written and my family gobbled it up! But later, when I made those changes, my family still loved the bread just as much and I ended up making it three times in one week!
One tip: It really is important that you puree the bananas or just make sure they are almost liquidy before adding the rest of your wet ingredients then adding THAT mixture to the flour mixture. Trust me on this one. I tried to cut corners the first time and just mash with a fork and we ended up with what my kids called "weird gummy globs" in the bread. Still tasted just fine but may be a possible turn off visually. Just sayin. (p.s. you may still see "globs" in the bread but those are from the chocolate chips that are all melty and yummy!)
I don't know what it is about chocolate and bananas but wow—this Double Chocolate Banana Bread is SO yummy! It is moist and chocolatey and just enough sweet that you can enjoy a slice anytime! We had it for breakfast with some scrambled eggs sometimes but also as an afternoon snack in the summer. We just couldn't get enough of it! Like my Whole Wheat Banana Bread, this recipe is a great way to use up those bananas that are likely getting ripe on your counter. It seems I always have a couple of those week-to-week.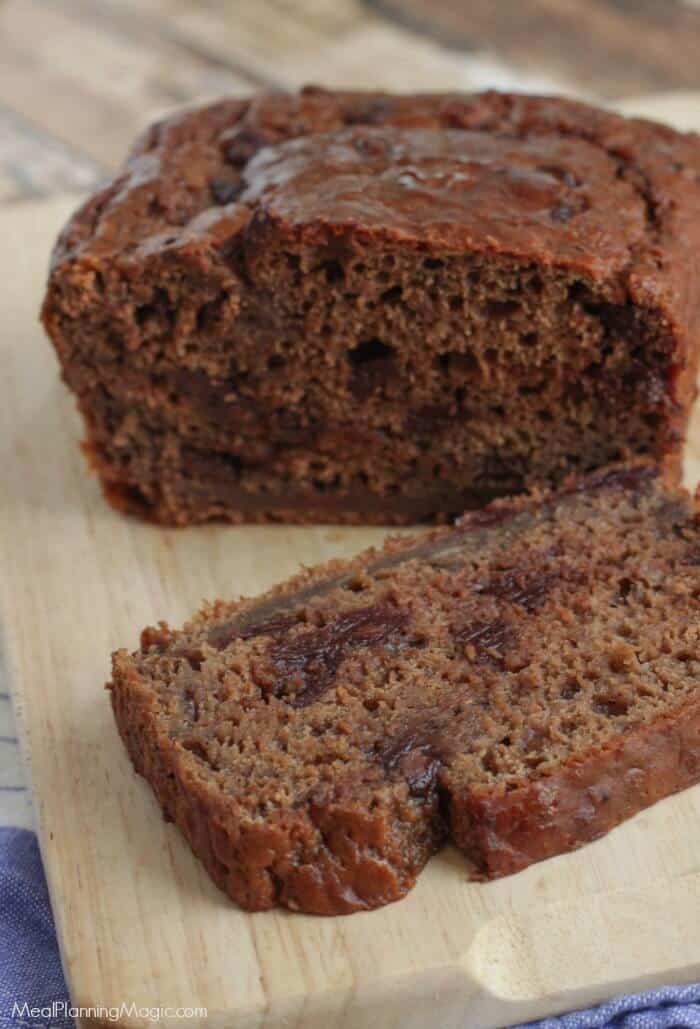 I hope you'll give this recipe a try and let me know what you think. It's definitely become a family favorite here and part of our regular recipe rotation!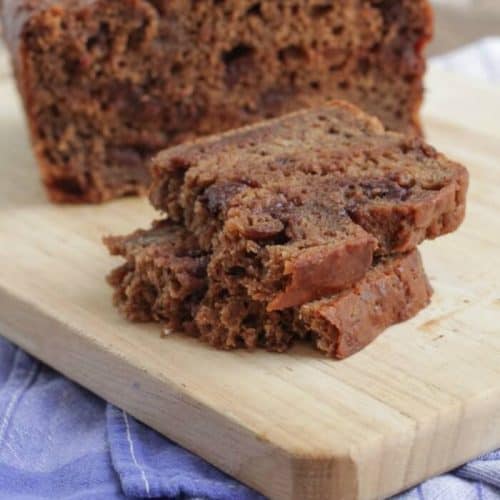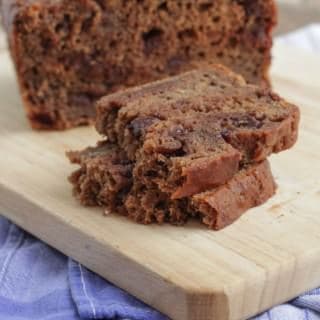 Healthier Decadent Double Chocolate Banana Bread
You'll love this Healthier Decadent Double Chocolate Banana Bread. Made with plain yogurt and healthier ingredients, it's so moist and delicious!
Print
Pin
Rate
Ingredients
2

cups

all-purpose flour

¼

cup

unsweetened cocoa powder

1/3

cup

sugar

1/3

cup

brown sugar

½

teaspoon

baking powder

½

teaspoon

baking soda

½

teaspoon

salt

3

medium

bananas

extra ripe

½

cup

plain yogurt

2

large

eggs

lightly beaten

1

teaspoon

vanilla

2/3

cup

semi-sweet mini chocolate chip
Instructions
Preheat oven to 350°F. Grease 9x5 loaf baking pan. Set aside.

In a large bowl, combine flour, cocoa, sugars, baking powder, baking soda and salt. Set aside.

In a blender or food processor, puree bananas to measure 1 ½ cups.

In a small bowl, combine puree, yogurt, eggs and vanilla.

Add puree mixture to dry mixture.

Stir until just blended.

Stir in chocolate chips.

Bake for 60-65 minutes. Bread is done when toothpick inserted in center comes out clean.

Place bread in pan on baking cooling rack and cool for 5 minutes in pan. Then remove bread from pan onto cooling rack and cool completely.
Notes
MAKE AHEAD TIP:
This Healthier Decadent Double Chocolate Banana Bread can easily be made ahead. Store it at room temperature in a dark place (like pantry or cabinet) if you live in a low humidity climate. I live in a humid climate and find that it sometimes will mold more quickly when it's warm and sunny so I like to keep it in the refrigerator.
Or you can also store it in a labeled airtight container or wrap (such as foil or zip top bag) for up to 3 months.
I like to slice it before freezing so that it's easier to thaw a piece at a time. 
MONEY SAVING TIP:
Look for you grocery store to mark down ripe bananas. My local store does that saves me a little bit extra per pound. Every penny counts!
Nutrition
Calories:
248
kcal
|
Carbohydrates:
43
g
|
Protein:
5
g
|
Fat:
7
g
|
Saturated Fat:
4
g
|
Cholesterol:
37
mg
|
Sodium:
165
mg
|
Potassium:
284
mg
|
Fiber:
3
g
|
Sugar:
21
g
|
Vitamin A:
85
IU
|
Vitamin C:
2.6
mg
|
Calcium:
45
mg
|
Iron:
2.3
mg