This post may contain affiliate links. Please read my disclosure policy.
This Overnight Apple Cinnamon Rolls recipe is prepped ahead and baked the next day. Filled with diced sweet apples blended with a cinnamon sugar mixture and drizzled with an apple cider glaze, they make a delicious breakfast morning treat!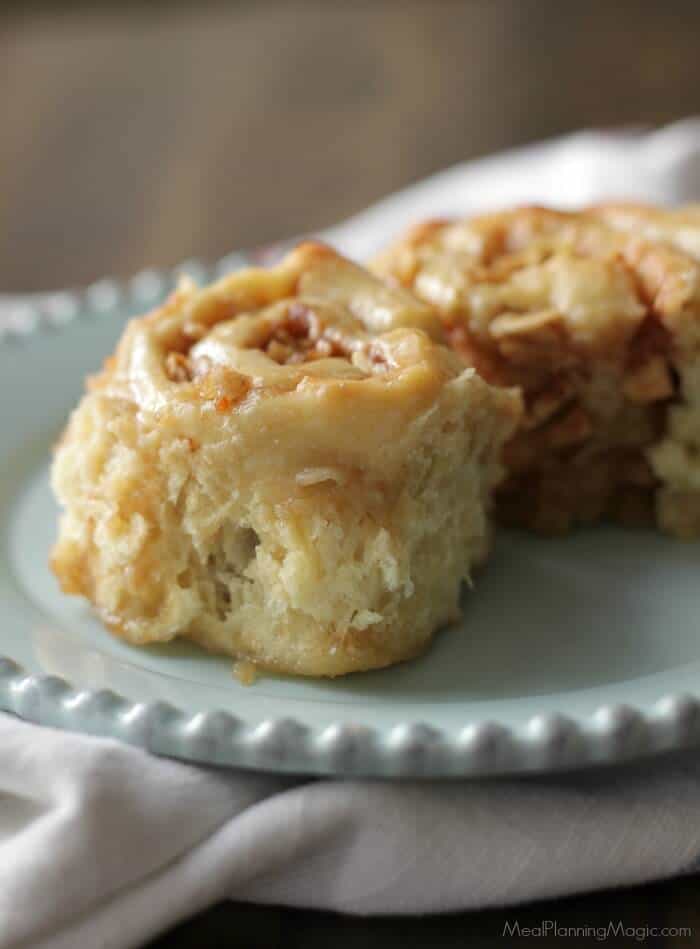 Friends, if you've been around awhile, you know it's not secret that I love recipes that are make ahead. Anything that I can do to take advantage of the time I have when I have it vs. scrambling to get good food to the table when I'd rather be spending time to more fun things, I'll take it.
That's why I was excited to try this cinnamon rolls recipe with the added flavor of apples! I love pretty much anything with apples and cinnamon—great flavor combo for me!
So a few years ago when I was given a copy of The 8×8 Cookbook: Square Meals for Weeknight Family Dinners, Desserts and More In One Perfect 8×8-Inch Dish, I knew I had to give this recipe a try!
I won't lie, at first I was a little intimidated by this recipe. The ingredients list looked long and there are a lot of steps.
But once I made it for the first time, I realized it really didn't take that long at all. Note though, you'll need to factor in time to let the dough rise one time before assembling the rolls so make sure you allow time for that.
It's hands off prep, but you don't want to go out for the afternoon and mess up that step! But let me tell you, the payoff the next morning is some pretty delicious apple cinnamon rolls that make it totally worth that little bit of extra work!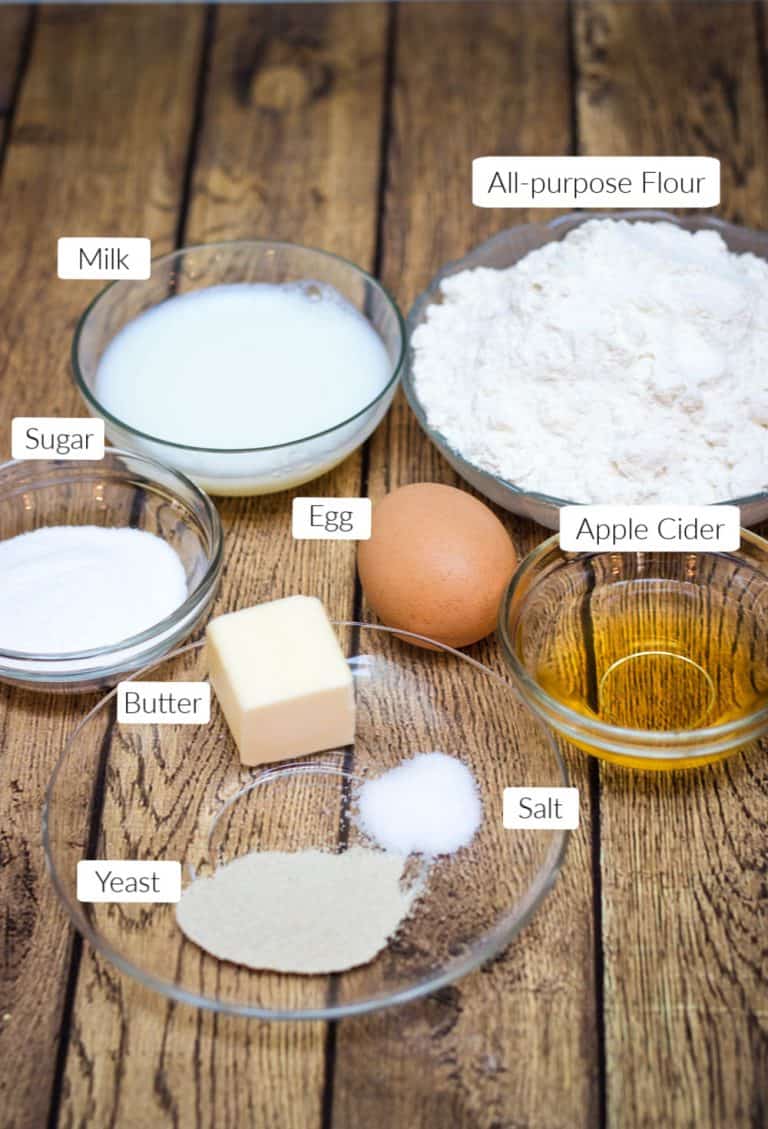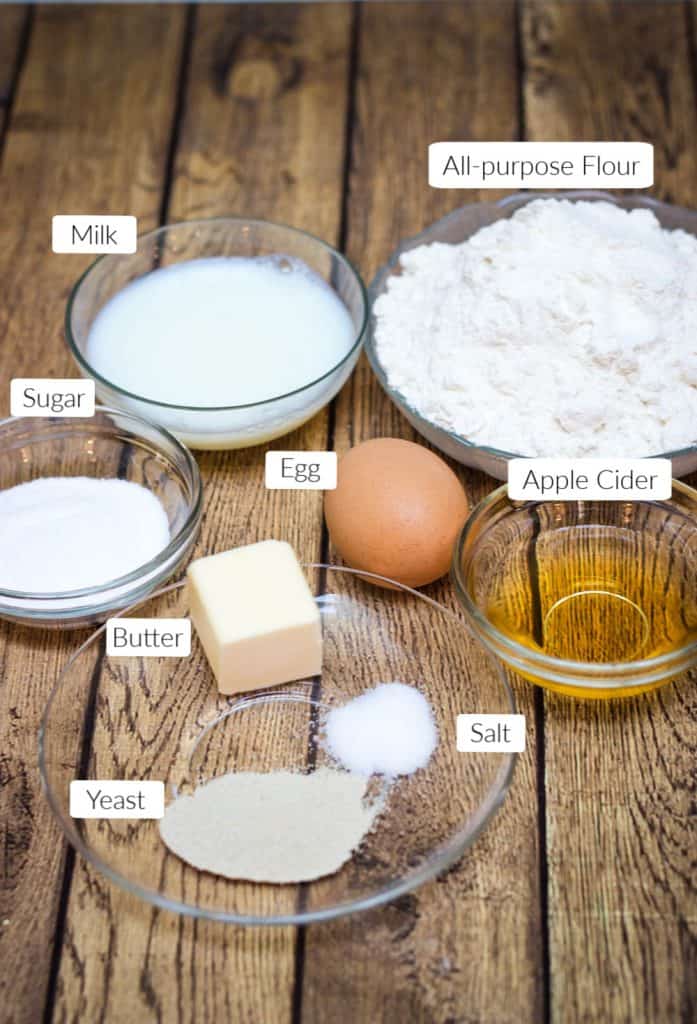 What Do I Need to Make These Apple Cinnamon Rolls?
All-purpose Flour – I like to buy the unbleached kind, store brand usually!
Instant Rapid Rise Yeast – You can find this in the baking aisle of the grocery store. Usually it's on the top shelf near the flour, baking powder, etc. You can buy just one packet or buy it in a jar if you'll use it often. I store my jar yeast in the refrigerator so it lasts longer!
Salt – The regular granulated salt (not sea salt as that's too strong and crystals are too large)
Milk – The original recipe called for whole milk, but I've used skim and that works just fine!
Apple Cider – You can find this in the juice section of the grocery store. I can't always find apple cider so substituting apple juice works too.
Butter – I buy the store brand to save money and make sure it's the unsalted variety
Sugar – Regular granulated sugar – – store brand again to save money!
Egg – Large egg works best for this recipe.
Brown Sugar – Make sure it's the light brown sugar.
Ground Cinnamon – I buy my cinnamon in bulk as it's usually much cheaper that way. Or again, store brand!
Apples – I choose a Gala or similar mildly sweet apple.
Walnuts – Nuts can be expensive! I buy them at ALDI or when I have the freezer space, at stores like Sam's Club or Costco. So much cheaper than the small bags at the grocery stores.
Powdered Sugar – Again, I like to buy this at ALDI or other grocery store brand to save money!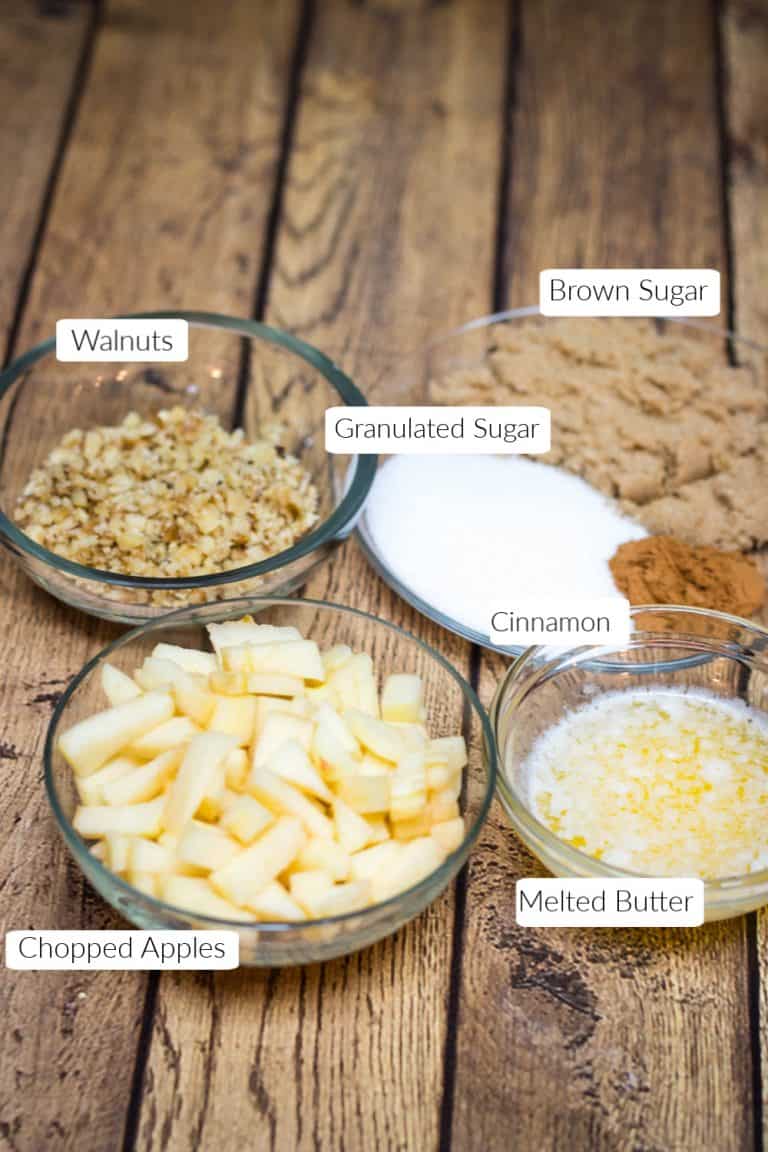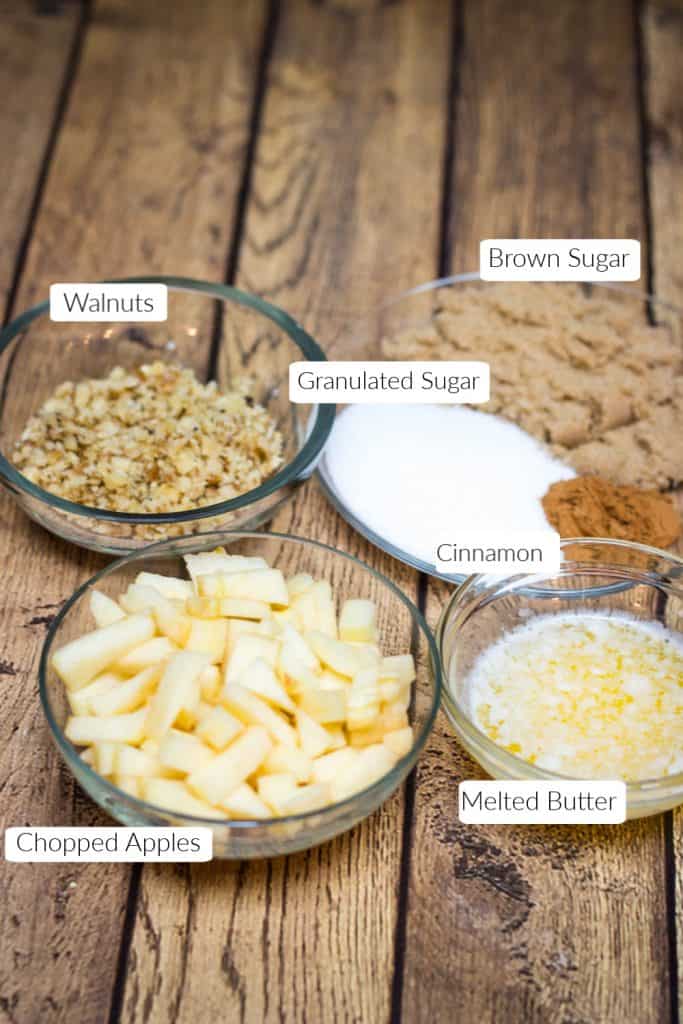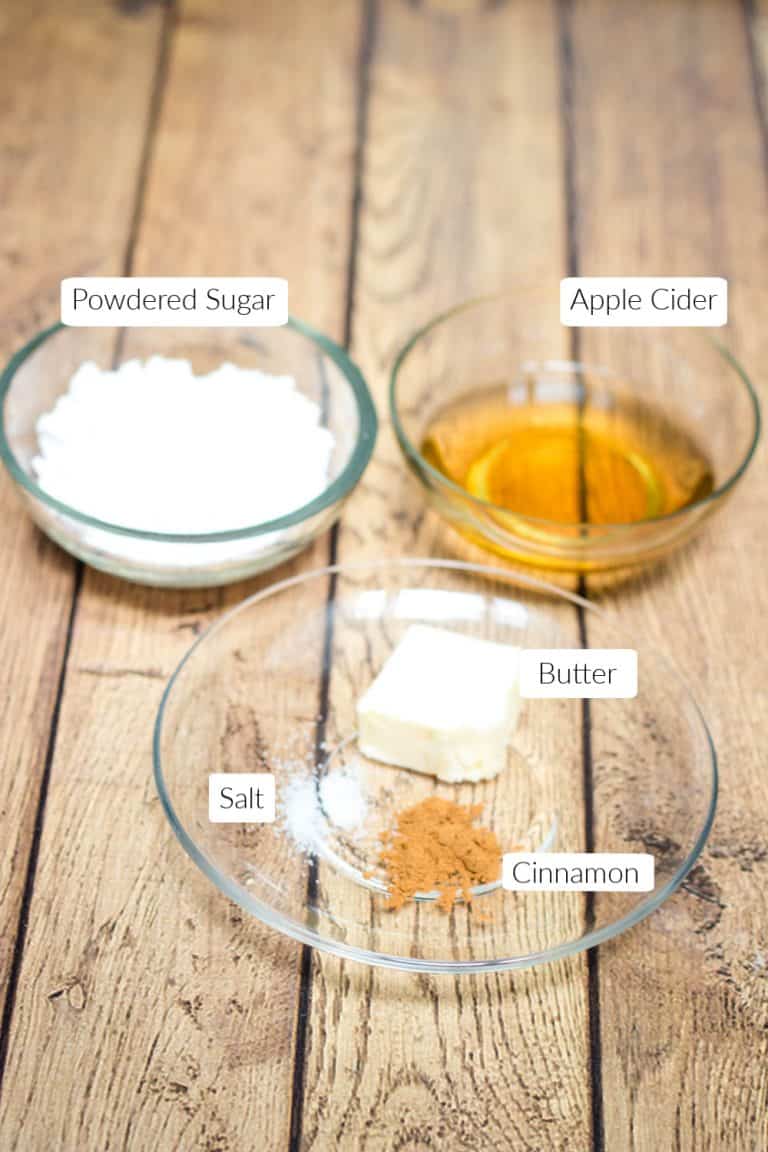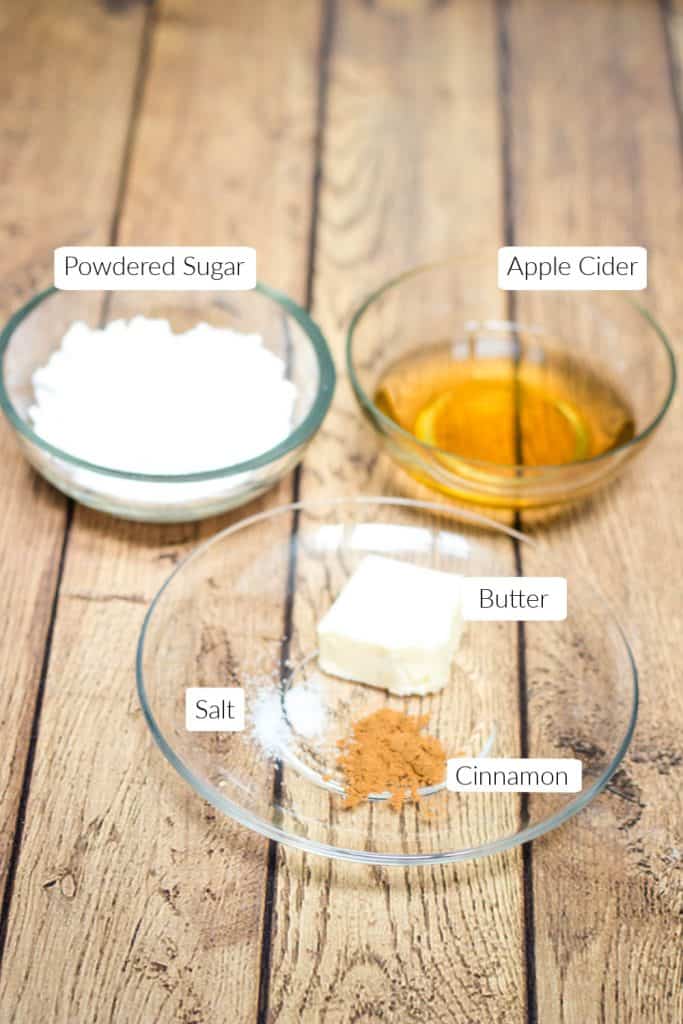 Tips for Making Overnight Apple Cinnamon Rolls
There are a few things to keep in mind when making this recipe for cinnamon rolls.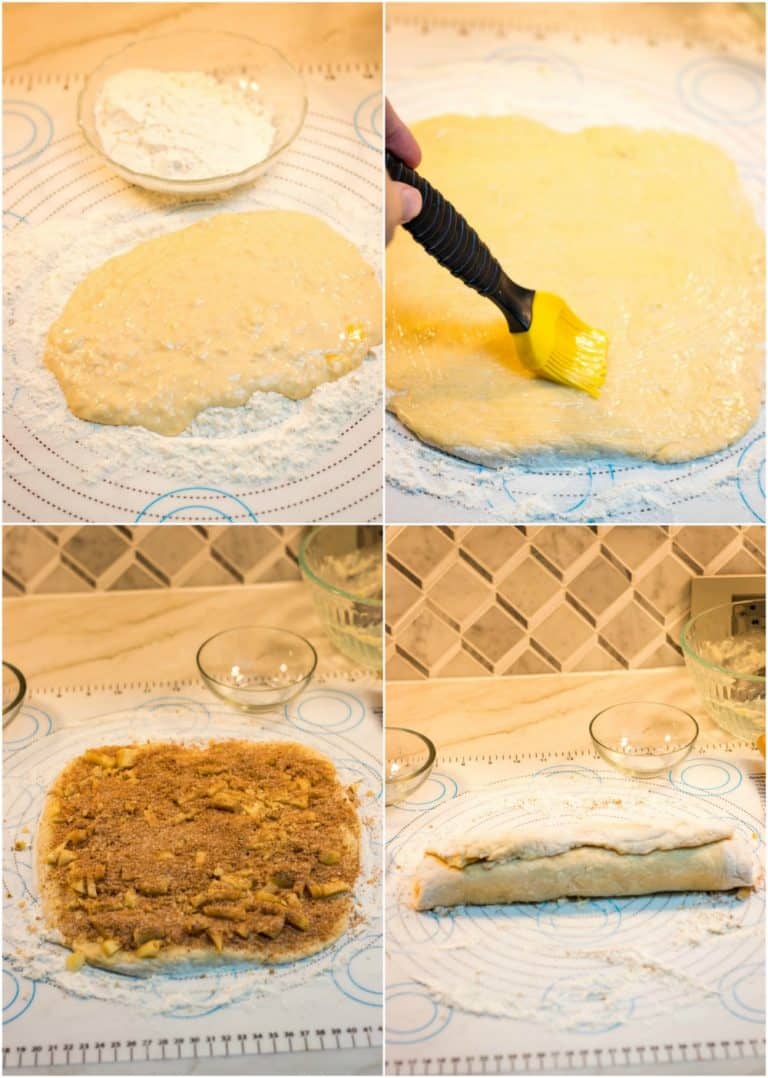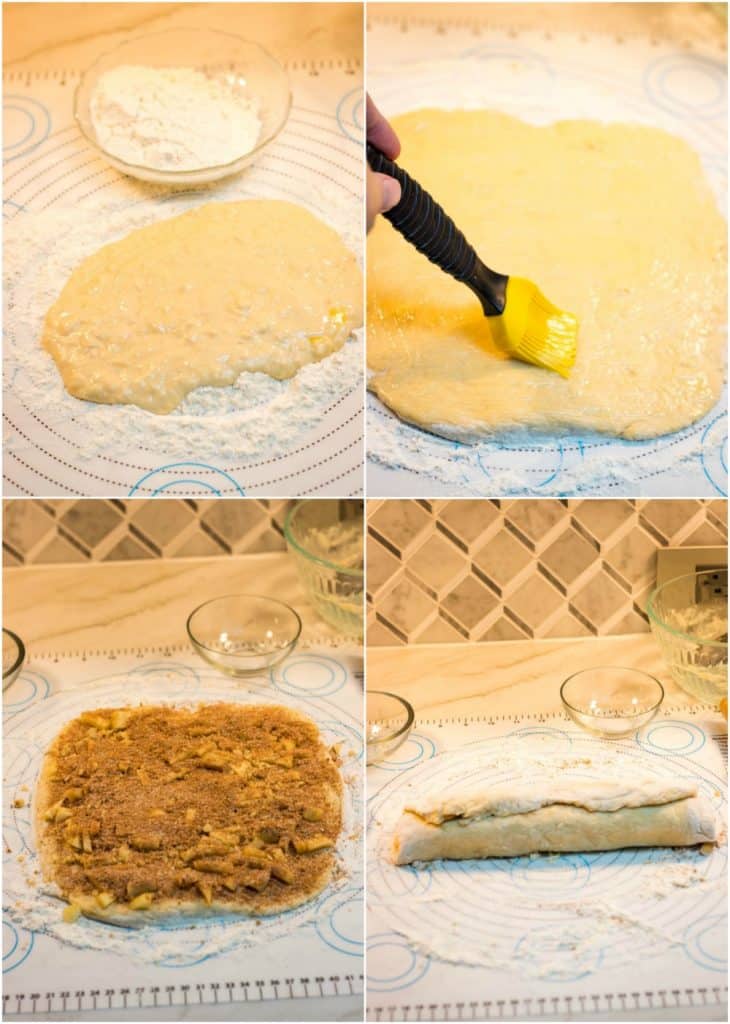 The dough will be really wet and sloppy at first. When it comes time to kneading the dough, cover your work surface liberally with flour that you'll be incorporating into the dough.
I like to use this baker's mat because it sticks to my counters and is easy to wash. It also has all kinds of measurements on it that make it handy for prepping lots of baked goods.
When dicing your apples, make sure dice them pretty small. You want the apple chunks to get lots of the cinnamon sugar mixture on there so that they can kind of caramelize when they bake.
For the walnuts, I use a food chopper (this one is my favorite) or my food processor (I have this one) to chop them really small too. Smaller pieces make it easier to roll in the dough but also easier when biting. I know I'm not a big fan of biting into a big nut when I'm eating a baked good!
I like to use a silicone basting brush when brushing on the melted butter. You don't have to worry about any stray hairs from a traditional brush coming off and the silicone brushes are dishwasher safe too. I use mine often!
Don't worry if your cinnamon rolls are not totally round when you slice the roll of dough.
First of all, probably no one cares what they look like as long as they taste good! But secondly, they will round out a little more when they rise overnight in the refrigerator and also when they bake in the oven.
We like to serve these cinnamon rolls with some scrambled eggs or bacon to counter out the sweetness of the rolls. They are great to make when you have company too because they are make ahead. In the morning, all you need to do is pull them out of the refrigerator, bake and serve!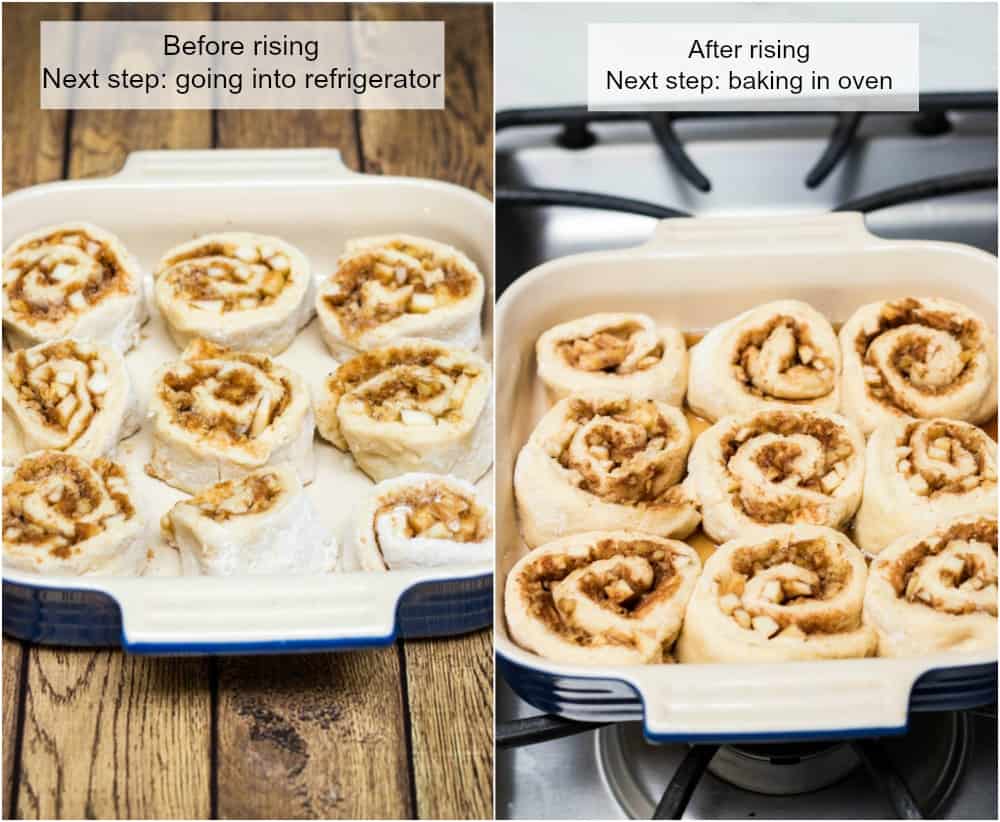 Can You Make These Ahead?
Naturally, this recipe is already make ahead because it rests overnight. But you can make it even more make ahead by assembling the dry ingredients in a bowl and covering until you are ready to prepare the full recipe.
Every minute helps!
Can You Freeze These Cinnamon Rolls?
While I've not tried it with this recipe, I have frozen other similar rolls after baking and it works just fine! But I do save the glaze for putting on right before serving and do not add it before freezing.
So essentially, you'll want to do the baking, then cool your rolls and store them in a labeled freezer safe container or bag. When ready to serve, thaw them overnight in the refrigerator.
You can warm them up in a 200 degree oven for about 20 minutes or until warmed through. While you are warming them, make the glaze and drizzle it onto the warmed rolls just before serving.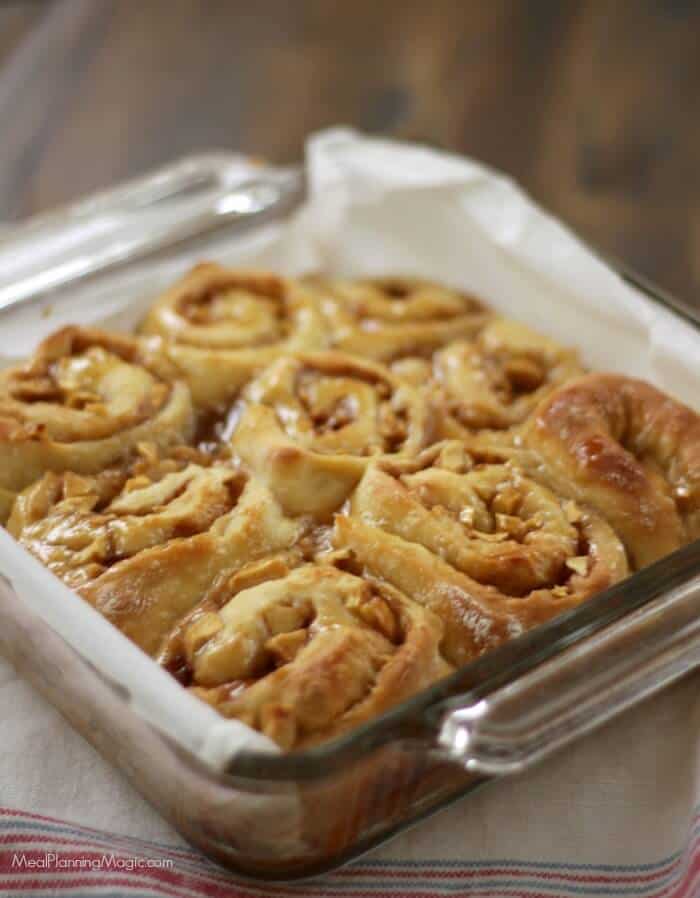 Some Other Favorite Make Ahead Breakfasts
Like I've said, I love anything that can be made ahead. Especially when it comes to breakfast and I just wake up hungry ready to eat! Some other favorite recipes you might want to check out are Cinnamon Chocolate Peanut Butter Overnight Oats , Simple Skillet Chilaquiles or Beef Sticky Buns with Jalapeno Jelly and Cream Cheese Frosting.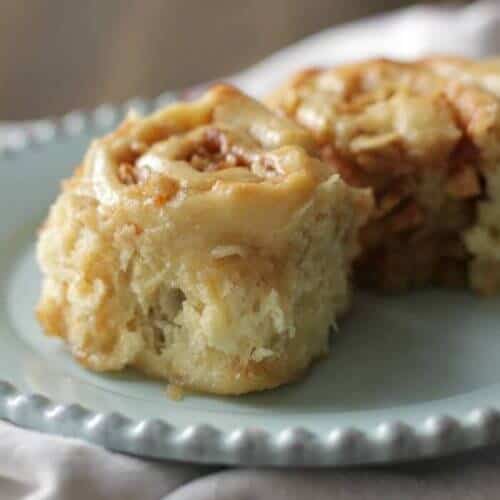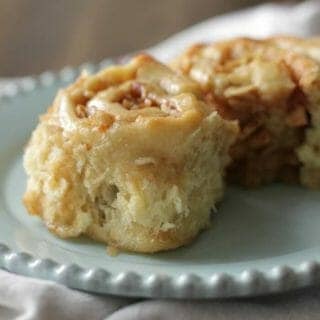 Overnight Apple Cinnamon Rolls
Delicious and simple Overnight Apple Cinnamon Rolls are a featured recipe from The 8 x 8 Cookbook. Perfect for company or anytime!
Rate this Recipe
Print Recipe
Pin Recipe
Ingredients
For Dough
2

cups

all-purpose flour

divided

1.125

teaspoon

instant rapid rise yeast

½

teaspoon

salt

½

cup

whole milk

2

tablespoons

apple cider

2

tablespoons

unsalted butter

2

tablespoons

sugar

1

large

egg

beaten
Filling
2

tablespoons

unsalted butter

melted

3

tablespoons

brown sugar

firmly packed

2

tablespoons

sugar

1

teaspoon

ground cinnamon

¾

cup

apple

finely chopped, about 1 medium

¼

cup

walnuts

finely chopped
Glaze
¼

cup

apple cider

¼

teaspoons

ground cinnamon

1

pinch

salt

1

tablespoon

unsalted butter

¼

cup

confectioners sugar
Instructions
Line an 8×8­inch glass or ceramic baking dish or metal baking pan with parchment (see the tutorial on page 000).

In a small bowl, whisk together 1 cup of the flour, yeast, and salt. Set aside.

In a large microwave-­safe bowl, heat the milk, cider, and butter on high for 60 to 90 seconds, until the butter is melted. Allow the mixture to cool to 120°​F.* Mix in the sugar and egg. Mix in the flour mixture, then add enough of the remaining flour so it's easy to handle (e.g., not too sticky). Depending on the humidity in the room, you may or may not need all of the remaining flour.

Transfer the dough to a lightly floured surface and knead it for about 5 minutes. A good way to tell if you're done kneading is to poke your finger into the dough—if the indentation pops right back out it's ready. Let the dough rest for 10 minutes.

On a lightly floured surface, roll out the dough into a 9×9­inch square. Brush the butter for the filling all over the surface of the dough. In a small bowl, combine the sugars and cinnamon; sprinkle them over the butter. Scatter the apples and walnuts on top. Carefully and tightly roll up the dough. Slice the dough into 9 equal pieces (about 1­inch wide each), and arrange them, cut side down, in the prepared dish or pan. Leave space between each roll—they will rise and expand. Cover the dish or pan with plastic wrap and set in the refrigerator overnight, or for at least 8 hours.

Uncover the dish or pan and set it out at room temperature an hour before you're ready to bake

the rolls.

Heat the oven to 350°​F for glass or ceramic dishes or 375°​F for metal pans.

Bake until the rolls are lightly browned and a thermometer inserted in the center reads 190°​F, about 25 minutes. If the rolls begin browning too fast, you can cover them lightly with foil.

To make the glaze, bring the cider, cinnamon, and salt to a boil in a small saucepan over medium heat. Lower the heat and simmer until the cider is reduced to 2 tablespoons, 4 to 5 minutes. Remove the saucepan from the heat and stir in the butter and confectioners sugar. Drizzle the glaze over the rolls right before serving.

*Yes, you need to use a thermometer for this—if the liquids are too hot they may kill the yeast.
Nutrition
Serving:
1
roll
|
Calories:
256
kcal
|
Carbohydrates:
37
g
|
Protein:
4
g
|
Fat:
9
g
|
Saturated Fat:
4
g
|
Cholesterol:
41
mg
|
Sodium:
151
mg
|
Potassium:
99
mg
|
Fiber:
1
g
|
Sugar:
15
g
|
Vitamin A:
255
IU
|
Vitamin C:
0.5
mg
|
Calcium:
32
mg
|
Iron:
1.5
mg
This recipe was originally published in January 2016 and updated in November 2019 with new photos, clarifications on the recipe card and more preparation tips.
Disclaimer: I received a copy of the book as a thank you for my recipe testing but no further compensation.
Be sure to check out my Amazon Shop to discover the many items I use in my own kitchen. Meal Planning Magic is a participant in the Amazon Services LLC Associates Program, an affiliate advertising program designed to provide a means for sites to earn advertising fees by advertising and linking to Amazon.com. Ordering products mentioned here are at no extra cost to you. Thank you for your support.