This post may contain affiliate links. Please read my disclosure policy.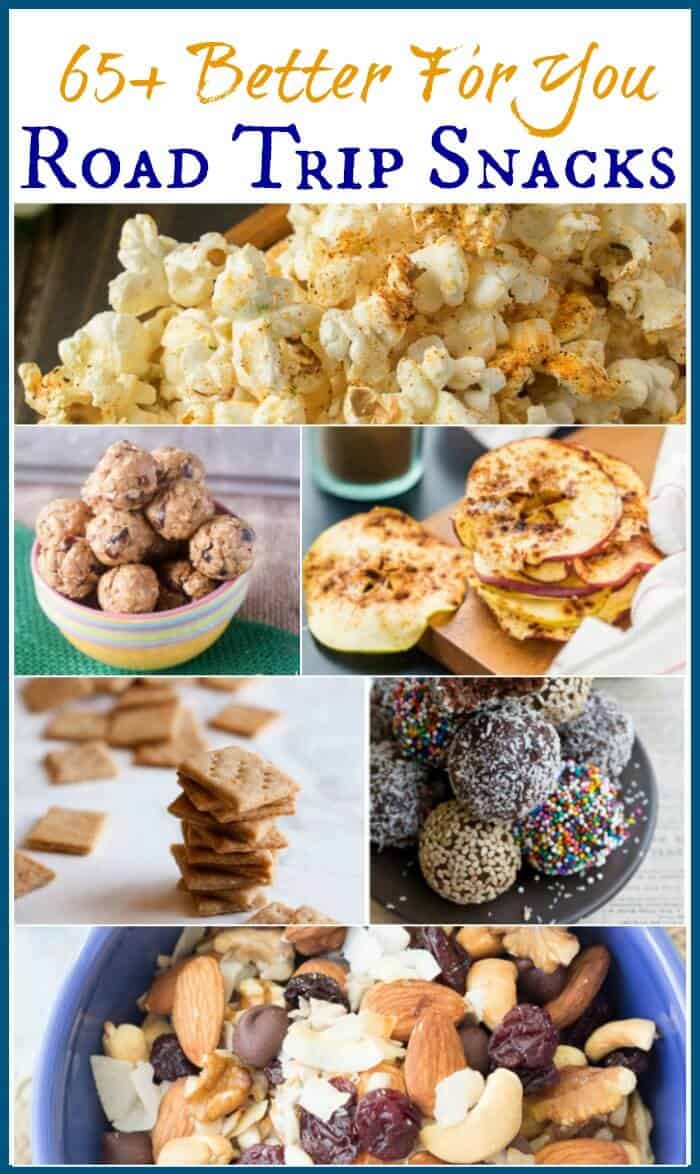 We've taken our fair share of road trips over the years and I know how challenging it can be to fight off hungry tummies AND avoid the junk food! But over the years, we've figured out some ways to make it a little easier and munch on healthy road trip snacks. Be sure to check out my 7 Tips for a Healthier Road Trip article that I wrote for Produce for Kids to get you started on your way to a healthier road trip yourself! And whether you're traveling by car, plane or boat, my Vacation Meal Planning post should help you save money and your waistline too!
Doing a little bit of meal planning before you head out can help too! And that includes making up a few of your own, healthier snacks to bring along. I've rounded up over 65 Better For You Road Trip Snack recipes from other bloggers to help you get started!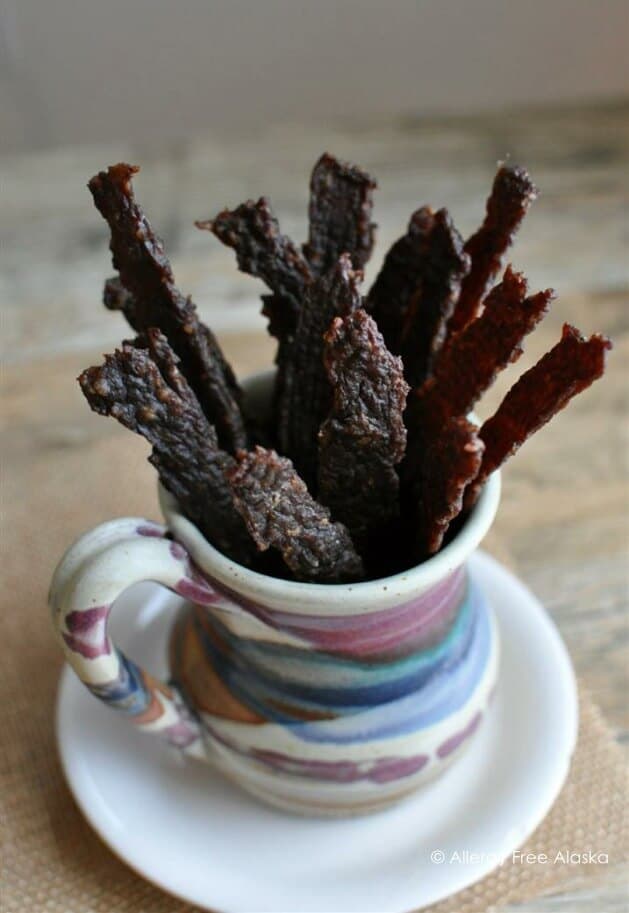 CHEWY
Cheap Easy Beef Jerky Strips Using Ground Beef ~ Allergy Free Alaska
Strawberry Fruit Leather ~ Baked By Rachel
4 Ingredient Baked Granola Breakfast Bars ~ Homemaking Hacks
Spicy Sriracha Tofu Jerky ~ Connoisseurus Veg
CRUNCHY
Sweet and Salty Trail Mix ~ The Lemon Bowl
Happy Trails Mix (Nut Free, DF, Top 8 Free) ~ Allergy Awesomeness
Sweet and Salty Homemade Trail Mix ~ Peas and Crayons
Mexican Popcorn ~ Culinary Ginger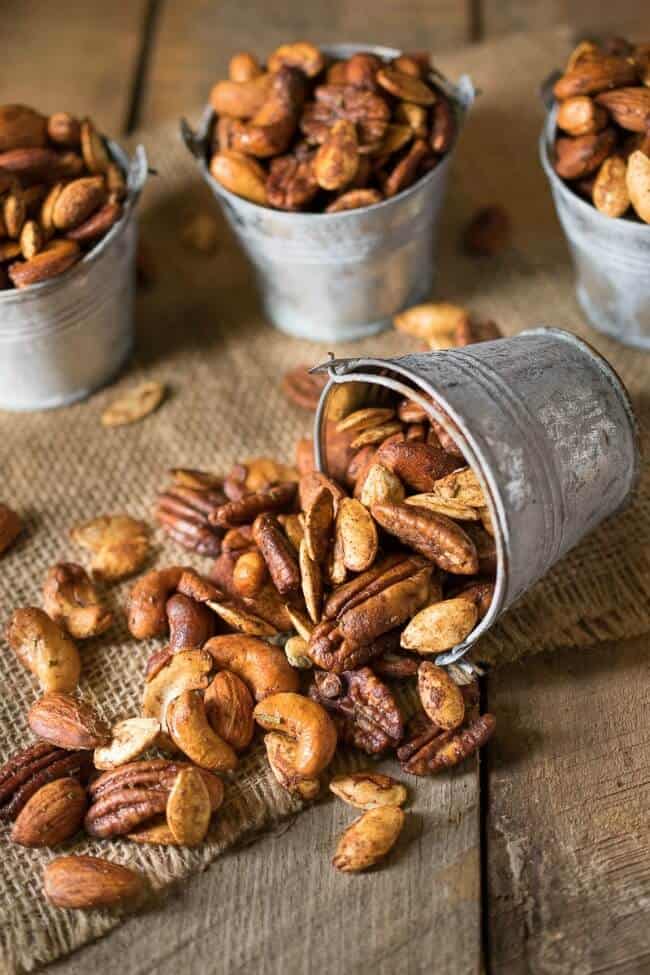 Autumn Spiced Nuts ~ Culinary Ginger
Parmesan Whole Wheat Crackers ~ Back to Her Roots
Popcorn Energy Bites ~ Sheri Silver
Orange Spiced Roasted Chickpeas ~ Homecooking Memories
Pistachio Chip Trial Mix ~ Produce for Kids
Ranch Roasted Nuts ~ It's Yummi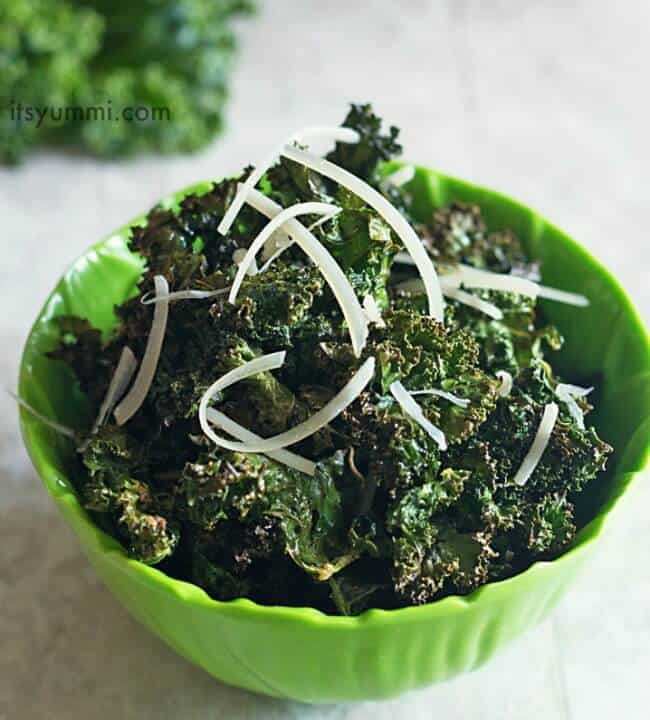 Spicy Parmesan Kale Chips ~ It's Yummi
Chipotle Lime Popcorn ~ Hola Jalapeno
Energy Boosting Trail Mix with Toasted Coconut and Dark Chocolate http://kristineskitchenblog.com/energy-boosting-trail-mix-with-toasted-coconut-and-dark-chocolate/ Kristine's Kitchen Blog
Sweet & Spicy Pecans ~ Everyday Maven
Protein Puppy Chow   ~ Food Faith Fitness
Beach Bum Trail Mix ~ Luci's Morsels
Skinny Microwave Potato Chips ~ The View From Great Island
Buffalo Snack Mix ~ Homemaking Hacks
Homemade Corn Nuts ~ Confident Cook
Gluten Free Snack Mix ~ Namely Marly
Cinnamon Sugar Microwave Apple Chips ~ The Cookie Rookie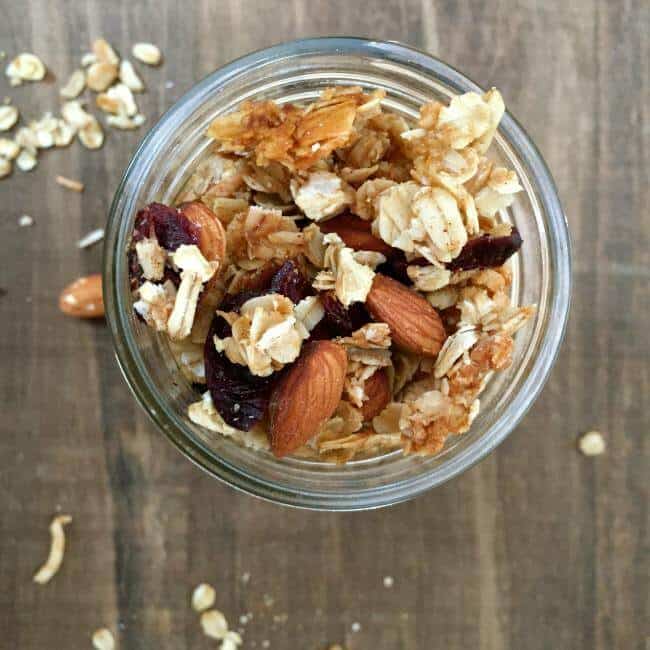 Honey Sesame Ginger Roasted Cashews ~ Confident Cook
Roasted Chickpeas ~ Made From Pinterest
Italian Brown Paper Bag Popcorn ~ Snappy Gourmet
Copycat Trader Joe's Omega Trail Mix ~ Luci's Morsels
GRANOLA (ALSO CRUNCHY BUT A LITTLE DIFFERENT!)
Healthy Granola With Superfoods ~ Simple Roots
No Bake Granola Bites ~ Produce for Kids
Chocolate Granola Bars ~ Sheri Silver
Cinnamon Maple Granola ~ Baked By Rachel
Coconut Cranberry Chia Seed Granola ~ A Cedar Spoon
Peanut Butter Pecan Granola ~  Namely Marly
Homemade Granola Bars ~ Mon Petit Four
Chewy Tigernut Currant Granola Bars ~ Food by Mars
Homemade Granola Bars  ~ Homecooking Memories
No Bake ~ Fannetastic Food
Savory Curry Granola Bars ~ Fannetastic Food
Banana Raisin Paleo Granola Bars ~ A Girl Worth Saving
PROTEIN/ENERGY BITES
Blueberry Almond Oatmeal Bites ~ Aggies Kitchen
5-Minute Protein Energy Bites ~ Ambitious Kitchen
Peanut Butter Energy Balls with Honey ~ Blackberry Babe
No Bake Chocolate Date Amazeballs! ~ The Plant Strong Vegan
Apple Cinnamon Cookie Energy Bites ~ Kristine's Kitchen Blog
Almond Date Bites ~ Everyday Maven
Vegan Cookie Dough Bites ~ Food Faith Fitness
Cranberry Almond Energy Bites ~ The Creative Bite
Tropical White Chocolate Energy Bars ~  The Creative Bite
Chocolate Date Balls ~ Cake Whiz
Gluten Free No Bake Energy Bites ~ Modern Christian Homemaker
Protein Packed Energy Bites ~ Tasting Page
Cherry Pie Energy Balls ~ Fit Foodie Finds
PB & J Swirl Energy Balls ~ Fit Foodie Finds
Peanut Butter Banana No Bake Energy Bites ~  The Cookie Rookie
Peanut Butter Coconut Oatmeal Bites ~ A Cedar Spoon
No Bake Monster Cookie Granola Bar ~ Like Mother, Like Daughter
Peanut Butter Chocoale Energy Bites ~ Meal Planning Magic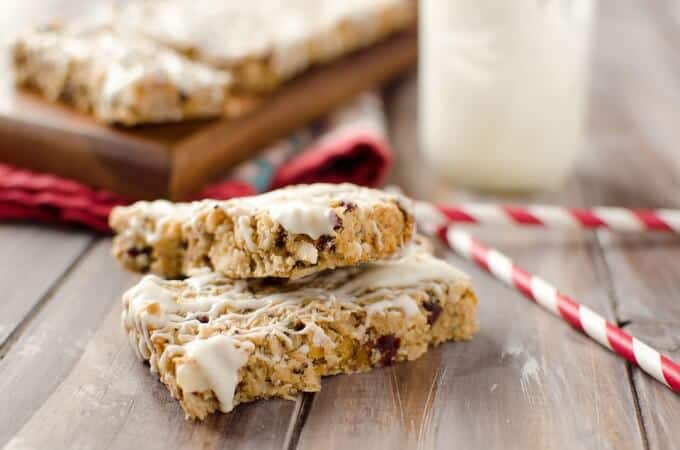 SOFT & (SLIGHTLY) SWEET
Homemade Vegan Protein Bars (Gluten Free) ~ Cotter Crunch
White Chocolate Macadamia Nut Granola Bars ~ Natural Girl Modern World
Carrot Butternut Whole Grain Muffins ~ Peas and Crayons
Healthy Carrot Cake Muffins ~ Back to Her Roots
Cinnamon Pumpkin Seed Muffins ~ Hola Jalapeno
Protein Packed Monster Breakfast Cookies ~ Allergy Free Alaska
Quinoa Trail Mix Bites ~ Connoisseurus Veg
Blueberry Lime Chocolate Clusters ~ Cake Whiz
Healthy Banana Cookies ~ Tasting Page
2-Ingredient Vegan Cookies ~ Give Recipe
Blueberry Carrot Cake Breakfast Bars ~ Cotter Crunch
I hope you enjoy this round up as much as I enjoyed putting it together! I've pinned all the recipes and plan to try several of them soon! I think they would make excellent lunch box additions too, don't you? Yum!