This post may contain affiliate links. Please read my disclosure policy.
Take a little stress out of the holidays with these Holiday Baking Planning Ideas, Tips and FREE Printable!
Click here to PIN this Holiday Baking Planning Ideas post to Pinterest!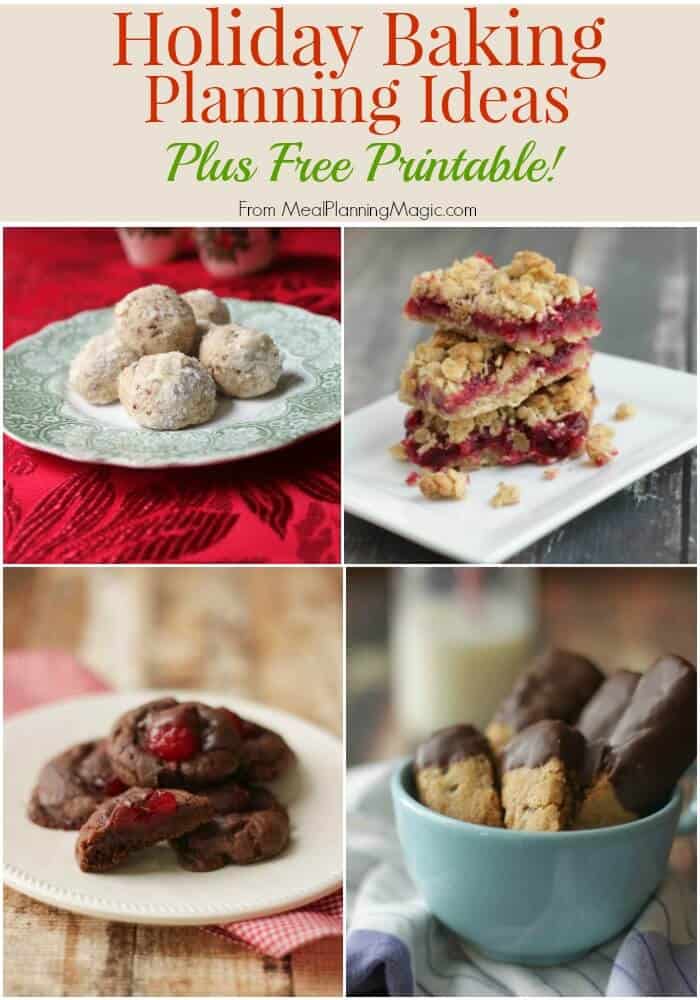 When I first started my Christmas Countdown notebook I knew one of the first things I knew was that I needed to get organized with my holiday baking planning. Before I had kids I would often spend a whole day or weekend baking up goodies to bring and serve at various get togethers. But after having kids, I didn't really have the luxury of dedicating a whole day to baking. I needed to figure out a way to get all the baking done that I wanted to (I LOVE to bake!). And since my recipes often come from different sources I needed a way to keep track of all those recipes, the special ingredients I would need and which recipes would be those I wanted to include the kids on or those I wanted to reserve for some alone time in the kitchen. Over the years I've come up with a system that works pretty well for me so thought I would share some of those tips with you!
Planning for holiday baking can seem like an overwhelming task. Between cookie exchanges, holiday parties, gift giving and enjoying treats for your own family, it's easier when you have a plan. Not only can a plan help you save time but it can also help your budget. Here are a few tips to get started:
Set a budget and shop the deals. During the holidays, many stores put basic ingredients like butter or pumpkin or spices on sale or offer coupons. When you have a plan, you can purchase these items when they are on sale—sometimes a few weeks in advance—so that it's easier on your budget.
Purchase ingredients in bulk. When I make these Gourmet Pecans, I like to buy a big bag of nuts at my local wholesale club. Making multiples of a recipe also helps save time because I can block of an hour or two in the kitchen and get a lot more done.
Schedule a baking day. Or two. Or three. I usually look at my calendar a pick an afternoon or two when our schedule is clear for a few hours so that my kids and I can bake together (my husband, well, he's a happy taste tester rather than baker!) A lot of cookies and other treats freeze well, so schedule a day that's convenient for you because you can always keep things in the freezer. Many cookie doughs also freeze well so consider breaking up the task and make the dough one day and do your actual baking on another day. (Be sure to clean out your freezer a few weeks in advance to make space! Check out these tips to organize your freezer.)
Purchase holiday packaging supplies. I'll admit it. There have been years when I've baked up my goodies and am ready to get my gift giving wrapped up and I'm out of supplies. Things as simple as clear cellophane bags with holiday ribbon are all you need. But many of the craft store and wholesale clubs have special gift-giving supplies on sale this time of year so watch those sales and be ready with your supplies. I have kept leftovers with our gift-wrapping supplies from year to year as you never know when you'll need a last minute hostess or neighbor gift.
Use a Holiday Baking Planner to keep track of recipes. If you've been here awhile, you know I am a collector of recipes so sometimes remembering where I saw a recipe can be tricky. This simple log helps me keep track of where to find the recipe again, who or why I want to bake it and any special ingredients I might need to purchase. (Want an easier way to check what you have? Check out my post on how to Organize Your Pantry here so that you can do a quick "shop" at home more easily before heading to the store).
I'm sharing my Holiday Baking Planner to help with your planning that you can CLICK HERE to download the FREE Holiday Baking Planner printable. I'd love your feedback on what you think it might need if there's something extra I can add to make it as easy to use as possible.
I hope you find these tips and the Holiday Baking Planner sheet helpful. What are some of your tips for getting organized with holiday baking?
Want even more
This post was originally shared in November 2013 and updated November 2017 with a more user friendly, newly designed printable.
Sign up to receive an email in your inbox for each new recipe and get a FREE menu plan printable: FREE EMAIL SUBSCRIPTION
Don't forget to follow me on Facebook, Twitter, Pinterest , or Instagram or sign up for my email list here so you never miss a new post! Each offers a little something different and are a great way to stay in the loop on new menu plans, recipe ideas, organizing tips and more!
Be sure to check out my Amazon Shop to discover the many items I use in my own kitchen. Meal Planning Magic is a participant in the Amazon Services LLC Associates Program, an affiliate advertising program designed to provide a means for sites to earn advertising fees by advertising and linking to Amazon.com. Ordering products mentioned here are at no extra cost to you. Thank you for your support.