This post may contain affiliate links. Please read my disclosure policy.
Peppermint Mousse Mini Brownie Cups are a great addition to any holiday dessert table. They're easy to make, but fancy enough to serve at your holiday parties!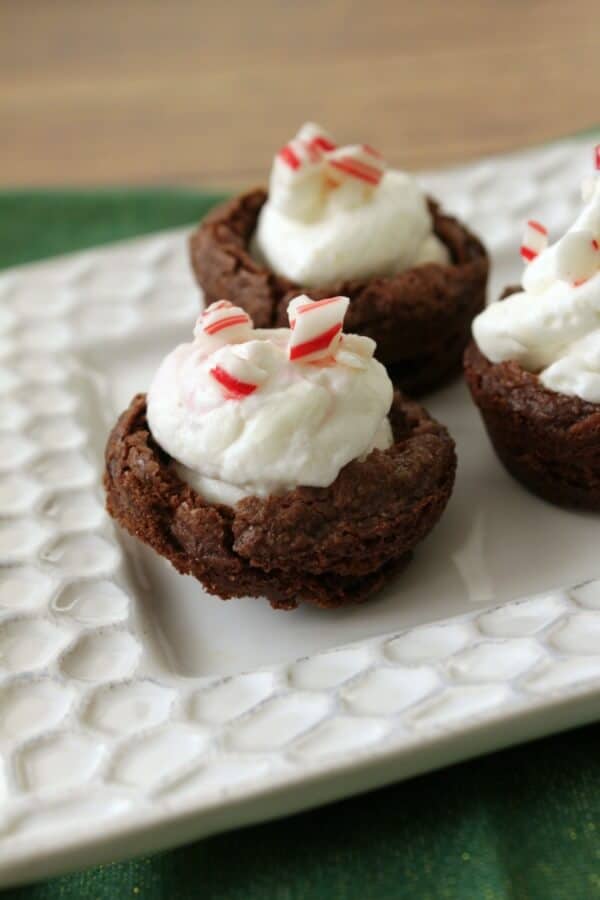 I'm beginning to realize I have a thing for peppermint sweet treats. I mean, first I had the Peppermint Treats Roundup then these Minty Surprise Cookies and THEN these Chocolate Mint Snowtop Cookies. This week for the 12 Weeks of Christmas Treats, I'm bringing you a super simple pepper-minty treat. You won't believe how easy yet elegant these Peppermint Mousse Mini Brownie Cup treats are!
I was inspired to create these peppermint mousse treats from a magazine recipe I saw long ago.
I don't even have the clipping any more but I do remember them. At first, I tried using chocolate graham crackers to make mini graham cracker crust shells but had some trouble with getting them out of the mini-muffin pan without them crumbling to bits. So I thought about brownies and figured out how to make them into little cups to hold my mousse. It's so easy, you'll wonder why you didn't think of it yourself! What you do it make up a batch of your favorite brownie batter (I used a homemade recipe but you could also use a box mix). Bake the brownies in a mini muffin tin and when the brownies are baked and hot out of the oven, use a round tipped spoon or other utensil to push the centers down. Then remove them from the pan to fully cool.
Fill with your mousse mixture and you're good to go.
Here's the peppermint mousse brownies recipe for you to make it all:
Peppermint Mousse Mini Brownie Cups
Author:
Ingredients
1 pint heavy whipping cream
8 oz. cream cheese, softened and at room temperature
½ cup granulated sugar
1 – 1 ½ teaspoons peppermint extract
Brownie mix.
Crushed peppermint candies
Instructions
Prepare brownie mix according to package directions. Divide batter into 24 mini muffin tins. Bake at 350 for 18-20 minutes or until toothpick inserted in middle comes out clean. Using a blunt tipped spoon or other utensil, push down centers of brownies while they are still warm. Remove from pan to cool completely.
Meanwhile, blend cream cheese in a bowl until completely mixed. Slowly add sugar and peppermint extract until fully incorporated. Set aside.
Whip cream with a mixer until soft peaks form. Add cream cheese mixture just until blended. Do not over mix.
Using a piping bag or spoon, add a dollop (about 1 tablespoon) of the mousse to brownie cup. Top each cup with crushed peppermint candies.
Refrigerate until ready to serve.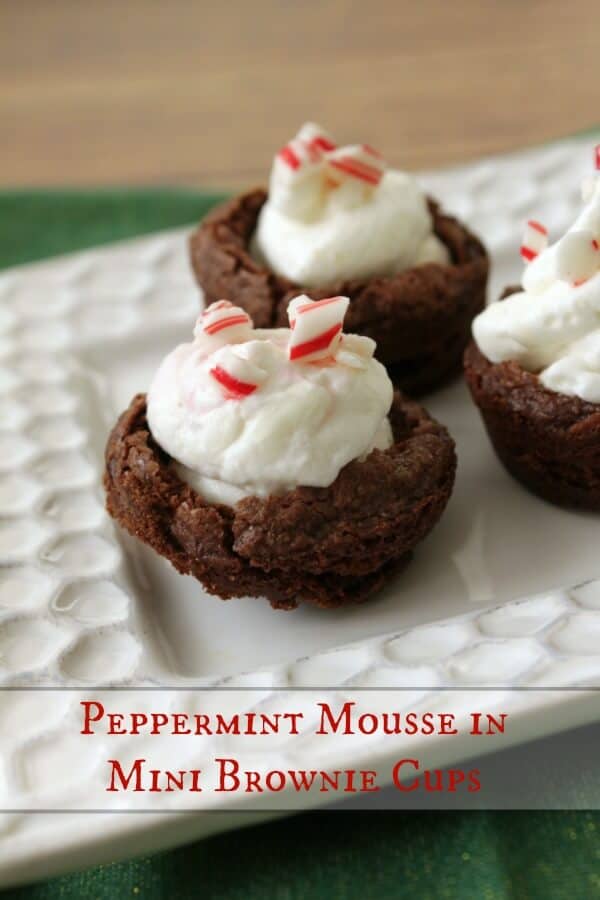 You can find out all about the 12 Weeks of Christmas Treats by clicking here for more information and details about joining in.
If you're a blogger, be sure to check the guidelines, join the challenge and then link up your own post each week.