This post may contain affiliate links. Please read my disclosure policy.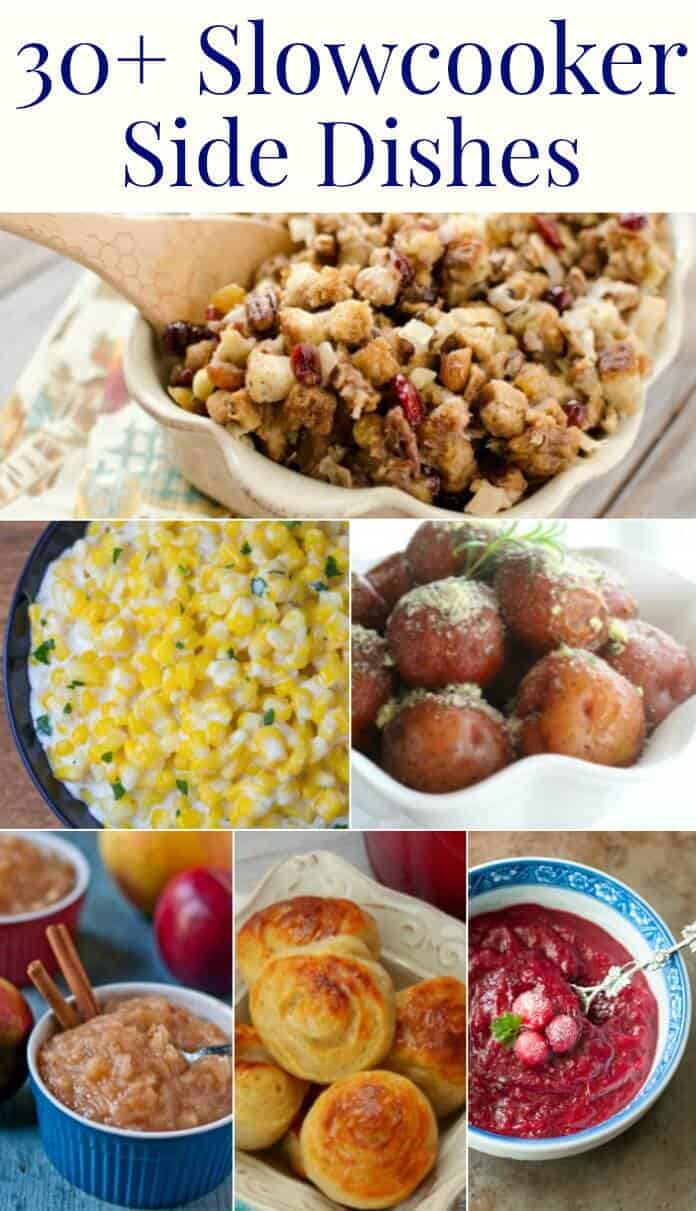 It's not secret that I'm a big fan of using my slowcooker! Not only do I have many different recipes to choose from in my recipe index here, but I also like trying to figure out how to turn existing recipes into slow cooker recipes. It's pretty easy to do and you can even use the conversion chart I created here in my 10 Tips for Slowcooker Success post!
I consider my slowcooker a special assistant in the kitchen. I can add my ingredients, set it and go. then come back for a yummy meal! But I'd love to start using it for more than the main dish, especially during the busy holiday season. So I asked some of my blogger friends for their recipes and created this Slowcooker Sides Roundup to share with you all! I've sorted it and you can see there are lots of mashed potatoes recipes. I've left them all there because they are all slightly different and during the upcoming holiday season, I figure you all can use some mashed potato recipe ideas too, am I right? If you've never tried mashed potatoes in the slowcooker, once you do you'll wonder why you waited so long. They turn out great!
Here goes–I hope you give some of these a try too!
BEANS
Crockpot Baked Beans ~ Iowa Girl Eats
Slowcooker Mexican Pinto Beans ~ Meaningful Eats
Slow Cooker Maple Bacon Beer Baked Beans ~ The Beeroness
Slowcooker Borracho Beans ~ Hola Jalapeno
Slow Cooker Refried Beans ~ Well Floured
Slow Cooker Healthy Maple Bacon Baked Beans ~ With Salt & Wit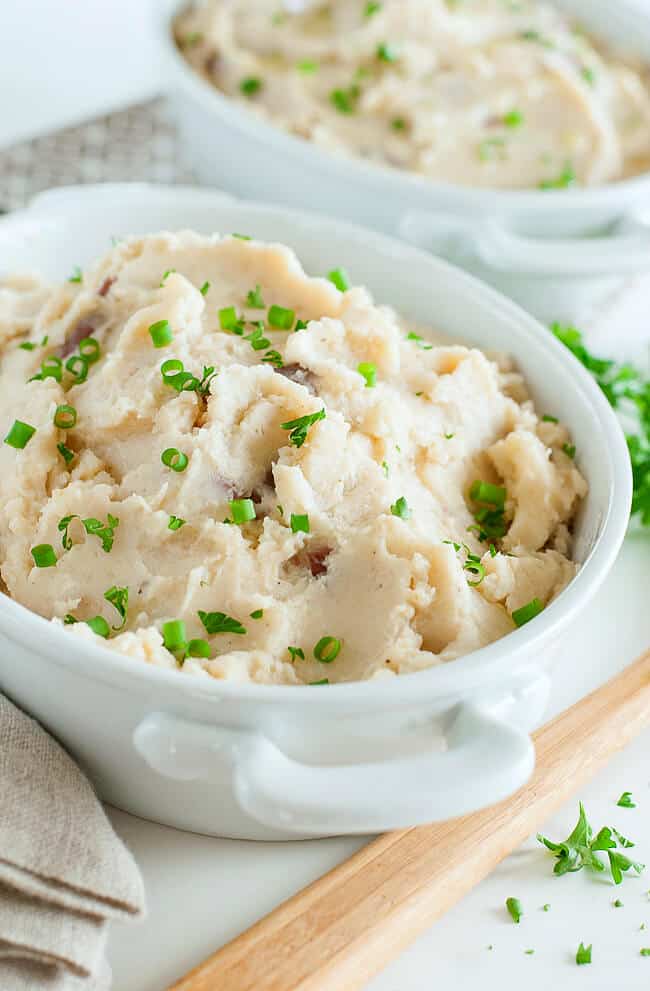 MASHED POTATOES
Slow Cooker Garlic Parmesan Mashed Potatoes ~ Pumpkin N Spice
Slowcooker Mashed Potatoes ~ Aggies Kitchen
Crock Pot Bacon Cheese Ranch Potatoes ~ Noshing With the Nolands
Slow Cooker Sweet Potato Casserole ~ Allergy Awesomeness
Garlic Ranch Slowcooker Potatoes ~ The Cookie Rookie
Slowcooker Mashed Potatoes ~ Baked By Rachel
Creamy Cheesy Slow Cooker Potatoes ~ Celebrating Sweets
Crock Pot Sour Cream and Chive Mashed Potatoes ~ Neighbor Food Blog
Slow Cooked Parmesan Red Potatoes with Rosemary Garlic Butter ~ Melissa's Southern Style Kitchen
Slowcooker Garlic Mashed Potatoes ~  Cravings of A Lunatic
Slowcooker Creamy Red Potato And Cauliflower Mash ~ Peas and Crayons
SAUCES
Crock Pot Applesauce ~  Neighbor Food Blog
Slow Cooker Applesauce ~ Cooking On the Front Burners
Easy Crockpot Cinnamon Applesauce ~ Cupcake Diaries Blog
5 Ingredient Slowcooker Cranberry Sauce ~ Running to the Kitchen
Slowcooker Apple Strawberry Cranberry Sauce ~ Peas and Crayons
STUFFING & BREAD
Traditional Bread Stuffing (Crock-pot Method) ~ Valerie's Kitchen
Crock Pot Stuffing Recipe ~ Yummy Healthy Eats
Crockpot Cranberry Pecan Stuffing ~ The Creative Bite
Slow Cooker Classic Bread Stuffing ~  Baked By Rachel
Easy Slow Cooker Bread Dinner Rolls ~ Growing Up Gabel
VEGETABLES & MORE
Slow Cooker Brown Butter Carrots ~  The Food Charlatan
Crockpot Corn Pudding ~ Frugal Foodie Mama
Slowcooker Creamed Corn ~ Dinner Then Dessert
Slowcooker Sweet & Sour Green Beans ~ My Catholic Kitchen
Spicy Slowcooker Rice Casserole with Green Chiles, Green Onions and Cheese ~ Kalyn's Kitchen
Slow Cooker Greek Rice with Red Bell Pepper, Feta, and Kalamata Olives ~ Kalyn's Kitchen