This post may contain affiliate links. Please read my disclosure policy.
Filled with nutritious fruits and vegetables, we call it a Green Monster Banana Spinach Smoothie because it it has all kinds of healthy goodness to make us strong and it tastes delicious!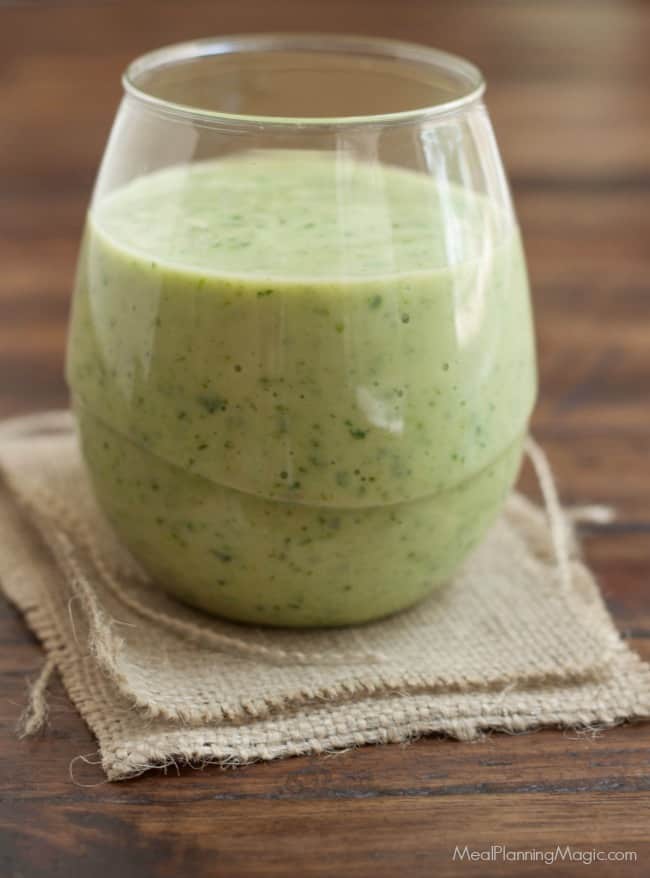 Click here to PIN this Green Monster Smoothie recipe!
I originally shared this recipe almost six years ago! I've updated it with new photos and some new content but the basic recipe remains the same and this Green Monster Smoothie still remains a family favorite. But over the years, I've made one addition to this Green Monster Smoothie recipe and that is by adding avocado. I'm not sure when I first tried avocado in smoothies (and frankly, I thought it was kind of a strange idea at first) but if you've not tried it, you are missing out! Mild in flavor, avocados add great vitamins and even almost 3 grams of vegetable protein per avocado! I love how it makes the smoothie so creamy.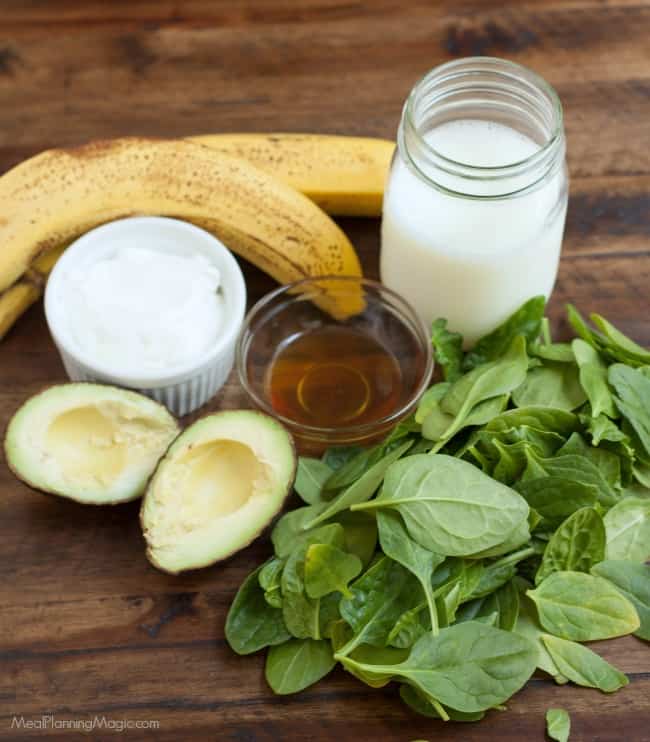 I originally had this combination a many years ago while visiting my sister-in-law and her family. This was before adding spinach and kale to smoothies was a "thing" and I'll admit I was skeptical of the spinach in there. But it didn't take me long to discover this combination was delicious! My sister-in-law included only bananas, spinach and milk with maybe a dash of honey but I added the Greek yogurt to my combination to up the protein content. I'm all about easy recipes for breakfast or a snack that pack a nutritious punch to keep us going for hours.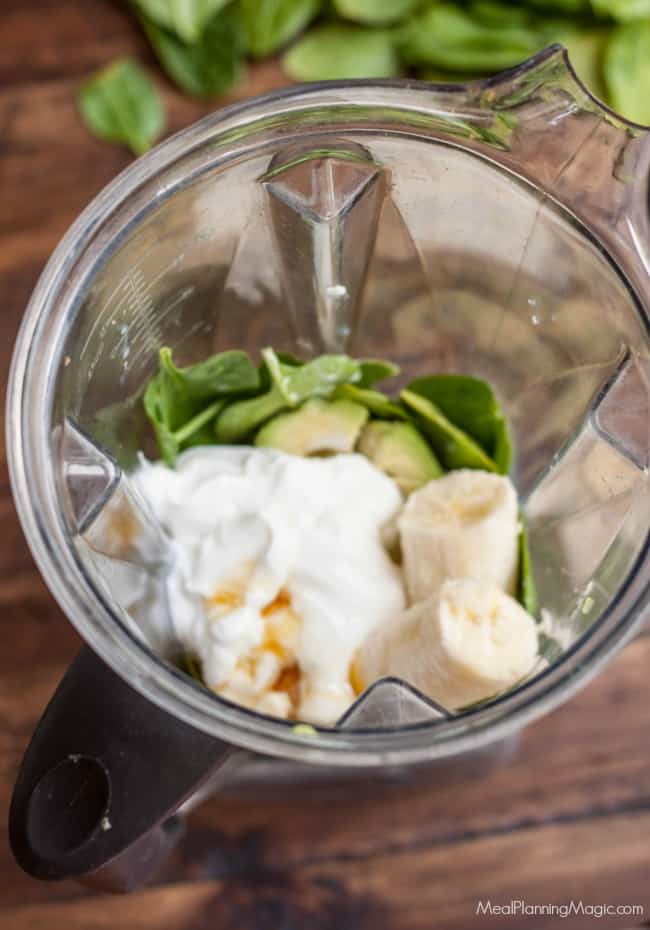 We like to make this Green Monster Smoothie often because it is a great way to use up ripe bananas and baby spinach that we always seem to have extra of in the fridge (I like to buy the spinach at Costco because it's the same price as the smaller containers at the grocery store—so a better value!) I've also tried it with frozen, sliced bananas that I flash froze on a tray and keep in bags in the freezer to use in recipes. It makes it a little thicker and colder too.
Since the smoothie is green and filled with good for you ingredients to make you strong, we decided to call it the Green Monster Smoothie!
We decided that 75% of us like this smoothie a lot! That means to say three out of the four of us REALLY like it—my daughter is so-so on it. What I especially love about this Green Monster Smoothie is that is includes spinach and avocado so it's an easy way to include this nutritious vegetable into our diets. Even those who are not normally fans of spinach will find it appealing because you can't really taste the spinach. Sometimes I use a baby spinach and baby kale blend.
If you like other healthy smoothies, be sure to check out my Peanut Butter & Jelly Smoothie (all-natural, made with fruit!) or the Peanut Butter Banana Chocolate Latte (a.k.a. Chicken Fried Latte).
I hope you'll give it a try!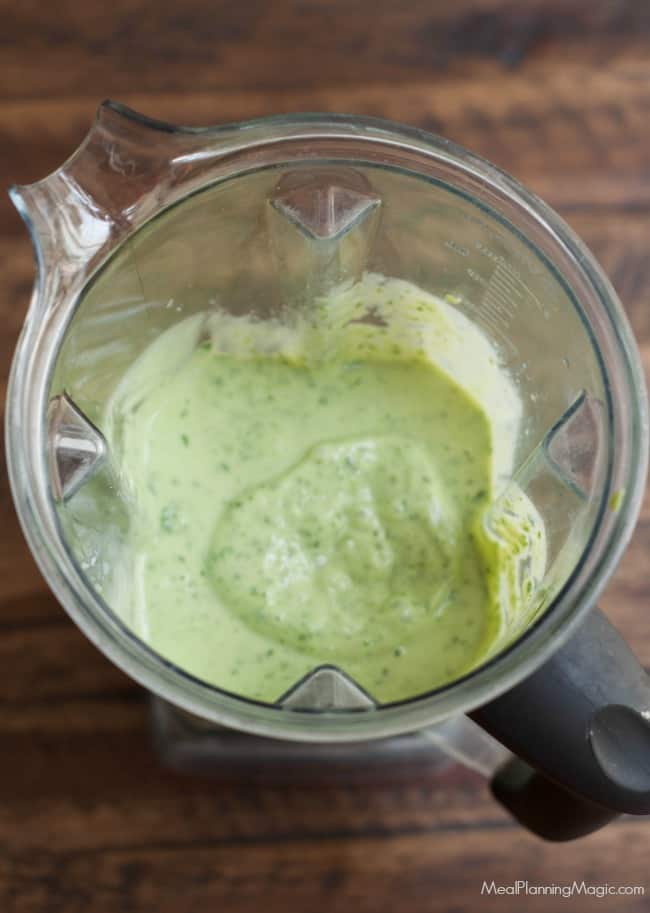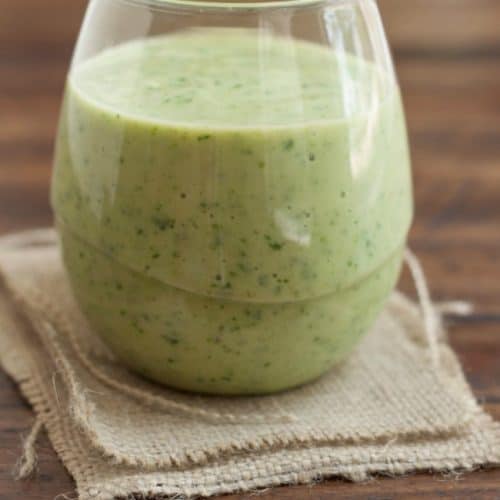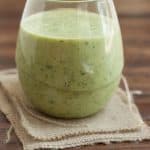 Green Monster Smoothie Recipe
Filled with nutritious fruits and vegetables, we call it a Green Monster Smoothie because it it has all kinds of healthy goodness and it tastes delicious!
Print Recipe
Ingredients
1 ½

C

skim milk

can substitute soy or almond milk if you like

½

C

plain yogurt

2

very ripe bananas

the riper they are, the sweeter they are

2

C

loosely packed baby spinach

1

T

honey
Instructions
Combine all ingredients in blender until blended. Pour and enjoy!
<="" div="">