This post may contain affiliate links. Please read my disclosure policy.
Peppermint treats are delicious, and perfect for holiday baking. Peppermint lovers will enjoy all of these easy treats recipes!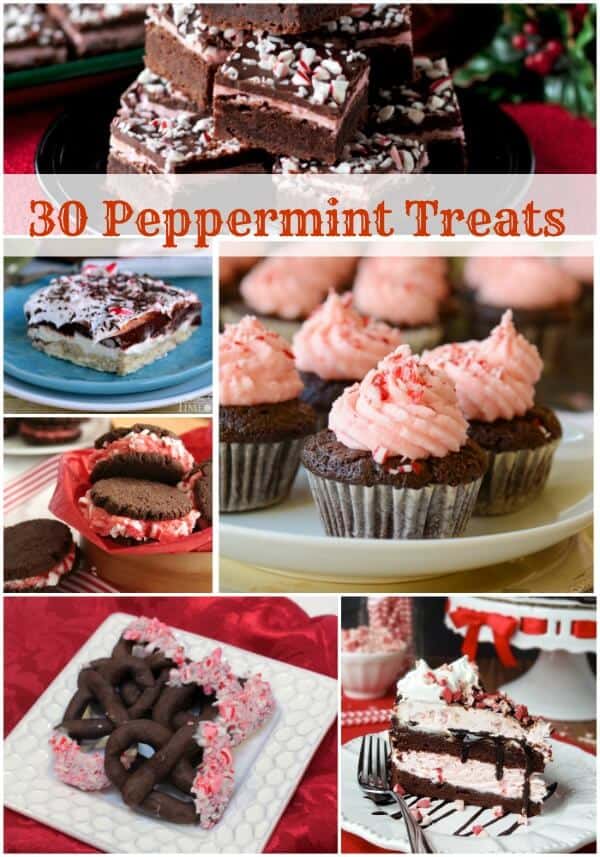 I've had a series of baking snafus in the kitchen over the last couple of weeks which is not so great when I'm hosting the 12 Weeks of Christmas Treats Challenge. So much for planning ahead! So this week, I've rounded up a bunch of peppermint treats from other bloggers around the web, hoping to inspire you to get baking! I love all things peppermint, especially when they're paired with chocolate. I like to keep track of recipes with peppermint on my Peppermint-palooza board on Pinterest.
So here goes!
The first four recipes for peppermint treats are from me, the rest are from the blogs listed.
I hope you enjoy this peppermint treats roundup and are inspired to try a few of the recipes yourself.
Cocoa Peppermint Pretzels Cookies
Peppermint Chocolate Shortbread
Easy Peppermint Bark
Peppermint Fudge Cups
Chocolate Peppermint Fudge from A Spoonful of Flavor
Peppermint Chocolate Chip Cookies from This Mama Loves
Peppermint White Chocolate Mousse Pie from Dinners Dishes & Desserts
Peppermint Bark Chex Mix from I Heart Eating
Candy Cane Garland from Frosting and a Smile
Chocolate Candy Cane Truffles from Your Cup of Cake
Chocolate Peppermint Whoopie Pies from Recipe Renovator
Easy Christmas Peppermint Patties from Mom on Time Out
Dark Chocolate Peppermint Truffles from Amy's Healthy Baking
Chocolate Peppermint Bread from Crumbs & Chaos
Peppermint Bark Puppy Chow from Your Cup of Cake
Peppermint Mocha Latte Whipped Cream Frosting from Frosting and a Smile
White Chocolate Strawberries dipped in peppermint from This Mama Loves
Chocolate Mint Fudge Pops – Low Carb & Gluten Free from All Day I Dream About Food
Vegan Peppermint Nog from Apron String Blog
Peppermint Patty Fudge Cookies from Dinners Dishes and Desserts
Peppermint Drizzled Chocolate Fudge Brownies from Amy's Healthy Baking
White Chocolate Peppermint Mousse from An Edible Mosaic
Chocolate Peppermint Trifle from One Creative Mommy
Dark Chocolate Mint Truffles from Spabettie
Peppermint Brownietini from Snappy Gourmet
White Chocolate Peppermint Egg Nog from The Kitchen Is My Playground
Chocolate Peppermint Cupcakes from A Healthy Life For Me
Peppermint Candy Cane Brownies from Barbara Bakes
Chocolate Peppermint Sandwich Cookies – Low Carb and Gluten Free from All Day I Dream About Food
Peppermint Brownie Ice Cream Cake from Life, Love and Sugar
Chocolate Peppermint 4-Layer Dessert from Mom on Time Out
Peppermint Chocolate Sandwich Cookies from Snappy Gourmet
Peppermint Hot Chocolate from One Creative Mommy
Which peppermint treats recipe do you want to try first?