This post may contain affiliate links. Please read my disclosure policy.
Made with only 5 ingredients, these No Bake Strawberry Chocolate Cheesecake Bites are ready in no time! They are a delicious way to enjoy a special sweet treat!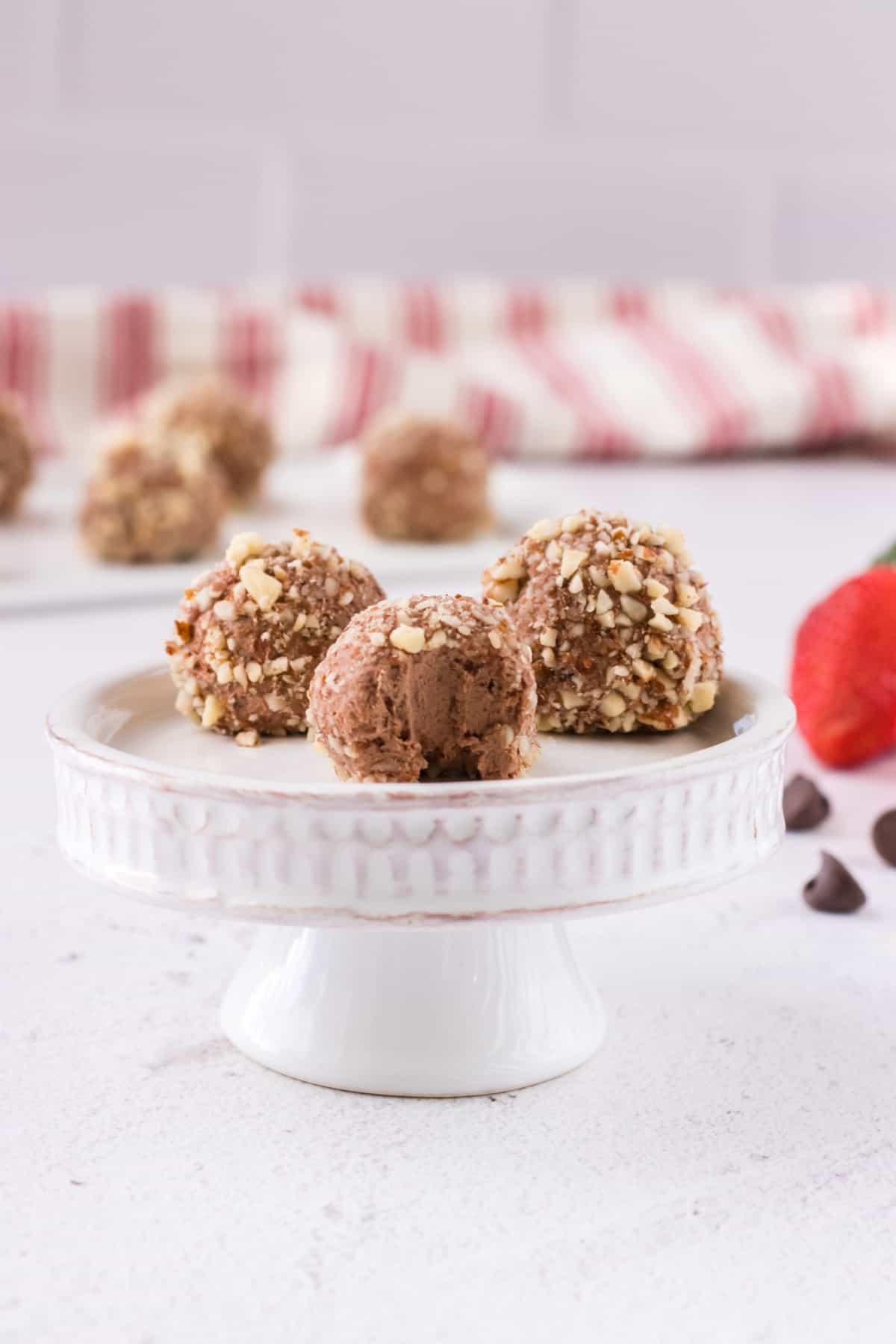 Why We Love This Recipe
Why spend lots of time making or money buying chocolate dipped strawberries when you can have the best of both worlds with these easy Strawberry Chocolate Cheesecake Bites? I love the flavor combination of strawberries and chocolate, so these cheesecake bites are unique twist on that!
Since they are made with cream cheese, they remind me of cheesecake but these are lighter, fluffier and no-bake! Best of all, they can also be made ahead and are even freezer friendly.
I first discovered this recipe in a tiny little section of an old magazine. I changed up the original recipe to use strawberry puree instead of the strawberry preserves originally called for. That means it has lower added sugar which I can always go for. I mean, we like our sweets but not too sweet or full of straight up extra sugar!
I love how simple this recipe is. With only five ingredients it is so easy to make these no bake cheesecake bites!
I'm a big fan of fruit and chocolate combinations like these No Chill Cherry Chocolate Cut Out Sugar Cookies or No Bake Chocolate Cherry Snack Bites. So if you are too, be sure to check those recipes out too!
Cheesecake Truffles or Cheesecake Bites or Cheesecake Balls-What's the Difference?
Since I've seen sweet treats like this called anything from truffles to bites to balls, it can seem kind of confusing! I've learned that some of it seems to be regional depending on where you live but also there is a technical difference for truffles.
You may have heard about the truffles that are fungi and grow in the ground, usually in dense forests. They are primarily used in savory dishes and can be very expensive!

But chocolate truffles are different! The main thing about dessert truffles is that they're most commonly made with chocolate as the primary ingredient.
Calling something a bite or a ball comes down to shape—but not always. Since bites can really be any shape, like small squares of a dessert that's easy to pop into your mouth. Balls are, well, ball shaped. But they function the same way as bites when headed to your belly!
Tom-A-to, To-Mah-To, just call it what you like!
Ingredient Tips To Make These Cheesecake Balls
As I mentioned, there are only five ingredients needed to make these tasty little sweet treats. I have some variation and prep tips for you though.
Chocolate Chips – the recipe calls for semi-sweet chocolate chips but you can mix things up by substituting milk chocolate chips or dark chocolate chips. If you choose the dark chocolate, just keep in mind that melting them may take a little bit of extra time (not much though).
Vanilla Wafers – we like the store brand version of these cookies and buy them most often at Aldi. This also saves us some money!
Since the recipe just calls for a little bit, I don't always want to pull out my larger food processor (affiliate link). Instead, my handheld food chopper (affiliate link) is perfect for the task. I also use to chop the nuts. It is SO versatile and I use it to chop up all kinds of things like onions, peppers and so much more!
Strawberries – You can use either fresh or frozen strawberries to make the puree. If you're using frozen, let them thaw in a small bowl first so they're easier to puree. Again, my handheld food chopper (affiliate link) come in handy for this task too!
Cream Cheese – I prefer to use the lower fat (Neufachatel) cream cheese and these cheesecake bites are still just as creamy and delicious as original cream cheese. But it's your choice!
Almonds – I like to buy almonds and other nuts in bulk at the warehouse store and keep them in the freezer so they're on hand for all kinds of recipes (like these Healthy Homemade Granola Bars).
How to Make This Recipe
Chop up the vanilla wafers until they are fine crumbs (1). Have I told you how much I love my handheld food chopper (affiliate link) for this task? Just kidding! I know if you read the ingredients section, I was singing it's praises!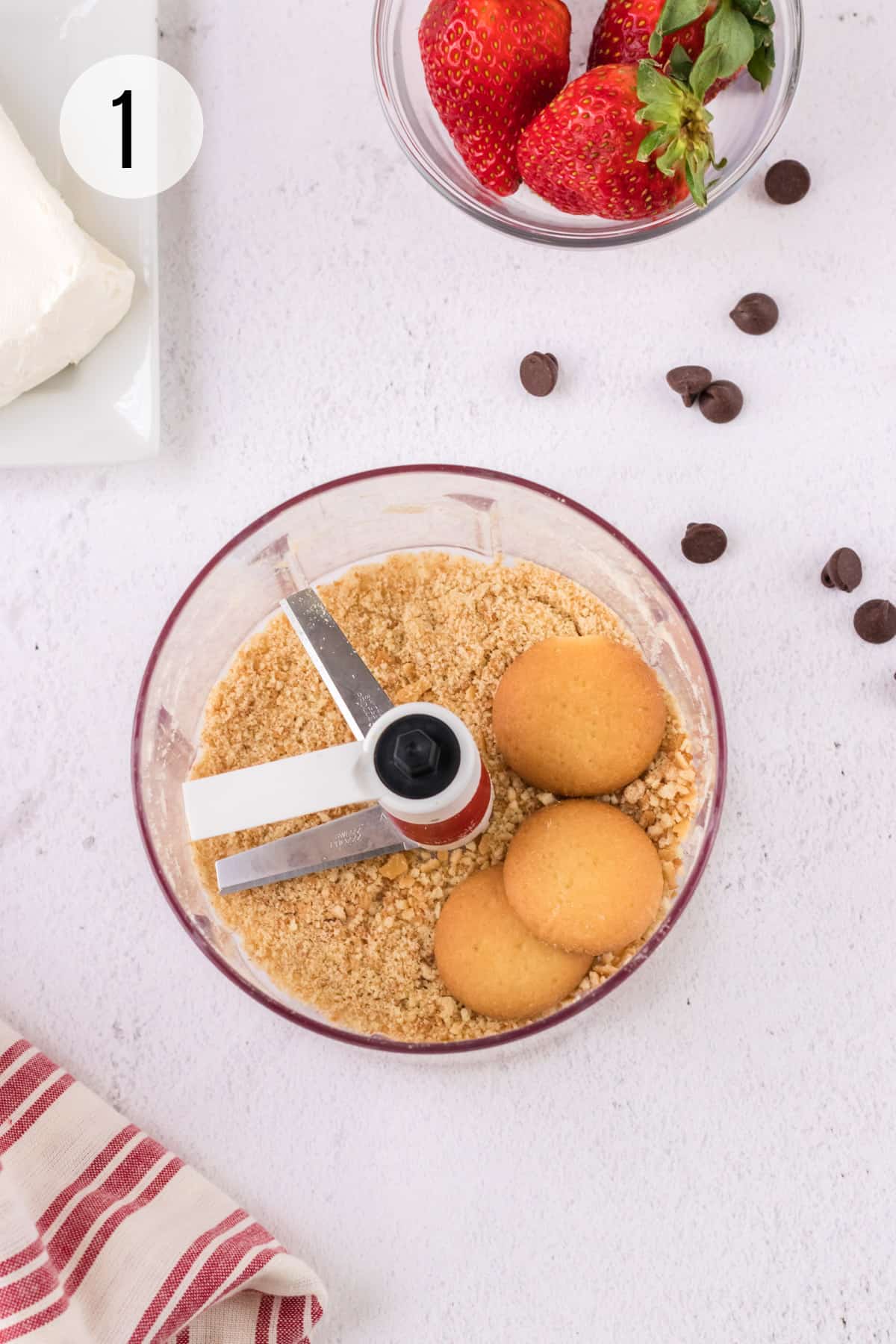 Next, combine the melted chocolate chips with the cream cheese (2). I like to use an electric handheld mixer (affiliate link) because it is a lot easier to cream these ingredients together in a small bowl.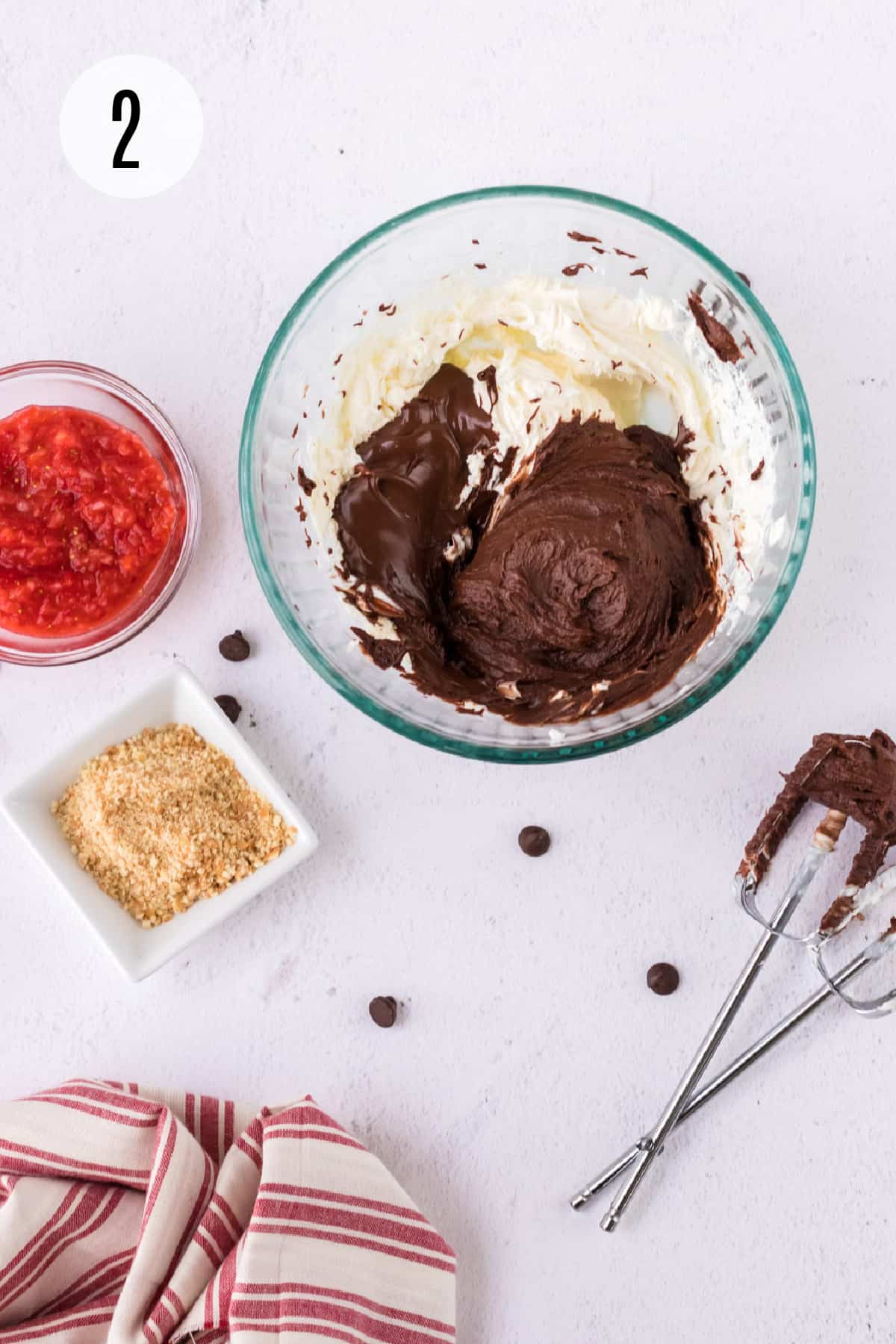 Then, add the strawberry puree and vanilla wafer cookie crumbs with the mixer (3). At this point, the mixture goes into the refrigerator for about 30 minutes so it can firm up and is easier to roll into a truffle shape.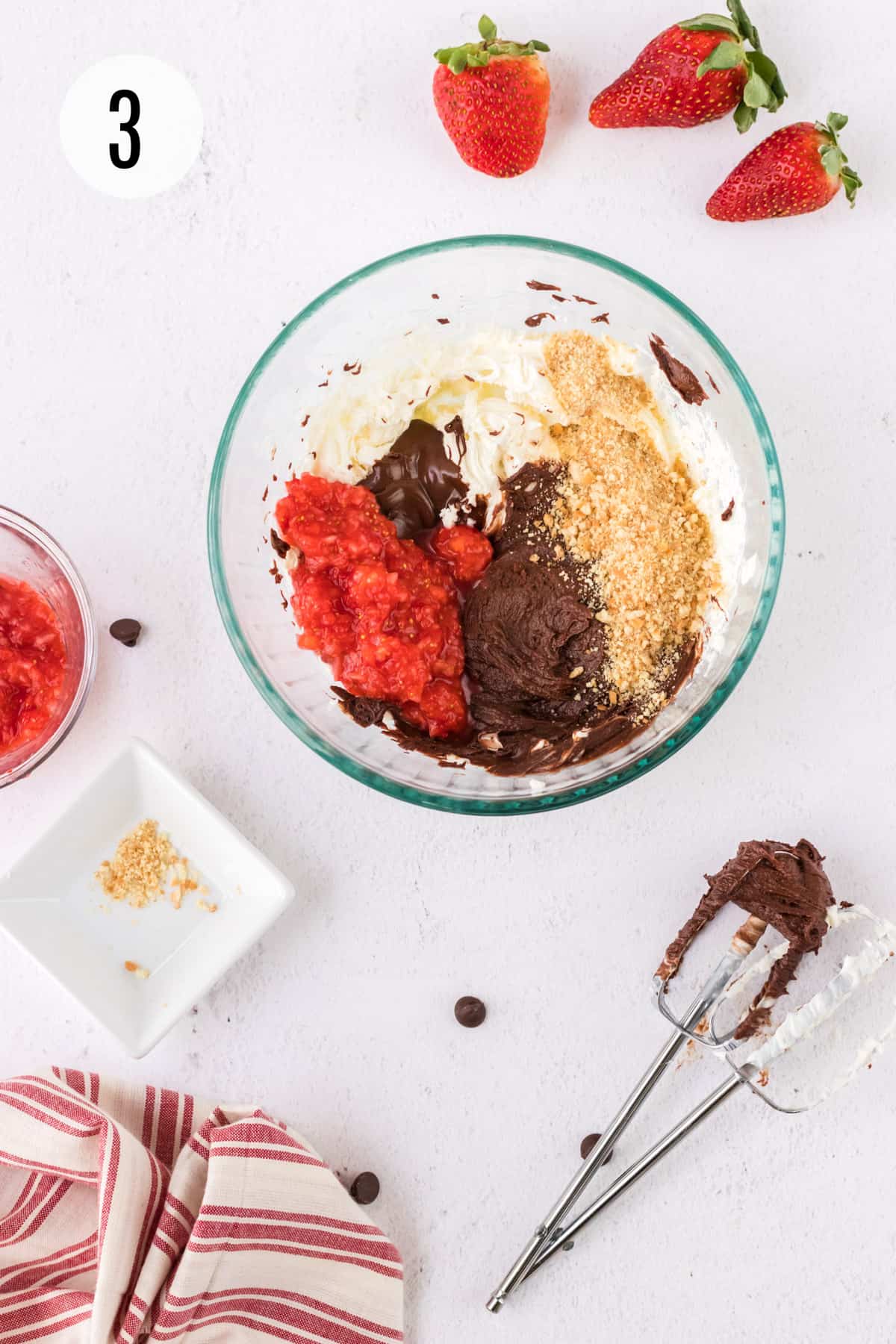 Lastly, comes the rolling of the balls in the chopped almonds (4). I place the chopped almonds in a shallow dish and then use a small scoop (affiliate link) to form the strawberry chocolate mixture into a ball.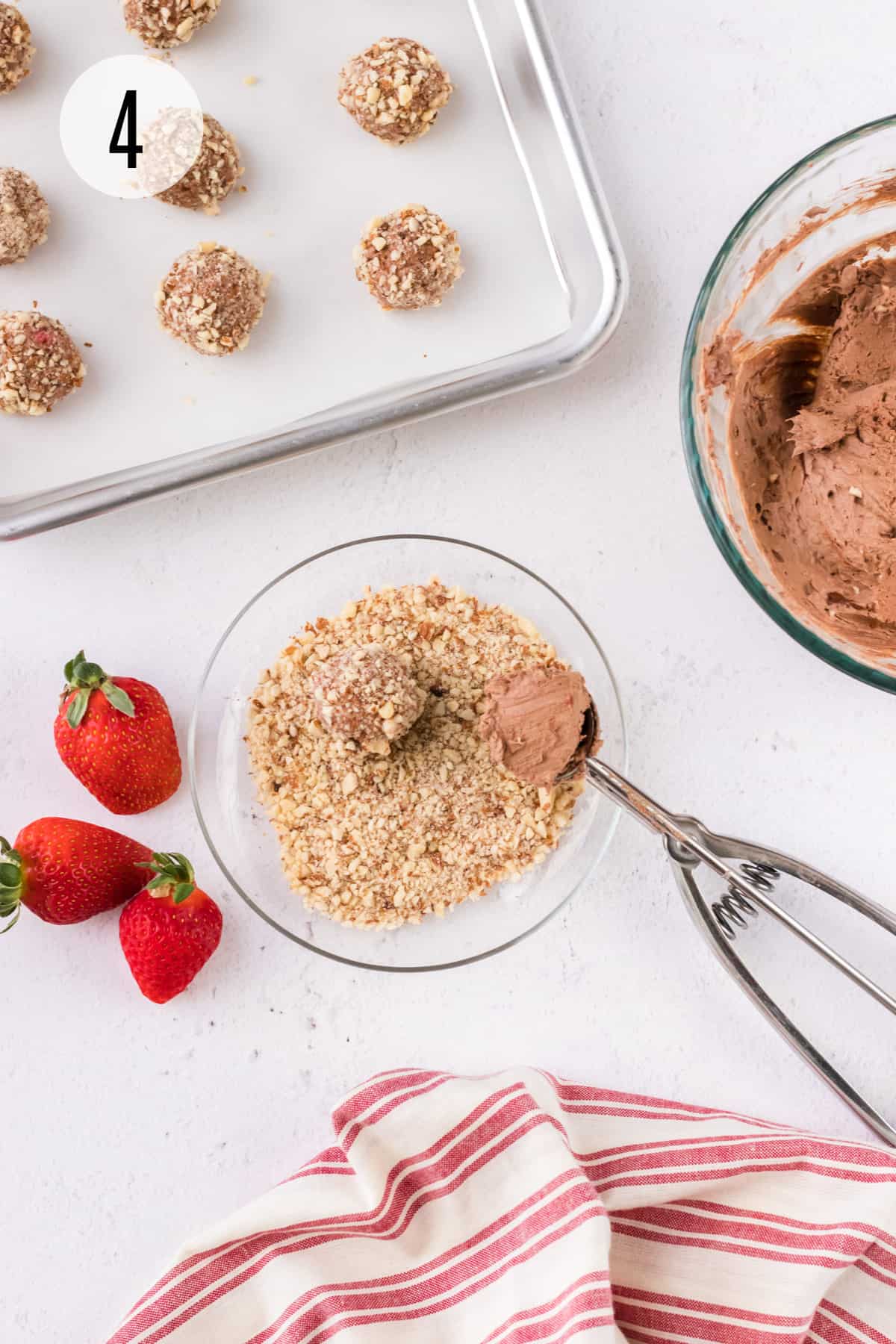 Sometimes I will spray my hands with non-stick cooking spray so that it's easier to form the balls without them ending up a gooey mess in my hands. It also works better if your hands are cool so if you need to, run them under some cold water and dry with a towel before starting. It works for me!
Then I place the rolled balls on a baking sheet (affiliate link) either lined with parchment paper or a silicone baking mat (affiliate link). At this point, they can be refrigerated up to 5 days or frozen up to three months.
Make Ahead Preparation Tips
As mentioned in the instructions above and in the recipe card, these chocolate strawberry cheesecake bites are actually meant to be made ahead.
You can make just the cream cheese and chocolate mixture up to two days ahead. Another option is to go ahead and roll them into balls and put them on the lined baking sheet and refrigerate for up to two days until ready to serve.
Are These Cheesecake Bites Freezer Friendly?
Another make ahead option is that once the rolled and almond coated cheesecake bites are on the lined baking tray, you can flash freeze them until they are solid. Then remove them from the tray to an airtight, freezer safe container. I like these reusable silicone bags (affiliate link). Don't forget to date and label them (affiliate link).
More Tasty Mini Dessert Treats
I love bite size desserts! I think they make it fun and are so versatile. Be sure to check out some of these other recipes here on the blog:
Cathedral Window Candy
Need an easy yet festive holiday treat? These Cathedral Window Candy treats use only 5 ingredients and are so easy to make!
Check out this recipe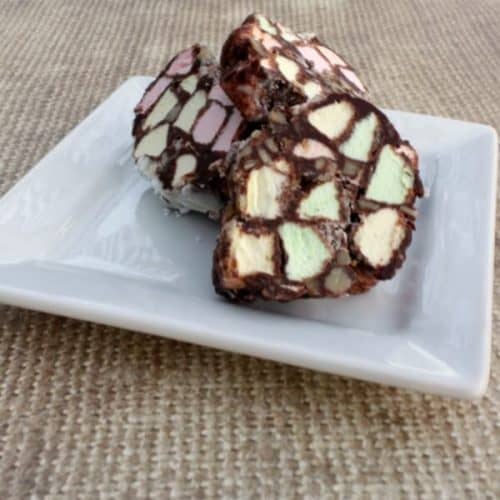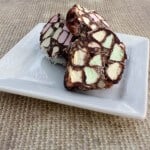 Peppermint Mousse Mini Brownie Cups
Chocolate covered cake balls with a double dose of peanut butter! This is a cake balls from scratch recipe, with homemade peanut butter cake on the inside and homemade peanut butter frosting on the outside!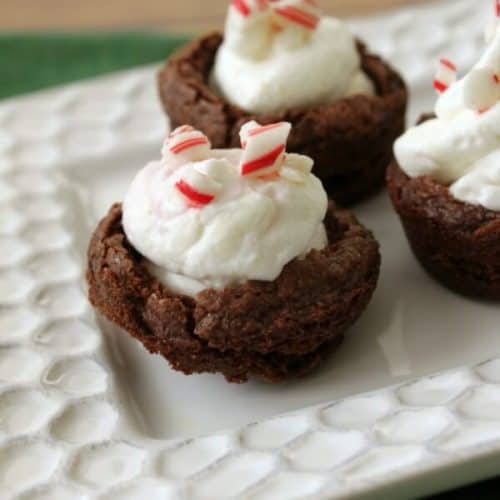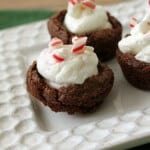 Double Peanut Butter Chocolate Covered Cake Balls
Chocolate covered cake balls with a double dose of peanut butter! This is a cake balls from scratch recipe, with homemade peanut butter cake on the inside and homemade peanut butter frosting on the outside!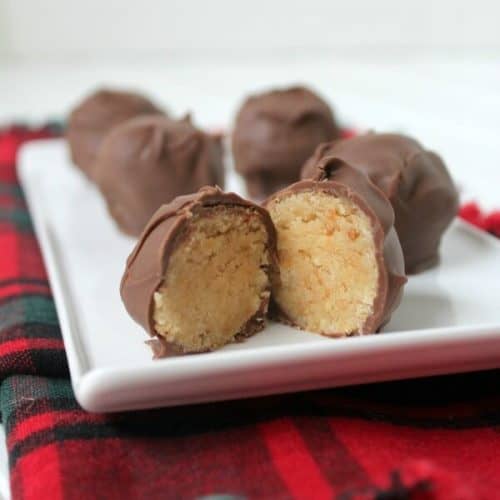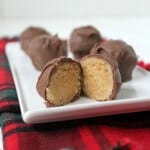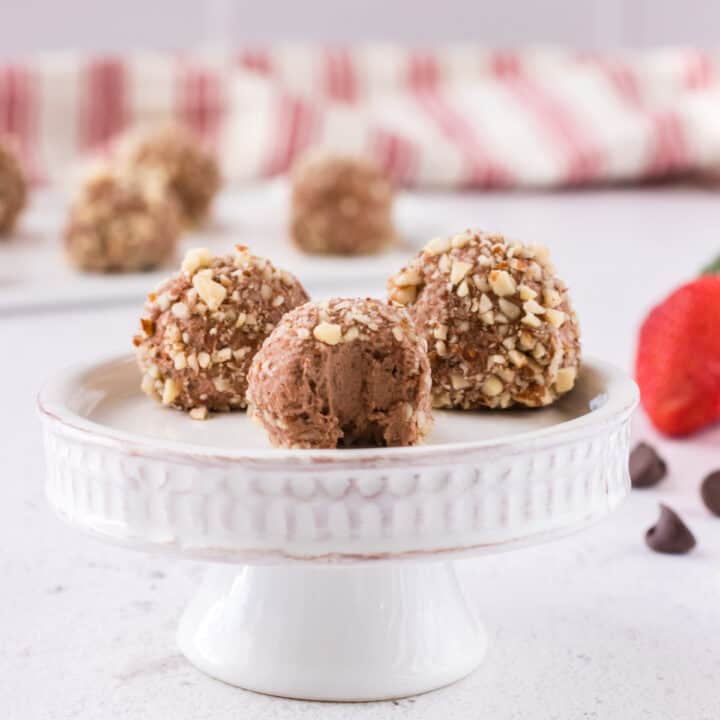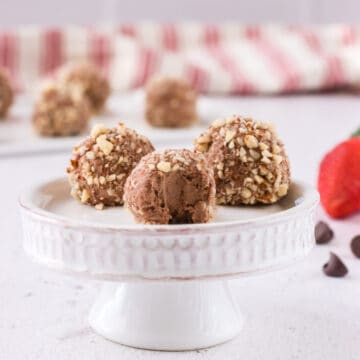 No Bake Strawberry Chocolate Cheesecake Bites
Made with only 5 ingredients, these No Bake Strawberry Chocolate Cheesecake Bites are ready in no time and are a delicious way to enjoy a special sweet treat!
Rate this Recipe
Print Recipe
Pin Recipe
Ingredients
8

ounces

cream cheese

softened

1

cup

semisweet chocolate chips

melted

½

cup

strawberries

pureed, use fresh or frozen

¼

cup

vanilla wafers

½

cup

almonds

toasted and finely chopped
Instructions
In small, flat bowl, add chopped almonds. Set aside.

In bowl of a food processor, pulse vanilla wafer cookies until they are fine crumbs. If you do not have a food processor, you may also put cookies into a ziptop bag, seal and then crush them with a rolling pin. Set aside.

In medium bowl, beat cream cheese at medium speed with an electric mixer until creamy.

Add melted chocolate, beating until smooth.

Stir in vanilla wafer crumbs and strawberry puree.

Shape into one-inch balls; roll in chopped almonds.

Cover and chill one hour until ready to serve.
Notes
Fresh or frozen strawberries may be used. I used frozen strawberries and pureed them in a blender straight from frozen.
Nutrition
Serving:
2
bites
|
Calories:
99
kcal
|
Carbohydrates:
6
g
|
Protein:
2
g
|
Fat:
8
g
|
Saturated Fat:
4
g
|
Trans Fat:
1
g
|
Cholesterol:
11
mg
|
Sodium:
36
mg
|
Potassium:
82
mg
|
Fiber:
1
g
|
Sugar:
4
g
|
Vitamin A:
131
IU
|
Vitamin C:
2
mg
|
Calcium:
22
mg
|
Iron:
1
mg
Originally posted in March 2017 and updated in January 2021 with new photos, content and video.
Be sure to check out my Amazon Shop to discover the many items I use in my own kitchen. Meal Planning Magic is a participant in the Amazon Services LLC Associates Program, an affiliate advertising program designed to provide a means for sites to earn advertising fees by advertising and linking to Amazon.com. Ordering products mentioned here are at no extra cost to you. Thank you for your support.