This post may contain affiliate links. Please read my disclosure policy.
Full of chocolaty goodness, this easy dessert recipe for homemade Crockpot Chocolate Lava Cake, is a delicious make ahead sweet treat!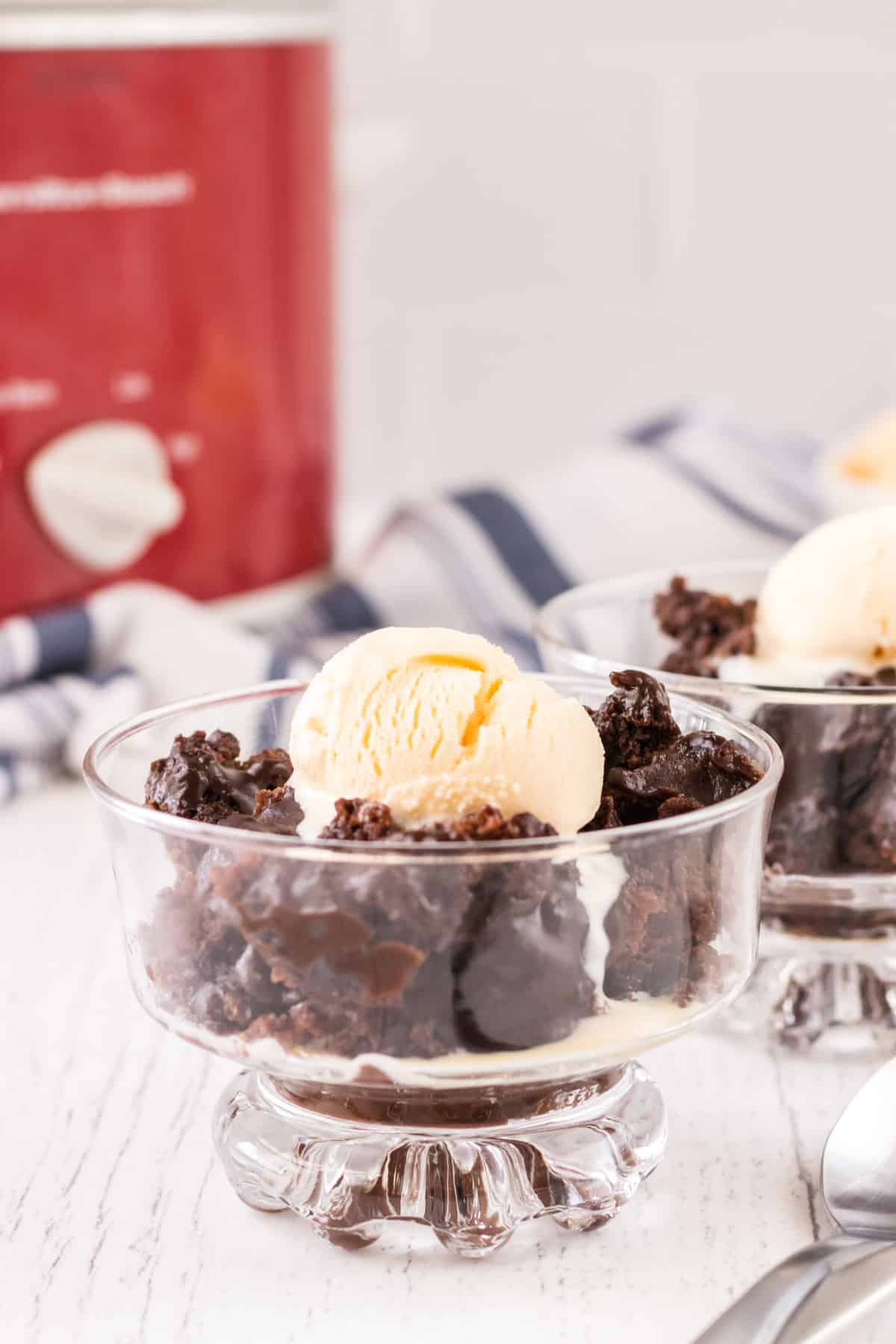 Why We Love This Recipe
I think the first time I ever had a chocolate lava cake was at a restaurant and I have to say, it was love at first bite! I'm a huge chocolate lover and this warm and creamy dessert, topped with vanilla ice cream, was just perfect to me.
So I went in search of recipe that I could recreate and home and that's when I came up with this Crockpot Chocolate Lava Cake. You won't believe how SIMPLE it is to make.
Many recipes I originally came across called for boxed cake mix but I wanted something that I could make without the boxed mix and was still easy to make. I modified a version that I found and the result is this recipe!
Making it in the crock pot makes it even easier because you just add the ingredients to the slow cooker, set it to cook for about 2 ½ hours and voila! A delicious dessert that is easy enough for a weeknight or even for company.
We like to serve our chocolate lava cake with cold vanilla ice cream –so yummy!
If you're a chocolate lover like me, you won't be disappointed with this Crockpot Chocolate Lava Cake Recipe!

Why Call It Lava Cake?
This decadent dessert creates gets its name because it creates a thick chocolate sauce that is like lava flowing out of the cake. It is sometimes also called chocolate pudding cake, chocolate cobbler or chocolate hot fudge cake. Imagine a chocolate cake filled with hot fudge and you've got a delicious dessert no matter the name!
The secret is in how the ingredients are added. First, you make a basic cake batter and add it to the slow cooker. Then, mix additional brown sugar and baking cocoa to sprinkle over the batter. Then comes the boiling hot water that gets poured over it all but does not get stirred in.
I'm pretty sure some sort of cooking magic goes on then because the result is a mixture of a soft cake mixed with the pudding that is created during cooking.
Ingredient Tips To Make This Chocolate Crockpot Cake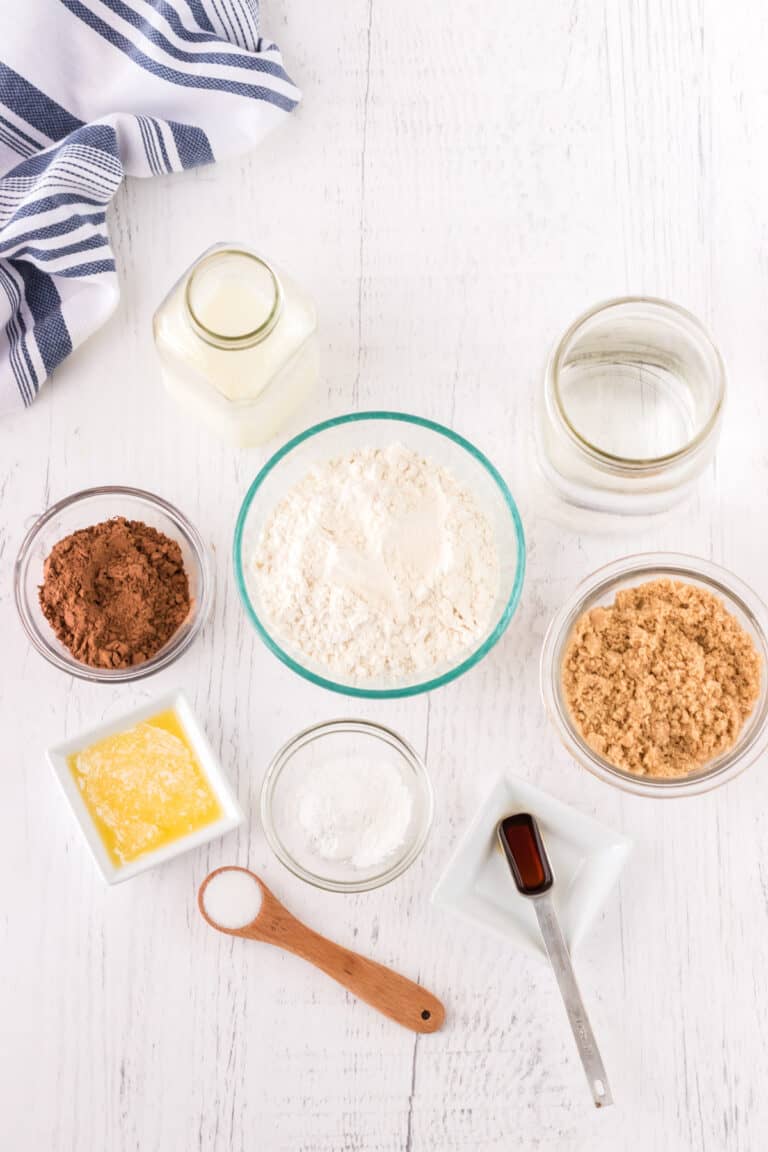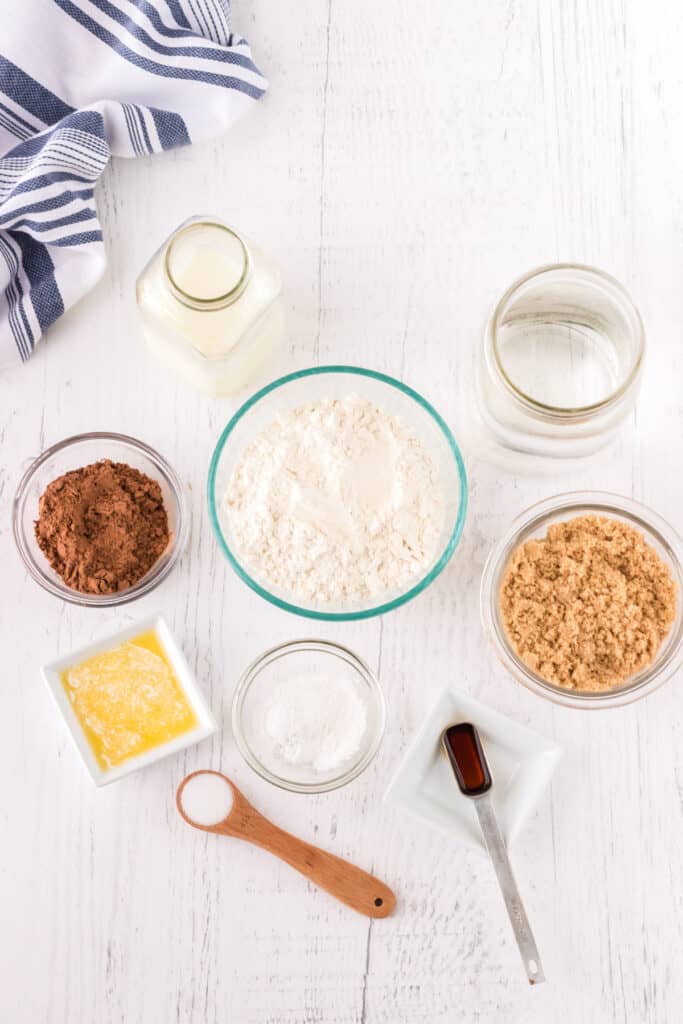 The great thing about this cake is that you probably already have all the ingredients on hand to make it today!
Most of the ingredients are self-explanatory and you should be able to easily find them at the grocery store. We like to buy a lot of our baking ingredients at ALDI or will often buy store brand as they do just as well for us and can help save money.
A note about a couple of the ingredients:
Baking Cocoa – this is the unsweetened baking cocoa you find in the baking aisle of the grocery store. Don't confuse baking cocoa with hot cocoa mix that is found on a different aisle. I bring this up because I have had people ask about the difference before!
Milk – this recipe is tested using skim or 1% milk and the recipe card reflects that. However, I have been experimenting more often in other recipes with other milk products such as almond or oat milk. If I find that those milks work just as well, I'll be sure to update this post. Or if you try it, I welcome your feedback on that too!
How to Make This Recipe
Have I mentioned how EASY this recipe is? It truly is. Start by combining the cake batter ingredients in a medium bowl (affiliate link) (1). I like to melt my butter in a glass measuring cup (affiliate link) and pour it in but you could also melt it directly in a glass bowl and then add the other ingredients. Just be sure to stir it well before adding it to the crockpot (affiliate link).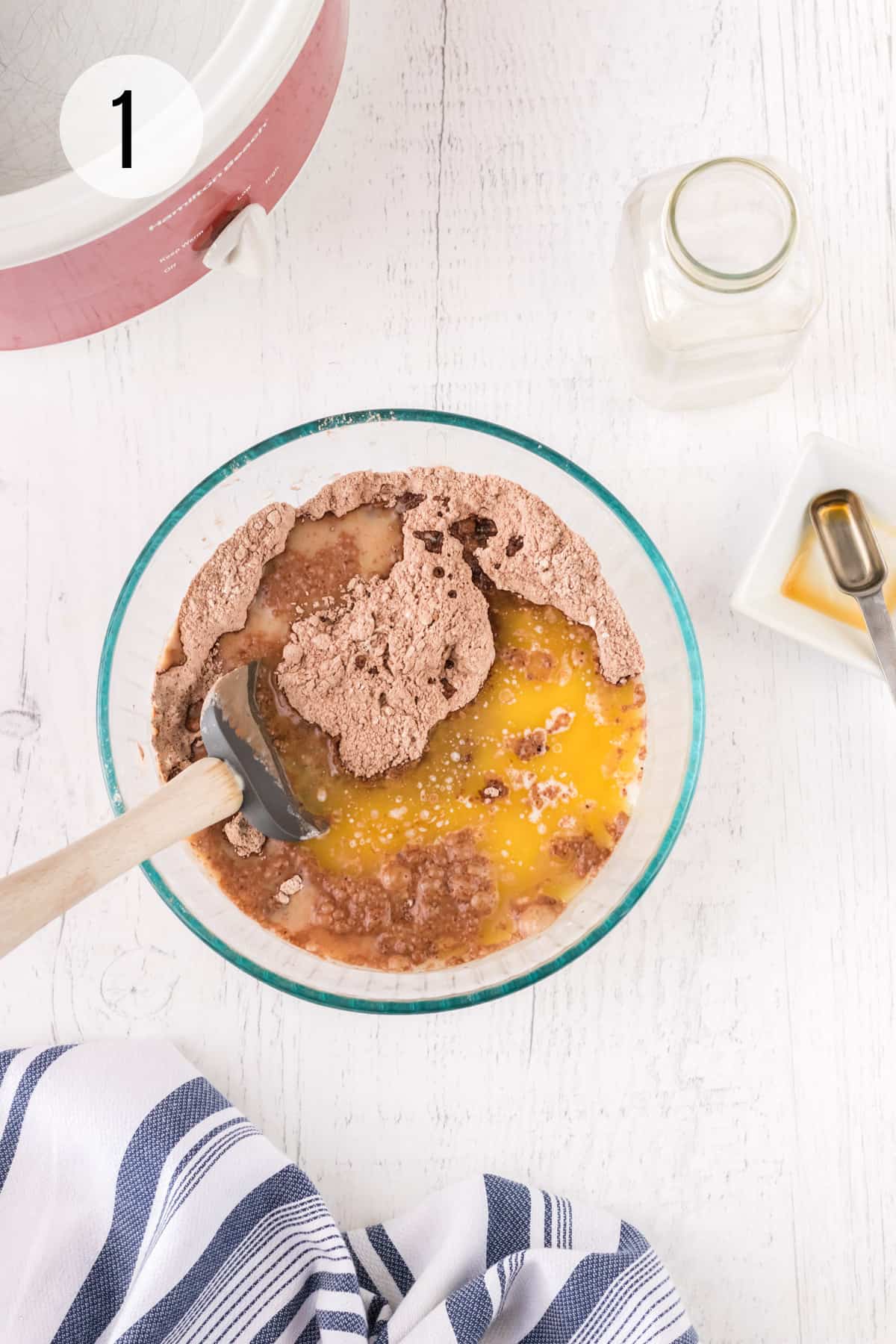 Next, combine the topping ingredients in a small bowl (affiliate link) then sprinkle evenly over the cake batter mixture (2).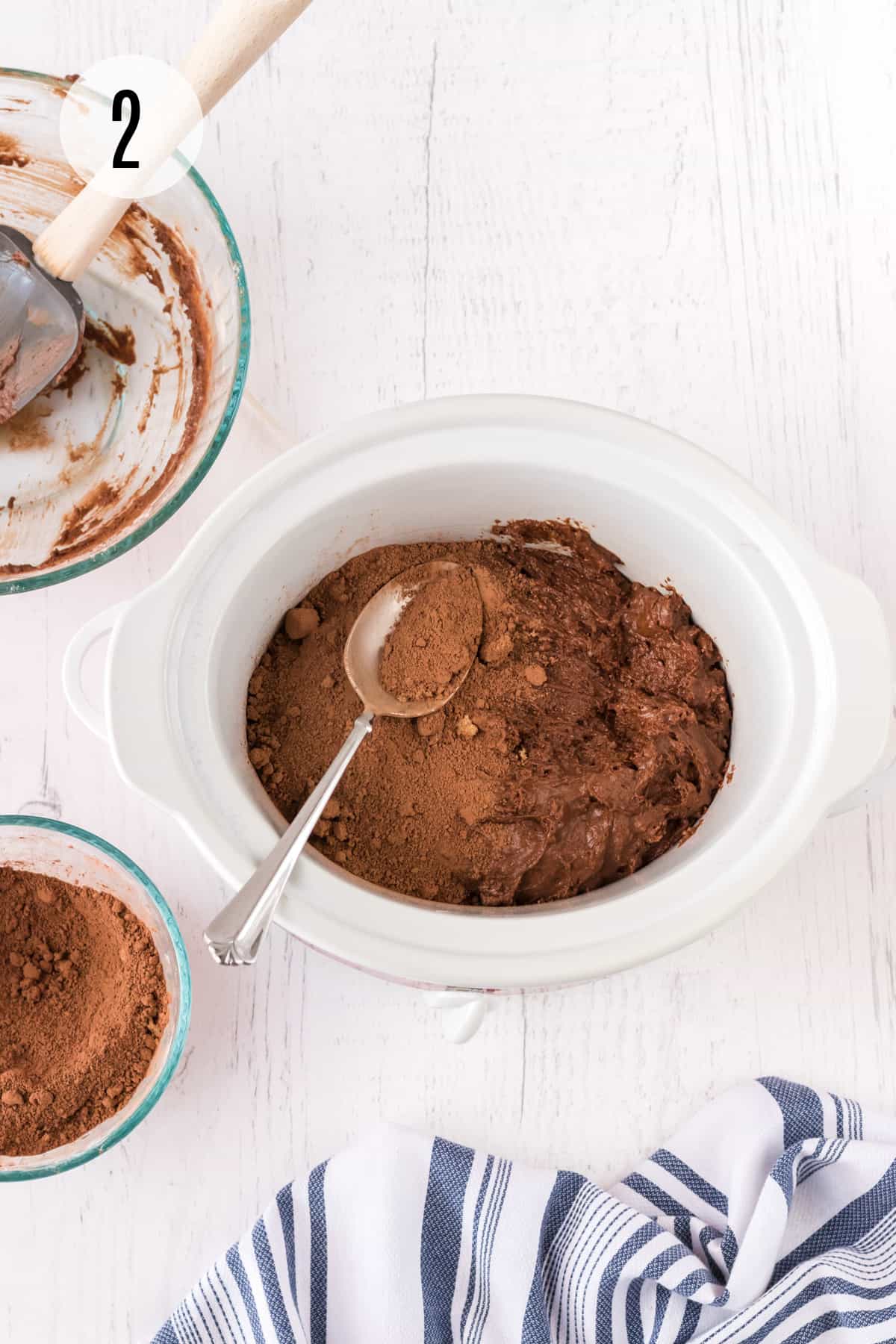 Quickly and evenly, pour the boiling water over the entire mixture but DO NOT STIR (3). It will bubble up and you will have patches of dry topping mix here and there but that is ok. Remember, DO NOT STIR!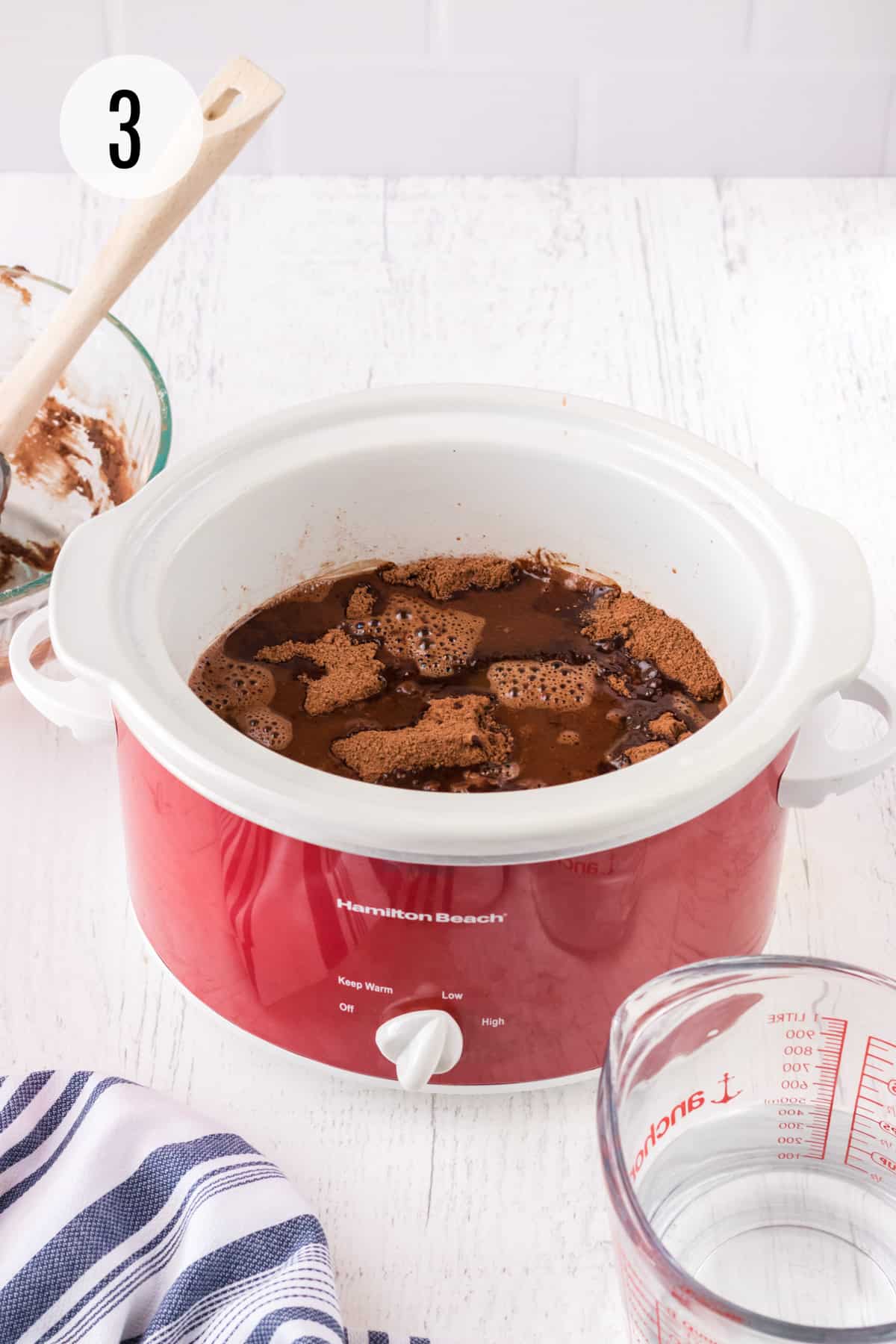 You will see the different layers of cake to pudding mixture when you scoop it out of the slow cooker (4). Let the cake sit about 30 minutes so it doesn't burn anyone while eating, but you'll want to serve it warm. We like to top ours with vanilla ice cream–so yummy!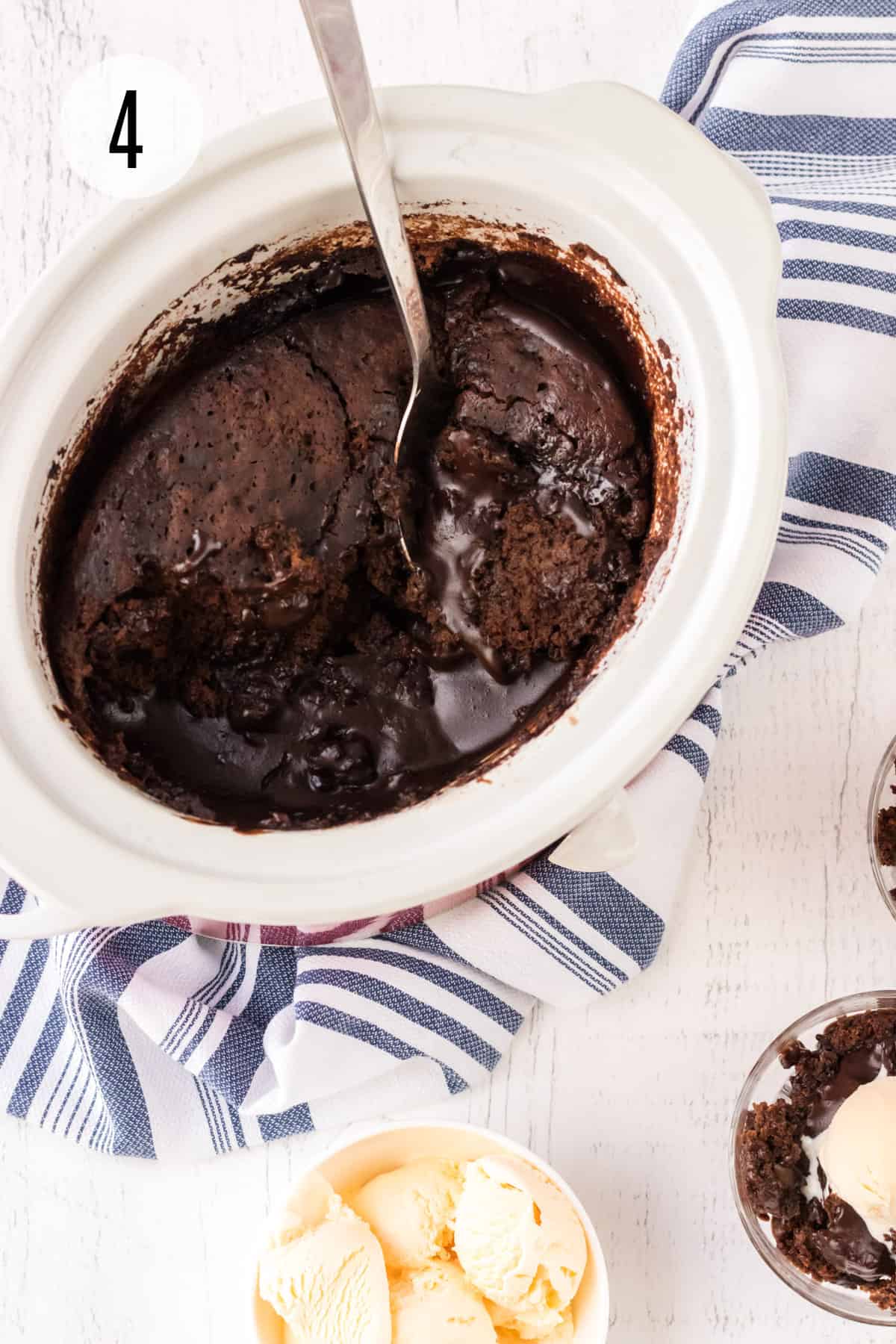 What Size Crockpot Should I Use?
For this crockpot chocolate lava cake recipe, I use a 4-quart slow cooker (affiliate link). A smaller slow cooker like this works well because it prevents the cake from overcooking or getting dried out if a larger crockpot is used. I like to use the smaller slow cooker for my Homemade Chai Concentrate recipe too!
I have a larger, 6-quart slow cooker (affiliate link), too, that works better when I'm making soups and other larger batch recipes like this Homemade Crockpot Spaghetti Sauce.
Be sure to check out my post 10 Tips for Slow Cooker Success for some more tips on choosing a slow cooker that works for you and your family.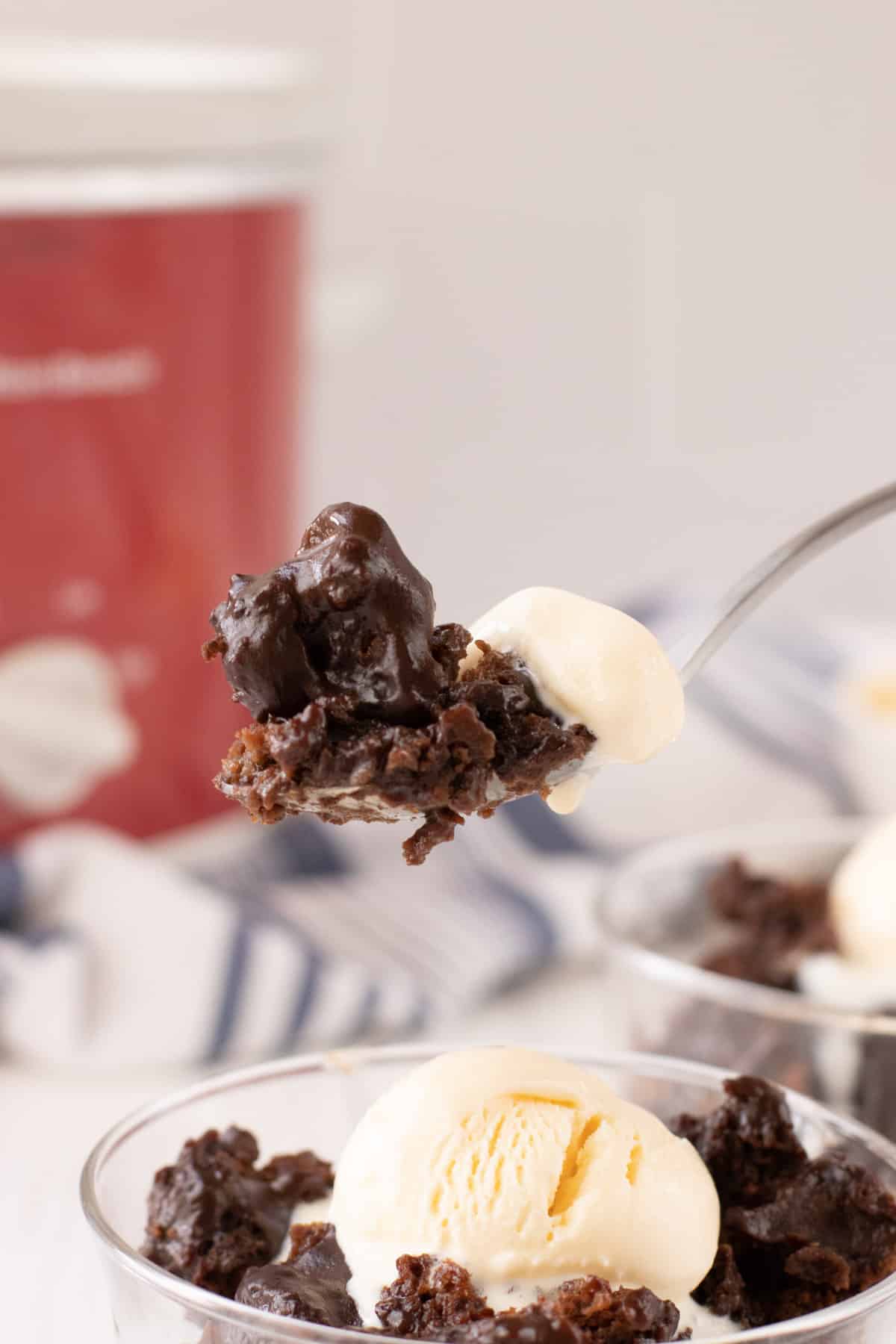 Make Ahead Preparation and Storage Tips
Even though this recipe comes together quickly, there are couple of things you can do to prep ahead.
For the cake, combine the dry ingredients in a bowl or food storage container (affiliate link). You can do the same for the topping mixture (brown sugar and cocoa), leaving out the water. Make up these partial cake prep kits up to a month in advance. Just be sure to date and label them! (affiliate link)
If you just want to prep earlier in the morning to make this later in the day, you can do the same thing for the dry mix but also measure out the wet ingredients. You will need to warm the milk, vanilla, and butter mixture as they will separate in the refrigerator and the butter will float to the top and solidify. It's easy to warm up for about 30 seconds in the microwave or a minute or two in a small saucepan on the stove.
Is This Lava Cake Freezer Friendly?
I've not tested freezing this cake although I think it might freeze just fine! I will test that and update here after I have. If you give it a try, I would suggest using a freezer friendly, food safe, airtight container like reusable storage bags (affiliate link) and just like I mentioned above, don't forget to date and label (affiliate link) your container.
When ready to enjoy again, thaw completely in the refrigerator then warm up in the microwave to desired temperature and serve with vanilla ice cream.
More Delicious Chocolate Desserts
If you like chocolate like I do, be sure to check out some of my other recipes featuring chocolate!
Be sure to check out my Amazon Shop to discover the many items I use in my own kitchen. Meal Planning Magic is a participant in the Amazon Services LLC Associates Program, an affiliate advertising program designed to provide a means for sites to earn advertising fees by advertising and linking to Amazon.com. Ordering products mentioned here are at no extra cost to you. Thank you for your support.