This post may contain affiliate links. Please read my disclosure policy.
Pecan tassies are simple, classic holiday cookies, with a buttery pecan taste similar to that of pecan pie.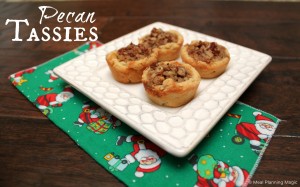 When I was a young girl, I remember my grandmother making Pecan Tassies and bringing them to our house for Christmas. I also remember that I did not really like them at all! But now, I'm a huge fan. Blame it on the 30+ years of living in Texas and my taste for native pecans, and there's not a whole lot that I'll refuse if it includes pecans.
Now I will say I'm still a little bit picky about pecan pie. It can't have too many pecans, nor have too much of the filling. I like it to have a balance. So I dug out my recipe for grandma's Tassies and I'm glad I did. (Remember, last week I posted a Peanut Butter Fudge recipe from my grandmother? That was from my grandma on the other side of the family).
Pecan tassies offer just the right balance of pecans to filling to crust.
I'd venture to guess that they freeze well, although I'm not a great judge, since I've probably eaten half a pecan pie's worth since I made them! That's the downside, they're just so darn easy to pop into your mouth and enjoy. I'm pretty sure it's been a while since my mom and dad have had pecan tassies, so I may just need to make up an extra batch to share with them this Christmas!
Pecan Tassies
Prep time:
Total time:
Ingredients
Shell:
1 cup butter, softened
6 oz. of cream cheese, softened
2 cups all-purpose flour
Filling:
1 cup pecans, coarsely chopped
2 eggs
1 ½ cup light brown sugar
2 T melted butter
¼ teaspoon vanilla
Dash of salt
Instructions
For crust:
Combine butter and cream cheese until creamy and smooth (original recipe suggested just using spoons but I used my stand mixer). Add flour, ½ cup at a time, blending thoroughly until smooth dough forms.
Pinch off small pieces of dough and shape into balls (I used my small scoop to make this easier). The original recipe said you would get 48 balls. I got about 32 but probably could have gotten 40 if I was a bit more conscious about it. Place balls in mini-muffin cup pan. Shape in pan with fingers to make it into a cup. Or you can use a[url href="http://www.pamperedchef.com/our_products/catalog/product.jsp?productId=184&categoryCode=BK" target="_blank"] mini-tart shaper tool [/url]like I did.
For filling:
Beat eggs only enough to combine white part with yolk. Add brown sugar. Beat well after each addition. Add melted butter, salt and vanilla.
Sprinkle half of chopped nuts in unbaked cups. Add about a scant tablespoon of the liquid filling over the pecans. Top with remaining nuts. Bake at 350° for 15-17 minutes or until filling is almost set. Reduce heat to 250° and bake an additional 10 minutes longer until firm.
Remove to cooling racks until fully cooled.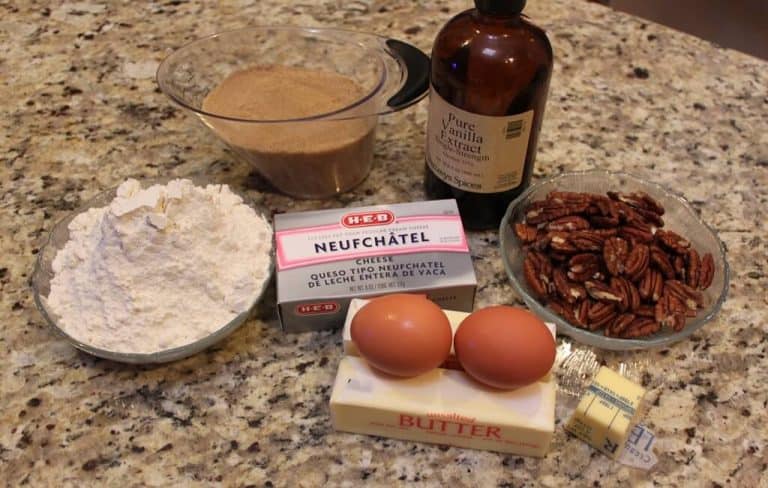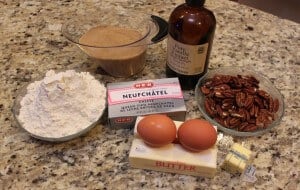 Just a few simple ingredients are all you need to make pecan tassies.
Be sure to check out all the other bloggers who are participating this week in the 12 Weeks of Christmas Treats blog hop… you'll have no excuse of "I don't know what to make!" And if you're a blogger and want to join in on the fun, check out this post for the form to fill out to start baking along with us!