This post may contain affiliate links. Please read my disclosure policy.
Up your weeknight dinner game with this easy Ground Turkey and Creamy Clam Sauce with Linguine that's ready in just 30 minutes AND can be made ahead. It's been a family favorite for years and is special enough for guests, too!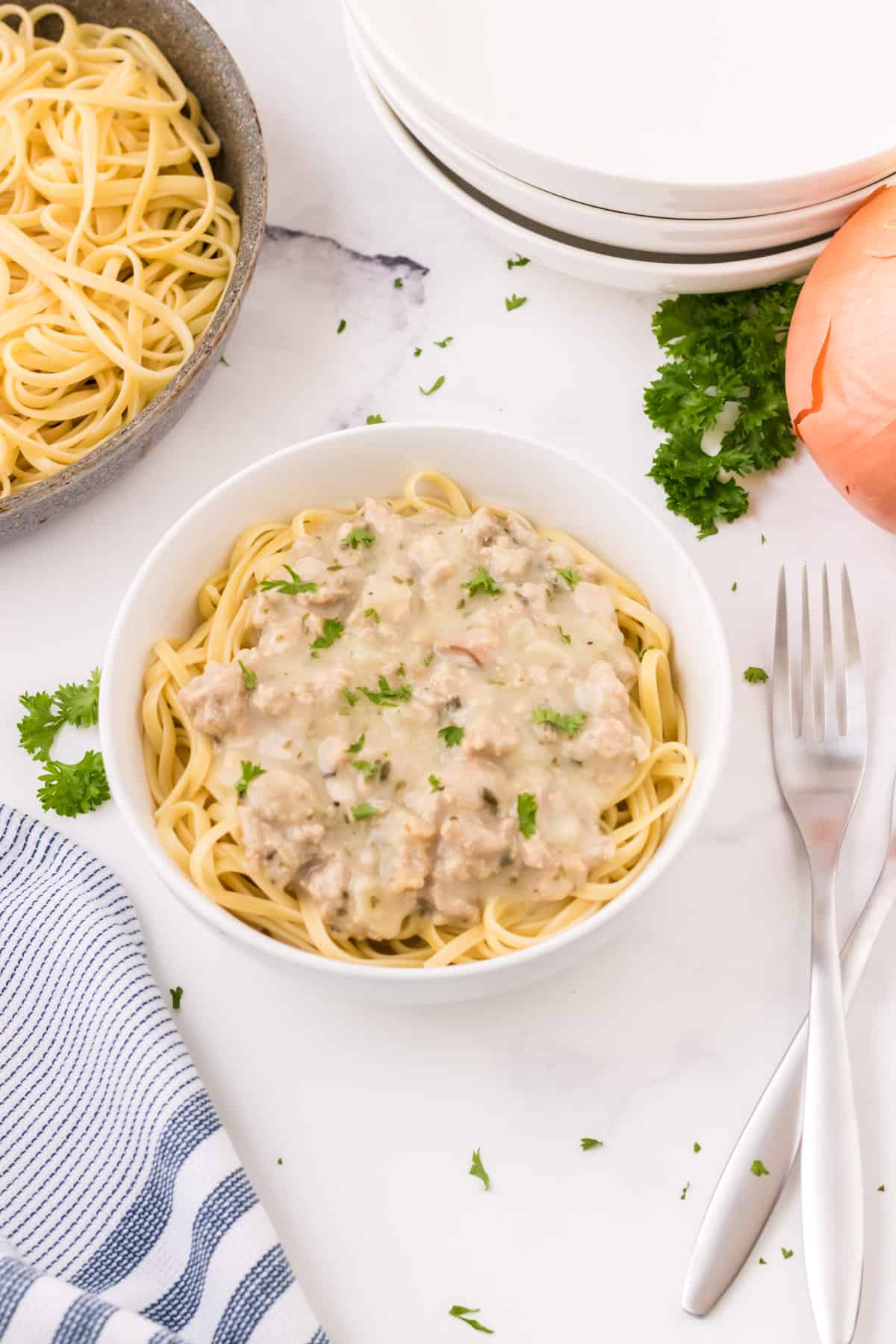 Why We Love This Recipe
I love this Ground Turkey and Creamy Clam Sauce with Linguine recipe because it is super simple and quick to make but has some unique flavors that help make dinner time a little more interesting! Plus, it's "fancy" enough to serve to guests.
Bonus: It can be made ahead AND it's also freezer friendly! I often make a double batch so I have an even easier weeknight dinner option ready. Another favorite pasta sauce that we love and is also make ahead is my Crockpot Spaghetti Sauce.
I first discovered this creamy sauce over pasta years ago in a Tupperware cookbook. Many, many years ago, when we first got married, I was a Tupperware consultant. They published cookbooks which were a real gem as several of our favorite recipes have come from there.
Several white clam sauce recipes I have found online call for whole clams that can be hard to find or just more difficult to prepare. I like that this recipe uses canned clams (found near the canned tuna) so that we enjoy the flavor without the extra work!
Just writing about this makes me want to make another batch of this creamy sauce soon! Paired with a garden salad and crusty or garlic bread, it is such a delicious weeknight meal.
Ingredient Tips To Make This Creamy Pasta Sauce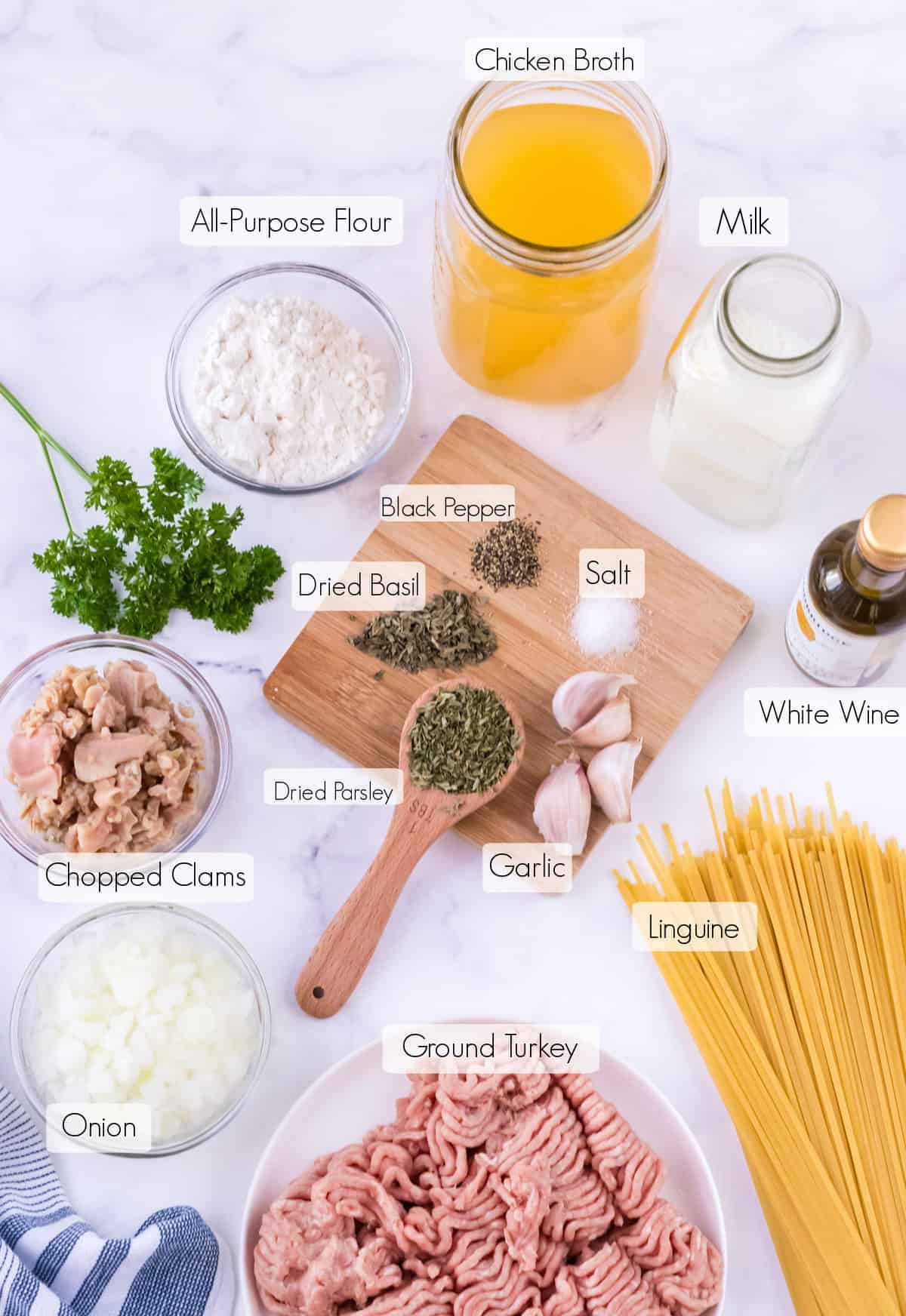 All of the ingredients to make this sauce can easily be found at most grocery stores. I have a few tips for some that will help you save a bit of time and money too. It all adds up!
Onion – I pretty much always keep a bag or two of frozen onions on hand at all times. They are perfect for throwing in all kinds of recipes but especially sauces or soups or chilis where they will soften when cooking and add some flavor with fewer tears that come from chopping onions.
If I am chopping fresh onions though, I love using my handheld food chopper (affiliate link) it is makes chopping SO quick and easy and also again, fewer tears (I think I've gotten more sensitive to that as I've gotten older!).
Milk – I use fat-free milk in this sauce and it still gets nice and creamy. I've not tried making with a non-dairy option but I'd say unsweetened almond or oat milk might work best as they have a mild flavor.
Clams – As mentioned above, you can find canned clams in the same section as other canned seafood (like tuna) and meat. Depending on the brand, it may come in both chopped or minced options. I have used both but find that we prefer the chopped. Just choose what you like – or do one of each!
White Wine – As the recipe says, this is optional. We don't really drink a lot of wine in general so for this and other recipes that call for wine (like my Slow Cooker Chili), I buy the mini bottles to use instead. They are perfect and add just a bit of extra flavor to the sauce.
How to Make This Recipe
This creamy ground turkey and clam sauce can be made in under 30 minutes!
Start by browning the ground turkey with onions and spices (1). I like to drain off but it's up to you. I find that the leanest ground turkey doesn't have a whole lot of fat to drain off.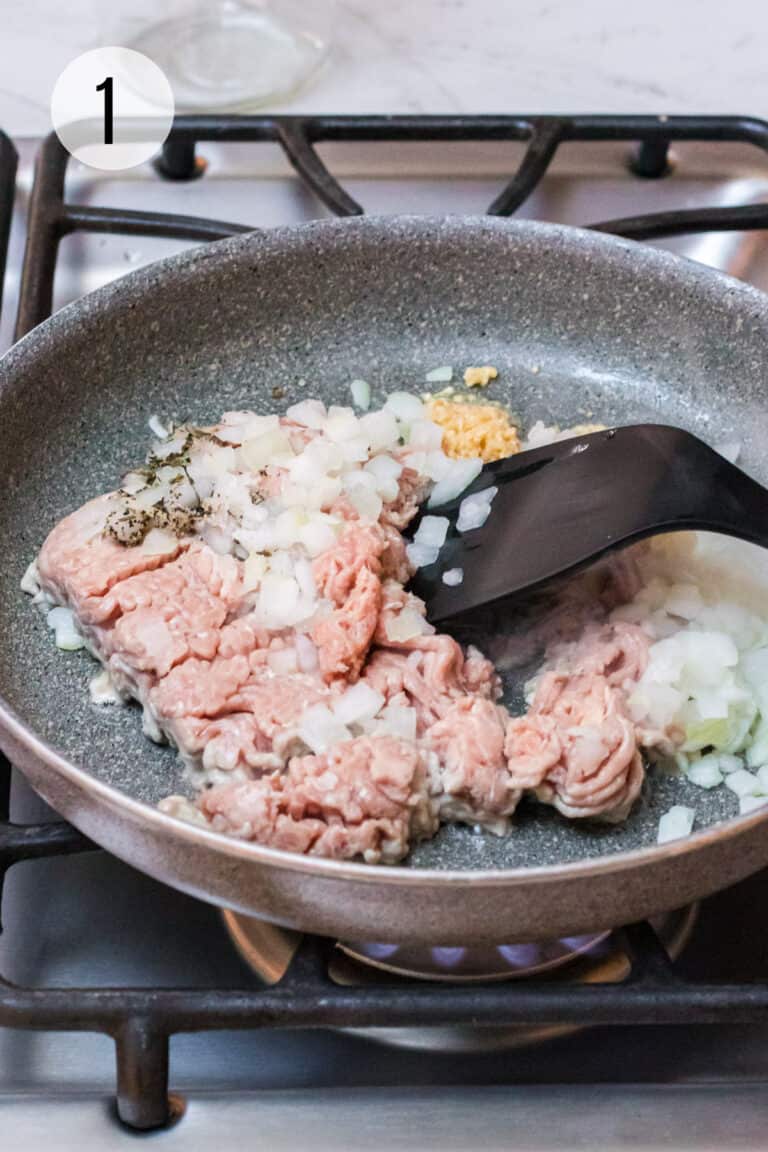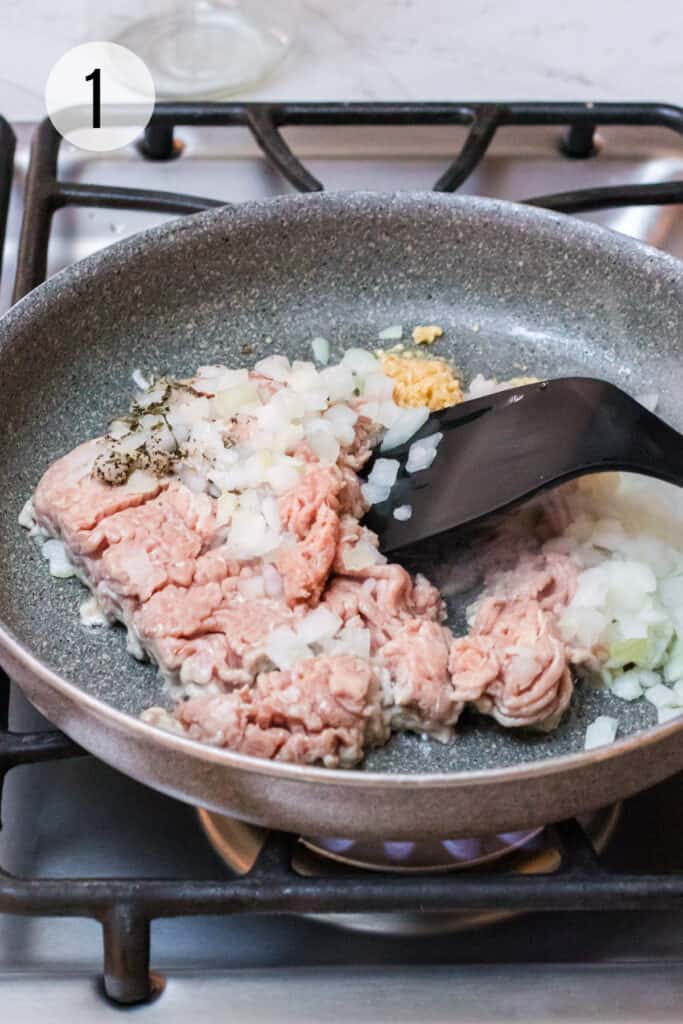 Next, sprinkle the flour on the ground meat mixture and stir it so that the meat crumbles are coated in the flour (2). Just a couple of stirs is all it takes.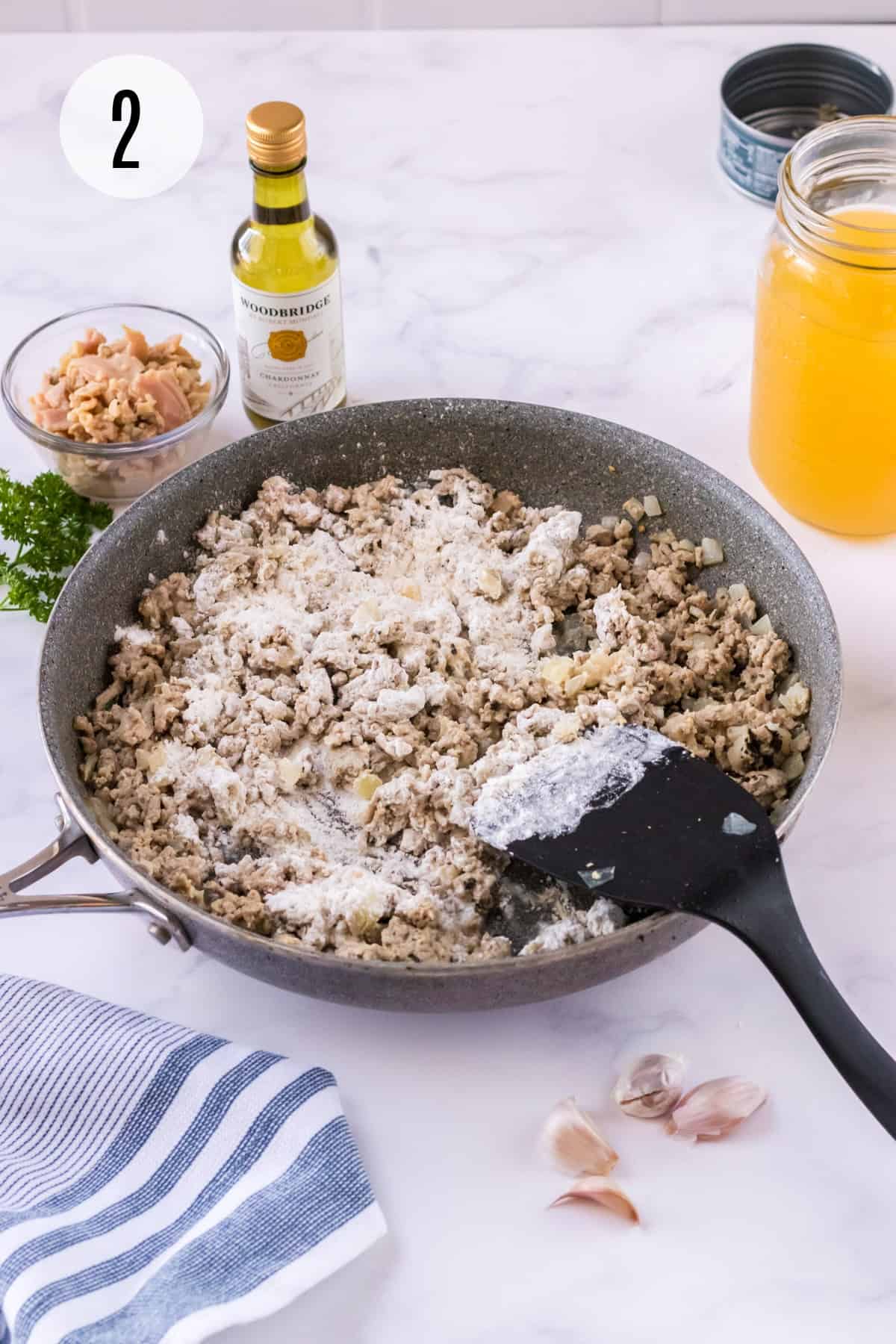 From there, add the chicken broth and milk and stir to combine (3). You'll be simmering it for about 10 minutes and as it does, it will thicken up.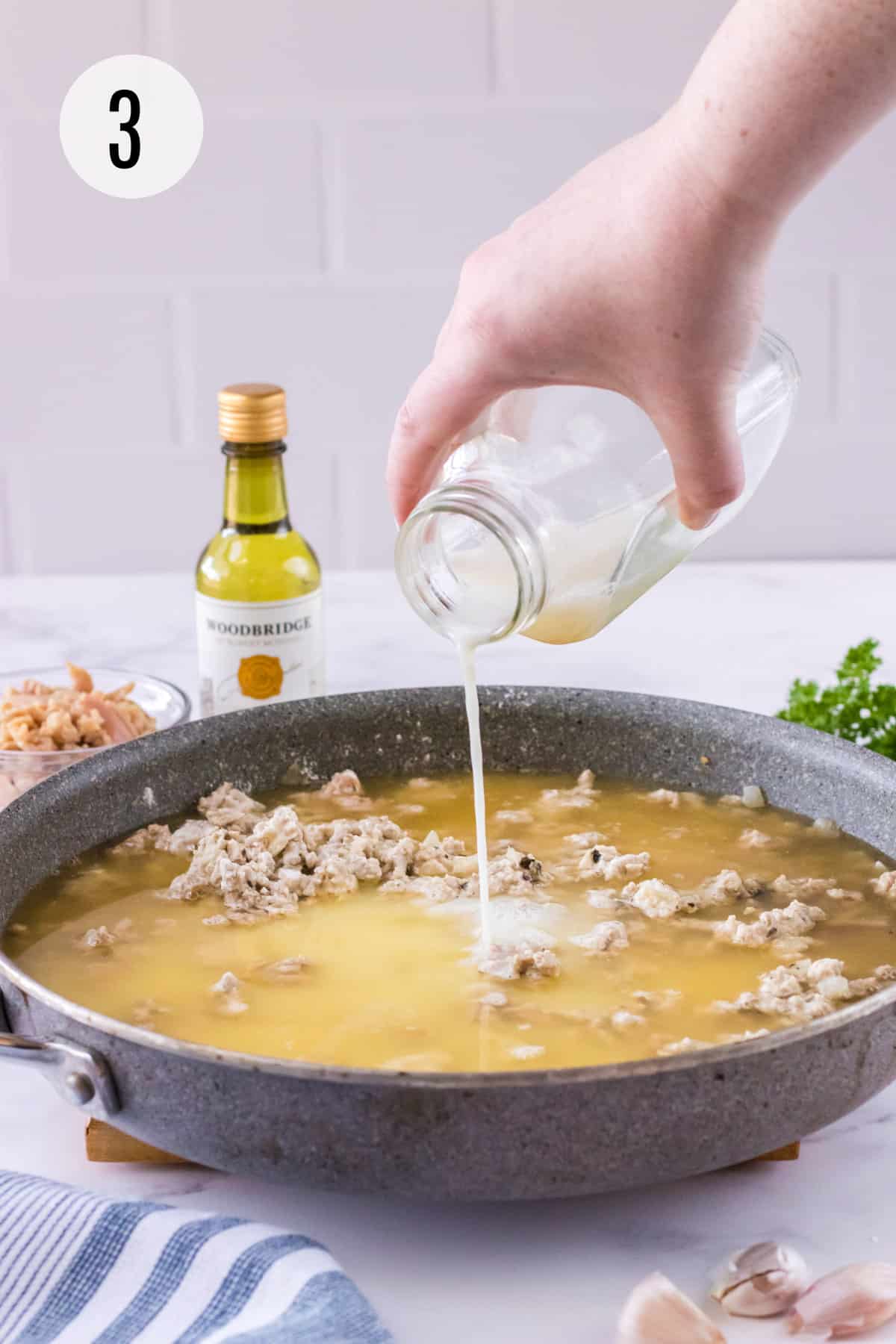 When I use a lower fat milk (like the skim we prefer), it might take a little longer. Be sure to stir it occasionally as that will help it thicken up more quickly.
While the sauce is simmering, I'll get the linguine going so that it's done cooking around the same time as the sauce.
Once the sauce is thickened, just remove it from the heat and add in the dried parsley, wine and clams (4). Serve over the linguine and that's it!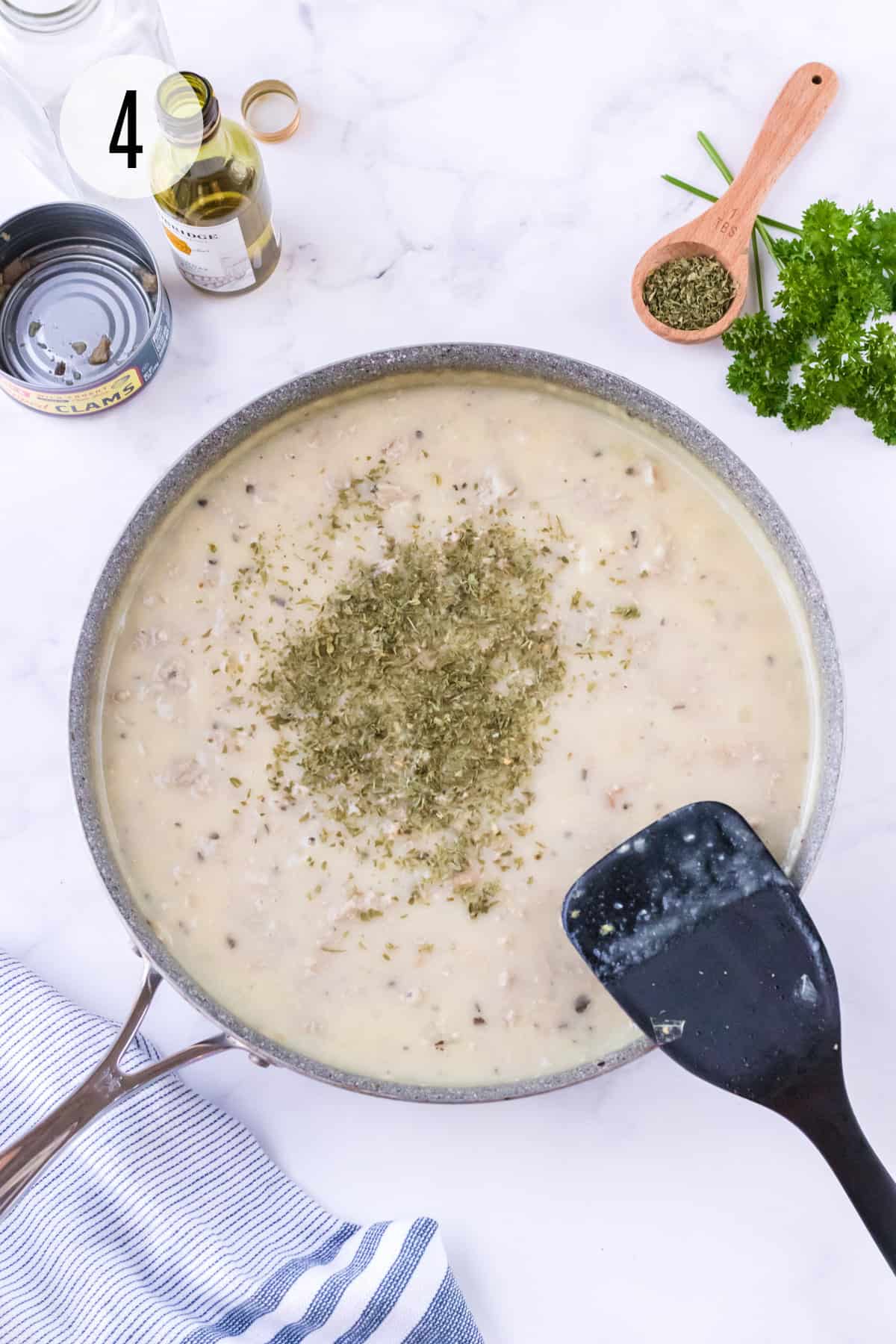 Make Ahead Preparation Tips
There are a few ways to prep this recipe ahead. First, you can just brown the ground turkey, onions, garlic and spices. If you like, stop here and store the browned meat mixture in an airtight container in the refrigerator for up to three days.

More often though, I will fully prepare the sauce and then store it in the refrigerator for up to three days. When I'm ready to serve it, I just cook the pasta, warm up the sauce in a saucepan or the microwave and then it's ready to enjoy!
Is this Sauce Freezer Friendly?
Some may say that you can't freeze creamy things but I have frozen this sauce many times and it tastes just a great as if I had made it fresh. The key is to store it in a freezer safe, airtight container. It can be frozen for up to three months – don't forget to date and label it (affiliate link).
I love to use Souper Cubes (affiliate link) as I can portion it out for individual servings or larger servings and then heat up depending on our moods!
More Delicious Pasta Recipes
Our family loves pasta dishes and I do too because they are so easy to make for dinner. Here are a few of our favorites that you might want to check out too!
Originally posted in March 2017 and updated in January 2021 with new photos, content and video.