This post may contain affiliate links. Please read my disclosure policy.
Gingerbread lemon cream push pops are an easy holiday dessert, combining homemade gingerbread, lemon curd, and whipped cream.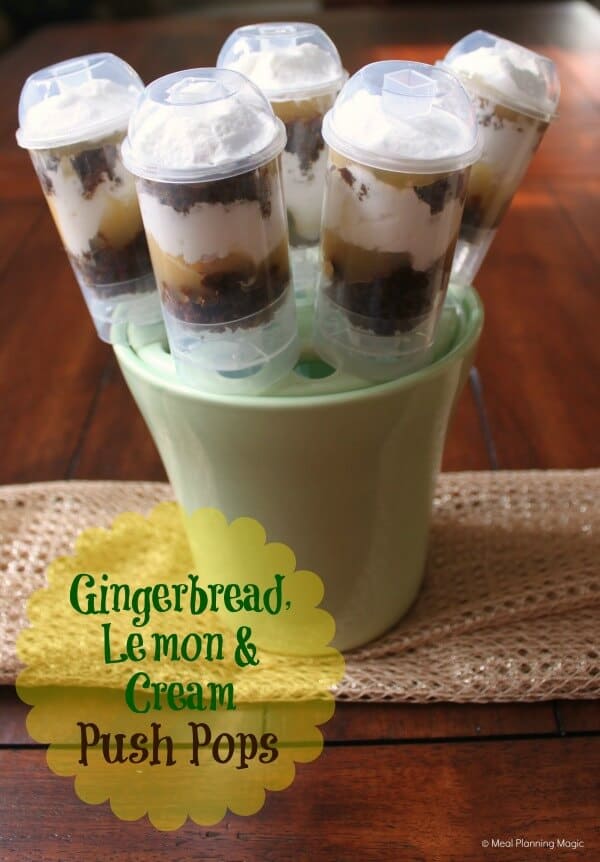 I love gingerbread. When paired with lemon and whipped cream, I'm in dessert heaven. So when we purchased these cake push pops at the start of summer, I knew I needed to include a recipe for my 12 Weeks of Christmas treats using them and I thought what better than a Gingerbread Lemon Cream Push Pops treat? All these favorite flavors in one fun treat.
I started by making my gingerbread from scratch. This recipe may look like it has a lot of ingredients, but it comes together quickly. So much so that I wonder why I don't make it more often. For some reason, I've always kind of associated gingerbread with the holidays (well there are the gingerbread cookies, but the cake? I think that's a little more year round). I've modified the recipe from the original to include whole wheat flour for a little extra nutrition (just a little). I purchased premade lemon curd because I didn't have the time or want to purchase so many lemons to make it myself (but you can certainly do that). If you have a lemon tree and need to use up a lot of lemon juice, it's pretty easy to do. I whipped up the whipped cream myself, layered it all and voila! A treat was made. I bought our push pop molds at Bed Bath & Beyond but I've also seen them at craft stores like Michaels. Or you can purchase them online HERE.
These gingerbread lemon cream push pops would make a fun and delicious addition to any holiday table.
Everyone will think you're a genius (well, maybe). Do you love gingerbread? I hope you'll give these a try if so!
Gingerbread Lemon Cream Push Pops
Author:
Ingredients
Gingerbread Ingredients
2 cups all-purpose flour
½ cup whole wheat flour
1 tbsp. baking powder
2 tsp. ginger
1 ¼ tsp. cinnamon
½ tsp. salt
Pinch of cloves
1 ½ cups boiling water
1 cup molasses
1 tsp. baking soda
4 oz. unsalted butter, softened
1 cup brown sugar
1 egg
Lemon curd (I used purchased)
Push Pop Ingredients
1 pint heavy whipping cream
2 tablespoons granulated sugar
1 jar purchased lemon curd
Instructions
Make Gingerbread:
Preheat oven to 350 degrees. Sift together flour, baking powder, ginger, cinnamon, salt and cloves. Set aside.
Pour boiling water over molasses. Stir in baking soda and set aside. Cream butter and sugar until light and fluffy. Add egg. Alternately add the dry ingredients and the molasses mixture to the butter mixture. Mix thoroughly, but do not over-mix. Some lumps are fine (you may use a whisk if you are overly worried about it) Pour batter into a greased 9-by-13-inch pan and bake for 30 to 35 minutes or until the cake springs back when pressed.
Cool cake completely.
Make Whip Cream:
Using a stand or hand mixer, whip heavy whipping cream on high and gradually add up to 2 tablespoons sugar. When cream is fluffy and triple in size, you are done.
To Make Push Pops
Using a large table spoon, scoop out about 1 ½ tablespoons worth of gingerbread. You don't need to be exact.
Layer about 1 tablespoon of lemon curd and about two tablespoons of whipped cream.
Repeat until pops are full. Repeat with each pop until you have run out of pops or ingredients (you will likely have leftover gingerbread and whip cream). Refrigerate until ready to serve.
Don't want to miss a recipe? Then be sure to CLICK HERE so you can subscribe to all the updates. Besides sharing holiday recipes, I also share all kinds of meal planning and kitchen organization ideas. It's simple and you'll also receive weekly meal planning inspiration in you inbox!
And be sure to check out the links below for all the bloggers who are sharing their own recipes this week! If you're a blogger and want to join in the hop, you can find more details and SIGN UP HERE.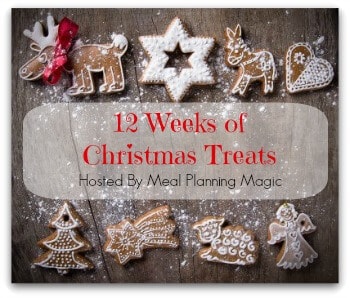 Disclaimer: I am an Amazon Associate affiliate so any purchases made through this site give me a small percentage of the sale as a thank you for the referral. And I thank you as that helps me pay for costs associated with my blog.