This post may contain affiliate links. Please read my disclosure policy.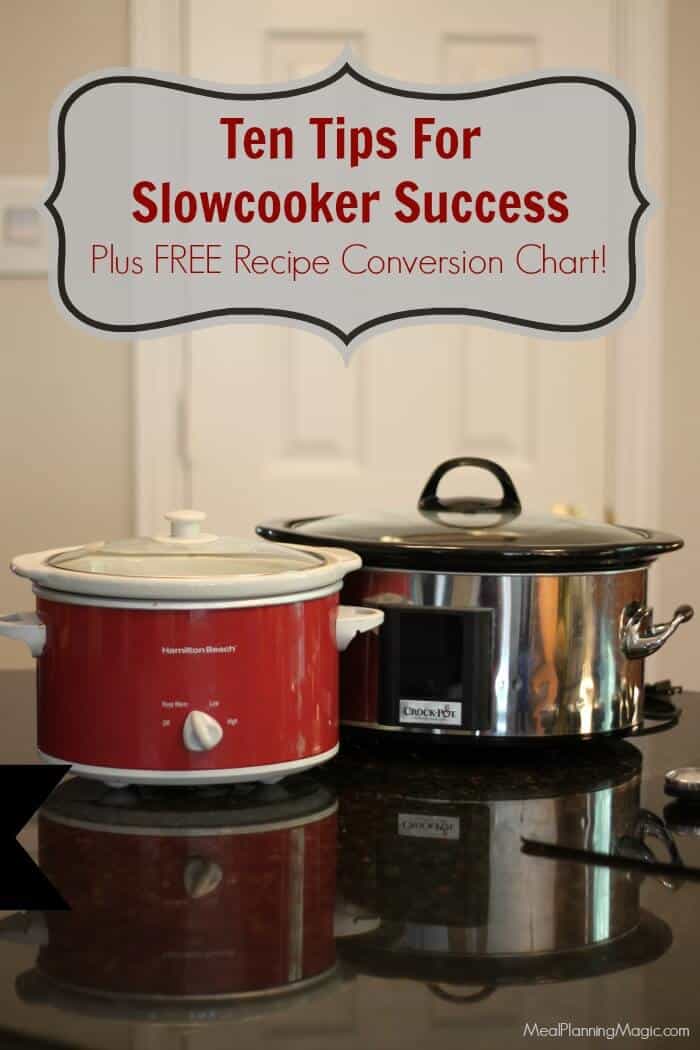 I received my first slowcooker as a wedding present (over 20 years ago!) and it's one of those things that seems to have gone through different phases over the years. I'm pretty sure there were a few years in there that it collected dust more than it was ever used. But since I had kids and even more since they have grown and gotten into more after school activities (and I've gotten more involved at their schools and other freelance projects), I've come to love my slowcooker! It is SO nice to come home to dinner after a busy day and usually that means minimal clean up too!
So, where am I going with this you ask? Well, over those years, I've learned a few tricks that help make preparing dinner in the slowcooker more successful. At my meal planning workshops and in talking to friends, I've realized some of you face the same challenges I used to.
I hope these Ten Tips For Slowcooker Success help you too! And I'd love your comments if you have any tips to add!
Use the right size slow cooker. I have three slowcookers. The largest is a 6-quart which is great when I'm making sauces or soups as I'm often making enough that I can freeze extras for another meal (like this Homemade Spaghetti Sauce). The next size is a 3 quart. This is great when you have 2-3 pounds of meat that you are cooking. It's small enough to get the job done but the size is not so big that the meat cooks too fast which can result in dry, overcooked or tough meats. The other size is 1.5 quart. I rarely use this one but it's nice for parties when you have a warm dip you want to serve and keep warm throughout the party. There are a lot of different sizes now–you can find one just for casseroles, the kind that click together for a buffet. I even found one that you can take to work so you can heat your lunch on the go! Here are a few of those that I saw at Target recently.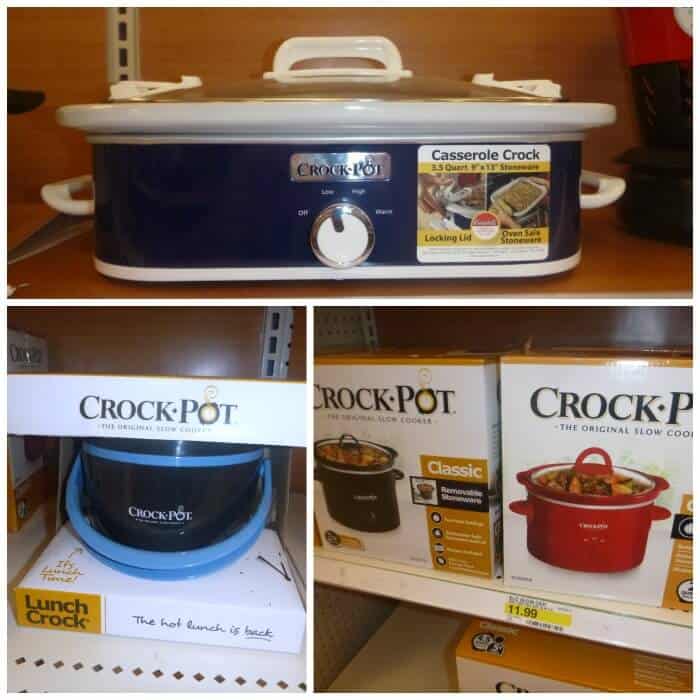 You can find slowcookers in all kind of places! Department stores like Macy's (use a coupon!), discount stores like Target or Wal-mart, even grocery stores. I've seen a few at my local Kroger for 25% off the regular price. I got mine at Bed, Bath and Beyond (and used a coupon!). There's also online, of course, which is a great place to start doing some research to help choose the right model for you and your family. These Name Your Link
can get you going.
Choose a slowcooker with a timer. A couple of years ago I replaced my original slowcooker with a newer one that has a timer. What I love about it is that I can set the time for the amount called for in the recipe and then it will automatically switch to warm so that it doesn't overcook our meal. This is especially nice because sometimes activities don't always go as planned and we're not home to eat as soon as the meal is cooked.
Convert regular recipes into slowcooker recipes. Yep, you can convert many of your traditional recipes to be made in the slowcooker! I have found this works really well with soups, chilies and sauces but you can experiment with other recipes too (I like to try to make anything I sauté and simmer in a pot in the slowcooker too). So, I've created a handy Slowcooker Recipe Conversion Chart that you can download for FREE and start using with some of your favorite recipes too!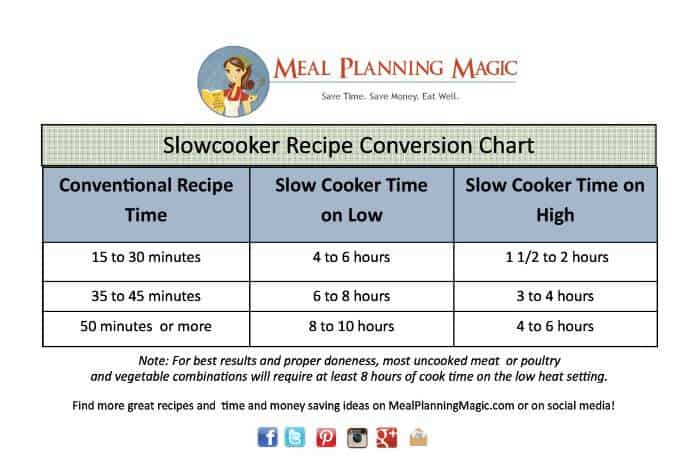 If you're converting a regular recipe to a slowcooker recipe, start with less liquid. Remember, there is no evaporation so you don't want your meal to be too diluted. Trial and error will help you learn what's best but usually you can start with about a quarter to half as much liquid as you would for a regular recipe. Before converting recipes, check the manufacturer's guidelines for your particular slow cooker. Locate a recipe similar to the one you want to convert. Use it as a guide. Note the quantity and size of meat and vegetable pieces, heat setting, cooking time and amount of liquid. Since there is no evaporation, adjusting the amount of liquid in your recipe may be necessary. If a recipe calls for 6 to 8 cups of water, try starting with 5 cups. Conversely, recipes should include some liquid. If a recipe does not include liquid, add a ½ cup of water or broth.
Have you ever had a much-loved recipe, say for a soup or roast, that you normally make on the stovetop or in the oven but wish you could throw into the slowcooker and come home to at the end of a long day? Obviously you can't just cook it the same amount of time as you normally would but how do you know how long to cook it for with out over cooking it? Check out this handy slowcooker conversion chart to help you out! Print it out, put it in your Meal Planning Binder and you're good to go on having dinner waiting for you and ready to eat when you are!
Happy cooking!
Sear or brown meat first. I often get asked this question in my workshops. While it's not required for cooking, browning meat for a few minutes before putting gin the slowcooker can create the flavor that is familiar in non-slowcooker recipes but also gives it a look that is more appetizing.
Add (most) dairy and pasta at the end. There are many recipes I have tried that call for the pasta to be added with all the other ingredients but I have found that it can make it really mushy and unappetizing. The one exception I've found is with slowcooker lasagna but when I make that, rather than cooking the noodles ahead of time, I just put them in uncooked and they come out just fine! Dairy is also best to be added near the end, generally the last 30 minutes or so just enough to heat through. Otherwise it can curdle. I will say an exception to this is when the amount of dairy is far less than the majority of the other ingredients—like baked potato soup.
Choose the right cut of meat. This is most challenging for me! The bonus is inexpensive, tougher cuts of meat can be turned into moist and tender dishes thanks to the slow and low moist cooking a slowcooker provides.
Prep things early (and even the night before). If it's a sauce you need, you can make that ahead of time and keep it in the fridge. Then it's easy to dump everything in with all your ingredients, turn it on and walk away. Perfect for those busy days that start the minute your feet hit the ground out of bed!
Double what you make and freeze some for later! If you have the room in your freezer, this is the ultimate in making the most of your time in the kitchen. Imagine how great it will be to throw everything in the slowcooker, come back several hours later then freeze the extras to pull out on another busy weeknight when all you need to do is thaw and heat and eat!
Use your slowcooker when you're hosting guests. Not only is it a great way to have a meal prepped and ready when your guests are ready to eat, your slowcooker is also great to have on hand to keep food warm during a party. I've borrowed my friends' slowcookers before just for this reason! I make my Crockpot Lasagna Soup for guests often—it's always a favorite!
Add ingredients in the "right" order. Ok, for many slowcooker recipes like soups or sauces or other things you stir together, this doesn't matter too much. But for stews and soups, put the veggies on the bottom and sides of your slow cooker, placing the meat on top. This allows the meat to cook with the heat from the slowcooker that makes it and add the juices to the vegetables.
If you need more slowcooker inspiration, be sure to check out the Slowcooker Recipes section on my blog's Recipe Index for recipes (with more coming as soon as I can take the pictures—that's what takes the longest!). I also have a whole Pinterest Crockpot Recipes board dedicated to collecting recipes and it's probably one of the boards that I pin to the most often. And if you're on Facebook, be sure to check out the Tasty Slowcooker Recipes group—I'm a contributor and there are tons of great recipes shared daily by other bloggers.
Disclaimer: This posts contains affiliate links which means if you choose to purchase an item through that link, I will receive a small percentage of the sale, AT NO EXTRA COST TO YOU, as a thank you for the referral. Thanks for your support!