This post may contain affiliate links. Please read my disclosure policy.
Cocoa peppermint pretzel cookies are an easy holiday cookie idea! These festive cookies are made from scratch, perfect for a Christmas cookie exchange!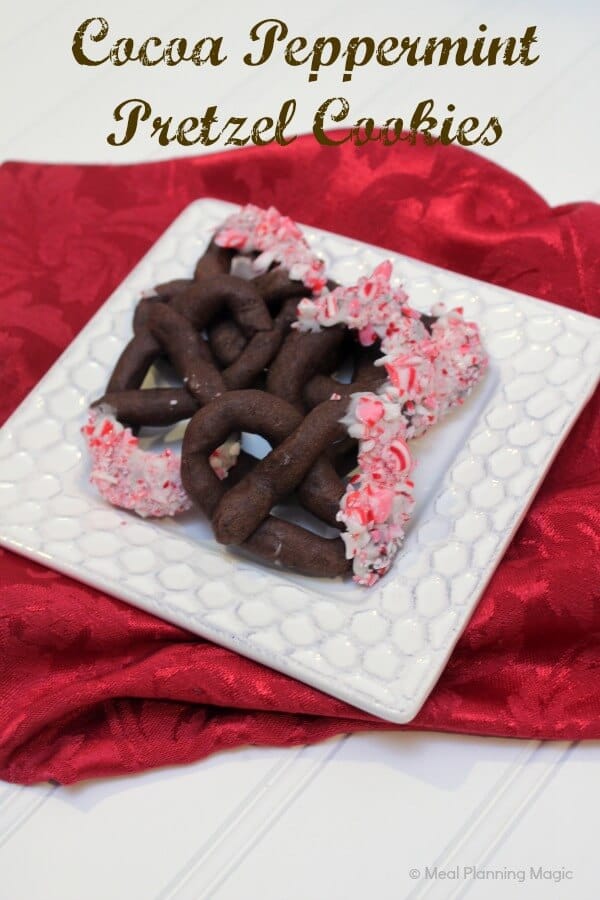 These tasty little Cocoa Peppermint Pretzel cookies are a delicious way to kick off this year's 12 Weeks of Christmas Treats blog hop! Yes, I know, I know. It IS only September, but  before you know it, the holidays will be here.  Over 20 other bloggers and I (and counting) will be joining up each week to share with you delicious recipes for our favorite sweet treats. The idea is that not only will you get a lot more holiday recipe ideas, but ideally you can make these holiday treats ahead of time and freeze so that you will have goodies ready to go for gift-giving, hostess gifts and even your own holiday tables.
I discovered this cocoa peppermint pretzel cookies recipe when flipping through The Cookie Party Cookbook that I had picked up from the library. Not only are there a ton of terrific looking cookie recipes in this book, the author also gives all kinds of tips on how to host a cookie exchange party.
These cookies may look difficult to make, but they're really not. Even kids will have fun rolling out the dough, crushing the peppermint and making the pretzel shapes.
These cocoa peppermint pretzel cookies will be a fun addition to any holiday cookie tray. I hope you'll give them a try!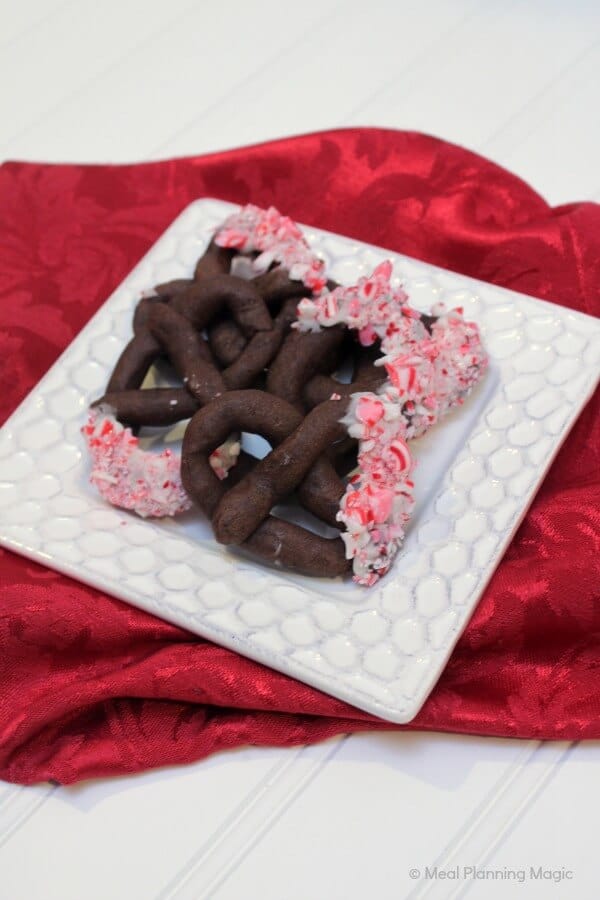 Cocoa Peppermint Pretzel Cookies
Adapted from "The Cookie Party Cookbook" by Robin Olson.
Ingredients
2 ½ cups all-purpose flour
½ teaspoons salt
½ cup unsweetened cocoa powder
1 cup confectioners sugar
1 cup butter, softened
1 large egg
1 ½ teaspoons vanilla extract
½ cup white chocolate candy melts (or white chocolate chips)
1 teaspoon shortening
⅓ cup crushed peppermint candy
Instructions
Preheat the oven to 375 degrees.
In a large bowl, using an electric mixer, combine the confectioners' sugar, butter, egg and vanilla and beat until light and fluffy. Gradually add the flour mixture to the creamed mixture and beat on low speed until a soft dough forms. Cover the dough in the bowl with plastic wrap. Chill for 2 to 3 hours, or until firm.
Using about a tablespoon of dough, roll into 9-inch ropes about ½-inch in diameter. Shape each rope into an upside-down U. Bring the ends together and twist in the middle. Take the ends to the top of the pretzel and press the dough to secure. Place the pretzels 2 inches apart on ungreased baking sheet. Bake for 9-10 minutes, or until set. Cool completely on baking sheets.
Melt the candy melts according to the package directions. Use shortening, if needed, to make smoother dipping consistency. Dip one side of pretzel into the melted chips, then roll the dipped side into the crushed candy. Place the pretzels on wax-lined baking sheets and let dry completely before serving.
Store in an air-tight container for up to a week or in the freezer for up to 3 months. Layer in container with wax paper between layers to prevent breakage.
Notes
Recipe printed from www.mealplanningmagic.com
Be sure to check out our Pinterest board for all the great ideas too—it's a great way to keep track of your favorites.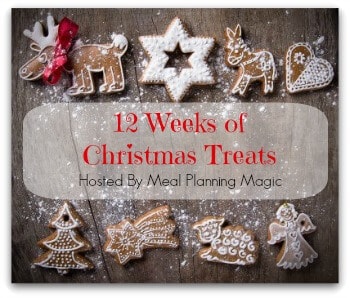 Don't want to miss a recipe? Then be sure to  CLICK HERE  so you can subscribe to all the updates.
Besides sharing holiday recipes like these cocoa peppermint pretzel cookies, I also share all kinds of meal planning and kitchen organization ideas.
It's simple, and you'll also receive weekly inspiration in you inbox!
And be sure to check out the links below for all the bloggers who are sharing their own recipes this week! If you're a blogger and want to join in the hop, you can find more details and SIGN UP HERE.