This post may contain affiliate links. Please read my disclosure policy.
Easy Slow Cooker Soup Recipes make meal planning a breeze! These 25 Easy Slow Cooker Soup Recipes are all delicious and pretty quick to put together, too! Plus, I provide meal prep for soup tips also.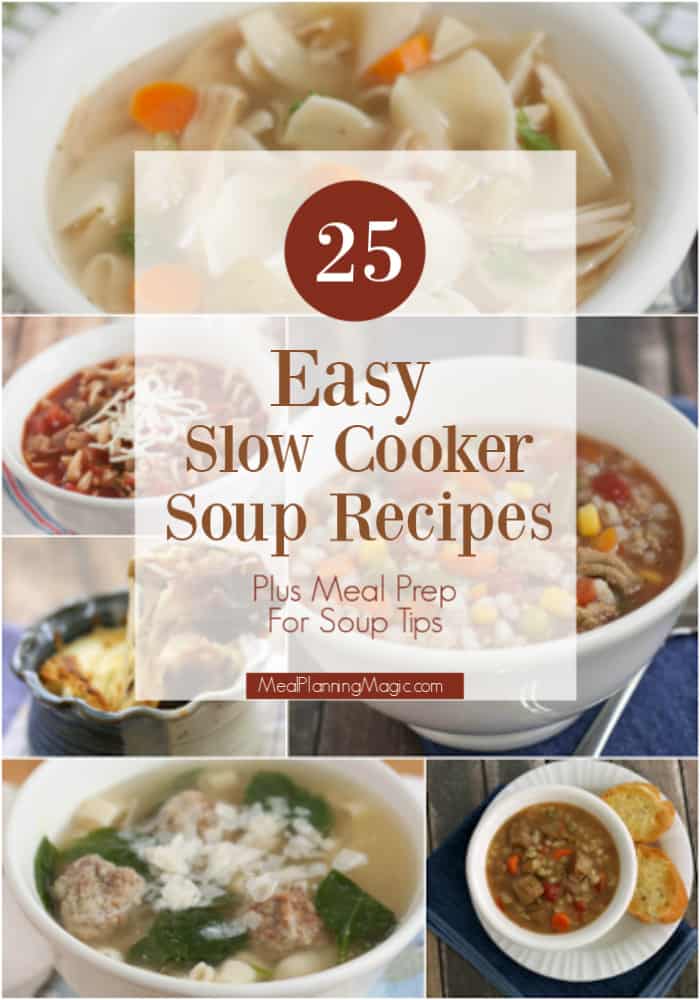 It's January and for my part of Texas, it's a mixed bag on whether it will be cold one day or warm the other. Either way, I consider this time of year soup weather!
Did you know that January is National Soup Month? No wonder, there's something about soup that makes it so appealing in the winter time. It's sure to warm you up when you're chilled, soups are true comfort food that are also crowd pleasers.
When I was growing up, I can remember, my mom saying on a cold day, "It's a soup kind of day!" I especially love soups made in the slow cooker.
Soups are a relatively easy meal to prepare: just prep the ingredients, add to the slow cooker so it can do its work for you and at the end of a long day, dinner is done!
There so many different combinations of flavors that can be enjoyed in a soup too. Whether you're looking for creamy comfort food, crockpot soups for a crowd (a simple meal idea for groups!) or vegetarian options, there are tons of options.
Plus, it's a great way to get all your veggies and protein in one meal!
I've got lots of tips in my 10 Tips for Slow Cooker Success post here, including a recipe conversion chart that helps you turn your favorite stove top recipes into slow cooker recipes.
Read on for some other tips, especially for making soups, in a slow cooker.
How Do I Make Soup in A Slow Cooker?
Making soups in a slow cooker is easy because most recipes require minimal prep work.
Most crockpot soup recipes will have a cook time setting option of LOW or HIGH. This is helpful so that you can set it depending on what your schedule is like. I generally like to choose the LOW setting if I have the time as the flavors seem to be able to blend longer, you know?
But for many recipes, HIGH is just fine too! Try it both ways with your favorite recipe sometime and see what you like better.
Soups usually make a pretty large batch so I use my six-quart size slow cooker. I got it a few years ago and I especially love that it is programmable. It has a built in timer that will switch it to "keep warm" when the cooking time is over so things don't get overcooked. This is my favorite one!
Tips for Meal Prepping Crockpot Soup Ingredients
Much of the meal prep can be done ahead for crockpot soups. You can even make up freezer friendly "meal kits" so that all you need to do is add the soup ingredients to your slowcooker, set it to cook and go.
Sometimes I will do this the night before the day I plan to make the soup. Sometimes I'll add the ingredients to a freezer safe container or ziptop bag and store in the freezer.
I will also often do what I call "half-meal-prep". This means if there are meats to be cooked ahead, such as browning ground beef or cooking and shredding chicken, I'll go ahead and do that ahead of time.
When a recipe calls for the meat to be browned, try to do this. It just deepens the flavor. It also allows you to drain off any fat so that it's not all left in the soup.
When prepping my "kit", I will often measure out herbs and spices too. Depending on how much space I have in my freezer or refrigerator, I will sometimes add pantry or frozen ingredients such as frozen vegetables, uncooked rice, canned tomatoes or beans for example.
Vegetables and meat should be cut to relatively the same size. This help things cook more evenly and can prevent overcooking if you're waiting for something that needs a longer cook time due to it's size.
I usually wait to add the liquid until I'm assembling the ingredients in the slow cooker. I figure why take up the extra space in the freezer when that's easy enough to add right before cooking, you know?
Pastas should be left out of the soup until the last bit of cooking, otherwise they will become mushy and unappealing.
Idea for Storing, Reheating and Freezing Easy Slow Cooker Soup Recipes
Storing Leftover Soup
Be sure to let the soup cool before putting it in the refrigerator. I will usually set myself a timer so I don't forget about it! Transferring the soup to air-tight freezer-safe containers helps you save time if you decide to transfer the soup to the freezer.
Reheating Leftover Soup
Warm the soup in a medium saucepan over medium-low heat, stirring occasionally until warmed through. Resist the urge to warm it at a higher temp as this will often lead to burnt soup. Trust me on this one—I have been there, done that!
Sometimes you might need to add a little more liquid—water, milk, broth, etc.—to thin the soup.
Freezing Crockpot Soup
If you're going to be freezing your leftover soup, I love to use SouperCubes. They can seem a bit pricey at first but I seriously use mine ALL THE TIME for far more than just soup. The nice thing is that whatever you freeze in them comes out in a uniform shape in half-cup, one-cup or two-cup portions making freezer organization easier.
Of course, there are lots of other options too, just be sure to make sure they say they are freezer safe so they don't crack or give you other problems when changing temperature.
Soups can be kept frozen in the freezer for up to three months (sometimes longer). Just be sure you label and date the soup.
I also always, always, use these reusable freezer labels to label what I put in the freezer. I have tried relying on my memory and it often just doesn't work out! You can find more tips for freezer meal success by checking out this post.
I was inspired by National Soup Month and wintertime, to collect a bunch of Easy Slow Cooker Soup Recipes from my site and other bloggers. Many are from my own site (if not noted, they are from my site). I can't wait to try several of these myself–enjoy!
Chicken or Ground Turkey Soups
Beef or Pork Sausage Soups
Meatless Soups
This post is an update from my 2014 post. I've added 30 new slow cooker soup recipe ideas and some extra tips for making soup in your slow cooker!
Be sure to check out my Amazon Shop to discover the many items I use in my own kitchen. Meal Planning Magic is a participant in the Amazon Services LLC Associates Program, an affiliate advertising program designed to provide a means for sites to earn advertising fees by advertising and linking to Amazon.com. Ordering products mentioned here are at no extra cost to you. Thank you for your support.