This post may contain affiliate links. Please read my disclosure policy.
Making your own Homemade Lemonade Concentrate for the Freezer is super easy and lets you enjoy fresh lemonade year round!
Be sure to sign up for my email list to get new recipes and ideas in your inbox!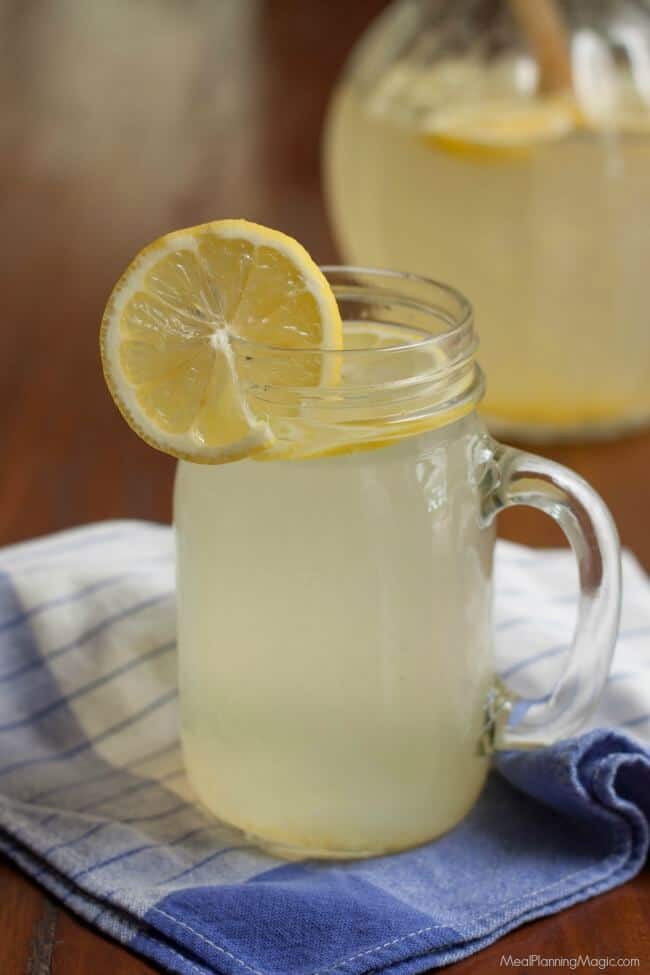 CLICK HERE to save this recipe to Pinterest so you'll remember to make it later!
If you've been following me awhile, you may remember that we moved to our new-to-us house just a little over three years ago. We LOVE so many things about our house but I was especially excited to find that that previous owners had planted a lemon tree and it was a mature one that produced many, many lemons! We give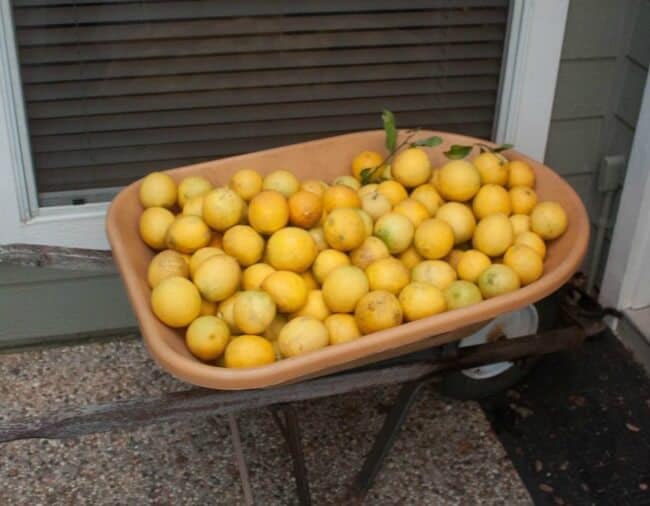 ive away a lot of lemons because we have SO many but I also like to juice, zest and freeze the lemons to use in recipes throughout the year. You can find out more about how I do that by 3 Ways to Preserve Lemons for the Freezer. After juicing all those lemons by hand for a couple of years, I ended up purchasing an electric juicer last year and it is soooo much easier!
We love to make homemade lemonade! But after making the concentrate from scratch each time I wanted to serve it, I went on the hunt to create a Homemade Lemonade Concentrate that I could have on hand in the freezer to make by the glass or by the pitcher. So I made up big batches of the concentrate and then froze them in individual silicone muffin cups. Because they're flexible, they make it much easier to pop out and store in a large zip top bag in my freezer.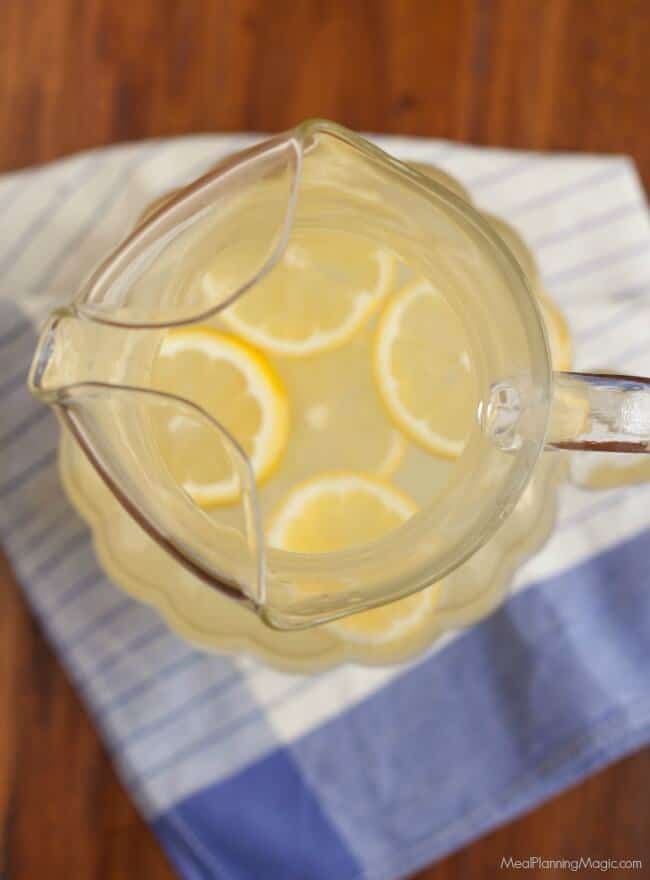 Another thing about making your own Homemade Lemonade Concentrate is that you can control the amount of sugar in your lemonade. Did you know that commercially prepared concentrates are normally full of high fructose syrup! They taste super sweet to me know that I make my own and can balance the actual lemon flavor with the sugar.
This Homemade Lemonade Concentrate is quite easy to make. If you don't want to freeze it all, you can just make some up right away. The ratio of concentrate to plain water to make homemade lemonade is about three to one. Feel free to tweak it to your taste.
Be sure to check out these other recipes for using fresh lemon juice. They are some of our favorites!
Refreshing Watermelon Lemonade Slushie
Meyer Lemon Blueberry Muffins
Sticky Lemon Bread made with Greek yogurt
Soft Lemon Honeydrop Cookies
Next year (or maybe the year after that) we hope to have a lime and grapefruit tree too thanks to some generous neighbors who gave us some branches to graft onto a sour orange tree my sister-in-law gave us. Three different kinds of citrus on one tree? I'm excited about that! Maybe you'll be seeing some more citrus inspired recipes as a result!
This Homemade Lemonade Concentrate is so easy and delicious you'll be glad to have some on hand to enjoy any day of the year!
Sign up to receive an email in your inbox for each new recipe and get a FREE menu plan printable: FREE EMAIL SUBSCRIPTION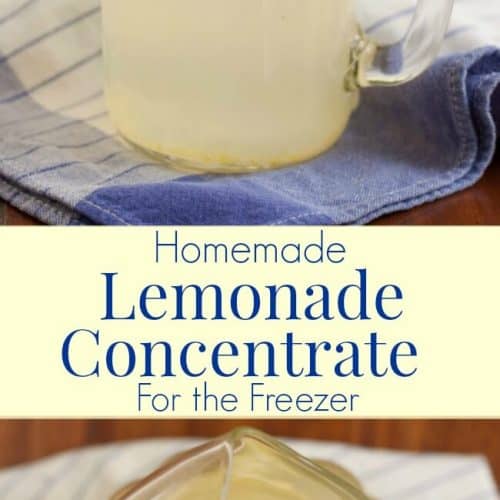 Ingredients
2

cups

water

3-4

cups

granulated sugar

2

cups

lemon juice

2

teaspoons

lemon zest
Instructions
In a large saucepan, add the water and sugar and whisk together to blend. Bring to a boil and cook until all the sugar is dissolve. Stir regularly so it does not burn.

Remove pan from heat and let it cool slightly.

Add lemon juice and lemon zest to the sugar syrup and stir to blend. Allow it to cool to room temperature.

Meanwhile, prepare a muffin tin. I like to use silicone cups placed on a baking sheet so that they are easy to pop out when frozen. If you don't have silicone muffin cups, you can use a regular tin. You will need to run it under warm water to pop them out more easily.

Pour Homemade Lemonade Concentrate in prepared muffin cups. Place pan on flat shelf in freezer. Freeze until solid (at least 2 hours). When frozen, pop out concentrate and store in a labeled ziptop bag.

To prepare Homemade Lemonade from concentrate:

By the glass: add ¼ cup concentrate to 8-10 ounces of cold plain water

By the pitcher: add 1 cup concentrate to 32 ounces (4 cups) of cold plain water

Stir to blend.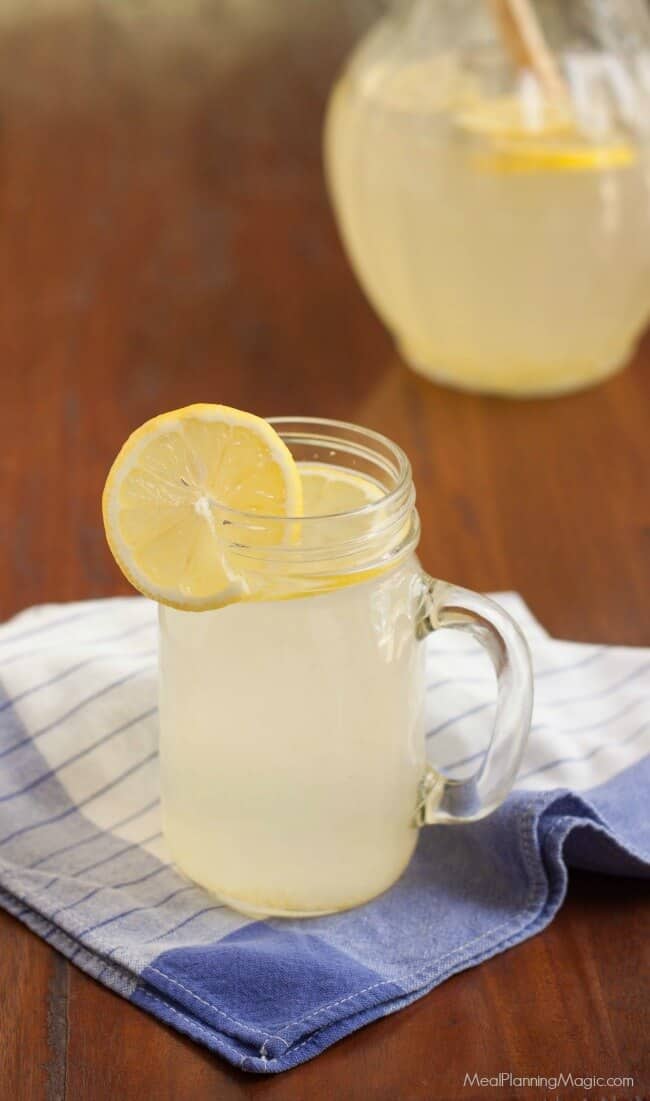 Have a question or want to share recipe ideas with others? Then join my private Facebook group, Meal Planning Magic Community Table here. If you've already joined, be sure to add your friends that may find it helpful too!
And don't forget you can always follow me on Facebook, Twitter, Pinterest , Instagram or Google+. And don't forget to sign up for my email list here so you never miss a new post! Each of these ways to connect all offer a little something different and are a great way to stay in the loop on new menu plans, recipe ideas, giveaways, organizing tips and more! Want to know what items I'm using in my own kitchen to help streamline my time there? Then check out my Amazon Shop (see disclaimer in footer below this post)
Click on the photo below to browse more of my recipes!