This post may contain affiliate links. Please read my disclosure policy.
Easy and delicious Crock Pot Italian Wedding Soup is a family favorite filled with delicious mini homemade meatballs, spinach and pasta. Make and freeze the meatballs ahead of time to make this an even easier weeknight dinner.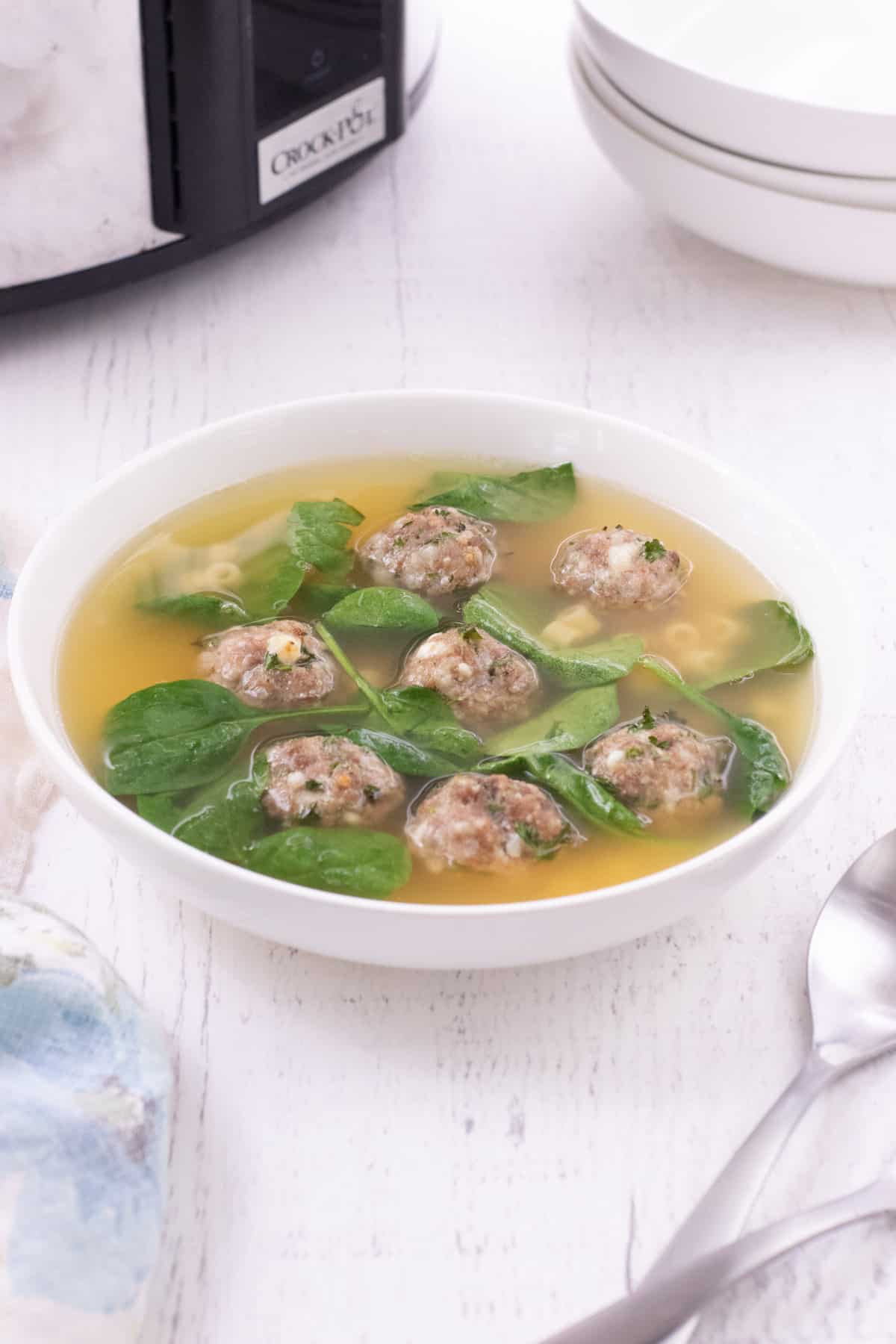 Why We Love This Soup
I love a good soup! And especially one that I can make in the slow cooker like this Crock Pot Italian Wedding Soup. It's so easy to prep the ingredients for the slow cooker. Then just turn it on to cook for a few hours and you'll have a warm, comforting meal ready at the end of a long day.
I adapted this recipe from one that I found in a Crockpot cookbook. It's is a hit with my family every time I make it. The mini meatballs along make this soup extra delicious. I seriously eat can't stop eating them before I add them to the soup!
Best of all, the mini meatballs can be made ahead. I will sometimes make up a big batch of the meatballs, bake them then freeze them and keep in a freezer safe bag (affiliate link). By doing this, I can assemble this soup even more easily.
I also like that this soup includes spinach. I'm always looking for ways to add more vegetables to our diet and this is a great way. Just like my Rustic Italian Sausage Tortellini Soup, 10 Minute Parmesan Spinach Couscous or Skillet Stovetop Lasagna.
But most of all, you can't beat the flavor of this Italian Wedding Meatball Soup. If you like a good chicken noodle soup (like my Homemade Slow Cooker/Instant Pot Chicken Noodle Soup), Italian wedding soup is a unique twist on that with meatballs instead of chicken.
How Did This Soup Get It's Name?
I used to think that this soup got its name from how it was served…at Italian weddings was my guess. Some quick research tells me that the name means that it is simply an Italian soup that consists of green vegetables, meat and small pasta.
It is a popular soup in the United States and can usually be found at many Italian restaurants. The wedding reference comes from the idea that the flavors of meat and greens are "married".
Ingredient Tips For This Recipe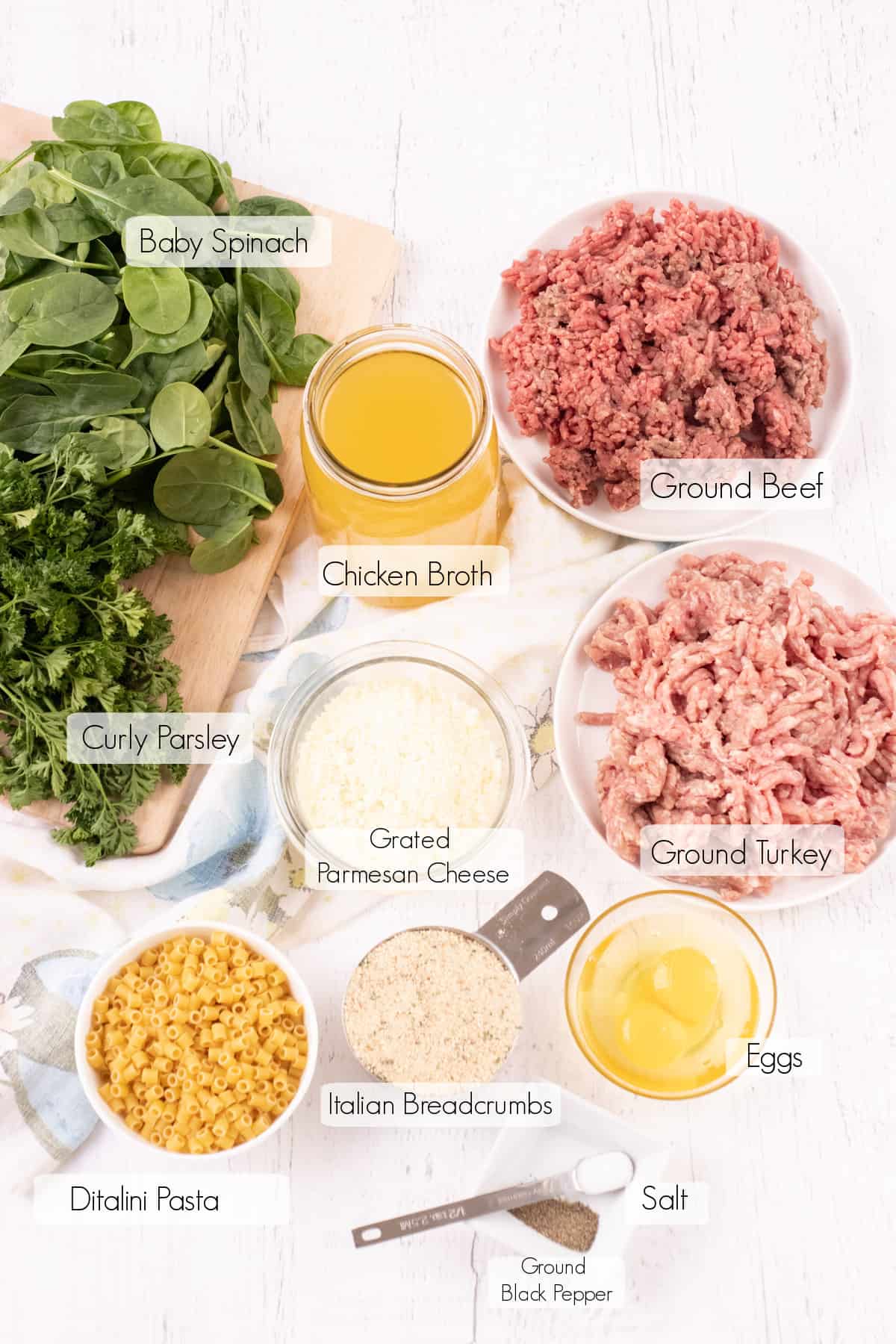 All of the ingredients for this Crock Pot Italian Wedding Soup can easily be found at the grocery store. I'm sharing a few tips here to help you prep them.
Ground Pork – Depending on the grocery store, finding the ground pork can vary. Sometimes I find it in the pork section. But at one the stores I shop at often, it can frequently be found near the ground turkey, ground sausage or other ground meas.
The combination of the ground pork, ground beef and grated cheese make the mini meatballs SO delicious!
For the parsley, I will sometimes use my handheld food chopper (affiliate link). It makes it much easier to chop it quickly and evenly. Of course a large chef's knife does the job too.
Ditalini is a small round pasta. It's like a really small tube. If you can't find ditalini, you can substitute any other small pasta shape like orzo, cavatelli or stelline. I buy these in the dried pasta section of the grocery store.
Easy Steps To Make This Soup
To make this Crock Pot Italian wedding soup, start by making the meatballs. They are simple to make but do a little bit of time. Sometimes I will double the meatball recipe. This way I can freeze some to have on hand anytime I'm in the mood for soup.
The original recipe called for the meatballs to be prepped but cooked in the broth. After a few times of trying it this way, I discovered the meatballs broke down and turned into a mushy mess.
So I turned to a favorite technique of mine, batch baking. When I make the meatballs ahead of time, they hold their shape better in the soup as it cooks.
Start by combining the meatball ingredients in a large bowl (1). I will often use my hands to make sure everything blends together well and gets fully mixed in.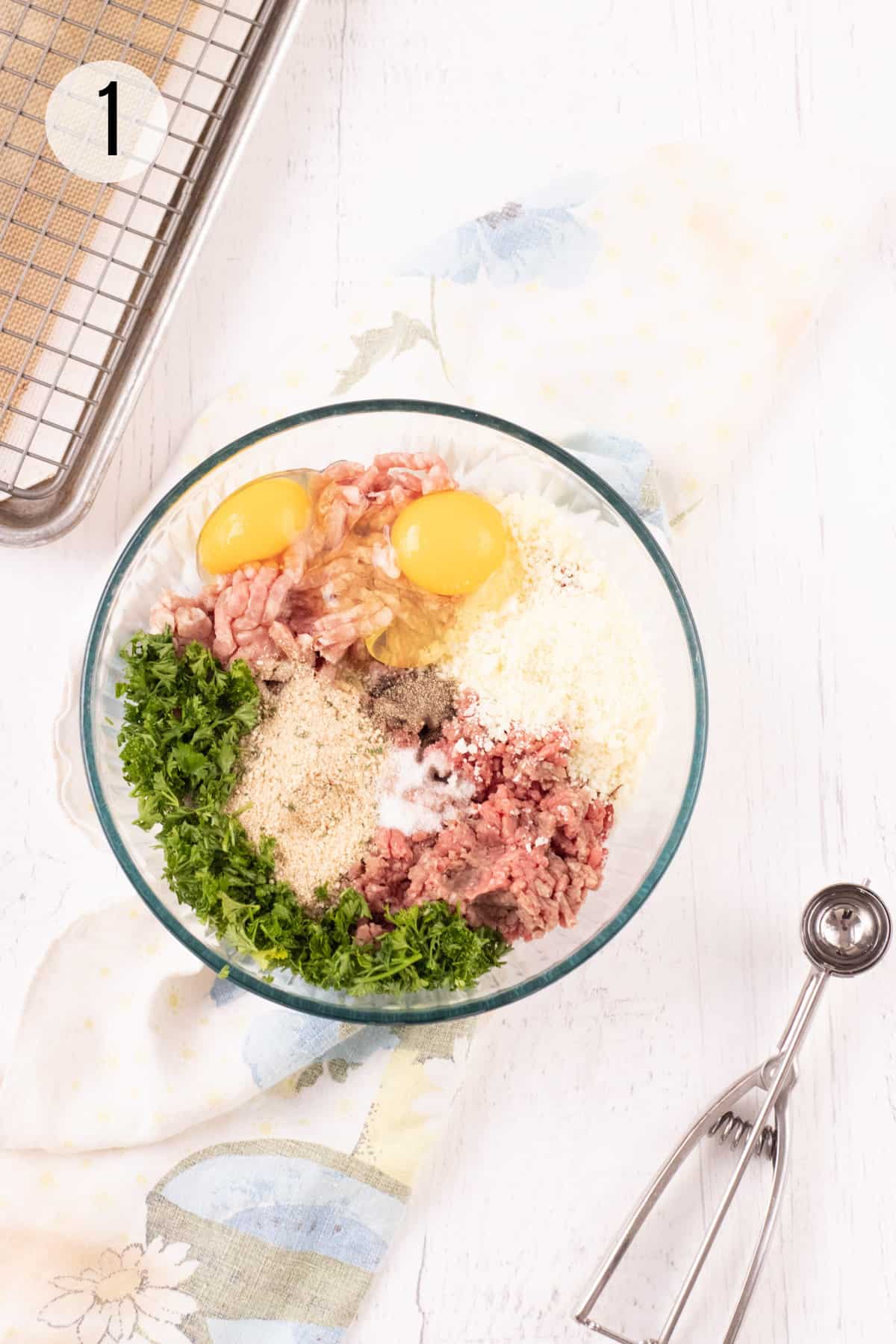 Next, I place a baking rack (affiliate link) on my large baking sheet with sides (affiliate link). I like to line the baking sheet with aluminum foil or use a silicone baking mat (affiliate link) to help make clean up easier.
Next, I use a small scoop (affiliate link) to portion out the meatball mixture onto the baking rack (2). I use my hands to roll the balls into an even shape. I repeat this until all of the mixture is used up.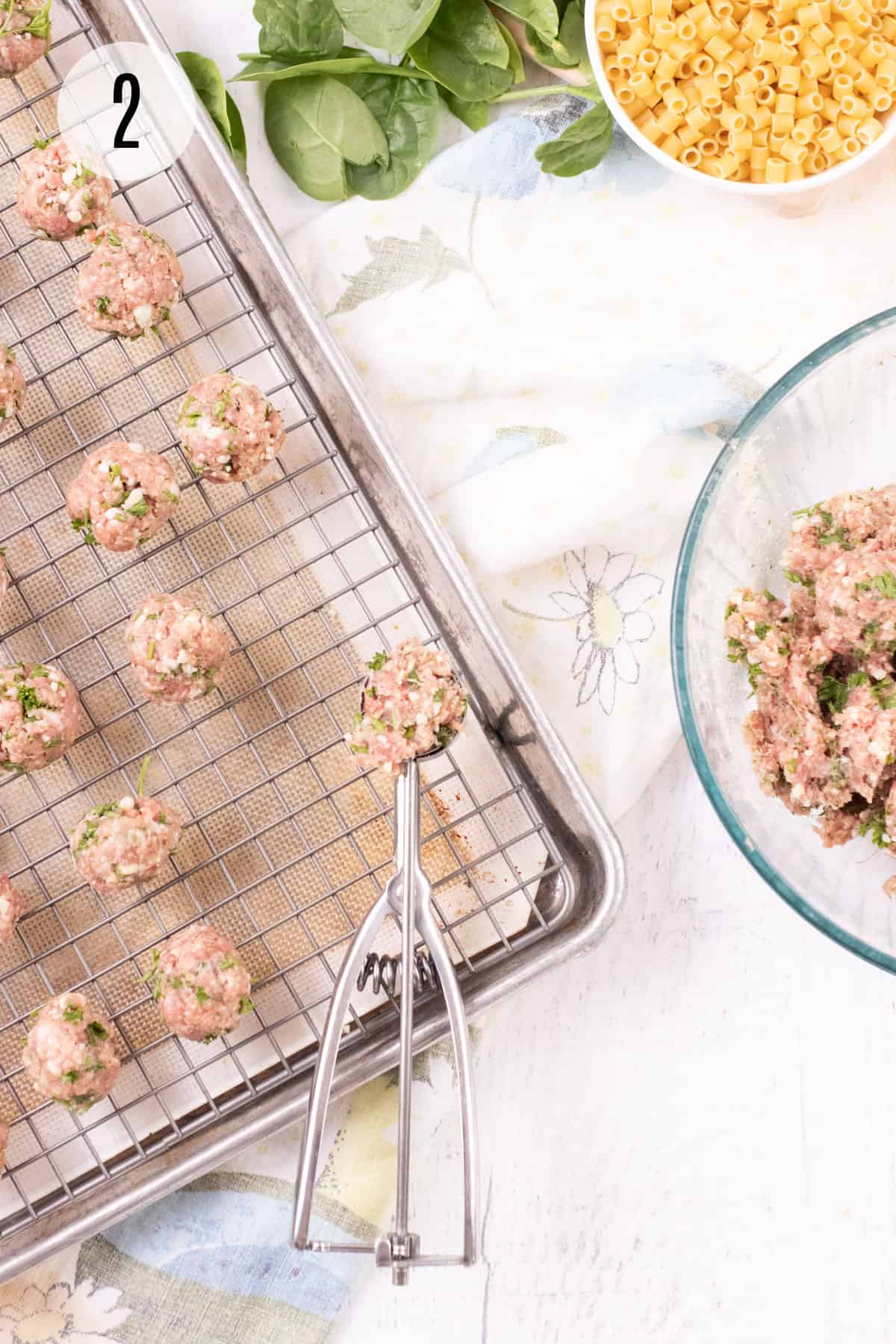 Then it's time to bake the meatballs. It only takes a few minutes for them to bake completely (3). Once they are baked, I will either add them to the soup or set aside some extras to freeze for later.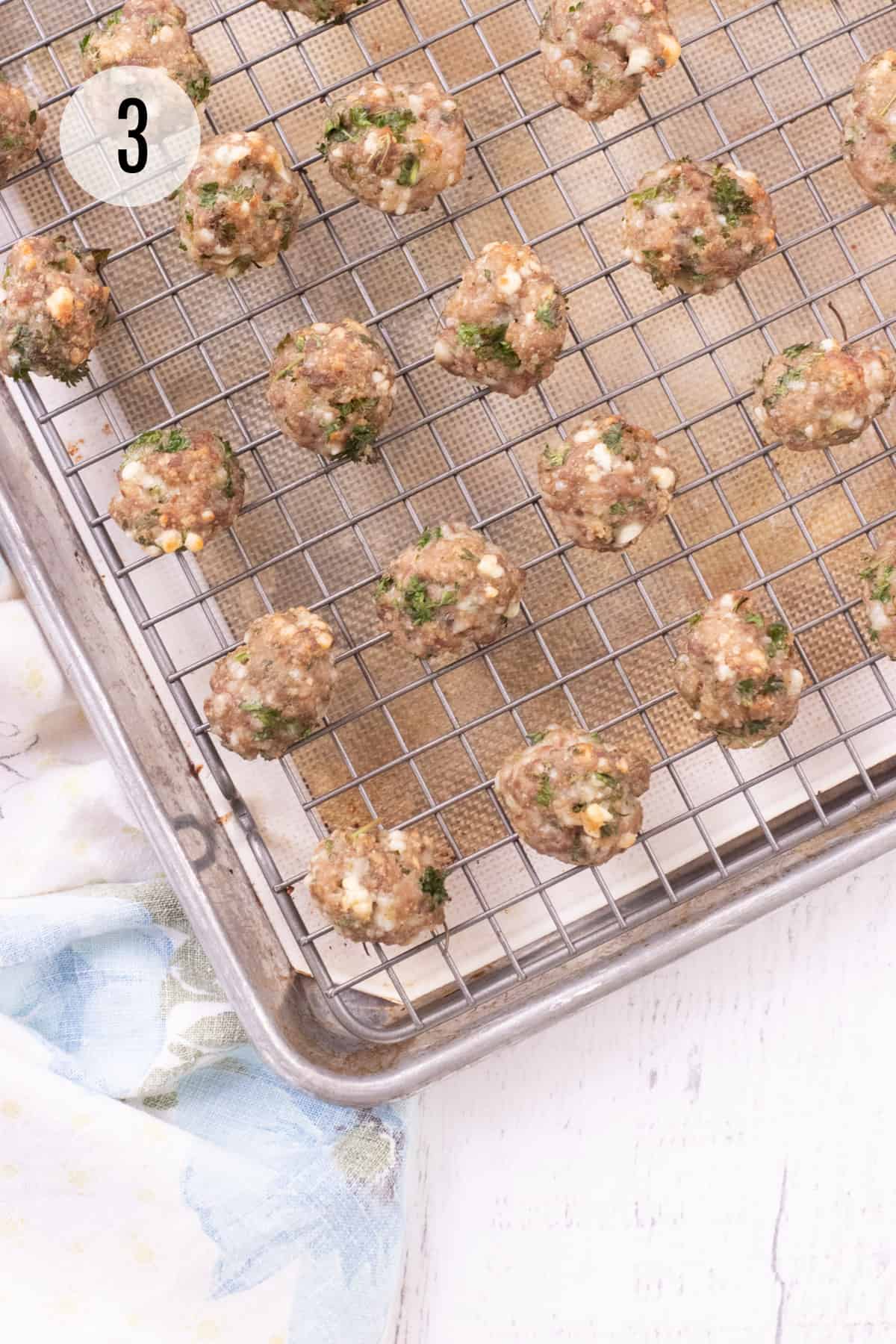 Make Ahead Tips
Since this soup is made in the slow cooker, it's naturally make ahead. But there are a few extra steps you can take to prep the ingredients further.

As I've mentioned, you can make the meatballs in advance. You can make and bake them up to two days in advance and store in the freezer or freeze the meatballs up to three months.
Is this Soup Freezer Friendly?
I wouldn't recommend freezing the cooked soup as the spinach and pasta can get mushy but freezing the meatballs is easy.
After they have baked, allow them to cool slightly before transferring to a large baking sheet (affiliate link). Then place the baking sheet into the freezer and "flash freeze" them until they are solid, about 30 minutes.
Once the meatballs are frozen, you can transfer them to a freezer safe bag (affiliate link) or container and don't forget to Erasable and Reusable Food Labels 2-Pack Starter Kitsdate and label (affiliate link) the bag or container first.
More Slow Cooker Soup Recipe Ideas
I love a delicious bowl of soup, especially when it's made ahead in the slow cooker. Be sure to check out some of my other favorites here.
Originally published in January 2018 and updated in October 2020 with new photos, video and content.