This post may contain affiliate links. Please read my disclosure policy.
Filled with delicious and nutritious ingredients, this simple Italian Sausage Tortellini Soup is bursting with flavor and ready to serve in under 30 minutes!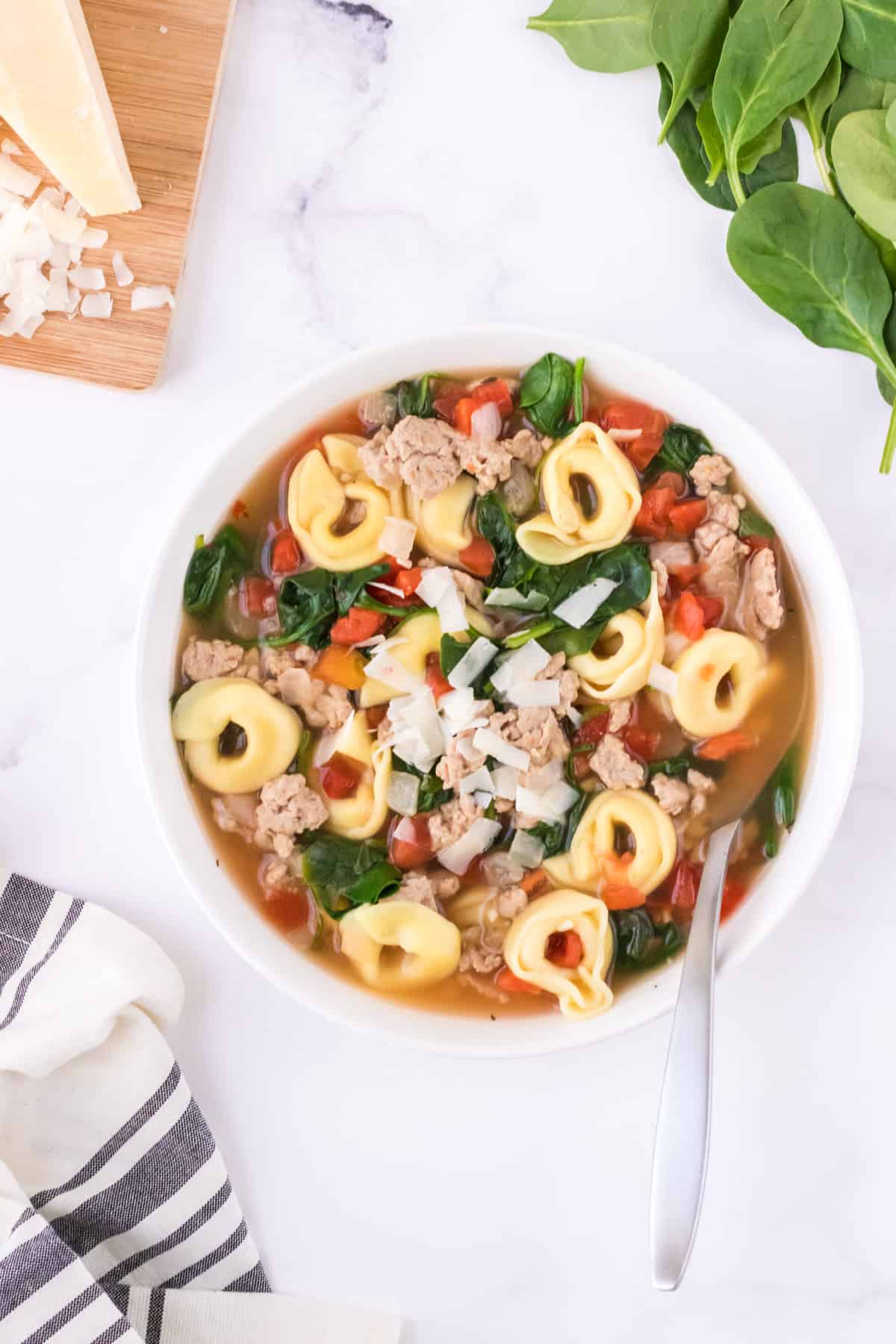 I've been making this Easy Tortellini Sausage Soup for as long as I can remember and it's been a true family favorite since the first time I served it! Inspired by a recipe from Taste of Home's Simple and Delicious magazine, I've modified it a bit over the years to make it even more flavorful.
What I especially love about it is how quickly it all comes together. Seriously, I can throw everything in the pot in about ten minutes, bring it to a boil then simmer for about 20 minutes and dinner is done in under 30 minutes! Some of the steps can even be prepped ahead, making it even faster to assemble when everyone is just ready to eat.
I also love that it uses mostly fresh and minimally processed ingredients (like the canned tomatoes and tortellini) which makes me feel good serving this healthy soup to my family.
Ingredient Tips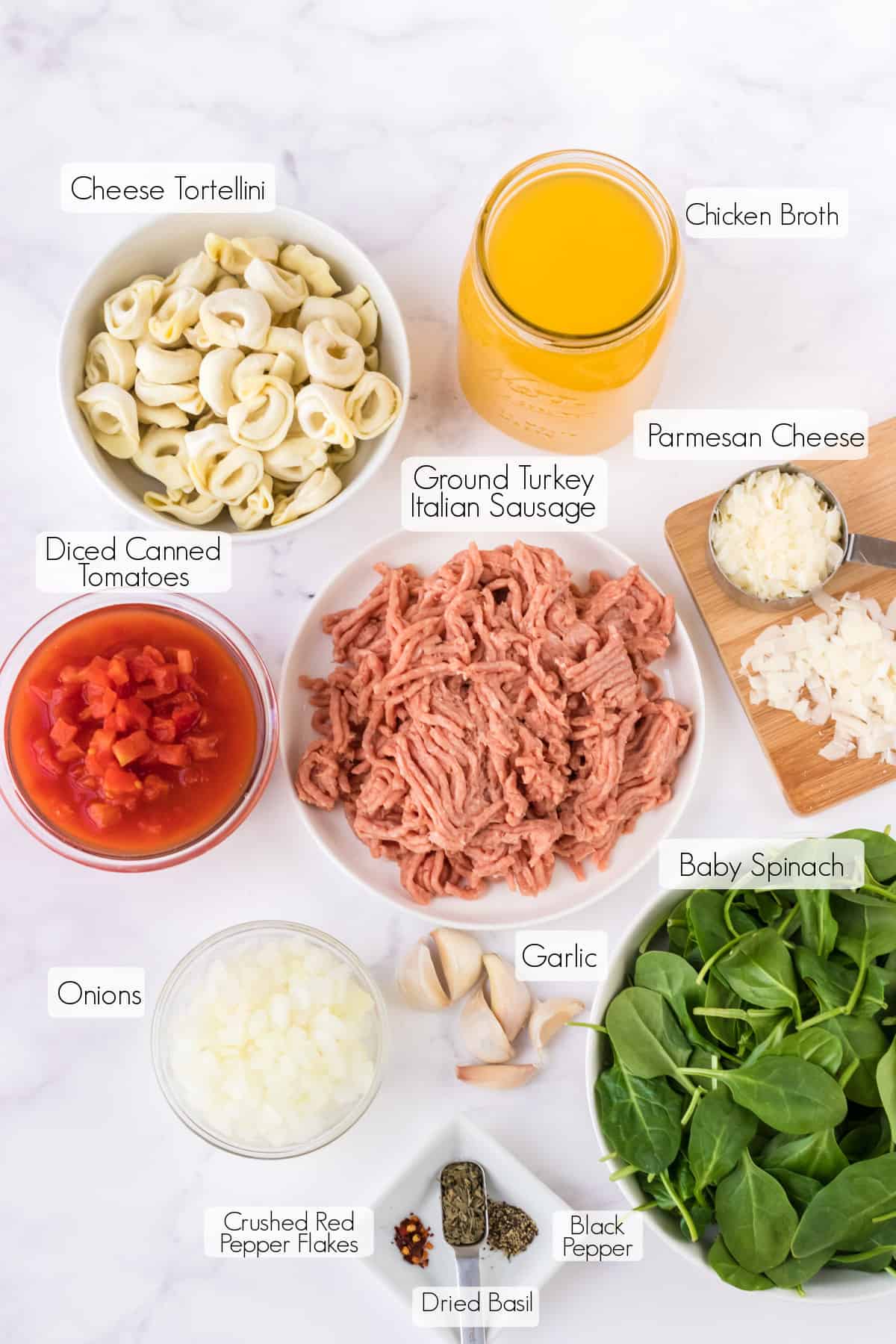 I love that the ingredients for this sausage tortellini soup are fresh or minimally processed and can be budget friendly, too. Here are a few tips for them.
Cheese Tortellini – You can use fresh or frozen tortellini. I prefer the frozen because I can buy it in a big bag and have it in my freezer for other meals too, like to serve with my Homemade Crockpot Spaghetti Sauce. I usually buy the store brand which is either only what the store carries or is less expensive.
Chicken Broth – You can use homemade broth, like a strained version of my Homemade Chicken Noodle Soup or the premade kind. I pretty much always have a case on hand of the boxed variety that I buy at Costco. I use it for all kinds of soup recipes.
Parmesan Cheese – Look for this in the refrigerated cheese section of the grocery store. You can find it grated or shredded and I've noticed that some brands even have a larger shaved version (like what you see in the picture here).
But I like to buy the large chunks of Parmesan cheese at Costco or Sam's Club and use my mini-cube grater (affiliate link) or food processor (affiliate link) to shred or grate it and store in a reusable storage bag (affiliate link) in the freezer. It saves a bit of money and freezes well for up to three months (or more!)
Italian Ground Turkey Sausage – Look for ground turkey sausage next to the ground beef section of the grocery store. There are a couple of brands that have an Italian sausage seasoned variety that is sold just as ground turkey but they also have it available in links.
Sometimes I have used the links and just squeezed the meat out of the casing. If you can't find the Italian turkey sausage, you can substitute another type of Italian sausage (like pork sausage).
Baby Spinach – The original recipe called for regular spinach to be chopped. But, since we use a lot of baby spinach (like in this Mandarin Tossed Salad recipe) and it is so easy to use as is, that's what is used in this recipe.
Garlic – If you're using fresh garlic cloves, I LOVE my garlic press (affiliate link) as it makes mincing the garlic so easy. I do keep a jar of the minced garlic in my refrigerator at all times though as it's great to use in when I don't have fresh on hand.
Onions – Use a mild, yellow onion here. I like to use my handheld food chopper (affiliate link) to make chopping a cinch and with fewer tears! I will also sometimes use frozen chopped onion instead as it is so easy! I keep a bag of this in my freezer at all times too!
Canned Diced Tomatoes – You can find canned diced tomatoes as "regular" diced tomatoes or petite diced. I switch them up depending on my mood! I usually buy the store brand version. Use these in all kinds of recipes like Crockpot Vegetable Beef Barley Soup or One Pan Spanish Rice and Ground Beef Skillet ! They're so versatile.
Dried Basil, Crushed Red Pepper Flakes and Ground Black Pepper – Look for these on the spice aisle of the grocery store.
How To Make This Easy Tortellini Soup
I've said it already, but you will not believe how quick and easy this soup recipe is to make!
Start by browning the ground turkey, minced garlic and chopped onion in a large skillet (1). Or brown this all in a large saucepan to minimize cleanup.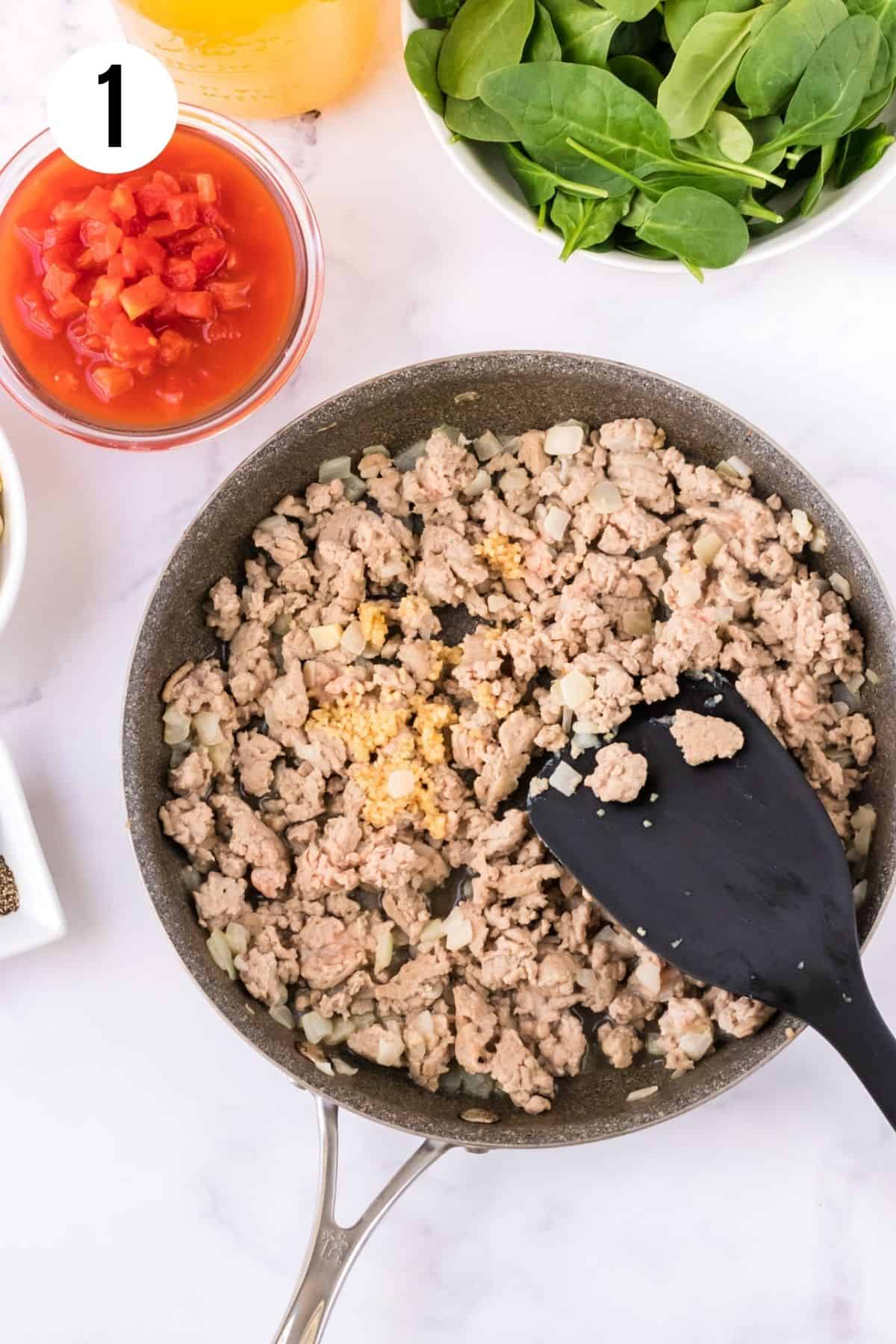 While the meat mixture is browning, you can shred the Parmesan cheese (2) if you're going that route instead of the pre-shredded variety.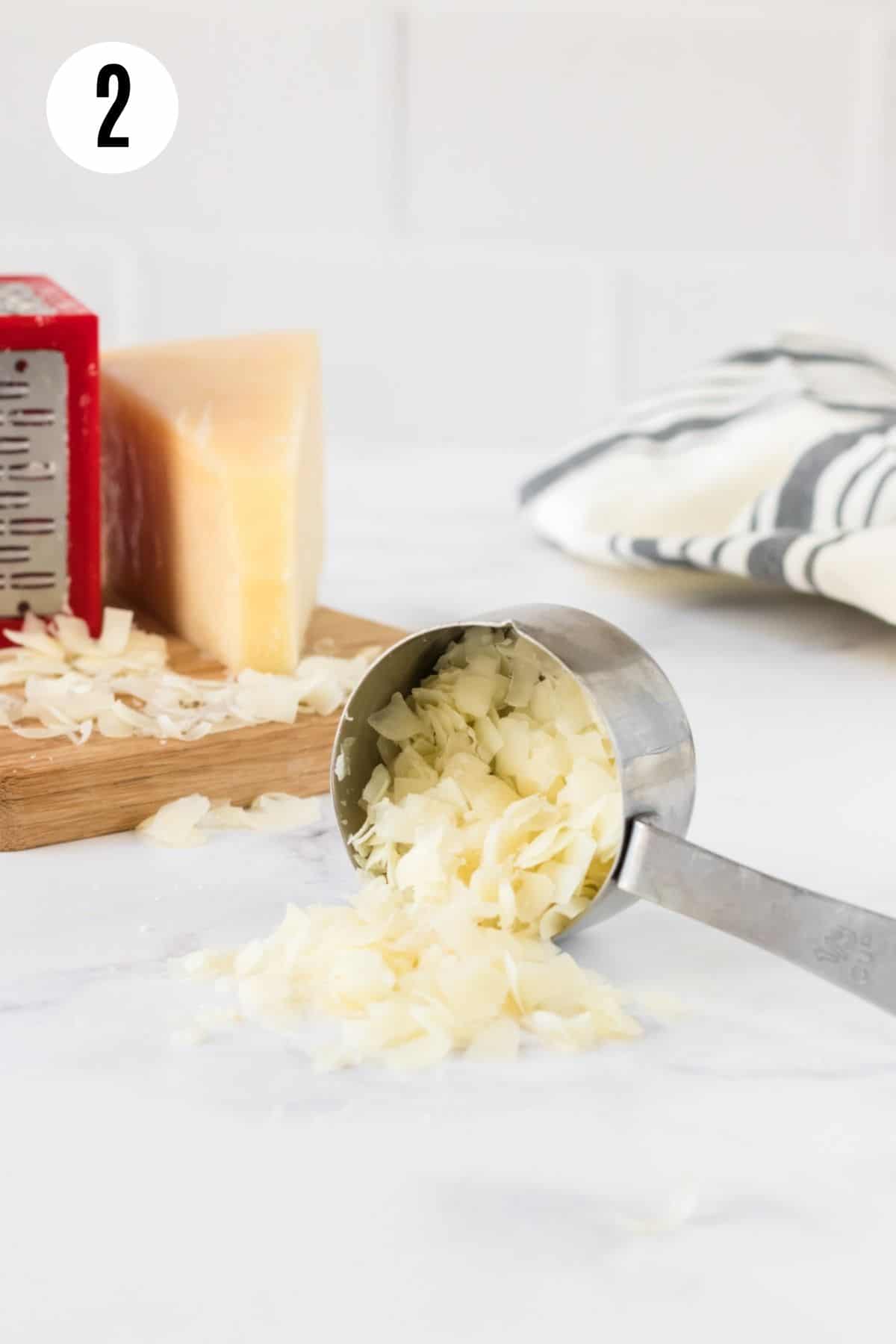 Once you've browned the meat mixture, transfer it to a large sauce pan and then add the remaining ingredients except tortellini and spinach. You'll be simmering this mixture for about 20 minutes before adding the tortellini (3) and then spinach.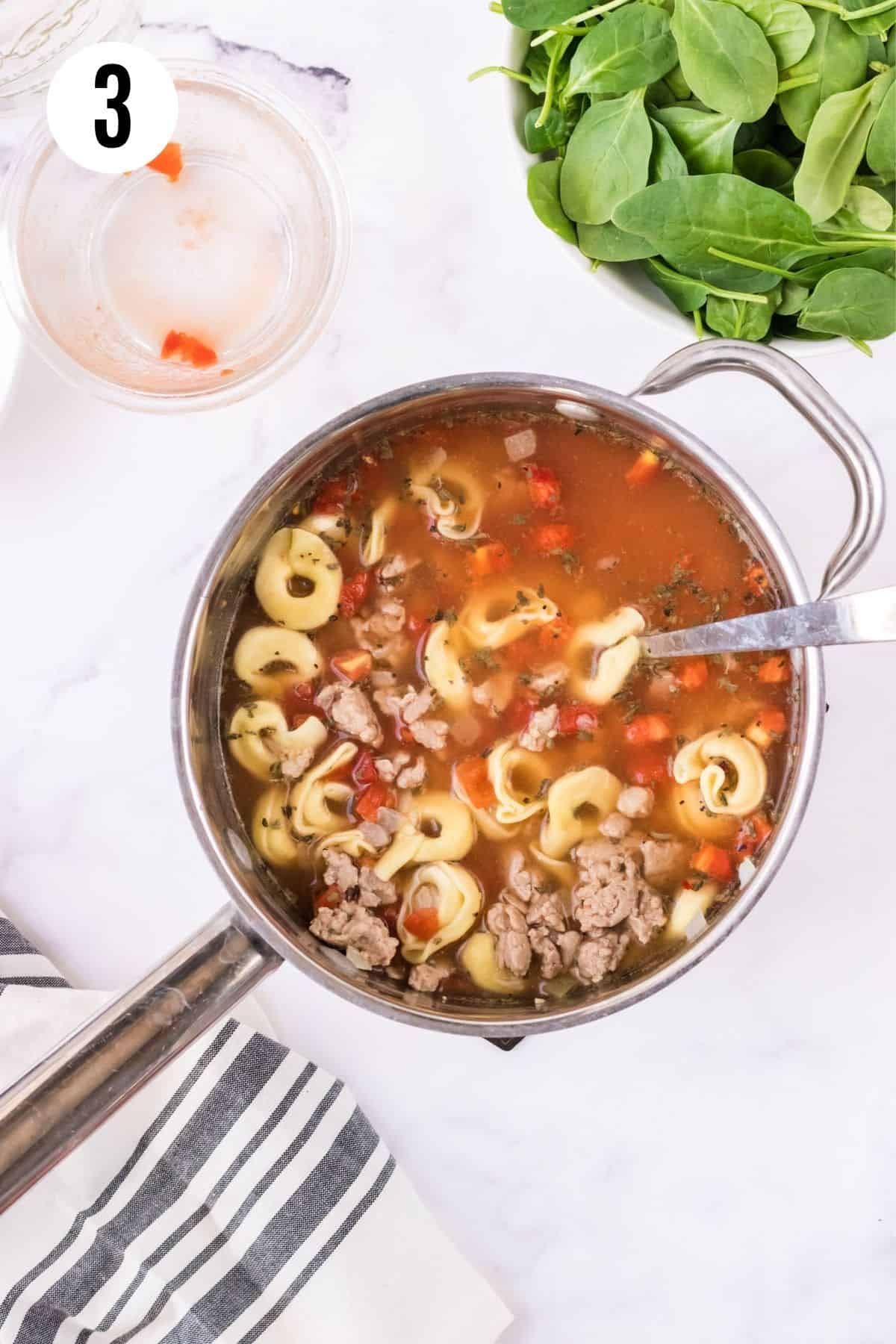 Tip: When you are adding the spinach, it may seem like it's not all going to fit in the pan. You can add it in batches, stirring in after each addition. The spinach will wilt quickly, making it easier to incorporate.
Make Ahead Prep and Storage Tips
Even though this recipe is super quick to prepare, there are a few things you can do to prep ahead some of the steps.
Browning the Italian ground turkey sausage, onions and garlic can be done up to a day ahead of time. Keep the mixture in the refrigerator in an airtight container (affiliate link) until ready to assemble the soup.
If you are shredded your own Parmesan cheese, this can also be done ahead of time. Keep the shredded cheese in the refrigerator in an airtight container (affiliate link) or as mentioned above, in the freezer.
How Can I Make This Freezer Friendly?
The browned meat mixture can not only be made ahead but can also be frozen up to three months in advance. It's a great way to get a head start on a "meal kit". Just be sure to use an airtight container (affiliate link) and don't forget to date and label the container, like with these reusable food labels (affiliate link).
The soup itself can be frozen but keep in mind the tortellini may become a little softer once it is reheated. I love to use my 2-cup Souper Cubes (affiliate link) to freeze portions of the soup.
Another option is to make the soup except leave out the tortellini and spinach until you're ready to serve the soup. To do so, thaw soup and bring to a boil. Then follow the instructions in the recipe card below to add the tortellini and fresh spinach on the day of serving.
This is another way to do a "meal kit" version to give you an even greater headstart on dinner!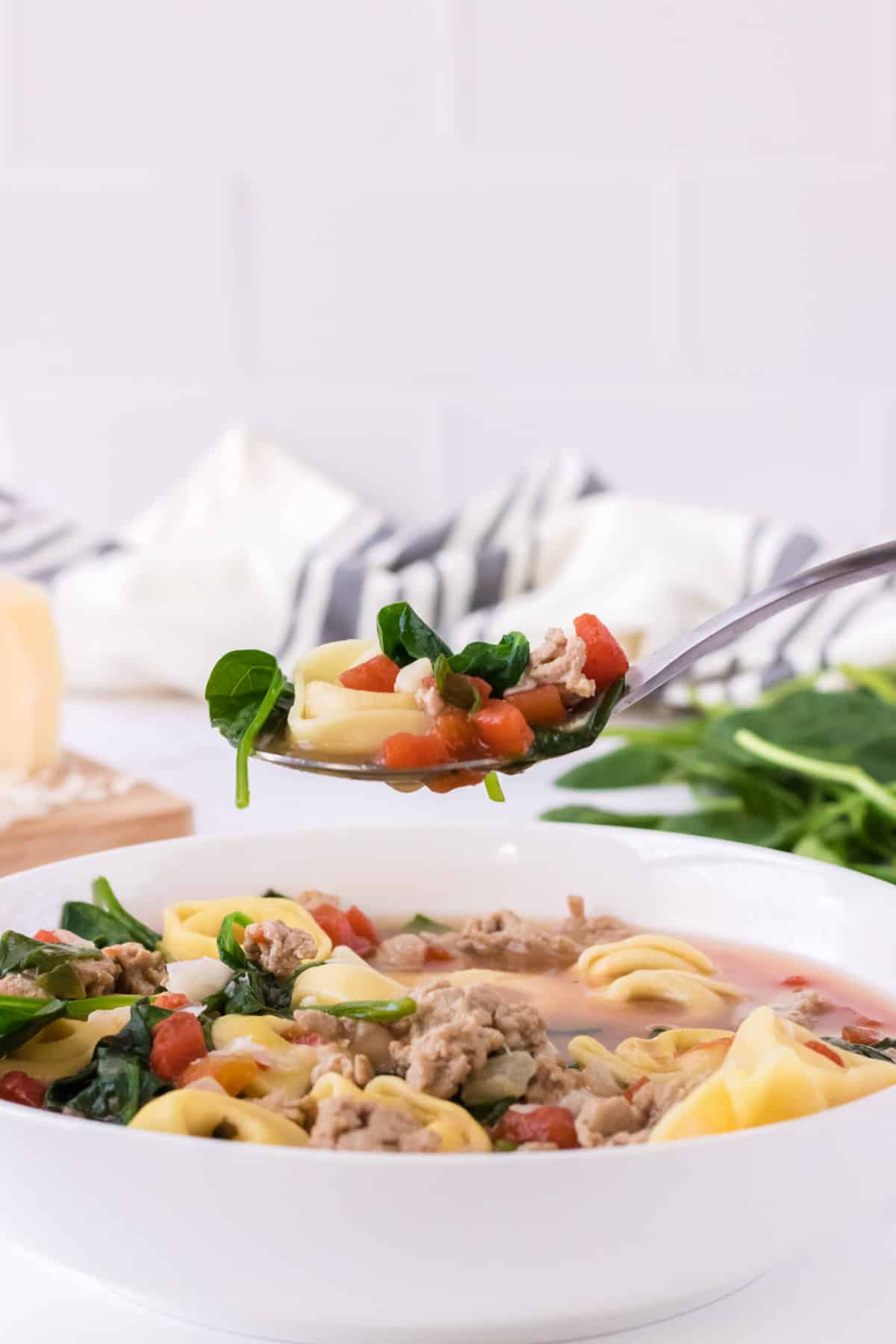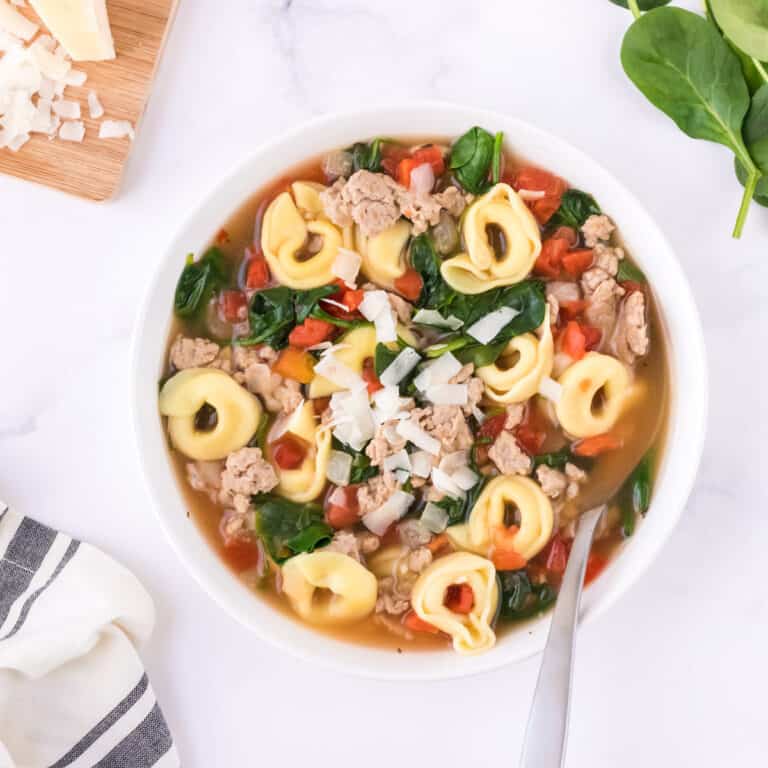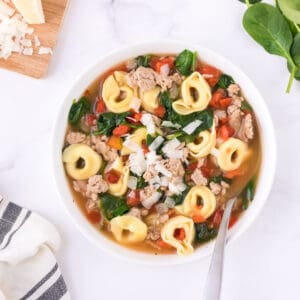 Italian Sausage Tortellini Soup
Filled with delicious and nutritious ingredients, this SIMPLE Rustic Italian Sausage Tortellini Soupis bursting with flavor and ready to serve in under 30 minutes!
Rate this Recipe
Print Recipe
Pin Recipe
Ingredients
1

pound

Italian ground turkey sausage

1

cup

yellow onion

chopped

6

cloves

garlic

minced

4

cups

reduced-sodium chicken broth

14.5

ounces

canned diced tomatoes

undrained

9

ounces

cheese tortellini

refrigerated or frozen

6

ounces

fresh baby spinach

⅓

teaspoon

dried basil

¼

teaspoon

pepper

1

dash

red pepper flakes

crushed
Optional Topping
⅓

cup

Parmesan cheese

shredded
Instructions
In a large saucepan, sauté turkey sausage and chopped onions. Cook and stir over medium heat until meat is no longer pink.

Add minced garlic to sausage onion mixture and cook 1 minute longer.

Add chicken broth, undrained, canned diced tomatoes, dried basil and crushed red pepper flakes to saucepan and increase heat to medium high. Bring mixture to a boil.

Reduce heat to medium-low and simmer soup for 10 minutes.

Add tortellini and return soup to a boil. Cook for about 5 minutes (2-3 minutes longer if using frozen tortellini), stirring occasionally.

Reduce the heat and stir in the fresh baby spinach. It may seem like it will not all fit but as it heats, it will reduce in volume.

Cook 2-3 minutes longer or until spinach is wilted and tortellini are tender.

To serve, top bowls of soup with shredded Parmesan cheese.
Notes
Freeze option: Place individual portions of cooled soup in freezer containers and freeze. To use, partially thaw in refrigerator overnight. Heat through in a saucepan, stirring occasionally and adding a little broth if necessary.
Nutrition
Serving:
2
cups
|
Calories:
278
kcal
|
Carbohydrates:
26
g
|
Protein:
29
g
|
Fat:
7
g
|
Saturated Fat:
3
g
|
Polyunsaturated Fat:
1
g
|
Monounsaturated Fat:
1
g
|
Trans Fat:
1
g
|
Cholesterol:
62
mg
|
Sodium:
1053
mg
|
Potassium:
614
mg
|
Fiber:
3
g
|
Sugar:
4
g
|
Vitamin A:
2807
IU
|
Vitamin C:
17
mg
|
Calcium:
197
mg
|
Iron:
4
mg
This post was originally published in March 2019 and has been updated in October 2021 with updated photos, video and content.
Be sure to check out my Amazon Shop to discover the many items I use in my own kitchen. Meal Planning Magic is a participant in the Amazon Services LLC Associates Program, an affiliate advertising program designed to provide a means for sites to earn advertising fees by advertising and linking to Amazon.com. Ordering products mentioned here are at no extra cost to you. Thank you for your support.