This post may contain affiliate links. Please read my disclosure policy.
Celebrate fall flavors with these delicious Healthy Pumpkin Waffles. Made with whole wheat flour and NO added sugar, they are perfect for breakfast or brunch! Bonus: they freeze well too!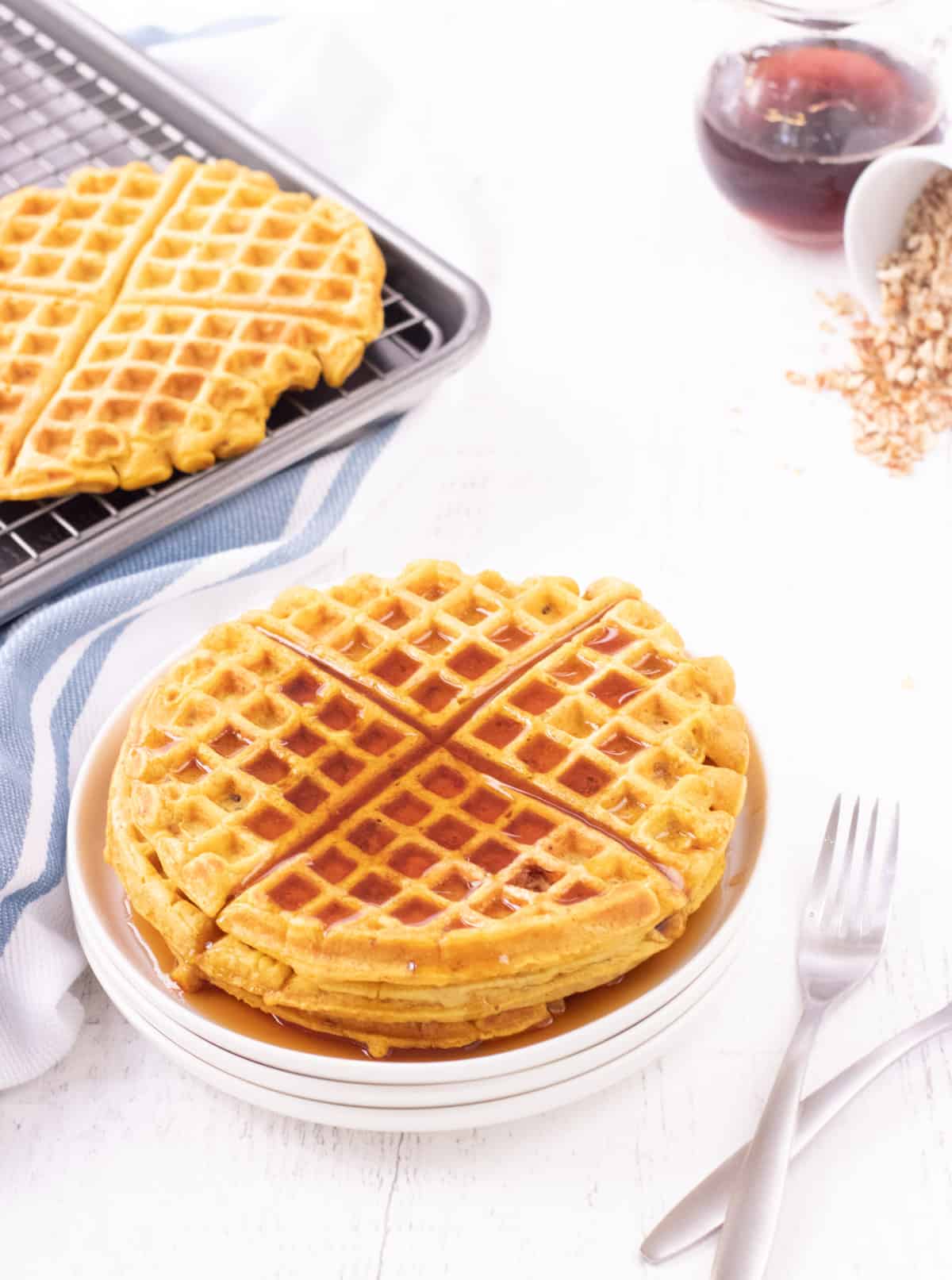 Jump to:
If you've been around here awhile, you've probably figured out by now that I love all things pumpkin. Yes, I'm on Team Pumpkin Spice!
I was inspired to try this recipe for Healthy Pumpkin Waffles after checking out The Classic Zucchini Cookbook (affiliate link) from my local library years ago. Note: the book, by the way, has recipes for all kinds of squash, not just zucchini.
I changed up the original pumpkin waffles recipe a bit by substituting some of the all-purpose flour with whole-wheat flour to make it a bit healthier.
I also love that this recipe has no added sugar! A lot of the store-bought waffle mixes have added sugar and we try to avoid that when we can.
The cinnamon, nutmeg and ginger add just the right amount of seasonal fall flavor, making this a delicious fall favorite.
This pumpkin spice waffle recipe is a perfect addition to your fall breakfast or brunch menu. They freeze wonderfully as well so make a double batch so you can have some on hand at any time.
Ingredient Tips For This Recipe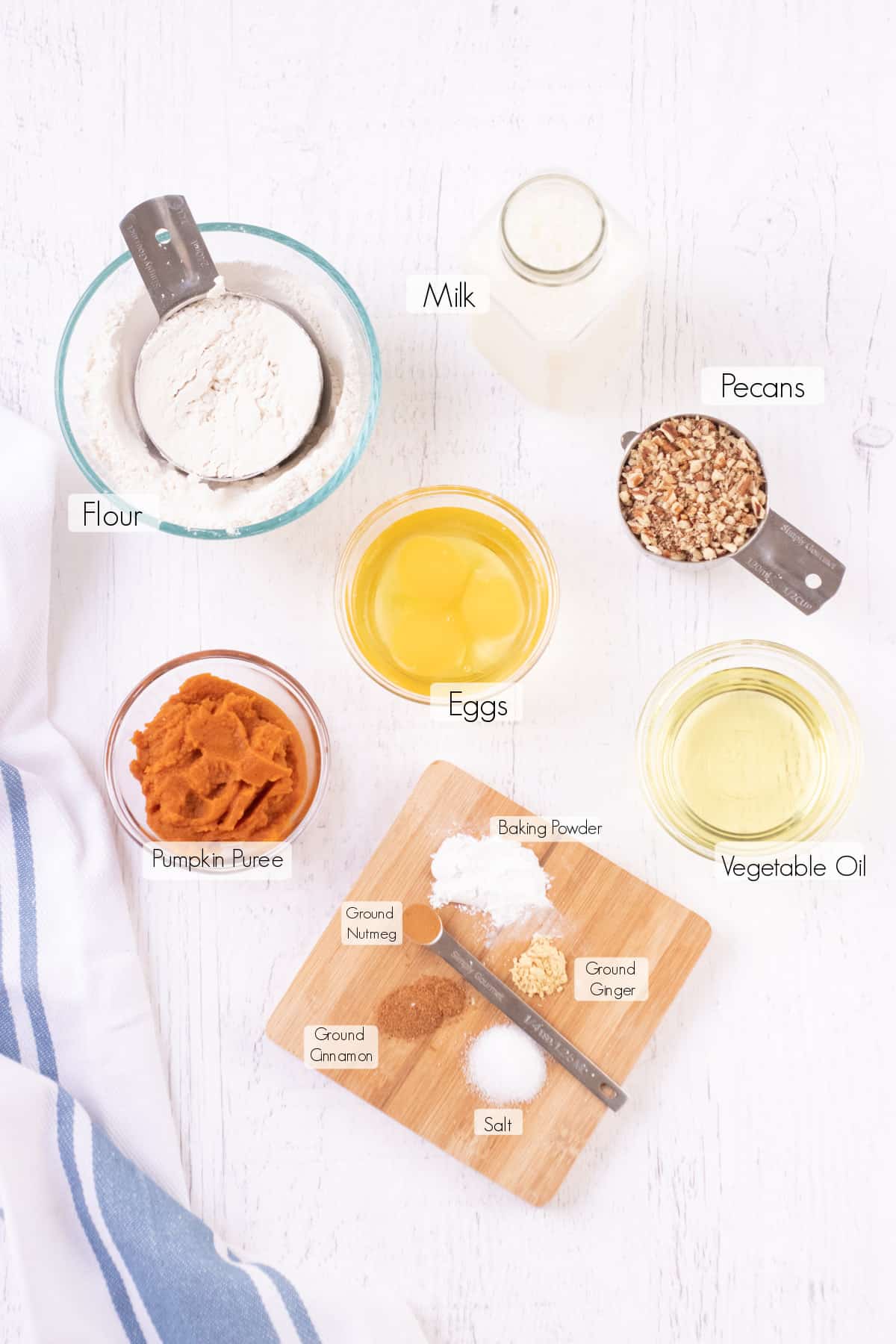 All of the ingredients for these healthy pumpkin waffles can easily be found at the grocery store.

I like to buy store brand ingredients when I can to save money and we find that we enjoy them just as much as the name brand.
When you buy the canned pumpkin, make sure you are not buying the pumpkin pie mix. You just want the plain pumpkin puree for this recipe as you'll be adding spices to the batter and not added sugar.
The pecans are optional. These waffles would also be good with chopped walnuts. I like to buy my nuts in bulk at my local warehouse club. Did you know you can freeze nuts? Yep, I buy in bulk and keep the bags of nuts in freezer friendly bags and that way I can use them in recipes year round.
This recipe calls for canola oil. I've not tried it with other oils but you can swap out your favorite type of oil in this recipe. I don't recommend olive oil unless you have a very mild tasting variety as it can sometimes change the flavor of baked goods.
Easy Steps To Make These Waffles
Start this pumpkin spice waffle recipe by combining the wet ingredients and dry ingredients in separate bowls (1).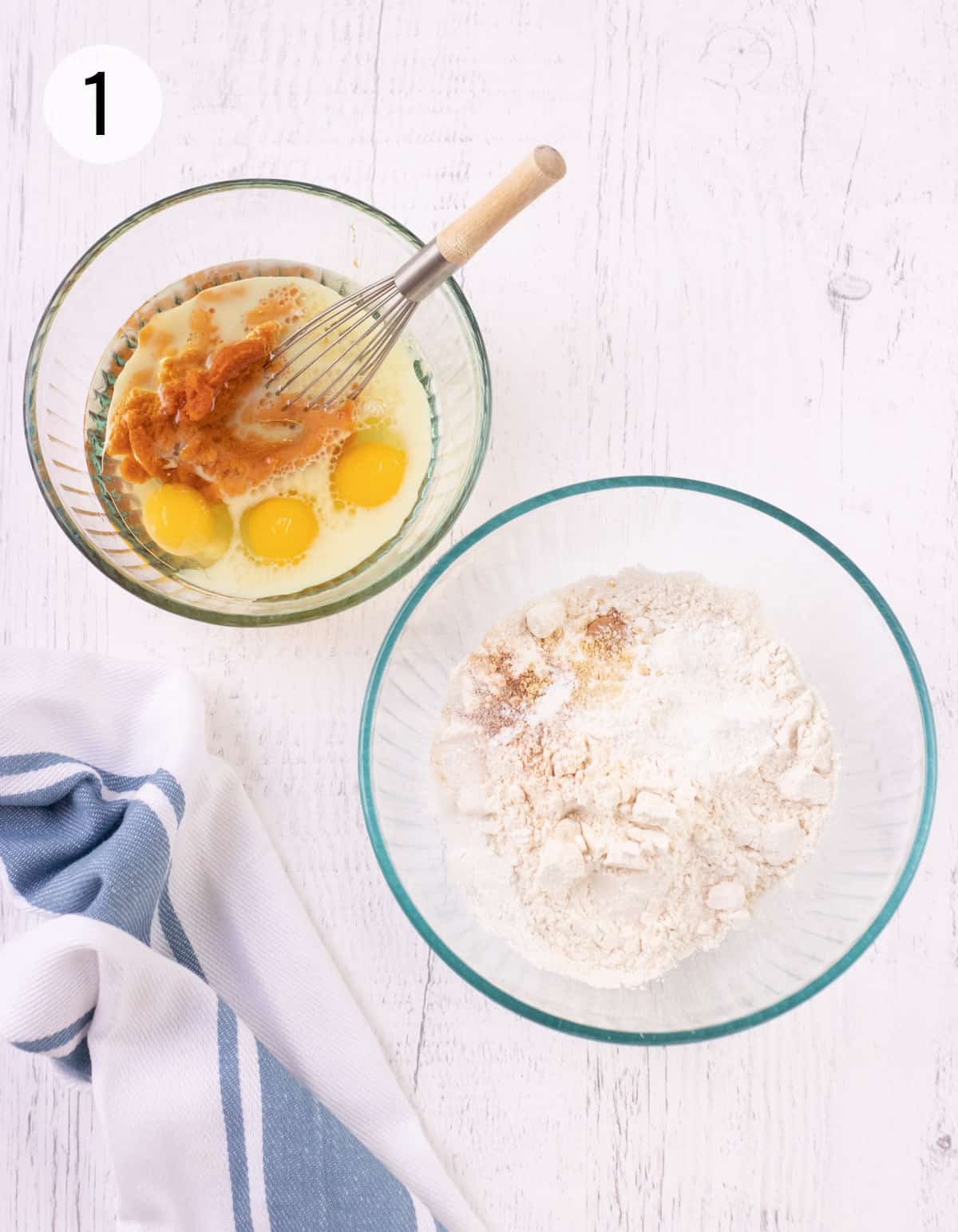 I find blending the wet and dry ingredients separately is especially helpful for the wet ingredients so that they are combined really well. Use a whisk (affiliate link) or rubber spatula (affiliate link) or combination of both to make sure everything is blended.
Next, make a well in the dry ingredient bowl and pour the wet ingredient mixture in all at once (2). Use a rubber spatula (affiliate link) and make sure you are scooping the flour mixture from the bottom up into the wet ingredient mixture.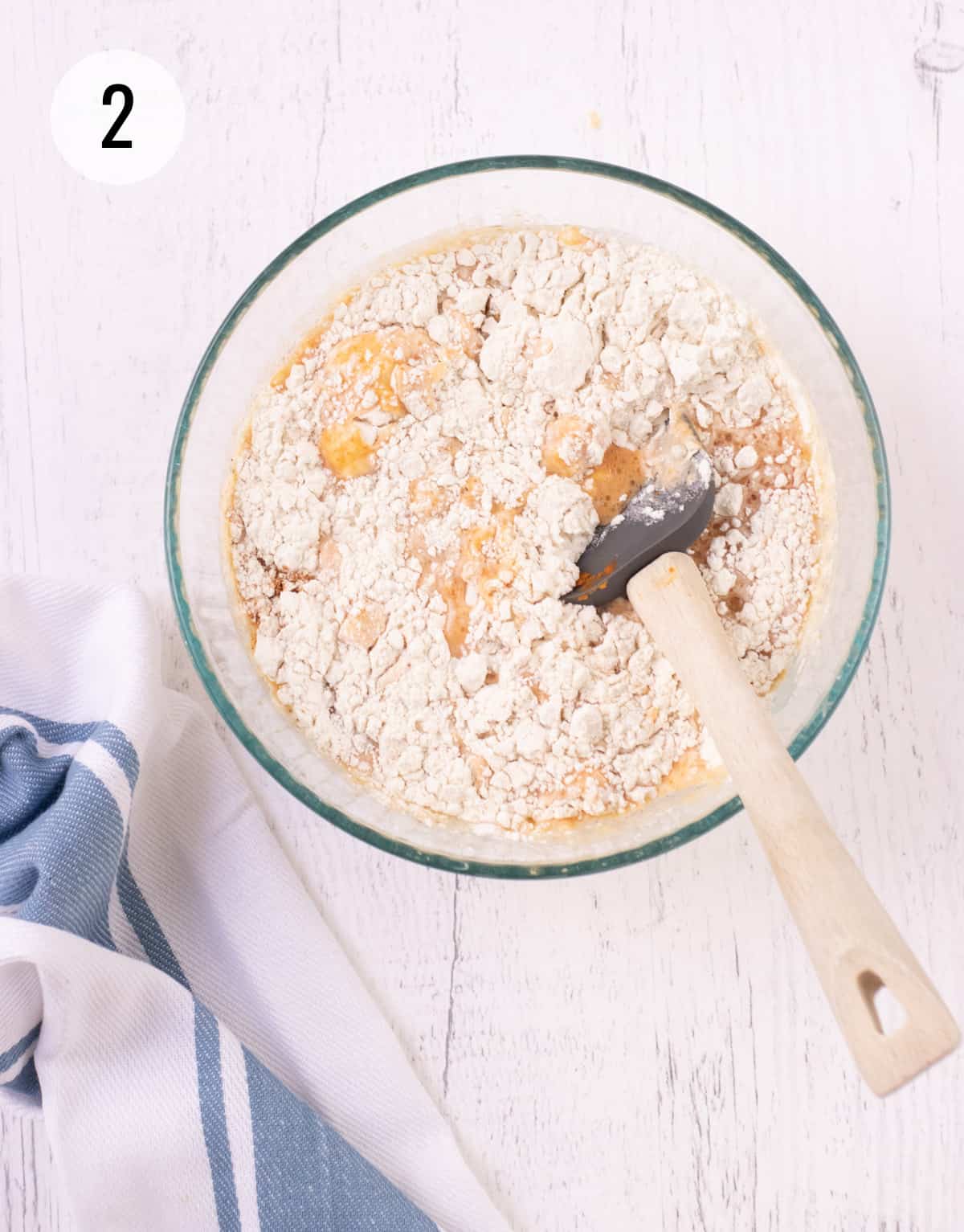 Once the batter is blended, add the chopped nuts (3), if you're using.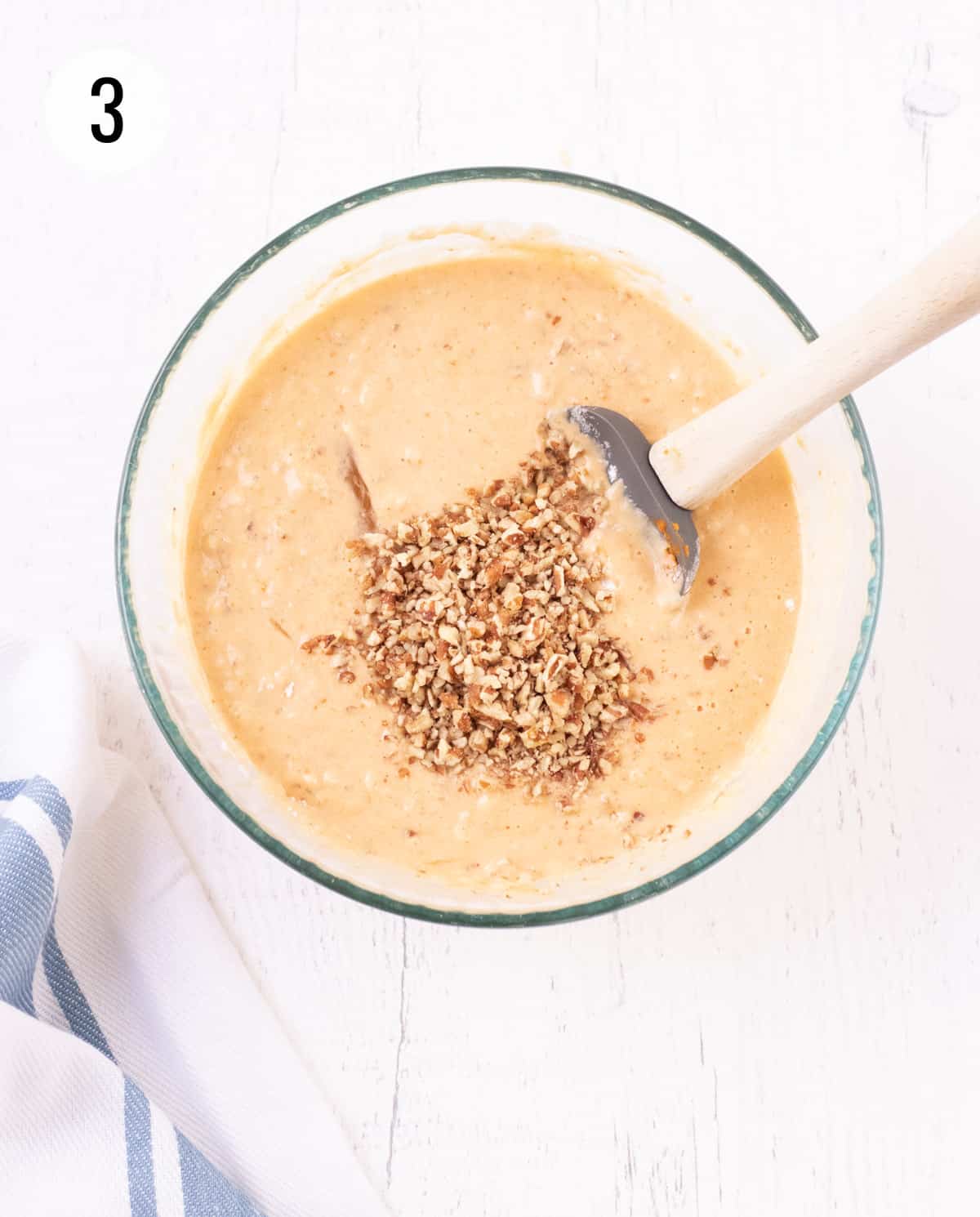 I have a round, classic waffle maker (affiliate link) but you can use whatever you've got on hand. These would also be good as Belgian style waffles (affiliate link). I use a large scoop (affiliate link) to evenly spread the same amount of batter on the waffle maker (4).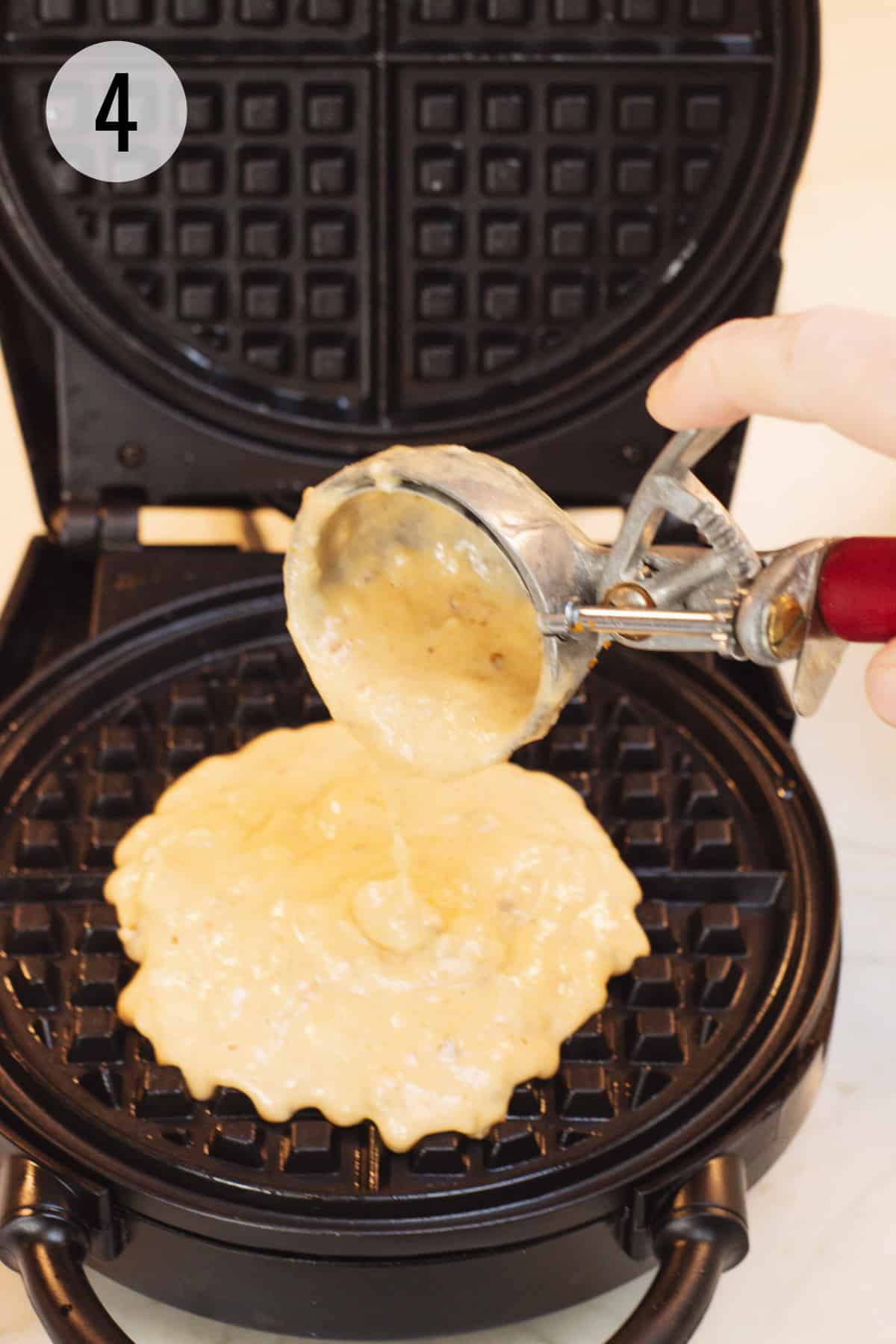 If you don't have a large scoop, you can use a ladle or large spoon instead. The amount of batter you use will depend on your waffle maker. For mine, it uses about ¾ cup batter to make a full waffle. Even then, sometimes I don't get it perfectly round and that is ok (5).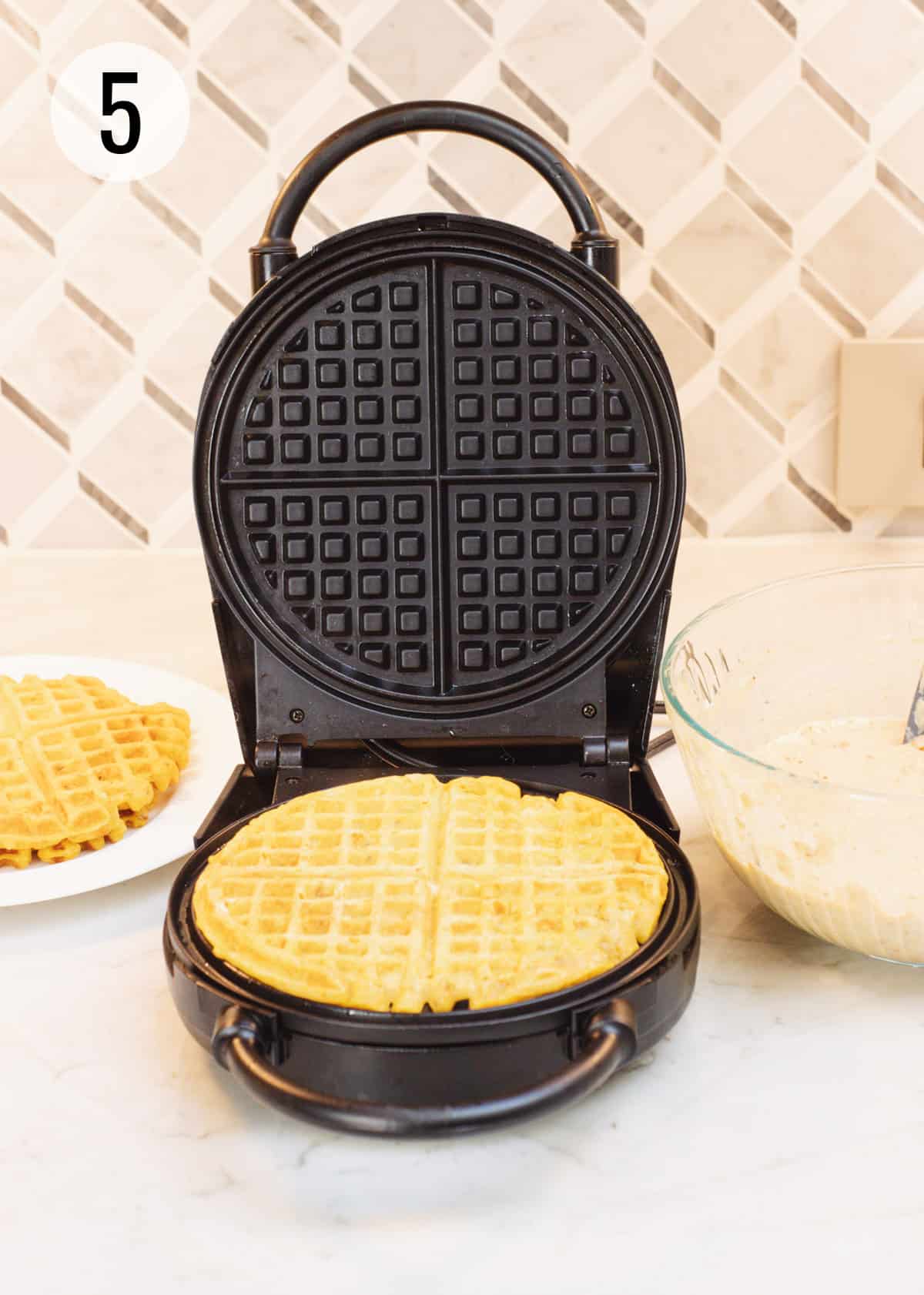 This waffle recipe makes eight waffles in my waffle maker. It can easily be doubled. To make your waffles ahead and keep them warm, I use a baking sheet with a non-stick grid (affiliate link) and keep the waffles in the oven on the lowest temperature. For my oven, that is 160°F.
Make Ahead Tips
I've got a few make ahead options for these healthy pumpkin waffles.
One idea is to make a homemade waffle mix "kit". To do this, just combine the dry ingredients and store in a labeled airtight container or ziptop bag until you are ready to make the recipe.
You could also mix up the wet ingredients the night before and store in the refrigerator.
Then, when you are ready to make them in the morning, you just combine the dry and wet ingredients in a bowl
Can these waffles be frozen?
Yes! It's so easy to make a large batch of waffles so you can freeze extras to have available on busy mornings.
I like to flash freeze them on a large baking pan (affiliate link) then store in a large freezer bag or airtight container. Sometimes I will freeze them directly in the freezer bag and separate with wax paper.
Just make sure they have come to room temperature before freezing otherwise they may stick together or ice crystals can form.
More Pumpkin Recipe Ideas
I've got several recipes here on my site that use pumpkin for you to check out too. None use a full can of pumpkin puree so they're a great way to use up that pumpkin before it goes to waste.
Be sure to also check out my Pumpkin-palooza board on Pinterest!
Be sure to check out my Amazon Shop to discover the many items I use in my own kitchen. Meal Planning Magic is a participant in the Amazon Services LLC Associates Program, an affiliate advertising program designed to provide a means for sites to earn advertising fees by advertising and linking to Amazon.com. Ordering products mentioned here are at no extra cost to you. Thank you for your support.