This post may contain affiliate links. Please read my disclosure policy.
Dinner's done in just 30 minutes with this easy Skillet Stovetop Lasagna. Filled with ground beef and nutritious vegetables and made in one pan, it's a simple, less-mess weeknight dinner you'll want to make over and over!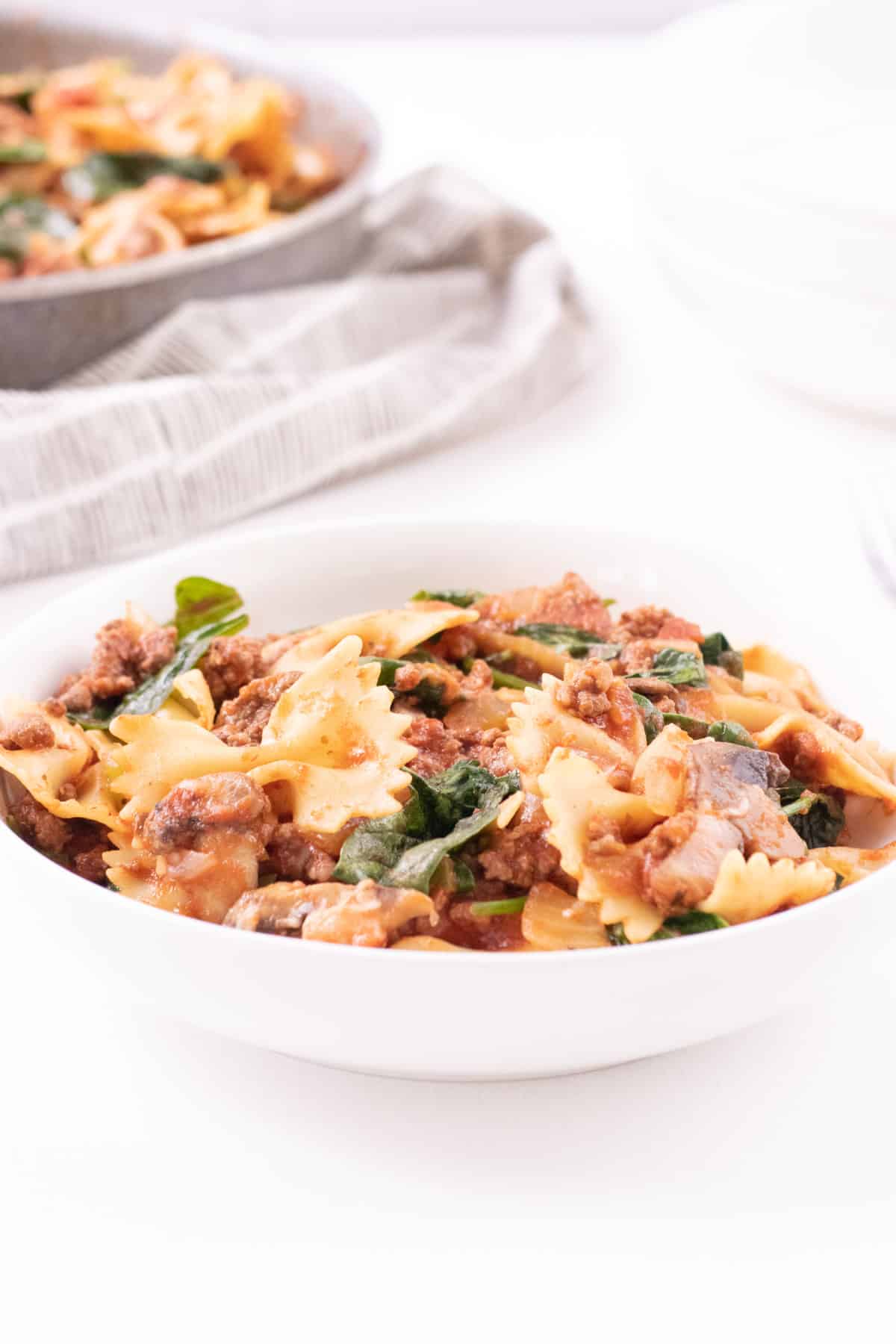 Jump to:
Why We Love This Recipe
There are a few reasons why I love this recipe! Not only is this recipe done in under 30 minutes, it's a mostly hands-off prep after you assemble all the ingredients in the pan. Making lasagna on the stovetop instead of the traditional layered version takes less time assembling and cooking. Plus, since you're using just one pan and pre-prepped ingredients, it's less mess too!
My aunt originally shared this recipe with our family, and I was immediately drawn to it because not only is it so easy, it's filled with lots of nutritious vegetables too making a one-pan balanced meal.
I especially love that it uses fresh spinach! If you've been around awhile, you may know that I love to use in all kinds of recipes (like Green Monster Banana Spinach Avocado Smoothie, 10 Minute Spinach Parmesan Couscous and Mexican Spinach Dip just to name a few), so I pretty much always have some on hand.
I've modified my aunt's original recipe a bit by changing up a few of the ingredients and the method. Her recipe uses the large lasagna noodles layered in the skillet but I decided to change the type of pasta to make it an easy to stir and serve dinner.
Ingredient Tips For This Recipe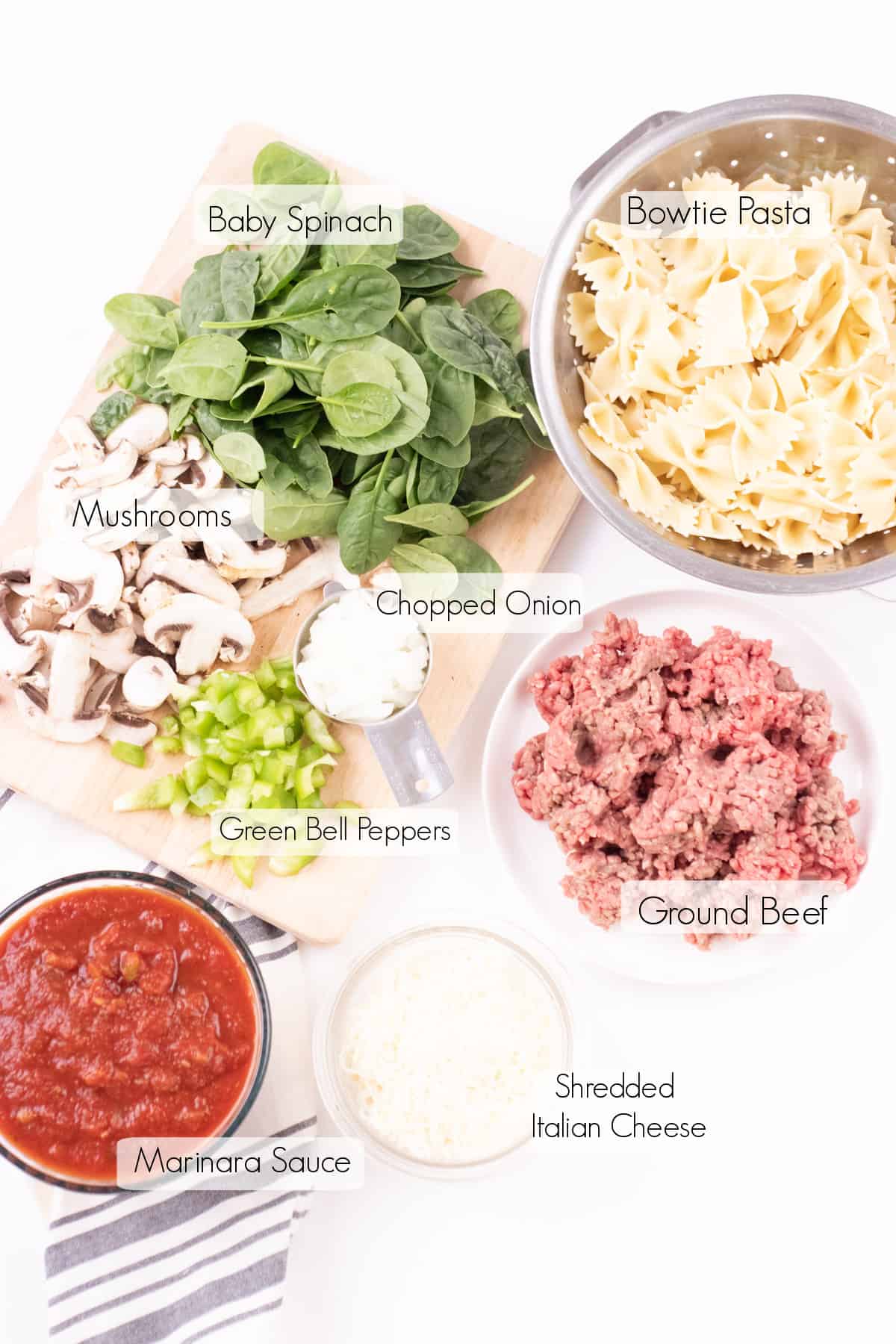 Ground Beef – While my recipe for this stovetop lasagna calls for ground beef, sometimes I like to substitute Italian sausage or Italian turkey sausage for the ground beef to change up the flavors. I do usually choose a lean ground beef to avoid so much of the fat, too.
Prepared Vegetables – I like to buy prepared ingredients as much as possible so that means I'll buy the sliced mushrooms, washed baby spinach and pre-shredded cheese so I can save time in the kitchen.
Another ingredient tip: I always have frozen chopped onions on hand in the freezer. They are perfect for recipes like this or other one pan meals like soups or chilis and saves me so much time and tears! They can be found in the frozen vegetable aisle of the grocery store. I usually find them on a top shelf of the freezer section.
Easy Homemade Marinara Sauce – I also like to make a big batch of Crockpot Spaghetti Sauce to keep in the freezer for all kinds of recipes, including this one. I've been making that for over a decade and it's a true family favorite!
Easy Steps To This One Pan Meal
Of note, while technically this recipe is meant to be made all in one pan, I will sometimes use two pots. Shhh…that can be our secret? The reason is that because I use cooked bow-tie pasta unlike other versions that use broken lasagna noodles that cook in the pan.
I like to get the pasta cooking while I'm browning the ground beef and vegetables. You can decide what's easiest for you. And be sure to read down below for some related make ahead tips!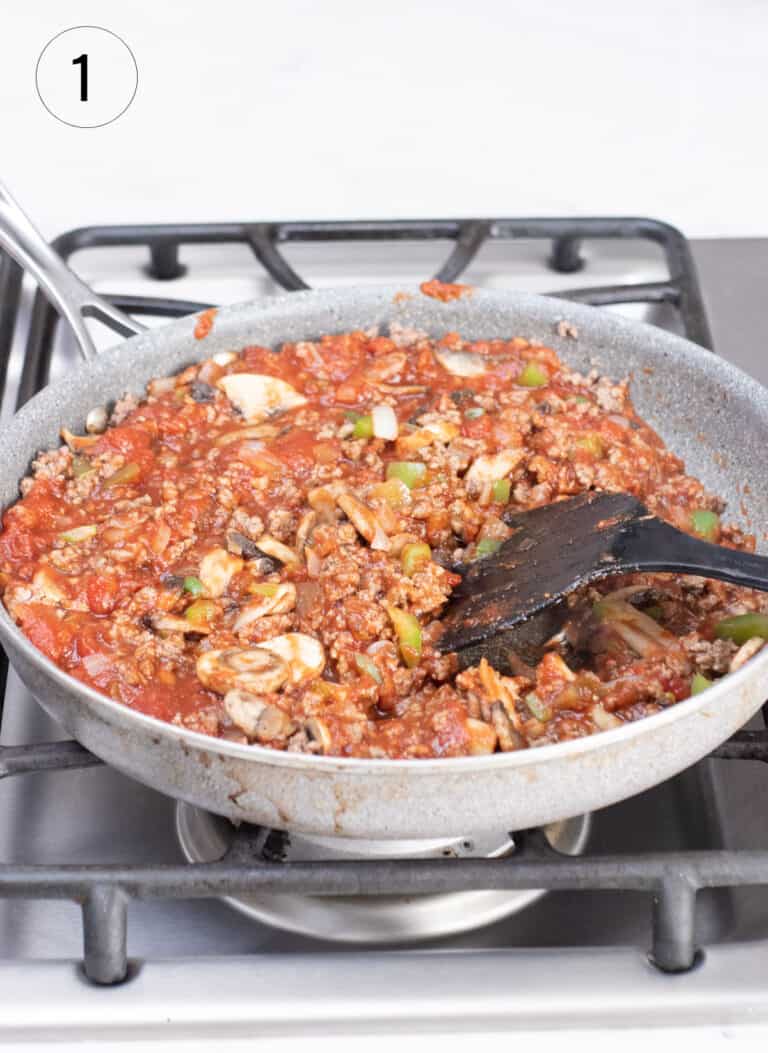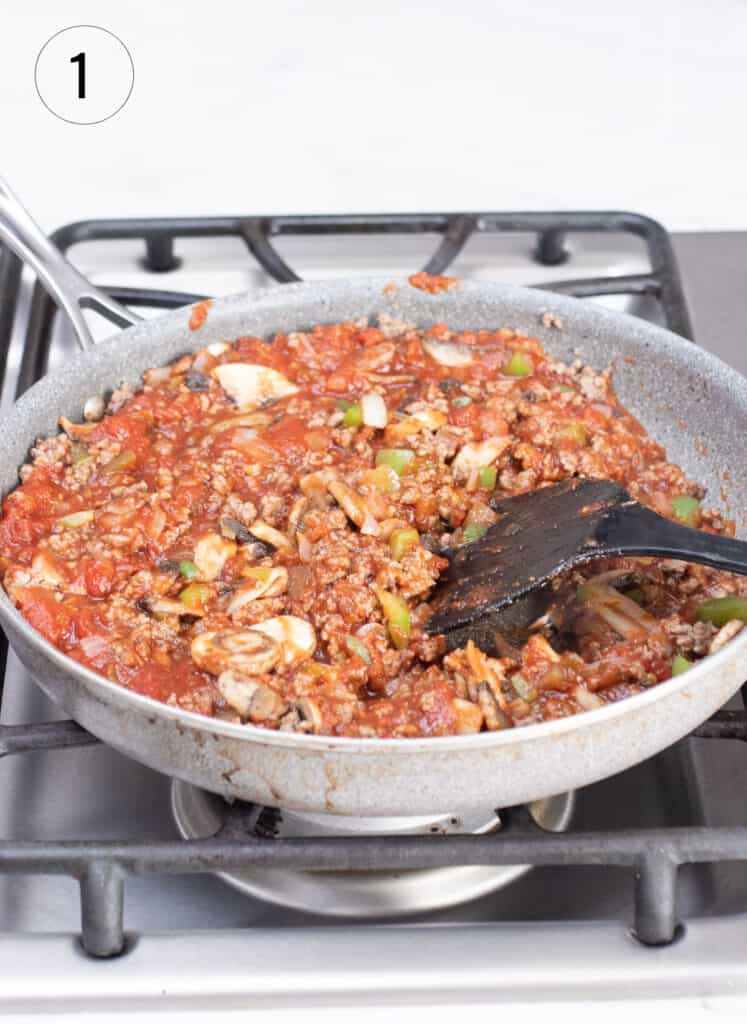 I use a large non-stick skillet (affiliate link) to easily make this recipe. I start by browning the ground beef and drain off the fat before adding my vegetables and marinara sauce (1).
Next, I gently fold in the cooked pasta and baby spinach (2). It will seem like it won't fit but as the spinach begins to wilt, it will reduce in size.
Next, I add the shredded Italian cheese blend and stir it in just until melted (3). Then it's ready to serve!
Is This Recipe Make Ahead?
Since this skillet lasagna recipe uses mostly fresh ingredients, there is not a lot of make ahead that is necessary. Although, sometimes I will brown the ground beef and onions together—up to a day ahead of time—and store in the refrigerator up to two days in advance. Then, all I need to do is add it to my pan and follow the rest of the recipe instructions.
I will also sometimes chop the vegetables and cook the pasta up to a day in advance and portion out into containers (4) so that I can easily add them when I'm preparing the stovetop lasagna. That helps get dinner to the table even more quickly at the end of a long day!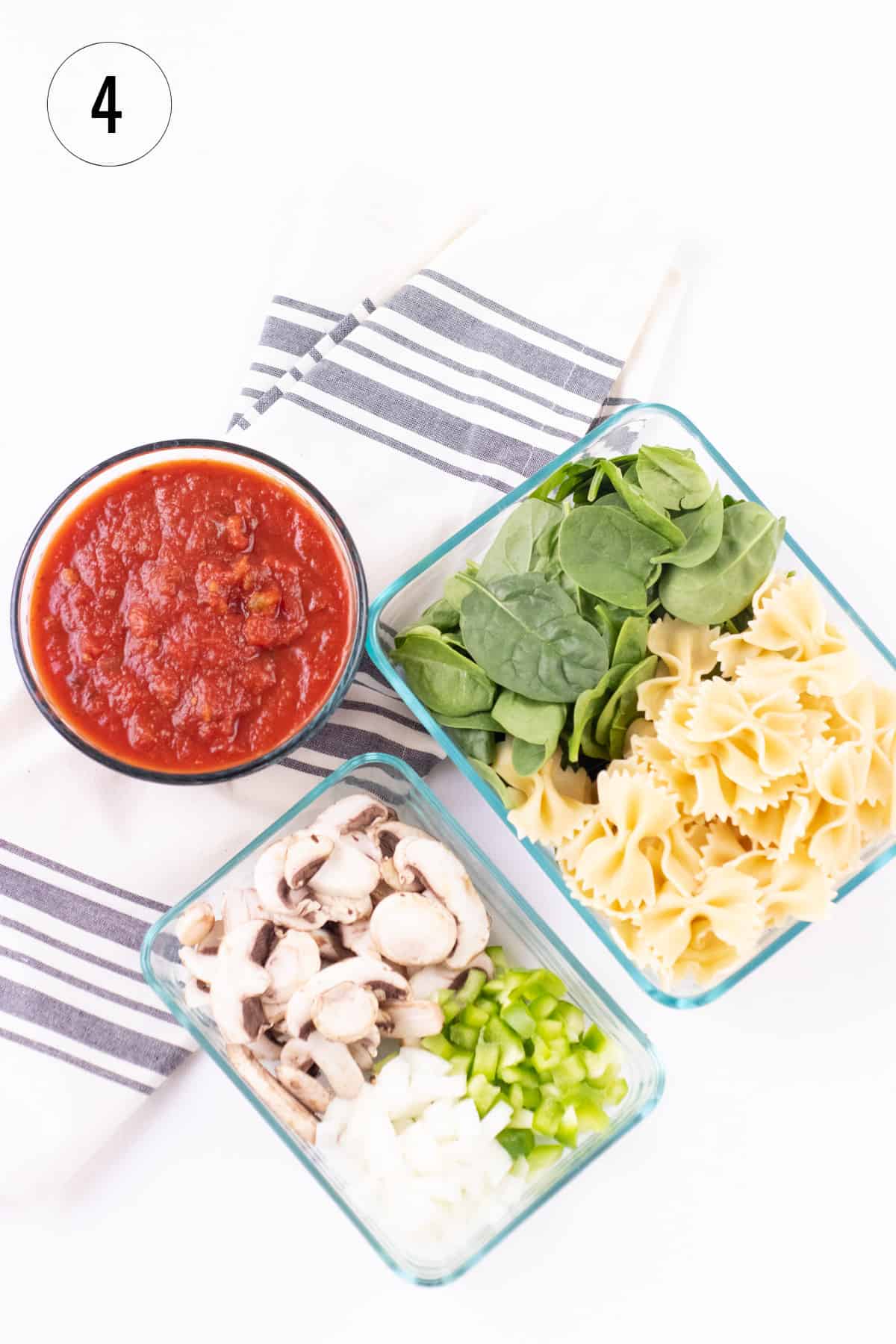 Can you freeze this dish?
I don't recommend freezing stovetop lasagna, mainly because of the fresh ingredients. The pasta can get mushy when they thaw from being in the freezer. However, you can make the meat, vegetable and sauce mixture in advance and freeze for up to three months. Then simply thaw and warm up in your pan before adding the cooked bowtie pasta and shredded cheese. Don't forget to date and label (affiliate link) your mixture!
More 30-Minute Meal Ideas
I love a good quick and easy dinner that can be made in under 30 -minutes. Most of these recipes have a quick assembly time and the rest is mostly hands off cooking. Be sure to check them out!
Sign up to receive an email in your inbox for each new recipe and get a FREE menu plan printable: FREE EMAIL SUBSCRIPTION
If you've tried this recipe, let me know how much you enjoyed it by coming back and leaving a comment below and a rating. I love hearing from you!
This post was originally published in February 2018 and updated in October 2020 with new photos, video and content.
Be sure to check out my Amazon Shop to discover the many items I use in my own kitchen. Meal Planning Magic is a participant in the Amazon Services LLC Associates Program, an affiliate advertising program designed to provide a means for sites to earn advertising fees by advertising and linking to Amazon.com. Ordering products mentioned here are at no extra cost to you. Thank you for your support.