This post may contain affiliate links. Please read my disclosure policy.
Homemade granola is an easy healthy breakfast or snack, and this simple homemade granola recipes uses all-natural, whole food ingredients and very little refined sugar!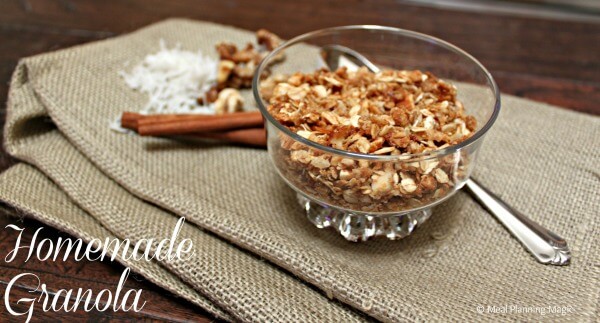 It's been a long time since I did a Real Food Friday. I'm not really sure what made me stop, other than that I got a little tired of taking pictures every time I cooked so that I could post it here on the blog. Sorry about that! In the last few months, I did take a lot of pictures of what I've been making, so hopefully, I'll be bringing you some more real food recipes a little more regularly.
I'm starting back with a simple homemade granola recipe. Now let me tell you about this granola. I've tried a lot of different store bought and homemade granola recipes and this one is still our favorite. It has just the right amount of sweetness and cinnamon. I try to have some of this homemade granola on hand at all times. My son LOVES it and would eat it every day if he could.
I got the recipe from the mom of one of his friends, after she served it for them as a snack one time when he was over playing. Delicious and oh so easy! I store it in an airtight container and we enjoy it as a snack, in a bowl with milk and dried fruit, or layered in a parfait glass with yogurt and cut up fresh fruit.
Now this granola is a bit more cereal-like than snacking like, even though we prefer it that way. That means it doesn't really clump into clusters. It's a bit looser than that and even though I've tried to get it to clump, it just must not have enough liquid (or the right type) to bind it together into clumps. I'm just making that little disclaimer so you know what to expect.
You can tweak the sugar that you add to suit your family's tastes. I started out with the regular recipe and have cut back a bit from that on the added sugar. My family still loves it and hasn't seemed to notice a difference! Next time you're at the store, look at the boxed granola you find in the cereal section and you might be surprised to see how much sugar and fat is in there!
One tip: I have noted to use unsweetened coconut. You might need to look around for that because I can only find it at one of my local grocery stores but not all. I know that Whole Foods also sells it in their bulk food section, but it's pricey, so I get it at Kroger. (p.s. did you know you can freeze the extra coconut to use in future recipes? It lasts forever—ok, well so to speak anyway!
And with the holidays just around the corner, this simple homemade granola would also make a perfect food gift idea!
How cute would it be to put some in a canning jar and tie it up with a fun bow and tag?
I hope you'll enjoy it as much as we do!
Homemade Granola
Ingredients
6 cups oatmeal (regular – not quick cooking)
1 cup wheat germ (or ½ c wheat germ and ½ c. flax seed)
1 cup all-bran cereal (Fiber One works well)
1 cup nuts (I have used pecans, walnuts & almonds or a combo of them and sometimes more than 1 cup)
1 cup unsweetened coconut
½ c. brown sugar
1 tsp.-1 Tbsp cinnamon (to taste)
Topping
1 cup honey
½ cup Canola oil
Instructions
Mix first 5 ingredients together. Add brown sugar and cinnamon – mix well. In a separate bowl combine honey and oil. Heat slightly and blend together. Pour over dry ingredients and mix well.
Spread on 2 cookie sheets or jelly roll pans (11X15) (use foil or parchment paper if you want easy clean-up).
Bake @ 300 for 30-40 minutes (depending on how crunchy you like it), taking the sheets out mid-way through to stir the mixture around a little on the sheets. It hardens up a bit as it cools, so don't bake it until it's completely crunchy. (The amount of baking time might take a little experimenting to get it how you like it.)
Let cool completely then spoon into a container that seals.
Notes
You can add other items to the recipe, such as raisins, cranberries, etc., although it probably works better to add the fruit when you fix yourself a bowl of granola instead of putting it in the big mixture. Experiment with it, though – there are lots of possible variations! For example, you can use maple syrup in place of the honey for a different flavor.[br][br]We love this granola just as a snack, in a bowl with milk like a cereal or in a parfait with vanilla yogurt and any fresh fruit.