Spiced caramel nuts are a delicious and easy snack recipe, perfect to make and give as holiday food gifts!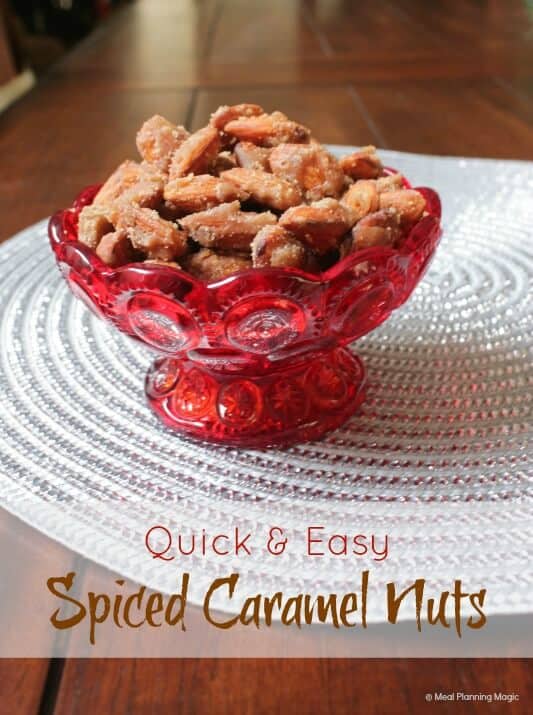 Did you miss me last week? I got a little behind on my blogging and totally skipped last week. We're having fun enjoying the holiday season and doing things with family and friends. But this week I'm catching back up by sharing these Quick and Easy Spiced Caramel Nuts for our 12 week of the 12 Weeks of Christmas Treats (can you believe Christmas will be here so soon?)
Y'all, these are the easiest spiced nuts to make! I promise, you'll have a batch done in less than 10 minutes. And they taste SO yummy! They kind of remind me of pralines but not so sugary and with a slightly different taste–I guess a bit more caramel-y. You know when in my Holiday Baking Planner Tips, I mentioned doing batch cooking and this is one recipe you'll want to include for sure. They're even easier to make than another favorite of mine, these Gourmet Pecans, because they are done in 10 minutes or less. No lie!
This recipe comes from a little Pampered Chef pamphlet that I got with a recent order. It was mostly showcasing their holiday products, but this recipe was tucked inside. I'm so glad I gave it a try! They are great to make up for last minute company or to give as gifts to neighbors, co-workers and friends. That is, if you can keep your family out of them (I must admit, that was a challenge around here). I decided to use almonds because that's what I had on hand, but the recipe says you can use any kind of nut. I like to buy the nuts in bulk from Costco or Sam's Club. They are usually a lot cheaper and I store my big bags in the freezer so they last longer and I can use them in baking or cooking whenever I need them. I think I'll try cashews next with this recipe. What kinds of nuts do you like to enjoy?
So, here's the easy spiced caramel nuts recipe.
Quick and Easy Spiced Caramel Nuts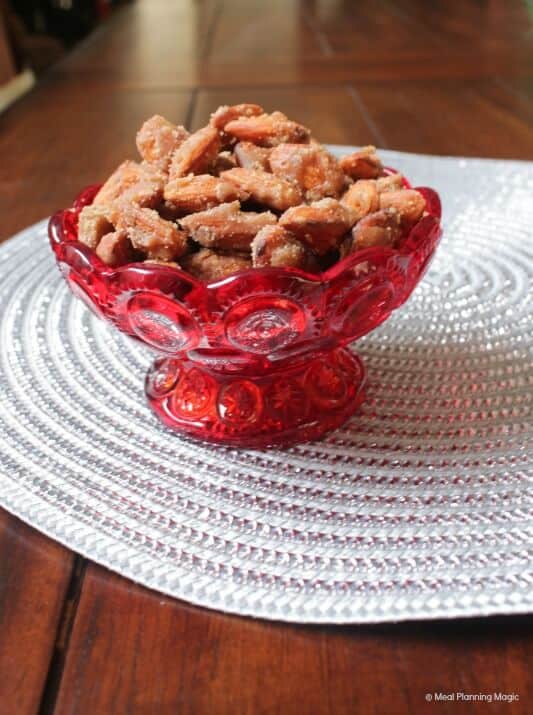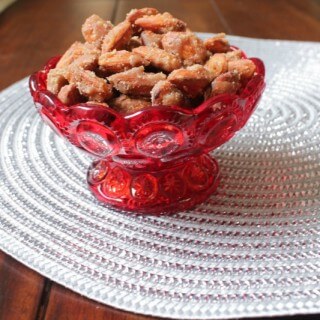 Ingredients
Spiced Carmel Nuts

1/4

cup butter

1/2

cup packed brown sugar

1/4

tsp vanilla extract

1/2

tsp pumpkin pie spice

1/2

tsp salt

2

cups pecan halves, walnut halves, whole almonds or whole cashews
Instructions
Line a baking sheet with parchment paper or a silicone baking mat (this is what I used). Set aside.
In microwave safe bowl, melt butter on HIGH 30-60 seconds or until melted. Stir in brown sugar, vanilla, pumpkin pie spice, salt and nuts. Mix well.
Microwave, uncovered, on HIGH 4-5 minutes or until golden brown and mixture appears glossy, stirring every 30 seconds.
Spread mixture into a single layer on lined baking sheet. Cool completely. Store in an airtight container up to 7 days or in freezer up to 3 months.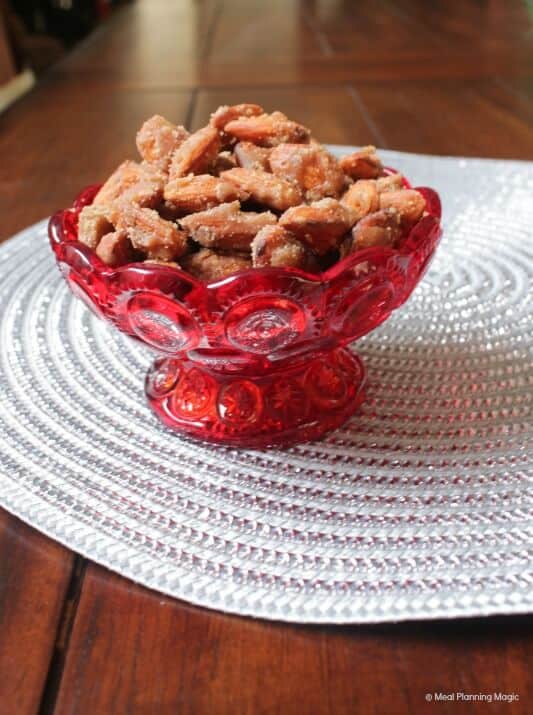 Don't want to miss a recipe? Then be sure to CLICK HERE so you can subscribe to all the updates. Besides sharing holiday recipes, I also share all kinds of meal planning and kitchen organization ideas. It's simple and you'll also receive weekly meal planning inspiration in you inbox!
And be sure to check out the links below for all the bloggers who are sharing their own recipes from last week!