This post may contain affiliate links. Please read my disclosure policy.
My Dark Chocolate Cherry Homemade Trail Mix is full of nutrient rich nuts and dried fruit like cherries and just a bit of dark chocolate! It's the perfect combination of salty and sweet!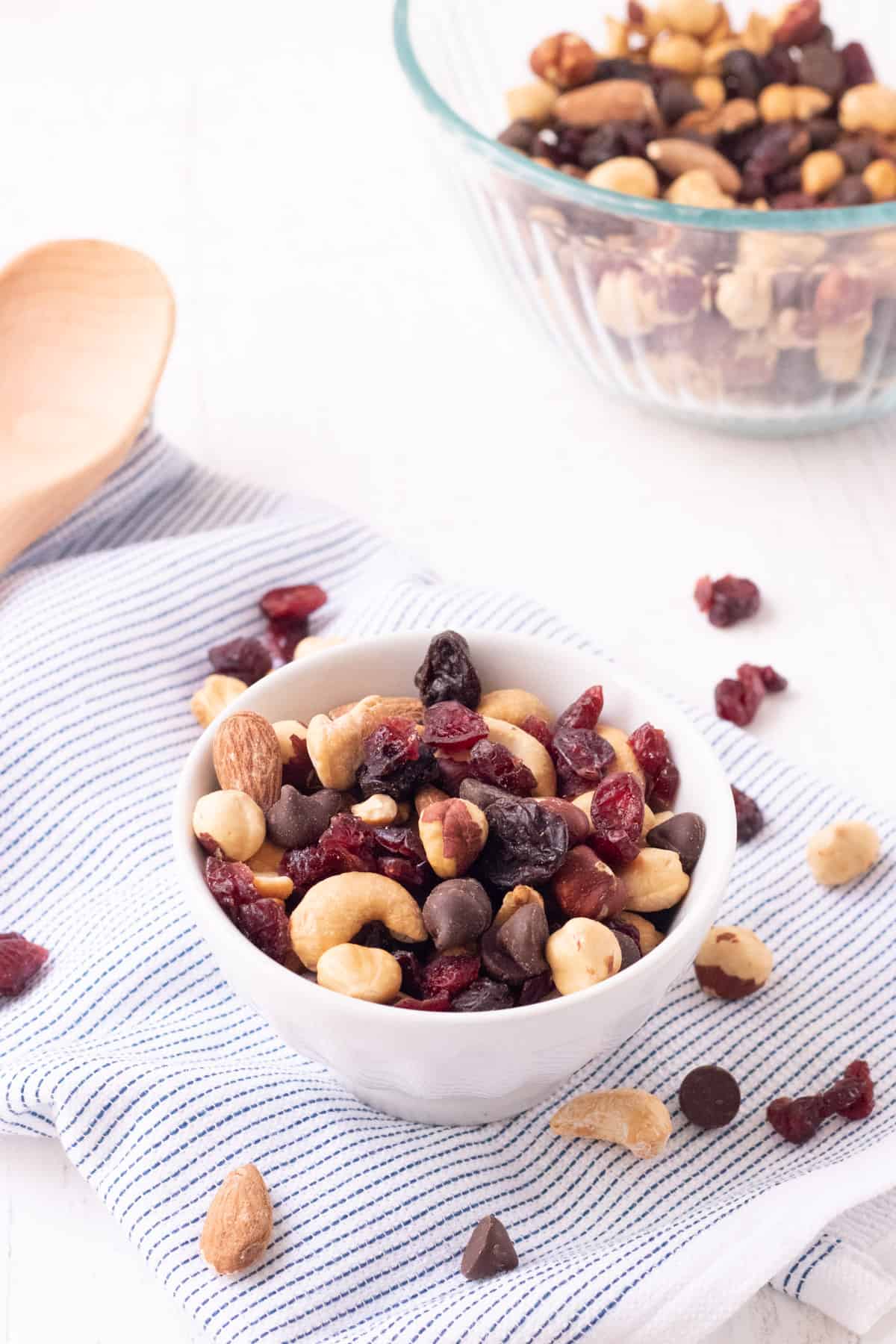 We love a good trail mix. There's something about that combination of sweet and savory that makes them just work! Making homemade trail mix is so easy and can also help you save money on a nutritious snack, too.
Specifically this Cherry and Dark Chocolate Trail Mix because it's SO good. When my daughter was a Girl Scout, her troop sold nuts as part of their fall fundraiser (yep, they sell more than just cookies!)
I'm a big fan of the chocolate and cherry combo, so I knew I had to try their Black Forest Trail Mix. It did not disappoint! But, since we could only get it once a year and it was a bit overpriced in my opinion, I set out to develop a recipe to make my own.
Filled with protein-rich nuts, delicious dried cherries, and dark chocolate chips, it's a healthy trail mix that is perfect for snacks and anytime you're on the go. I like to make a big batch as it stores well for quite a long time.
What Actually Is a Trail Mix?
Trail mix got it's name as it was originally a snack eaten by hikers and campers. It's great for that because you don't have to worry about it melting or getting squashed in a backpack. Plus, the nuts and dried fruit provide protein and carbs needed for extra activity like hiking.
My family likes to take trail mix on hikes but we also like it for a snack anytime. Just a little bit goes a long way for satisfying that hunger that seems to come throughout the day –especially if you have teenagers like I do!
We also like this Banana Split Trail Mix that has dried banana chips and white chocolate chips. Yum!
What Ingredients Are Needed To Make This Recipe?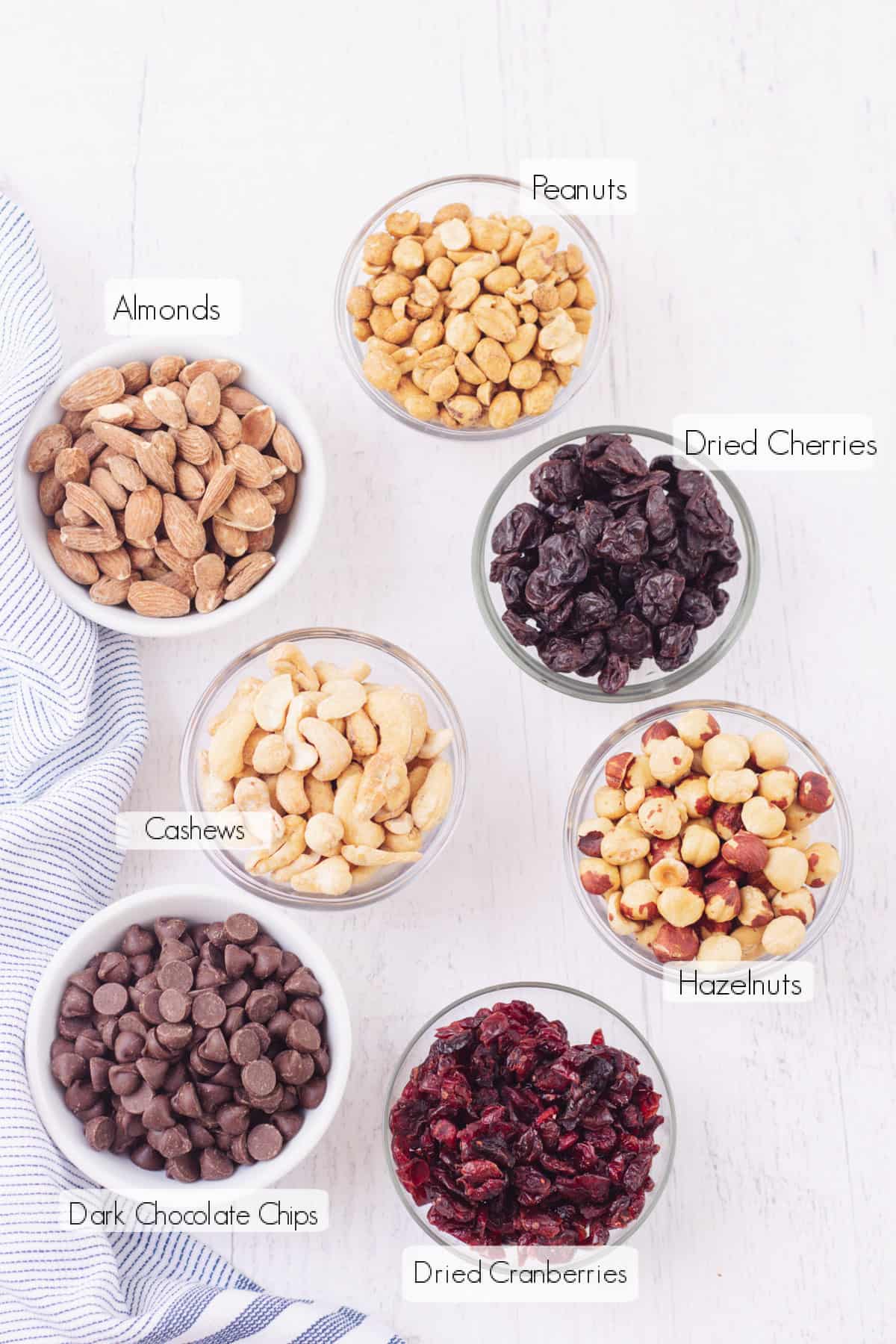 Traditionally, trail mix traditionally consists of nuts and dried fruit, but the combination of those ingredients is limitless! Black Forest flavors are inspired by the iconic cake with the same name–a layered chocolate cake, cherries and cream filling.
This Black Forest Homemade Trail Mix includes four different types of roasted nuts: peanuts, cashews, whole almonds, and hazelnuts. I buy the whole hazelnuts at Trader Joe's but have also seen them at Sprouts. You can also buy hazelnuts online here (affiliate link).
Nuts can seem expensive but when you buy in bulk, it saves a lot more money per ounce. I like to buy the other nuts at Costco but have also found smaller packages at Aldi for a better price than the regular grocery store.
Since a little goes a long way to satisfy hunger and they don't spoil quickly, I like to buy in bulk.
I also buy dried cherries at Costco but can sometimes find them at Aldi or the regular grocery store in the same aisle as raisins. They seem to be a little bit more seasonal at those stores so if you see them, grab them! Again, you can also buy dried cherries online (affiliate link).
Dark chocolate chips are easier to find these days, even at the regular grocery store. Again, I like to buy them at Aldi (I'm a big fan, can you tell!?). There are two varieties: traditional chocolate chip shape but also the squarer pieces. I buy whatever I'm in the mood for that day!
How to Make Your Own Trail Mix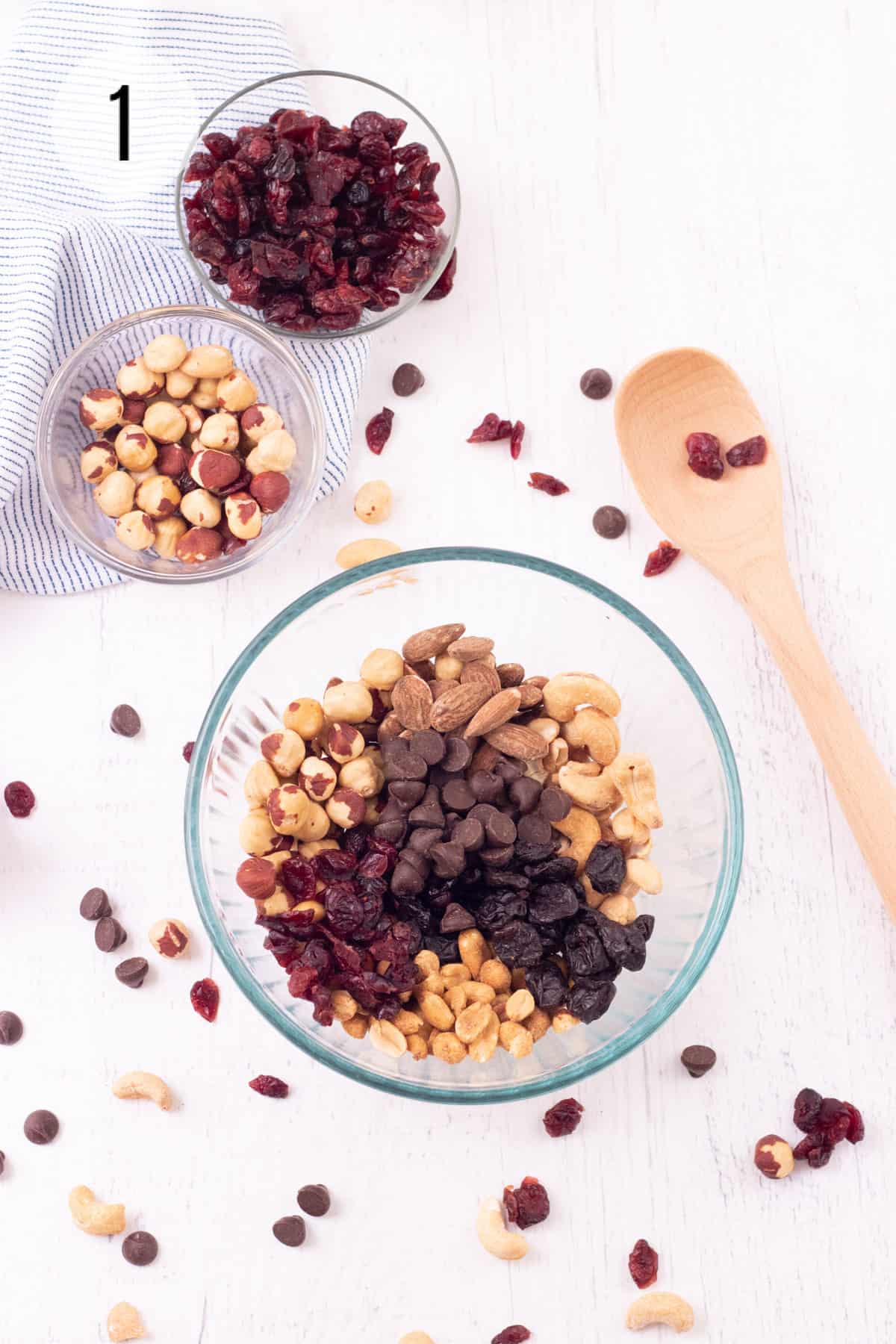 Making this Cherry and Chocolate Trail Mix is so super easy! Basically you just measure out the ingredients then add them all to a large mixing bowl (affiliate link) (1).
Stir with a large spoon (2) and then transfer to an airtight container. The trail mix will stay good in your pantry for at least 3 months and up to six months (if it doesn't all get eaten before then!)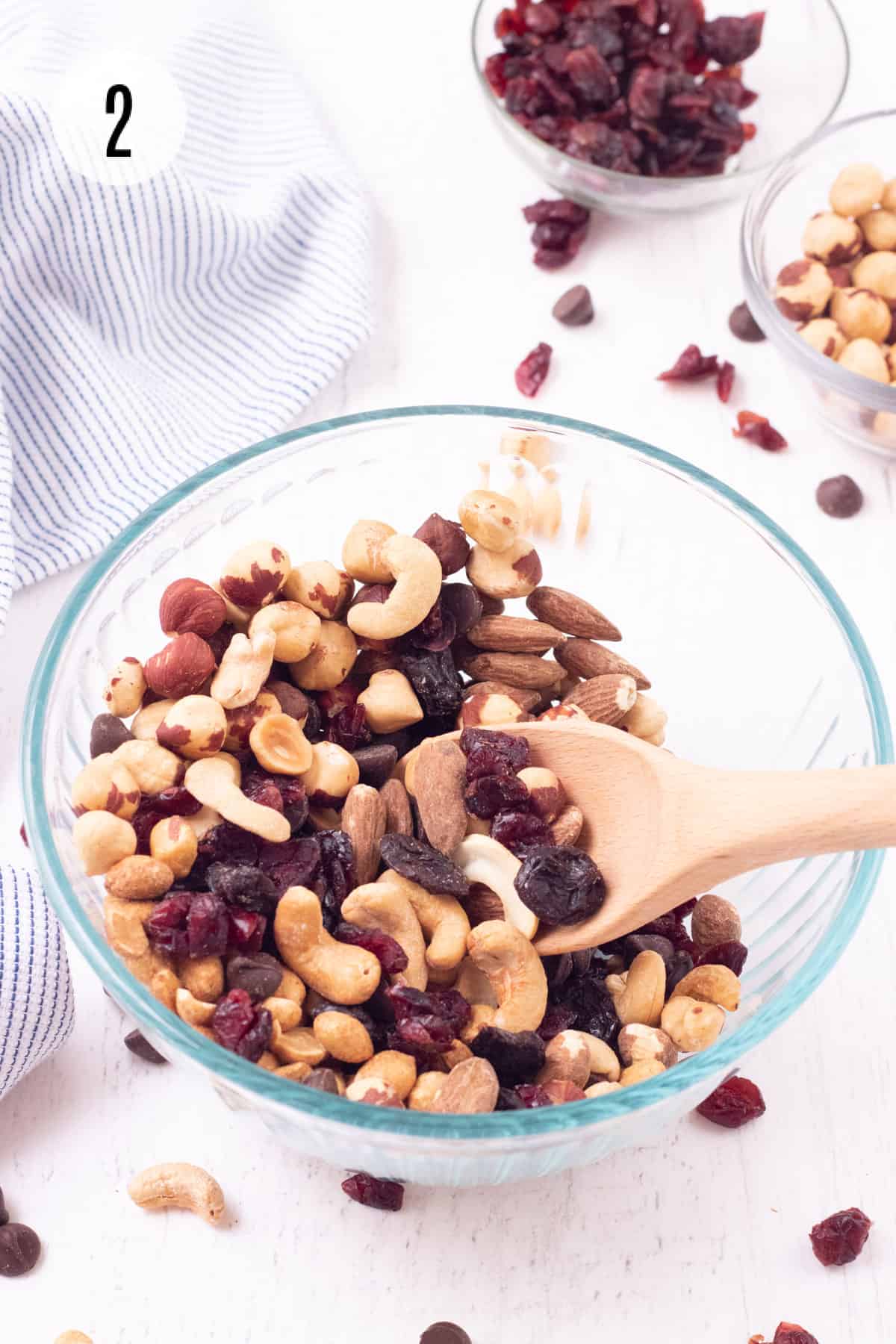 This trail mix recipe can easily be doubled or tripled but the original recipe actually makes a lot! A big batch is also great to take on your next road trip along with some of these Better For You Road Trip Snacks.
Homemade trail mix also makes a great food gift! I like to package it in a clear bag tied with a ribbon or a glass jar (3).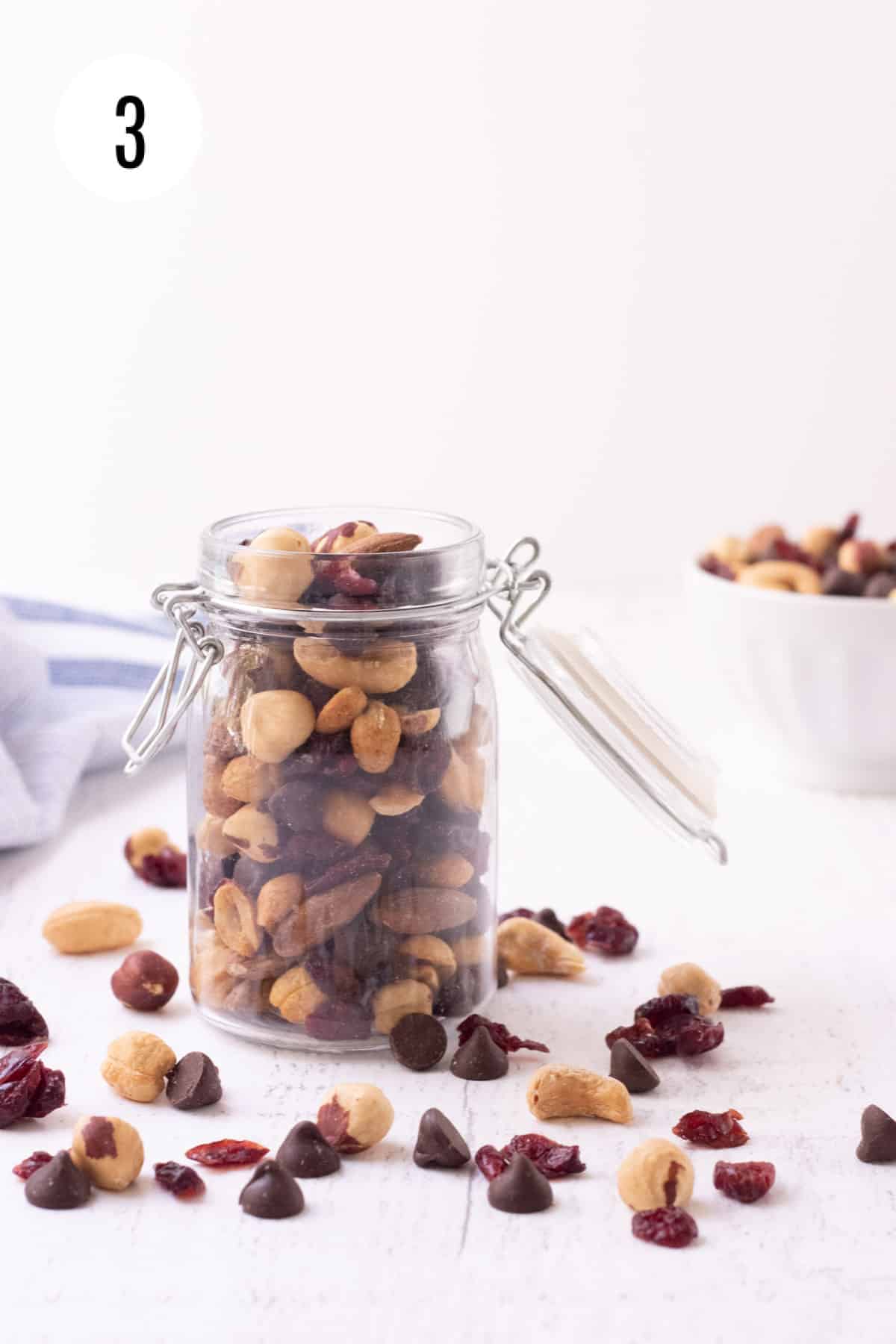 Make Ahead Preparation Tips
Since trail mix is made from all non-perishable ingredients, it's naturally easy to make it ahead.
Can I Freeze Trail Mix?
Did you know you can freeze nuts for up to a year? Yep, you can! And the same goes for the other ingredients in this recipe: dried fruit and dark chocolate chips. Sometimes when the chocolate thaws, it may have a bit of a whitish coating. This is called chocolate bloom, but it's still ok to eat.
Freeze trail mix in an airtight container or freezer safe reusable food bag (affiliate link). Don't forget to date and label it (affiliate link)!
Need Snack Ideas?
Check out these other favorite protein-filled snacks to keep you going!
Simple Honey Cinnamon Roasted Garbanzo Beans
No Bake Chocolate Cherry Snack Bites
Peanut Butter Chocolate No Bake Energy Bites
Sign up to receive an email in your inbox for each new recipe and get a FREE menu plan printable: FREE EMAIL SUBSCRIPTION
If you've tried this recipe, let me know how much you enjoyed it by coming back and leaving a comment below and a rating. I love hearing from you!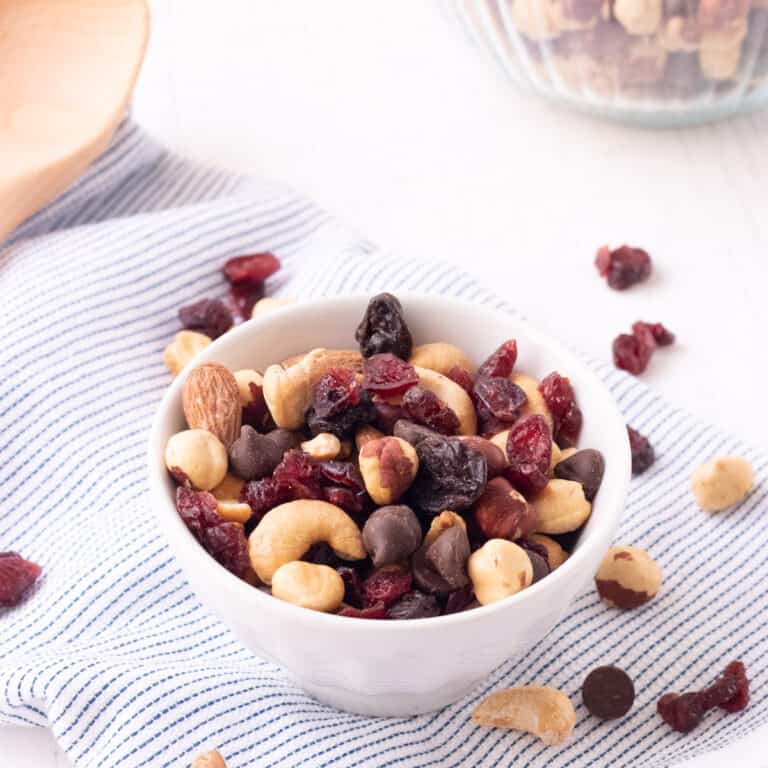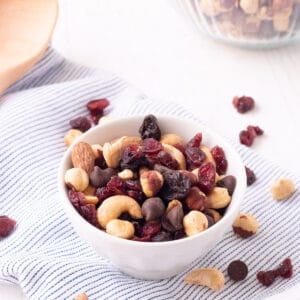 Dark Chocolate & Cherry Homemade Trail Mix
My Dark Chocolate Cherry Homemade TrailMix is full of protein and nutrient rich nuts and dried fruit like cherries,hazelnuts, cashews, and just a bit of dark chocolate—and more! It's the perfect combination of salty and sweet!
Rate this Recipe
Print Recipe
Pin Recipe
Ingredients
1

cup

dark chocolate chips

1

cup

dried cranberries

1

cup

dried cherries

1

cup

roasted salted peanuts

1

cup

whole salted almonds

1

cup

salted roasted cashews

whole, not pieces

1

cup

hazelnuts

also called filberts
Instructions
In a large mixing bowl, combine all ingredients and stir until evenly mixed.

Store trail mix in an airtight container for up to one month.
Nutrition
Serving:
1
cup
|
Calories:
353
kcal
|
Carbohydrates:
29
g
|
Protein:
10
g
|
Fat:
24
g
|
Saturated Fat:
6
g
|
Cholesterol:
1
mg
|
Sodium:
123
mg
|
Potassium:
351
mg
|
Fiber:
5
g
|
Sugar:
16
g
|
Vitamin A:
307
IU
|
Vitamin C:
1
mg
|
Calcium:
99
mg
|
Iron:
2
mg
Originally published April 2017 but updated in July 2020 with new photos, video, and content.
Be sure to check out my Amazon Shop to discover the many items I use in my own kitchen. Meal Planning Magic is a participant in the Amazon Services LLC Associates Program, an affiliate advertising program designed to provide a means for sites to earn advertising fees by advertising and linking to Amazon.com. Ordering products mentioned here are at no extra cost to you. Thank you for your support.