This post may contain affiliate links. Please read my disclosure policy.
These Fudgy Mexican Brownies are perfect for chocolate lovers. The addition of coffee, cinnamon and chili powder give them a delicious flavor twist!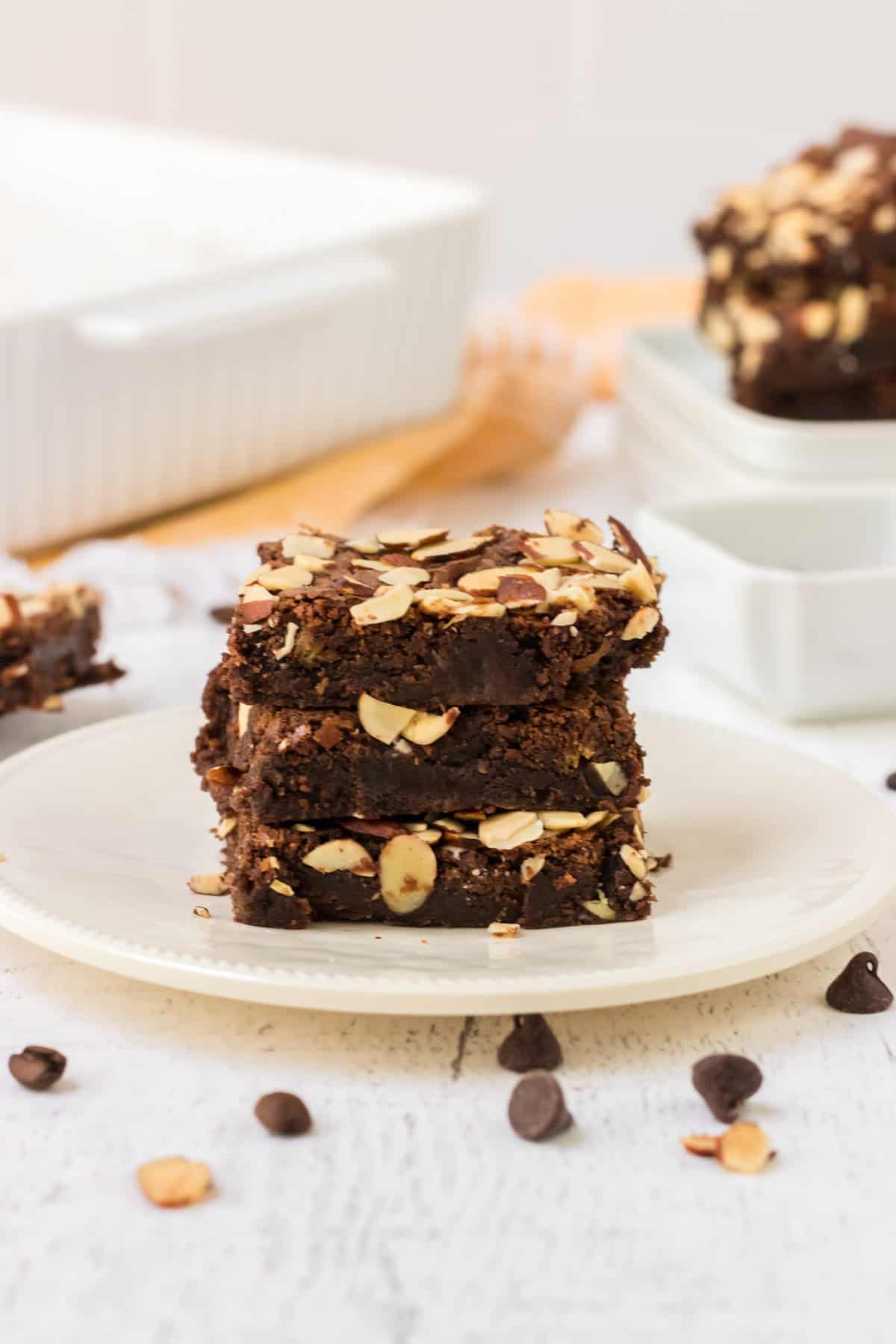 Why We Love This Recipe
Years ago, I used to be famous for bringing coffee brownies to our office potlucks. I lost track of that recipe (boo!) but this recipe for Fudgy Mexican Brownies is a great substitute. I love the addition of cinnamon and chili powder to give them a unique flavor twist.
True Mexican chocolate is a past made from cacao nibs, chocolate and cinnamon but may also contain other flavors like chili, vanilla, or almonds. These brownies have it all! And the addition of coffee gives them a great depth of flavor also.
The combination of these spices with the chocolate are often found in Mexican treats like these Mexican Chocolate Sugar Cookies or in beverages similar to this chocolate cinnamon hot cocoa.
With the addition of instant coffee granules, too, they are also like a mocha brownie and so good. If you're looking for a change from your usual chocolate treats, be sure to check these out!
Ingredient Tips To Make These Brownies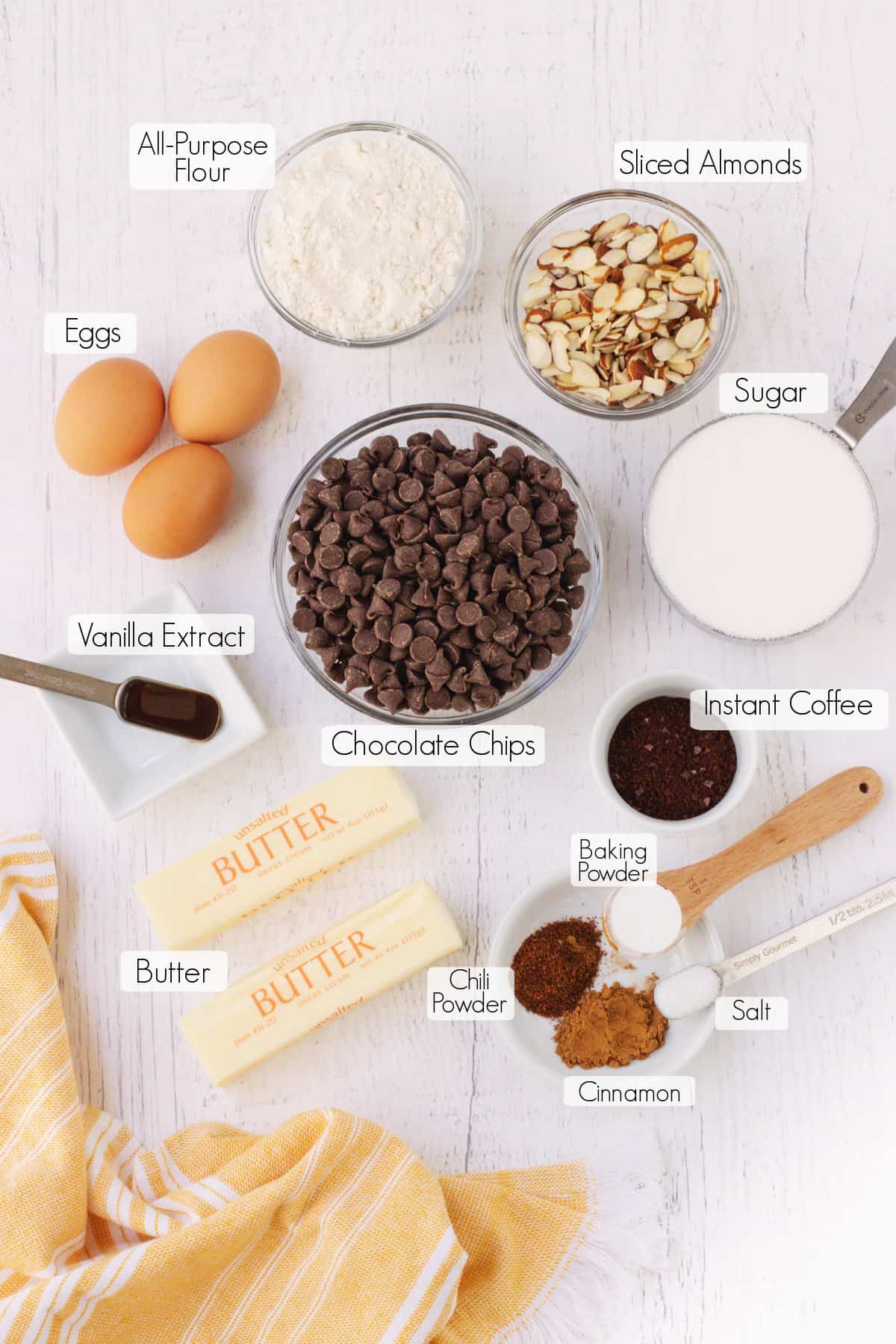 These Mexican brownies may sound gourmet and difficult to make, but you can easily find the ingredients at the grocery store. I've got some tips for saving some money and choosing them here.
Semi-Sweet Chocolate Chips – Look for these on the baking aisle of the grocery store. We use them in so many different recipes, like these Classic Chocolate Chip Cookies or Blondie Bars with Chocolate Chips that I buy them in bulk at the wholesale club and store in an airtight container. I will often buy the store brand to save even more money.
Unsalted Butter – I prefer to use unsalted butter for baking as then I can add the right amount of salt for the best baking success. I usually buy the store brand and most often find the best deals at Aldi. Did you know you can freeze butter? Yes, you can! I usually just write the date on the package and freeze it directly that way. Just let it thaw in the refrigerator until you are ready to use it in a recipe.
Instant Coffee Granules – Look for this in the coffee aisle of the grocery store. I usually find them on a lower or upper shelf and again, usually buy the store brand. I've found there often isn't a wide selection so that makes it easier. Make sure you're choosing instant COFFEE and not instant ESPRESSO as they work differently in recipes like this. Another way to use instant coffee granules is in these delicious Chocolate Chip Coffee Cookies.
Vanilla Extract – We use a lot of vanilla extract too! I like to buy it at the wholesale club for the best price. But I also have found good deals at Aldi or with store brands. For the best flavor, make sure you choose pure vanilla extract and not imitation vanilla.
All-Purpose Flour – Again, I buy store brand for this to save money and I also prefer the unbleached all-purpose flour. It can be store for months as long as it's in an airtight container (affiliate link).
Sliced Almonds – Look for these in the baking aisle of the grocery store. They can be pricey so I prefer to buy them in bulk at the wholesale club or Aldi. Nuts like almonds can be frozen too!
I just freeze them in the bag they come in, making sure to squeeze out all the air each time I put them back in the freezer. They will last up to a year. Use sliced almonds in this Mandarin Tossed Salad recipe. They are great sprinkled on cereals and other salads too!
Cinnamon and Chili Powder – These are such versatile spices that I always have them on hand. Again, I buy these in bulk also to use in other recipes like Cinnamon Chocolate Peanut Butter Overnight Oats or Slow Cooker Chili.
How to Make These Brownies
Preparation of these Mexican Brownies comes together relatively quickly and easily.
Start by melting the chocolate and butter in a microwave safe bowl (affiliate link), stirring well (1).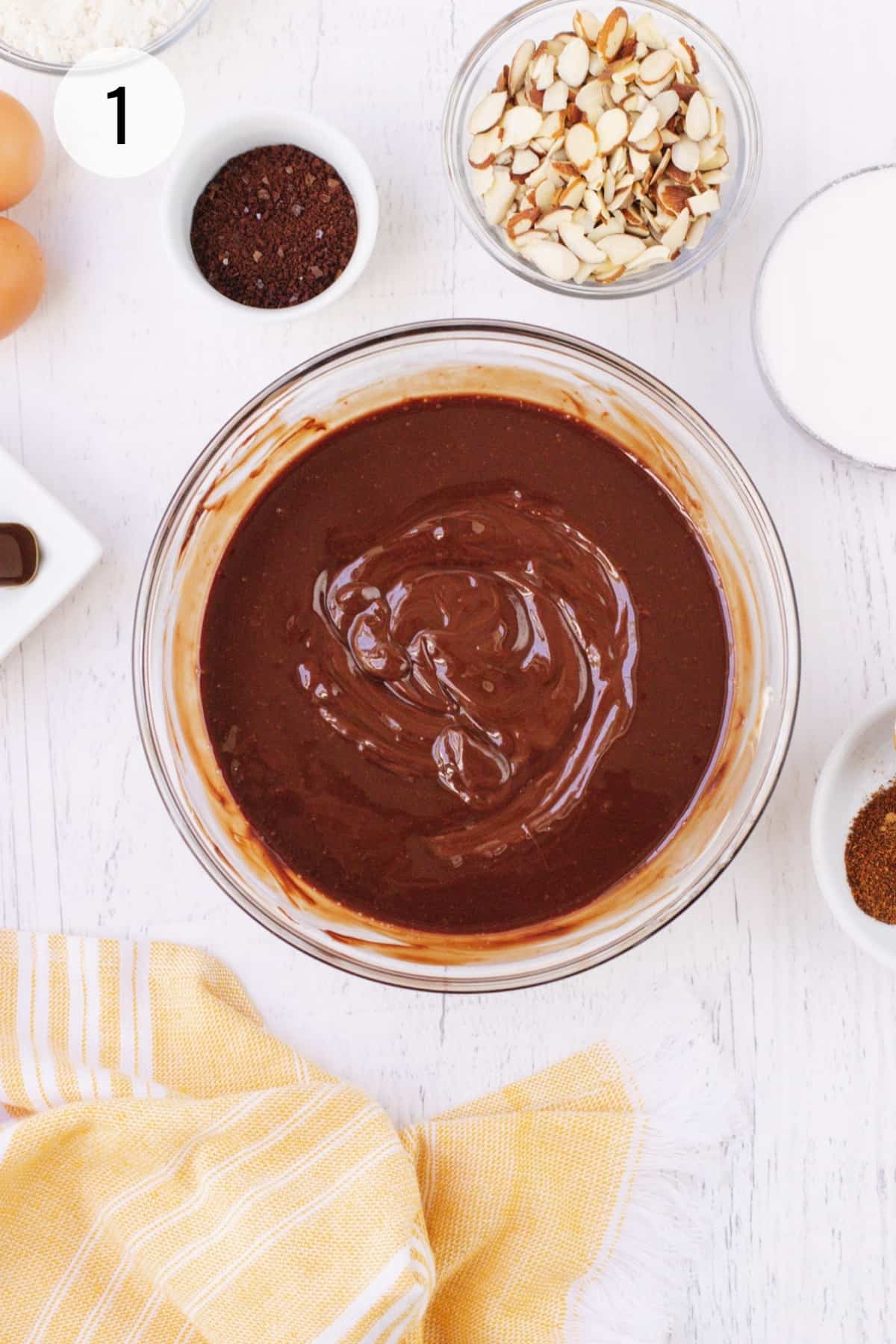 Then add the sugar, eggs, instant coffee granules and vanilla and stir to combine (2).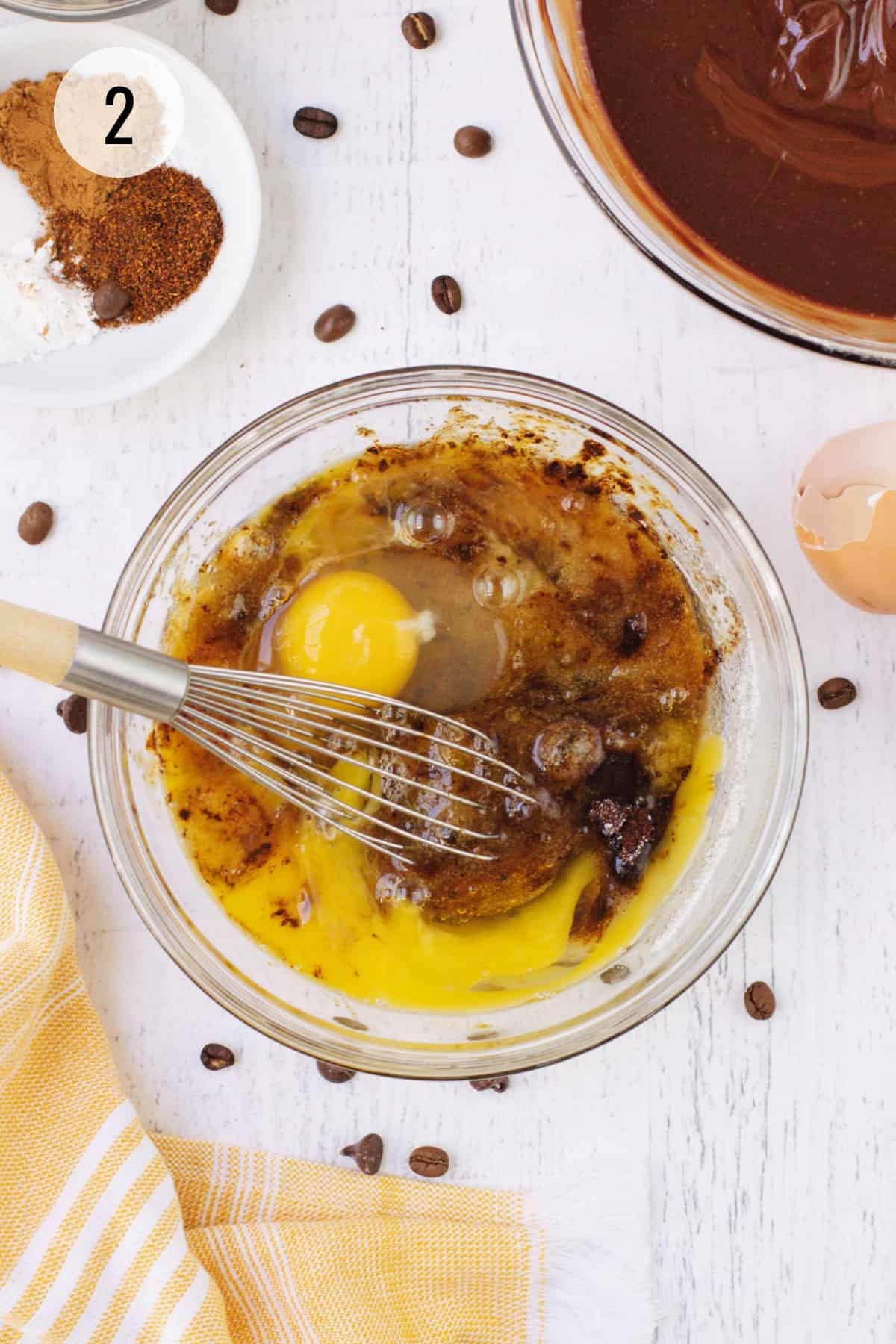 Next, add the flour, baking powder and spices and stir just until combined (3).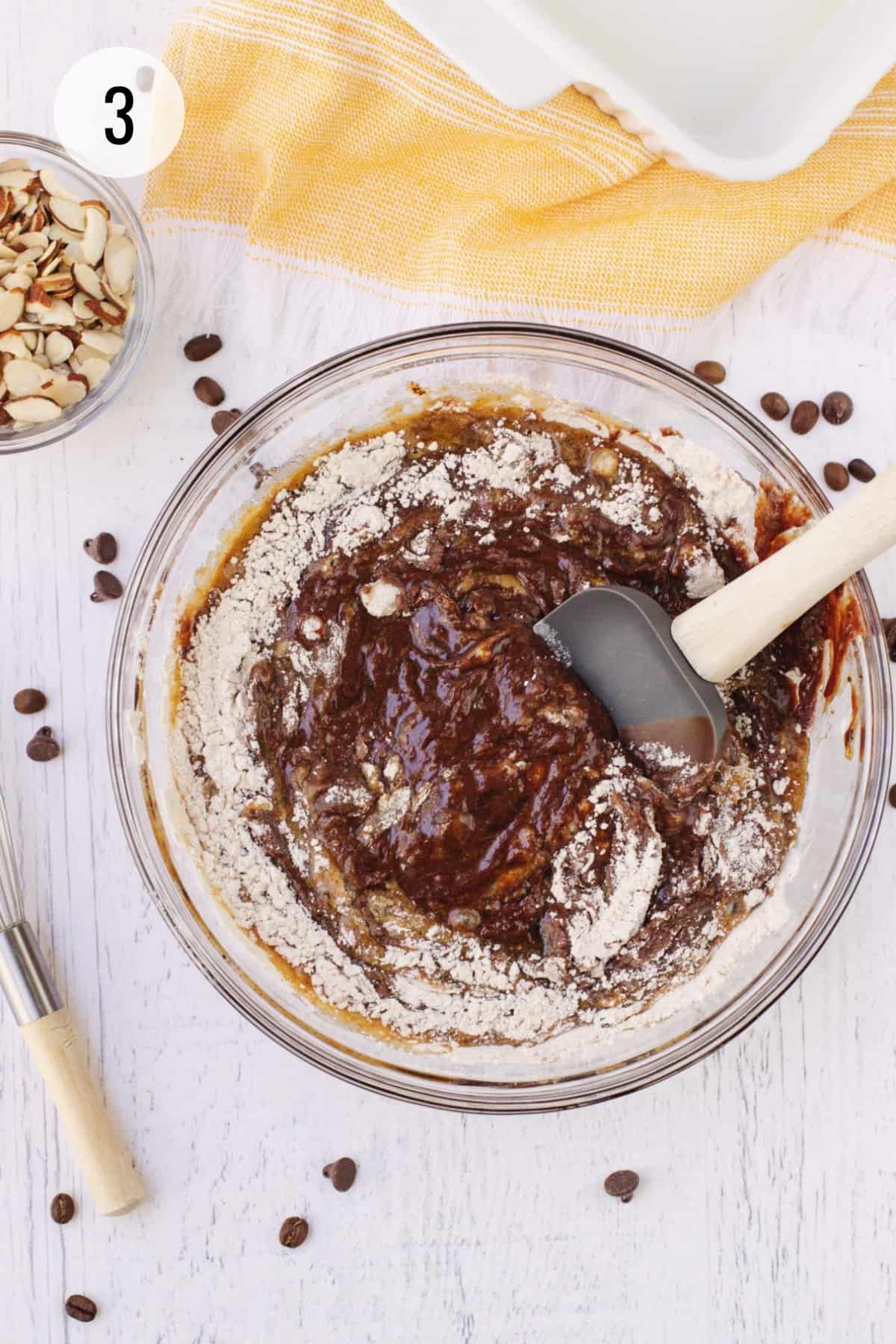 Spread the batter into a prepared 9×13-inch pan (4) and bake for 15 minutes.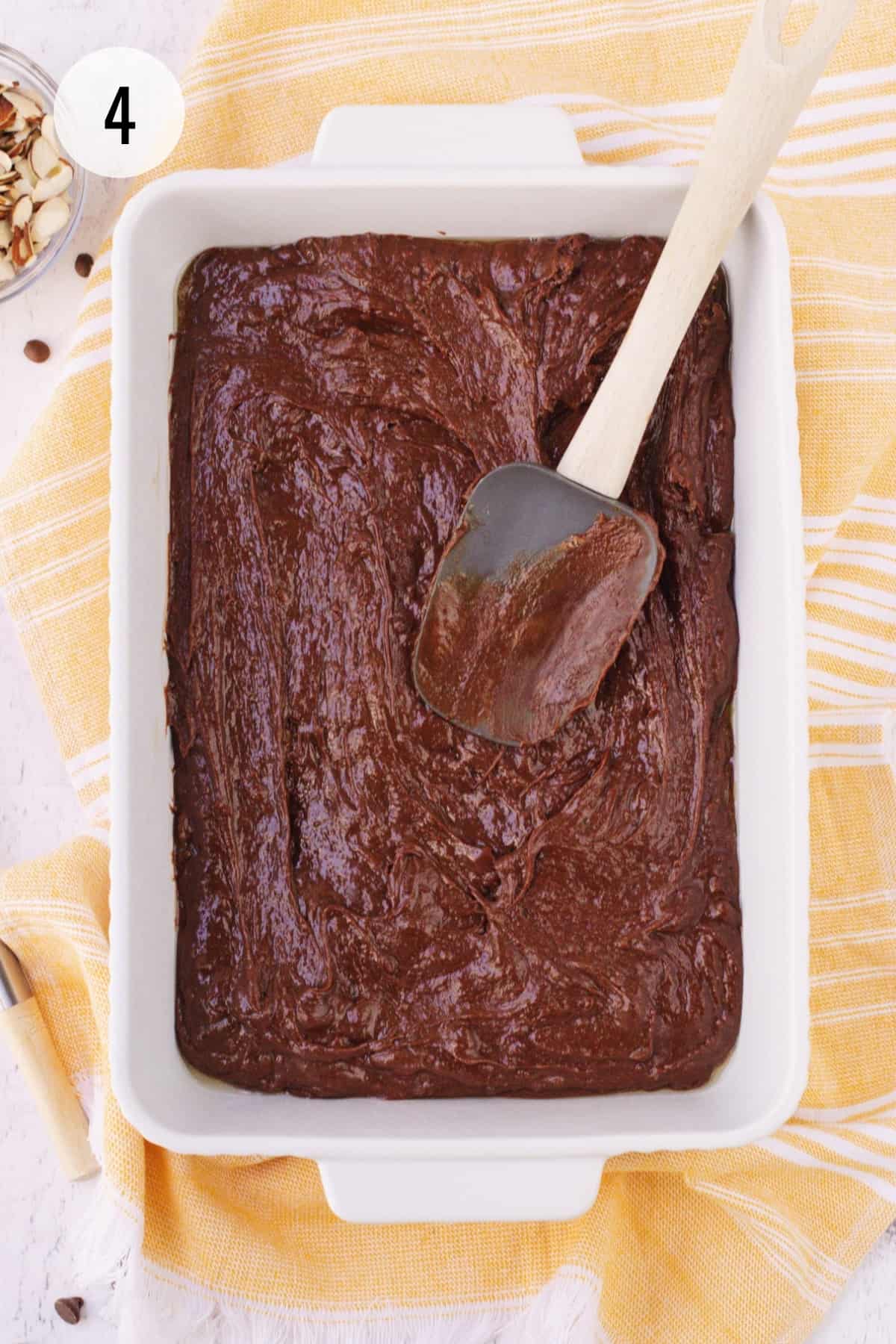 Remove the pan from the oven and sprinkle the sliced almonds on top of partially baked batter (5). Then bake for 20 minutes, until done.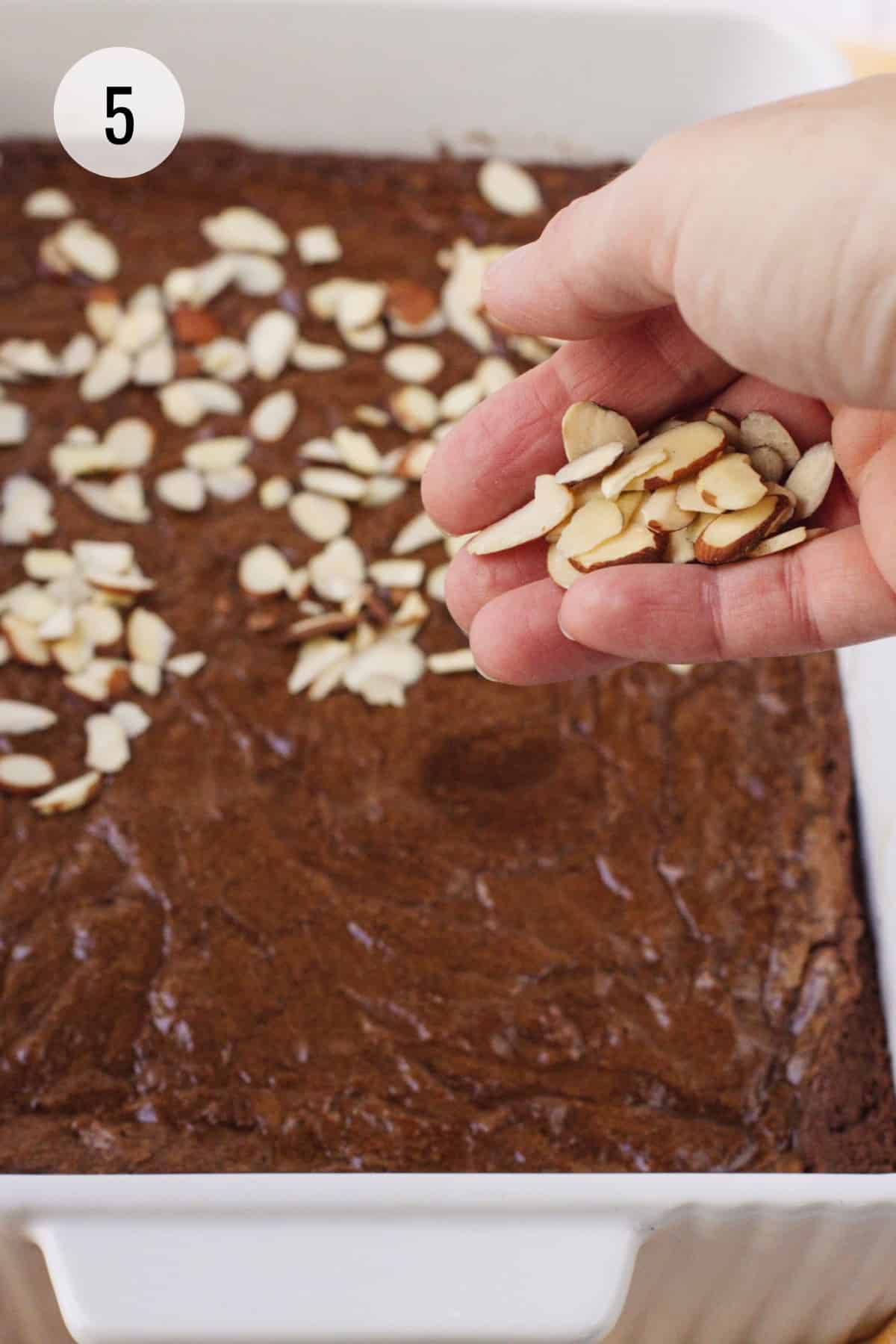 When brownies are slightly cool, dig into the fudgy goodness of these delicious brownies!
Make Ahead Preparation Tips
There are a few ways to prep the ingredients to make these Mexican brownies.
Sometimes I will pull out all the non-perishable ingredients and gather them up on my kitchen counter to set aside until I'm ready to make them. This may seem like a small step but it all adds up to save a little bit of prep time.
Since the dry ingredients are combined in a bowl before adding to the wet ingredient mixture, you can also measure and combine those ahead of time also. Store that mixture up to a week in advance in an airtight container.
Are These Brownies Freezer Friendly?
Baked goods are perfect for freezing and these fudgy Mexican brownies are no exception.
For best success, let the brownies cool completely. Cut into squares and layer the brownies in an airtight container separating with wax paper between layers. Be sure to date and label (affiliate link) the container. Keep these brownies in the freezer up to three months.
To enjoy, pull out the number of brownies you want to serve and let them thaw at room temperature.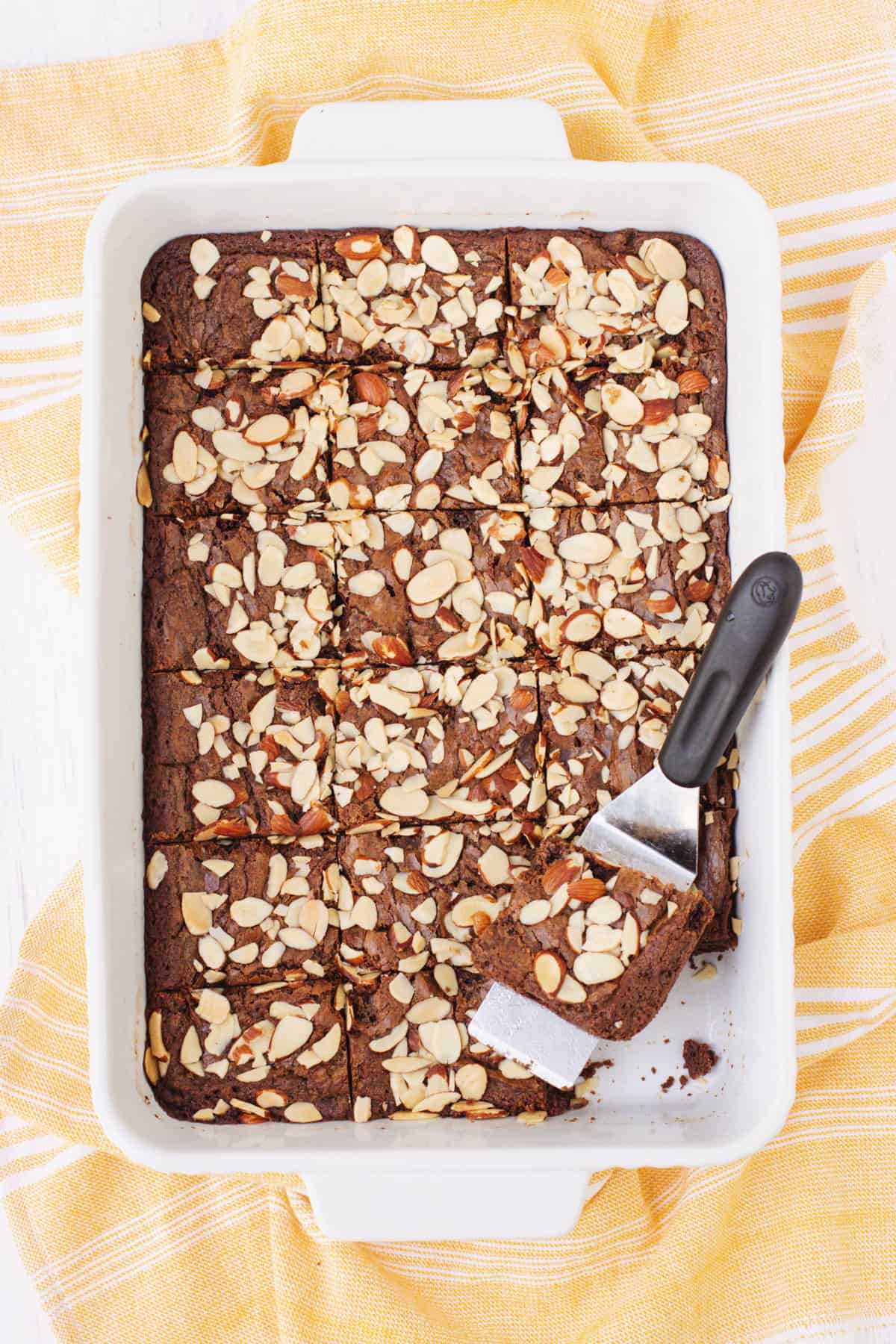 More Recipes for Chocolate Lovers
I LOVE chocolate so if you do too, be sure to check out some of these other recipes that you can make:
This recipe was originally posted in February 2016 but updated in July 2021 with new photos, content and video.
Be sure to check out my Amazon Shop to discover the many items I use in my own kitchen. Meal Planning Magic is a participant in the Amazon Services LLC Associates Program, an affiliate advertising program designed to provide a means for sites to earn advertising fees by advertising and linking to Amazon.com. Ordering products mentioned here are at no extra cost to you. Thank you for your support.