This post may contain affiliate links. Please read my disclosure policy.
This Quick and Easy Shrimp Creole Recipe is ready in less than 30 minutes and made all in one pan—perfect for a busy weeknight. Full of flavorful fresh ingredients, it's freezer friendly too!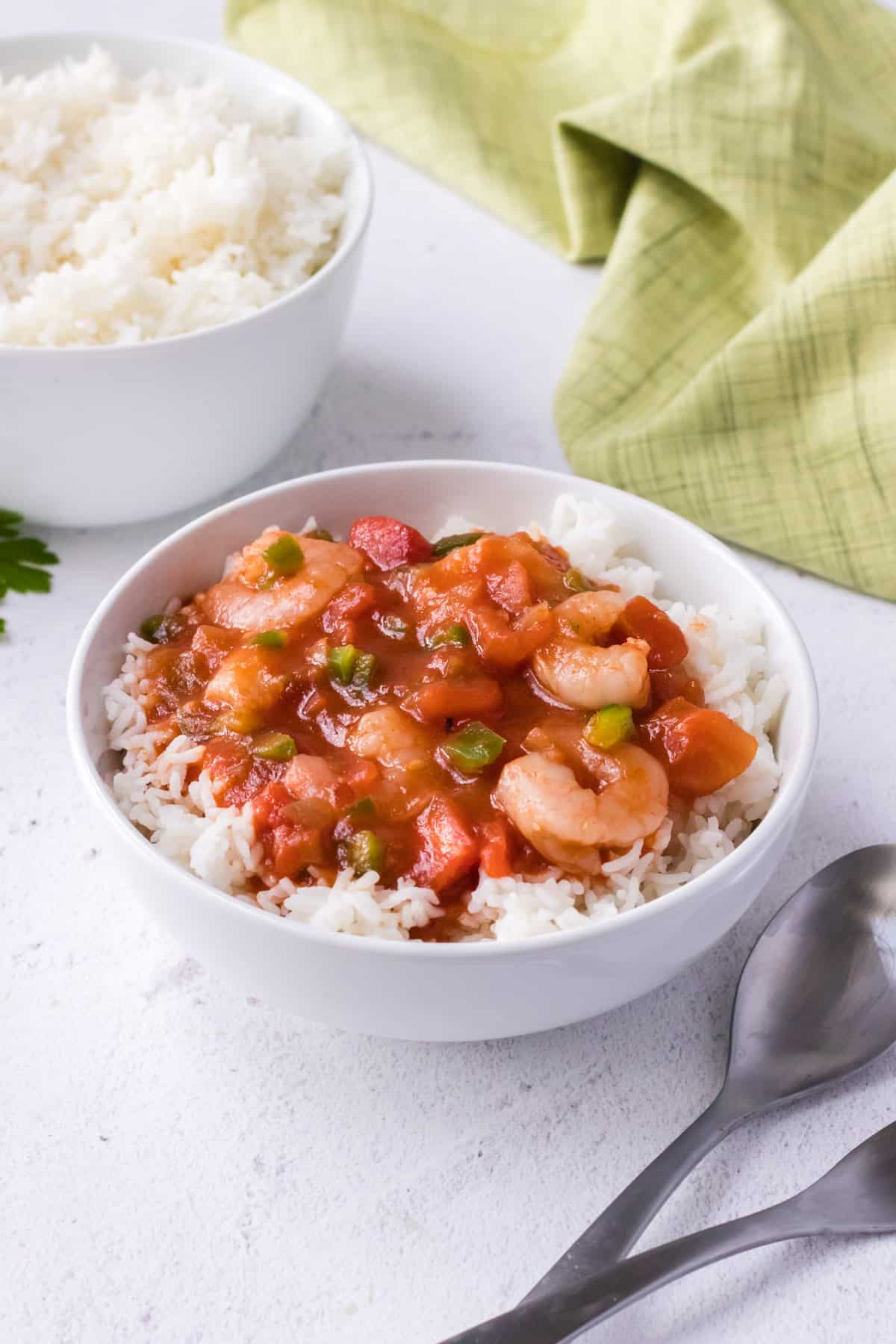 Why We Love This Recipe
This Easy Shrimp Creole Recipe has been a family favorite forever! It's a recipe my mom used to make and now I make it for my family. The love it just as much as we did growing up. It's got just a bit of a spicy kick that you can easily adjust to suit your family's tastes.
I love that it can be made in just 30 minutes, making it a perfect option for a busy weeknight meal. It also freezes really well, you'll want to double it and freeze some for another meal on a different day.
I also love how many fresh ingredients are in this sauce. And while the original recipe calls for shrimp, feel free to substitute different types of seafood. I often make it with the smaller cocktail shrimp but have also made it using cooked crab or even crawfish. Living in southeast Texas, crawfish are in season in the spring and we love them!
Sometimes I'll use leftover crab to make these Cheesy Crab Canapes or Jicama Avocado and Brown Rice Salad. It is also good using a mixture of seafood—crab and shrimp!
Ingredient Tips To Make This Sauce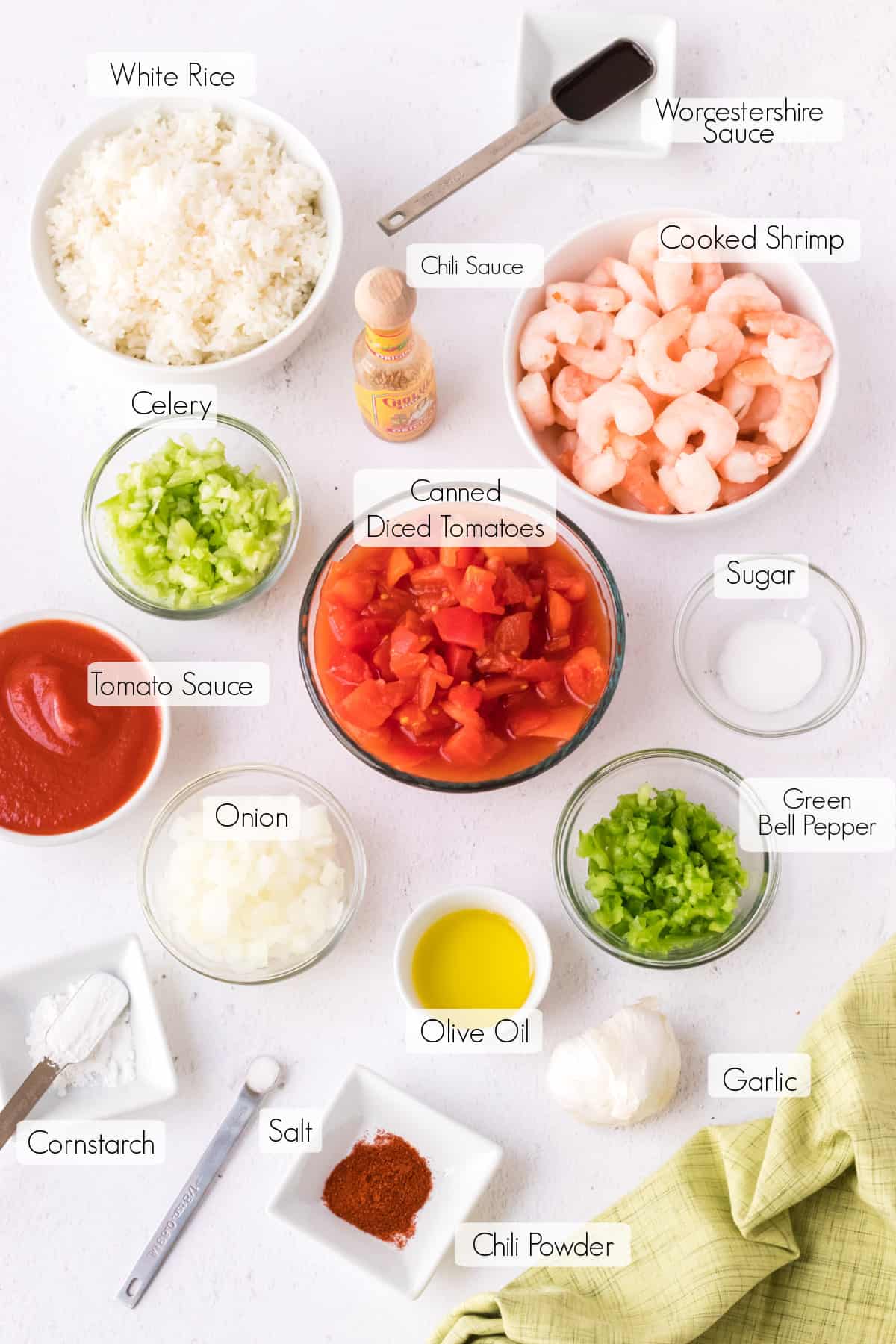 All of the ingredients to make this creole sauce can be found at the grocery store but I've got some tips to help you save time and money for many of them.
Shrimp – To save time, look for the cooked frozen shrimp in the seafood section of the grocery store. You can also buy uncooked shrimp that have the tails and peels on and cook them yourself but I find the price difference is often not that great of a difference.
We prefer to use the miniature salad shrimp (it's often called just that—salad shrimp—on the package) or a smaller shrimp but feel free to use what your family prefers.
Sugar – Adding just a bit of sugar cuts the acidity in the sauce.
Green Bell Pepper and Onions – Sometimes I will substitute chopped frozen green bell peppers and onions. I pretty much have them on hand at all times to add into all kinds of recipes like this one.
Celery – I like to use my handheld food chopper (affiliate link) to chop up celery. My son can spy it a mile away so finely chopping helps it blend in more easily.
Rice – The recipe calls for white rice but as you may know, there are several types of white rice. Converted (parboiled) rice grains hold their shape and tend to remain in separate pieces. I like to serve make basmati or jasmine rice sometimes though. These are a stickier rice and can be quite fragrant. And while not traditional, brown rice can be served with it as well.
How to Make This Creole Sauce
You can have this shrimp creole sauce ready in just 30 minutes! The most time consuming part is chopping the vegetables so I recommend pulling out all your ingredients and chopping everything right after each other.
I especially like using a handheld food chopper (affiliate link) to chop the onion, green bell pepper and celery. I will often substitute frozen chopped onions and bell peppers to save even more time. Sometimes the frozen versions are also less expensive, especially the bell peppers.
To get this sauce going, sauté the celery, onions and garlic in a large saucepan (1) until tender.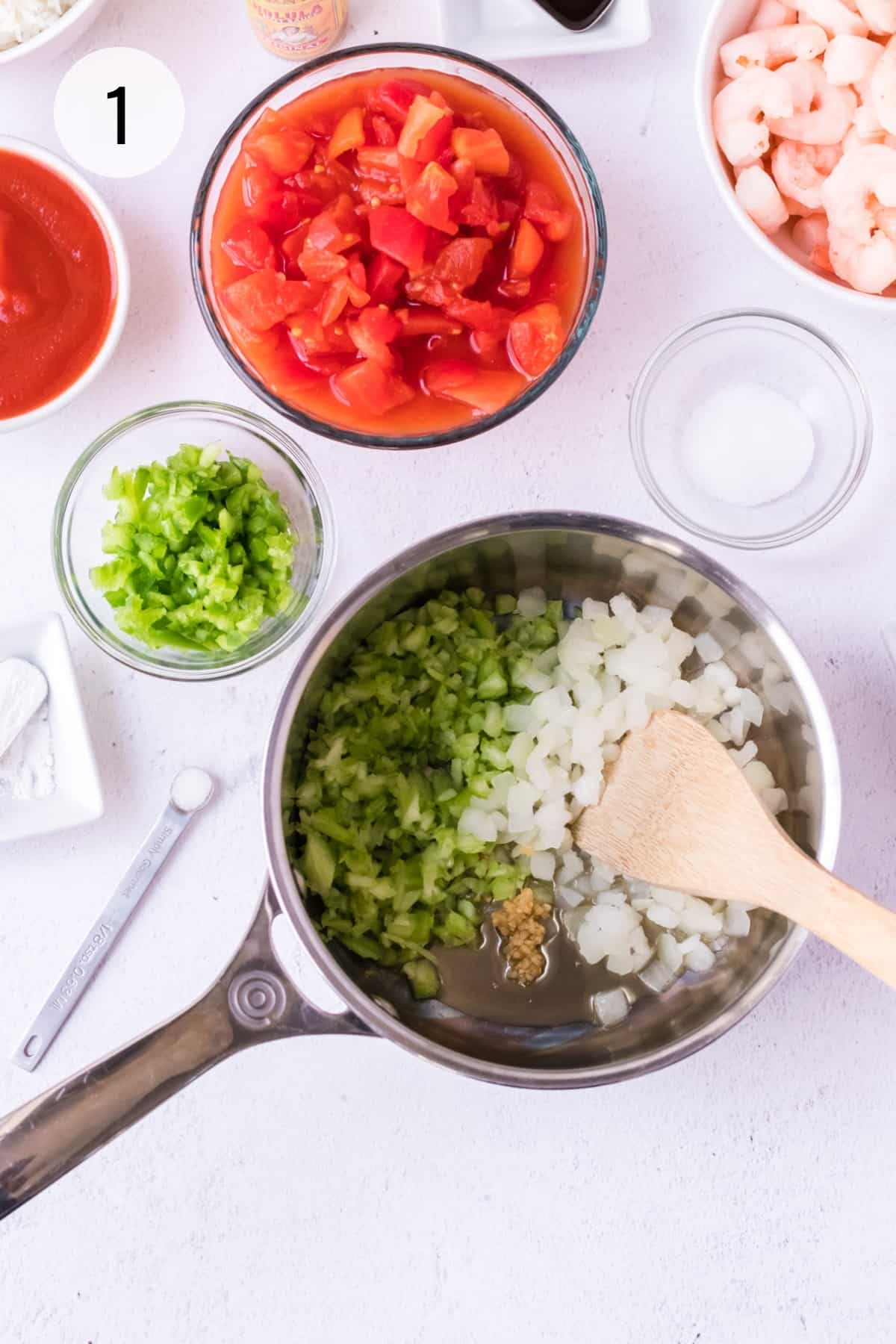 Add remaining ingredients to saucepan (2), leaving out shrimp, bell peppers and rice.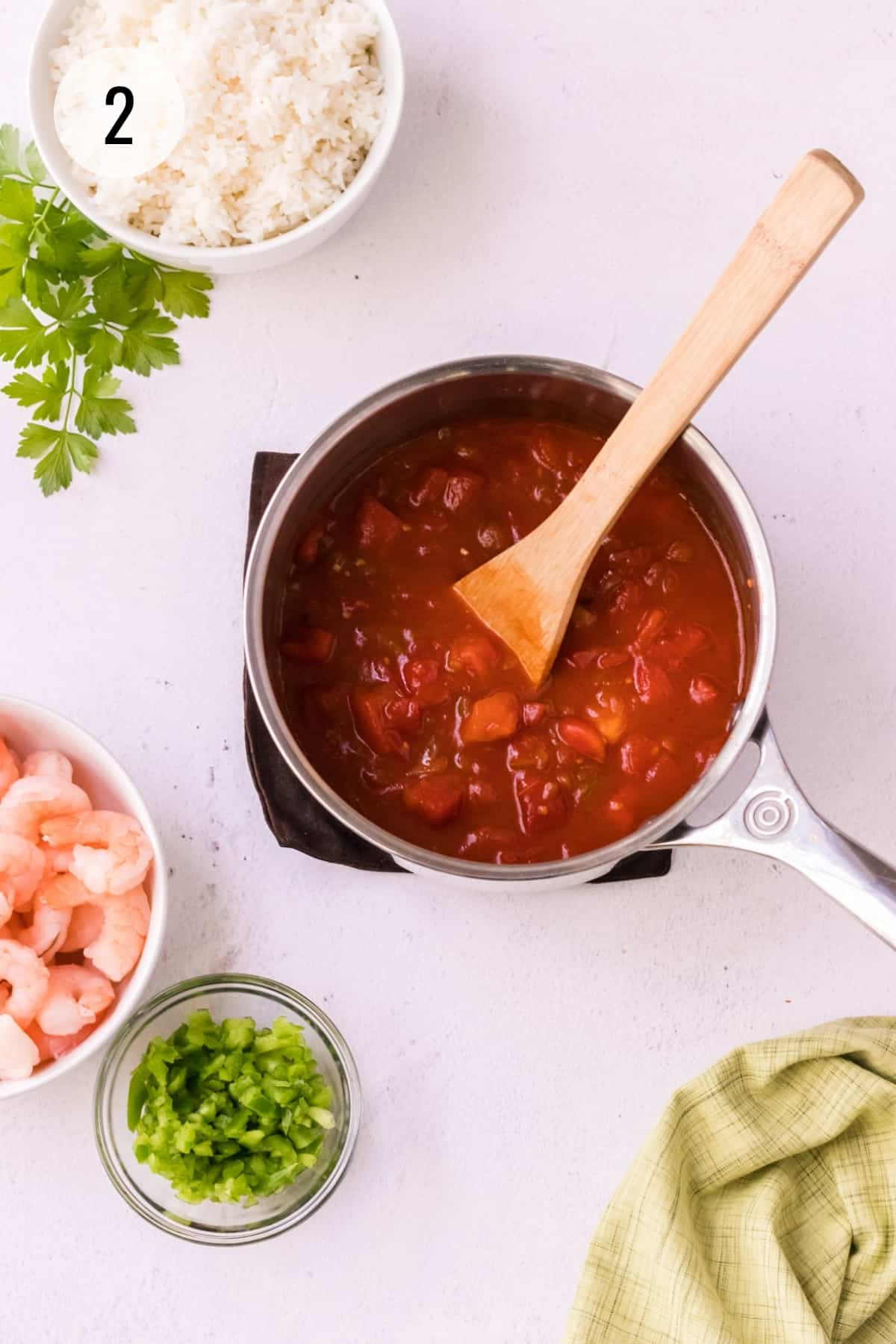 Meanwhile, make the rice according to package directions. Years ago I bought a rice cooker (affiliate link) that helps me make perfect rice every time!
Simmer sauce for about 15 minutes, then add the cooked, peeled shrimp and green bell peppers (3), stirring over heat until just warmed through.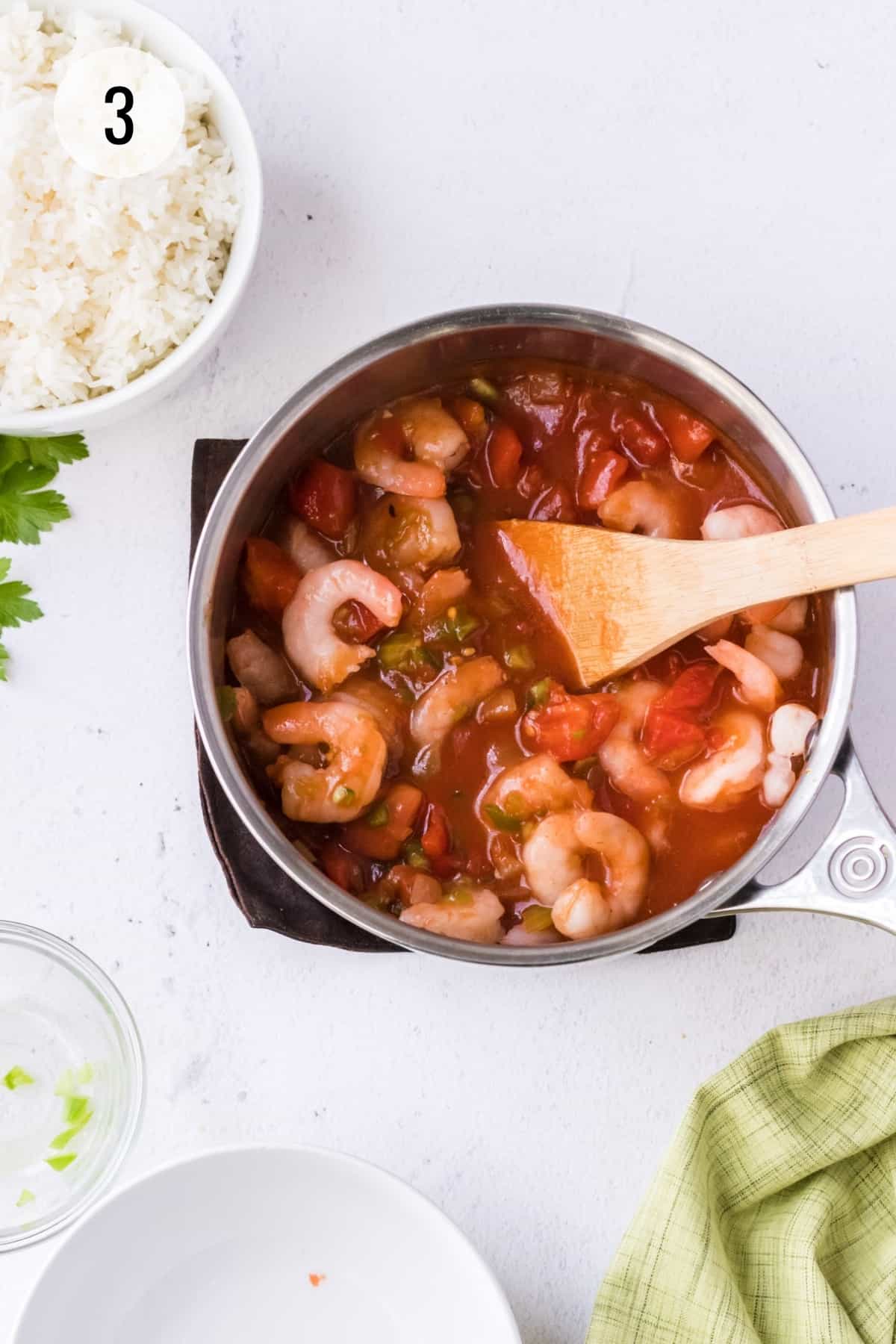 Make Ahead Preparation Tips
There are several ways to prep this easy seafood creole ahead of time. You can chop the vegetables up to a day in advance and store in an airtight container in the refrigerator.
If you are not buying cooked and peeled shrimp, you can also cook raw shrimp and peel it up to a day in advance as well.
Or, go ahead and make the entire recipe up to two days in advance and store in the refrigerator. Then just reheat over medium heat in a large saucepan for 10-15 minutes or until heated through.
We enjoy this dish with a fresh garden salad and crusty French bread.
Is this Sauce Freezer Friendly?
My Shrimp Creole Recipe is perfect for the freezer! After making the sauce, I recommend letting it cool to room temperature before freezing so it's less likely to form ice crystals. Make sure you use a freezer safe, airtight container (affiliate link) or reusable silicone bag (affiliate link) and don't forget to date and label (affiliate link) the container.
When ready to serve, let the sauce thaw in the refrigerator overnight, then heat up in a large sauce pan until warmed through.
I prefer to make the rice fresh on the day that I will be serving it but you can also freeze cooked rice! Check out my post for Cilantro Lime Rice for tips!
More Delicious Seafood Recipes
We love seafood for a delicious and healthy dinner! Check out a few more of my favorite recipes featuring seafood!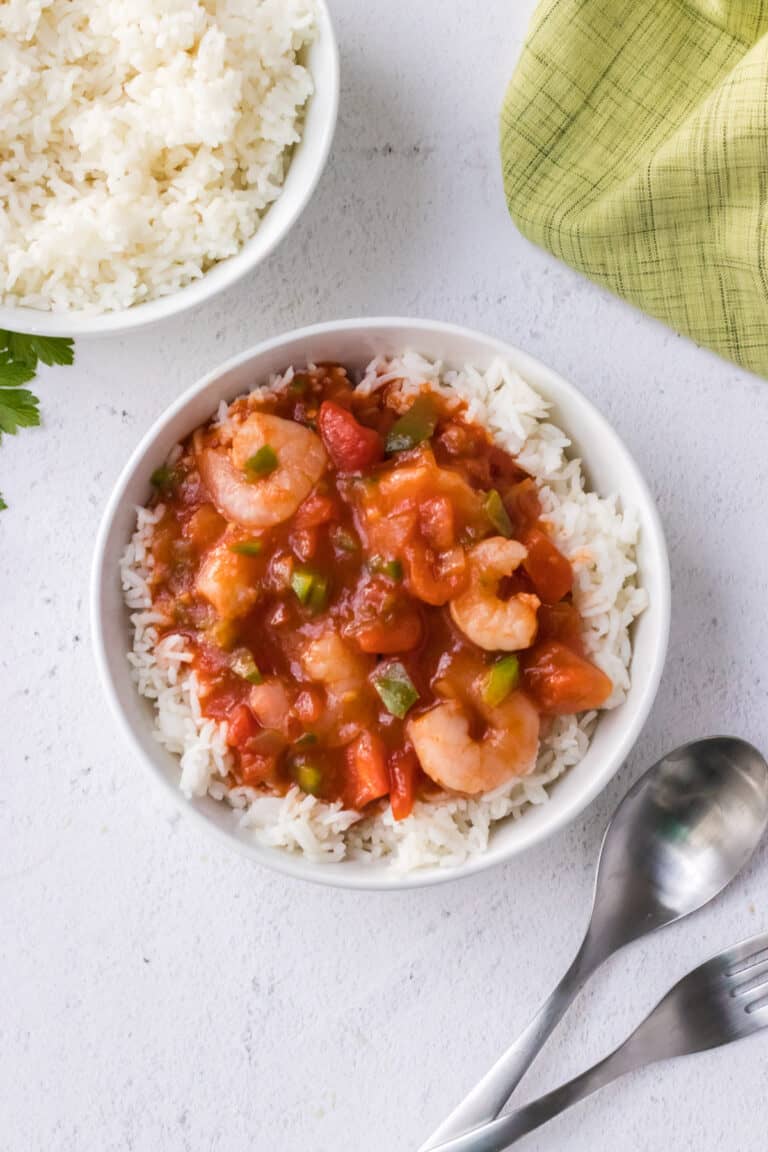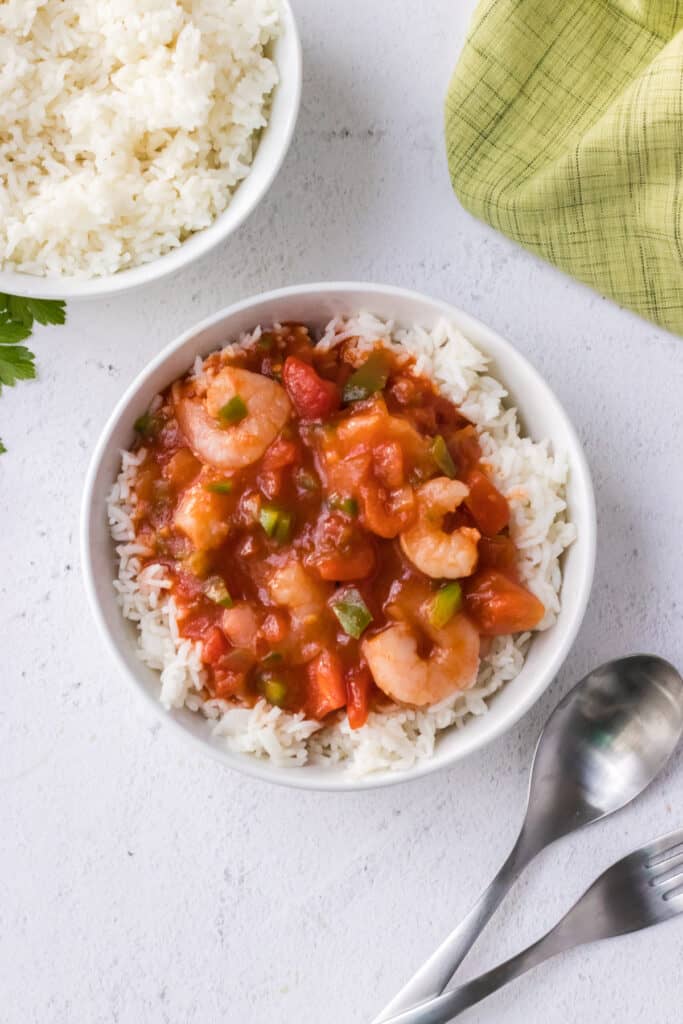 Originally posted in February 2016 and updated in July 2021 with new photos, content and video.
Be sure to check out my Amazon Shop to discover the many items I use in my own kitchen. Meal Planning Magic is a participant in the Amazon Services LLC Associates Program, an affiliate advertising program designed to provide a means for sites to earn advertising fees by advertising and linking to Amazon.com. Ordering products mentioned here are at no extra cost to you. Thank you for your support.