This post may contain affiliate links. Please read my disclosure policy.
These 5 Simple Kid-Friendly Tips for prepping and packing kids lunch helps them develop skills to last a lifetime, it also helps parents save a little time too.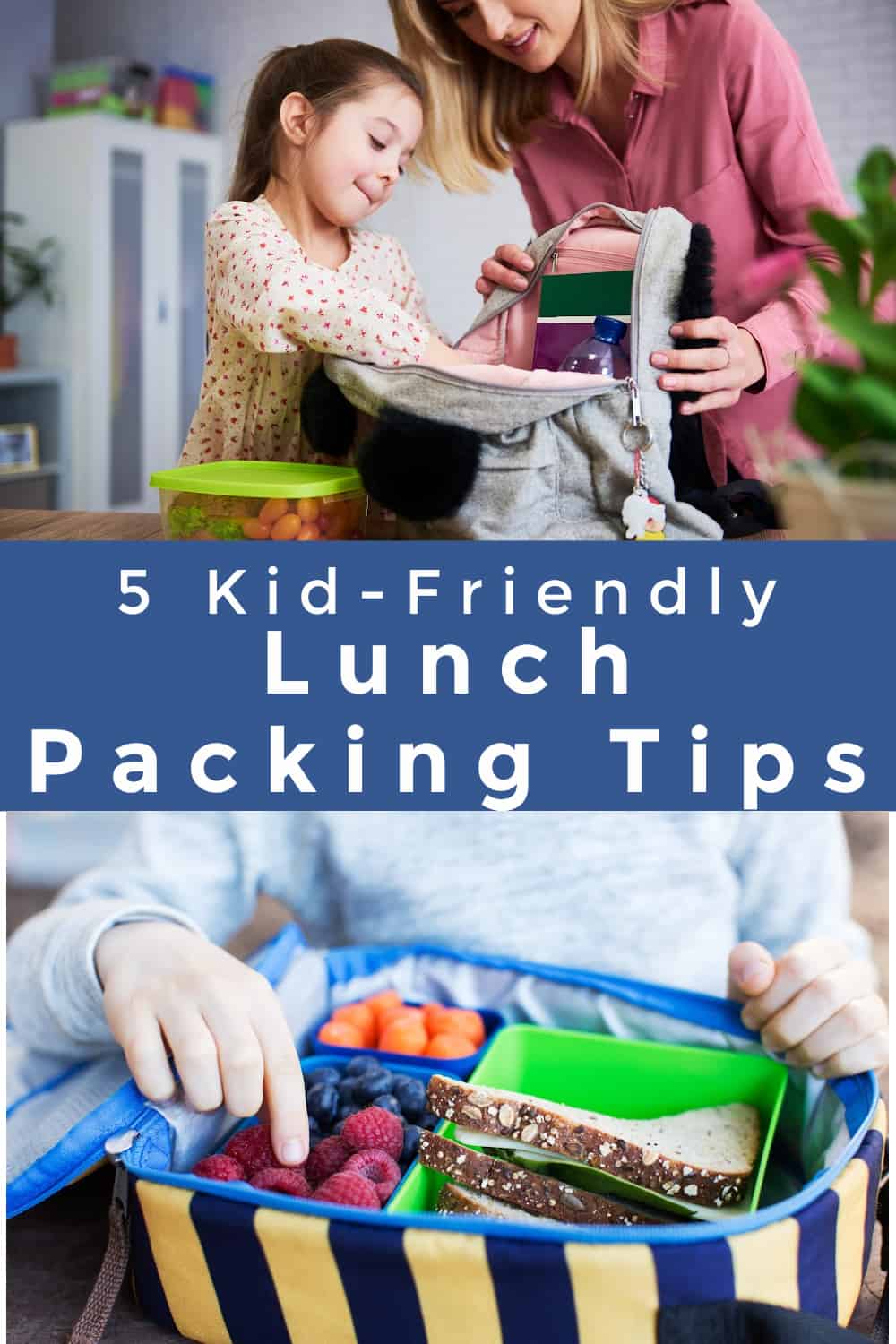 This year marks my 10th year partnering with the Healthy Family Project and their Power Your Lunchbox campaign! I have loved being a part of their mission to help support families by providing resources, recipes and ideas to help them eat well and of course, enjoy lots of delicious produce!
I started my own packing kids lunch journey more than 15 years ago but they've been packing and prepping their own lunches and snacks for several years now and it has paid off as they now are old enough to not only pack and prep their own food but also go shopping! Empowering kids to be successful not only helps them develop skills to last a lifetime, it also helps parents save a little time too. Prepping healthy lunches and snacks helps to build a healthy mind and body so that students are ready to learn!
How Does Power Your Lunchbox Help?
Produce for Kids and it's Power Your Lunchbox produce partners have committed to donating $14,000 to the United Fresh Start Foundation. I am so excited to share with you about this great organization. They "work to create an environment in which kids have easy access to high-quality, great-tasting and affordable fresh fruits and vegetables, whenever and wherever they are choosing snacks or a meal, ensuring kids everywhere are Growing Up Fresh." They partner with local organizations to accomplish those goals.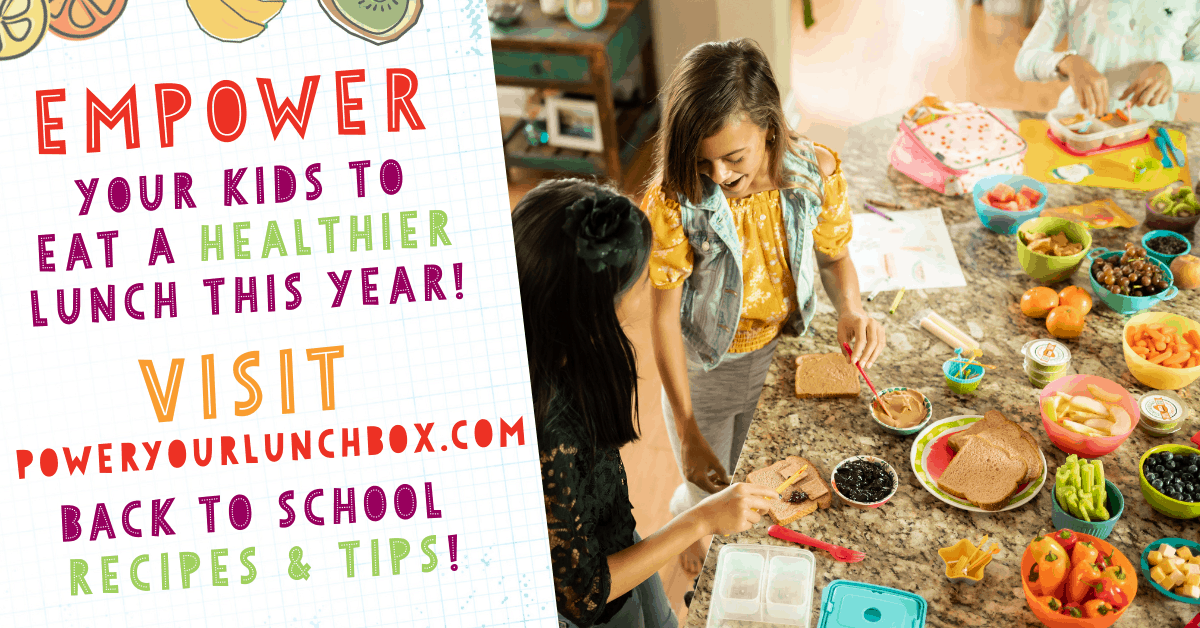 Recipes and Ideas to Help You Too
The Power Your Lunchbox website has TONS of great recipe and lunch packing ideas. Be sure to check them out by clicking here.
5 Tips for Packing Kids Lunch (and Snacks)!
This year, I'm sharing my Top Five Kid-Friendly Tips For Packing Kids Lunch (and snacks!) today to hopefully help set your family up for success in and out of school.
Make a meal plan. Lots of people think meal planning is mostly just for dinner time but meal planning for all meals, including packable lunches and snacks, will not only save you time but also money. Keeping a list of family favorite foods and ideas helps get you started. Check out this post for Top 10 Meal Planning Tips for Back To School.
Create a lunch packing launchpad. When my kids were younger, I dedicated a kitchen drawer and lower cabinet to just hold lunch packing tools and containers. This helped create independence for them to choose what would work best for them and also helped me identify what items were or were not working best. We kept reusable containers, bags, bottles, sandwich cutters and more in those spaces and it worked out great!
Include Kids In Making the Meal Plan. From the time my kids were preschoolers, they have been involved in choosing what to bring to lunch. Usually, we would just talk about it and also talk about what new things to try. Sometimes they would ask to try things that friends brought.
I also asked that they bring home what they didn't eat or finish so that we could talk about why that was. Sometimes it was that there was too much for their liking or an item was difficult to eat at school or needed some extra prep (like slicing apples or peeling oranges) to make it easier.
Provide parent approved options but let the kids make the choices. When making my grocery shopping list, I would give the kids a choice of what items might be in season or on sale—but were mom-approved—for them to add to the selection of what they wanted to include in their daily lunches or snacks. This is a win-win because parents get to decide what healthy choices they provide but kids feel like they're in charge when they get to choose.
Prep or Pack Ahead of Time. It may seem like just one more thing to do at the end of the day but I promise, prepping and packing lunches or snacks ahead of time always pays off! While cleaning up from dinner, we prep and pack lunches for the next day and store in the refrigerator. Then all, that needs to happen in the morning is to grab the container(s) and put in a lunchbox or backpack. Also, cutting up fruit or vegetables or prepping ingredients to make a simple recipe one day (for snacks or lunch) that can be served for the whole week helps too.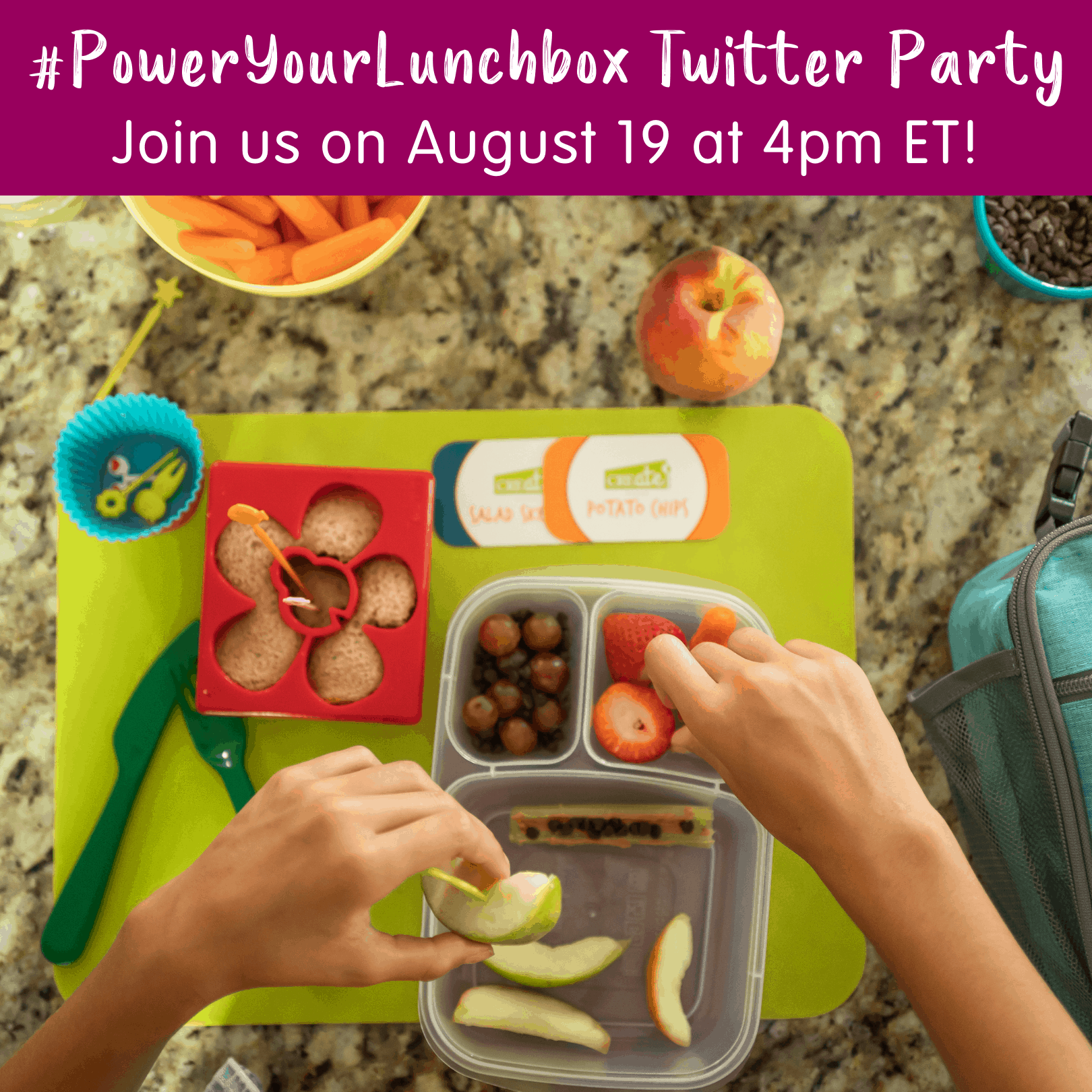 Power Your Lunchbox on Social Media
Be sure to join the Power Your Lunchbox partners on August 19, 2021 at 4:00 pm ET for the #PowerYourLunchbox Twitter party! You'll have an opportunity to win prizes and of course, learns lots of great, nutritious meal and snack ideas and tips, too for packing kids lunch.
New this year, Power Your Lunchbox is stepping into the Tik Tok space sharing hacks and quick video inspiration for Tik Tok's 680 million users. And don't forget to check out Instagram too (use the #PowerYourLunchbox hashtag to find posts easily).
A Facebook Live kids in the kitchen themed cooking class will take place on the Healthy Family Project Facebook page on August 25 at 3:30 pm ET with Healthy Family Project's mother-daughter on camera duo Amanda and Charli.
Also, when you're on social media this August, be sure to use the #PowerYourLunchbox hashtag to keep up with all the great information and ideas being shared plus opportunities to win prizes there too!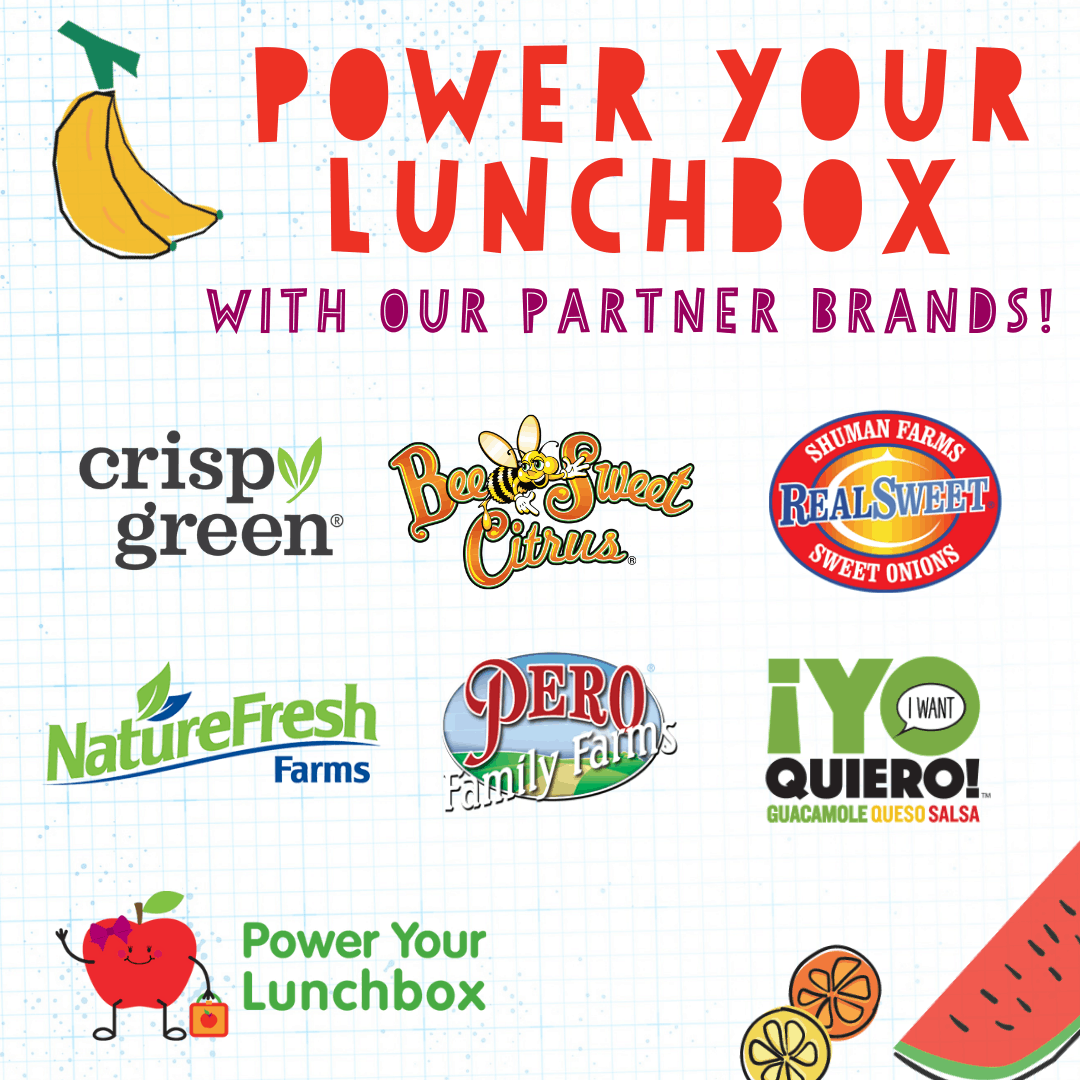 Be sure to check out this year's sponsors , BeeSweet Citrus, Crispy Green®, Shuman Farms' Real Sweet®, Yo Quiero!®, Nature Fresh Farms and Pero Family Farms®, for healthy lunch and snack recipes and ideas! Many thanks to all the sponsors for Power Your Lunchbox this year!