This post may contain affiliate links. Please read my disclosure policy.
If you love the spices of a warm oatmeal cookie, you'll love it even more with the chocolaty goodness of a cup of hot cocoa in this Warm Oatmeal Cookie Hot Chocolate!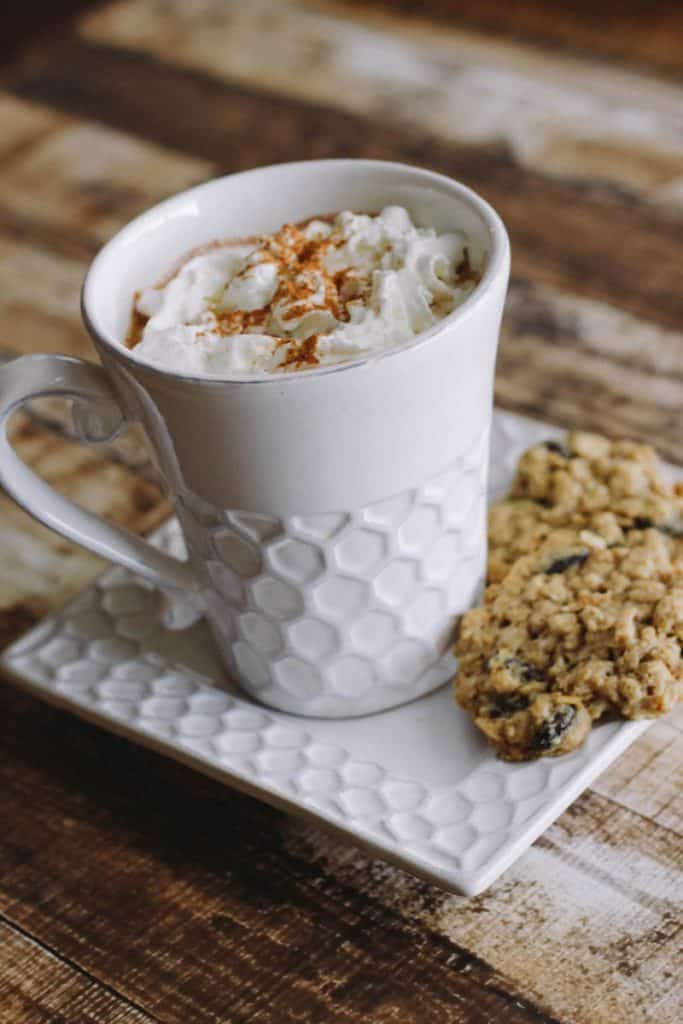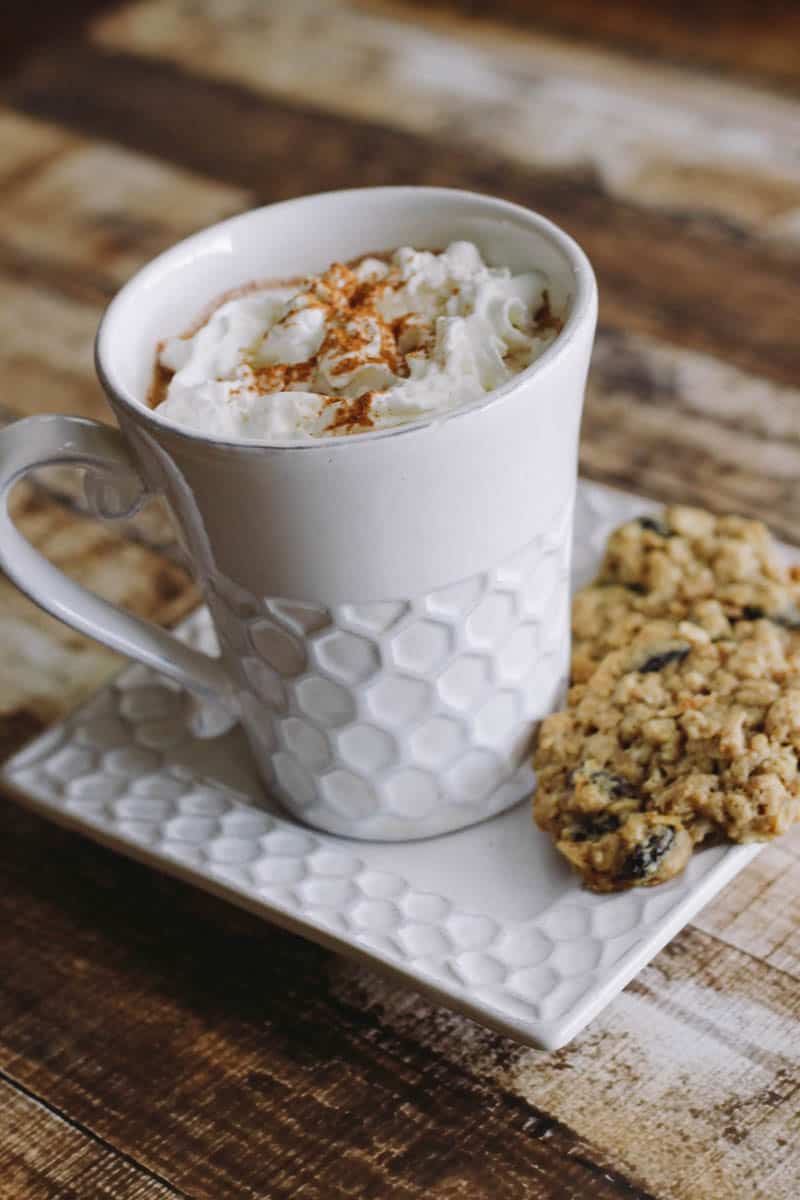 For many years, my family loved getting the Land O' Lakes hot chocolate variety pack that we could only find them around the holidays at our local Sam's Club. They were a delicious way to discover new flavor combinations that we probably never would have thought of before, like raspberry chocolate and pumpkin spice hot chocolate. (Check out this Homemade Pumpkin Spice Hot Cocoa recipe I shared awhile back) https://www.mealplanningmagic.com/pumpkin-hot-cocoa-week-7-of-12-weeks-of-christmas-treats/
The Warm Oatmeal Cookie Hot Chocolate was one of my favorites. Who knew because at first it sounded a little strange. But the addition of cinnamon and cloves added just the right amount of twist to make this so delicious!
But in those years, they discontinued that flavor so I decided to develop my own version and that's what I'm sharing with you today.
Just a Few Simple Ingredients Are All You Need to Make This Hot Chocolate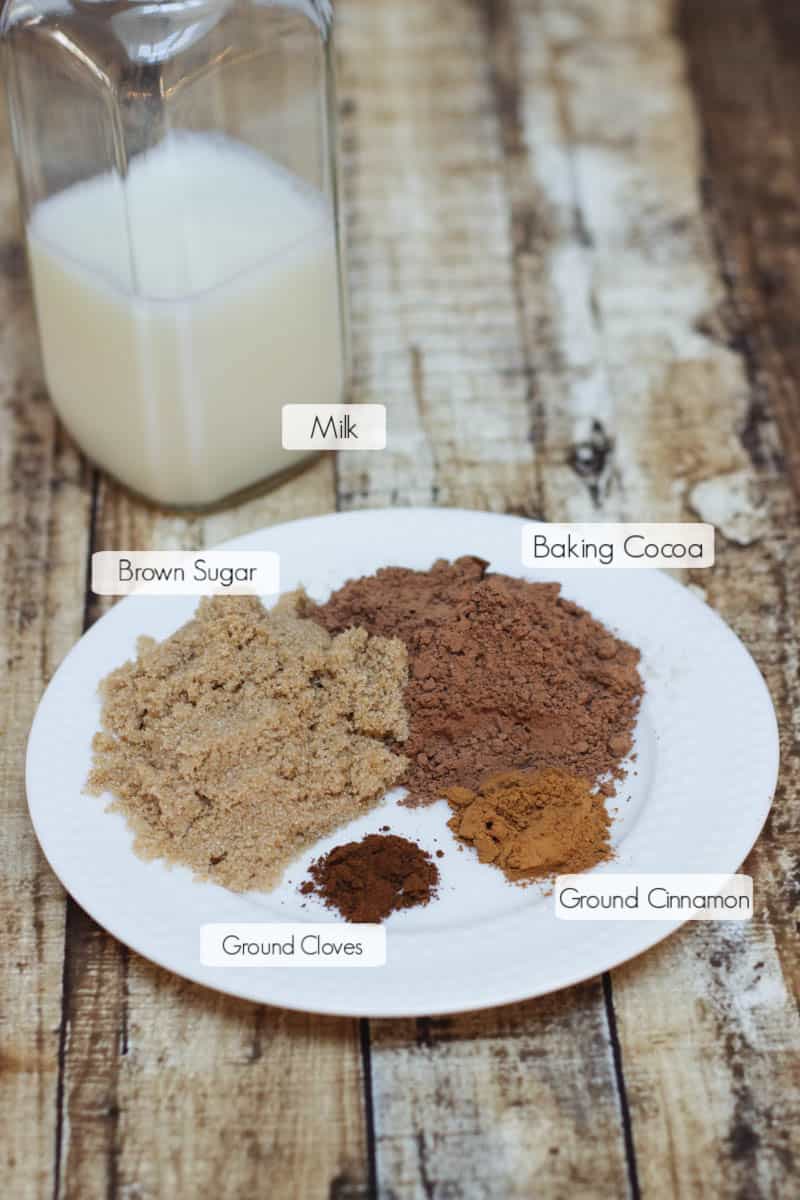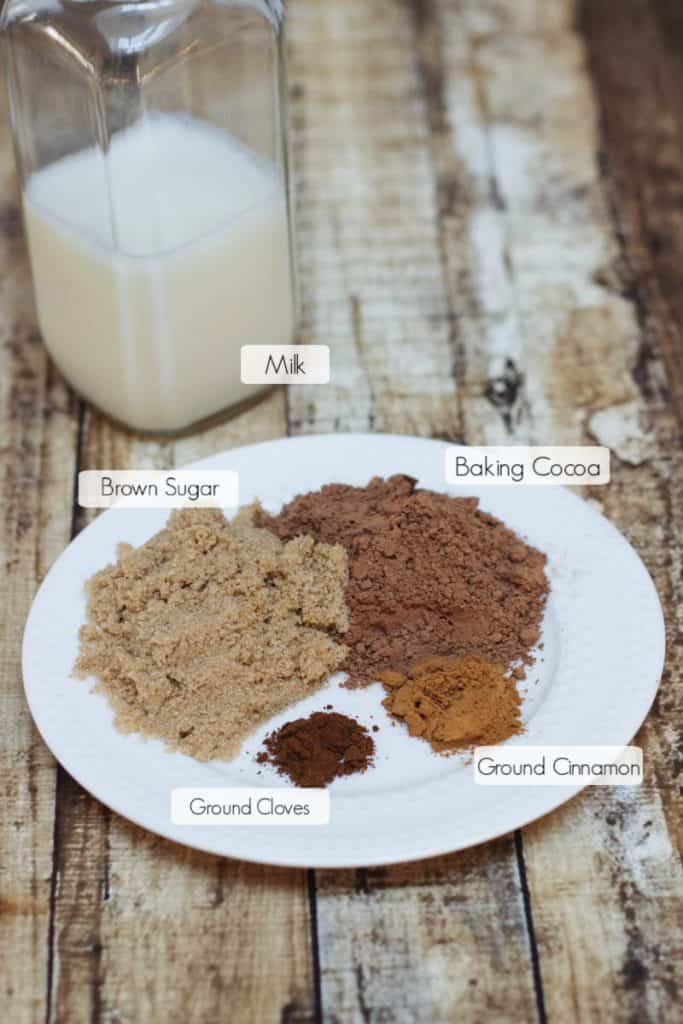 Here's what you need to make this homemade hot chocolate mix. It makes enough for two servings of hot cocoa.
Unsweetened Cocoa Powder – You'll find this on the baking aisle of your grocery store, usually near the chocolate chips. It's not to be confused hot cocoa mix that you'd find near the coffee or tea.
Light Brown Sugar – I like to buy the ALDI brand because it is less expensive than the name brand!
Ground Cinnamon – find this on the spices aisle of your grocery store
Ground Cloves – same as above. Be sure you are buying the ground cloves and not whole cloves for this recipe (most stores have both)
Milk – we usually use skim milk but you can substitute the milk that you prefer
Whipped Cream – this is optional. We use the kind that comes in a spray can because it often has less sugar and is lower in calories than the whipped topping you find in the frozen desserts section.
How Easy Is It To Make Warm Oatmeal Cookie Hot Chocolate Mix?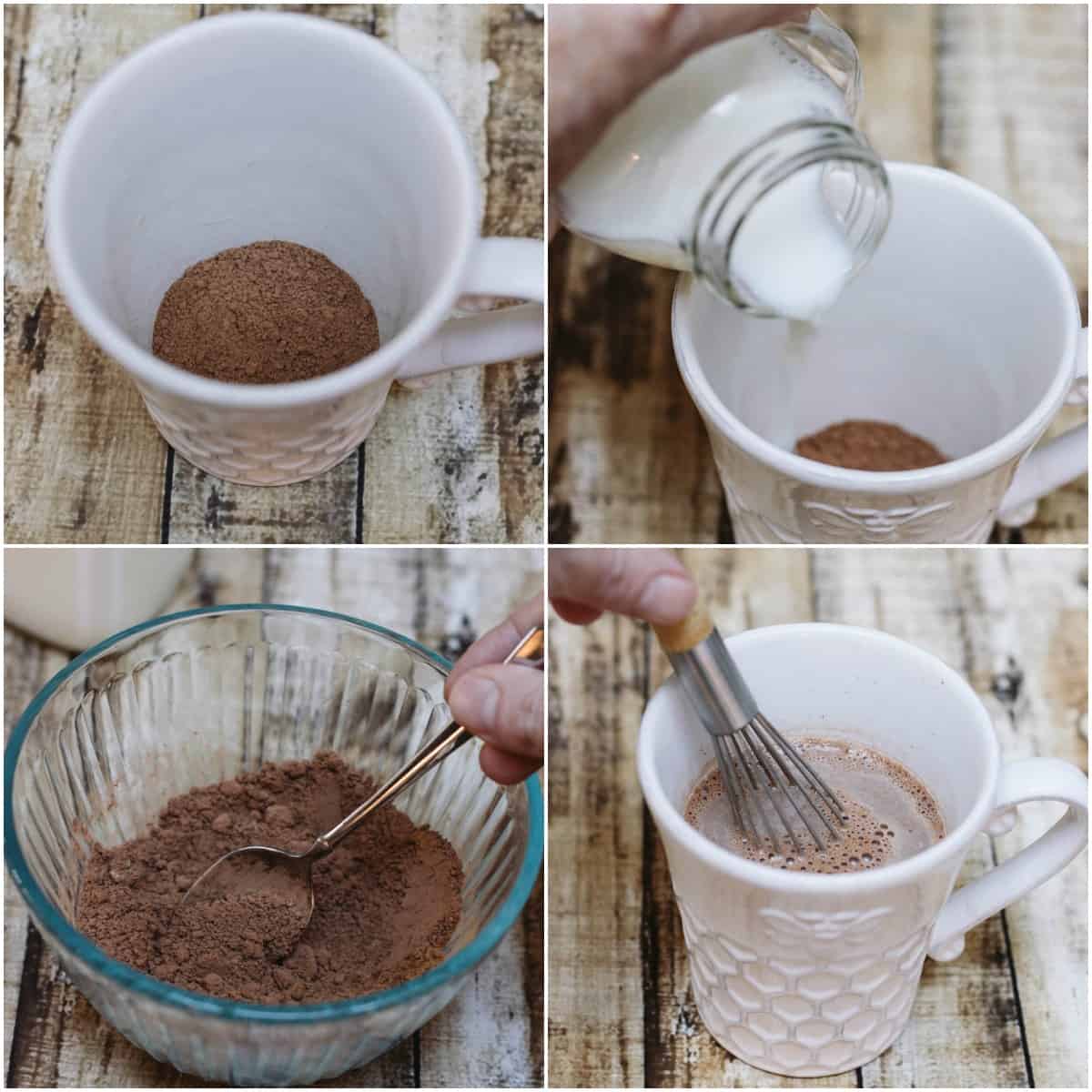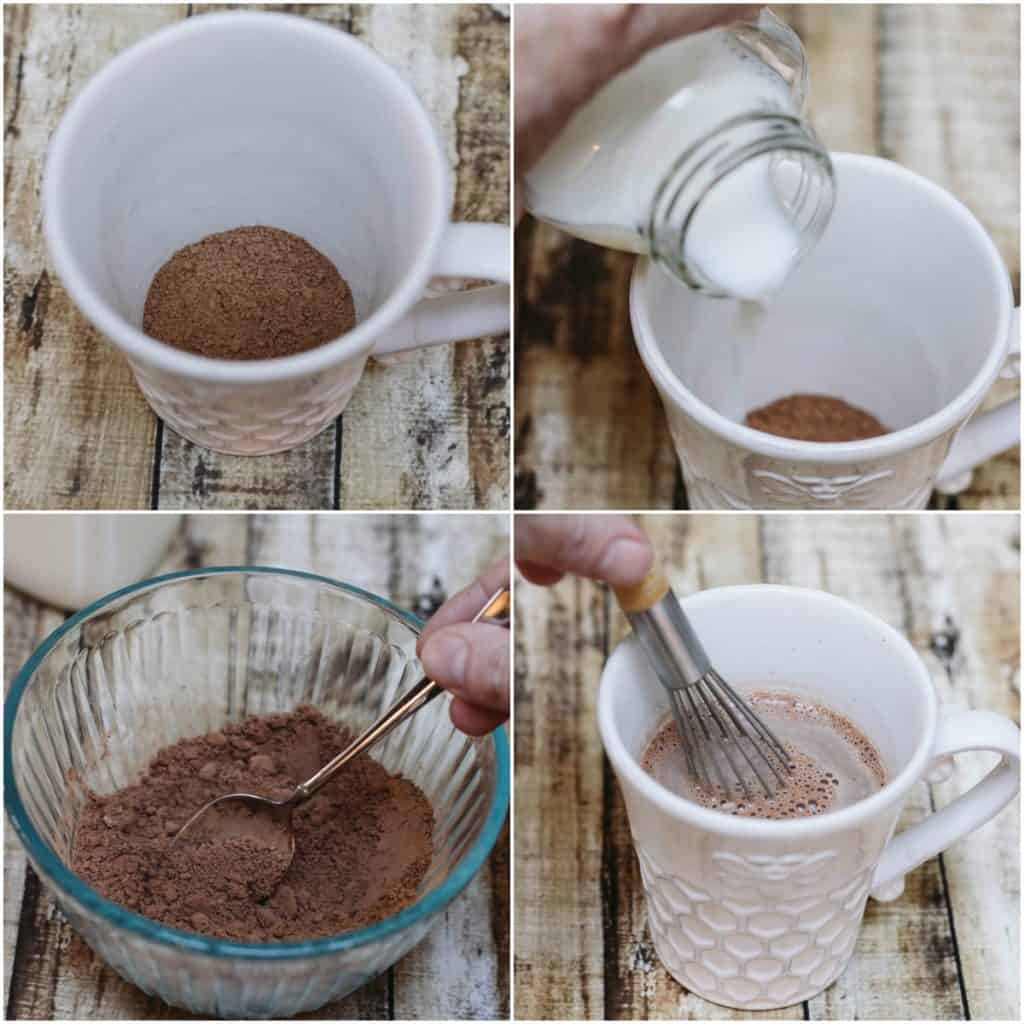 You can make up this mix in no time and be enjoying a warm cup of hot cocoa in under five minutes! It makes enough for two servings.
Just measure out 2 ½ tablespoons and a cup of warmed milk. I usually like to add the mixture to the bottom of my mug first then add warmed milk. It seems like the dry mix and milk blend more easily that way.
I also use a mini-whisk LIKE THIS ONE to blend it all together. Of course, you can use a regular spoon too but I received the mini-whisk as a gift years ago and I never thought I'd use it as much as I do!
Make Ahead Tips for Homemade Hot Chocolate Mix
If I have that second serving leftover and no one to share it with, I like to store it in a labeled glass container LIKE THESE because they are so cute. I use them for my Homemade Taco Seasoning Mix too. But of course any airtight container will do.
Just be sure to LABEL your container so you'll know later what it is. These are some of my favorite reusable labels. You can store the mixture for up to six months but I bet it won't last that long!
More Homemade Beverages to Warm You Up
You wont' want to miss these other recipes for warm beverage options:
Make Ahead Chai Tea Latte
All-Natural Pumpkin Spice Hot Cocoa (as mentioned above)
All-Natural Pumpkin Spice Latte Creamer
Homemade Vanilla Cinnamon Coffee Creamer
Homemade Peppermint Mocha Coffee Creamer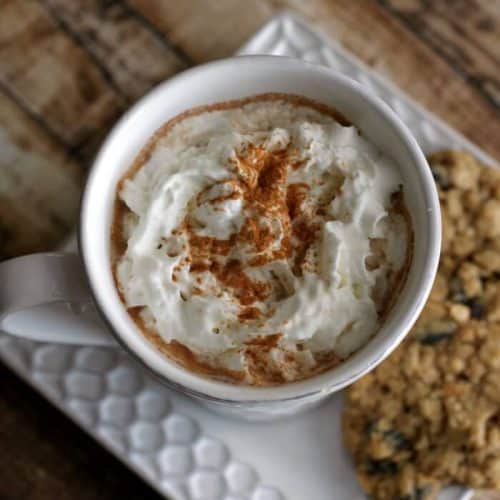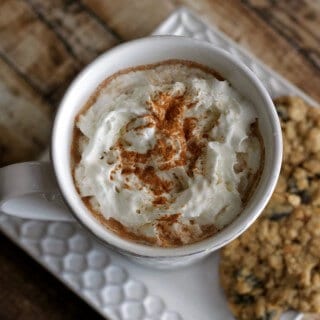 Warm Oatmeal Cookie Hot Cocoa
If you love the spices of a warm oatmeal cookie, you'll love it even more with the chocolaty goodness of a cup of hot cocoa in this Copycat Warm Oatmeal Cookie Hot Cocoa!
Rate this Recipe
Print Recipe
Pin Recipe
Ingredients
3

tablespoons

cocoa powder

3

tablespoons

brown sugar

¾

teaspoon

cinnamon

¼-1/2

teaspoon

ground cloves

16

ounces

milk

I use skim but feel free to substitute what you like!

Whipped cream

optional

Ground cinnamon

optional for garnish sprinkle
Instructions
To Make Hot Cocoa Mix
Combine all dry ingredients in a small bowl. Set aside.
To Make Hot Cocoa Beverage
To warm milk in the microwave, pour milk in a glass, microwave safe measuring cup. (note, you may have already measured it out this way and that's ok!) Warm on high for about one minute. (Since microwaves vary, you may need to adjust the time so it warms up to just the right temperature).

To warm milk on the stovetop, using a small saucepan, pour milk into the saucepan. Warm on low for 3-5 minutes, stirring often so the milk does not burn.

Pour warmed milk into your favorite mug.

Add 2 ½ tablespoons of dry cocoa mixture to warmed milk and whisk together until blended.

If desired, add whipped cream and sprinkle cinnamon on top. Enjoy!
Notes
Make Ahead Tip:
In a small bowl, double or triple all ingredients and add to bowl. Blend together with spoon. Transfer to an air-tight storage container. Label container with recipe name and date.
You might also want to add instructions for mixing up a cup of hot cocoa! Such as, "Stir dry mixture to blend any ingredients that may have settled. Add two tablespoons of mixture to one 8 oz cup of warm milk. Stir to blend."
Nutrition
Serving:
8
ounces
|
Calories:
165
kcal
|
Carbohydrates:
34
g
|
Protein:
9
g
|
Fat:
1
g
|
Saturated Fat:
1
g
|
Cholesterol:
5
mg
|
Sodium:
103
mg
|
Potassium:
492
mg
|
Fiber:
3
g
|
Sugar:
29
g
|
Vitamin A:
463
IU
|
Calcium:
309
mg
|
Iron:
1
mg