This post may contain affiliate links. Please read my disclosure policy.
Easy and Delicious Fresh Avocado Cucumber Salsa is healthy, delicious and packed with wholesome vegetables and a little kick of spice. Perfect as a dip with chips but also as a topping for tacos, fish or chicken.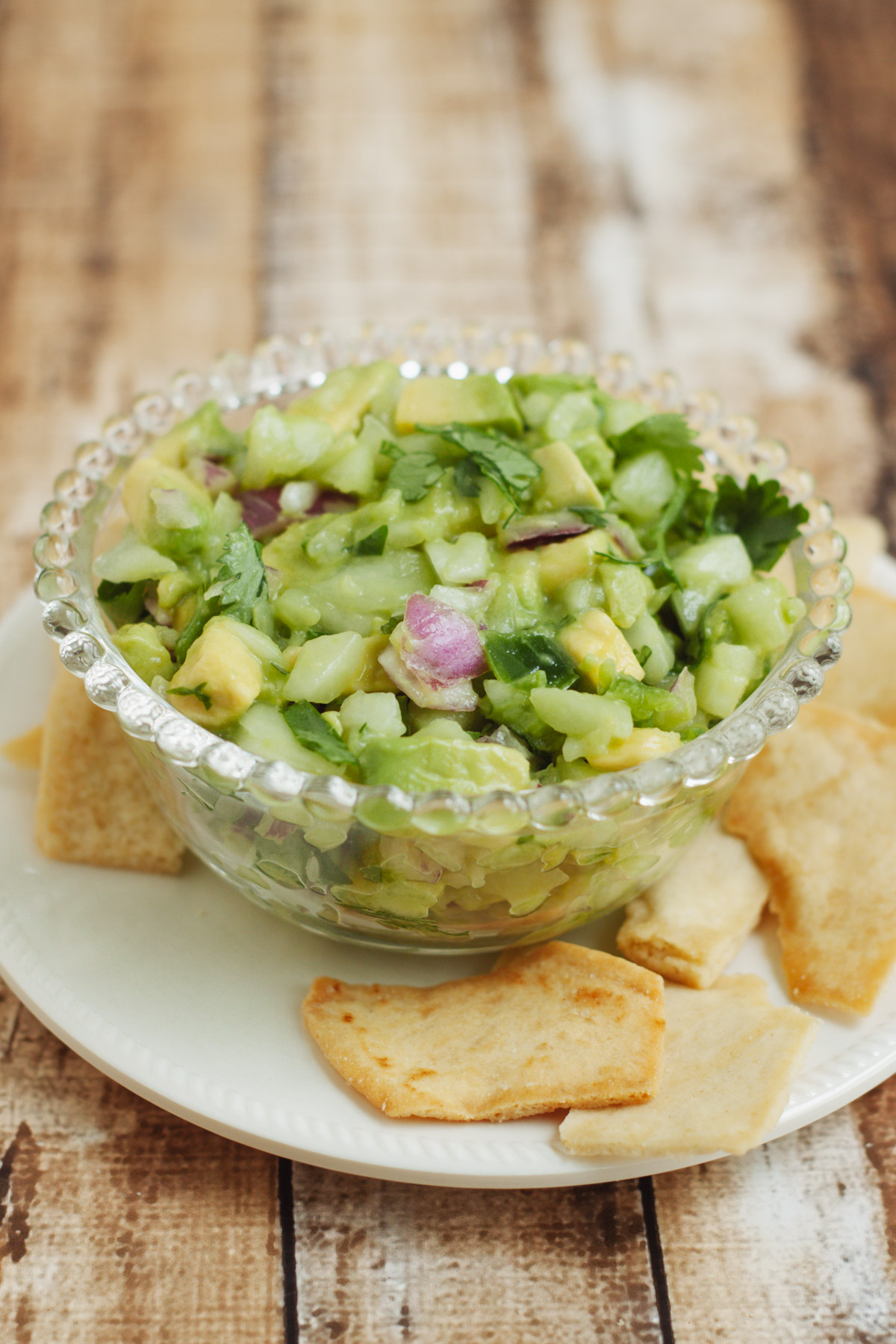 Why We Love This Recipe
Have you ever tasted something that after the first bite, you just can't seem to stop eating because it's so good? This Avocado Cucumber Salsa totally did that for me!
I first tried this salsa at my sister's house probably a decade ago now. She shared the recipe and since then whenever I make it, it is a huge hit and many of my friends request that I make it for all our get togethers. So much so that I often double the recipe!
This salsa comes together in just 10-15 minutes which makes it an easy recipe, too!
You know the dish that becomes one of your signature dishes? This is one of them. Well, this and my Loaded Baked Potato Dip.
I love that this Fresh Cucumber Avocado Salsa is healthy, delicious and packed with wholesome vegetables and zing from the fresh jalapeno. My kids have been known to scoop it up by the spoonful as a snack—which I'm totally ok with since it's full of good-for-you ingredients.
While we most often enjoy this avocado cucumber salsa as a dip served with pita or tortilla chips, it's also perfect as a topping for tacos like these Simple Fish Tacos with Avocado, Corn and Tomato Salsa or alongside grilled fish or chicken.
Or make it a bowl and serve it on top of Cilantro Lime Rice with some cubed grilled chicken and you've got a super simple meal idea!
What Ingredients Are Needed To Make This Recipe?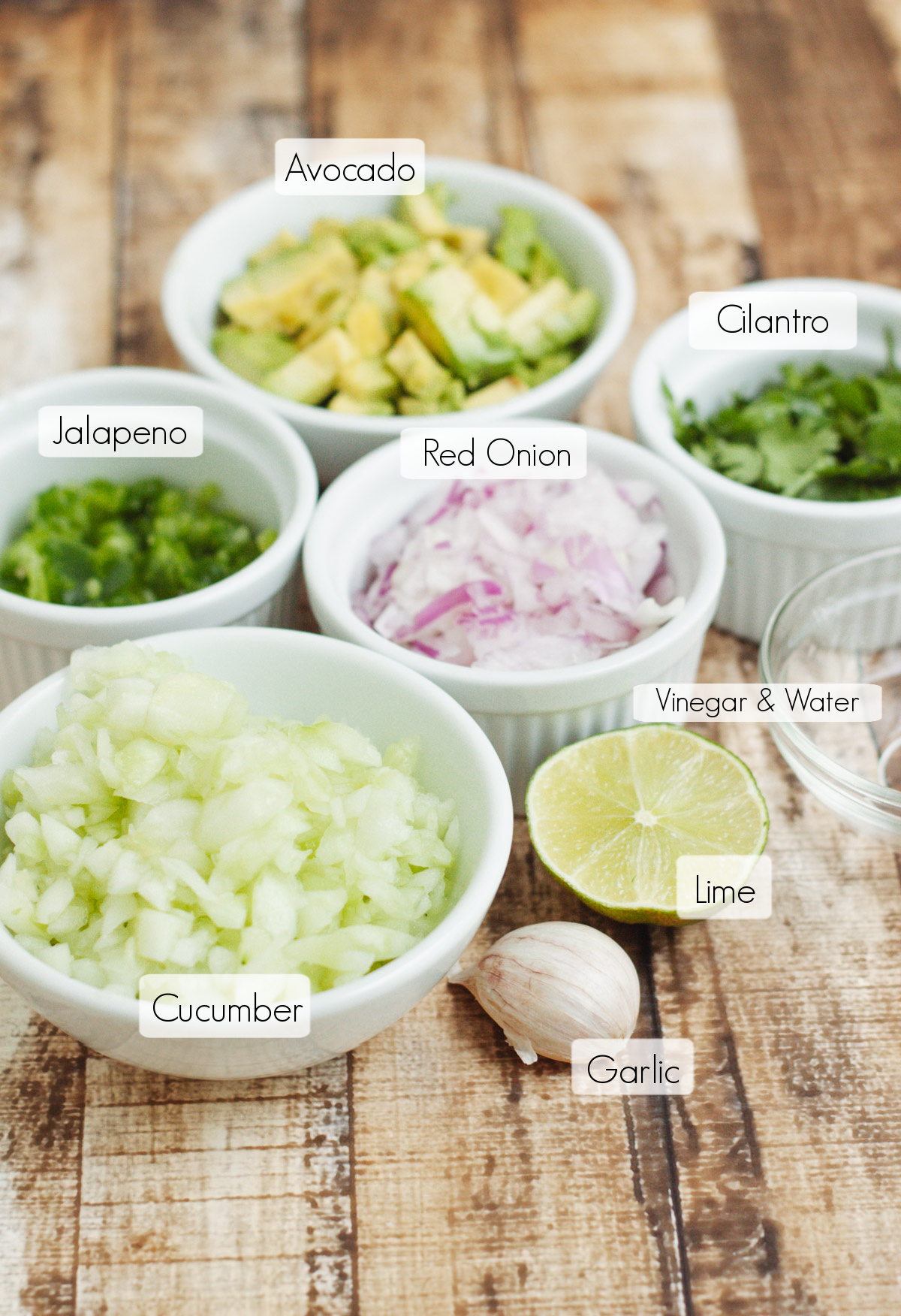 All of the ingredients in this recipe should be pretty easy to find in your local grocery store or check your local farmer's market when many of these vegetables are in season.
The recipe does call for jalapeno and depending on your spiciness tolerance, you can adjust the level of heat based on the size and amount of jalapeno that you add. I'll be honest though…I'm a super wimp when it comes to spicy foods (which my family teases me about) and even with the medium jalapeno as called for, this cucumber salsa is just right for me!
How to Make This Salsa
As I've mentioned, this cucumber avocado salsa is so easy to make. It's basically all about chopping up all the vegetables and stirring everything up together.
To make chopping the cucumber, jalapeno and red onion easier, I like to use my handheld food chopper (affiliate link). It makes chopping everything go so much more quickly and I especially love it for the jalapeno because then I don't have to worry as much about the capsaicin making my fingers burn and stay there for hours.
I don't chop the avocado in the food chopper, though, as it is too soft and will just turn into mush that way. So chopping with a knife and my favorite cutting board (affiliate link) is what I do instead.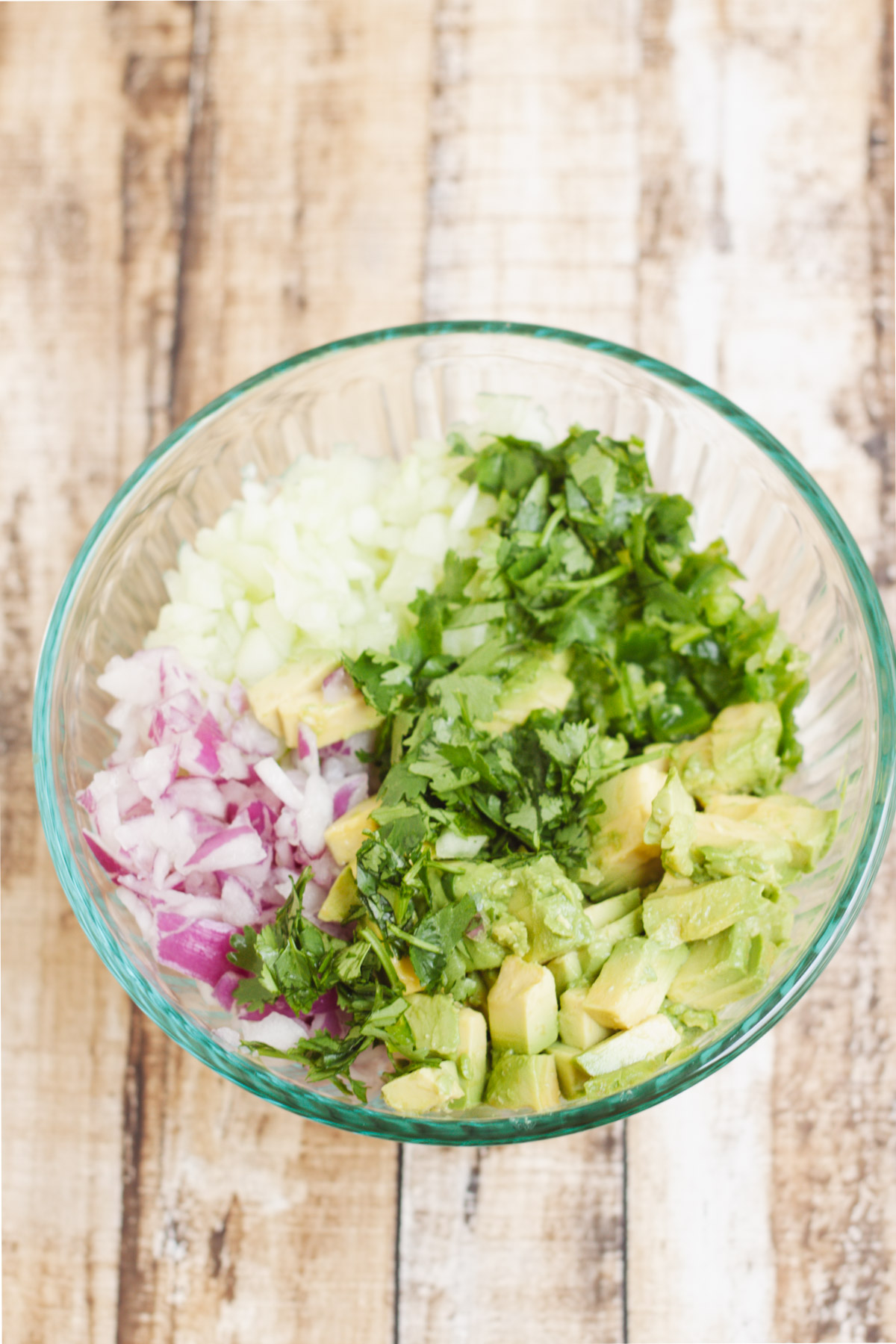 Once all the vegetables are chopped, combine them in a bowl then the lime juice, water and vinegar. You may think this is not enough liquid, but it totally works! The lime juice and vinegar will help preserve the color of the avocado and other vegetables too.
Stir to combine and place in the refrigerator for at least one hour. I like these glass bowls (affiliate link) that have lids because you can make this salsa right in the bowl and cover with a matching lid. Then, when you're ready to serve, they are pretty enough to serve right out of the same bowl!
I will add, you can skip the chilling time but I do notice a slight difference after it has chilled. Chilling just lets the flavors blend together even more.
Make Ahead Preparation Tips
As you know from the preparation instructions, this salsa is meant to be chilled for at least one hour. But you can take it one step further and make it up to 12 hours in advance. The avocados sometimes change a little bit in color (the become less bright) but they still taste fine and the lime juice and vinegar help preserve it, too.
Is this salsa freezer friendly?
I like to add this section to all of my blog posts lately but as you may have guessed already, this cucumber salsa is not freezer friendly. The fresh vegetables just don't maintain their texture when frozen then thawed and tastes much better fresh.
We love salsas! Be sure to check out these recipes too!
Fish Tacos with Avocado, Corn and Tomato Corn Salsa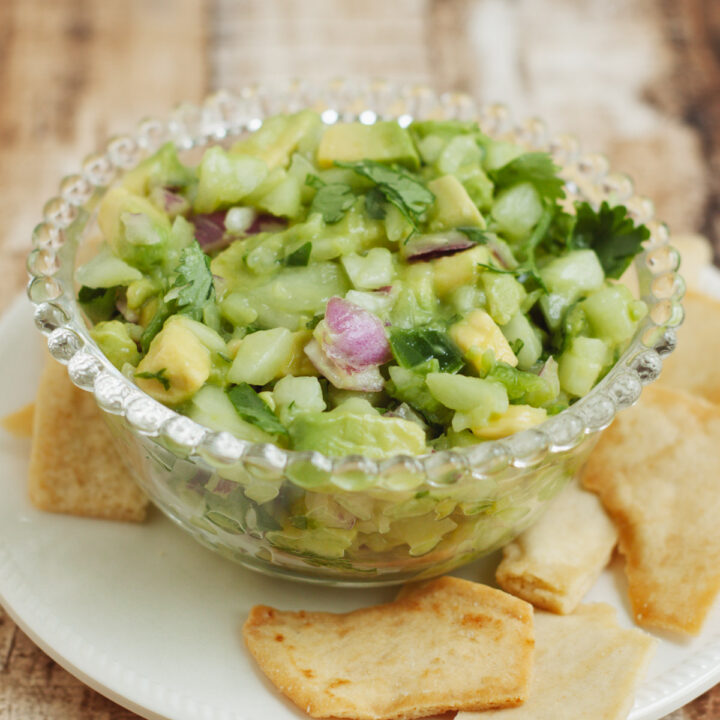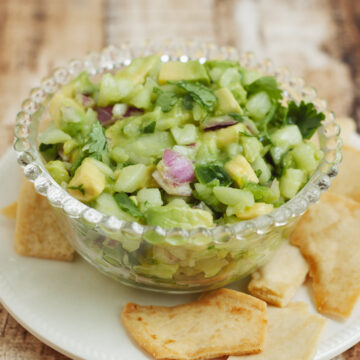 Fresh Avocado Cucumber Salsa
This easy Avocado Cucumber Salsa is healthy, delicious and packed with wholesome vegetables. Great as a dip or topping for tacos, fish or chicken, too!
Rate this Recipe
Print Recipe
Pin Recipe
Ingredients
2

cups

cucumber

peeled, seeded and chopped (about one large cucumber)

1

cup

avocado

peeled, pitted and chopped (about one large avocado)

1

medium

jalapeno

seeded and minced (or smaller if you prefer less kick)

¼

cup

red onion

minced

2

tablespoons

cilantro

chopped

1

clove

garlic

minced

1

tablespoon

lime juice

1

tablespoon

water

1

dash

white vinegar

optional
Instructions
In large bowl, combine all ingredients.

Cover or transfer to airtight container and chill in refrigerator for one hour or up 12 hours

Serve with tortilla or pita chips or as a topping for tacos, fish or chicken.
Notes
MAKE AHEAD TIP:
This recipe can easily be made the day before! Combine all ingredients and store in refrigerator for up to 12 hours prior to serving. The avocado may not be quite as bright green but the lime juice and vinegar help preserve it.
MONEY SAVING TIP:
Use seasonal produce or even vegetables grown in your garden to save money on this recipe. If I don't have something in our own garden, I like to go to our farmer's market to get many of the ingredients.
Nutrition
Serving:
0.5
cup
|
Calories:
25
kcal
|
Carbohydrates:
2
g
|
Protein:
1
g
|
Fat:
2
g
|
Saturated Fat:
1
g
|
Sodium:
2
mg
|
Potassium:
96
mg
|
Fiber:
1
g
|
Sugar:
1
g
|
Vitamin A:
50
IU
|
Vitamin C:
4
mg
|
Calcium:
5
mg
|
Iron:
0.1
mg
Originally published in July 2014 and updated in July 2020 with new photos and content.