This post may contain affiliate links. Please read my disclosure policy.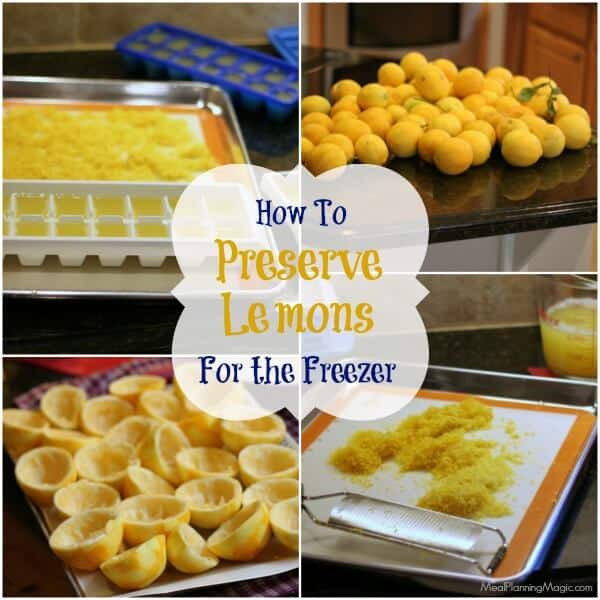 When we moved last summer, we were lucky enough to inherit a mature Meyer lemon tree in our backyard and I was SO excited! In our part of southeast Texas, the lemons start ripening in late November and go through about January, so the kids and I have been busy juicing and zesting away! Even if you don't have an abundance of lemons (or limes or oranges for that matter) and you're buying yours at the grocery store, sometimes a recipe may call for just a little bit of juice or zest and it seems like a waste to have to toss the rest before you can use it all up. Or maybe because your recipe only calls for a little bit, you don't want to have to buy a whole lemon just to use a little bit of it.
So today, I want to share with you three ways to preserve lemons for the freezer so that you can preserve the WHOLE lemon so you get you're money's (and time's) worth. (Is time's a word? I hope you know what I mean!)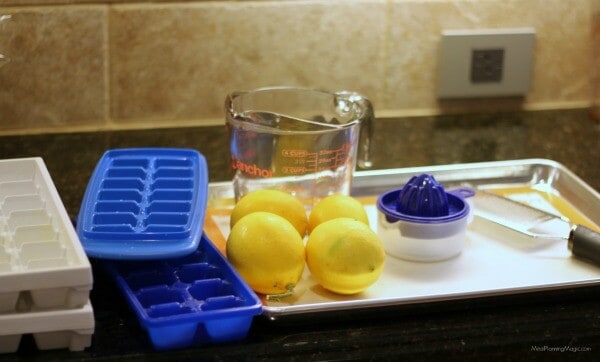 Juice It
This is pretty simple. I don't have a fancy juicer. Just a small, manual one I got from Tupperware many, many years ago. There are tons of styles and prices to choose from when it comes to manual juicers. You can check out some options by clicking here. The kids have been helping me and my son actually likes to juice the lemons for me so that is a big bonus for me! We juice as many as we can then pour the juice into ice cube trays. Once the cubes are frozen solid, I remove them and store in a labeled, gallon-size freezer bag. Then I can thaw out just what I need for my recipes. (p.s. did you notice I forgot to get a picture of us actually juicing? Whoops! I know you probably get the idea!)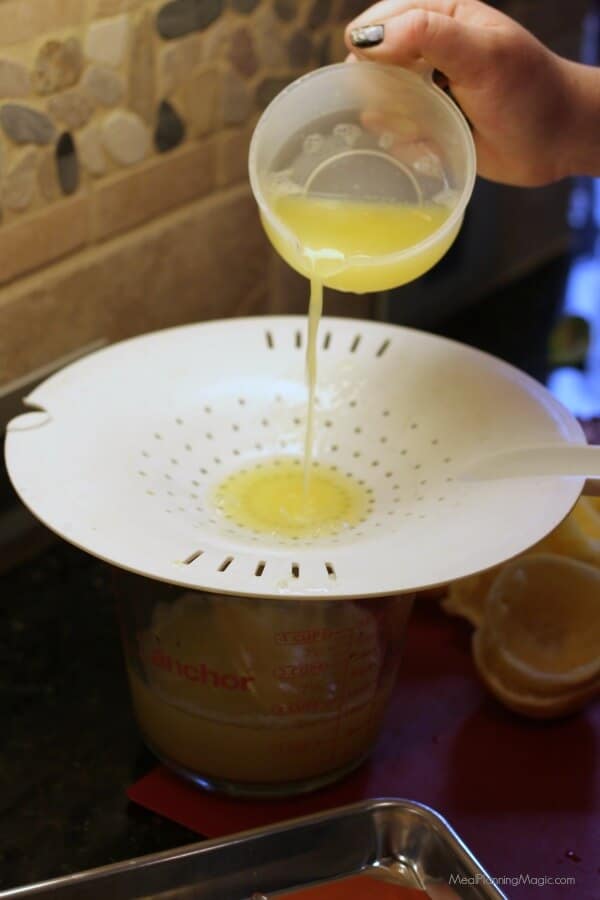 Zest It
I have told some friends that I zest and freeze the peel and they have been so surprised to hear this! Did you know you can freeze the zest? You bet! I have a Microplane zester/grater but any will do. Click here for some zester options to help you find one that is right for you! After I've got all my zest, I spread it out on a silicone baking mat on a baking sheet and freeze it for a few hours in the freezer. When I'm ready (you can keep it in there for a day or two–if you forget about it that's ok–it will make your freezer smell fresh and lemony too), I scoop up all the zest and put it into a labeled and dated freezer safe ziptop bag. Then when a recipe calls for some lemon zest, I can just pinch off what I need and keep the rest in the freezer. It's SO easy!
Tip: I have been known to skip the freeze on a baking sheet step before and just put the zest in a freezer bag, flatten it all out and let it freeze that way. Shhhh…I won't tell if you don't!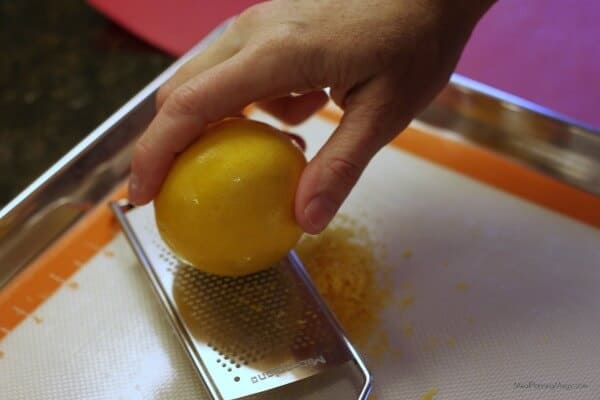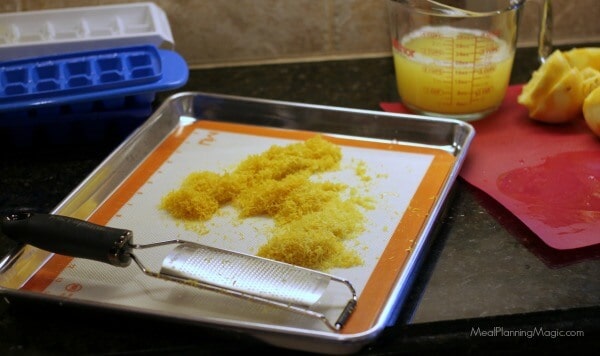 Freeze It.
Ok, so realize I have a large deep freeze so I know that not everyone has the space to do this, but if you do, it's a great way to preserve the zested peels but still put them to good use. I spread them out on a baking sheet and let them freeze. Then, you guessed it, I put them in a labeled ziptop bag and keep them in the freezer. What do I use them for you ask? They are great for freshening up my garbage disposal! I've read before that ice and lemon (or other citrus) work naturally to clean all the gunk that builds up in your garbage disposal, so why not freeze the lemons and get a similar benefit I wondered? Just throw in two or three a week to keep your disposal working well and your kitchen smelling fresh! Easy, right? If you don't have the space to keep frozen lemon peels in the freezer, just compost them on the day you juice and zest. They'll still be good for the earth!
Hopefully some of these tips will help you preserve your lemons and any other citrus to use in your recipes and kitchen. Do you have any other ways you like to preserve lemons? Happy juicing & zesting!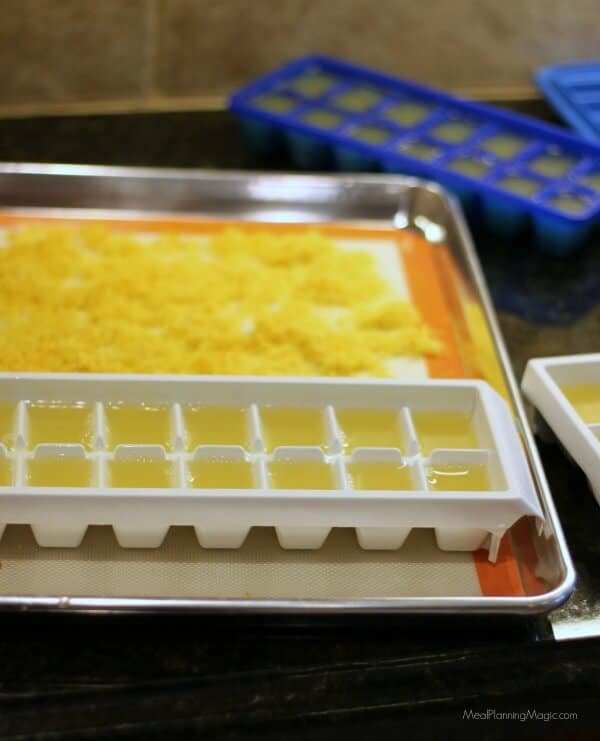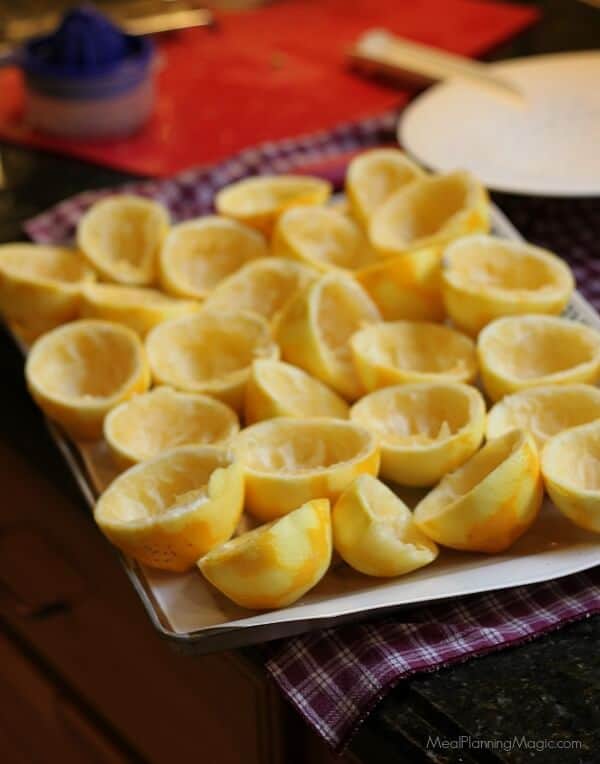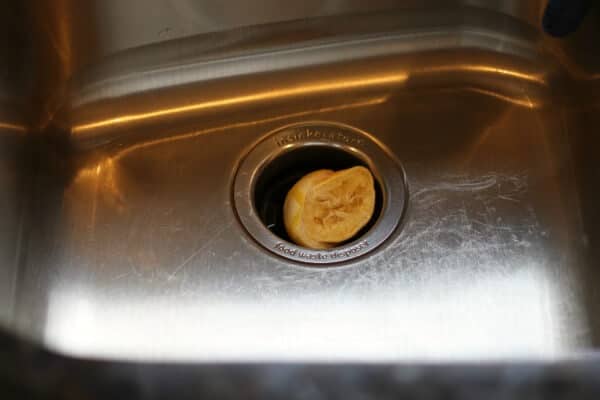 Disclaimer: I an Amazon Associates affiliate partner and so that means if you choose to purchase any of the products mentioned here by using the links provided, Amazon will give me a small percentage of the sale as a way to say thank you for the referral and at no extra cost to you! Thanks for your support!