This post may contain affiliate links. Please read my disclosure policy.
Cool off easily with my refreshing two-ingredient Frozen Watermelon Lemonade Slushie! Made with all-natural ingredients it is SO simple and is make ahead, too!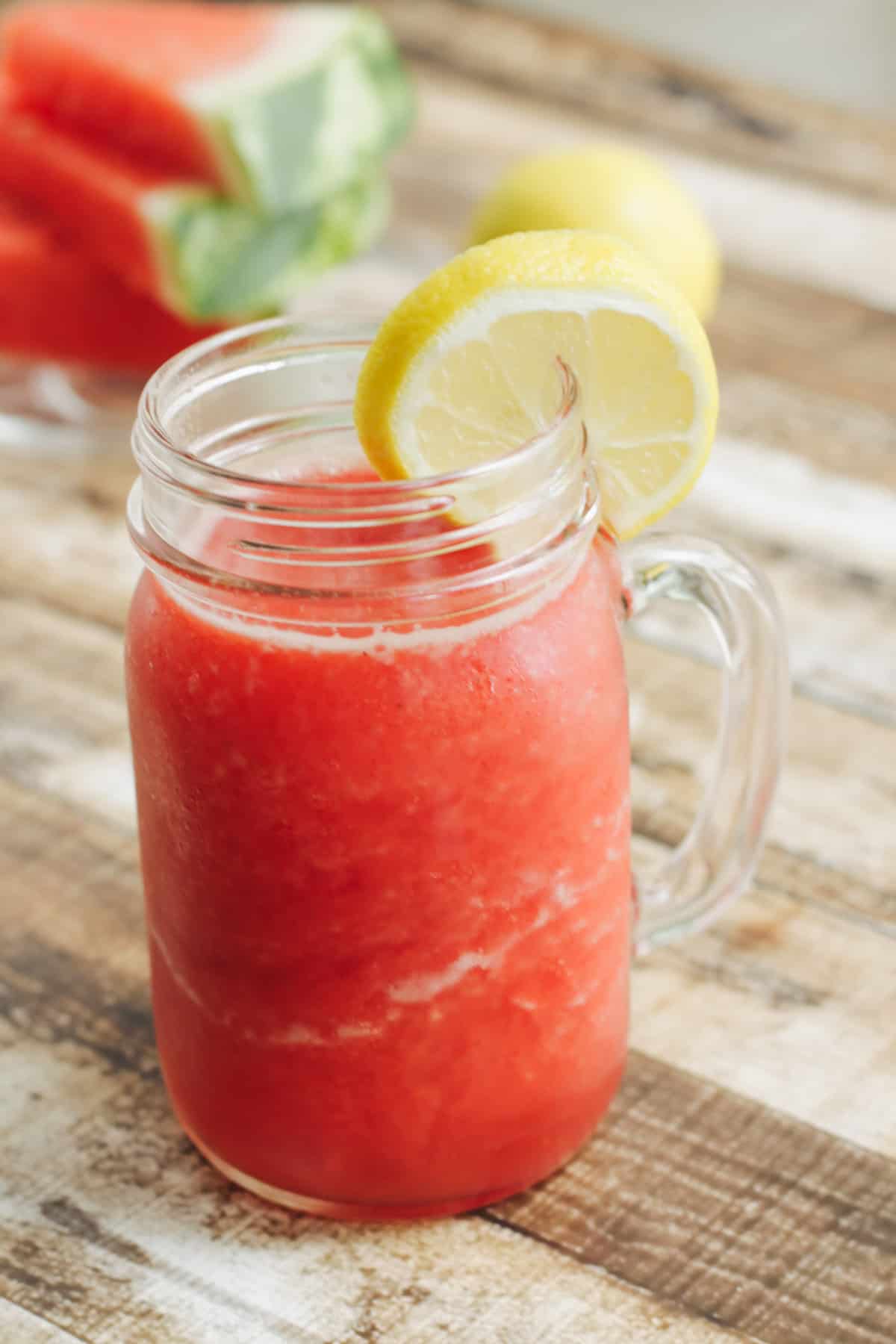 How To Make This Video
Why We Love This Drink Recipe
My family loves watermelon. Like, really LOVES it! But being a family of four and if we get a really big one, sometimes we can't eat it fast enough before it starts to get mushy.
Plus we like to eat a variety of fruit so it is just part of the rotation. So years ago, I came up with the idea to mix it with lemonade and this Watermelon Lemonade recipe was born!
Another great thing about freezing watermelon puree ahead of time is that we can enjoy that taste of summer all year round!
What I really wanted to do was figure out a way to freeze the watermelon and pureeing it was the way to go. I freeze the purred watermelon, which is kind of like watermelon juice but I don't strain it so it's got that fiber left in it. You can strain it if you want to but we like it just fine as a puree.
I'm not sure what made me think to combine watermelon and lemonade but it was an instant hit with my family! By blending up the frozen watermelon puree cubes and some prepared lemonade in a blender (affiliate link), it's so super simple to make these up in a jiffy!
And because I start with frozen fruit cubes, combined with the lemonade, they naturally create the slushie with no extra ice which could water it down.
What Ingredients Are Needed To Make This Drink?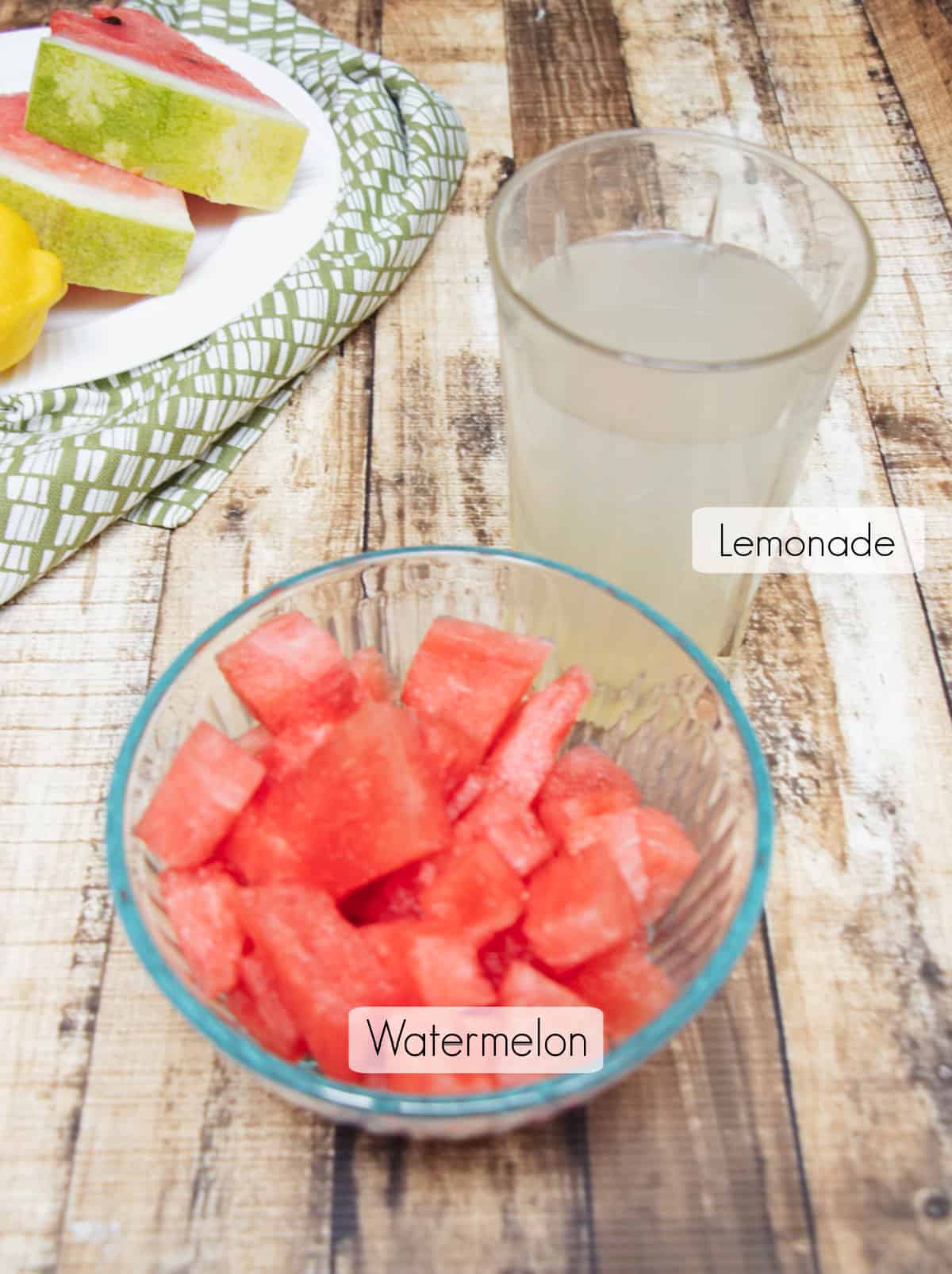 This Watermelon Lemonade Recipe really is just two ingredients—watermelon and lemonade! You can use store-bought, prepared lemonade but we prefer to make our own lemonade using my recipe for Homemade Lemonade Concentrate.
When I'm buying lemonade, I usually choose the lemonade that is in the refrigerator section of the grocery store instead of the frozen concentrate though as the refrigerated variety tends to have less sugar or high fructose corn syrup.
You don't need much sugar in your lemonade as the watermelon is naturally sweet and by making our own lemonade concentrate, I can control the amount of sugar that is added.
How to Prepare This Beverage
First, you will need to prepare and freeze the watermelon puree.
Start by cutting the watermelon into cubes and removing the seeds if there are any, and rind.
Then add the cubes to the jar of a blender (1) and blend for a minute or so until there are no chunks remaining.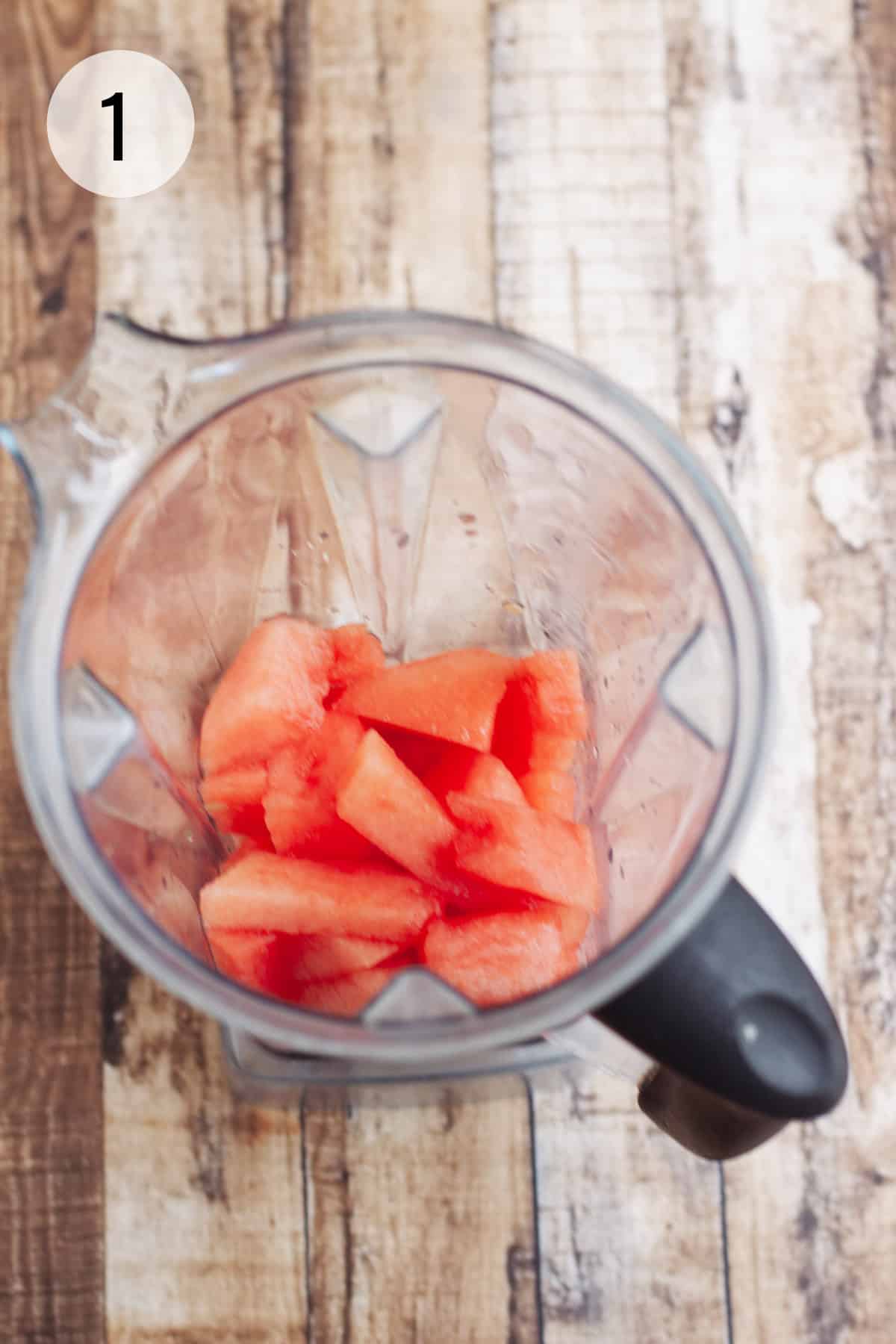 From there, pour the watermelon puree into an ice cube tray (2) or I also like to use my SouperCube trays (affiliate link) (3).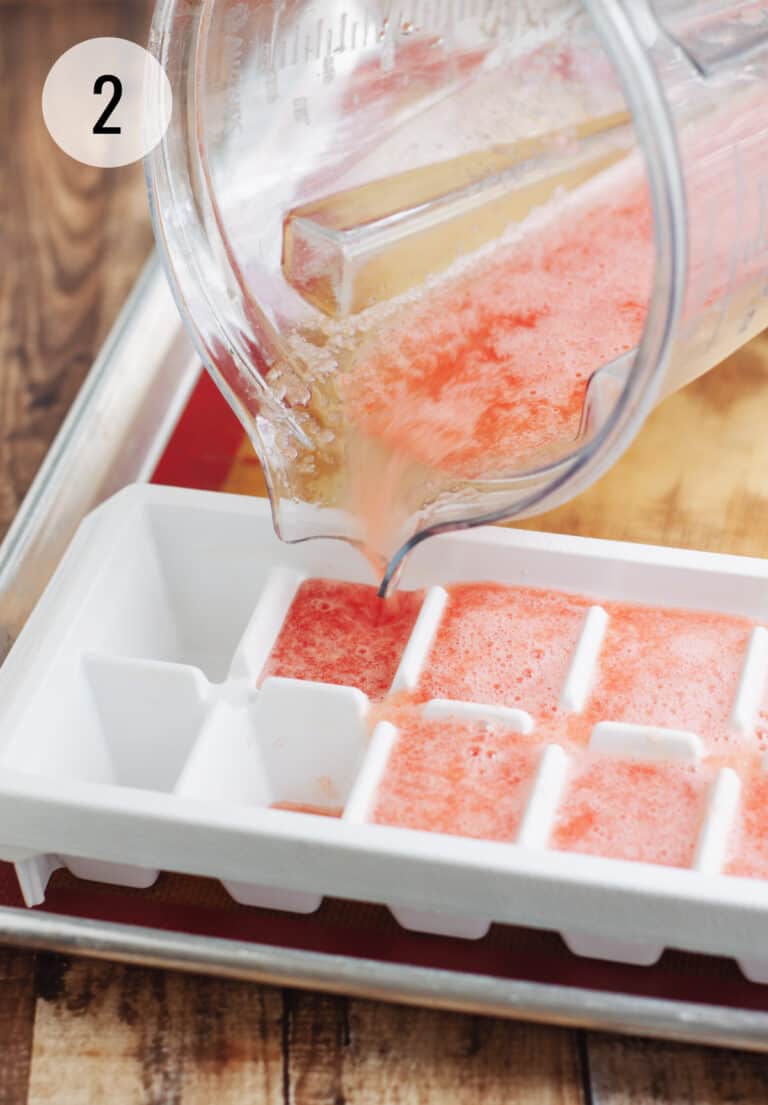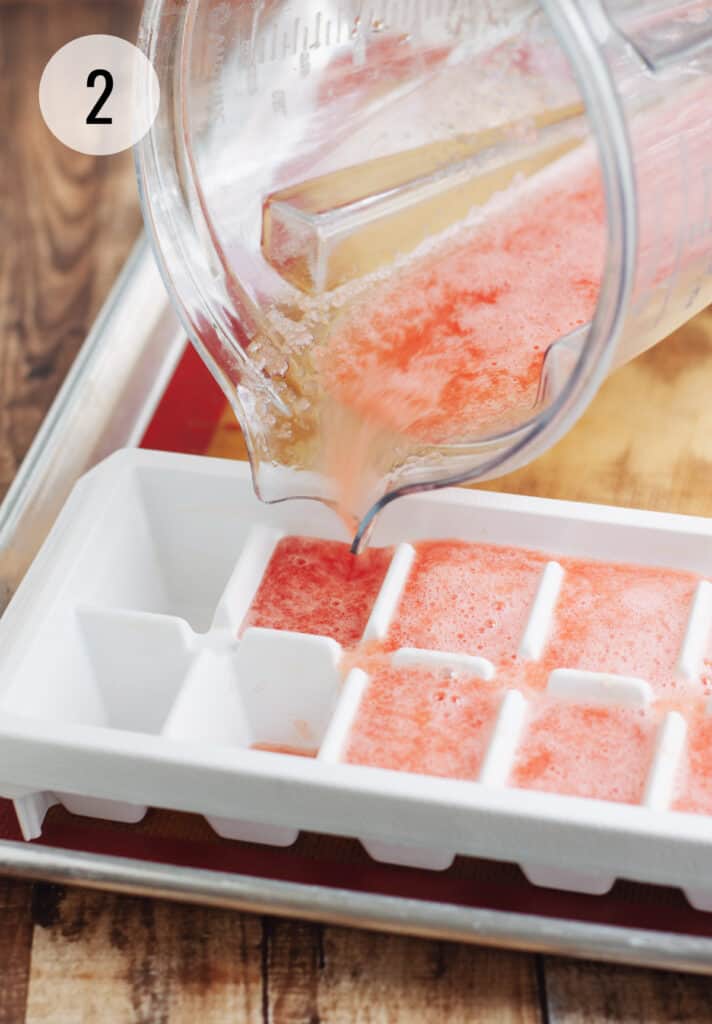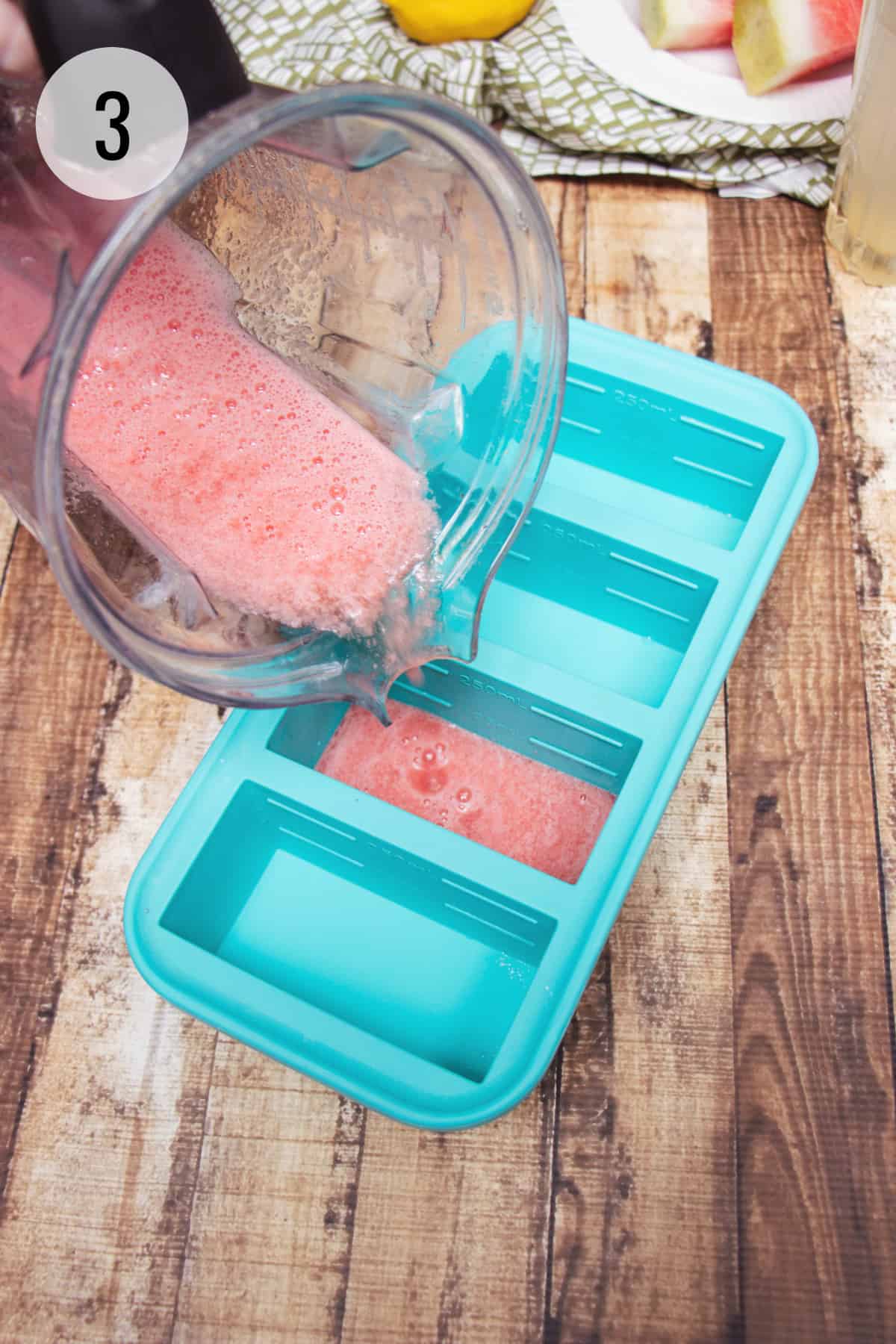 Once the puree is frozen, you can make up the watermelon lemonade slushie! To make a serving, add the frozen watermelon cubes and the prepared lemonade to the blender jar (affiliate link). Then blend it up for about a minute until combined.
You don't want to over blend it otherwise the iciness of the frozen cubes will start to "melt" and it won't be so thick. That's totally ok but it will just be a different texture.
Make Ahead Preparation Tips
As I've said, this recipe is naturally make ahead as it's making the most of leftover watermelon. If you want just a regular watermelon lemonade and not a slushie version, you can puree the watermelon and store it in the refrigerator for up to two days. Just pour equal parts of watermelon juice and lemonade to make up your drink.
Is this drink freezer friendly?
So, I've already covered that you know because one of the ingredients is frozen watermelon puree, but if you want to take this a step further, you can!
Before freezing the watermelon puree, combine it with an equal amount of lemonade. Then pour the mixture into your ice cube trays. The Souper Cube trays (affiliate link) would be perfect for this as they come in 1-cup and 2-cup sizes.
No matter what you use to freeze your mixture, once it's frozen it is good to go on making the slushie. Simply pop out the cubes/block and add it to the blender. Depending on how powerful your blender is, you may need to let it thaw just slightly so that it is easier on your blender.
Once you're ready, just blend up the combined mixture for a minute or two then pour into a glass to enjoy!
Other Refreshing Cool Drinks
If you like this recipe, be sure to check out some of my other cool beverage recipes like these:
Simple Cranberry Orange Sangria
Sparkling Citrus Pomegranate Punch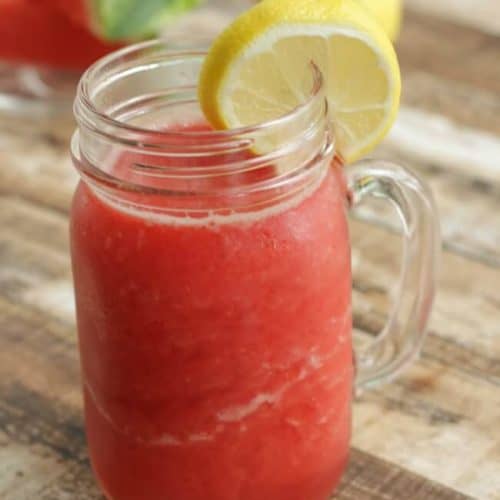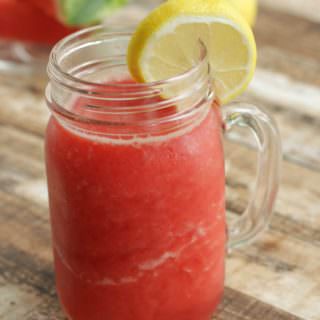 Frozen Watermelon Lemonade Slushie
Cool off easily with my refreshing 2-ingredient Frozen Watermelon Lemonade Slushie! Made with all-natural ingredients it is SO simple and can be made ahead, too!
Rate this Recipe
Print Recipe
Pin Recipe
Ingredients
2

cups

watermelon

cut up and seeds removed

2

cups

lemonade
Instructions
Puree cut watermelon and pour into ice cube trays.

Freeze puree until solid (about 3 hours)

Put 4-5 watermelon cubes in a blender.

Blend and pour into a glass.

Enjoy!
Notes
MAKE AHEAD TIP:
This recipe is totally make ahead! Because it is designed that way.
MONEY SAVING TIP:
Start with fresh lemons that you freeze ahead of time. We are lucky enough to have a lemon tree but you can also stock up on them when they are in season or on sale.
Be sure to check out my 3 Ways to Preserve Lemons for the Freezer post for more tips!
Nutrition
Serving:
8
ounces
|
Calories:
83
kcal
|
Carbohydrates:
21
g
|
Protein:
1
g
|
Fat:
1
g
|
Saturated Fat:
1
g
|
Sodium:
8
mg
|
Potassium:
85
mg
|
Fiber:
1
g
|
Sugar:
19
g
|
Vitamin A:
432
IU
|
Vitamin C:
6
mg
|
Calcium:
5
mg
|
Iron:
1
mg
This post was originally published in June 2012 but updated in July 2017 with new photos and again in August 2020 with new video and content.
Be sure to check out my Amazon Shop to discover the many items I use in my own kitchen. Meal Planning Magic is a participant in the Amazon Services LLC Associates Program, an affiliate advertising program designed to provide a means for sites to earn advertising fees by advertising and linking to Amazon.com. Ordering products mentioned here are at no extra cost to you. Thank you for your support.