This post may contain affiliate links. Please read my disclosure policy.
Six ingredients and about 20 minutes is all you need to whip up this simple and delicious Bacon Spinach and Tomato Pasta dish, a.k.a. BLT Pasta. The flavor secret is by making the most of the ingredients. Perfect for a light dinner or lunch!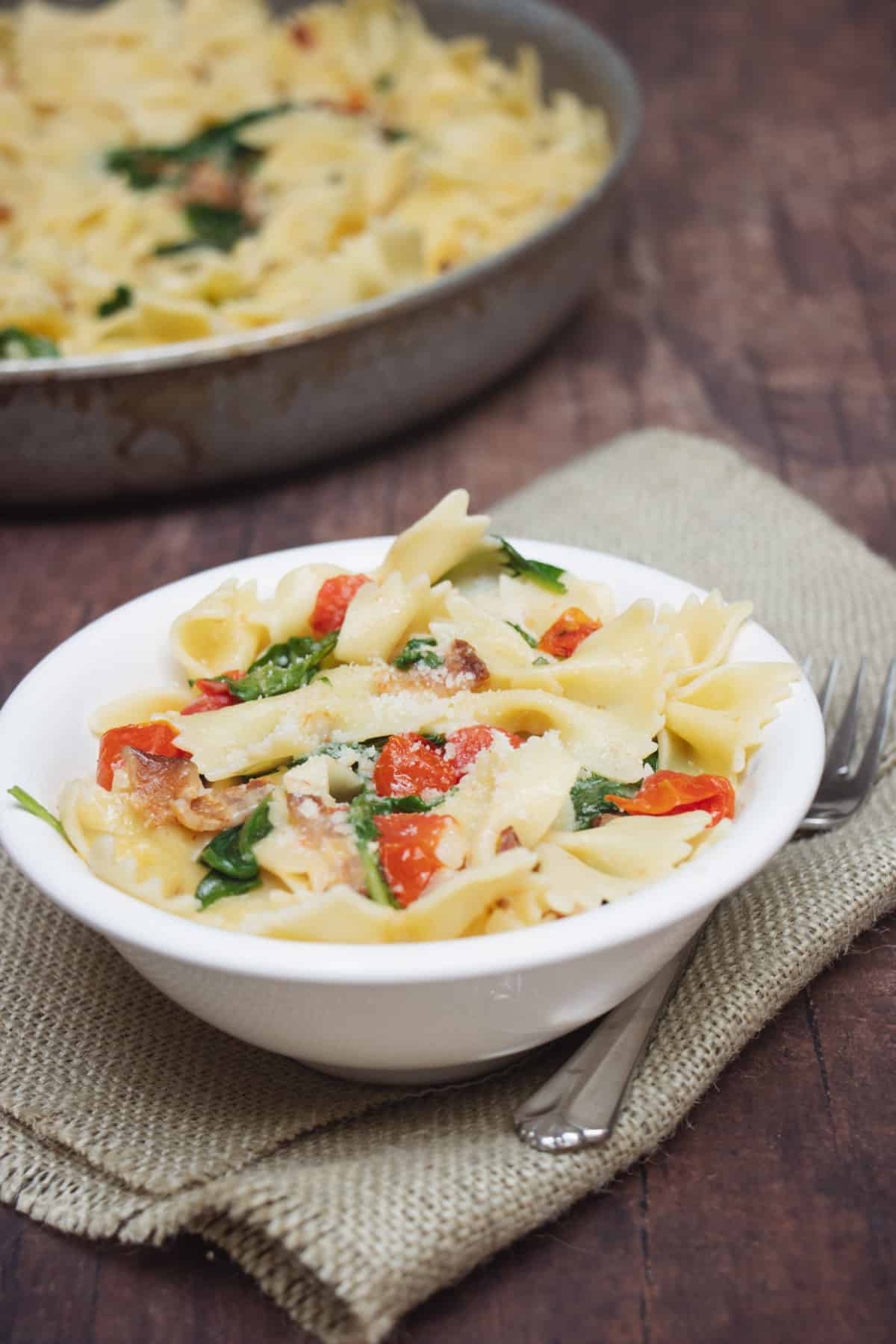 Why We Love This Pasta Dish
If you've been around awhile, you may have noticed that I'm a big fan of BLT, Bacon Lettuce and Tomato, flavored anything and this Bacon Spinach Tomato Pasta dish is no exception.
Whether it's this recipe (a.k.a. BLT Pasta) filled with Bacon, Spinach and Arugula mix (stand-in for the L) and Tomatoes or many of my other recipes such as BLT Soup , BLT Chicken Salad Sandwich or BLT Egg Salad Sandwich, you just can't beat it's classic flavor combo.
What I also love about this recipe is how EASY it is! I originally shared it years ago after receiving a copy of the 6 Ingredient Solution: How to Coax More Flavor from Fewer Ingredients cookbook (affiliate link). The name says it all in that all the recipes in the book use just six ingredients!
Often, what make them work are the techniques that help make the most of the ingredients, such as using the starchy drained pasta water to thicken the sauce or the bacon drippings to sauté the tomatoes in this dish. I enjoy this recipe as a light dinner paired with a garden salad or as lunch too.
Ingredient Tips To Make This Pasta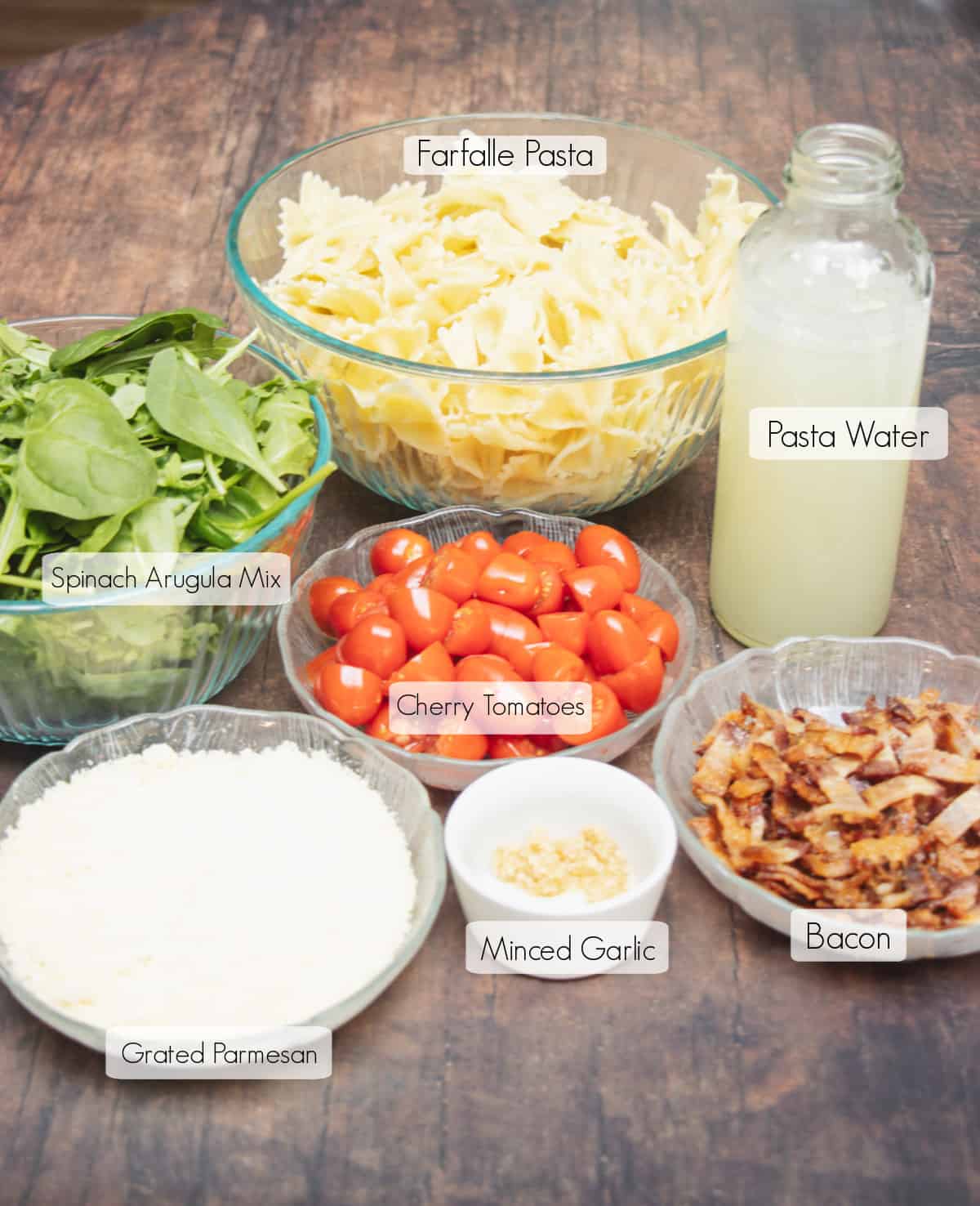 As I have mentioned, you only need six ingredients to make this easy pasta dish.
Tips for Parmesan Cheese
Sometimes I will buy the already grated Parmesan cheese but I also like to buy a large chunk of it at Costco or Sam's Club and use my food processor (affiliate link) to grate up the whole thing at once and then I'll store it in my freezer to use in all kinds of recipes or just to top something like my Chunky Tomato Sauce with Pasta. It saves a lot of money this way!
Or sometimes I'll just buy a large bag of the pre-shredded or grated Parmesan at the warehouse club and keep in in the freezer too. Either way, frozen Parmesan will last in the freezer for at least six months—if you don't use it up before then!
Choosing the Right Pasta
This recipe originally called for orecchiette pasta that gets its name from their shape which resembles a small ear. But since that can sometimes be hard to find, I've substituted farfalle (bow tie) pasta instead. They key is to use a pasta that has some nooks and crannies to hold some of the sauce.
Spinach Arugula Mix
The original recipe also calls for arugula which is a healthy green that has a bit of a peppery bite to it. To me, the flavor can sometimes be overwhelming so that's why I've changed up the recipe to include a blend of arugula and baby spinach.
My local grocery store sells this combination so it's easy for me to find but if yours does not, you can choose to use just arugula or baby spinach. I like baby spinach better than regular spinach because the stems are more tender and it also blends in and wilts more easily with the rest of the ingredients.
How to Make This Dish
This recipe is easy to whip up and clean up because only two pans are needed to make it – one for the pasta and another for everything else!
One key to successfully making BLT Pasta is to save the pasta water after cooking. I use a large bowl (affiliate link) and place a colander in the bowl so it catches all or most of the water (1).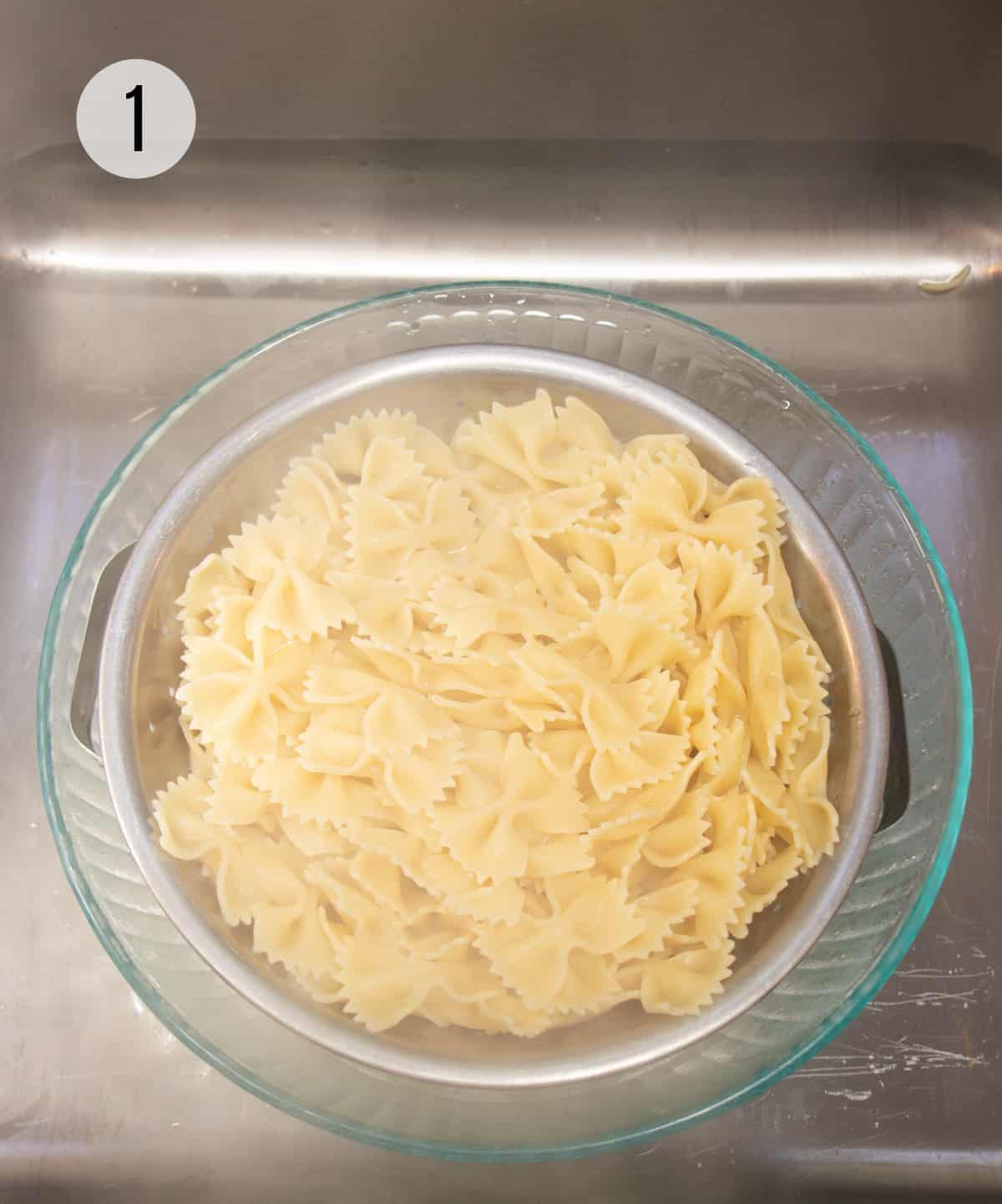 I don't use it all but this allows me to measure out what I'll need for the recipe. The pasta releases some of the starch into the water and by repurposing it in the recipe, it helps thicken the sauce slightly without an extra ingredient.
Another thing to remember is to make sure you save any bacon grease to cook the sliced tomatoes in a large skillet (affiliate link). This will add some great flavor as the tomatoes soften and cook down a bit (2).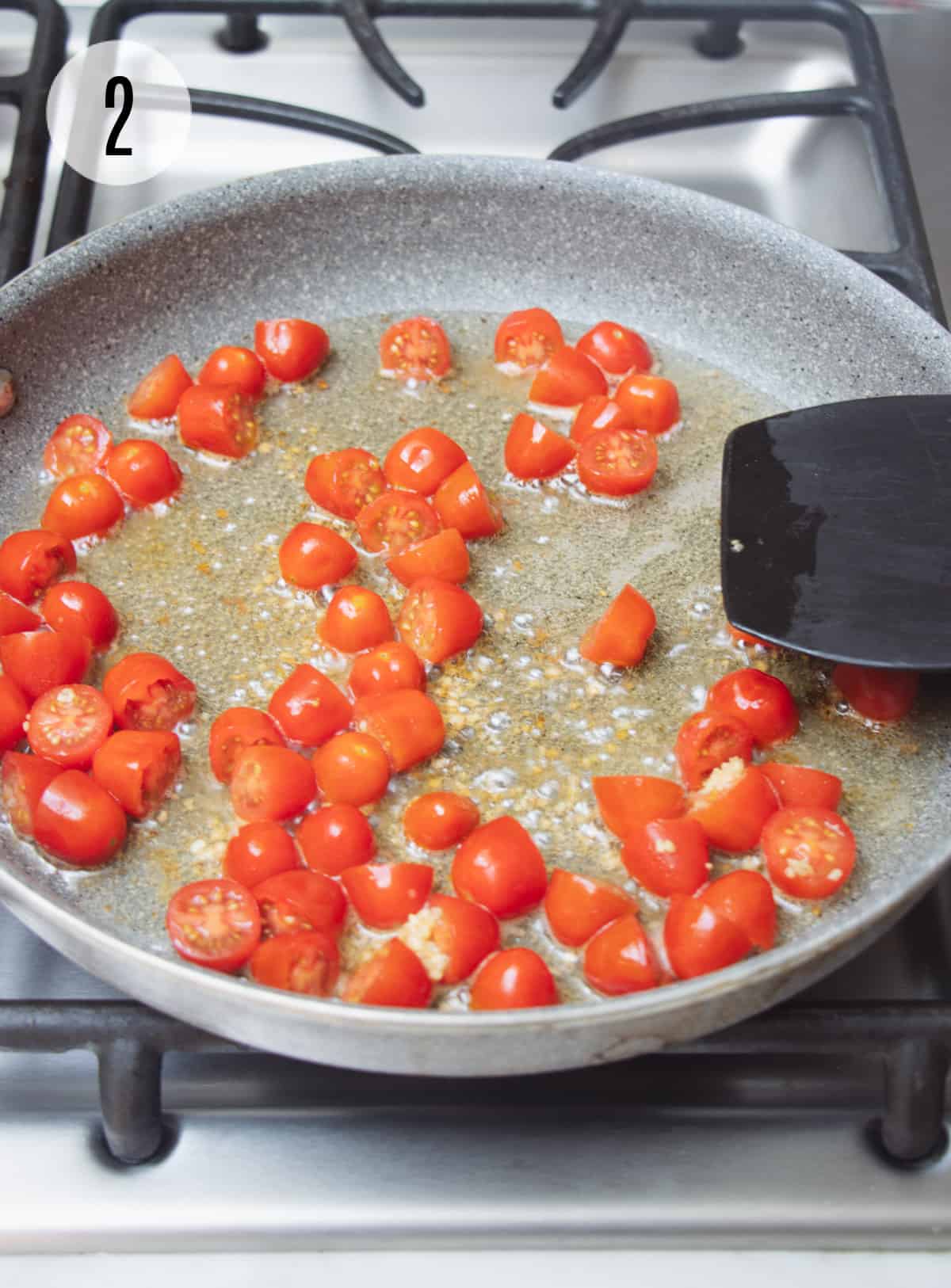 From there, it's easy to add the remaining ingredients (3). The heat from skillet and warm pasta, tomatoes and chopped bacon help the greens wilt more easily and the Parmesan cheese blend in well.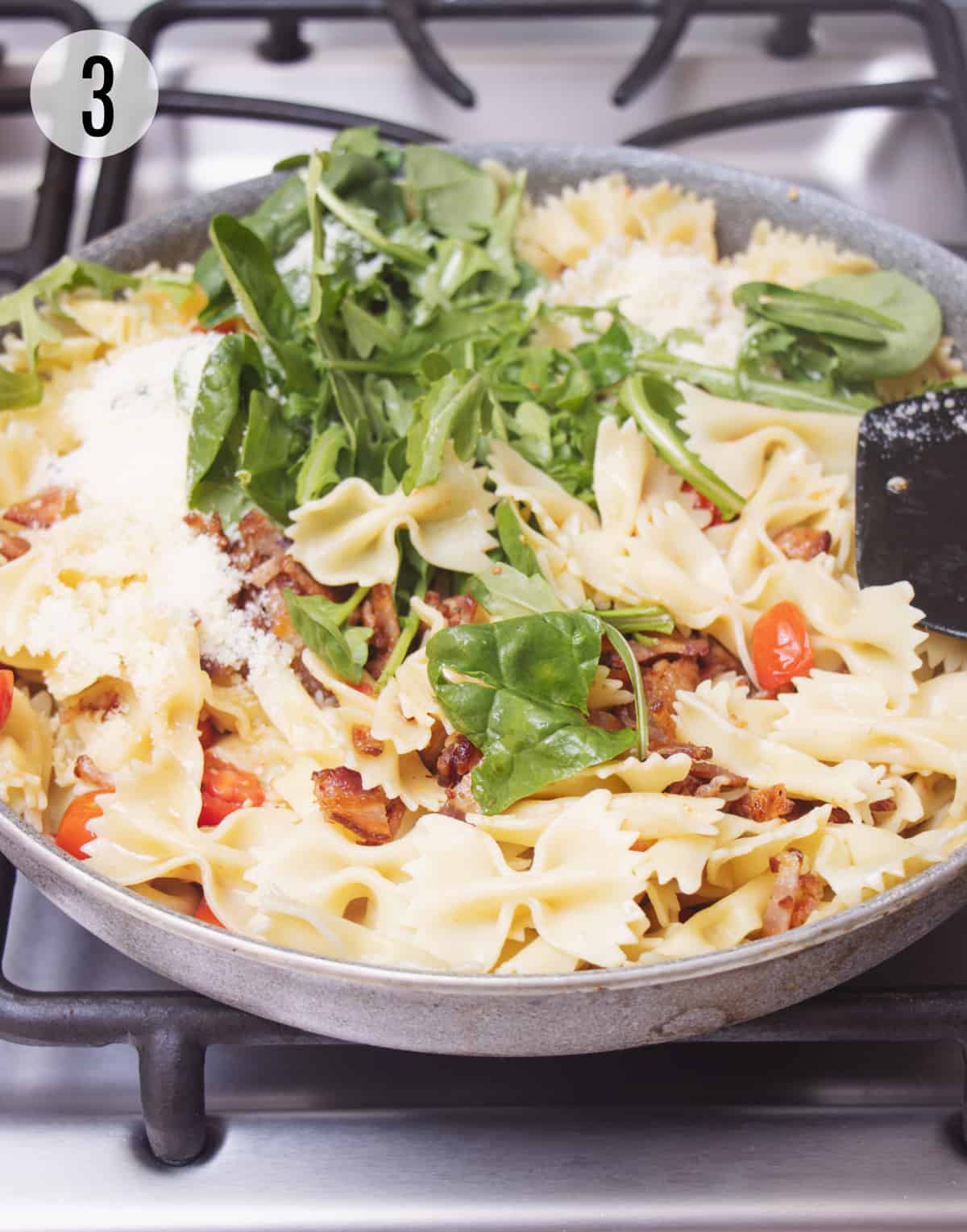 Make Ahead Preparation Tips
Because this Bacon Spinach and Tomato Pasta recipe is so easy, there's not a whole lot to do to make it ahead. You could boil the pasta and save the pasta water in the refrigerator but you would need to warm it back up to completely make the recipe. Totally a personal decision but it could help shave a little bit of time at the end of a busy day when prepping this recipe.
Is This Pasta Freezer Friendly?
I don't recommend freezing this recipe as the textures of the ingredients will change after thawing and it won't be quite as good. The only exception is the frozen grated Parmesan cheese like I described above in the Ingredient Tips section.
What Some Other Easy Pasta Recipes?
Earlier I mentioned some of my favorite BLT inspired recipes but I also have several pasta recipes that we're big fans of too. Be sure to check out some of these for a quick and easy dinner idea!
Ground Turkey and Clam Linguine
Simple Chunky Meat and Vegetable Pasta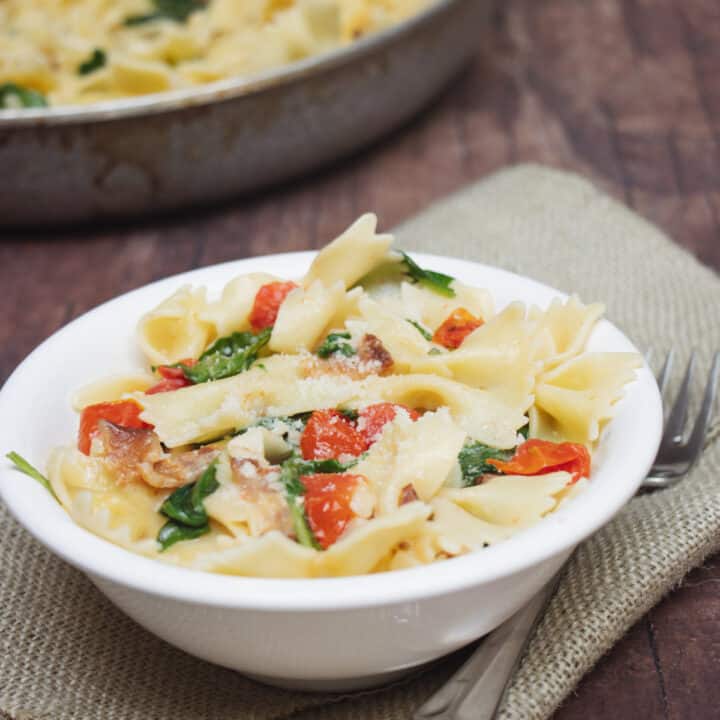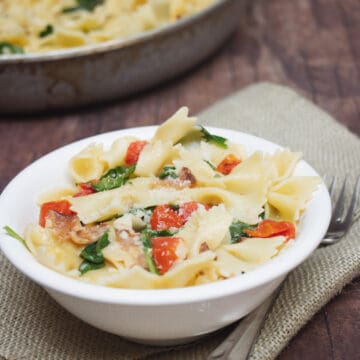 Bacon Spinach and Tomato Pasta
Six ingredients and about 20 minutes is all you need to whip up this simple and delicious Bacon Spinach and Tomato Pasta dish, a.k.a. BLT Pasta. The flavor secret is by making the most of the ingredients. Perfect for a light dinner or lunch!
Rate this Recipe
Print Recipe
Pin Recipe
Ingredients
12

slices

bacon

2

cloves

garlic

minced

12

ounces

cherry tomatoes

halved, may substitute grape tomatoes

1

pound

farfalle

5

cups

baby spinach

I also like to use a blend of baby arugula and baby spinach when available

4

ounces

Parmesan cheese

grated and divided
Instructions
Chop bacon and cook in skillet over medium heat until crisp, about 5 minutes; transfer to paper towel lined plate.

Pour off all but 2 tablespoons fat left in skillet (I didn't have too much). Cook garlic and tomatoes in bacon fat until tomatoes are slightly softened, about 2 minutes.

Meanwhile, bring 4 quarts water to boil in a large pan. Add pasta and cook, stirring often, until al dente. Reserve 1 ½ cups cooking water then drain pasta and return it to pot.

Add bacon, garlic-tomato mixture, arugula, ½ cup Parmesan and 1 cup reserved cooking water and toss to combine.

Season with salt and pepper if desired and add reserved cooking water as needed to adjust consistency.

Serve with extra Parmesan.
Notes
MAKE AHEAD TIP:
This recipe is so quick, there's really not much to make ahead although you could make ahead the bacon, garlic and tomato mixture then store in an airtight container in the refrigerator for up to one day until you are ready to prepare the rest of the recipe.
MONEY SAVING TIP:
Use homegrown tomatoes to save money in this recipe!
Also, my grocery store sometimes marks down the baby arugula or baby arugula/baby spinach selling it at 50% off and the expiration usually still has a day or two left for it!
TASTY NOTE:
This dish is best served fresh and warm although the leftovers I had the next day were still pretty tasty!
Nutrition
Calories:
833
kcal
|
Carbohydrates:
92
g
|
Protein:
35
g
|
Fat:
35
g
|
Saturated Fat:
14
g
|
Cholesterol:
63
mg
|
Sodium:
937
mg
|
Potassium:
804
mg
|
Fiber:
5
g
|
Sugar:
6
g
|
Vitamin A:
4178
IU
|
Vitamin C:
30
mg
|
Calcium:
412
mg
|
Iron:
4
mg
This post was originally published in August 2013 but was updated in August 2020 with new photos and content.