This post may contain affiliate links. Please read my disclosure policy.
My Pumpkin Cream Cheese Dip tastes just like pumpkin pie but in a dip! Serve it with sliced apples or graham crackers. A finger full works fine too!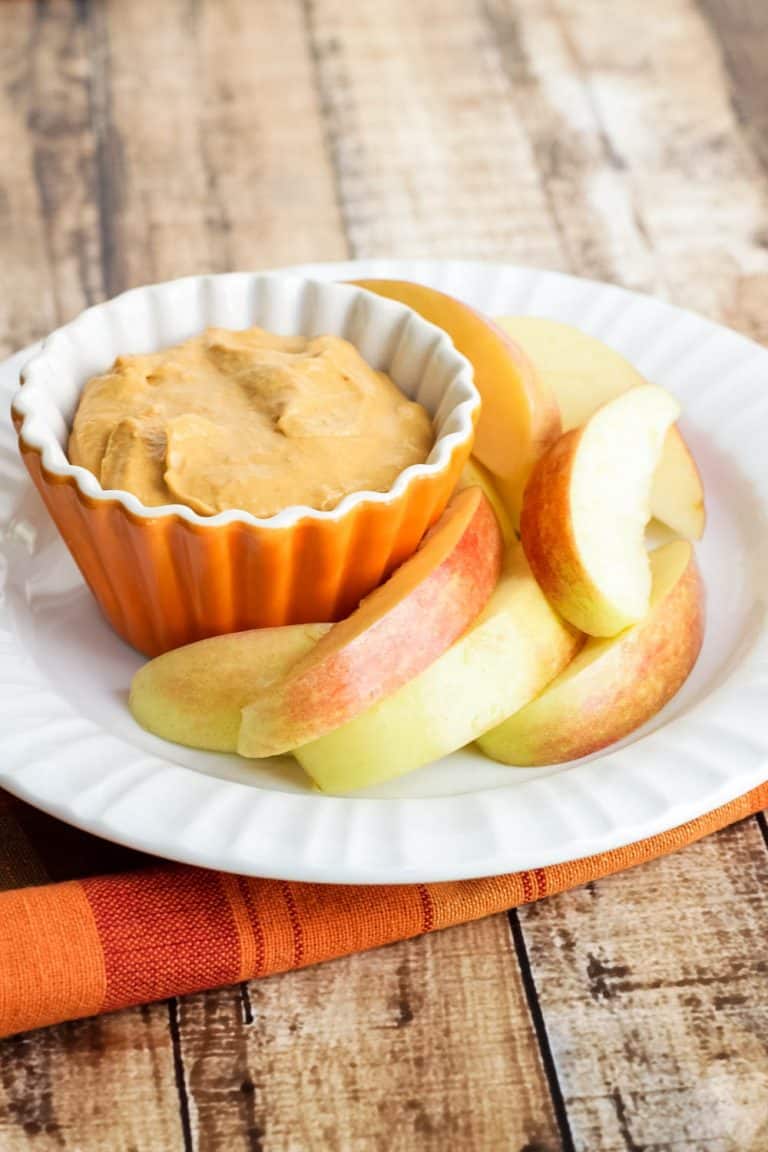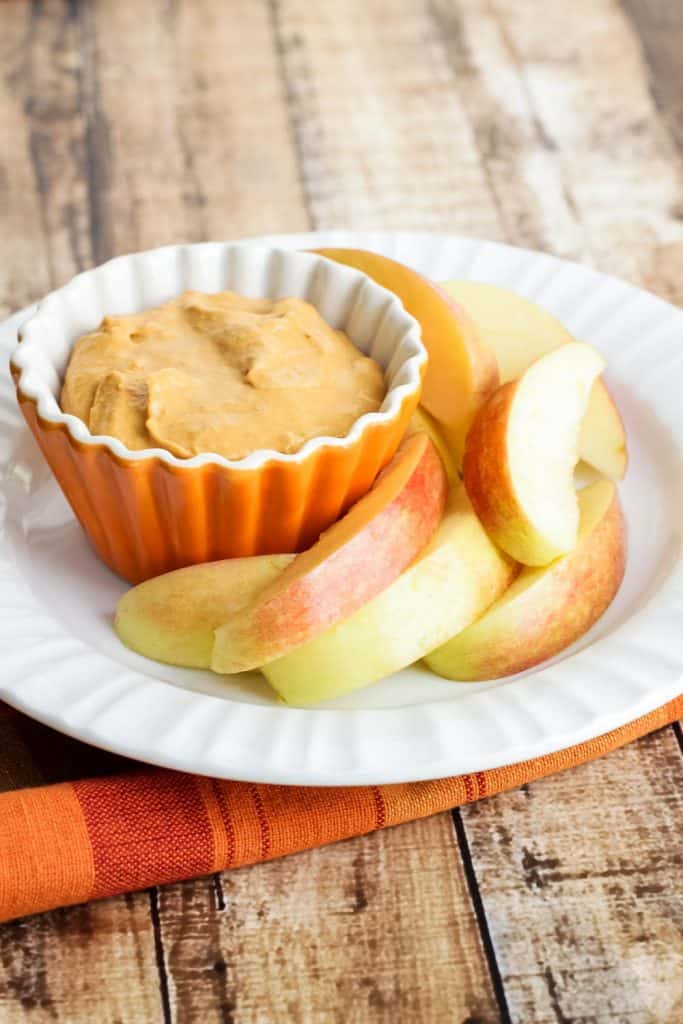 If you've followed me for awhile, you know I'm team pumpkin and I love all things pumpkin flavored! Let me clarify, I prefer tasty recipes that use real pureed pumpkin versus the pumpkin flavored foods.
I love this dip because it only takes five ingredients so it's super easy to whip up when I have a seasonal snack attack!
The combination of pumpkin, maple syrup, brown sugar and cinnamon seems so simple. I think that's what makes this dip even better. We prefer to eat the dip with sliced apples but it's also good with graham crackers. I've also been known to enjoy a fingerful or two just on it's own.
It tastes just like pumpkin pie filling or pumpkin cheesecake (which is a favorite of ours too!)
What's also great about this dip is that it can be made ahead, up to a few days in advance and stored in the refrigerator until you're ready to serve. That is if it lasts that long!
This pumpkin cream cheese dip is a perfect addition to your fall food lineup and would be perfect for holiday gatherings too.
WHAT ARE THE INGREDIENTS IN THIS CREAMY PUMPKIN DIP?
Pureed (canned) Pumpkin – You can find this at any grocery store. Make sure you're buying the plain, pureed pumpkin and not the pumpkin pie mix because the latter already has the spices in it for a pie. You want the plain stuff!
Cream Cheese – I like to use the lower fat block cream cheese and usually the store brand because it's less expensive.
At my store, the store brand cream cheese will sometimes say 1/3 less fat or have the name Neufchâtel on the packaging. Of course, it's up to your preference what you choose!
Brown Sugar – I use the light brown sugar, again, store brand is good for us!
Maple Syrup – This is the REAL maple syrup and not pancake syrup or maple flavored syrup. Those two are just tinted and flavored corn syrup (in case you didn't know!) and usually not as flavorful as the pure syrup.
I know pure maple syrup can be expensive but I usually buy it at Costco or Trader Joes for a much better price and it seems to last forever when stored in the refrigerator.
Ground Cinnamon – I buy my cinnamon in bulk from Penzey's as it's cheaper per ounce but of course, any brand will do! I'm also a fan of the spices from Aldi's so if you have one near you, check it out as their prices are pretty good!
Apple Slices or Graham Crackers – We prefer this dip with apple slices. We usually choose a gala or jazz variety as we don't like them too tart but it's up to your preference what to choose! The dip is also tasty with graham crackers.
HOW DO YOU MAKE PUMPKIN CREAM CHEESE DIP?
Have I mentioned how easy it is to make this dip?
It's best to let the cream cheese come to room temperature. I prefer to use my food processor as that makes it super creamy in seconds.
But I realize not everyone has a food processor so you can use an electric mixer or even just beat it by hand with a rubber spatula in a bowl. It will give you a good arm workout!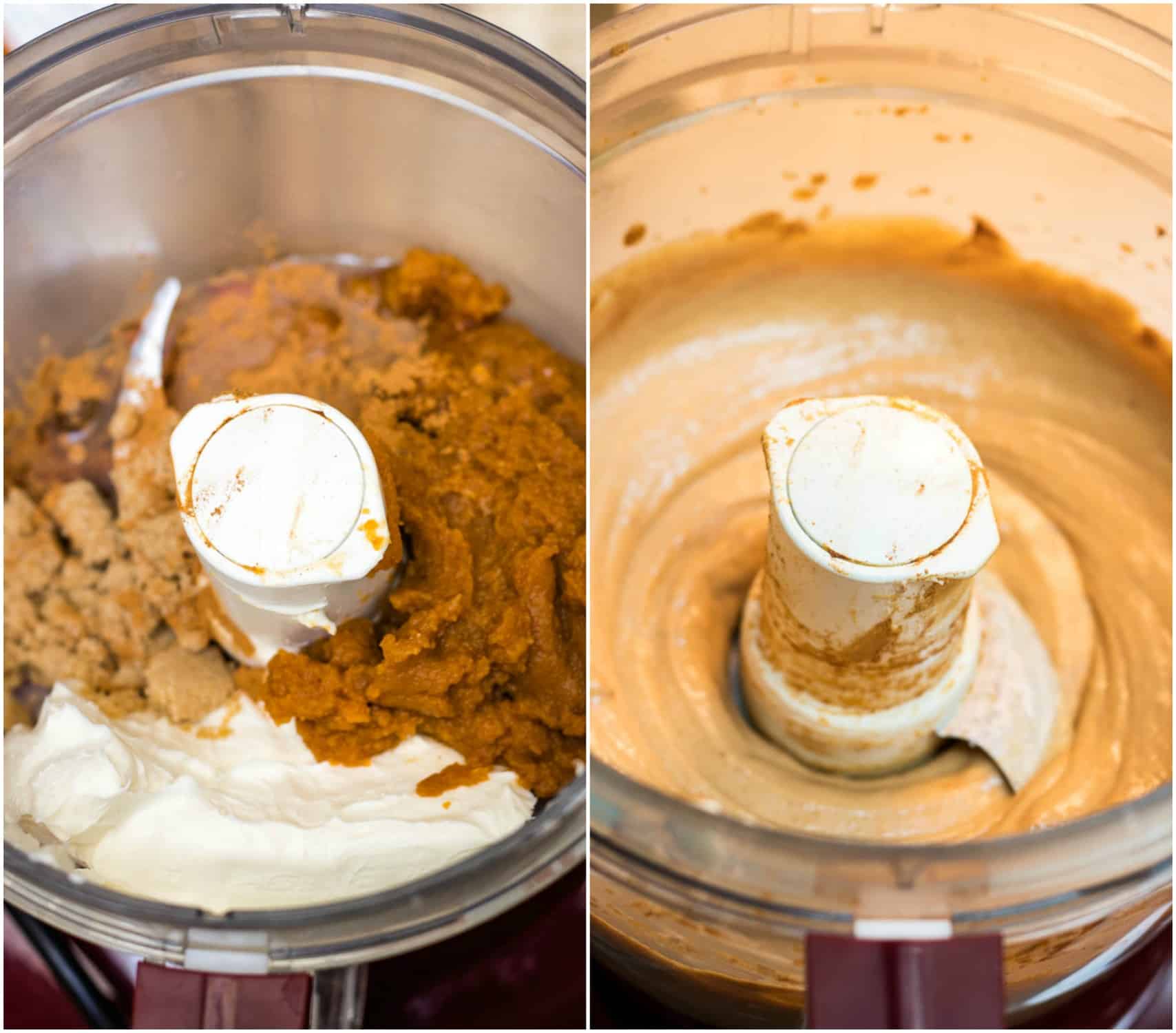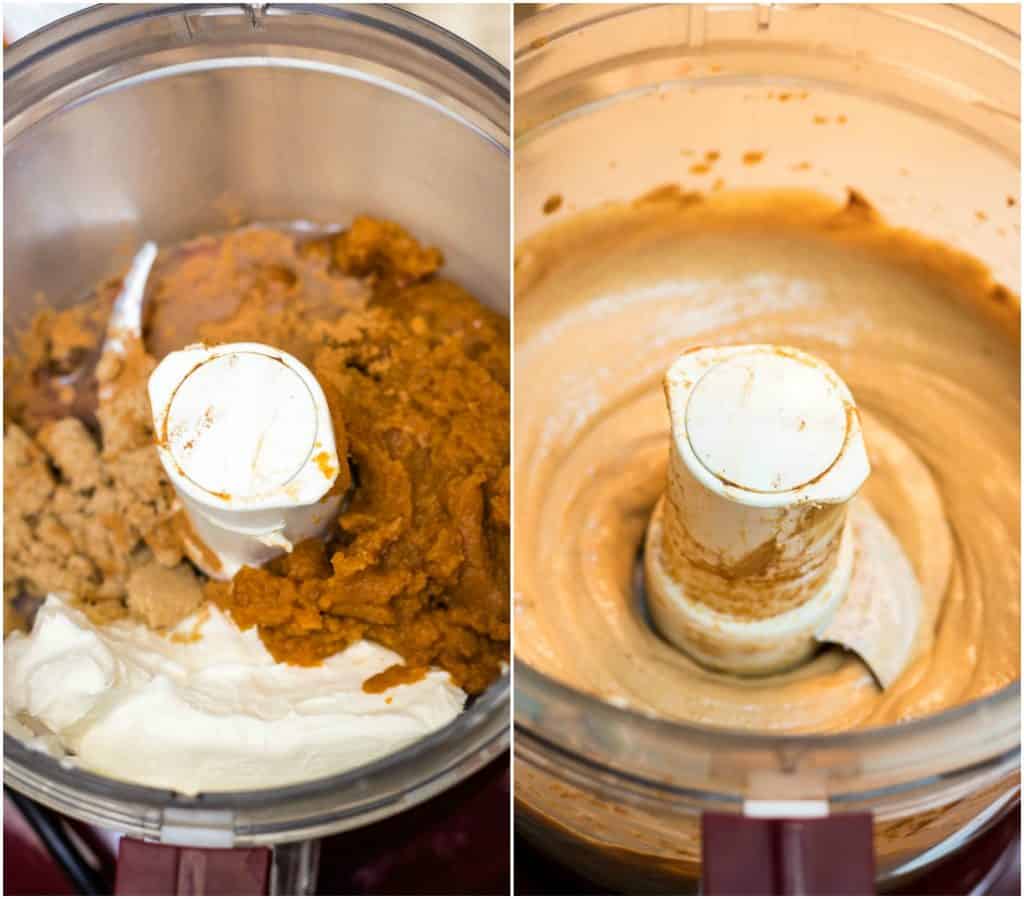 Can this dip be made ahead?
Yes! You can serve this dip right away or make it up to a day in advance of serving. The flavors will blend together even more. You can keep this dip in the refrigerator for up to five days—if it lasts that long!
Can Pumpkin Cream Cheese Dip Be Frozen?
I have never tried freezing this dip so I'm not sure if it would work. Freezing foods that have cream cheese in them can be hit or miss sometimes. I'm sure the flavor would still be fine after thawing but sometimes the texture can change and it would not be as creamy. If you give it a try, let us know!
MORE RECIPES THAT USE CANNED PUMPKIN
If you haven't figured out by now, I'm a fan of foods with pumpkin. And since this and many other recipes seem to not use up an entire can of pureed pumpkin, I've got several of my favorite recipes to share with you to enjoy this season (or year round if you get a craving!)
From savory to sweet, I've got you covered.
If you've tried this recipe, let me know how much you enjoyed it by coming back and leaving a comment below and a rating. I love hearing from you!
Sign up to receive an email in your inbox for each new recipe and get a FREE menu plan printable: FREE EMAIL SUBSCRIPTION
Have a question or want to share recipe ideas with others? Then join my private Facebook group, Meal Planning Magic Community Table here. If you've already joined, be sure to add your friends that may find it helpful too!
Don't forget to follow me on Facebook, Twitter, Pinterest , or Instagram or sign up for my email list here so you never miss a new post! Each offers a little something different and are a great way to stay in the loop on new menu plans, recipe ideas, organizing tips and more! 
Be sure to check out my Amazon Shop to discover the many items I use in my own kitchen. Meal Planning Magic is a participant in the Amazon Services LLC Associates Program, an affiliate advertising program designed to provide a means for sites to earn advertising fees by advertising and linking to Amazon.com. Ordering products mentioned here are at no extra cost to you. Thank you for your support.