This post may contain affiliate links. Please read my disclosure policy.
These Budget Friendly Tuna Biscuit Pockets and Creamy Mushroom Gravy are delicious and so simple to make and can be ready in just 30 minutes or less. They feature canned tuna in a tasty baking powder biscuit pocket served with creamy mushroom gravy.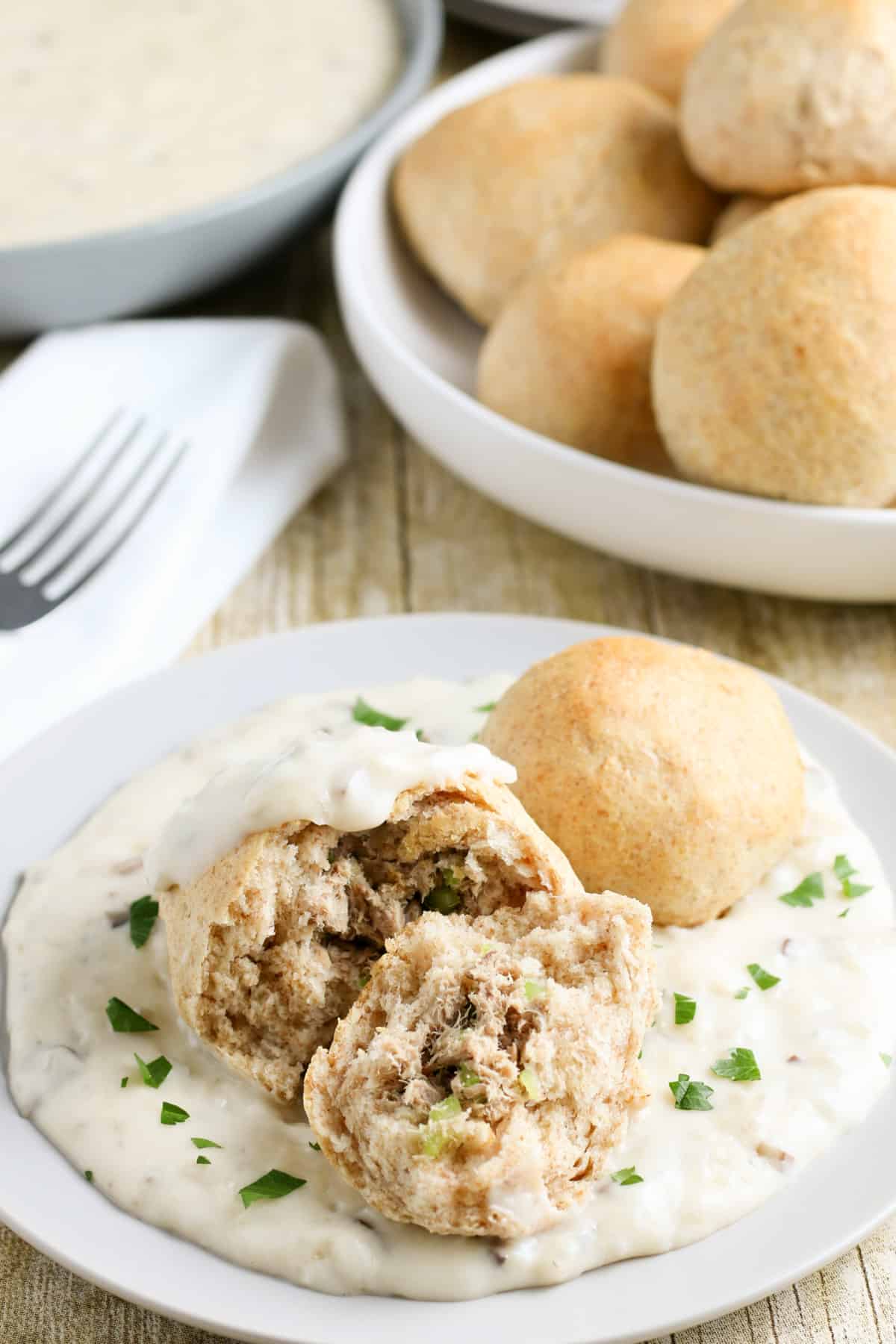 Why We Love This Recipe
This delicious tuna dinner idea is one of my favorite recipes from my childhood! We called them Tuna Rollups growing up but they're more like little tuna pockets or tuna biscuit pockets because the filling is wrapped up using my baking powder biscuit recipe.
My mom used to make these when we were growing up and I've been making them ever since. They are especially a favorite of my husband but my whole family loves them. I love that they a budget friendly dinner option.
With just a few ingredients for the filling–tuna, celery and an egg– and a creamy mushroom gravy (or cream of mushroom soup), it's a delicious comfort food that I hope you're family will love too!
What Ingredients Are Needed To Make This Recipe?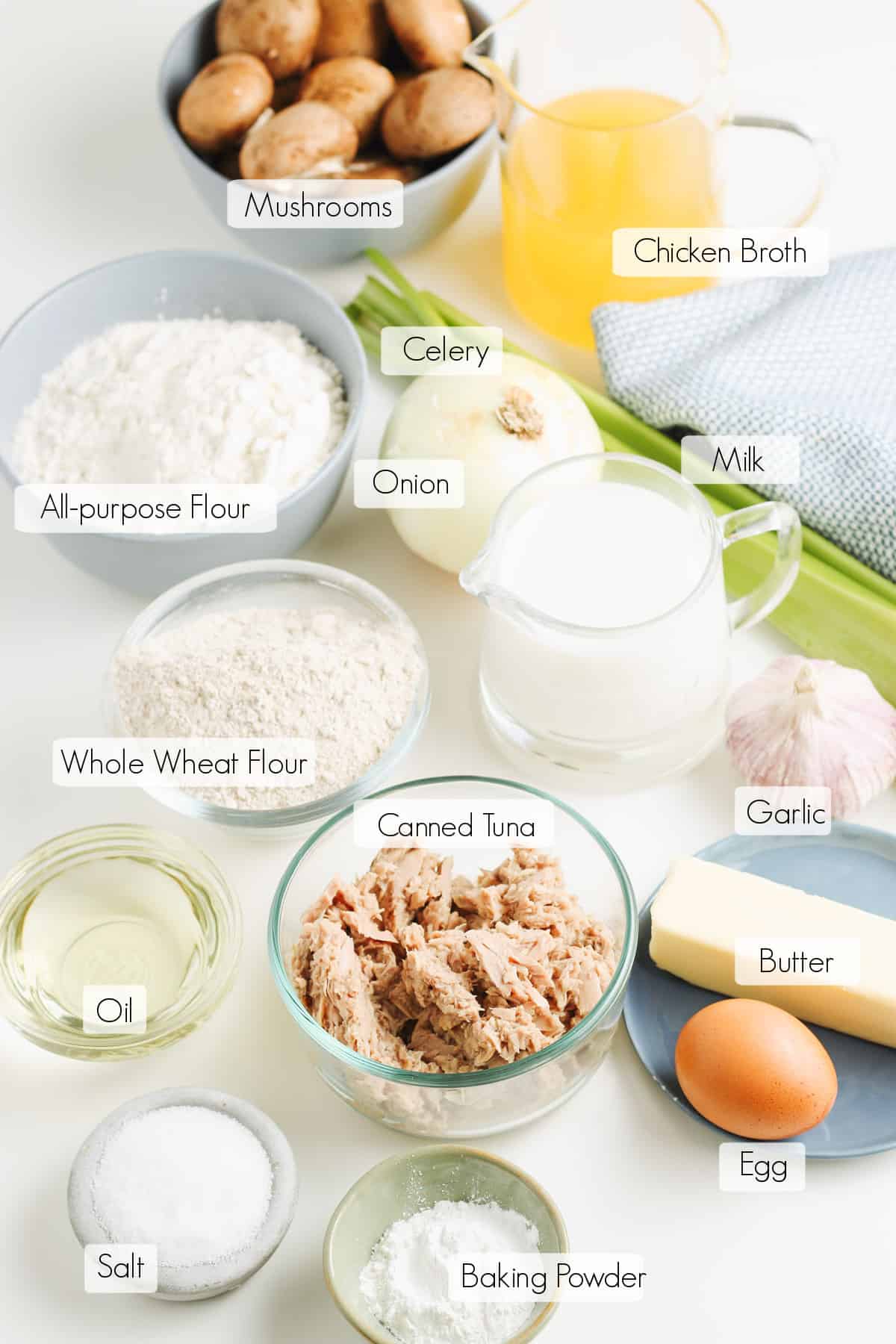 As I've mentioned, this recipe is really budget friendly as it uses ingredients that are easy to find and not too expensive. The filling is just made with canned tuna, chopped celery, and an egg.
Since this recipe calls for diced celery, mushrooms and onions, I like to use my handheld food chopper (affiliate link) or food processor (affiliate link) to make that task go a lot more quickly.
If you are using a food processor, be sure to pulse the ingredients and not just turn it on otherwise it will be only a few minutes before you've got a vegetable puree instead of finely diced vegetables.
Baking Powder Biscuits
For this recipe, I also make the biscuits from scratch but they are a baking powder biscuit so are super simple and do not require rising so that means dinner can be ready quickly!
Creamy Mushroom Gravy
I also started making the sauce from scratch as we moved away from using condensed cream soups to avoid the preservatives. This easy mushroom gravy recipe is adapted from one I found online and is SO super easy. It is even freezer friendly!
I'll admit, I'm not a purist and sometimes when I'm in a hurry or am not in the mood to make it from scratch, I will still use the condensed cream of mushroom soup from the grocery store.
Canned Tuna Options
I prefer to use the canned tuna in water. Tuna has gotten some negative press in recent years as it can contain mercury which can be a concern for babies, young children and women who are pregnant. However, it's a healthy fish and one of the most popular seafood options for Americans after shrimp and salmon.
Fishing practices also contribute to some of the negative press so I try to choose tuna that is sustainably raised and caught. Not too long ago, I discovered the Wild Planet brand of canned tuna (affiliate link) at Costco. It is a couple more dollars per can than other more familiar name brands but I wanted to mention it as an option for you too as we really liked it!
Easy Steps To Make This Recipe
While it may seem like there are a lot of ingredients to this tuna biscuit pockets and gravy recipe, it really does come together easily. It is an easy 30-minute meal! Below, I also share some make ahead options if you want to make it even more quickly.
First, I start by making the baking powder biscuit recipe. I combine the milk and oil separately and set aside then add the dry ingredients in a bowl before pouring in the wet ingredients (1).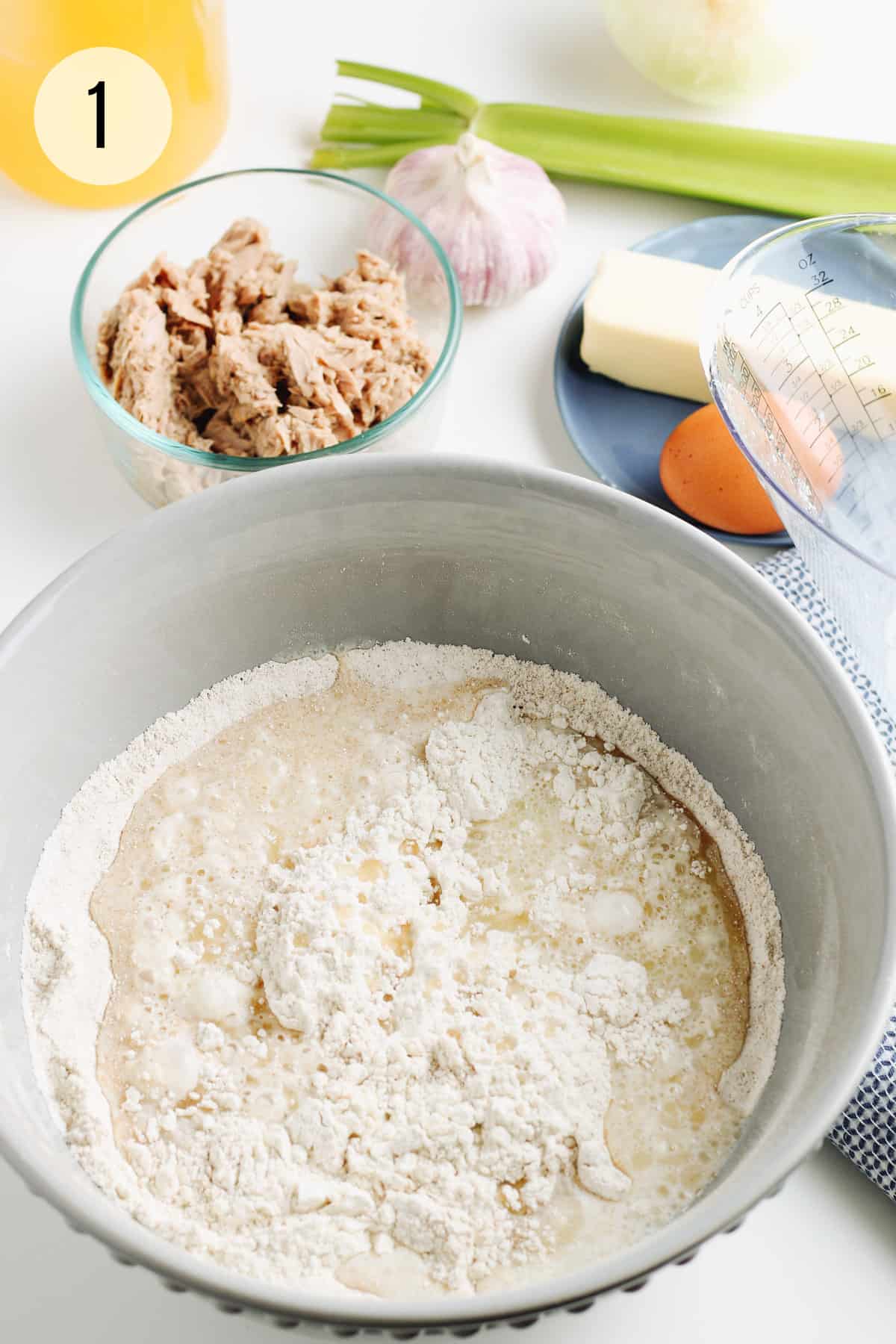 Combine using a fork to blend just until mixed (2). You might need to use your hands or a rubber spatula to get everything combined into a ball.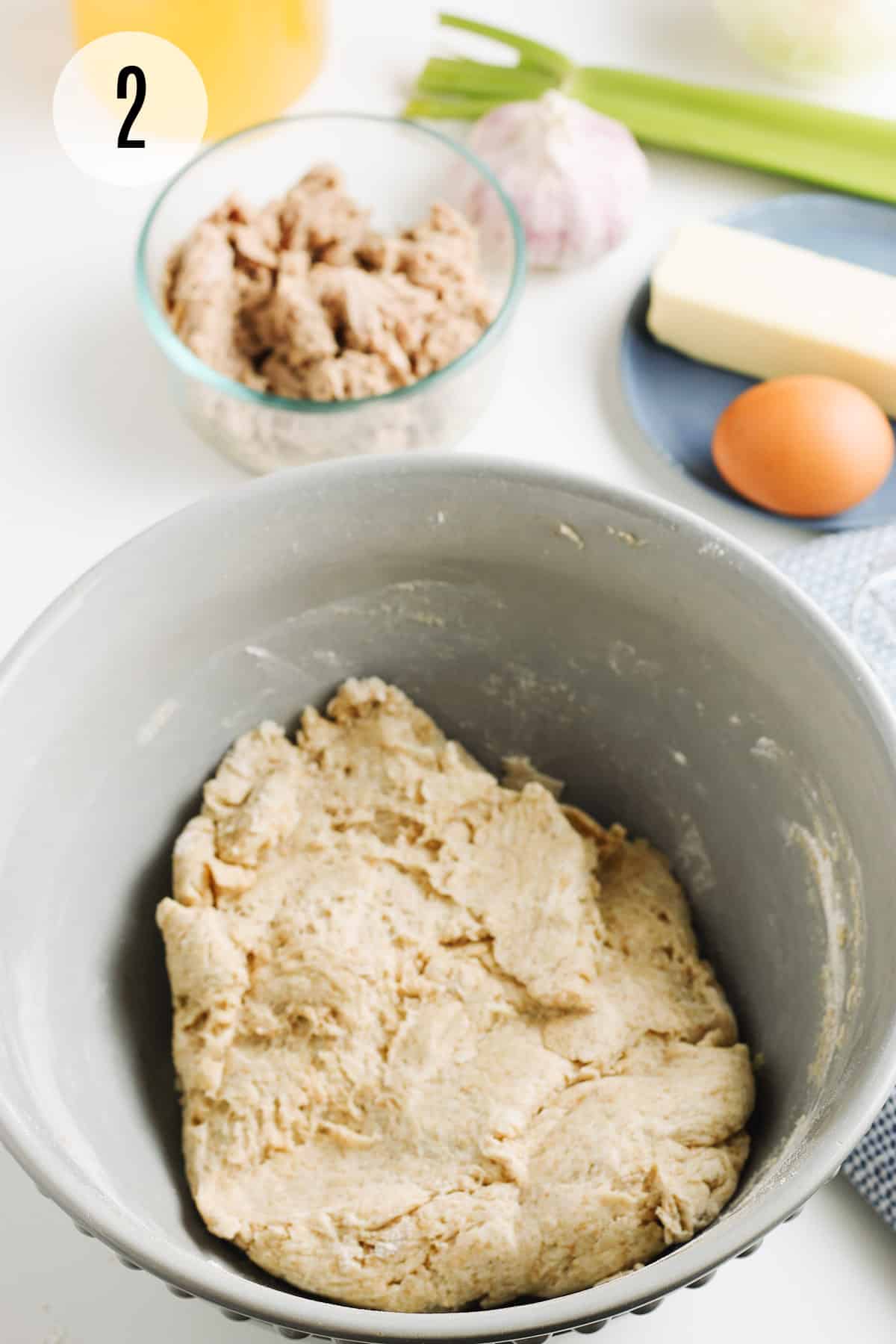 From there, knead the dough a few times then roll it out into a rectangle. You will be cutting the dough into 12 equal sections (3).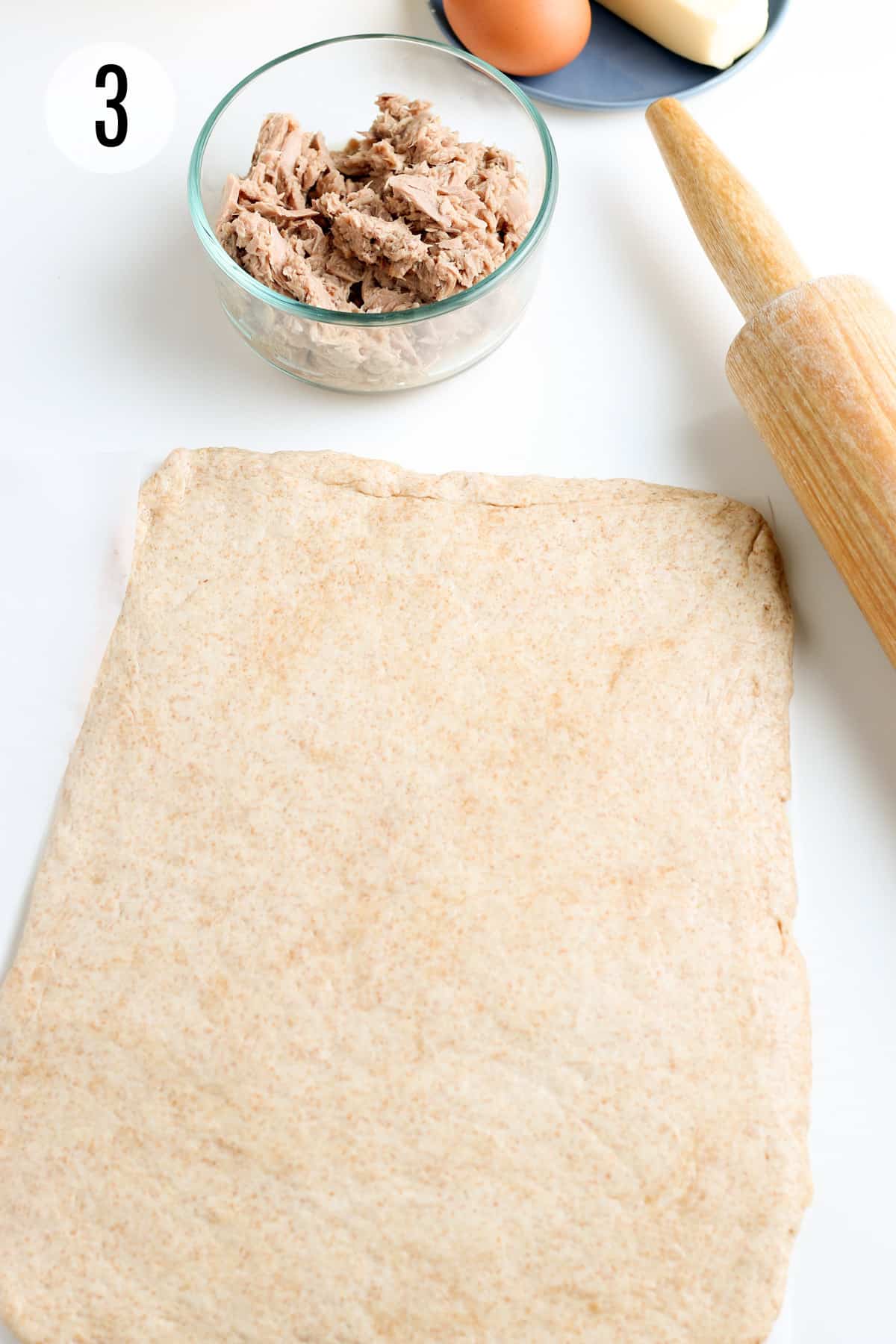 I use the same bowl that I made the dough in to combine the tuna, chopped celery, and egg, giving it a quick stir with a fork before evenly dividing it on the prepared biscuit dough (4).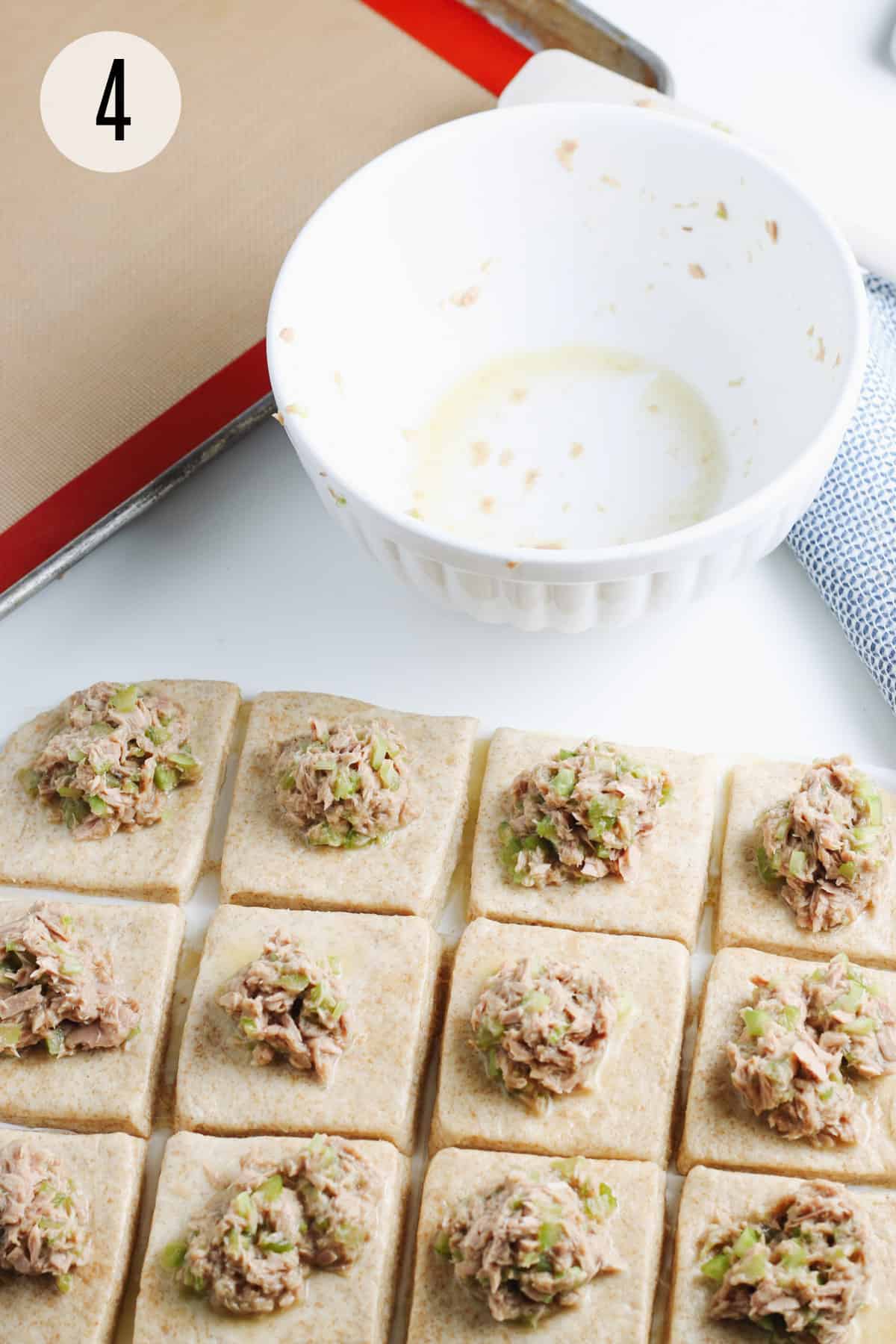 Then I pullup the corners of the dough around the filling to create the pocket (5).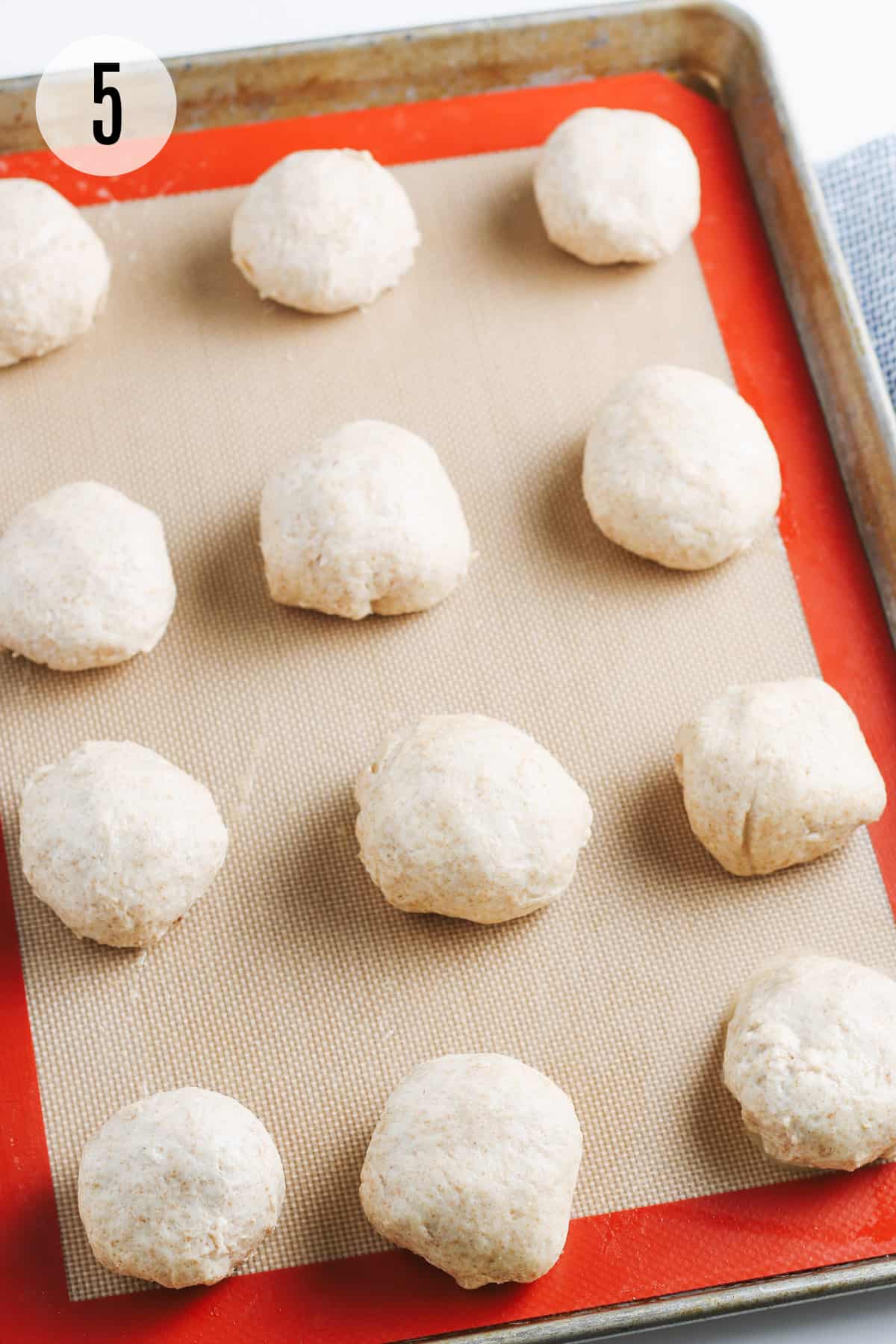 While the filled tuna biscuits bake, I make the creamy mushroom gravy. It's really quite easy! Start by sautéing the mushrooms, onions, and garlic before moving on to melting the butter. Then add flour to make a paste before whisking in the milk and broth then add the sautéed vegetables back in and simmer (6).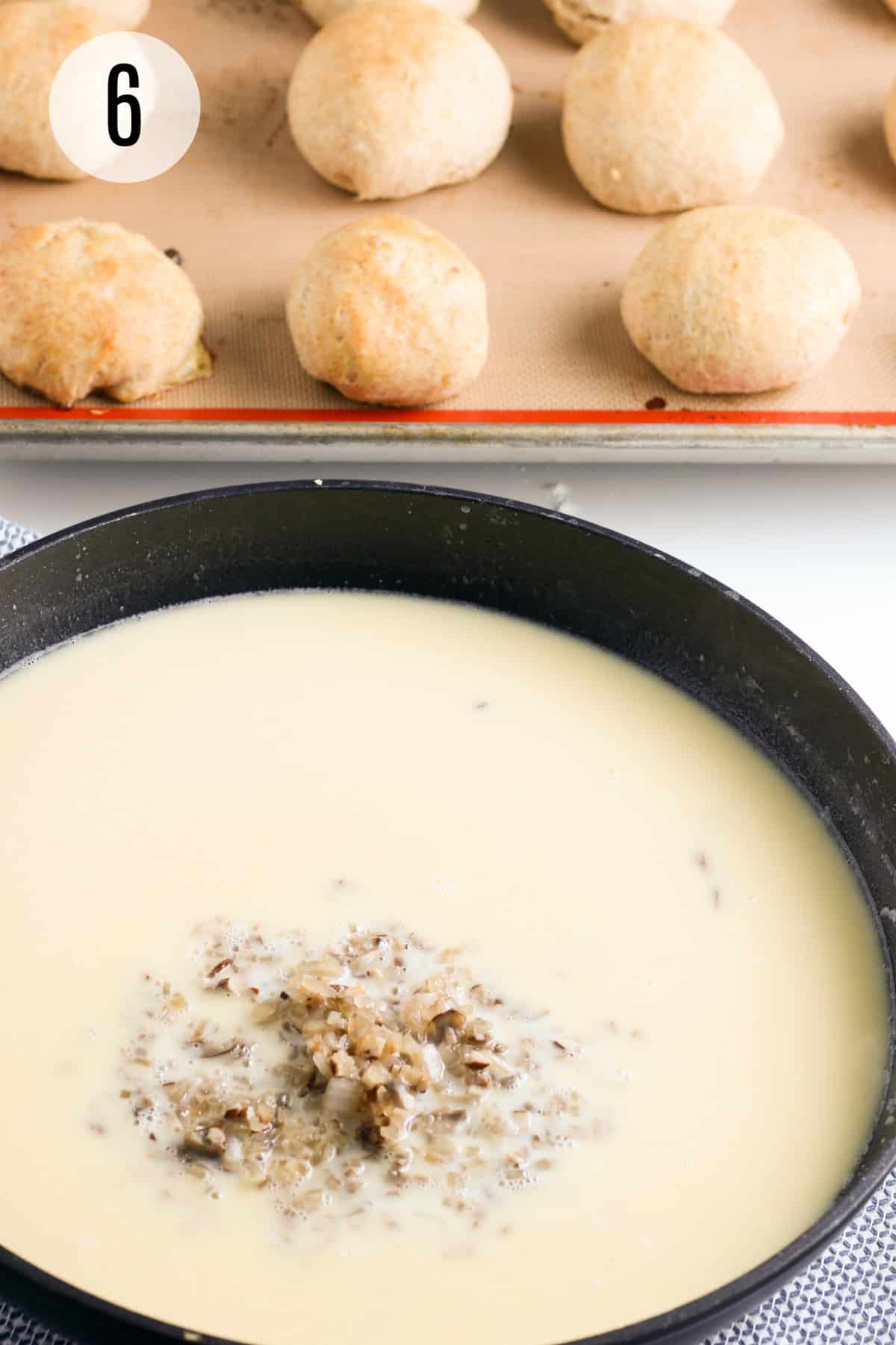 Make Ahead Preparation Tips
There are a few ways that this filled tuna biscuit and creamy mushroom gravy recipe can be made ahead. I've talked before about making meal kits of dry ingredients and that's totally doable here.
You can also make the mushroom gravy ahead of time and store in the refrigerator for up to 3 days.
Is this tuna biscuit pocket and gravy recipe freezer friendly?
Because this recipe is so quick and easy for a weeknight dinner, I've never tried freezing the assembled tuna biscuits but I may have to give that a try!
As mentioned, the creamy mushroom gravy recipe is freezer friendly and can be frozen for up to three months. I like to use my SouperCubes (affiliate link) to freeze it in easy stackable portions but any airtight, freezer friendly container will do. Don't forget to date and label you food. These are my favorite reusable food labels (affiliate link).
More Budget Friendly and Delicious Seafood Recipes
I love that this Tuna Biscuit Pockets recipe is budget friendly but also that it uses tuna. We love seafood! Check out some of my other recipes that are either budget friendly, made with seafood, or both here:
Fish Tacos with Avocado,Corn and Tomato Salsa
Seafood Creole with Steamed Rice
Crunchy Oven Fried Breaded Tilapia
Ground Turkey Meatballs with with Peach Ginger Sauce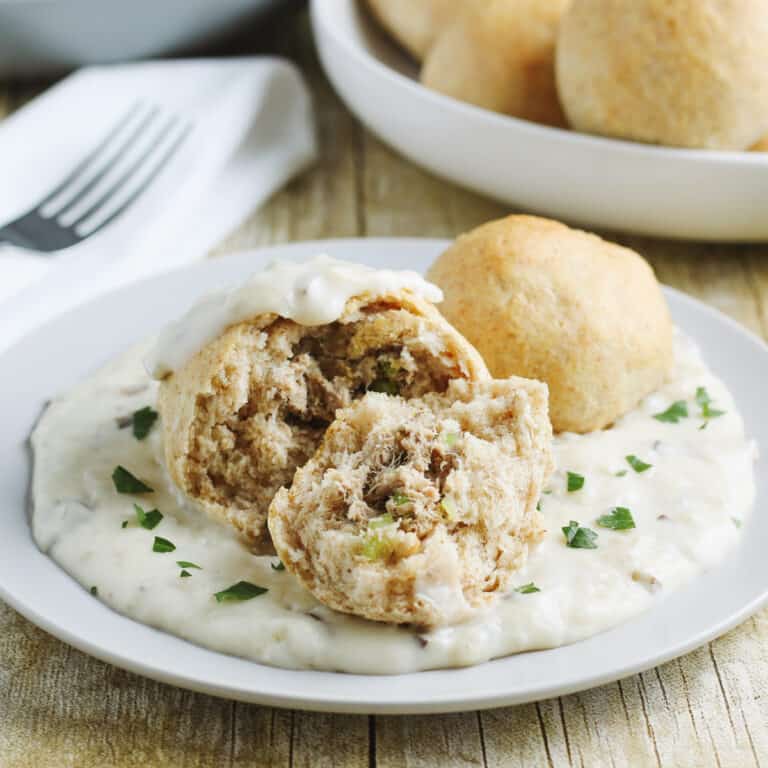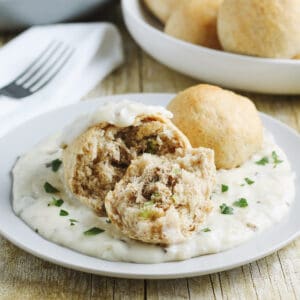 Budget Friendly Tuna Biscuit Pockets and Creamy Mushroom Gravy
These Budget Friendly Tuna Biscuit Pockets and Creamy Mushroom Gravy are delicious and so simple to make and can be ready in just 30 minutes or less. They feature canned tuna in a tasty baking powder biscuit pocket served with creamy mushroom gravy.
Rate this Recipe
Print Recipe
Pin Recipe
Servings:
12
biscuit pockets
Ingredients
Biscuit Mixture
1

cup

whole-wheat flour

optional, may use substitute all-purpose flour

2

cups

all-purpose flour

1 ½

tablespoons

baking powder

same as 4 ½ teaspoons

1

teaspoon

salt

½

cup

vegetable oil

scant

1

cup

low-fat milk
Tuna Mixture
7.5

ounces

tuna

from can, in water not oil

1

large

egg

unbeaten

½

cup

celery

minced
Mushroom Gravy
2

teaspoons

garlic

minced

1

cup

onions

finely chopped

1

cup

mushrooms

finely chopped

½

cup

unsalted butter

½

cup

all-purpose flour

2

cups

milk

1 ½

cups

chicken broth

½

teaspoon

salt

optional and to taste
Instructions
Preheat oven to 450°.

In medium bowl, combine flours, baking powder and salt.

In measuring cup, combine oil and milk.

Pour oil milk mixture all at once into flour mixture.

Stir with a fork until mixture cleans side of the bowl and rounds up into a ball.

Using a cutting board or mat sprinkled with flour, smooth dough by kneading about 10 times.

Place dough between two sheets of waxed paper, 9 x 12-inches.

Using a rolling pin, roll out until dough reaches edges of paper.

Peel off top paper and cut dough into 12 pieces. Tip: cut 9-inch side into three portions then 12-inch side into four, approximately 3-inch cuts.

Spread tuna filling over each square. Roll up and place sealed side down on ungreased baking sheet.

Bake 10-15 minutes at 450°.
To Make Mushroom Gravy
In a large saucepan, saute garlic, onion and mushrooms until soft. Remove from pan and set aside.

In same large pan, melt butter over medium heat, stirring constantly so butter does not burn.

Quickly whisk in flour and cook for 2 minutes. Whisk constantly to avoid burning.

Add in milk and broth and whisk until blended.

Add sauteed garlic, onion and mushrooms that had been set aside.

Bring to a boil and stir regularly to avoid burning (yes, have you gotten the idea this can happen quickly!) Reduce heat and simmer until thickened, about 10 minutes, stirring often.
Notes
You can substitute canned cream of mushroom soup for the homemade mushroom gravy. Use two cans of soup to one can of soup to make the "mushroom gravy".
Make ahead tip: In medium bowl, combine dry ingredients. Cover and set aside until you are ready to make the rest of the recipe. It may seem like a small step but one a busy days, every minute counts if you can do some of the prep ahead of time!
Nutrition
Serving:
3
pockets
|
Calories:
330
kcal
|
Carbohydrates:
33
g
|
Protein:
11
g
|
Fat:
18
g
|
Saturated Fat:
13
g
|
Cholesterol:
44
mg
|
Sodium:
481
mg
|
Potassium:
426
mg
|
Fiber:
2
g
|
Sugar:
4
g
|
Vitamin A:
410
IU
|
Vitamin C:
3
mg
|
Calcium:
161
mg
|
Iron:
2
mg
This post was originally published in January 2015 but updated in August 2020 with new photos, video, and content.
Be sure to check out my Amazon Shop to discover the many items I use in my own kitchen. Meal Planning Magic is a participant in the Amazon Services LLC Associates Program, an affiliate advertising program designed to provide a means for sites to earn advertising fees by advertising and linking to Amazon.com. Ordering products mentioned here are at no extra cost to you. Thank you for your support.