This post may contain affiliate links. Please read my disclosure policy.
Crunchy oven fried fish is easy to make and so delicious! This healthy fried fish recipe uses the oven to create a crispy coating on the fish, eliminating the need for deep frying!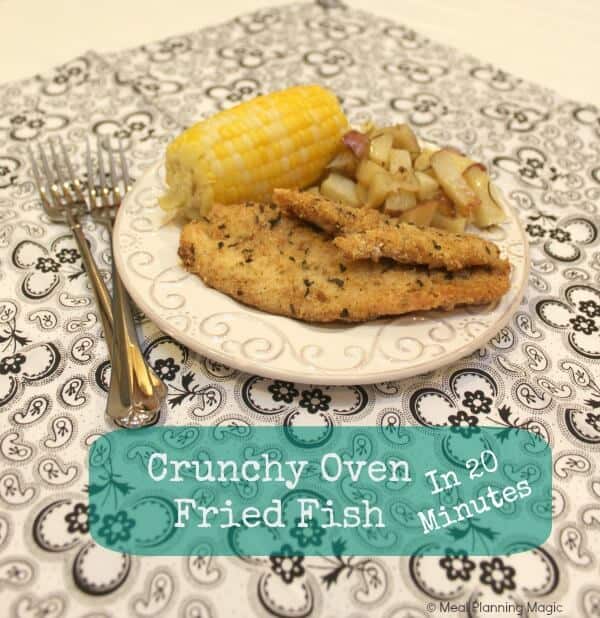 I love it when I find something that is quick and easy but also something that's a winner with my family. That's why I love this Crunchy Oven Fried Fish recipe so much! My sister passed it along several years ago and not only does it come together quickly, it's easy to make the mixture ahead of time to have it ready for any time you want a quick dinner recipe. It's healthy and delicious. I serve it with rice, quinoa pilaf or potatoes, and usually roasted broccoli or corn on the cob and a tossed salad. It's one of those recipes that I like to make, even when I don't feel like cooking.
One thing I like to do is make extra crumb mixture for the oven fried fish.
I store it in a glass jar or in a zip top bag. It's easy to double or triple the recipe and that makes the next meal prep that much easier.

There's not a whole lot more to say about this crunchy oven fried fish recipe, other than that you need to try it!
And keep it handy for when you want a recipe that simple, delicious and family friendly!
Quick & Easy Crunchy Oven Fried Fish, plus Make Ahead Tip
Prep time:
Cook time:
Total time:
Ingredients
1/4 cup all-purpose flour
1/4 teaspoon salt
pepper
2 egg whites
1/4 cup dried bread crumbs
1/4 cup cornmeal
1/2 teaspoon dried basil, crushed
Instructions
Preheat oven to 450 degrees F
Sift or stir flour, salt, and pepper together in a shallow dish, and set aside. In a bowl, beat egg whites until white and frothy. In another bowl, combine bread crumbs with cornmeal and basil.
Rinse the fillets and pat dry. Dip first into flour, shaking off any excess, then into egg whites, then into bread crumb mixture.
Lightly brush baking sheet with cooking oil. Place fillets on baking sheet. Bake in the preheated oven for 10 to 15 minutes, or until fish flakes easily with a fork.
Notes
I like to use glass pie plates to dip the fish in–they are usually big enough to fit the whole fillet!