This post may contain affiliate links. Please read my disclosure policy.
Get dinner to the table in just 30 minutes with this Spanish Rice with Ground Beef Skillet recipe. Made with budget friendly and easy to find ingredients, it's a tasty one-pot meal your whole family will love!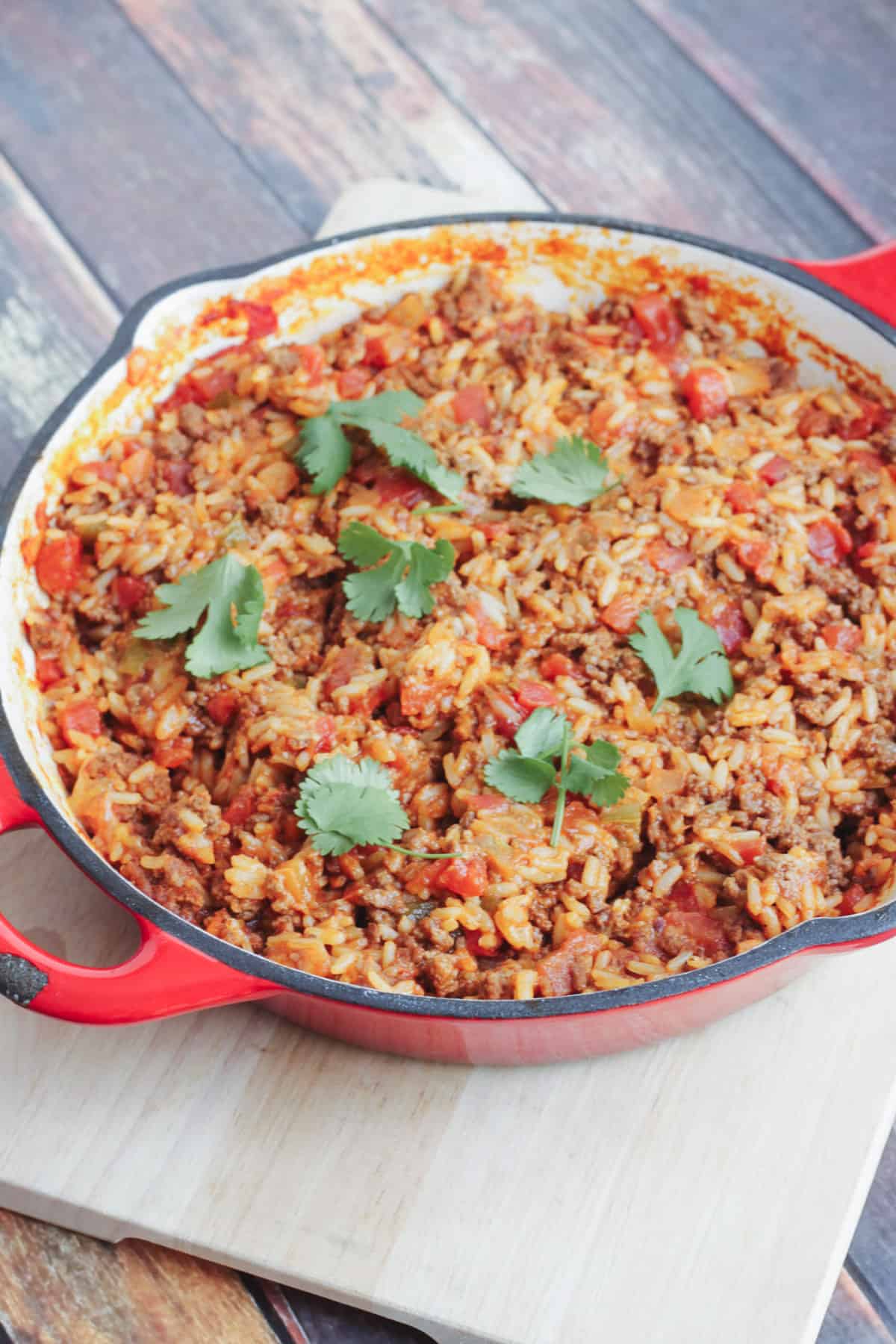 Why This Recipe Works
If you ask me, I can never have enough quick and easy dinner ideas. I especially love recipes like this one that is made in one pan because that means fewer dishes to be done at the end. Just like this Super Simple Skillet Lasagna Florentine.
I first discovered this recipe in one of those community cookbooks. You know the kind. The ones that are compiled by members of a church, club or moms' group? There's a reason those recipes were submitted—because they are usually family favorites.
One thing I've noticed though is that in the older cookbooks, they're not always the healthiest recipes. So, I've enjoyed trying new recipes for my family and tweaking them to make them a bit healthier for us.
What's great about this recipe is that it's budget friendly and made with easy to find ingredients. Ground beef is one of the least expensive meats to cook with. With that and other simple ingredients, it also makes this Spanish rice recipe budget-friendly.
It's also good as leftovers, making it easy to take to lunch or send to school. Hint: when sending hot food as leftovers, I like to use these THERMOS containers which keeps food hot for several hours.
How to Make This One Pot Meal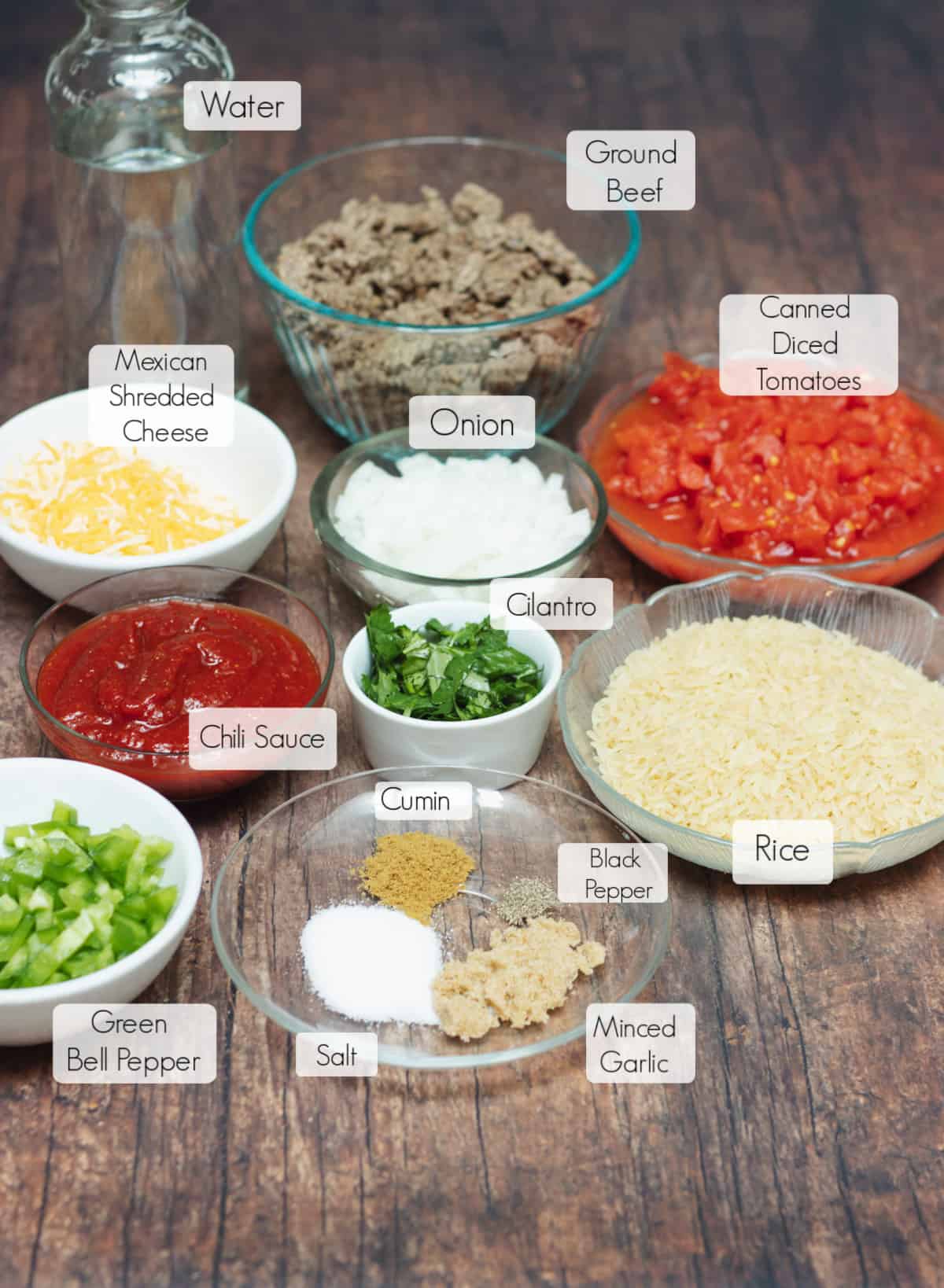 All of the ingredients for this recipe can easily be found at the grocery store. The chili sauce can sometimes be tricky to locate though. Look for the chili sauce in the condiment aisle near the ketchup and salsas. I usually find it on an upper shelf near the seafood cocktail sauce.
To save time, I'll often use frozen chopped onions and frozen chopped bell peppers. I pretty much always have these on hand. They are such a quick and often less expensive way to add to meals like my Slow Cooker Ground Turkey Bolognese Sauce or Classic American Chili too.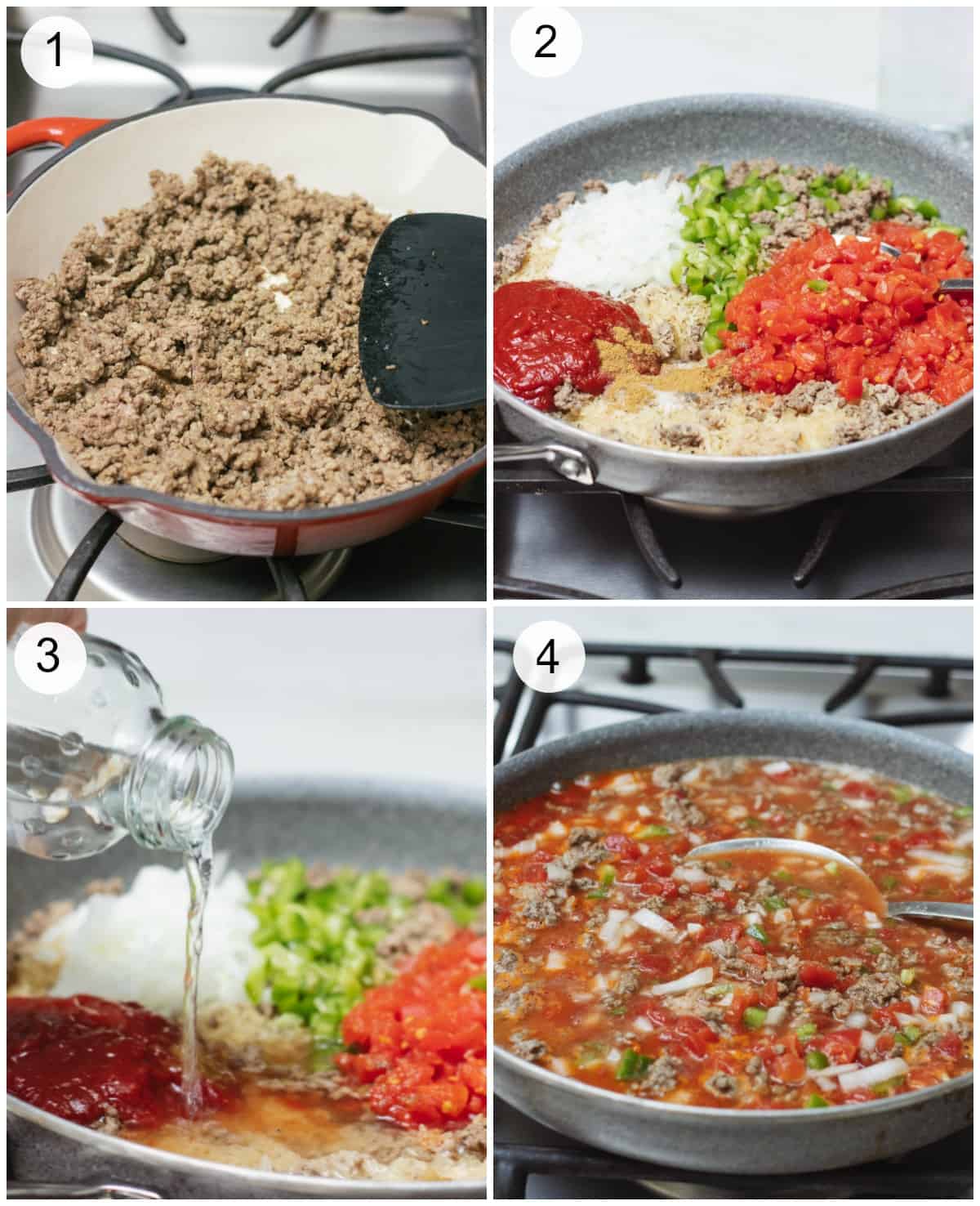 I first start by browning the ground beef in a skillet pan (1). After I've browned the ground beef, I will pour off the grease so that the final recipe is a bit healthier as a result.
It's so easy from there as it's all about adding all the ingredients into the same pan (2) then adding the water (3). After that, it simmers for twenty to thirty minutes or until the rice is done and all the liquid is absorbed.
I just have to stir it occasionally (4) so it doesn't stick to the pan and the ingredients can cook more evenly. I love this almost hands off type of cooking as it allows me to clean up the kitchen while I wait or do something else with my family before dinner is done.
Cook's Notes
You'll notice the rice that is called for is converted rice or "extra long" rice. Basically, that means that it has been parboiled. Parboiling rice is when it has been partially cooked then dried again to package for sale. It's a bit more al dente when cooked and maintains its shape a little bit better than other rice varieties.
The rice you choose makes a difference in how the recipe comes out. Long grain rice is usually a firmer rice that still cooks up fluffy but doesn't clump like a shorter grain rice such as basmati or even brown rice. Short grain rices are often used for something like a risotto or rice pudding.
I like to use a variety of rice in my dishes but the shorter grain rices can get mushy if cooked too long. If you want to try some different recipes for rice, be sure to check out my Simple Stove Top Brown and Wild Rice Pilaf or Cilantro Lime Rice recipes.
Make Ahead Tips
There are a few simple steps you can do to make this dish ahead. Brown the ground beef and store in the refrigerator for up to two days until you're ready to assemble and cook this recipe.
If you are using fresh onions and green bell peppers, those can be chopped one day in advance and also stored in the refrigerator.
Take things a step further if you like and by measuring out and combining all the dry spices in a small airtight container. Be sure to label it so you know what it's for and then you can just dump them all in the when your preparing the dish.
Make it a Meal Kit
I love making meal kits for recipes when I can. A meal kit is basically taking partially prepared ingredients for a recipe and combining them ahead of time so that come meal time, getting dinner to the table is even quicker.
I will often use my reusable food storage bags (affiliate link) to combine everything. For this Spanish rice skillet dish, it's easy to store everything together since it's all cooked in one pan.
To do this, take the browned ground beef and cool until room temperature. Then add all the other ingredients leaving out the shredded cheese and cilantro. The shredded cheese can be stored in separate labeled bag or container.
If refrigerator or freezer space is at a premium, leave out the liquid items like the petite diced tomatoes, water and chili sauce. Make a note on your container that you'll need to add these items during cooking and where they can be found (i.e. pantry shelf).
When you're ready to cook this dinner, just warm up your skillet and follow the instructions by adding everything to the pan and simmering about thirty minutes, as the recipe indicates.
Freezer Friendly Prep Tips
It's no secret that I love having freezer meals ready to go for extra busy nights. I'm all about that make ahead when I can. There are two ways to freeze this dish.
The first is to make the meal kit like I mentioned above and freeze all the partially prepped ingredients in your freezer safe storage bag or airtight container. Don't forget to label it with freezer friendly labels (affiliate link) with what's in it and the date. Then thaw the meal kit in the refrigerator overnight and follow the recipe to cook it all the way the next day.
The other option is to freeze the fully cooked dinner. I like to use Souper Cubes (affiliate link) because they are so easy to freeze things in individual portions. It's so easy to pull out one or two servings and heat and eat.
Don't forget to label what it is before putting in in the freezer! It can be frozen for up to three months.
Some people have told me they wonder how well rice or even browned ground beef freezes. I've been doing this for years and it's all good! The main thing is that sometimes the rice can get a little dried out so just add a tablespoon or so of water to the mixture before warming it up in a small saucepan or in the microwave.
It's best to defrost the mixture before heating so that it warms through evenly.
More Simple Dinner Recipe Ideas
I love a good "set and forget" kind of dinner recipe. That means after combining all the ingredients, it basically simmers until it's done with just a minimal amount of stirring. A few of my family's favorites are Super Simple Skillet Lasagna Florentine or these Easy Beef and Bean Burritos.
A true set and forget type of meal is my Slow Cooker Cowboy Chili Frito Pie because it's made in the slow cooker! All of these recipes can use some of the same prep ahead ideas as this Spanish Rice with Ground Beef recipe does too. Enjoy!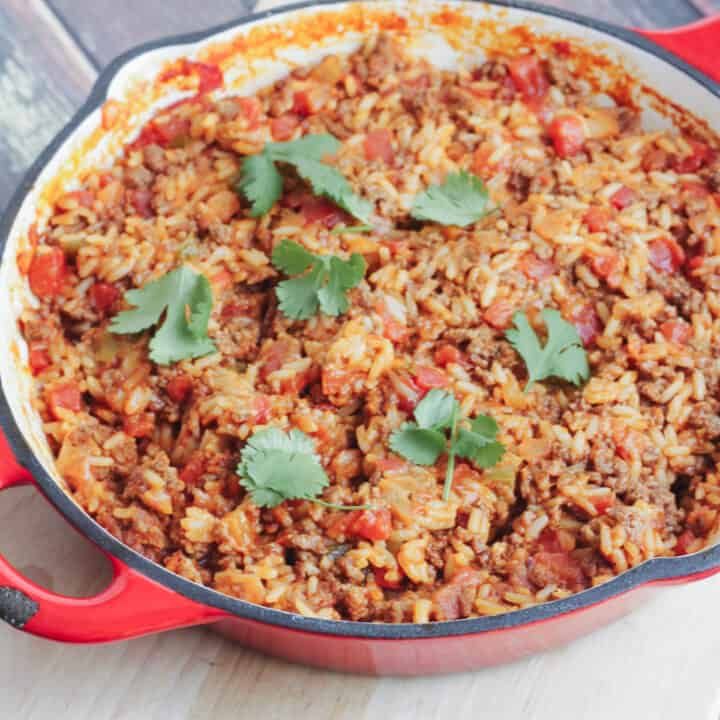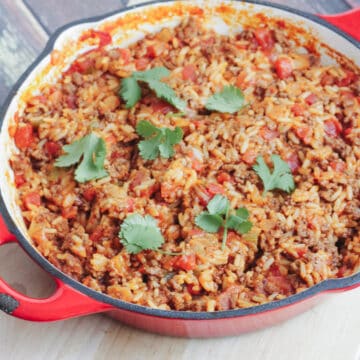 Spanish Rice with Ground Beef
Get dinner to the table in just 30 minutes with this Spanish Rice with Ground Beef Skillet recipe. Made with budget friendly and easy to find ingredients, it's a tasty one-pot meal your whole family will love!
Rate this Recipe
Print Recipe
Pin Recipe
Ingredients
1

pound

lean ground beef

½

cup

onion

chopped

¼

cup

green bell pepper

chopped

14.5

ounces

petite diced tomatoes

canned, undrained

1 ½

cup

water

1

cup

long grain rice

uncooked

½

cup

chili sauce

this can be found in the same aisle as ketchup or mustard

1

teaspoon

salt

1

teaspoon

brown sugar

½

teaspoon

ground cumin

1

dash

ground black pepper

½

cup

shredded Mexican cheese blend

may substitute any variety of cheddar cheese if you can't find the Mexican style

¼

cup

cilantro

chopped, optional
Instructions
In a large skillet, brown ground beef. Drain excess fat from skillet.

Stir in remaining ingredients, onion through black pepper.

Simmer for about 30 minutes, stirring occasionally.

Stir in shredded cheddar cheese.

Garnish with chopped cilantro if desired.
Notes
MAKE AHEAD TIPS:
Use frozen chopped onions and bell peppers to save you time!
Brown the ground beef the day before and store in an airtight container in the refrigerator until ready to use. Or you can even freeze it in a labeled airtight container and thaw when ready to use.
Combine the rice and dry ingredients (herbs and spices) in a bowl. Cover and set aside at room temperature until you are ready to prepare the recipe.
MONEY SAVING TIP:
Purchase frozen chopped onions and bell peppers at the grocery store. They are often cheaper than fresh and are so easy to use. At my grocery store, they average around $1 for a 12 oz bag!
Look for ground beef when it goes on sale or if it's marked down. My grocery store will often mark down meat by 25% if it will expire within the next few days.
Nutrition
Serving:
2
cups
|
Calories:
116
kcal
|
Carbohydrates:
20
g
|
Protein:
3
g
|
Fat:
2
g
|
Saturated Fat:
1
g
|
Cholesterol:
7
mg
|
Sodium:
344
mg
|
Potassium:
47
mg
|
Fiber:
1
g
|
Sugar:
1
g
|
Vitamin A:
80
IU
|
Vitamin C:
1
mg
|
Calcium:
56
mg
|
Iron:
1
mg