This post may contain affiliate links. Please read my disclosure policy.
Can you believe it's already time for the 4th Annual 12 Weeks of Christmas Treats (well, 5th if you joined along with the original host blogger who's no longer blogging). Last month I asked you all to take a survey and the results are in!
I and other bloggers will start sharing our holiday sweets recipes next Wednesday, September 24th and every Wednesday after that until December 17th. It's always lots of fun and there are SO many great recipes that get shared.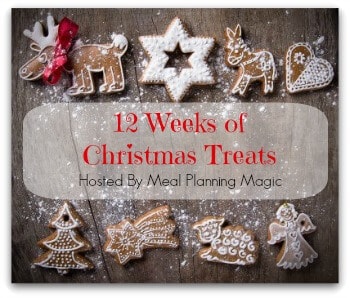 Want to join the fun? Read on for details:
12 Weeks of Christmas Treats Challenge
Blogger Guidelines for Linking Up:
The majority of the survey results said they'd like this to remain a CHALLENGE and that means a new recipe every week rather than just linking up and old recipe. Now I'm not going to be a stickler on this.
But read on for what IS and what is NOT ok for linking up.
CONTENT REQUIREMENTS:
–Each week, make a NEW and different Christmas treat and blog about it. It can be a cookie or perhaps something (like spiced nuts or sweet bread) that you might serve at a holiday gathering. Try to think holiday—no plain jane chocolate chip or peanut butter cookies this time of year, please!
–Link up each week by coming to my blog to enter your info. into the linky. I will not be providing a code for everyone to put on their own blogs at this time. That may change, but for now, it'll just be on Meal Planning Magic.
–The linky will be live by noon CST each Wednesday for you to link up. I'd like to say I could do it earlier but I just know myself and sometimes earlier just doesn't happen! If this changes, I'll let you know.
–The linky will be open for one week (i.e. 11:59 pm Tuesdays) until the new challenge week begins.
–Please only link up recipe posts from your own blog. No giveaways, not guest posts and nothing that is in your Etsy or Amazon shop.
–Please link to your specific post and not to your home page.
–Share and explore! Please try to visit at least two other participant's links and make a comment or pin their content to Pinterest, etc. It's more fun when we share the love!
–Linking up gives me permission to use your image (linked up post only) in any future recipe roundups. I will ALWAYS give credit to you and link back to your site.
–Please feel free to use the hop button shown below or mention that you are participating in the blog hop.
–I do check links! If you link up a post that is not on topic or related to the current month's theme, I reserve the right to delete your linkup.
–I will pin your images to the 12 Weeks of Christmas Treats Pinterest board each week so you will be able to get a little more exposure there too! I will schedule the pins over a series of days to maximize repinning and more people seeing the recipes to share so if you don't see it right away, that might be why!
–Some weeks that I can't bake something new, I might do a roundup post rather than a new recipe. It's ok if you want to do that too and then link up as long as you mention that it's for the 12 Weeks of Christmas Treats Challenge.
–Interested but can't commit to ALL 12 weeks? That's ok! Just participate when you can. But the more the merrier.
That's it! Oh and don't forget to have fun too!
Readers, Followers and Everyone!
Bake along with us! Hopefully you'll find some inspiration to get some baking done early and in the freezer (most cookies freeze well for up to three months). And I've set up a 12 Weeks of Christmas Treats Pinterest board to follow just for many of the treats you'll find with all the weekly link ups.
At the end, you'll be able to breathe easy knowing you'll be prepared for all those parties, cookie exchanges and hostess gifts you'll need treats for throughout the holiday season.
Social Media
We have a 12 Weeks of Christmas Treats Pinterest board. You can CLICK HERE to follow it and find even more recipes from past years and this year!
If you're on Twitter, follow us by using the hashtag #12WksXmasTreats
I hope you enjoy this year's annual 12 Weeks of Christmas Treats challenge. Feel free to leave any comments on suggestions or ideas you may have!