This post may contain affiliate links. Please read my disclosure policy.
Three ingredients and 20 minutes are all you need to make this Roasted Healthy Brussel Sprouts Recipe. One of our favorite, easy side dishes you'll want to make them over and over!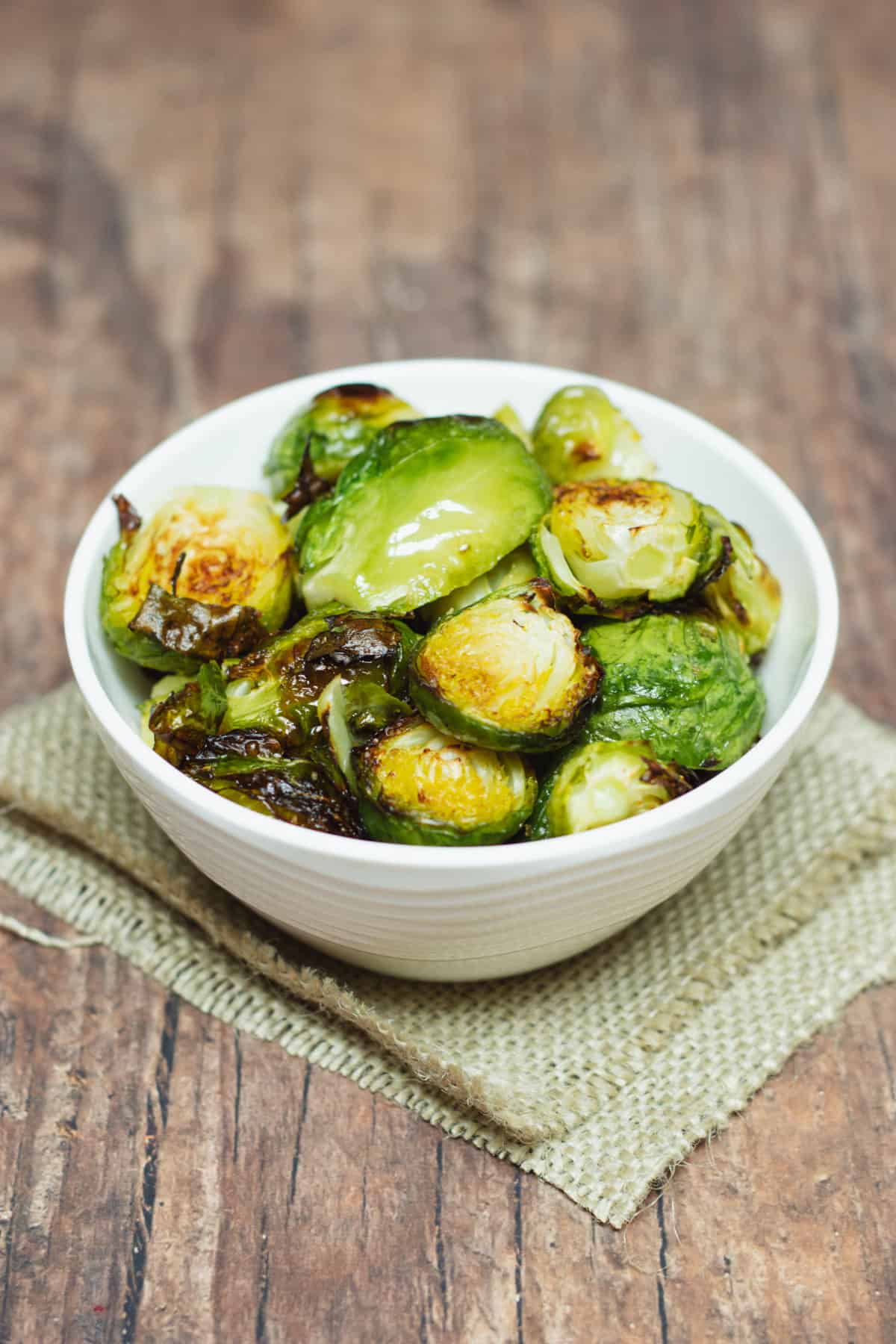 Why We Love This Easy Side Dish Recipe
I'll admit, I never tried a Brussels sprout until I was adult. Probably not even until I was in my forties! It seems as though Brussels sprouts were all the rage several years ago and it was also around that time that I had started roasting vegetables instead of steaming them so I decided to give them a try.
What I wanted was a healthy Brussel sprouts recipe and this one is just that! With only three ingredients and about 20 minutes, this easy vegetable side dish is ready in no time.
I've since become a HUGE fan of roasted Brussels sprouts and I've even been known to roast up a small tray of them to have as my lunch!
My family was not as big a fan in the beginning but they've come to like them even more now. They especially like them when they get brown and crispy on the outside.
Is it Brussels or Brussel Sprouts?
So when I first started eating Brussels sprouts I later learned that I was saying it wrong by using the singular word Brussel to describe them. Turns out I'm not alone in that more than in doing some research, more than three-quarters of people use the singular word like I did.
They correct term is actually Brussels sprouts as they are named after the Belgian capital city of Brussels. You'll see that I've alternated the name here in my post because most people will use the phrase interchangeably too!
Another fun fact: despite the fact that they look a bit like miniature cabbages, Brussels sprouts actually grow from the base up along a stem. You can sometimes even buy a stem of sprouts instead of those that have been cut from the stem and sold loose or in bags.
What Ingredients Are Needed To Make This Recipe?
If you are looking for a way to add more vegetables to your family's diet, roasting vegetables is the way to go. Roasting, otherwise known as oven baked Brussel sprouts, just requires three ingredients: the Brussels sprouts, olive oil and salt.
I've experimented with different kinds of salt over the years and depending on the coarseness will determine how much I use. The recipe I share here uses table salt as it seems everyone has that on hand but I've also used coarsely ground Kosher or sea salt or just ground salt from our salt shaker (affiliate link).
Olive oil can be expensive depending on the brand name or quality but for this simple side dish, to save money, I will usually just use the store brand variety of olive oil. A few of my favorites are the ALDI brand, Kirkland Signature (from Costco), and HEB or Kroger brand. Make sure you use a regular olive oil vs. an extra virgin olive oil as the regular tends to have a higher smoking point so you're less likely to burn things with it. Extra virgin olive oil is good to use in things like salad dressings or other dishes where you are not cooking it for as long.
Easy Steps To Make This Recipe
With my easy roasted healthy Brussels sprouts recipe, it takes minimal prep to get these in the oven roasting.

Start first by cutting of the end of each Brussels sprout and then slicing them in half lengthwise (1). We have a compost bin so I throw those ends in the kitchen compost bin I have on my counter (affiliate link).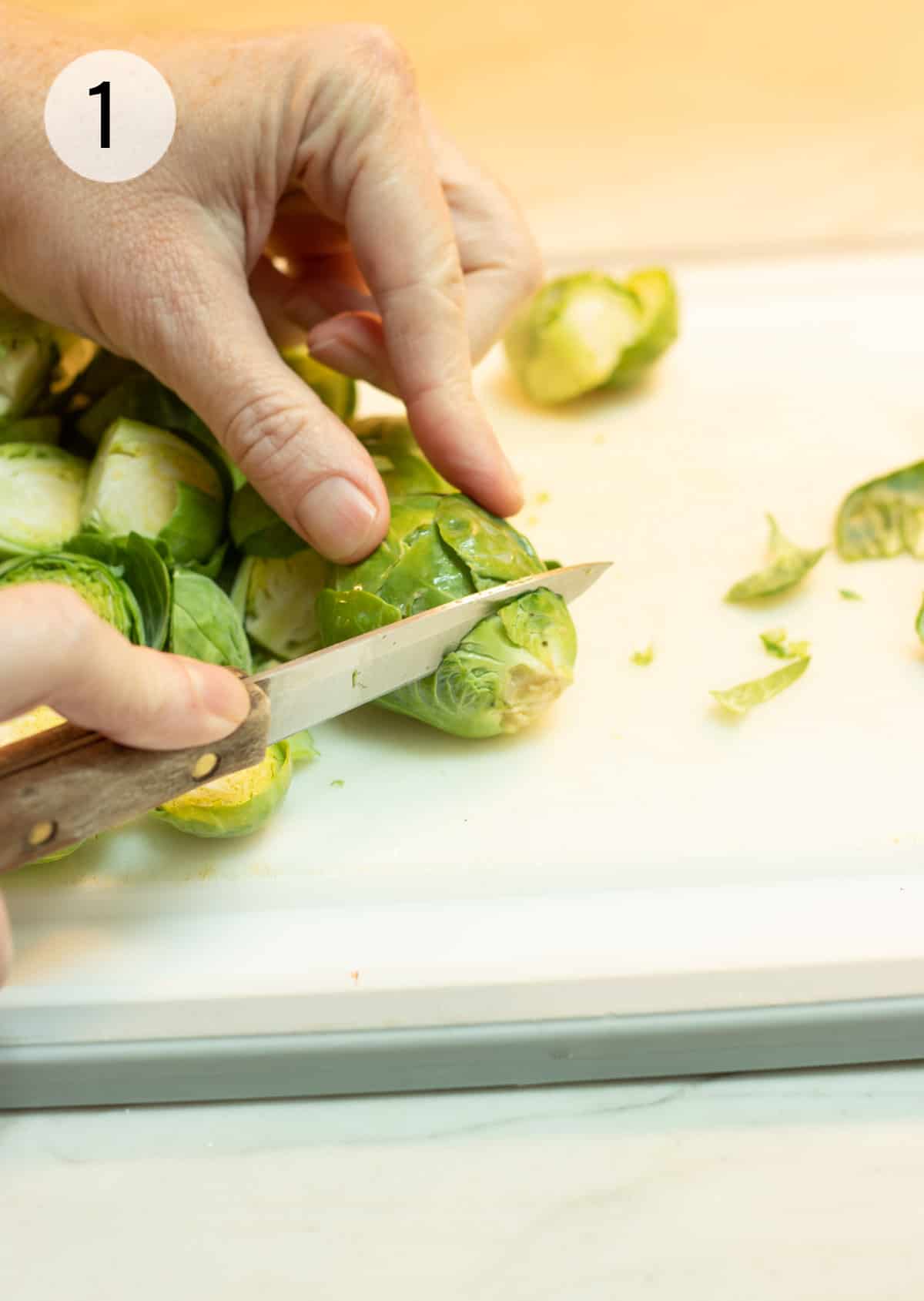 Add the halves to a large bowl and then drizzle with the olive oil (2).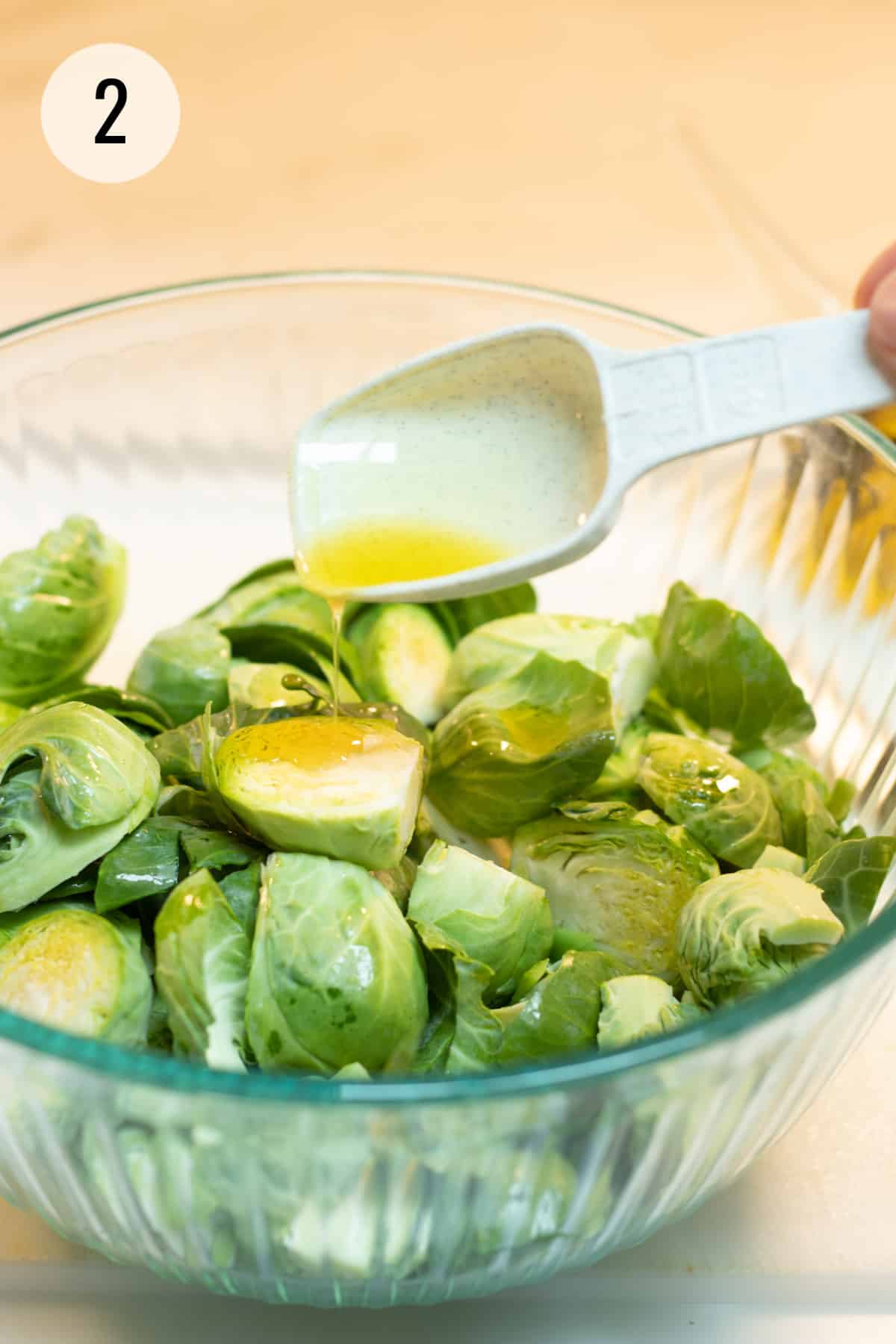 Stir to coat the sprouts and then sprinkle on half of the salt (3).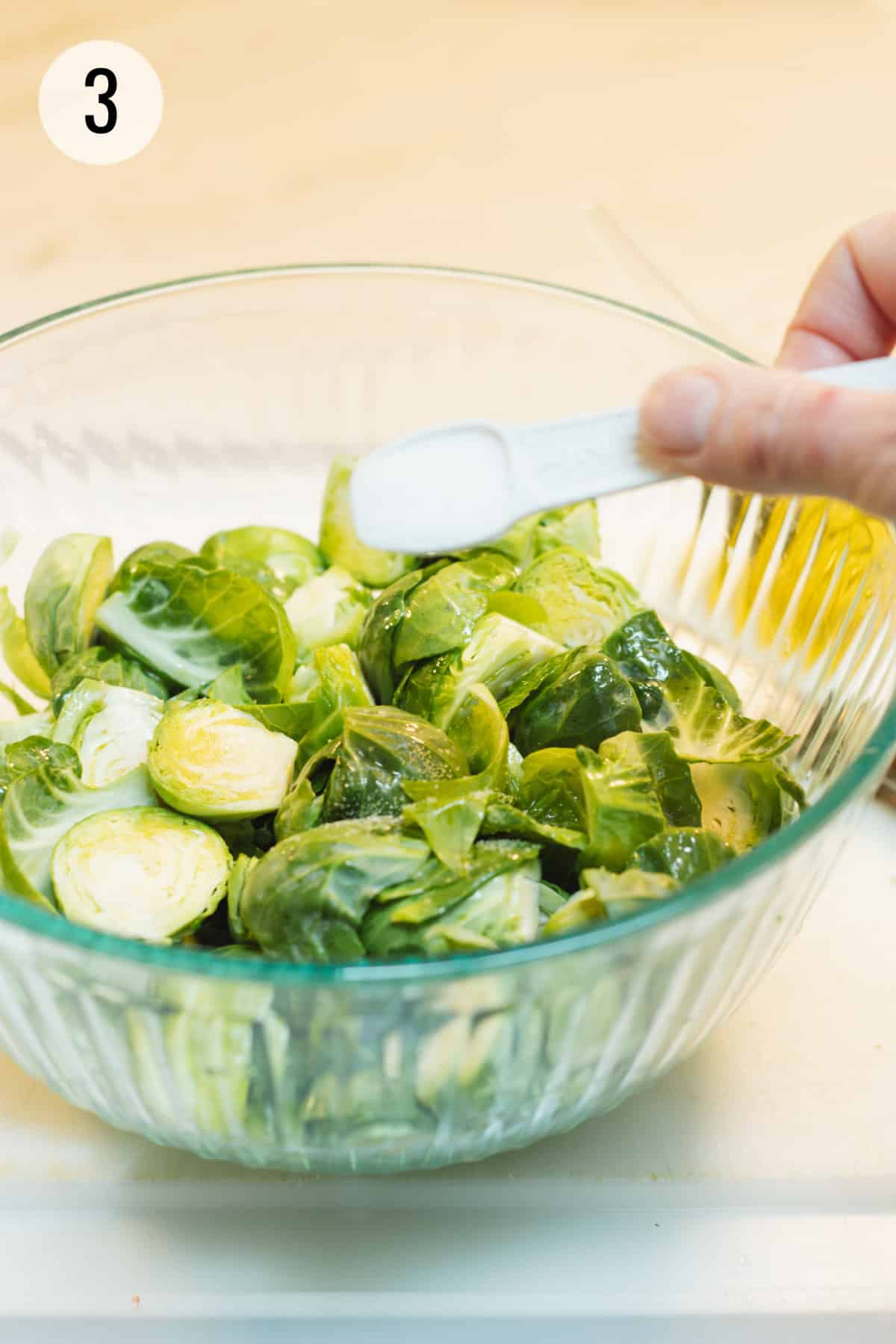 Stir again and sprinkle with the remaining salt so that you can get even coverage of the oil and salt (4).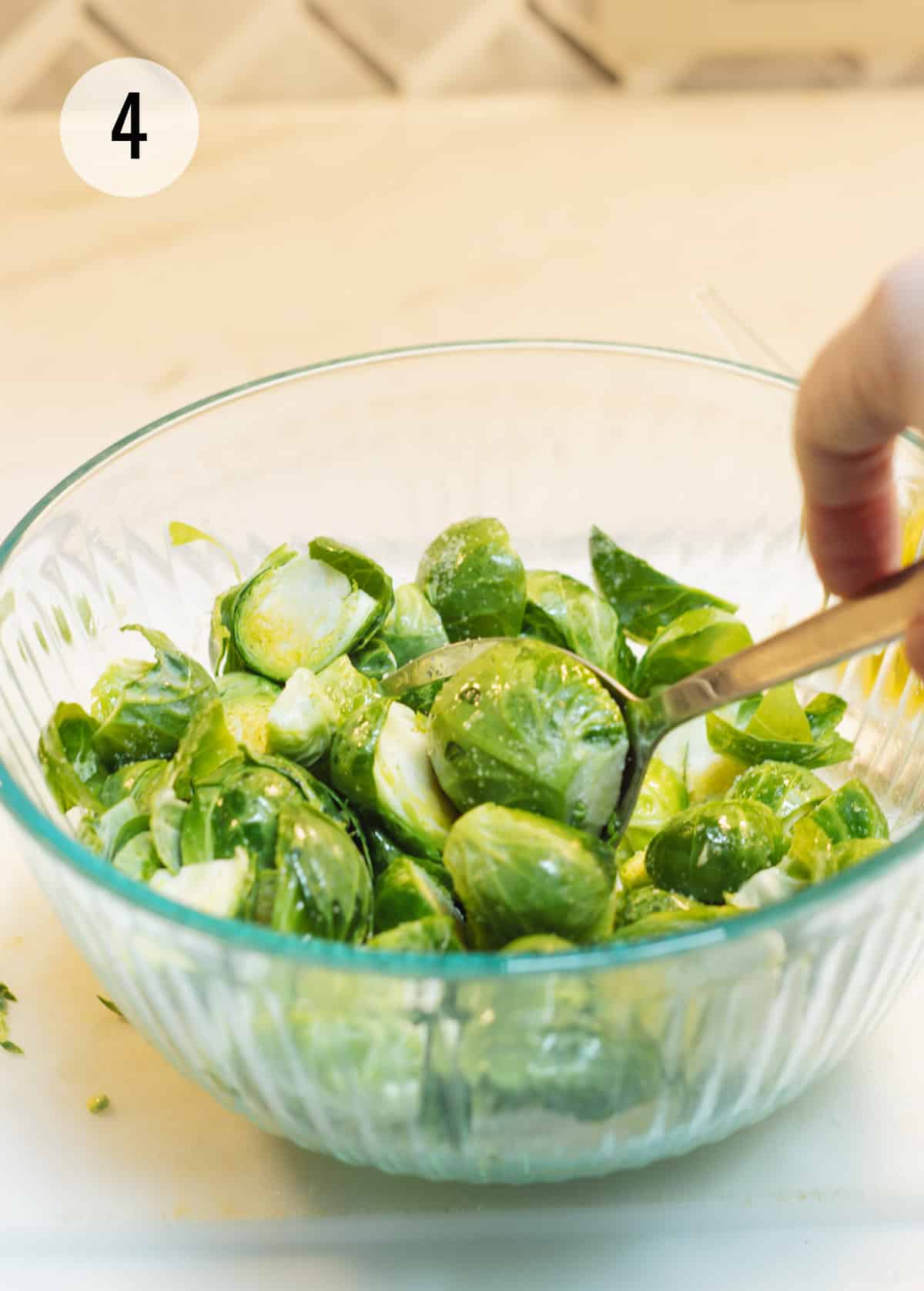 Spread the prepared sprouts on a lined baking sheet (5). You can use aluminum foil but I like to use my reusable silicone baking mats (affiliate link) on my large baking sheet (affiliate link) to keep them from sticking to the pan. I start out with the sprouts cut side down so the outsides can get crispy and brown.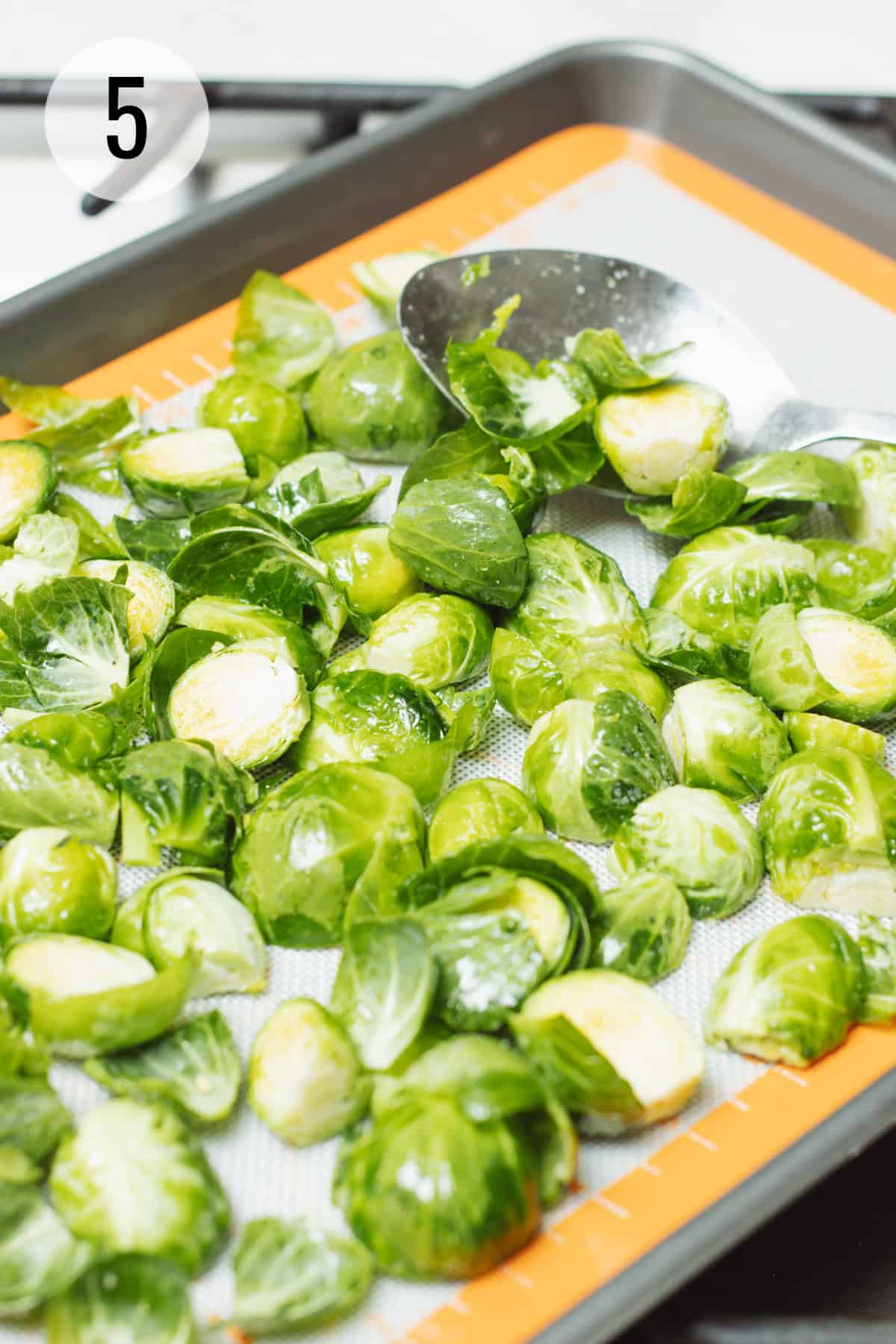 Roast in the preheated oven for about 15 minutes then stir (it's ok if they flip over at this point) and roast an additional 5 minutes (6).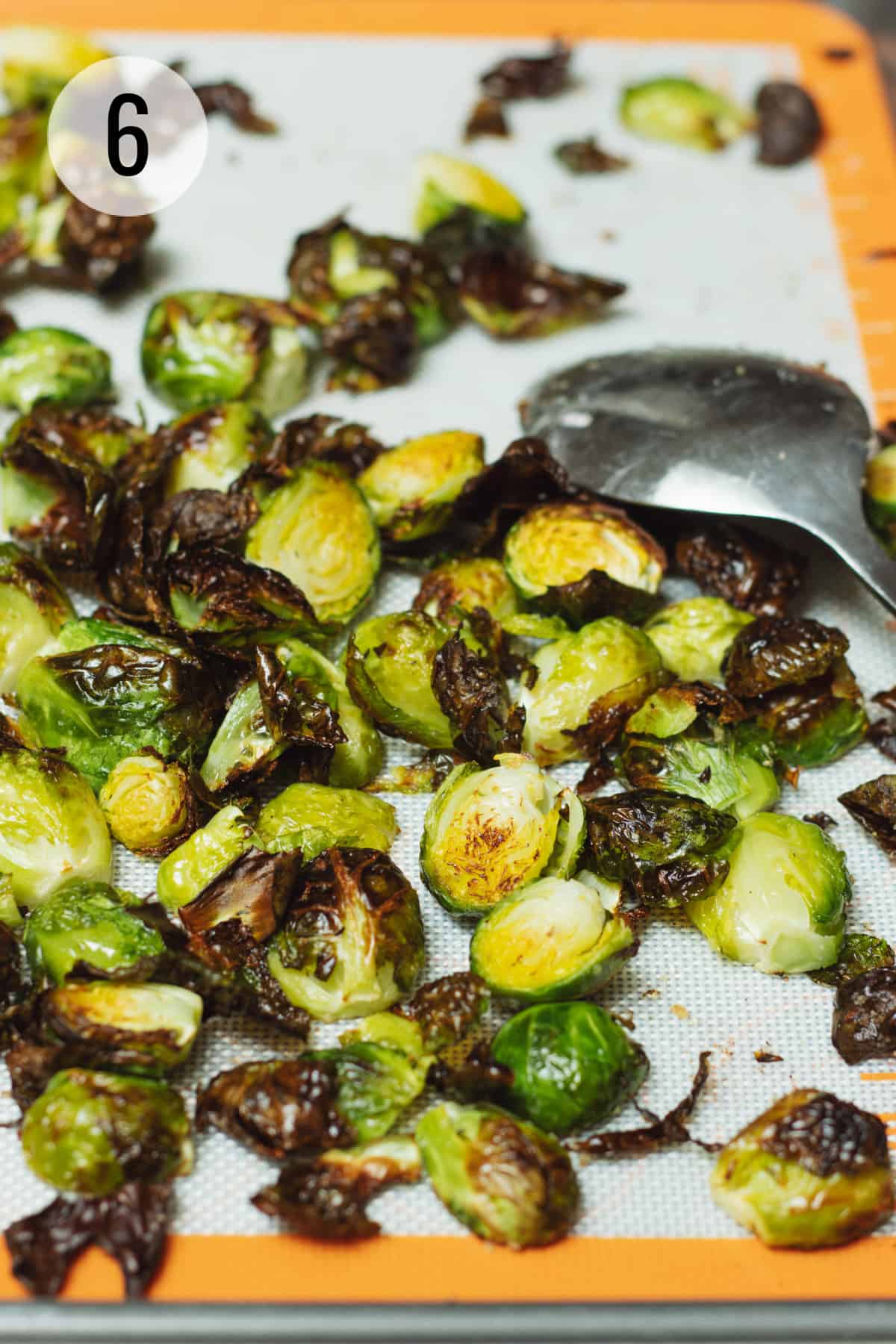 Make Ahead Preparation Tips
You can prep the Brussels sprouts up to a day ahead of time with step one—cutting off the ends and slicing them in half. Then store in the refrigerator in an airtight container–I love these clear glass bowls with lids (affiliate link) because they are so versatile and I can make this side dish from start to finish in the bowl, but you can use whatever you have on hand.
Once you are ready to make this easy side dish, just start at step two with the olive oil and salt and through all of the remaining steps. Just a little bit of a timesaver that really adds up when time is short though!
Are these Brussels sprouts freezer friendly?
I've tried frozen Brussels sprouts several times over the years and as much as I want them to work, they just don't compare to fresh Brussels sprouts. The tend to be a little mushy on the inside and I can't quite get the crispy outer layer like I do with fresh sprouts. If you've been successful with roasting Brussels sprouts using frozen, I'd love to hear your tips!
I don't recommend freezing this dish after you've roasted them for the same reason—they become mushy. But since it's so easy to make, it's ok to make from fresh!
Other Easy Side Dishes and Vegetable Ideas
I love a quick and easy side dish like these Brussels sprouts so be sure to check out some of my other favorite recipes here:
Simple Stovetop Brown and Wild Rice Pilaf
Simple Healthy Vegetable Side Dishes Roundup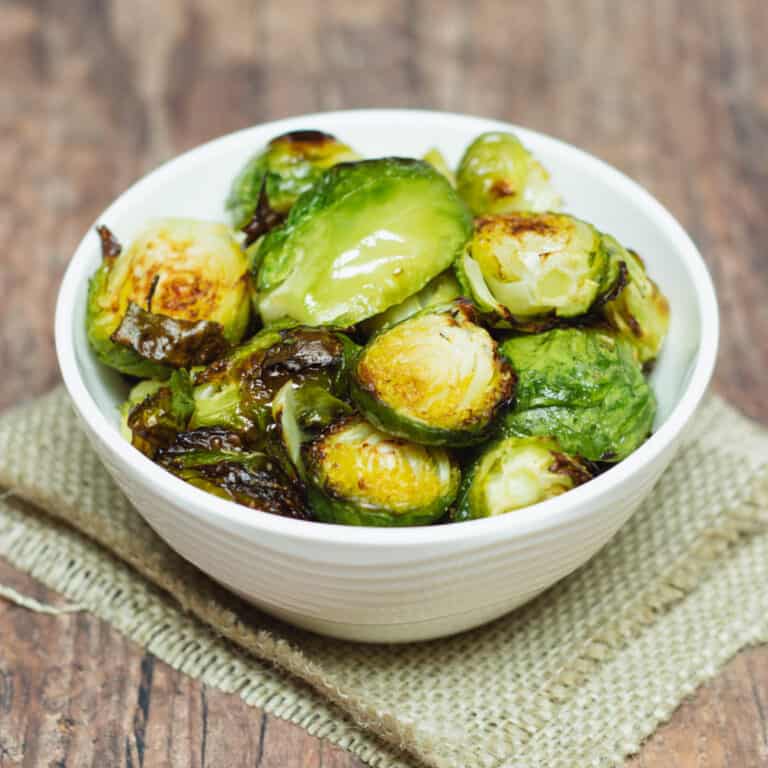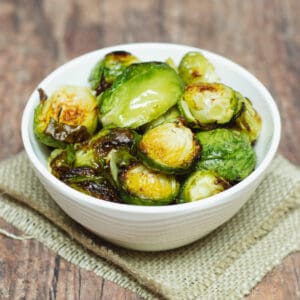 Easy Healthy Brussels Sprouts
Three ingredients and 20 minutes are all you need to make this Roasted Healthy Brussel Sprouts Recipe. One of our favorite, easy side dishes you'll want to make them over and over!
Rate this Recipe
Print Recipe
Pin Recipe
Ingredients
1

pound

Brussels sprouts

2

tablespoons

olive oil

¼

teaspoon

salt
Instructions
Preheat oven to 400 degrees F.

Trim the ends of the Brussels sprouts if necessary, taking off any yellowed outer leaves, and cut sprouts in half.

Place the sprouts on a baking sheet (a heavy gauge restaurant-style half sheet pan works great) and drizzle with olive oil, tossing to coat. Sprinkle with salt and seasoning, tossing again. Spread sprouts evenly on baking sheet.

Put in oven and roast for 15-20 minutes, tossing a few times as they cook. They should be soft and very well browned when done, with some of the outer leaves crisping. Larger or whole sprouts will require an extra 10 minutes to cook.

Optional: Sprinkle roasted sprouts with a little Parmesan or balsamic vinegar.
Nutrition
Serving:
0.5
cup
|
Calories:
111
kcal
|
Carbohydrates:
10
g
|
Protein:
4
g
|
Fat:
7
g
|
Saturated Fat:
1
g
|
Sodium:
174
mg
|
Potassium:
441
mg
|
Fiber:
4
g
|
Sugar:
2
g
|
Vitamin A:
855
IU
|
Vitamin C:
96
mg
|
Calcium:
48
mg
|
Iron:
2
mg
This post was originally published in February 2012 but updated in August 2020 with new photos, video, and content.
Be sure to check out my Amazon Shop to discover the many items I use in my own kitchen. Meal Planning Magic is a participant in the Amazon Services LLC Associates Program, an affiliate advertising program designed to provide a means for sites to earn advertising fees by advertising and linking to Amazon.com. Ordering products mentioned here are at no extra cost to you. Thank you for your support.