This post may contain affiliate links. Please read my disclosure policy.
Cilantro Lime Rice a simple, versatile side dish that you can use with your favorite Mexican meal or burrito. Make a big batch and store the extras in the freezer!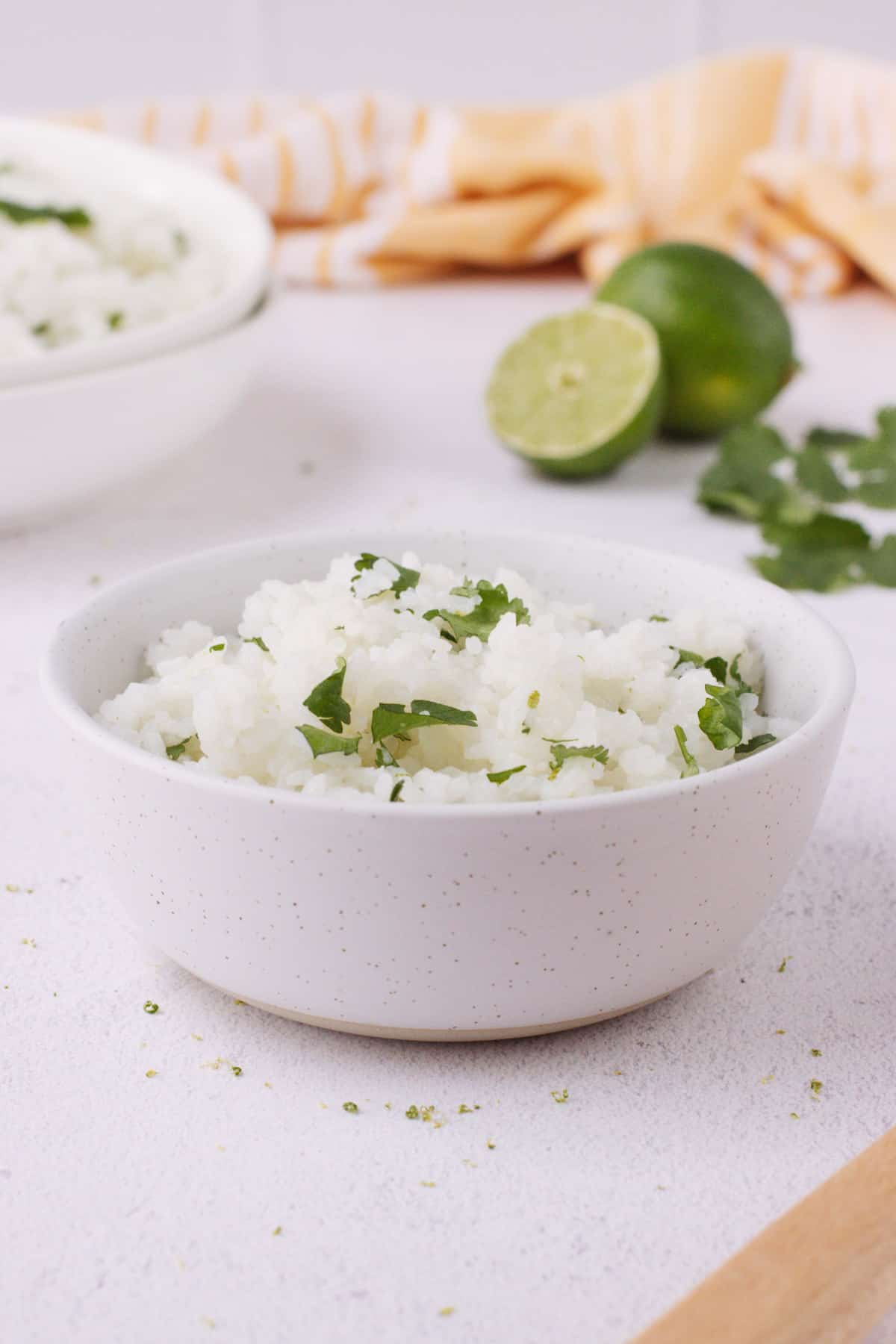 Why We Love This Recipe
I've lived in Texas most of my life and Tex-Mex food seems to be on the menu pretty much everywhere. There are also several burrito chains and it was at one of the local chains that I first tried cilantro lime rice.
It wasn't too long before I tried making it at home and it is so easy! This copycat Chipotle Cilantro Lime Rice recipe it's so crazy easy that you need to add it to your recipe rotation soon!
The combination of lime and cilantro adds a unique twist to your simpler rice side dishes. If you like burrito places like Chipotle, then you are going to love this rice—it tastes just like what they make. You can even freeze the extras! (Make Ahead Prep Tips below for details).
Ingredient Tips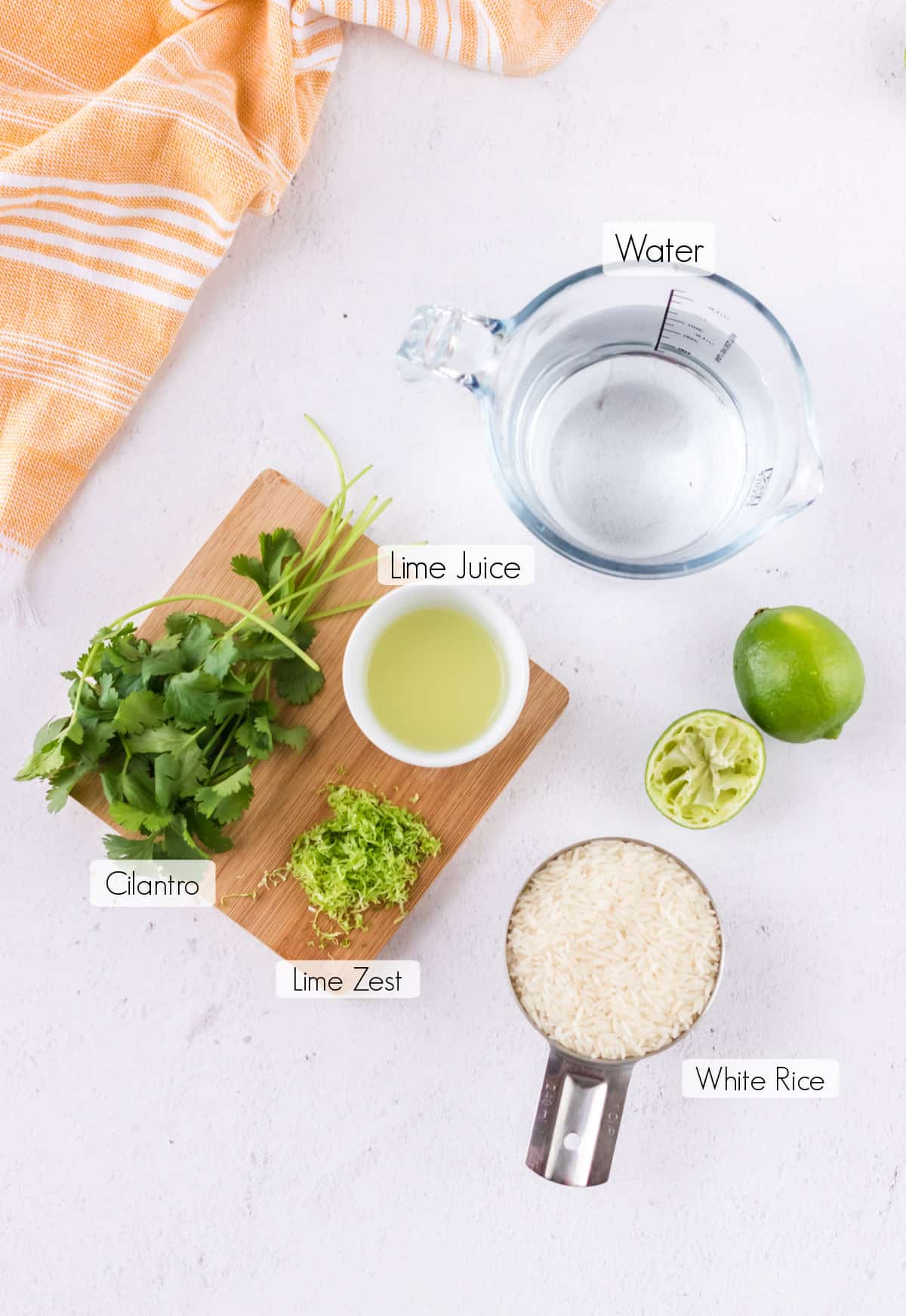 Since there are only four ingredients in this easy rice dish, I just have a few tips for you.
Basmati Rice – This is a type of long-grain rice that is a fragrant rice and is traditionally used in Indian and other South Asian recipes. See below for an explanation of different types of rice and what other types can work in this recipe.
Cilantro – this is found in the greens section of the grocery store. I typically find it near the parsley. Be sure you're choosing cilantro as flat leaf parsley can look similar!
Lime Zest – The zest is the outside colored portion of citrus fruit peel. I have a microplane zester (affiliate link) that makes this job so easy! Tip: Zest your lime before you squeeze it for the juice as it's easier to use the zester when the lime is whole.
We have a lemon tree and I will zest a bunch of the lemons and freeze the zest to use in recipes throughout the year. Check out THIS POST on how to preserve lemon or other citrus using the whole fruit!
Lime Juice – Since this recipe doesn't call for too much lime juice, I just buy the small limes from the grocery store. You can squeeze them by hand or use a handheld juicer (affiliate link). With our lemon tree and all the lemons we harvest, I finally bought an electric juicer (affiliate link) and I love it!
What Type Of Rice Is Best?
This recipe calls for basmati rice. This is a fluffy white rice that is becoming more commonly found in grocery stores.
You can substitute other rice varieties in this recipe but the results will vary. That is not necessarily a bad thing, just a different flavor and texture!
Converted rice is rice that has been parboiled and is a firmer rice. It tends to stay separate and not stick together too much.
Jasmine rice is often used in Asian-inspired dishes. It is similar to basmati and I often swap it out for that depending on what I have on hand.
Brown rice is whole grain rice without the inedible hull removed but it still has the bran layer and cereal germ making it a bit healthier than white rice varieties.
I would avoid wild rice varieties and they are too firm and just don't work well in this recipe.
How To Make This Rice Dish
Making cilantro lime rice is so super easy! I start by preparing the lime zest and lime juice first (1).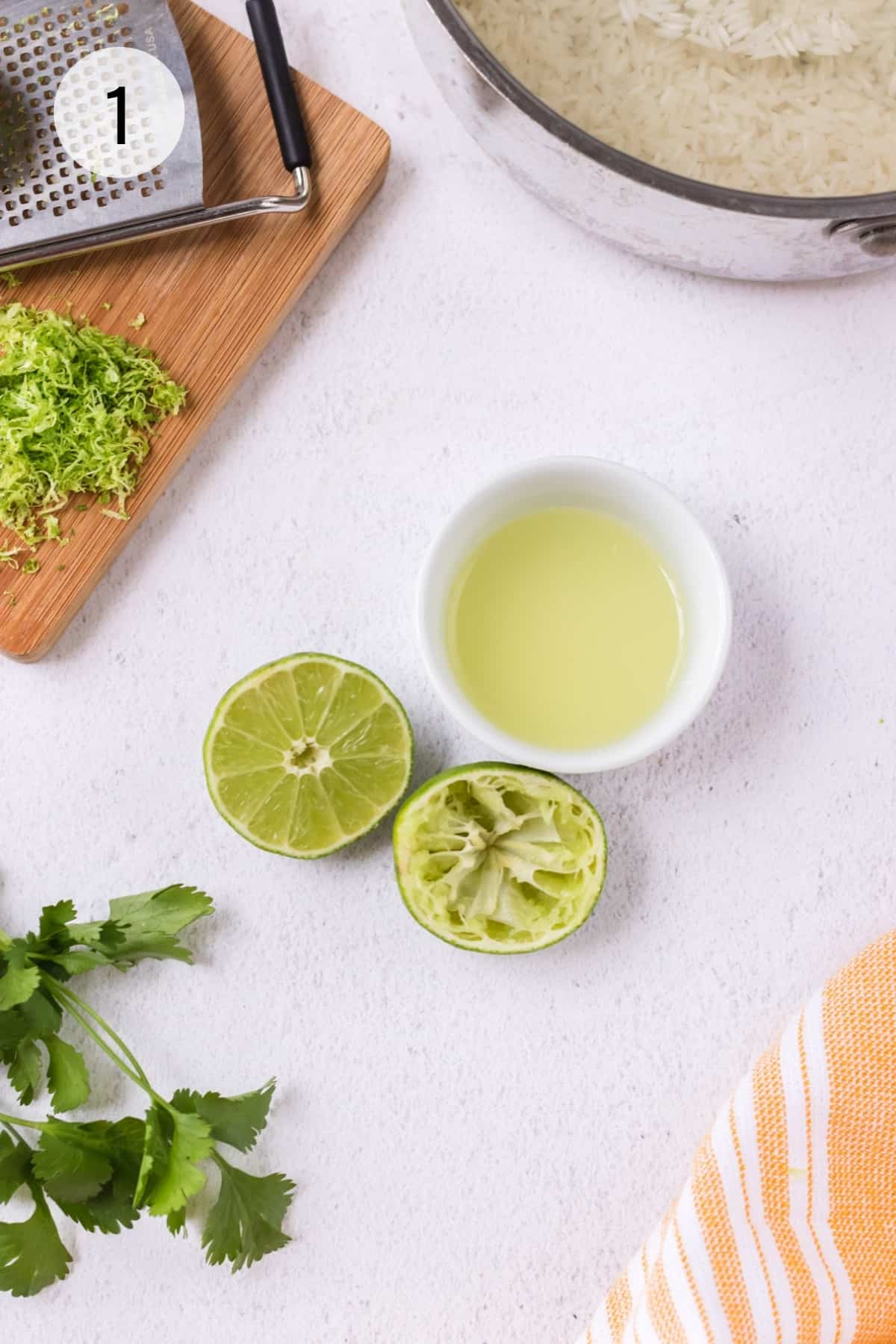 Use a microplane zester (affiliate link) to zest the lime before juicing (2). If you don't have a zester, you can use a vegetable peeler (affiliate link) to carefully remove the colored part of the peel. Try not to get any of the white pithy layer as it bitter and unpleasant when added to food. Then use a chef's knife (affiliate link) to finely chop the peel into extra small pieces.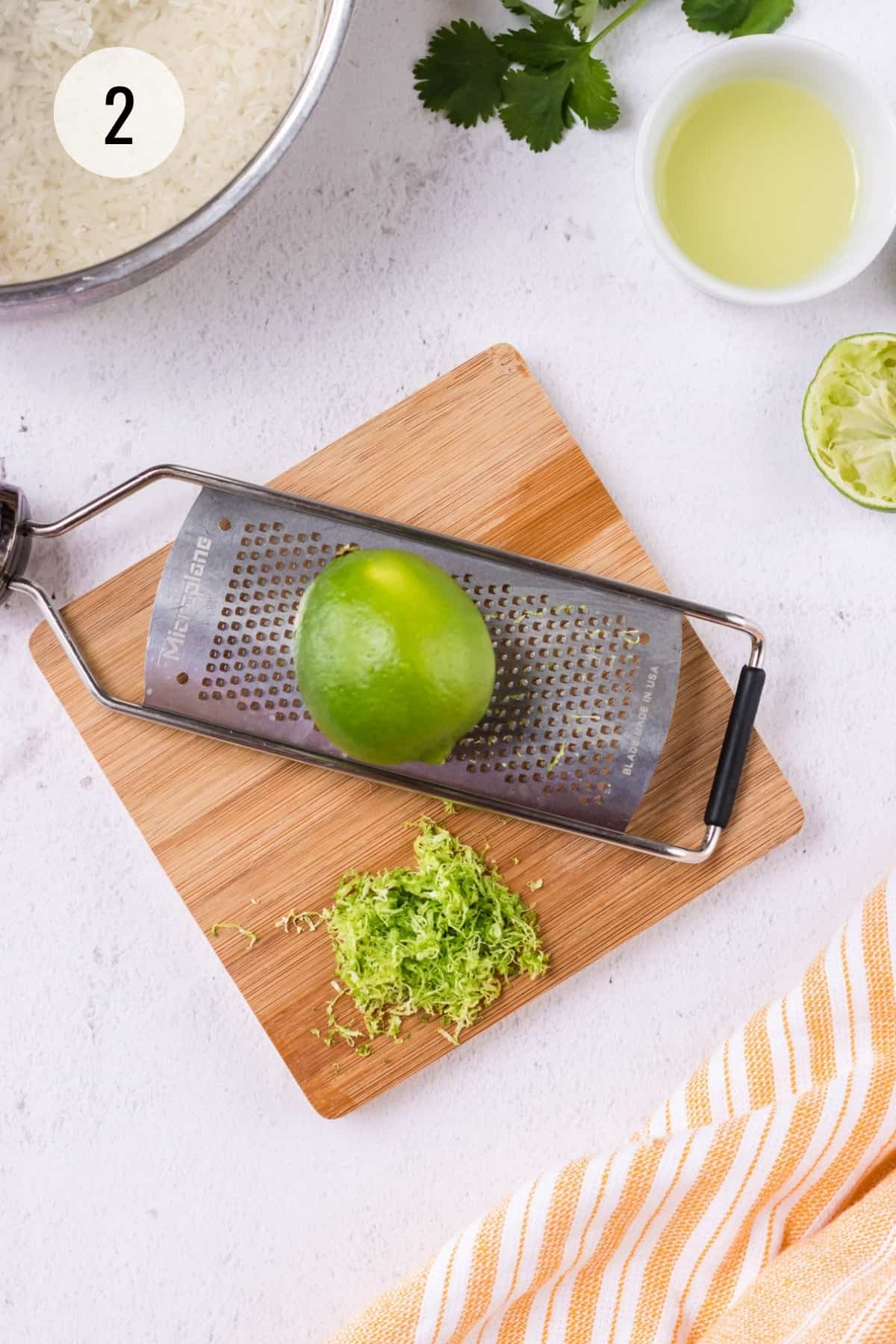 Once the rice is cooked, add the lime zest, lime juice and chopped cilantro and stir until combined (3). The cilantro lime rice is now ready to serve! We like it in these Easy Beef and Bean Burritos or Simple Fish Tacos.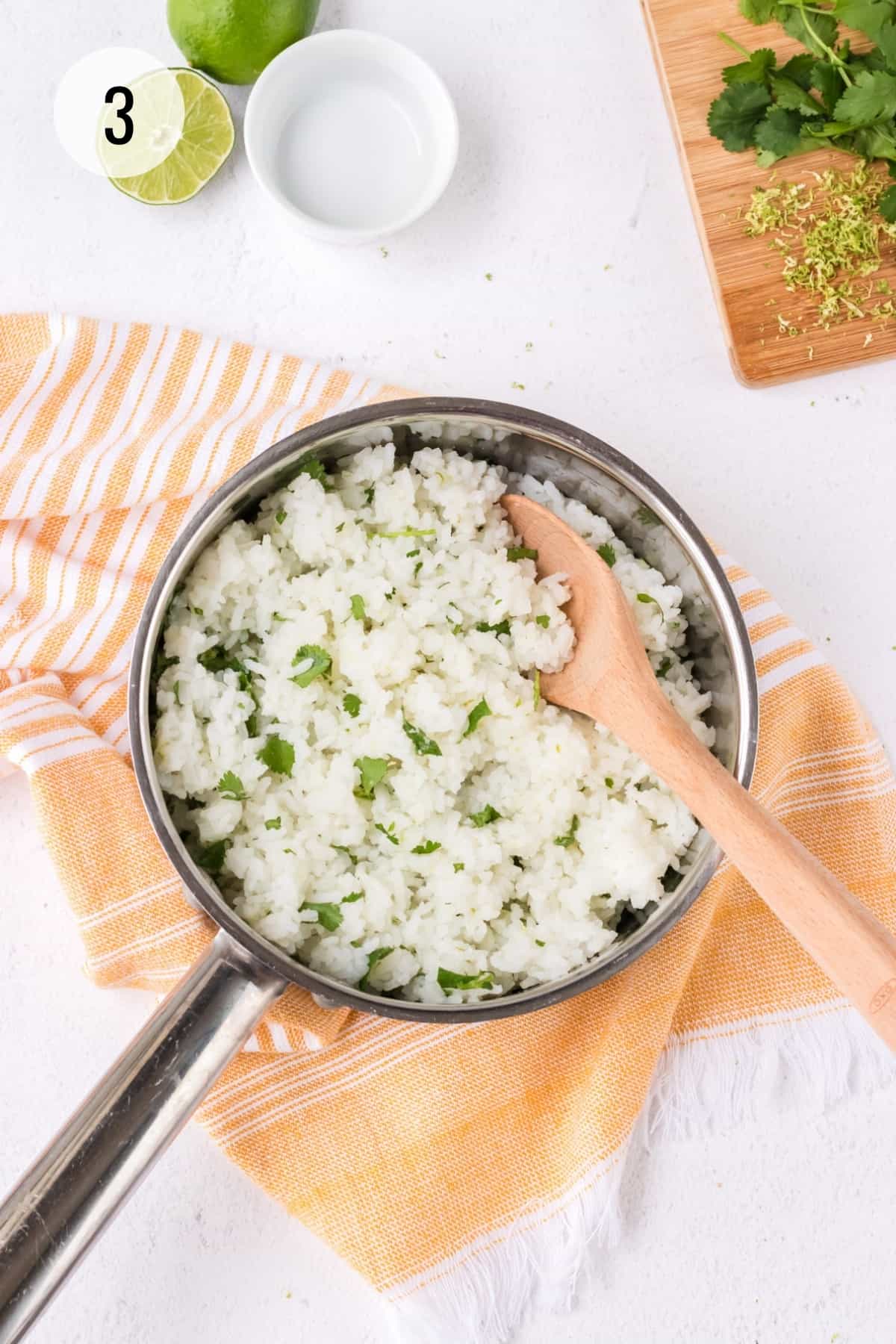 Make Ahead Preparation Tips
This cilantro lime rice recipe can be made ahead and is easy to double! Prepare it up to three days in advance and store in the refrigerator in an airtight container (affiliate link) until ready to serve. To warm, heat in the microwave
Can You Freeze Rice?
Yes! I love to make a big batch of cilantro lime rice then portion it out into freezer safe storage containers (affiliate link) to have on hand when needed. It freezes well and can be stored for up to three months. Don't forget to date and label (affiliate link) the container.
To serve, thaw the rice overnight in the refrigerator then heat in the microwave for a few minutes or until warmed through. You can also heat it in a saucepan on the stove over low heat, stirring occasionally.
My Parmesan and Wild Rice Pilaf freezes really well too so be sure to check it out!
More Easy Side Dishes
Side dishes can often be the forgotten part of our meals but we try to include them more often. Here are a few of our favorites you might want to check out too!
This post was originally shared in May 2017 and updated in June 2021 with new photos, video and content.
Be sure to check out my Amazon Shop to discover the many items I use in my own kitchen. Meal Planning Magic is a participant in the Amazon Services LLC Associates Program, an affiliate advertising program designed to provide a means for sites to earn advertising fees by advertising and linking to Amazon.com. Ordering products mentioned here are at no extra cost to you. Thank you for your support.