This post may contain affiliate links. Please read my disclosure policy.
My Homemade All-Natural Pumpkin Spice Creamer is just that—made from all natural-ingredients and perfect to enjoy anytime! Best of all, it can be made ahead and even frozen too!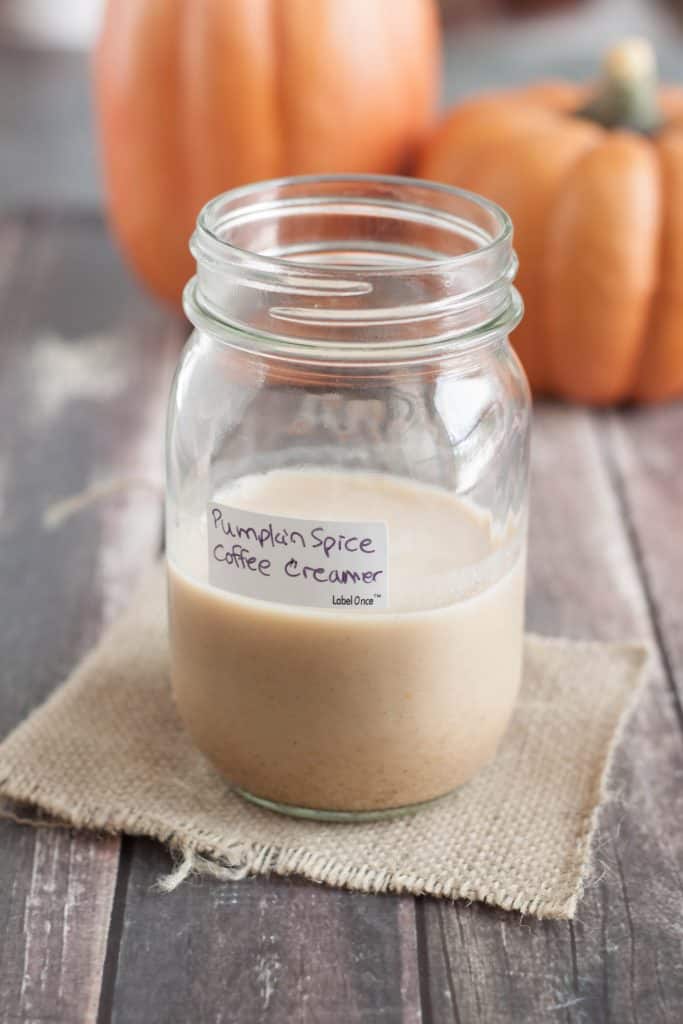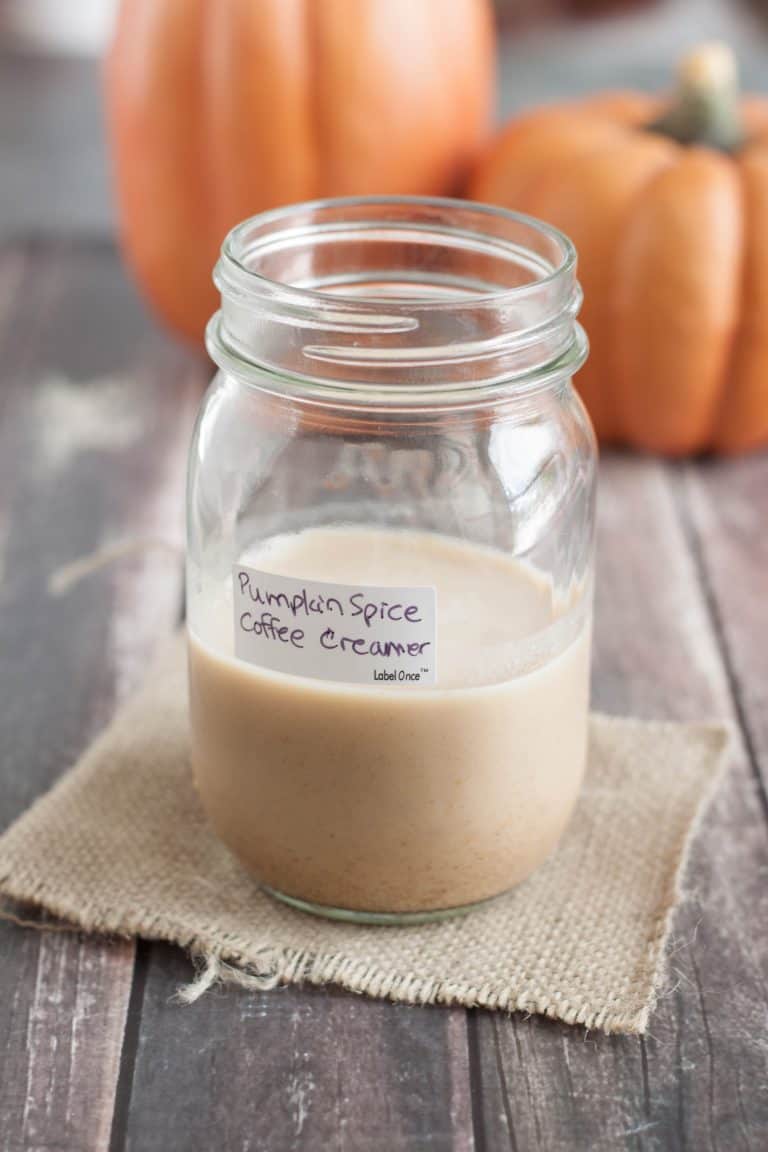 Are you a member of Team PSL (Pumpkin Spice Latte)? Well, I sure am and that's why I just had to create a recipe for All-Natural Homemade Pumpkin Spice Coffee Creamer! I'm a big fall of all things pumpkin spice but I do try to wait until the "appropriate" season (aka October).
By the way, I love pumpkin so much that I created a whole board on Pinterest called Pumpkin Palooza (<– check it out by clicking on the board name).
What Makes This Recipe So Great?
First of all, I know you can get pumpkin spice lattes in just about any coffee shop this time of year. But very often, it's just a syrup that is added which is sometimes filled with artificial ingredients that we try to avoid.
So, when thinking about creating a recipe that was all about homemade pumpkin spice, I knew I wanted to use all-natural ingredients. No artificial ingredients here! And since I really love the flavors of maple and pumpkin together, I knew I wanted to use maple syrup as my sweetener.
Best of all (to me anyway) is that this coffee creamer recipe can be made ahead allowing me to make a batch that will last me all week (or longer, when I freeze it. Keep reading for details!)
How Do I Make Homemade Pumpkin Spice Coffee Creamer?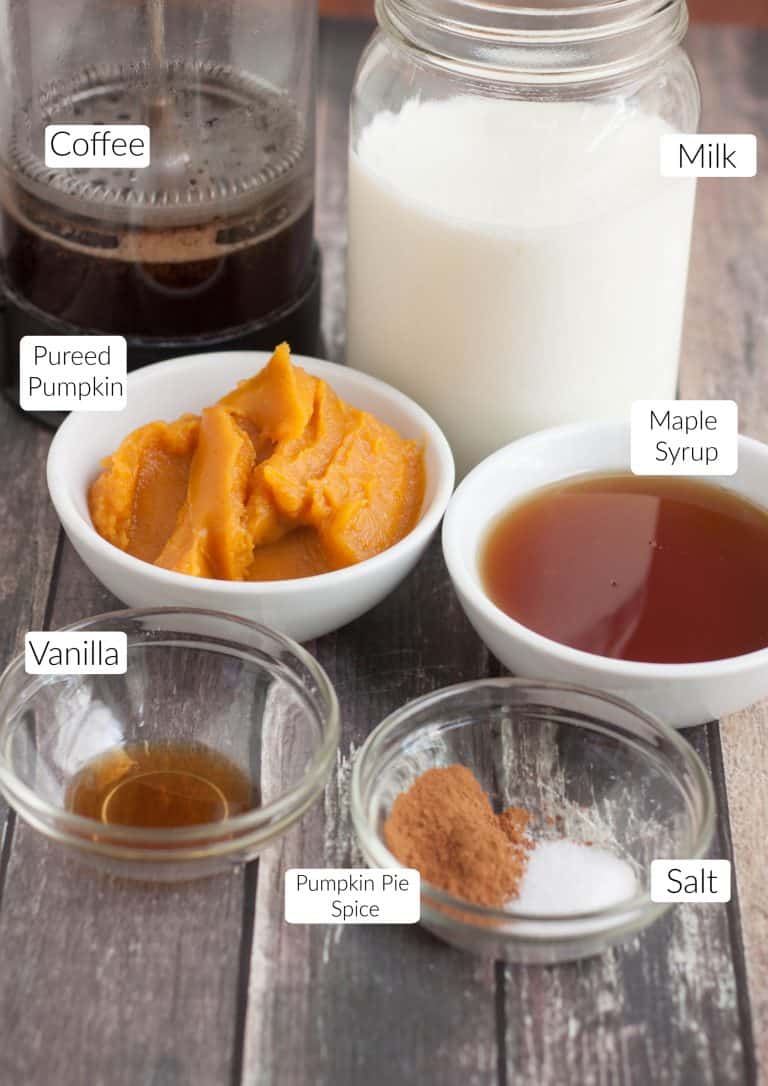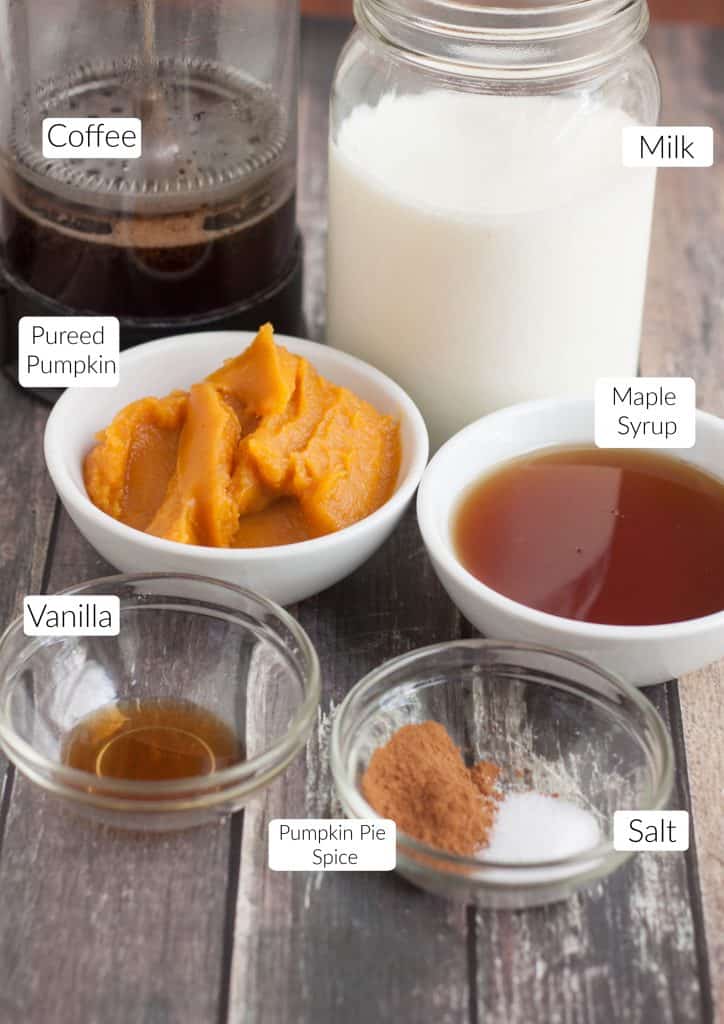 Just start with these few ingredients to make this seasonal coffee creamer.
Milk – I like 2% milk because it makes it a bit creamier. But I have also used skim milk or even almond milk and they work well too. Feel free to customize to your taste.
Pureed Pumpkin – I used the canned variety. Be sure you don't buy the pumpkin pie mix as that already has spices in it–you want the plain stuff!
Vanilla – If you can, get the pure vanilla extract and not the imitation vanilla. The taste really makes a difference. I buy my vanilla extract at ALDI or Costco because they sell it for a great price!
Maple Syrup – The pure maple syrup is what I buy. The imitation stuff is usually just made of corn syrup, coloring and artificial flavoring and tastes soooo different. I usually buy mine at Costco or Trader Joe's for a great price and it stores in the refrigerator forever it seems!
Pumpkin Pie Spice – This is sold in the spice aisle of your store. Or you can buy it online. You can even make your own. I buy mine at Penzey's, ALDI or Trader Joe's. It just depends on where I am when I need it!
Salt – The salt adds just a bit of balance to offset the sweet and spice of the creamer mixture.
Make Ahead Tips for Pumpkin Spice Coffee Creamer
I love how easy this coffee creamer is to make. It's just a few ingredients and bets make it ahead! I like to make up a batch of homemade coffee creamer and keep on hand in the refrigerator to enjoy with my coffee.
It will stay good for up to a week in the refrigerator. Because the ingredients can tend to settle a bit in the fridge, I always shake the jar that I've got it in or stir with a spoon before pouring my creamer into my coffee.
I love making homemade coffee creamer ahead of time because it allows me to enjoy a beverage that I know is not full of junk ingredients and that I don't need to drag out all the ingredients every time.
Can you Freeze Coffee Creamer?
Freezing extra coffee creamer is so easy and I love the convenience of it! I use muffin tins lined with silicone muffin cups. From there, I pour 4 ounces of creamer per cup. I like to use a mini measuring cup that is just for small amounts like tablespoons.
After the first few times, I just eyeball the amount. You don't need to be super exact unless you want to be.
Then I place the muffin tray in a flat place in my freezer until the creamer is firm. From there, I pop out the frozen creamer into a labeled ziptop bag and immediately put it back into the freezer.
When I am ready to enjoy a cup of coffee with my homemade creamer, I warm it up a bit in a mug in the microwave before adding my brewed coffee.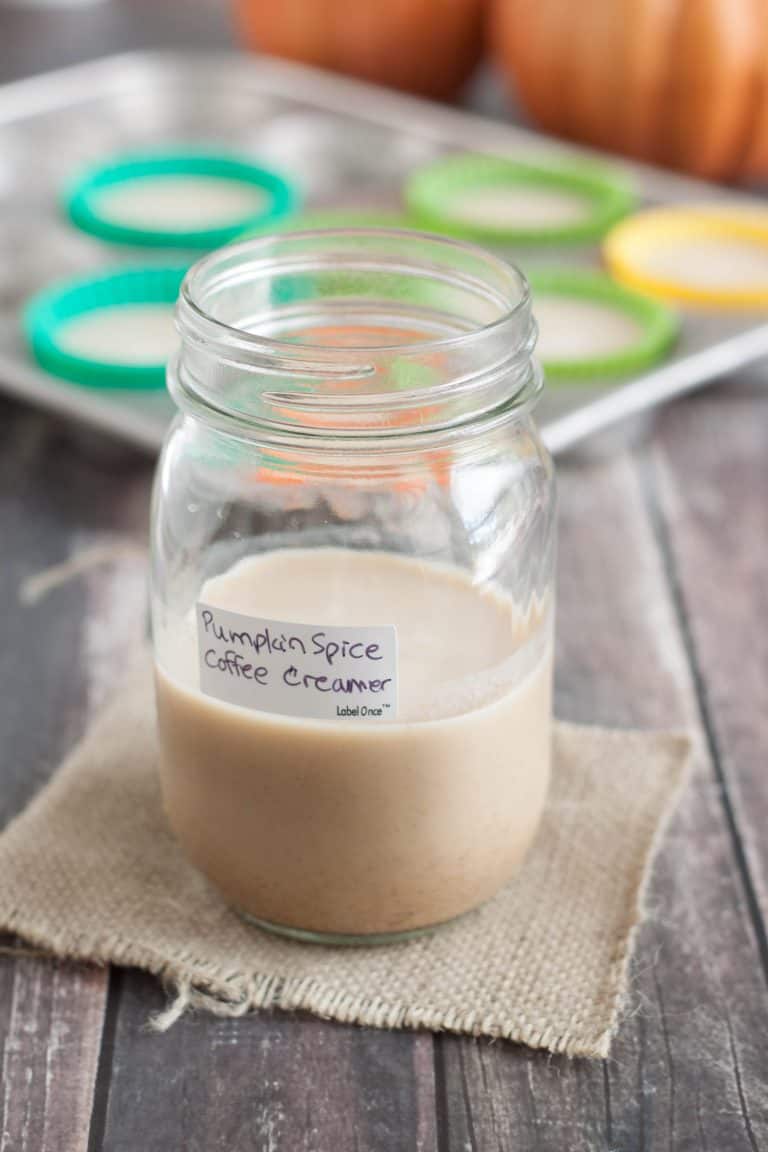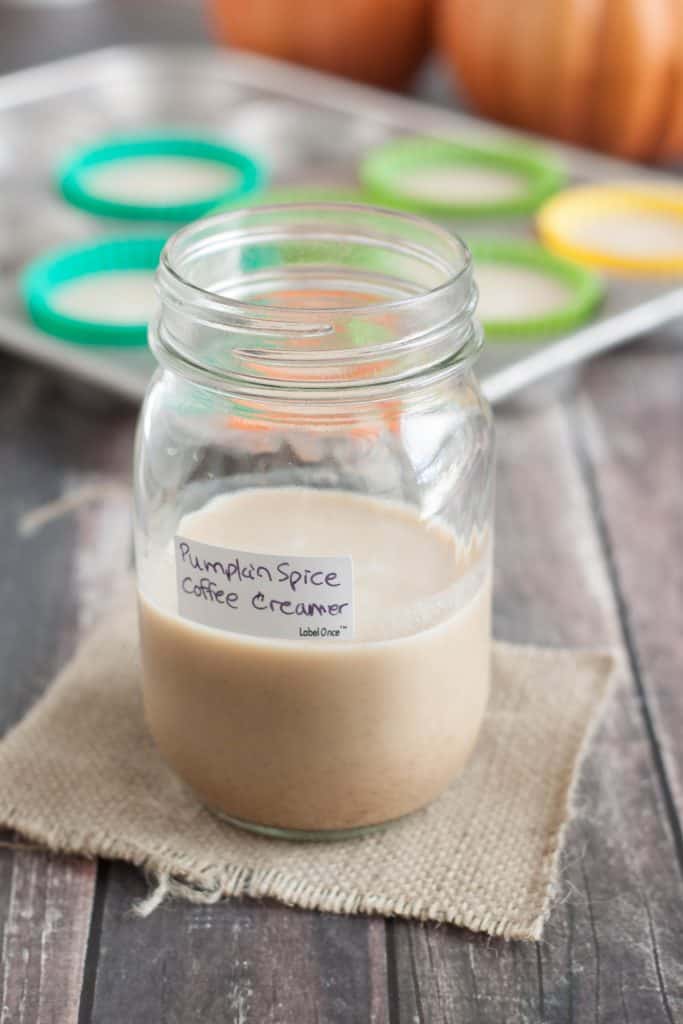 How To Enjoy a Pumpkin Spice Latte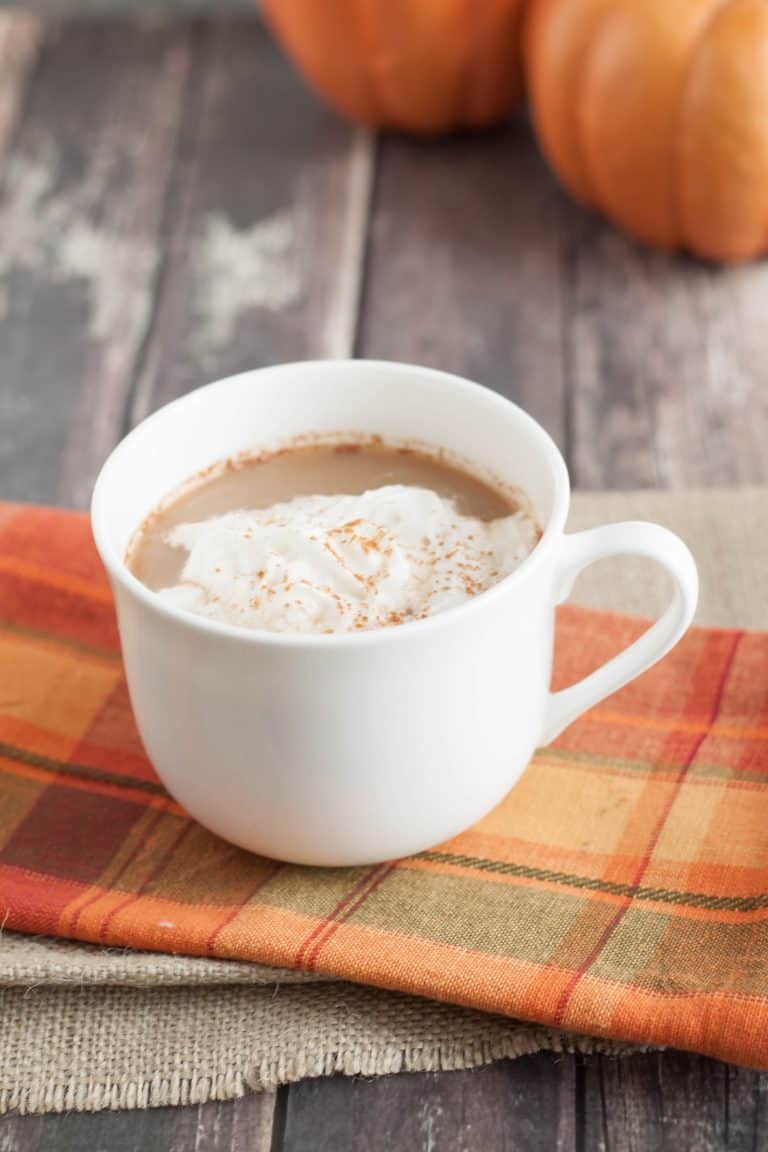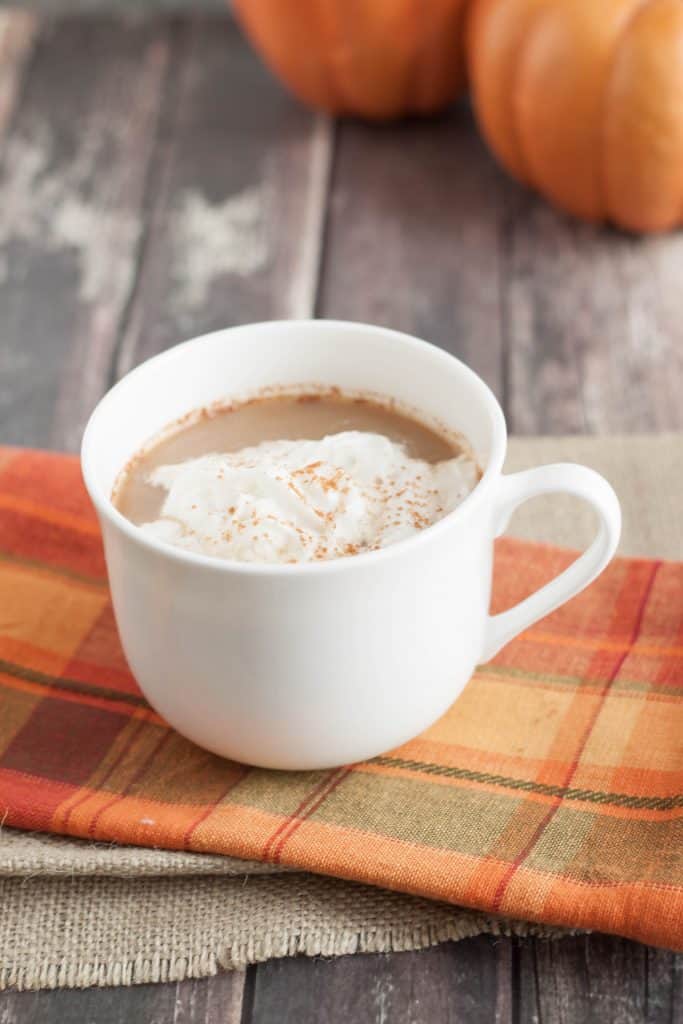 This made from scratch pumpkin coffee creamer recipe makes enough for
fourteen 16-ounce lattes. Of course, that can vary depending on how much
creamer you like in your coffee.
I like to use a two to one ratio of 12 ounces of coffee to four ounces of creamer but if you like things a little lighter on the creamer side, you can reduce the amount of creamer to 2 ounces per 12 ounces of coffee.
I use a French Press coffee maker to make my coffee because I'm the only one who drinks coffee in my house and it has less waste than some other coffee maker options. Of course, you can use any type you like!
One thing to note is that because this is made with real pumpkin, you may
discover that your latte is a little thicker than what you might be used to. Blending the creamer in the blender helps with that though. I also like to think of it more akin to a cup of thick hot cocoa.
Also, because the pumpkin can sometimes settle to the bottom of the mug, I
like to swirl the drink before each sip. Just giving you all a heads up on the
mouth feel of this latte since it may surprise you otherwise!
Of course, you can make your own combinations, those are just two that I like! Stir to combine, add a little whip cream and cinnamon on top if you like and voila! you have a Pumpkin Spice Latte made at home from all-natural ingredients!
More Homemade Coffee Creamer Recipes
Did you know you can make ahead other homemade coffee creamers? My Vanilla Cinnamon Coffee Creamer is one of the most popular posts here on my blog and this Peppermint Mocha Coffee Creamer tastes just like the coffeehouse version but it's made with all natural ingredients. Be sure to check them out!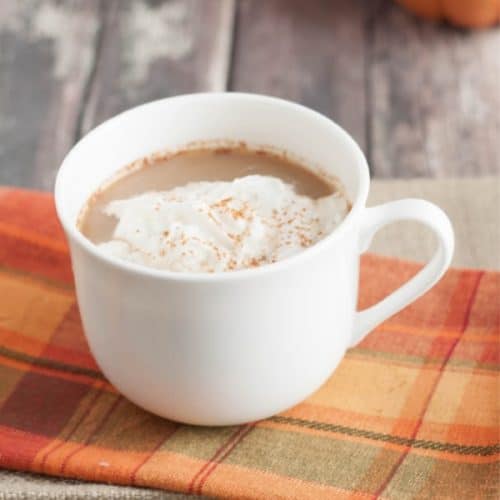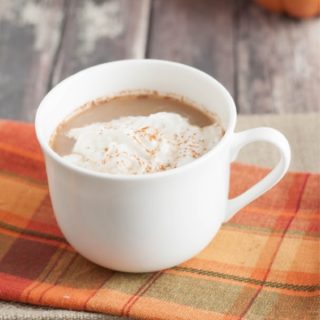 Homemade All-Natural Pumpkin Spice Coffee Creamer
My Homemade All-Natural Pumpkin Spice Coffee Creamer is just that—made from all natural-ingredients and so delicious. It can be made ahead and freezer friendly too!
Rate this Recipe
Print Recipe
Pin Recipe
Ingredients
¾

cup

maple syrup

½

cup

canned pumpkin

not pumpkin pie mix–plain pumpkin

1 ½

teaspoons

pumpkin pie spice

½

teaspoon

vanilla

½

teaspoon

salt

2 ½

cups

milk

your preference
Instructions
In a medium saucepan, combine maple syrup and bring to a boil. Watch carefully as you do not want it to burn.

Once it comes to a boil, turn it down to simmer.

Whisk in canned pumpkin, pumpkin pie spice, vanilla and salt.

Simmer about 5-10 minutes or until reduced to about ⅔ of original mixture amount.

Slowly whisk in milk and warm through, whisking constantly so milk does not burn (about 3-4 minutes)

Remove from heat.

Use immediately in a fresh cup of coffee or cool to room temperature then store in a air tight container in the refrigerator for up to a week. You will want to shake or stir thoroughly the mixture before each use to recombine all ingredients.

To freeze, portion out liquid into silicone muffin cup lined pan. About four ounces per cup. Place on a flat baking sheet in freezer and freeze until firm (8-10 hours or overnight). To store, remove from muffin cups and store in a labeled zip top container. Work quickly so creamer "cups" do not melt. Store in freezer until ready to use. You can heat it up to melt or add frozen to your hot cup of coffee and stir to melt and combine.
Nutrition
Serving:
4
ounces
|
Calories:
103
kcal
|
Carbohydrates:
20
g
|
Protein:
2
g
|
Fat:
1
g
|
Sodium:
30
mg
|
Sugar:
18
g
Be sure to check out my Amazon Shop to discover the many items I use in my own kitchen. Meal Planning Magic is a participant in the Amazon Services LLC Associates Program, an affiliate advertising program designed to provide a means for sites to earn advertising fees by advertising and linking to Amazon.com. Ordering products mentioned here are at no extra cost to you. Thank you for your support.